"Cosy", in real-estate speak, often means someone's renting out their broom cupboard. In Anne Choy's 300 sq ft Wan Chai flat, the word has warmer connotations.
Filled with her collections of designer furniture, objets, books and wine corks, her new home is comfortable and doesn't cramp her style. It also offers her an enviable work-play-rest balance – she walks to her office, returns for lunch with her cat and enjoys the city's conveniences: the tong lau walk-up is moments from unique shops and cafes, but in a traffic-free enclave.
"Small flats are a given [in Hong Kong]," Choy says, revealing that five years ago she lived in an apartment nearby that was even smaller. However, that 250 sq ft studio unit was so tiny she would catch her knees on furniture and tight corners.
In her new home, roughly the size of a standard 40-foot container, the chance of the odd bump remains (the ceiling and my head came to blows while I was testing the stair­case). But Choy says: "I'm more careful now, so it's fine."
Clever design helped. That means furni­ture is curved where body parts may get in the way and, for maximum efficiency, walls are well used and storage space specially designed for non-negotiable items.
Separate areas are also delineated. For example, the queen-sized loft bed inhabits a blue zone (the darker colour also enhances sleep, according to Choy's interior designer, Glory Tam Chi-kiu, of Mister Glory), and, beneath it, a 170cm-tall walk-in wardrobe keeps clothes and other belongings out of sight. Then there's the staggered staircase, which offers storage and saves crucial inches.
Placing the loft in the middle of the apartment allowed a roomy dining area and kitchen at one end of the flat (where two bedrooms once stood) and a bathroom-cum-laundry at the other, near the entrance, says Tam. Here, custom-made display and storage units hold some of Chow's collectibles and shoes as well as a large wine fridge.
Whereas small flats often incorporate pull-outs and slide-aways, Choy made a decision not to max out on multifunction­ality. "I just want to relax when I get home," she says, explaining that fold-up tables and chairs take too much effort to open. "You just wouldn't use them."
Among her loose pieces – some taken out of storage; many bought in Europe – are two generous armchairs, a dining table for six, a desk and an extra-large cat receptacle, kept under a purpose-built step. Add to that ceramics, snazzy lights, coffee tables, a subwoofer, plus an outsized wall clock and it is clear Choy lives big in her tiny flat.
If you get better, more expensive stuff, the chances of your using it are higher. Try to get quality stuff; you don't need much
"She likes pretty things and she said she had lots of things she wanted to show," says Tam, who designed the built-ins according to the dimensions of his client's possessions. He measured, among other things, the depth of her books (for shelving) and the thick­­ness of his client's mattress (for head space).
The most precise measurements, however, were needed for the bathroom, where Choy wanted to accommodate her washing machine and dryer. Just as she had rejected a washer-dryer combo (reviews of which tend to pale in comparison to indivi­dual units), so she balked at placing her white goods on the small balcony adjoining the dining area. "I didn't want to do my laundry outdoors," she says. "It's something personal."
So, of course, is everything she has chosen for her home, including the metal display unit, bought on Taobao and installed on the wall above her desk. Because inexpensive items tend to encourage a throwaway mentality, Choy is now circumspect about "bargains". "If you get better, more expensive stuff, the chances of your using it are higher," she says. "Try to get quality stuff; you don't need much."
Choy has learned something else besides.
"Some of my friends say my wine fridge is disproportionately large," she says, laughing. "But I love a drink and it makes me happy. "It's really important for your home to make you happy."
---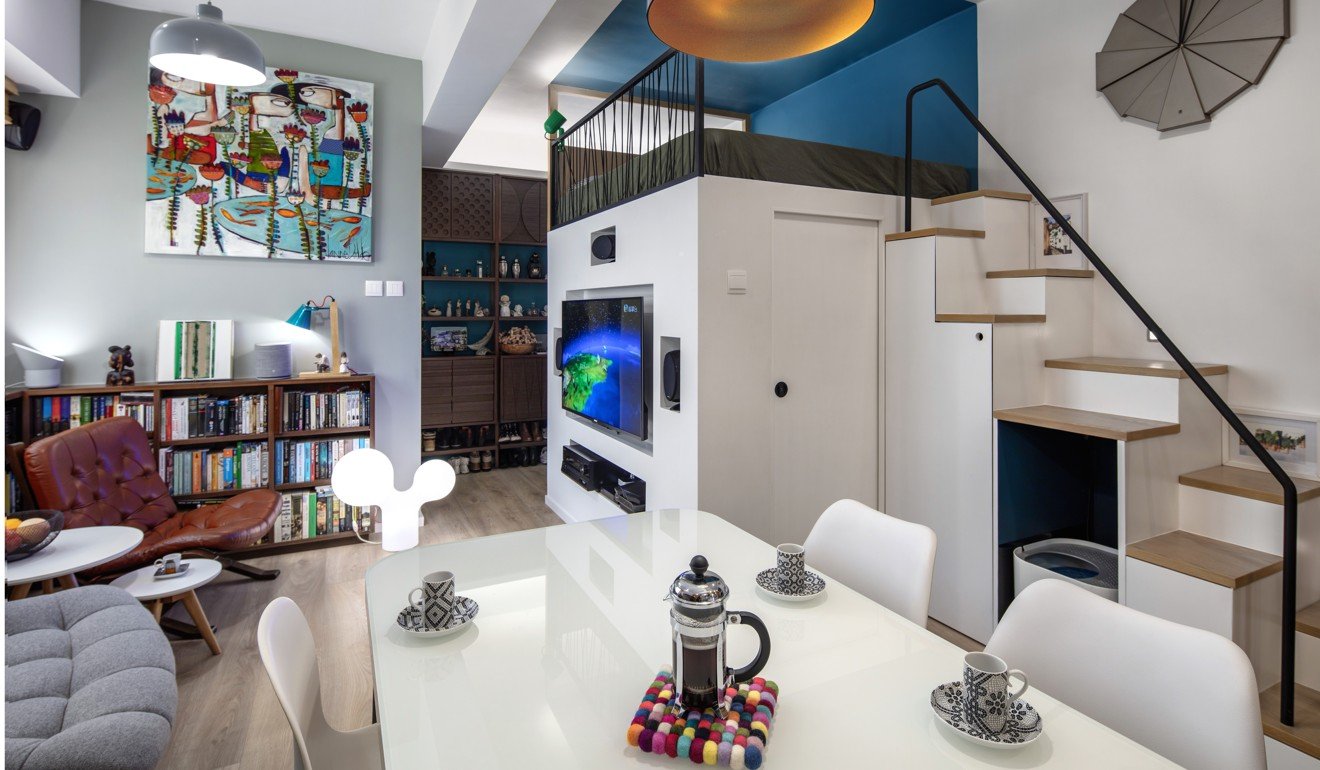 Living area The Gazer Nickel wall clock (US$195), by Angelo Carreira for Umbra, is available from theLightShop. The litter box (€79.99/US$93) was from Modkat. The white pendant lamp in the sitting area came from Finnish Design Shop years ago.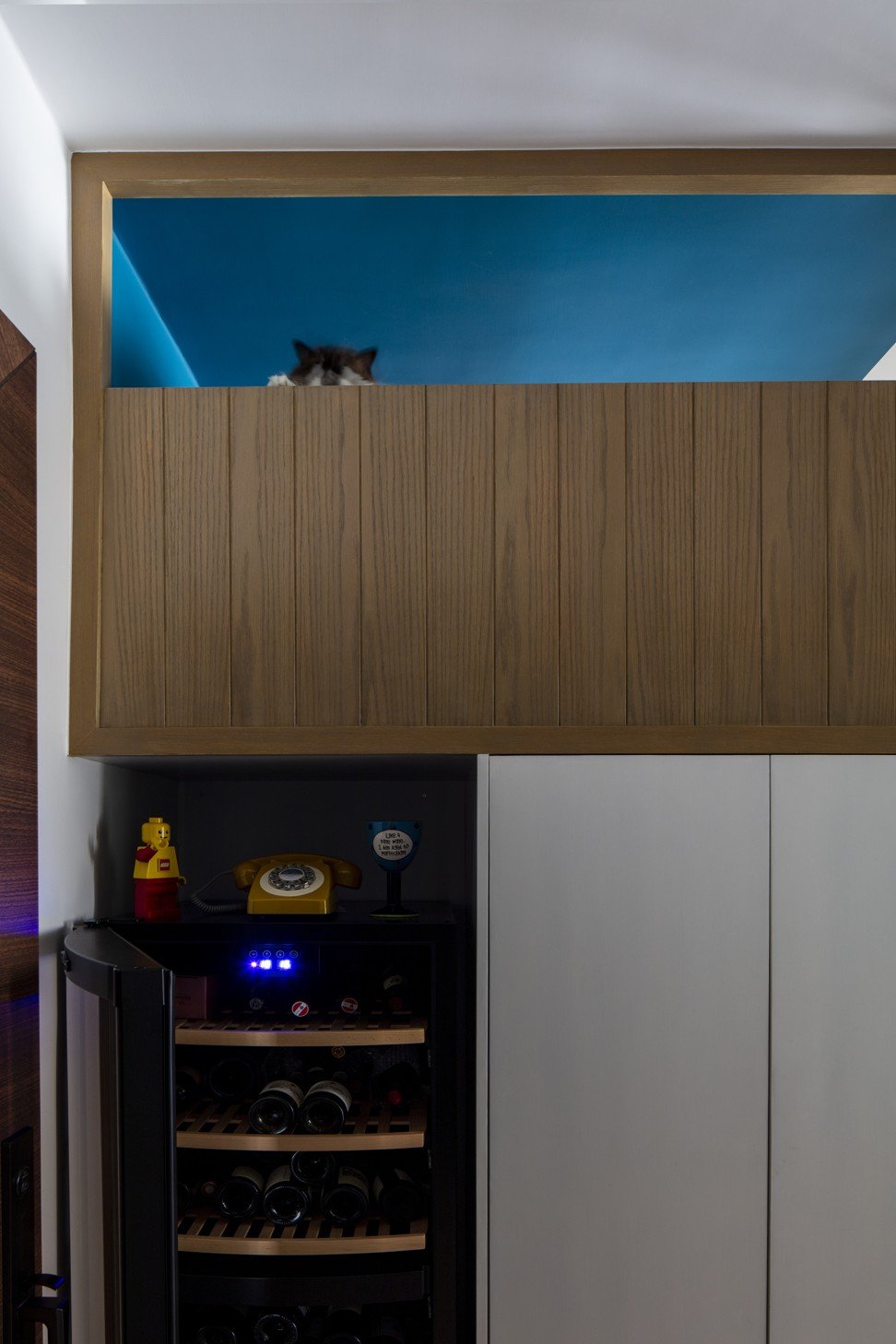 Entrance The main door opens onto the back of the loft bed and storage unit. Above the wine fridge is a retro-style phone (£50/US$64) from John Lewis. Peeping above the bedhead is Anne Choy's cat, Pig Pig.
Entrance corridor The blue used beside the loft bed is repeated in the entrance corridor, which contains a walnut-veneered plywood storage and display cabinet built by Mister Glory for HK$18,000 (US$2,293).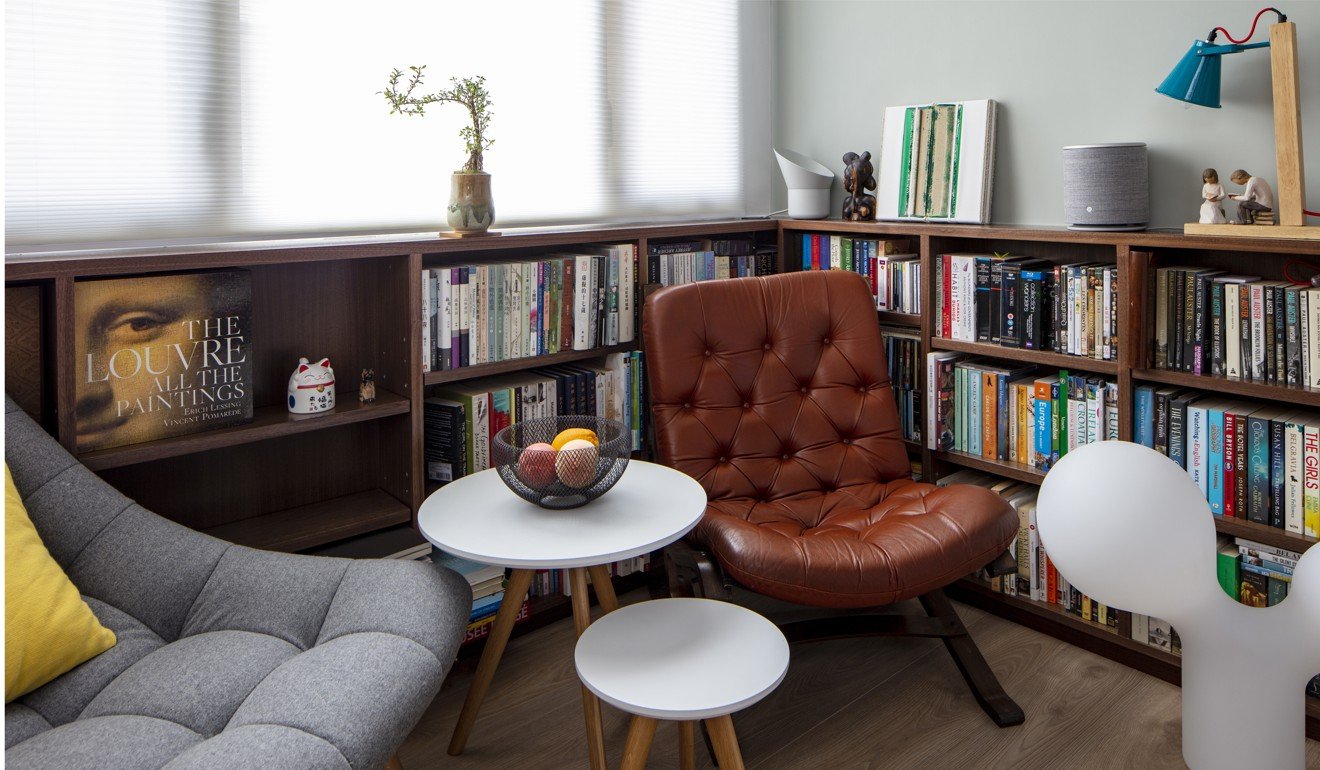 Sitting area Waist-height shelving (HK$12,000) by Mister Glory hugs the sitting area, which is furnished with a €449 grey accent chair from Made. Choy bought the leather chair (about €250) through auction site Catawiki.
The coffee tables came in a set of three (€129.99) from Home 24. The Mesh Bowl (US$48) is available through MoMA Design Store. The Eero Aarnio-designed Double Bubble lamp (€380) came from Monoqi.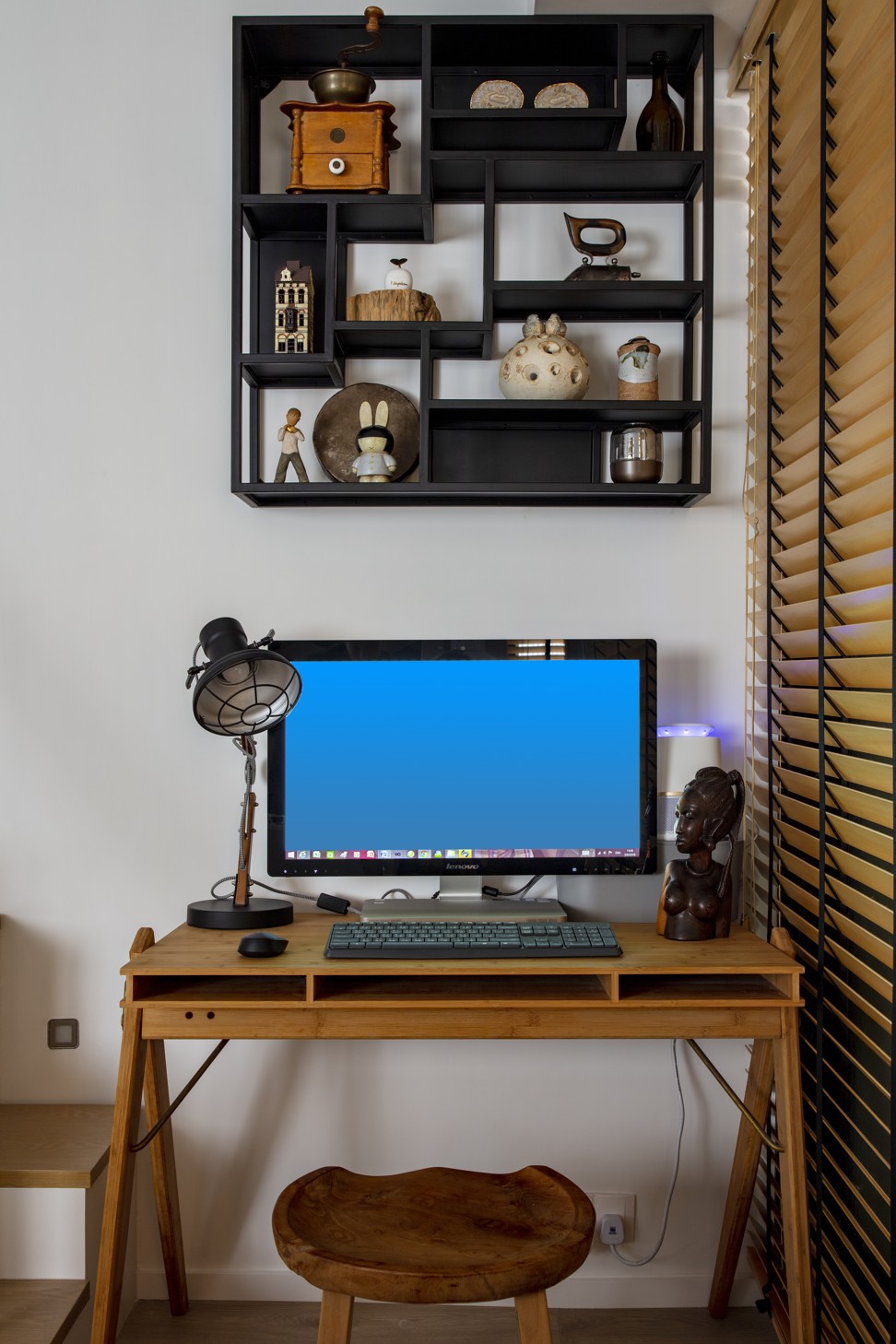 Work corner Below the metal shelves (about 600 yuan/US$88, through Taobao) is a We:Do:Wood desk (€700) from Emanuels. The stool (€150) came from Monoqi.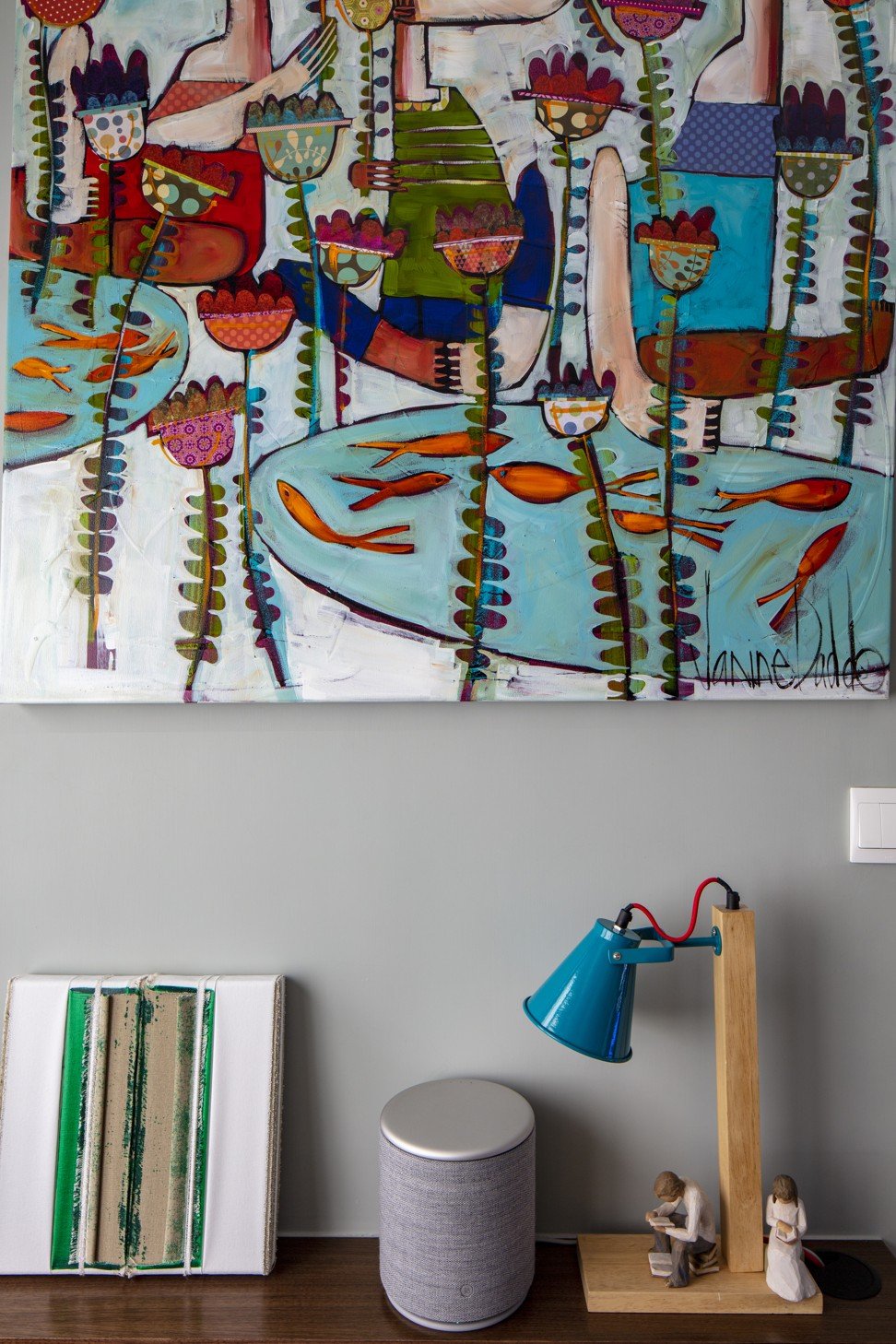 Sitting area detail The painting, Secret Garden, by Australian artist Janine Daddo, was bought at the Affordable Art Fair. To the right of the B&O Beoplay M5 wireless speaker is an Eaton Table Lamp (€59) from Monoqi. The square artwork is by Belgian Jean-Philippe Duboscq.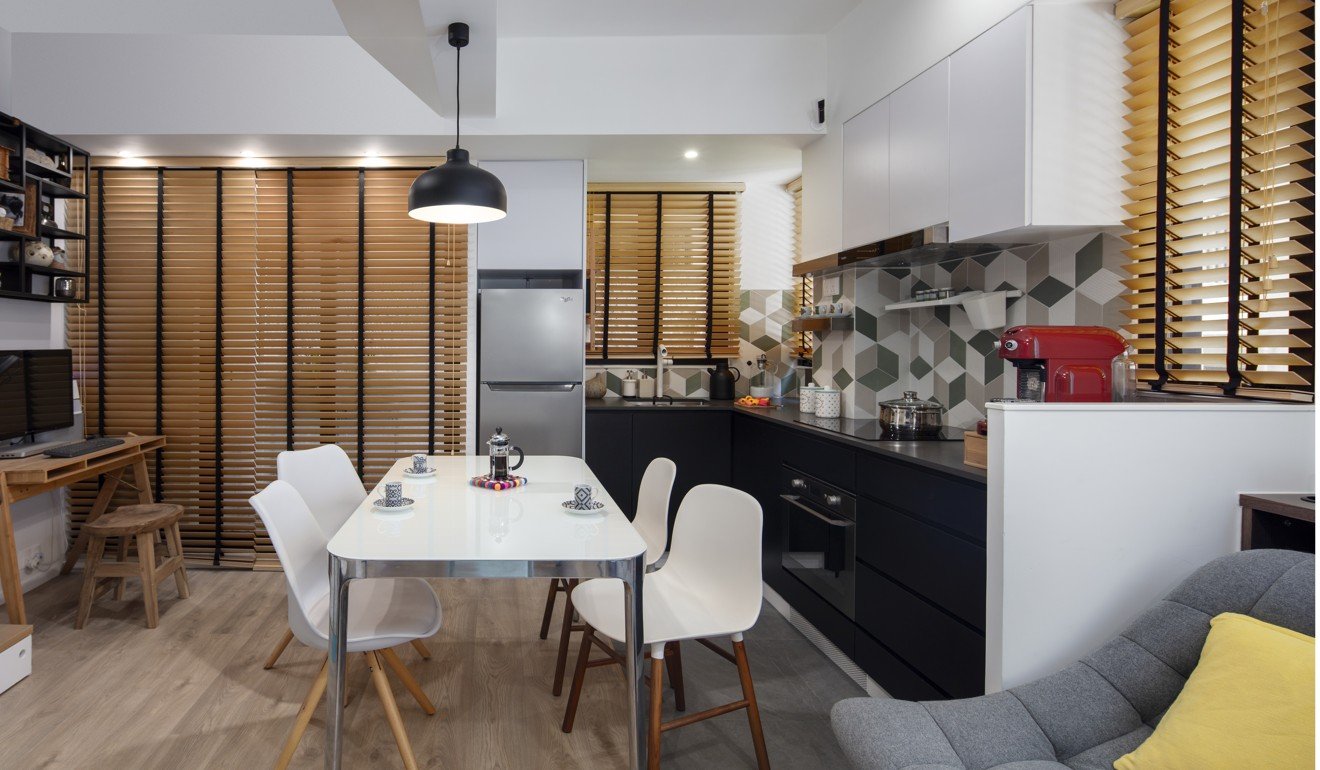 Dining area The dining area, which extends onto a balcony, is furnished with a table from Aluminium (now closed), two chairs (on the left) bought online years ago and two Normann Copenhagen chairs (US$330 each). The overhead B&B pendant lamp (€116) came from Monoqi.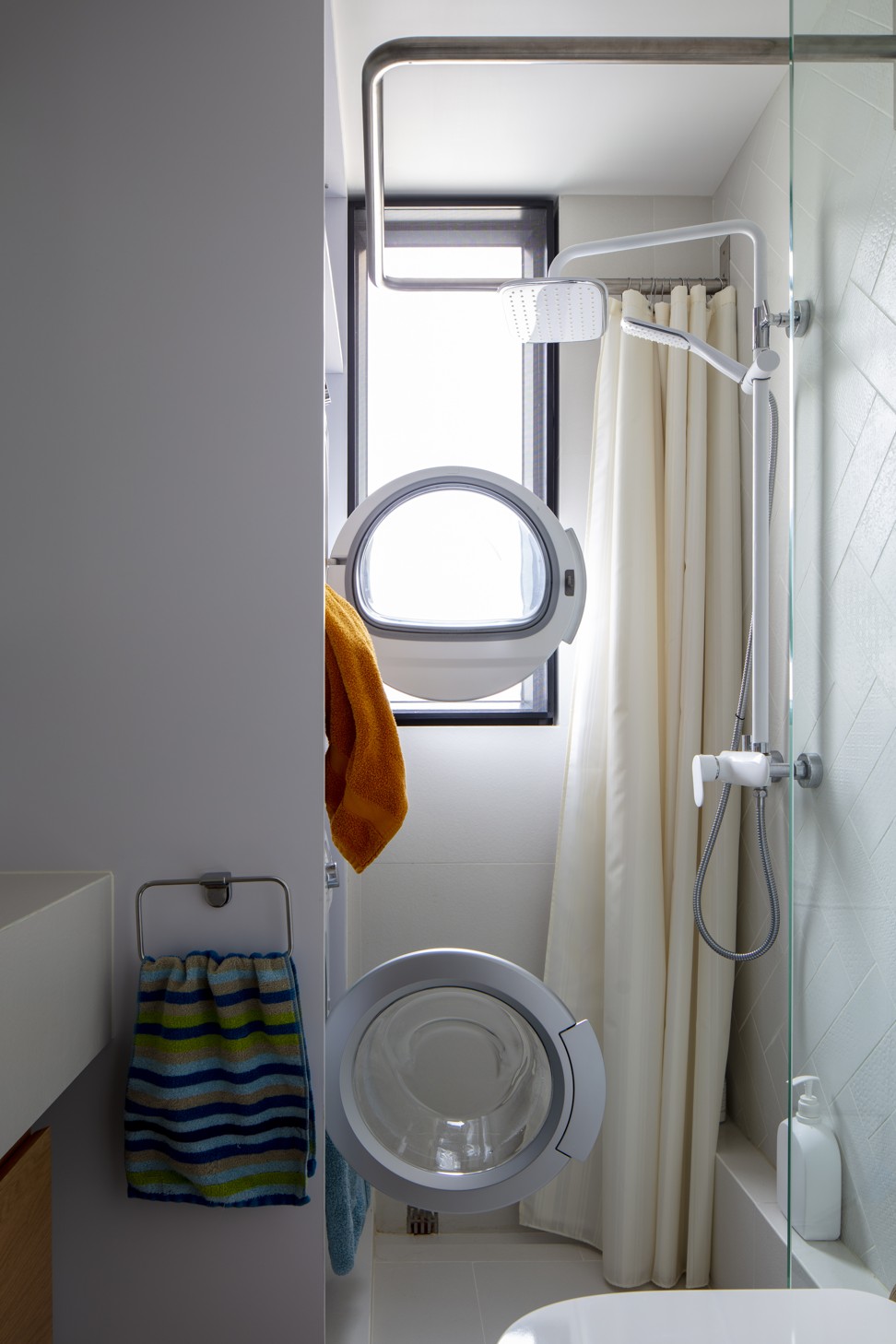 Bathroom Interior designer Glory Tam squeezed a washing machine and dryer into a back corner, allowing Choy a shower area measuring 70cm by 70cm.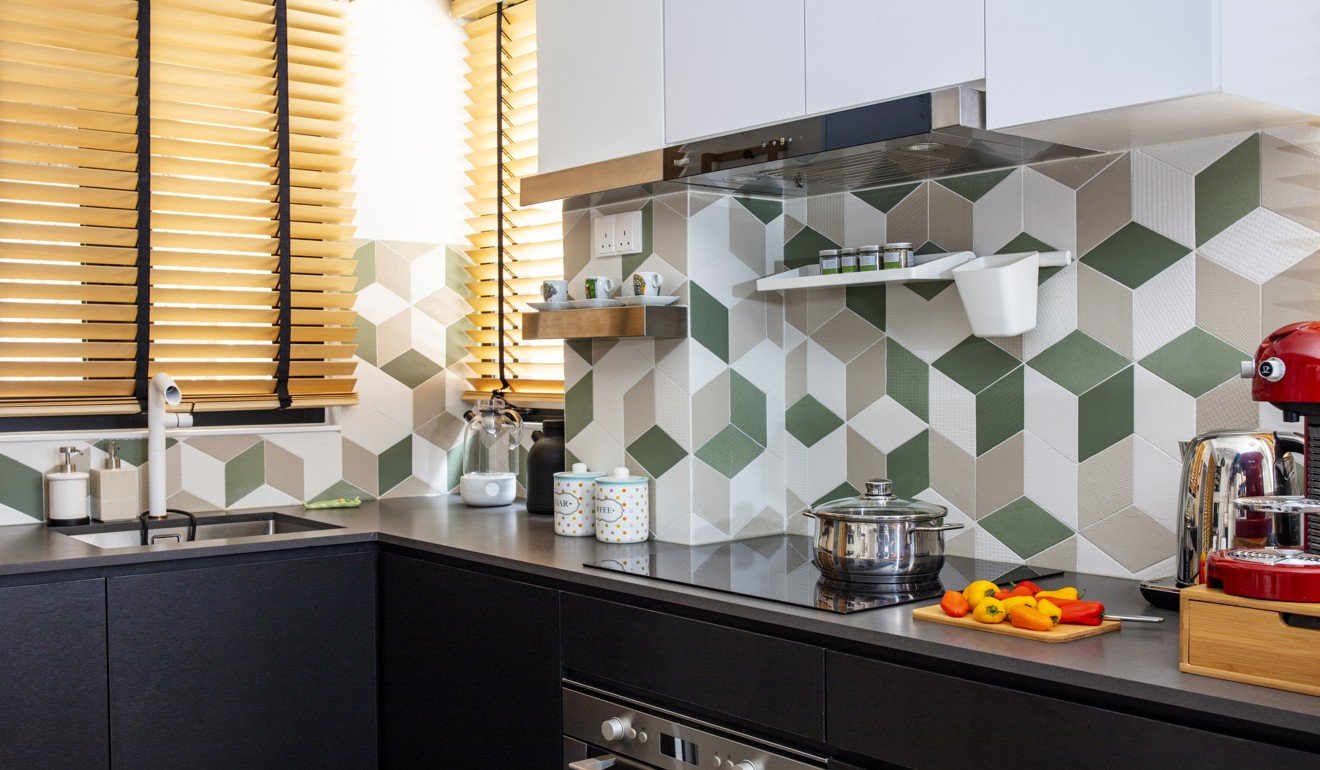 Kitchen The cabinetry (HK$45,000) was designed by Mister Glory. The tiles (HK$80 per square foot) came from Anta (antahk. com). The Venetian blinds (HK$9,000 for the whole flat) were made by New Asia Decorative Materials (262 Lockhart Road, Wan Chai, tel: 2507 5519). Choy brought the tap out of storage for use in this flat.
---
Tried + tested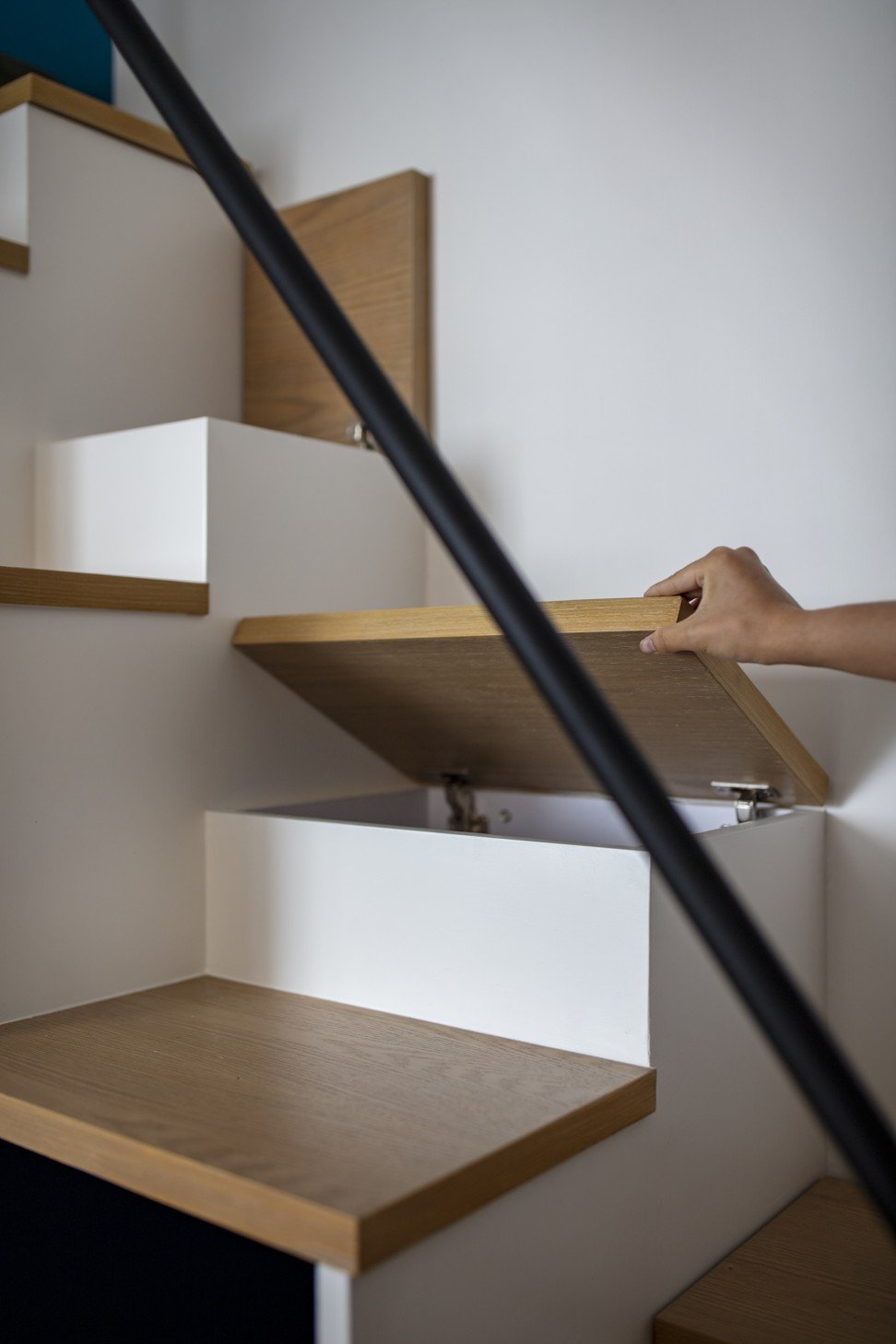 Stair tactics In tight spots, staggered steps can be a space-saving alternative to regular stairs. This staircase, designed by Glory Tam and built by Mister Glory, cost HK$15,000 and incorporates storage space beneath five treads.