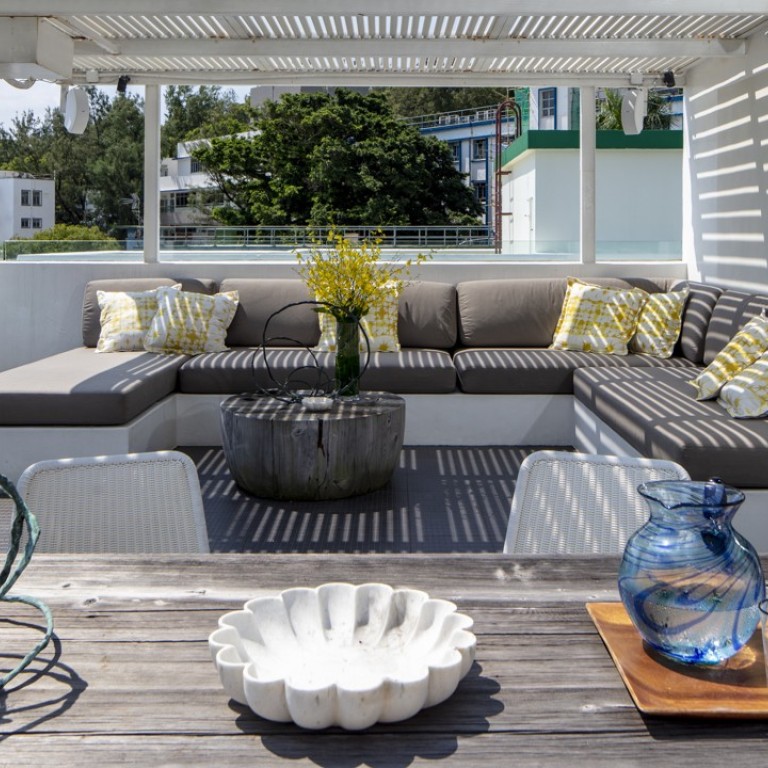 The Hong Kong house no one wanted … until it was transformed by a property agent
Habitat Property founder Victoria Allan has injected the 1,800 sq ft Stanley beachfront house with a relaxed Australian vibe
First impressions matter. Victoria Allan understands that better than most in Hong Kong – and it shows at her Stanley beachside home, which prompts visitors to say: "Show me more," rather than, "Next!"
But that was not always the case. Before Allan, founder of real-estate agency Habitat Property, bought the 1,800 sq ft, split-level house seven years ago and turned it upside down, it had been passed over by about 40 potential buyers.
"No one wanted to buy it," she says. "I kept telling clients, 'You could open it up, move rooms around …' And then I thought, 'Ah, I'll buy it myself.'"
Despite having acquired and renovated 20 proper­ties since moving to Hong Kong in 1997 – including Kennedy Town's Tung Fat Building, which she redeve­loped – Allan says her two-bedroom Stanley house has been, and will continue to be, her main abode.
With the help of architect Alec Stuart, of Alexander Stuart Designs, she realised her vision by swapping the rooms on the top floor with those on the level below. Moving two bed­rooms to the entrance level allowed her to create a living and dining area, plus kitchen, on the floor with the best views.
She optimised the aspect by enlarging the original "tiny" windows so that, as you climb the stairs from the entrance below, you feel as though you could almost reach out and touch Tai Tam Bay. Opening the staircase also allowed sight lines while heading for the rooftop, where a concrete-base outdoor sofa is shaded by a pergola. A projector affixed to this slatted structure allows for alfresco screenings at night.
Allan's two sons, aged seven and five, share a bedroom and get their screen fix in their own television nook (previously a study) or in her suite.
"The kids hop on my bed and watch movies," Allan says. "And when we have a lot of people over, we'll bring the beanbags down here as well."
That relaxed vibe permeates all the rooms, including the living areas, where, as in her native Australia, shoes are left on – or taken off, if the mood takes you. To enhance the bleached, beachy, casual aesthetic – from the previous more "structured" look – Allan recently made several simple changes. She reupholstered the living-room sofa in off-white and moved into the dining area a large, blue abstract artwork by Indian-born, London-based artist Tanya Ling. Allan also introduced a pair of vintage Clam chairs; a custom-made rug; and a Serge Mouille ceiling light, which hangs above a zinc-topped dining table picked up years ago in Sydney.
The lime-washed oak flooring – installed when the house was reconfigured – comple­ments the vibe.
"I'm trying to capture that relaxed Australian style you don't see much of in Hong Kong," Allan says. "The idea was also to keep the house relatively neutral. Then you can bring in art and furniture, which are easy to change."
Part of the Aussie lifestyle would have meant eschewing baths for showers but, midway through the refurbishment, when she discovered she was pregnant with her first child, she had a tub installed. A helper's room was added at the same time.
The boys now also share an outdoor play area turfed with synthetic grass while Allan has her own small garden, which segues from her spacious en-suite bedroom and is bordered with greenery for privacy.
Most people, she says, find it difficult to size up an empty room and visualise, say, what a bed would look like in it, let alone what should go around it. Then there are others who invite chaos into their homes with too many possessions. But not in this house, where less does mean more.
"We photograph people's places all day long, and they don't shoot well if they're cluttered," Allan says, explaining that although Hongkongers are increasingly seeing the benefits of home staging to enhance their sales or rental prospects, sometimes she is required to tell it like it is.
When it comes to presenting property in its best light, she admits, "I have to say quite bluntly: 'I need all that stuff put away.'"
First impressions may not be love at first sight. But the takeaway from this house is wow.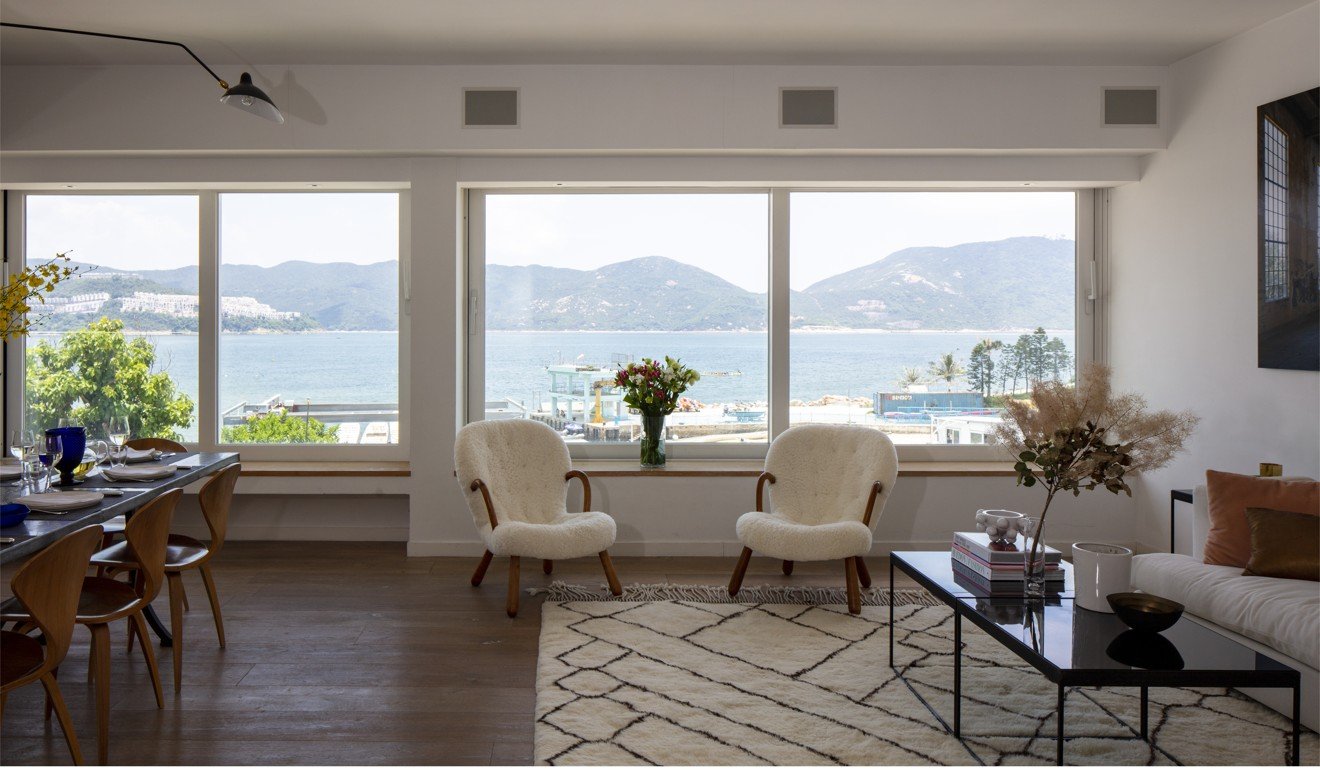 Living and dining area
The rug (about US$1,500) was made by
Kulchi
and the coffee tables were bought in London shop
Birgit Israel
10 years ago. The Clam chairs (
€
13,000/ US$15,270 for the pair), by Philip Arctander, were acquired from a company in Sweden called
PTV
, which restores classic furniture.
The sofa, made years ago by Tony Sofa (United Industrial Building, 50 Heung Yip Road, Aberdeen, tel: 2895 3291), was reupholstered with a washable fabric from
Altfield
. The photograph above the sofa is by Dutch visual artist Berndnaut Smilde, who is represented by London's
Ronchini Gallery
. The ceiling light cost about
€
3,500 from
Serge Mouille
, in Paris, France.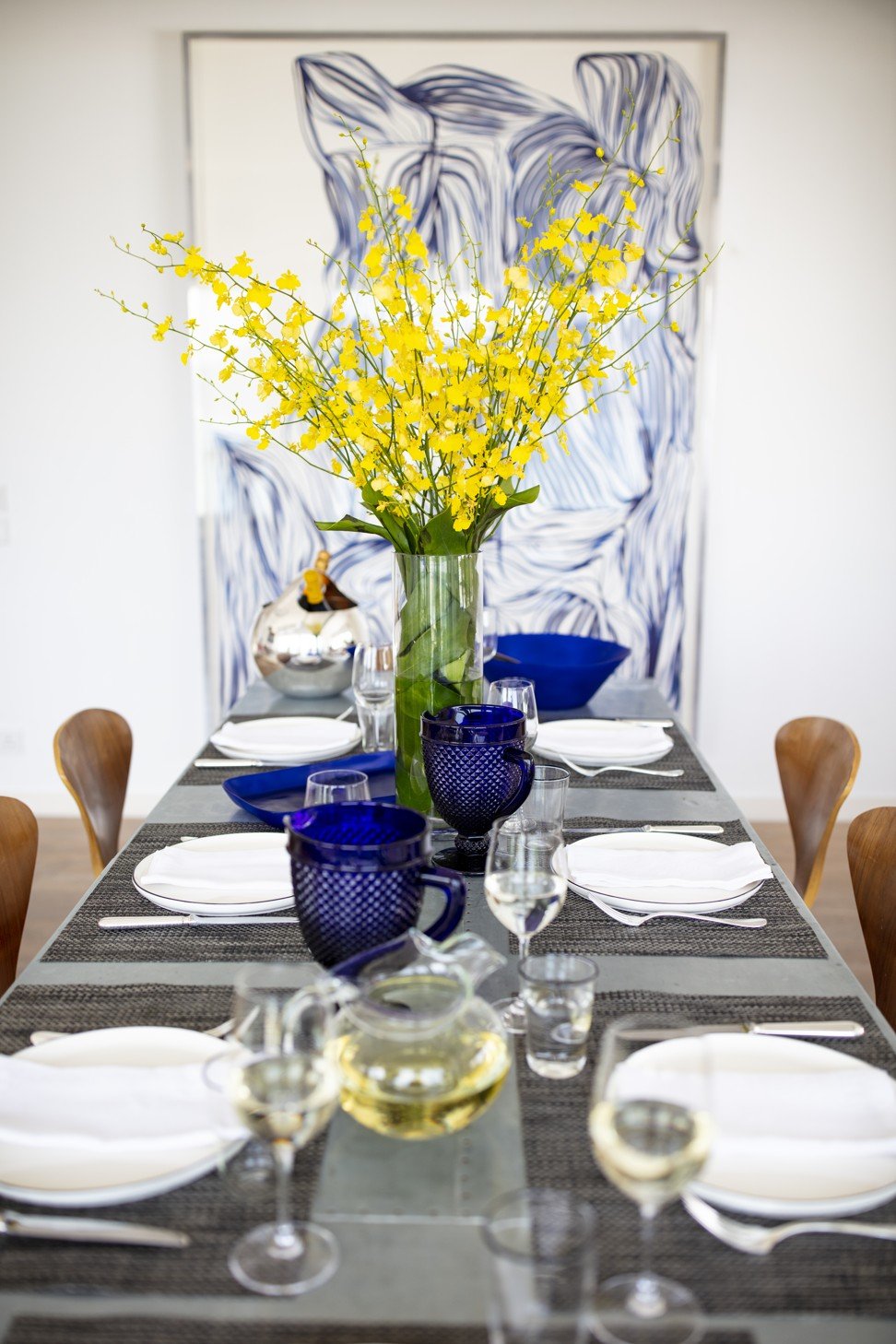 Dining area
The zinc-topped table came from
Ici et La
, in Sydney, Australia, seven years ago. The chairs (US$799 each) are available from
Cherner
. The champagne cooler is by Christofle. The artwork by, Tanya Ling, came from London's
Mayor Gallery
.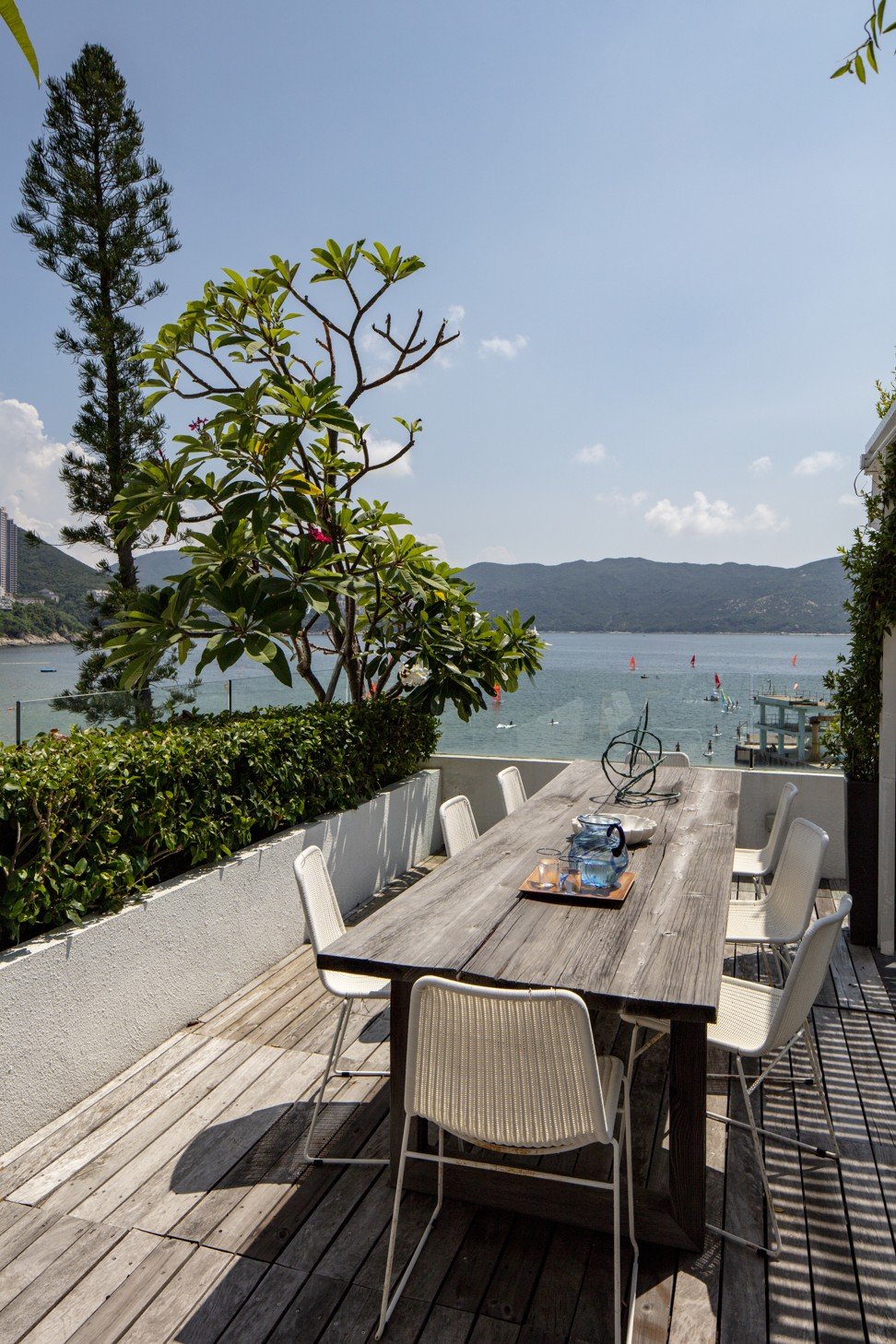 Rooftop
The dining table and chairs came from
Mark Tuckey
, in Australia.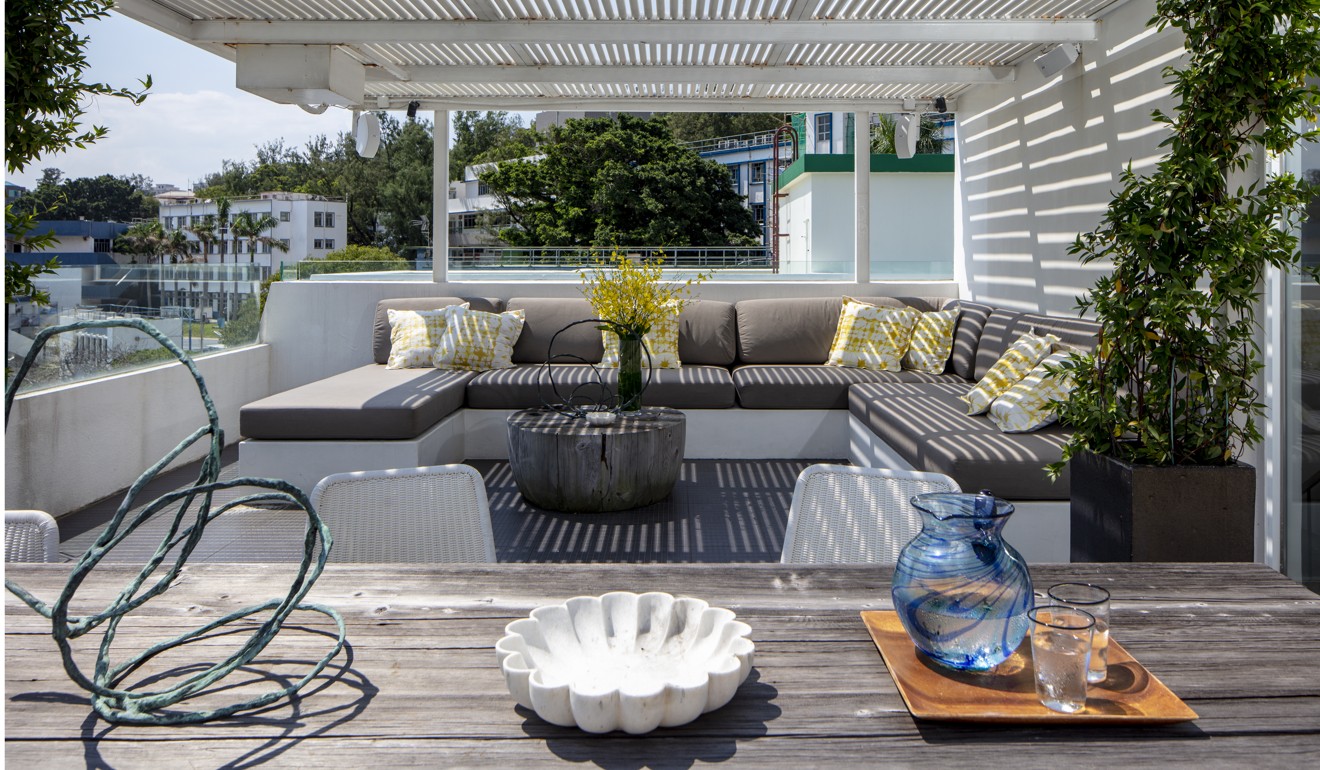 Rooftop The coffee table came from Mark Tuckey years ago. The concrete sofa base is also old. The bronze spiral sculptures are by Australian artist Camie Lyons and came from Sheung Wan's Cat Street Gallery (now closed). The clam-shell bowl was bought in India and the yellow cushions were made with Pierre Frey fabric from Altfield.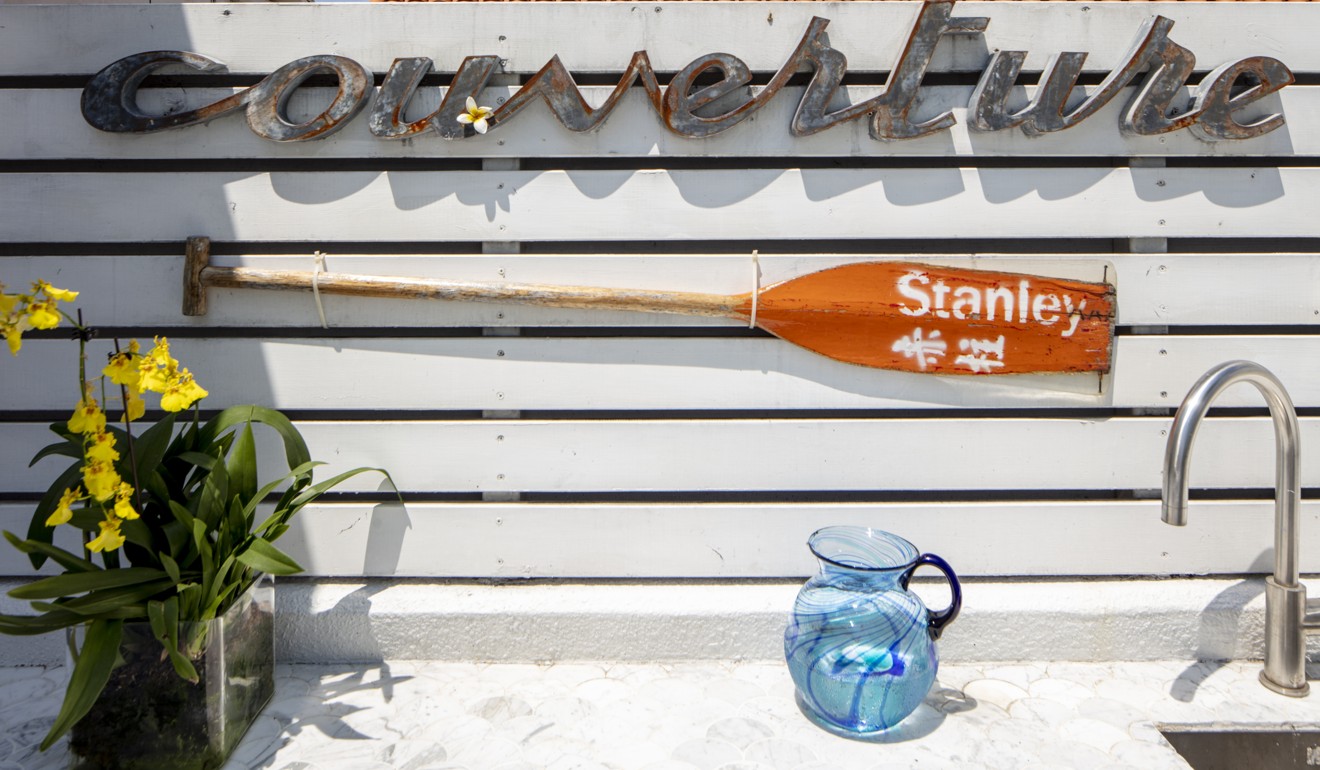 Rooftop detail The metal sign came from a Parisian flea market years ago. Beneath it is a dragon-boat oar, which was a gift.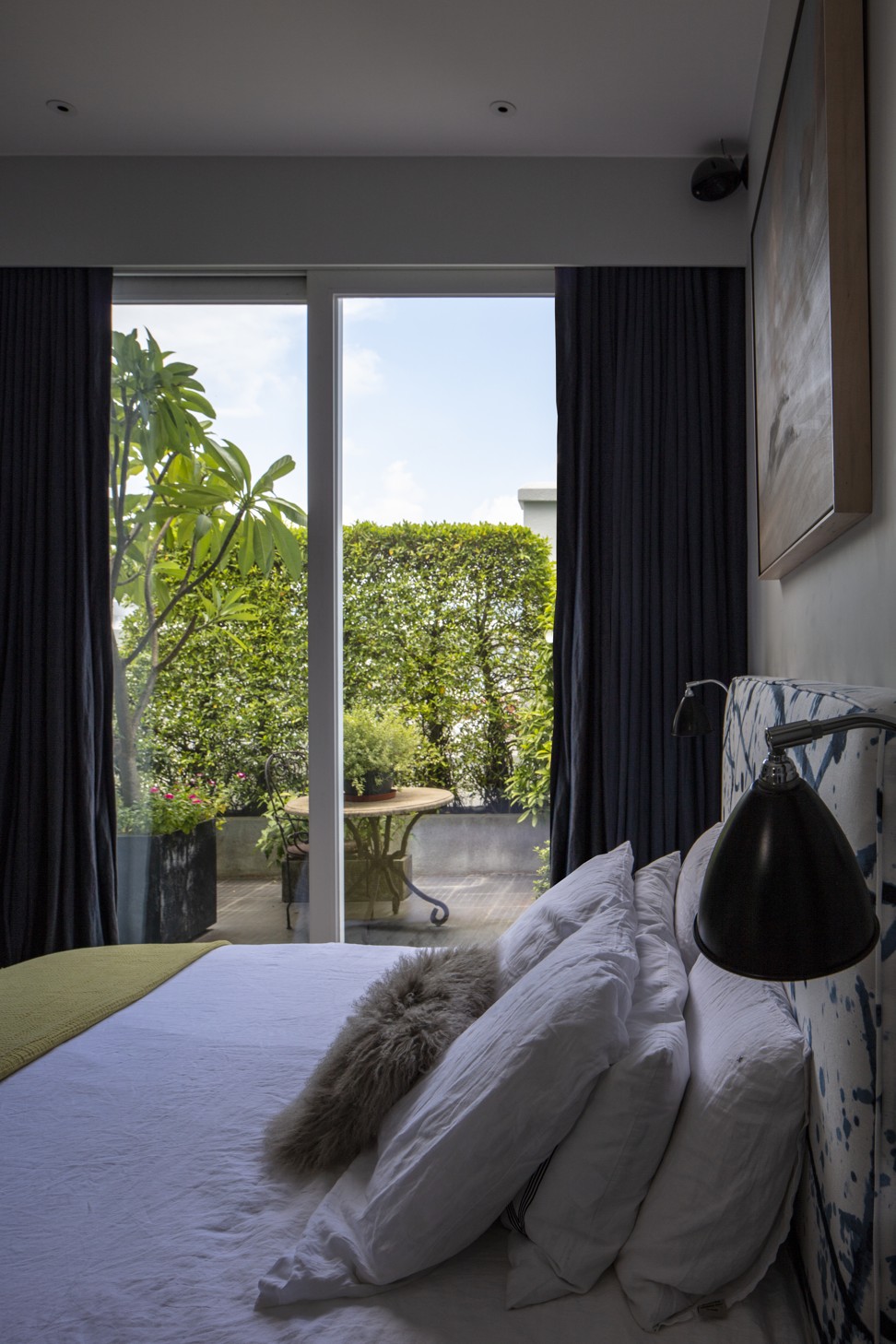 Main bedroom
The headboard was given a new lease of life with Pierre Frey fabric from Altfield. The wall lamps, by
Gubi
, were bought years ago. The table outside was acquired second-hand.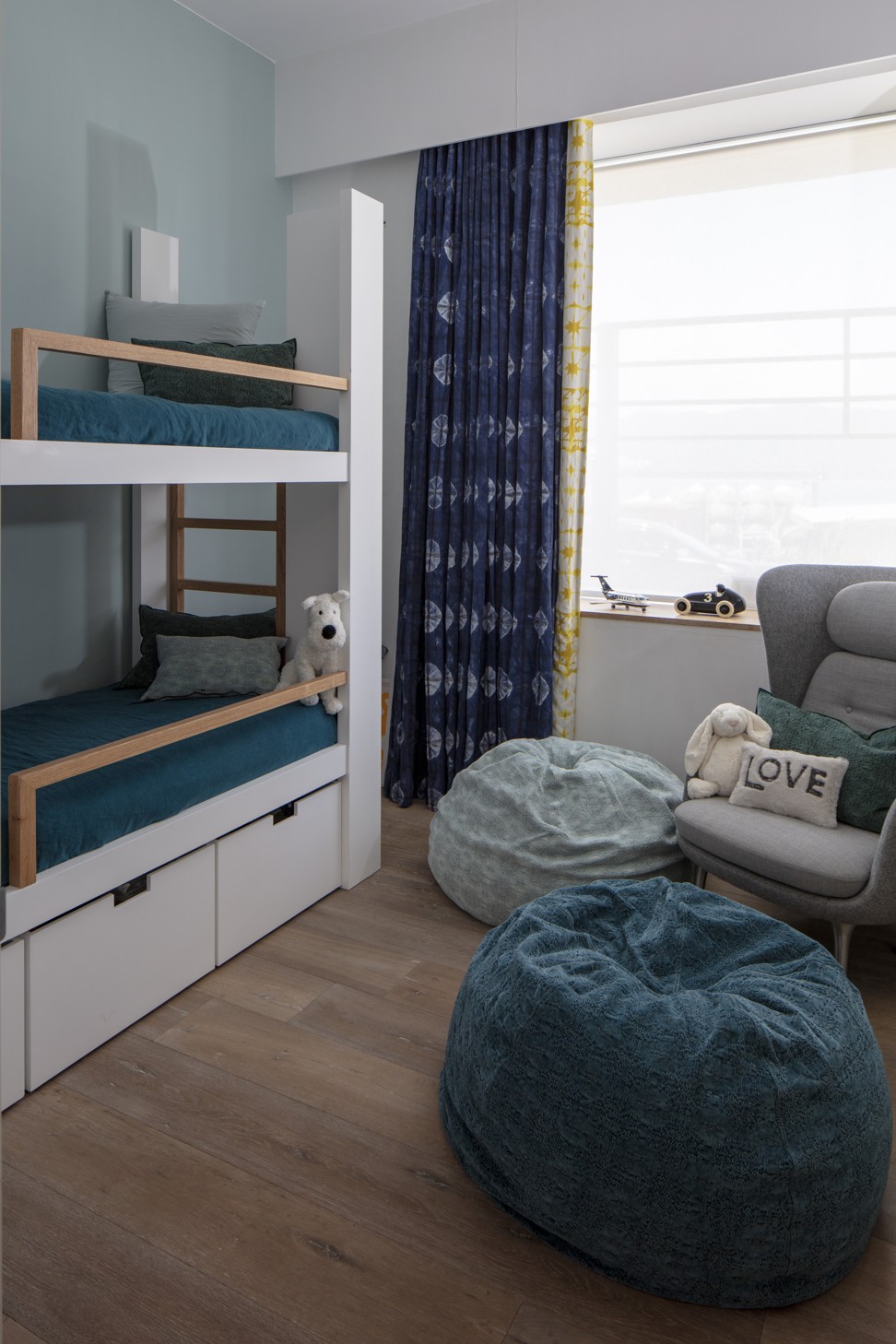 The Ro Chair, by Jaime Hayon for Fritz Hansen, came from
Amelie & Tulips
. The curtains were made with Pierre Frey fabric from Altfield.
En-suite vanity
The en-suite vanity area can be left open to the bedroom or closed off. The mosaic tiles were from
Academy Tiles
, in Sydney. The artwork, by Australian artist and filmmaker Joshua Yeldham, came from Cat Street Gallery.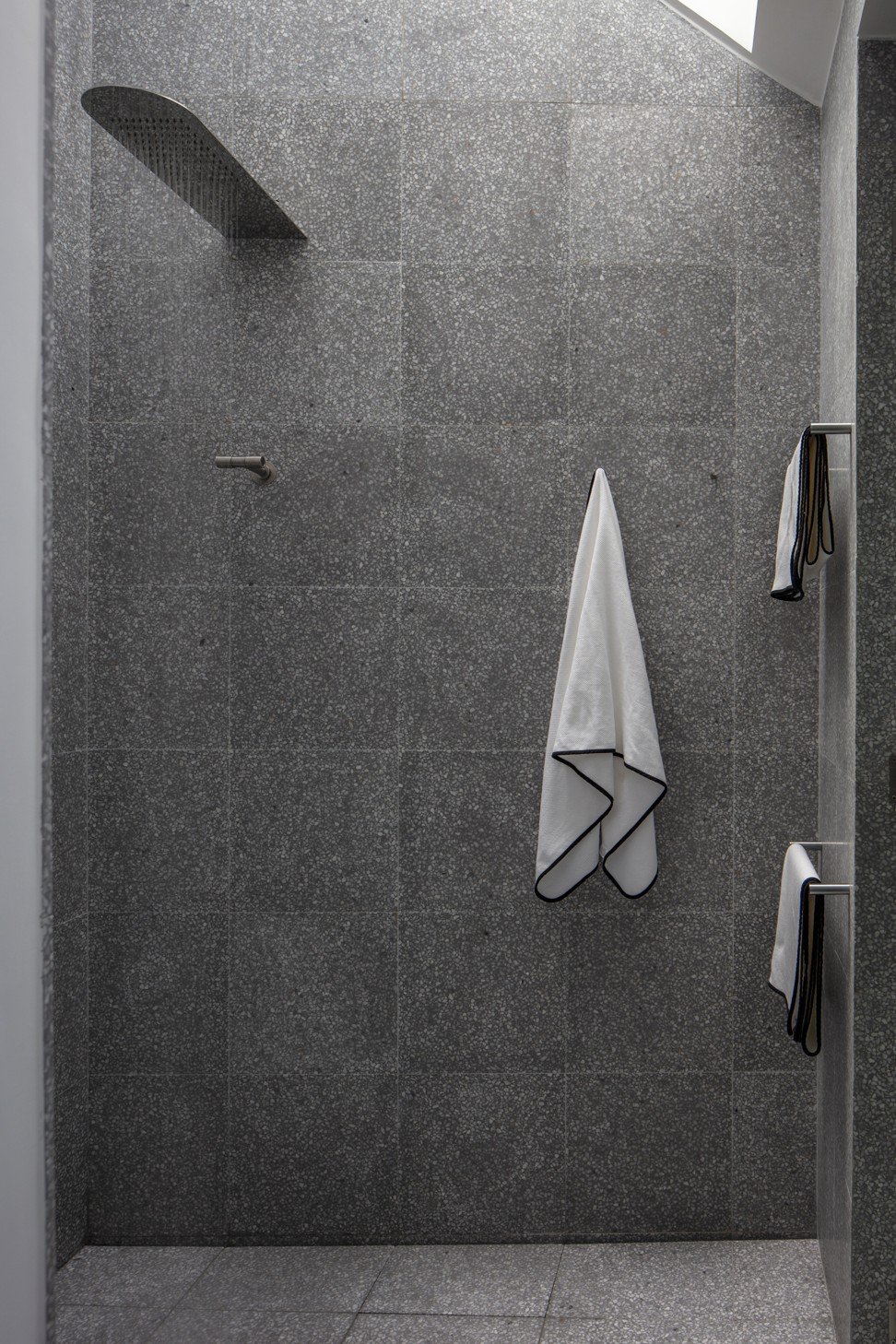 En-suite bathroom
The showerhead and tap were from
Vola
and the tiles from Academy Tiles.
Kitchen Behind the dining area is a compact kitchen, installed when Allan swapped the rooms on the two floors. The blue mosaic tiles came from Academy Tiles. The picture window was put in to capture views of the cluster of traditional houses next door.
Tried + tested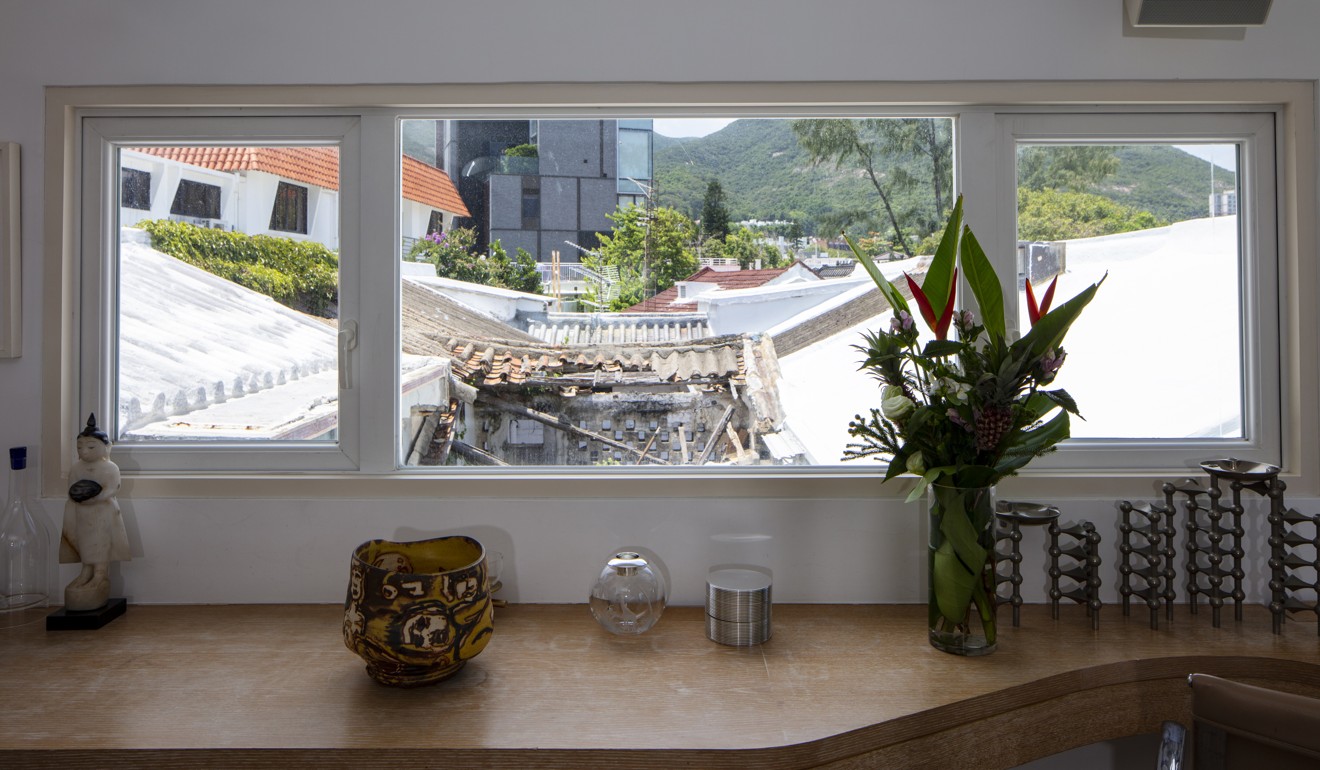 Framing the view The corner desk and console, at the far end of the dining area, enjoy views of old and new through picture windows, which were put in by Victoria Allan to capture the original Tai Tam fishing village and verdant hills.
This article appeared in the South China Morning Post print edition as: Th e magic of Oz