An hour's drive northwest of Canggu, Bali's latest trendy holiday hot spot, and a rice paddy away from the Indian Ocean is a stylish slice of heaven named Balian Prana. This is the holiday home of French journalist Marie le Masne de Chermont, her husband, Raphael (former executive chairman of Shanghai Tang), their grown-up children, Jade and Corentin, and their many guests.
The 1,200-square-metre site comprises five buildings and a 25-metre, infinity-edge swimming pool set on a grassy slope over­looking rice fields and surf breaks near Balian. As well as the two-storey main house – with its open living and dining spaces, kitchen, verandas and two guest bedrooms – there's a building for the master suite, complete with an office on the first floor, and a single-storey structure with two rooms, for the children. A staff house and a geladak – a small, traditional wooden house constructed from several old buildings – complete the compound.
Le Masne de Chermont stumbled across the site while Corentin was surfing at nearby Balian.
"My son was out surfing all day, I got bored and went looking for land. I didn't intend to come so far out, but Canggu is developing and changing so rapidly," she says. "Balian means 'magic healer'. It's a special place, the Bali you expect to find when you come from far away. It's a small village with a couple of restaurants and lots of handsome surfers doing yoga. And everyone's in bed by 10pm. I love it!
"We are 100 metres from the sea and 50 metres above sea level, so we're safe from tsunamis. There are rice paddies between the house and the beach, and the view changes as the crop grows and changes colour. We're on the west coast, so we have stunning sunsets, and the beach is 50km long, so we can walk for hours."
After meeting 10 architects ("Many were doing modern concrete cubes and I didn't want that"), le Masne de Chermont clicked with Balinese architect Kadek Dirga. But as a veteran of many reno­vation projects, in Hong Kong and France, the vision for Balian Prana was all hers.
Bali architecture is charming, and I wanted to preserve that idea, but light and big windows are also important for me
"I knew exactly what I wanted but I needed someone to build it," says le Masne de Chermont. "Bali architecture is charming, and I wanted to preserve that idea, but light and big windows are also important for me. And as it's a tropical country we needed to protect the house from the heat with big terraces. I wanted it to be practical and comfortable, but the priority was the view. There's not a bad angle in the house.
"I wanted to use as many natural materials as possible. We come from nature so I like to bring it into my home."
She was in the right place. Dirga sourced recycled teak for the floors and to clad the pillars, as well as unusual local materials such as cinnamon wood for a kitchen wall ("It still smells of cinnamon a year later"), acres of coconut cladding, limestone lattice for a bathroom wall and petrified-wood washbasins.
We used the best raw materials – the best stone, the best wood. Furniture you can change, but these materials you cannot. This is what gives the house character
"We used the best raw materials – the best stone, the best wood. Furniture you can change, but these materials you cannot. This is what gives the house character," le Masne de Chermont says. "I visited Bali once a month for 16 months so I had plenty of time to shop around."
The result of those sprees is furniture made mainly of natural materials: wood, leather and lots of rattan, including wickerwork lampshades, pots and artwork.
"We face the ocean and metal corrodes quickly – Balinese materials last longer," she says, adding, "I like to make little corners everywhere. There are so many places to sit, chat, drink, write or draw."
All six bedrooms have en-suite bathrooms and different decor – photographs of old Bali, surfers, an Indian woman. One bathroom has a double shower, another has basins carved from river stones while a hollow teak trunk surrounds a shower pipe in one of the five outdoor bathrooms.
In the main house, the communal areas are large and comfortable, with oversized sofas in the television room and living space "so we can all hang out together". In the first-floor living room, floor-to-ceiling glass doors slide into the walls for seamless access to the huge wraparound terrace, furnished with rattan furniture, and elaborate die-cut screens. And everywhere there's that lovely sea view.
"I have built my dream," le Masne de Chermont says.
---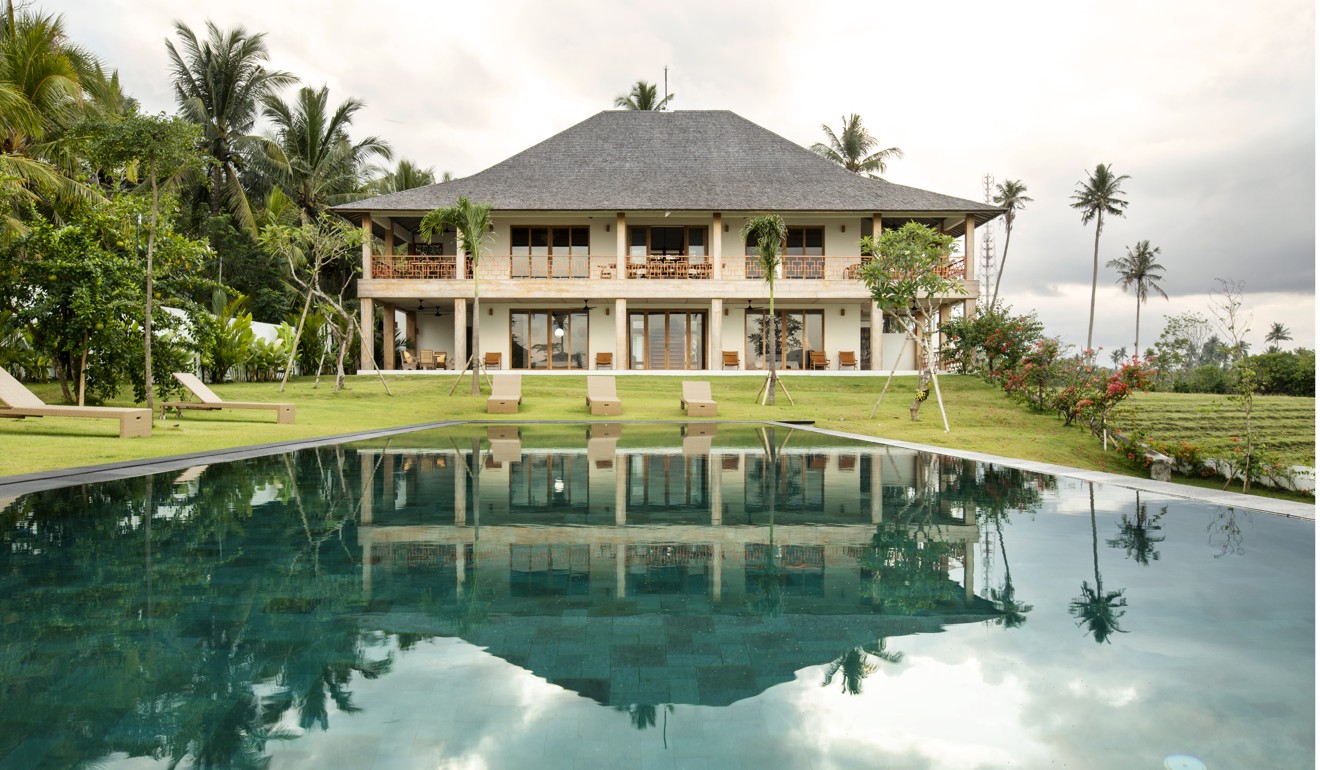 Exterior The infinity pool, which faces the house at one end and the ocean at the other, is tiled with green Sukabumi stone, available from Bali Greatest Stone.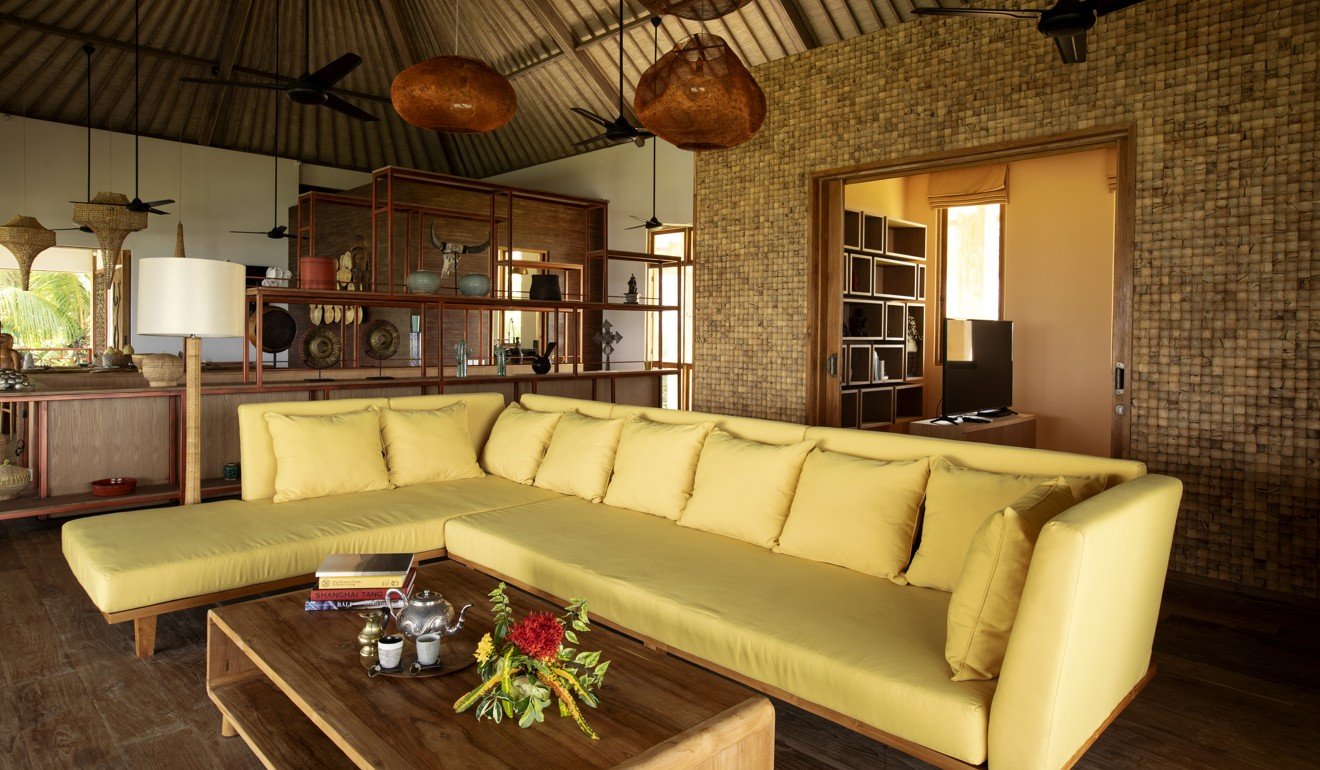 Living room In the open-plan first floor of the main house, wooden-tile-clad ceilings soar to the rafters, Bali-style, with multiple ceiling fans to keep the heat at bay ("The contractor said he had never installed so many," Marie le Masne de Chermont says).
The oversized sofa (HK$18,000/US$2,300 from Yuni, in Bali) is a favourite evening hang-out spot. The copper-wire pendant lamps (HK$1,500 each) and teak coffee table (HK$8,500) were from Selected, in Bali. The floor lamp was HK$1,450 from Casamayor (Jalan Pantai Berawa 6, Canggu, tel: 62 878 6013 3583).
Le Masne de Chermont designed the bookcase in the television room as a series of boxes fixed to the wall. They were made to measure for a total of HK$16,800 by architect Kadek Dirga (tel: 62 81 2363 2500). The Panasonic ceiling fans were painted black.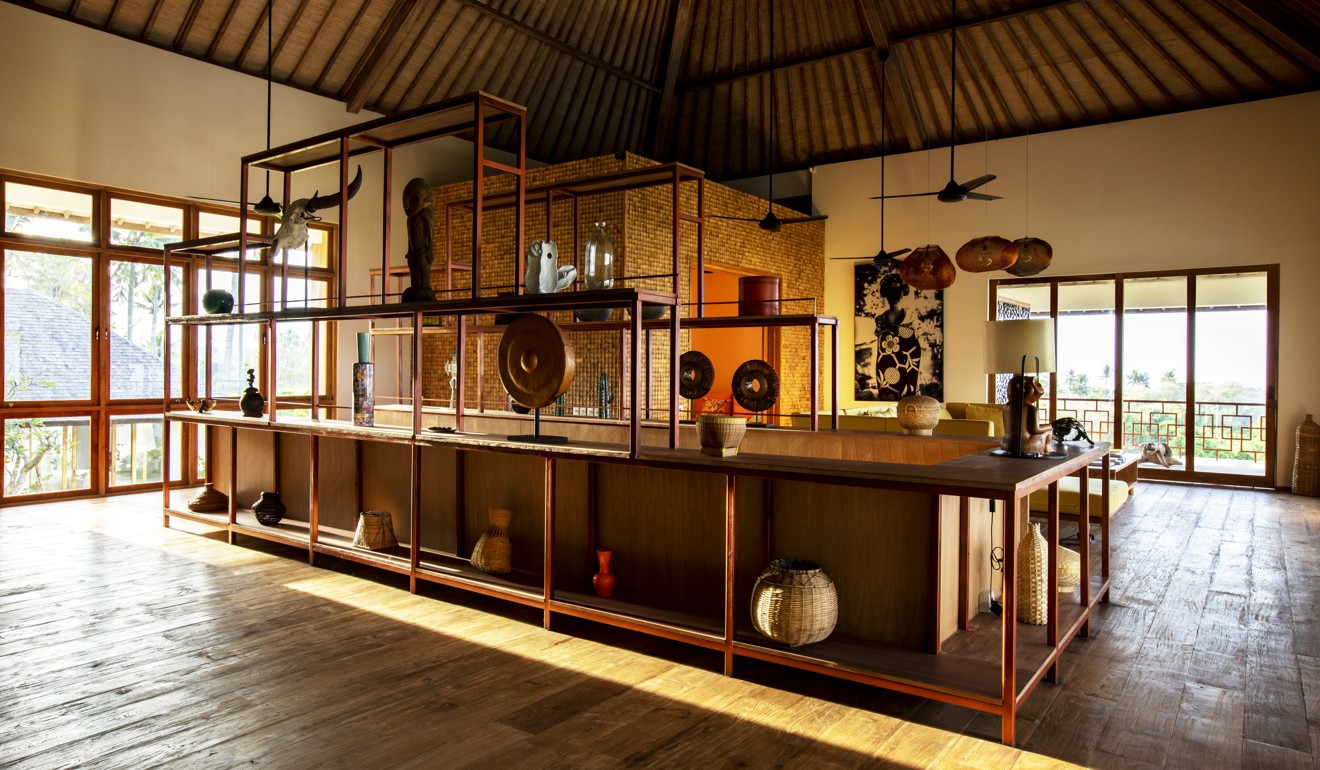 Living area detail To retain a feeling of openness while still defining the living and dining spaces, the central staircase was encased in open copper shelving (HK$74,000, made by Dirga's builder), used to display local basketry and circular wedding ornaments picked up in antique shops in Ubud. The black-and-white artwork was from Stephane Sensey (stephanesensey.com), in Bali.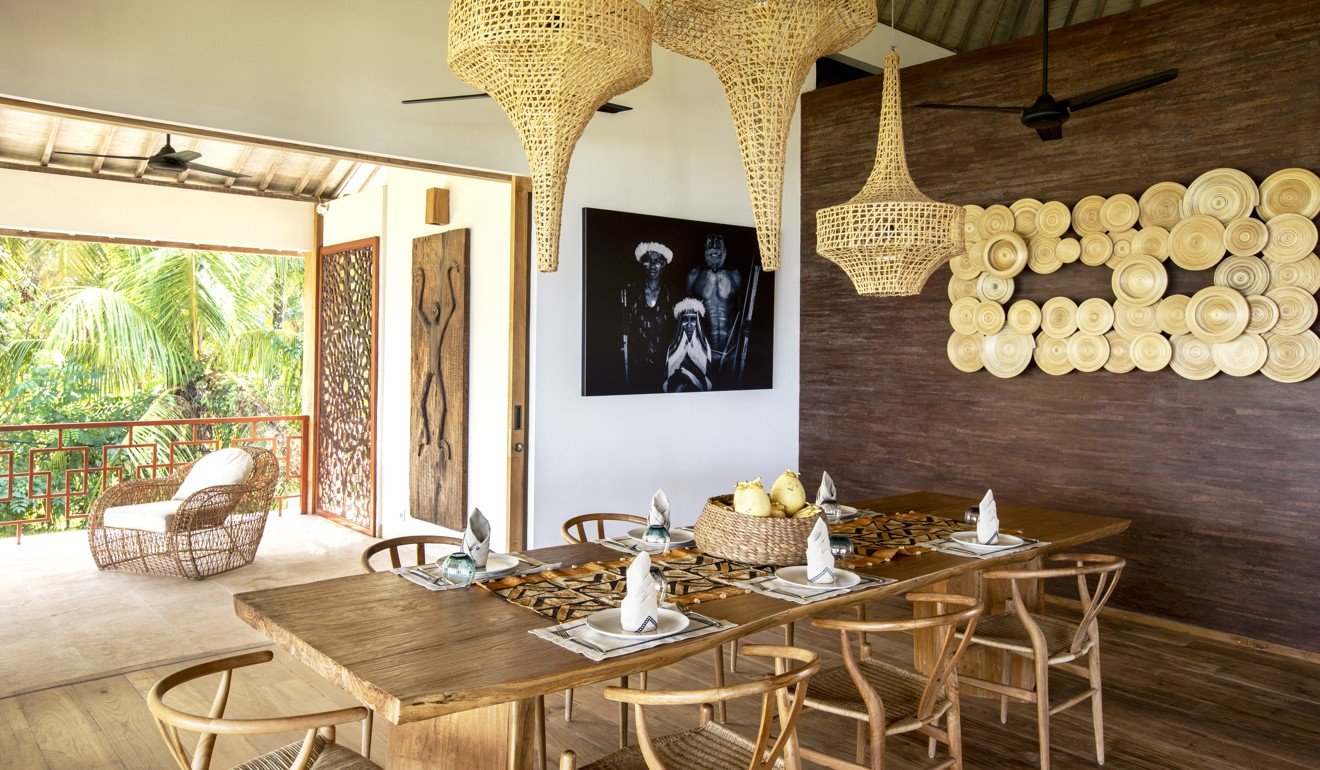 Dining room The sliding doors in the open-plan dining room and living area were designed to disappear into the wall. "Dirga was good on technical details, like the sliding doors. I don't like curtains so we have shutters that slide inside the wall," le Masne de Chermont says.
The dining table was HK$21,900 from Putra Rahmat Jaya Furniture (Kerobokan Street No 2, Kuta, tel: 62 819 3309 3943). The dining chairs (HK$1,780 each) and rattan armchair (HK$7,600) were from Lio Premium. The lampshades were from a shop now closed, and the wicker artwork on the wall (HK$15,000) was from Bambusa (111B Jalan Kerobokan, Seminyak, Bali, tel: 62 817 6560 163).
The vintage photograph was from Stephane Sensey and the monkey wall panel (HK$9,600) came from Borneo Antique Gallery (79X Sunset Road Barat, Seminyak, tel: 81 254 44 0507). The granite flooring on the veranda was from Bali Greatest Stone.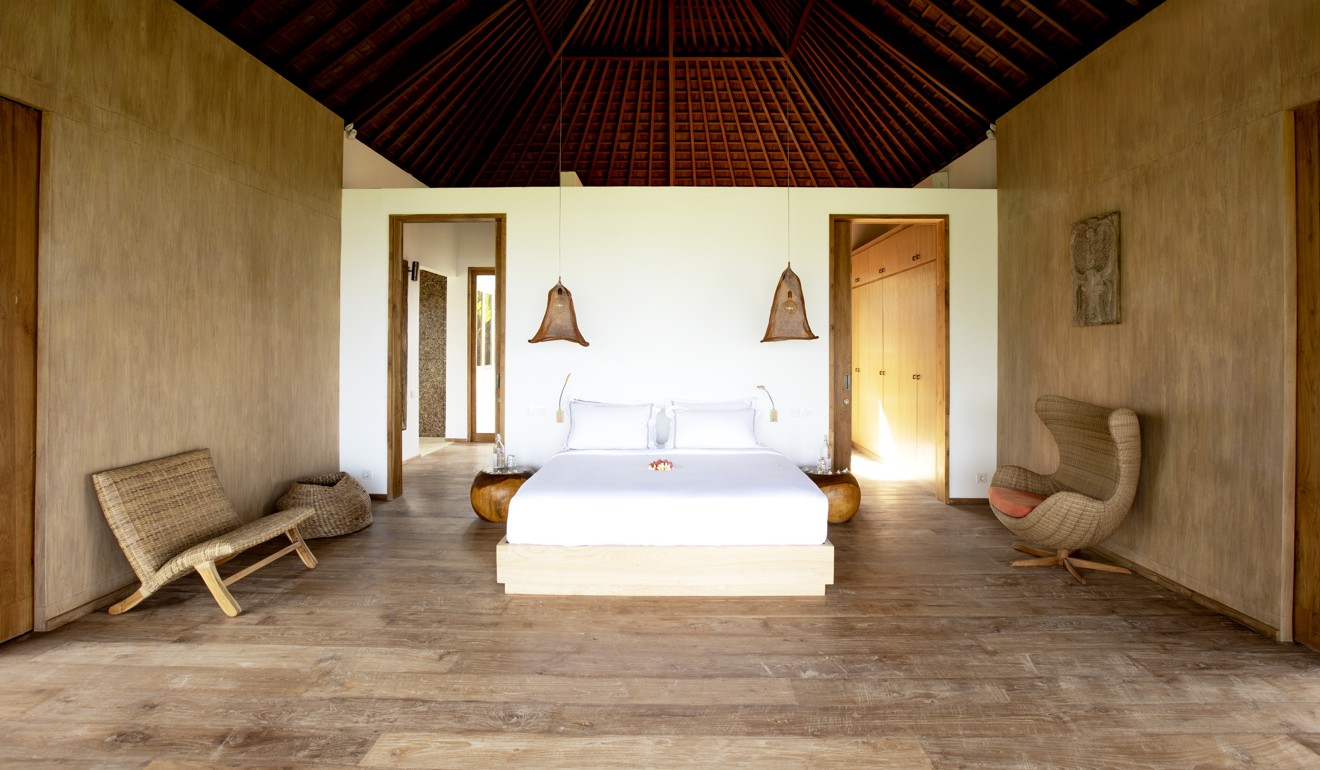 Master suite Teak flooring and walls are offset by a white wall. The bed (HK$15,795) was custom made by Dirga. The sugar- wood bedside tables (HK$1,500 each), egg chair (HK$11,650) and wide chair (HK$4,500) were all from Lio Premium, in Bali.
The copper- wire lampshades (HK$1,850 each) were from Selected. The carved, wooden cow head was from Torayata 99 (Jalan Gunung Tangkuban Perahu No 99 Br Pengipian, Kerobokan, Badung, Bali, tel: 62 812 4472 0410).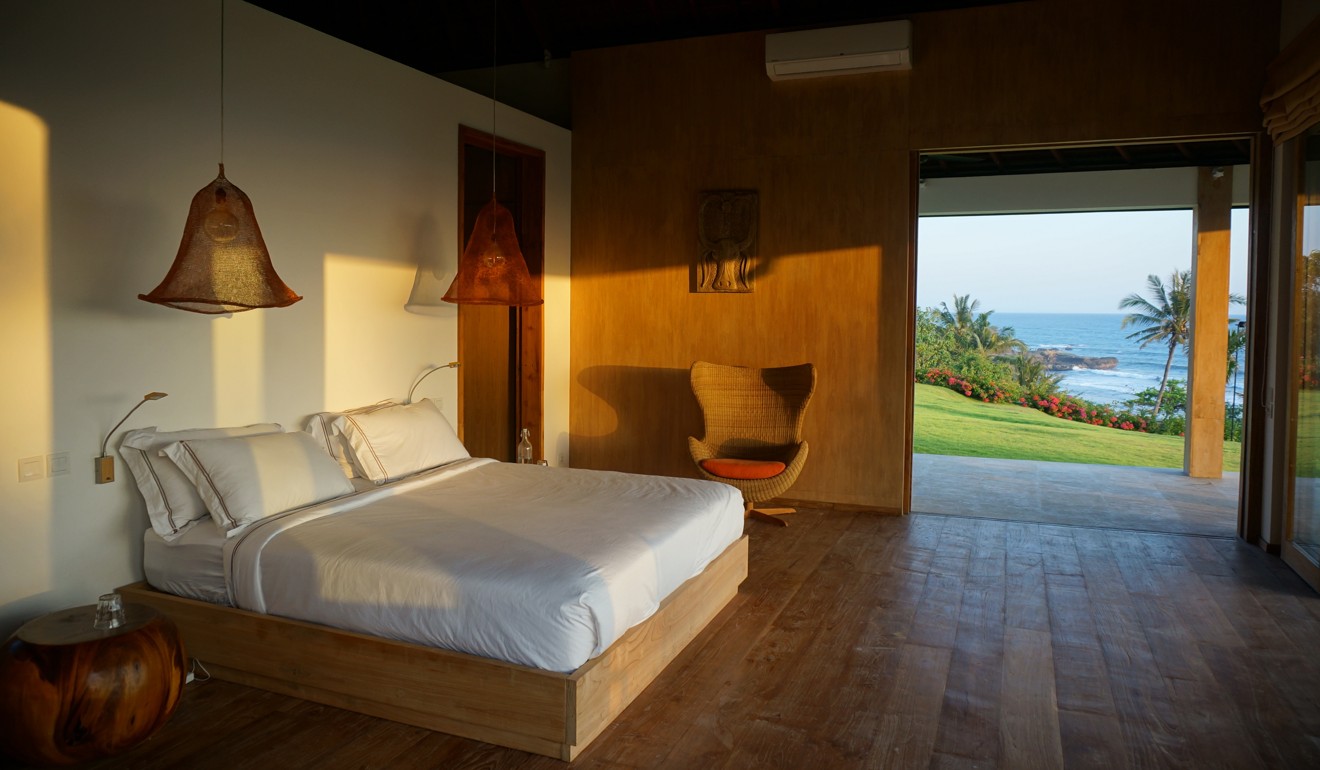 Master-suite view The main bedroom suite looks out over Balian surfbreaks. Picture: Marie le Masne de Chermont
Master-suite terrace Local stone decks and pillars clad in reclaimed teak, all from Bali Greatest Stone, set a minimalist aesthetic on the bedroom terraces. The leather and teak recliners and footstools (HK$1,400 and HK$850 each, respectively) were from Dika Jok in Denpasar, Bali (tel: 62 813 3731 8505).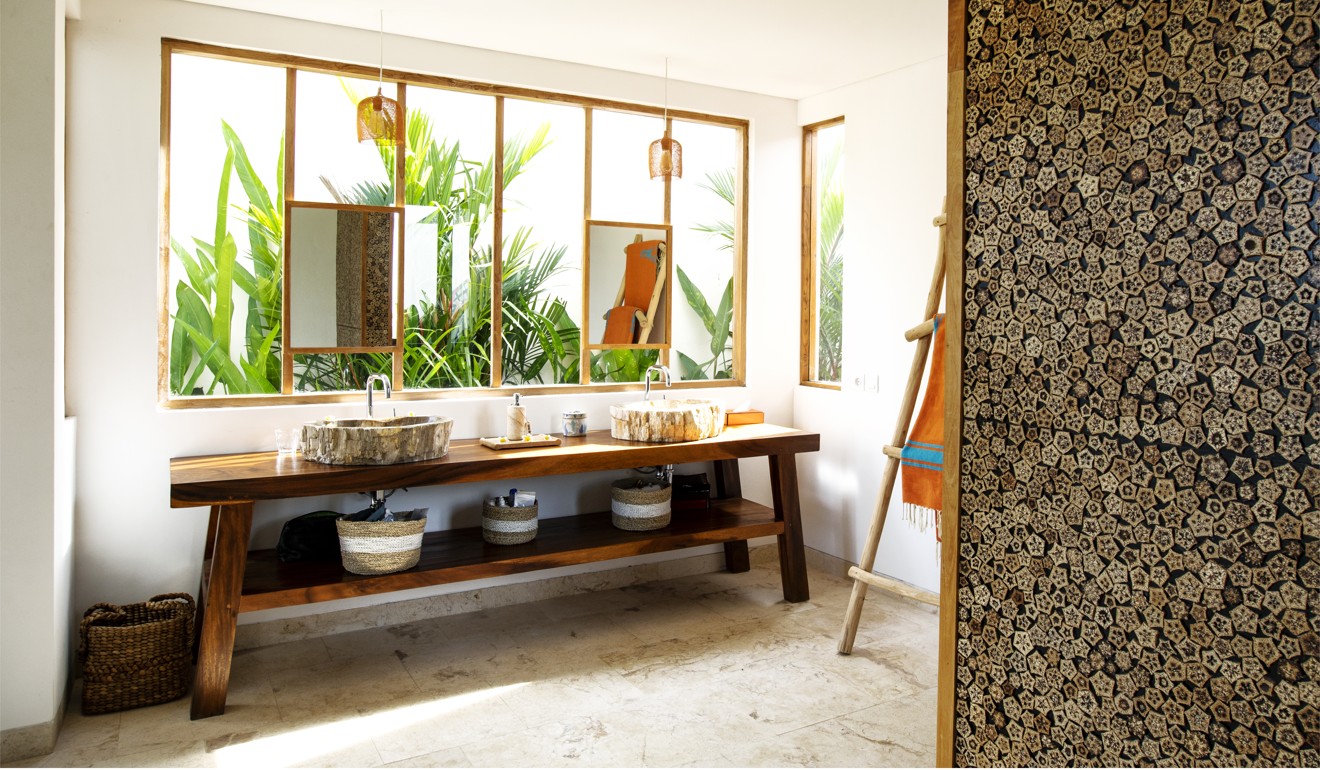 Master bathroom One of five indoor-outdoor bathrooms, the master en-suite has double basins (HK$1,500 each from Rudy Art, Bali), which are carved from petrified wood. The mirrors (HK$975 each) set into the teak window frames were custom made by Dirga, who also made the suar-wood console (HK$4,900). The teak towel ladder was HK$920 from Selected.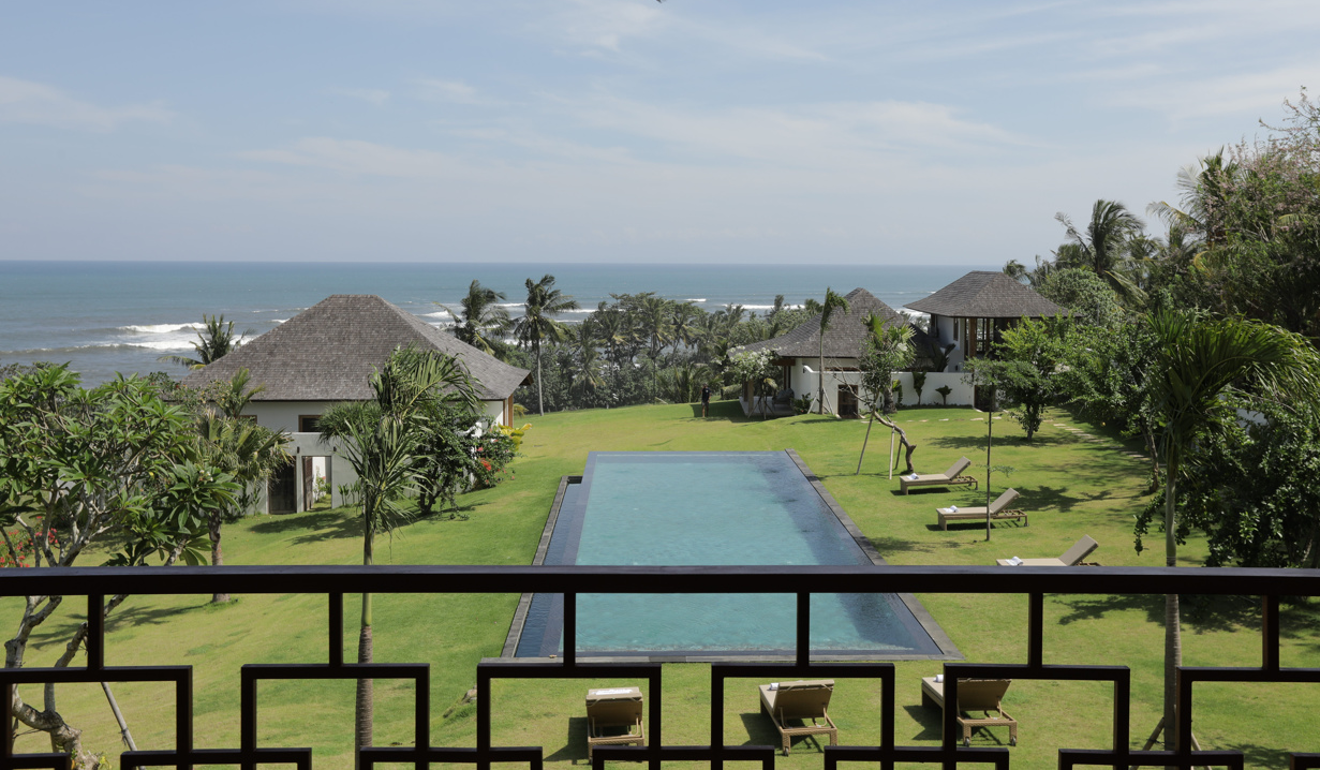 Swimming pool The site accommodates five buildings and a 25-metre infinity pool overlooking Balian Beach.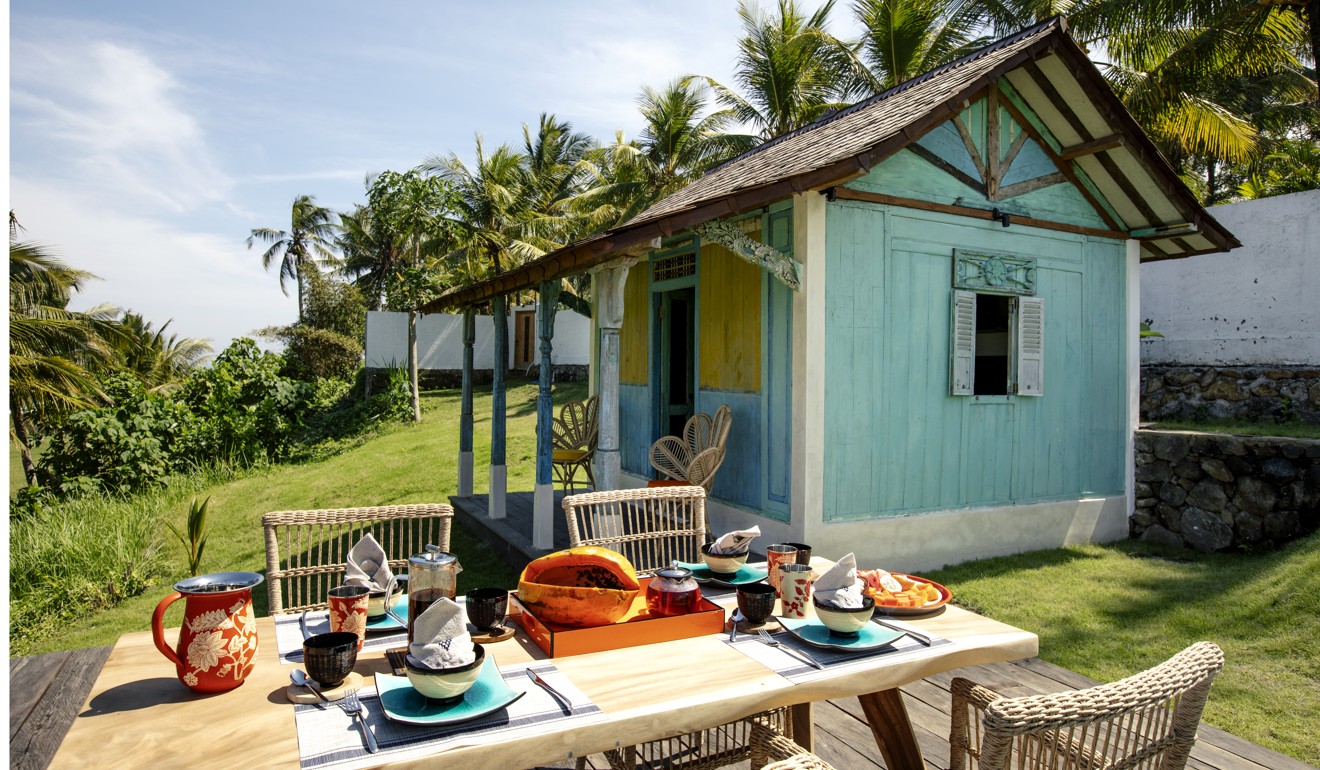 Geladak Constructed from parts of several old buildings and painted a weathered shade of blue, the geladak is positioned next to a deck, above rice fields, for casual meals and sundowners. The table was HK$8,900 from Manis (tel: 62 857 3915 7597) and the dining chairs were HK$1,560 each from Bint Ng Timur (tel: 62 813 3854 9819).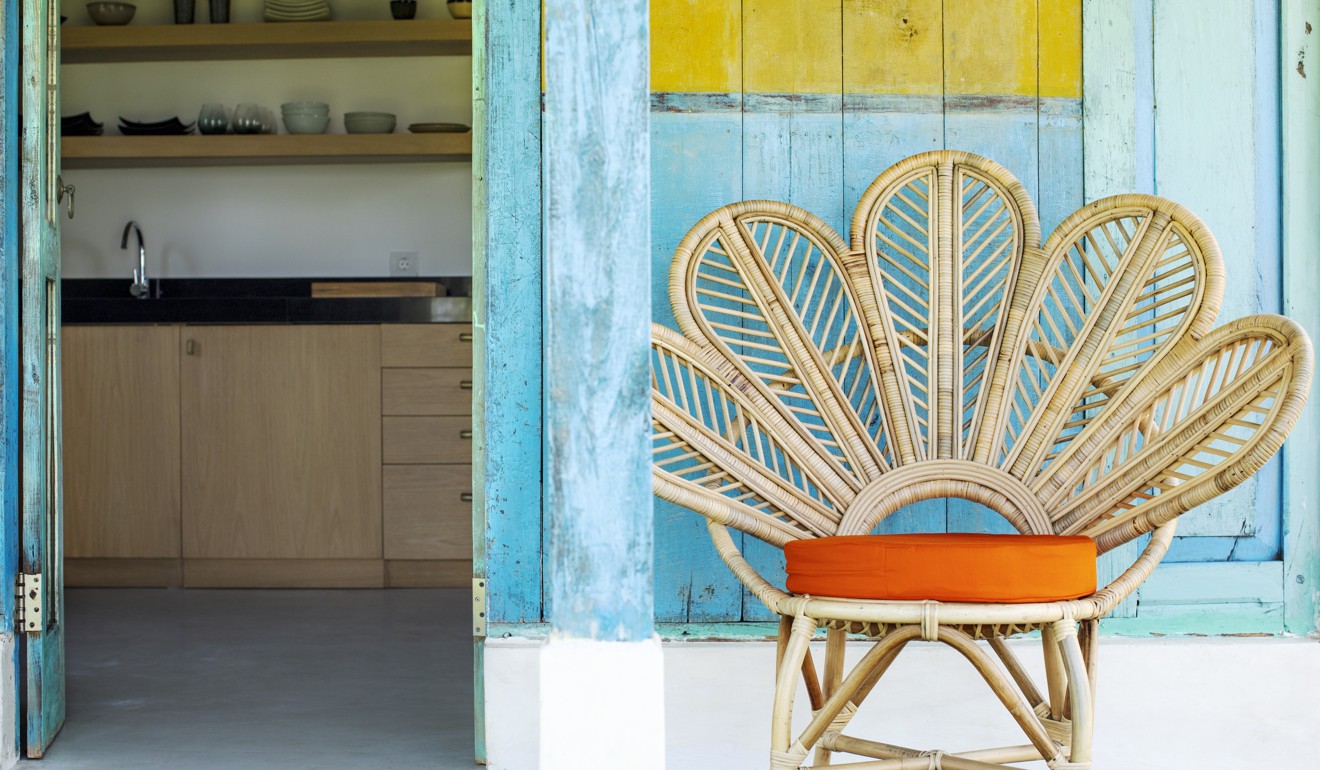 Geladak detail The geladak contains a kitchen, designed by le Masne de Chermont, to minimise long treks back to the main house for forgotten items.The rattan chair was HK$2,960 from Jonny Gallery, in Canggu.
---
Tried + tested
Go nuts All the bathrooms and the living area have feature walls of wooden cladding made from slices of coconut and other nuts, including mahogany nuts in the master en suite, arranged in different patterns. "The cladding on the wall changes colour as the light shifts during the day," Marie le Masne de Chermont says, adding, "I'm an earth person who likes to feel nature omnipresent; I love stylish raw materials." The coconut cladding cost HK$400 per square foot, from Bali Greatest Stone.