The perfect home usually requires a few must-haves. Sometimes, after the basics are taken care of, it comes down to just one thing. For Britons Joanne Macer and David Konn, who have lived in Hong Kong since 1997, it was a large, easily accessible terrace.
"That was the clincher," says Konn, referring to the 1,000 sq ft terrace that made their Pok Fu Lam flat so appealing. "Joanne really likes plants, and she's always wanted a big terrace, so this ticked all the boxes."
When the couple bought the 2,600 sq ft, three-bedroom flat in 2015, after several years of searching, it required only minimal alteration.
"We fell in love with the flat because of the layout, so we didn't want to touch it," Macer says.
Its attraction is immediately obvious in the living room, which segues into a dining area on one side and a charming, light-filled nook on the other. Off the dining space are an office-cum-sitting room and the kitchen, which is enclosed but visible through a glass wall. A corridor by the entrance leads to the private quarters.
Rather than enlist an interior designer, the couple decorated their own home, personalising rooms with furniture and artwork collected over the years. Their aim, they say, was to create an "uncluttered and coordinated" interior that evolved naturally.
In the bedrooms, custom-made cabinetry replaced old wardrobes. To make the main bedroom feel more spacious, a built-in shelf-and-bedhead unit was removed. In their daughters' rooms, 17-year-old Mia enjoys a curved bench that hugs a wall while 14-year-old Ana has a statement-making mural.
The open living and dining areas spill onto the terrace, where the family often dines alfresco.
"If we had a rooftop terrace, we'd have to go out and up," Konn says. "But this is like another room. It's absolutely part of the house."
Curved, wraparound, floor-to-ceiling windows at the front of the living area – which enjoys views of the sea and surround­ing greenery – enhance the connection between outdoor and indoor spaces.
A chaise longue, a desk and an armchair furnish this verdant spot.
I like bringing the outdoors inside, like a beach holiday. Some people's homes have a lot of blankets and cushions to make it feel warm and cosy, but I prefer the opposite of that
Much of the couple's furnishings were bought in Spain, where they lived for seven years after being relocated from Britain by fast-fashion retailer Zara. (The company also brought them to Hong Kong, although Konn has since started his own fashion-sourcing company, China Red Textiles, for which Macer handles accounts.)
Konn has high praise for Spain's contemporary wood furniture, and the couple's collection includes a turquoise armchair – more than 20 years old and reupholstered for the fifth time – and a vintage wooden television cabinet in the study. They had a white shelving unit custom designed to fit around this cabinet.
"I'm a slight tidy freak," confesses Konn.
Macer adds: "I like to keep some walls empty so when we see [a new artwork we like] we can slot it in."
She also prefers a neutral backdrop.
"I like bringing the outdoors inside, like a beach holiday," she says. "Some people's homes have a lot of blankets and cushions to make it feel warm and cosy, but I prefer the opposite of that."
---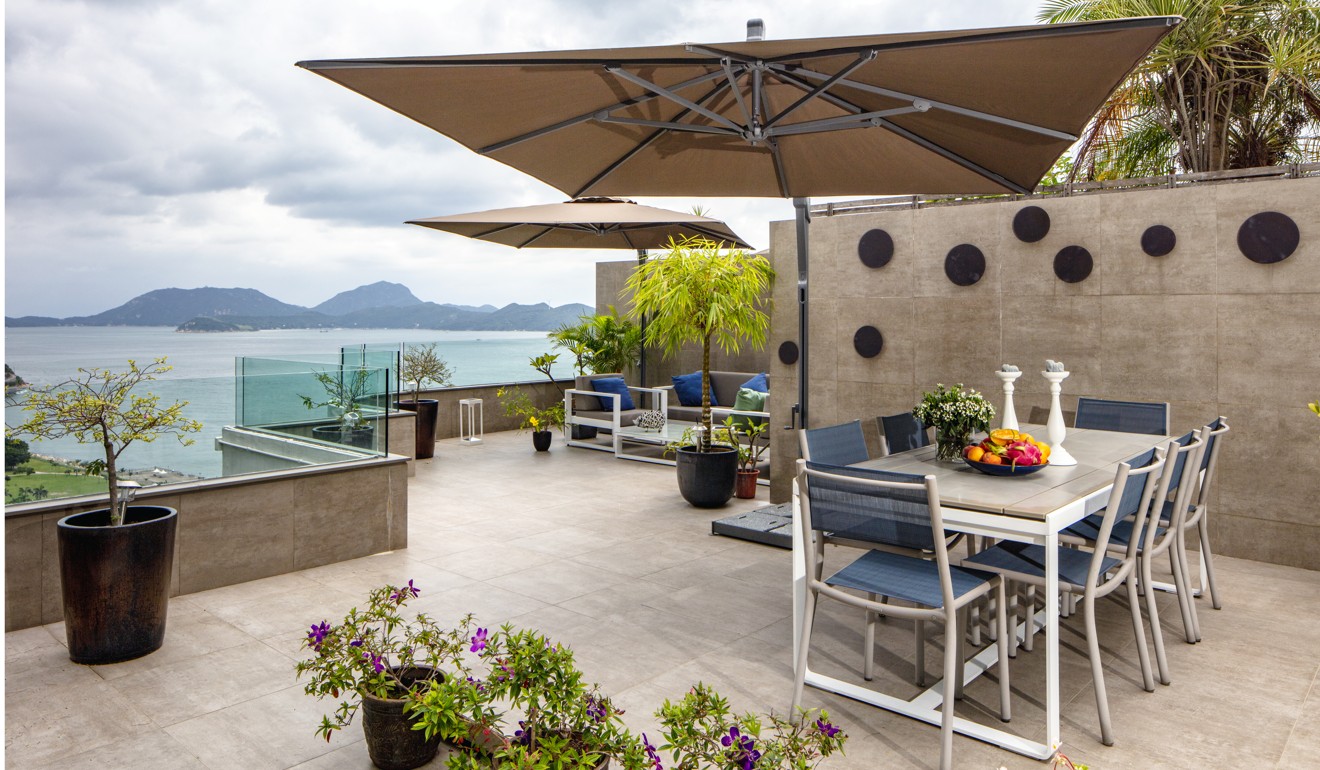 Terrace The Gandia Blasco dining table (HK$21,800/US$2,780), the AKZ parasols (HK$15,500 each), the chairs (HK$1,780 each) and the sofa and coffee-table set (HK$49,370 in total) came from Zzue Creation. The round lights built into the wall came with the flat.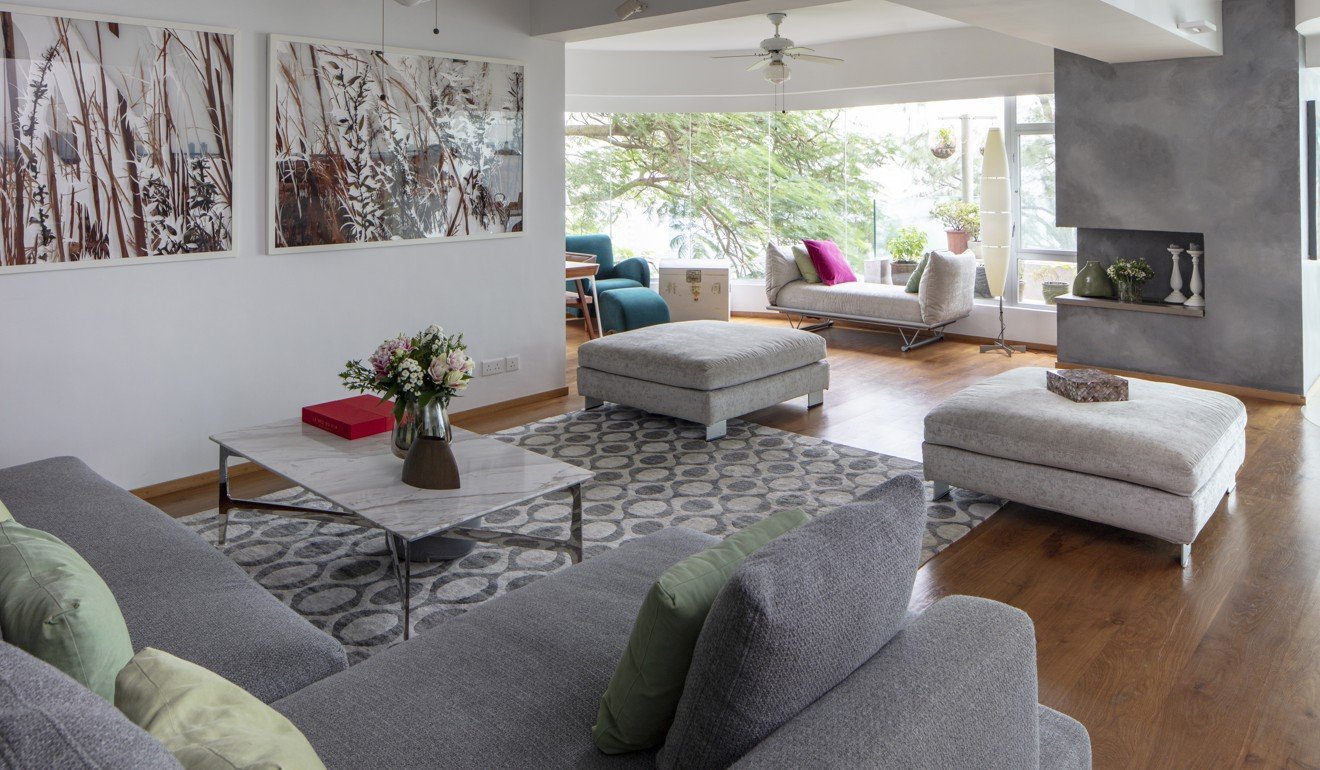 Living area The sofa and ottomans were bought from a shop that has since closed. The bamboo silk rug (HK$23,400) came from Carpet Buyer while the coffee table (HK$13,990) was from Indigo Living.
The diptych, Like A Long Line, by Shu Ikeda, was purchased from Maki Fine Arts in Tokyo, Japan. The artist is represented by Blindspot Gallery in Hong Kong. The fan is 20 years old but similar ones are sold by SMC.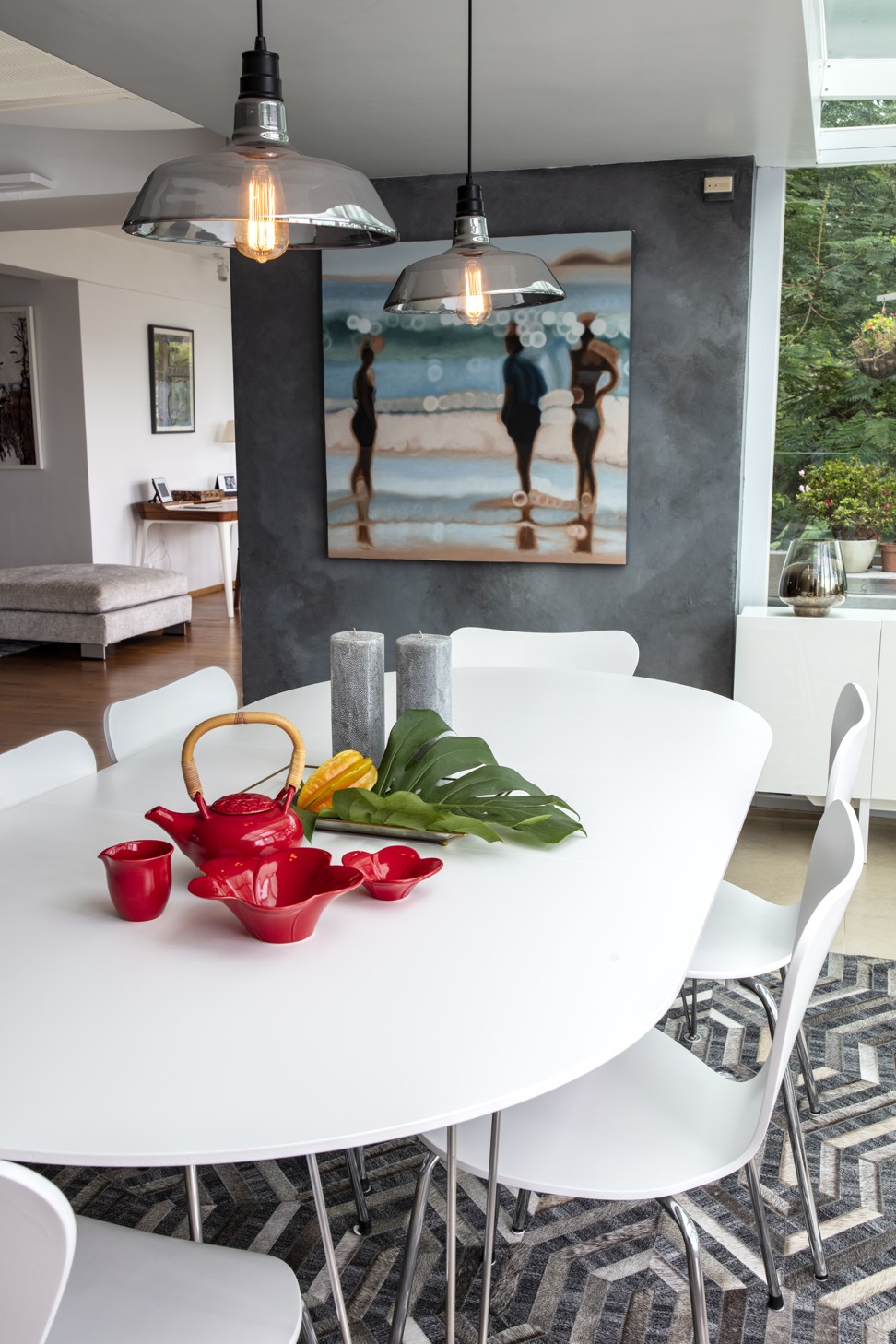 Dining area The Arne Jacobsen Series 7 chairs (HK$8,120 each) are available at Manks while the Rubicon Teta rug (HK$9,500) is from Ovo. The unsigned artwork, Friends, was bought from Nature Evolution and is mounted on a wall featuring a paint finish by Elizabeth Hamill. The table was bought two decades ago in Spain and the pendant lamps came from Shenzhen.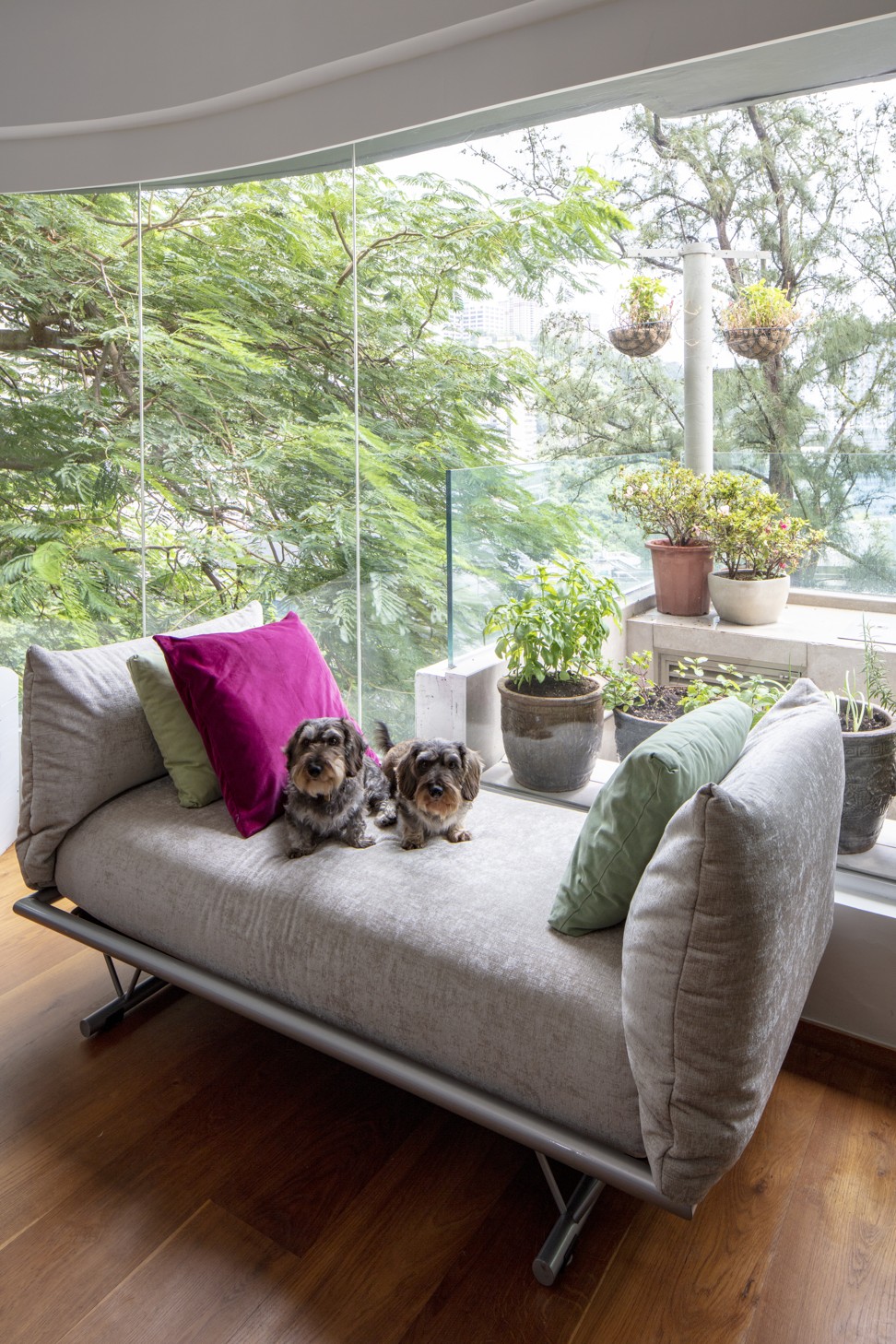 Living area detail Sumo and Stanley relax on a chaise longue that was reupholstered by James Curtain Service (40A Blue Pool Road, Happy Valley, tel: 2576 9448).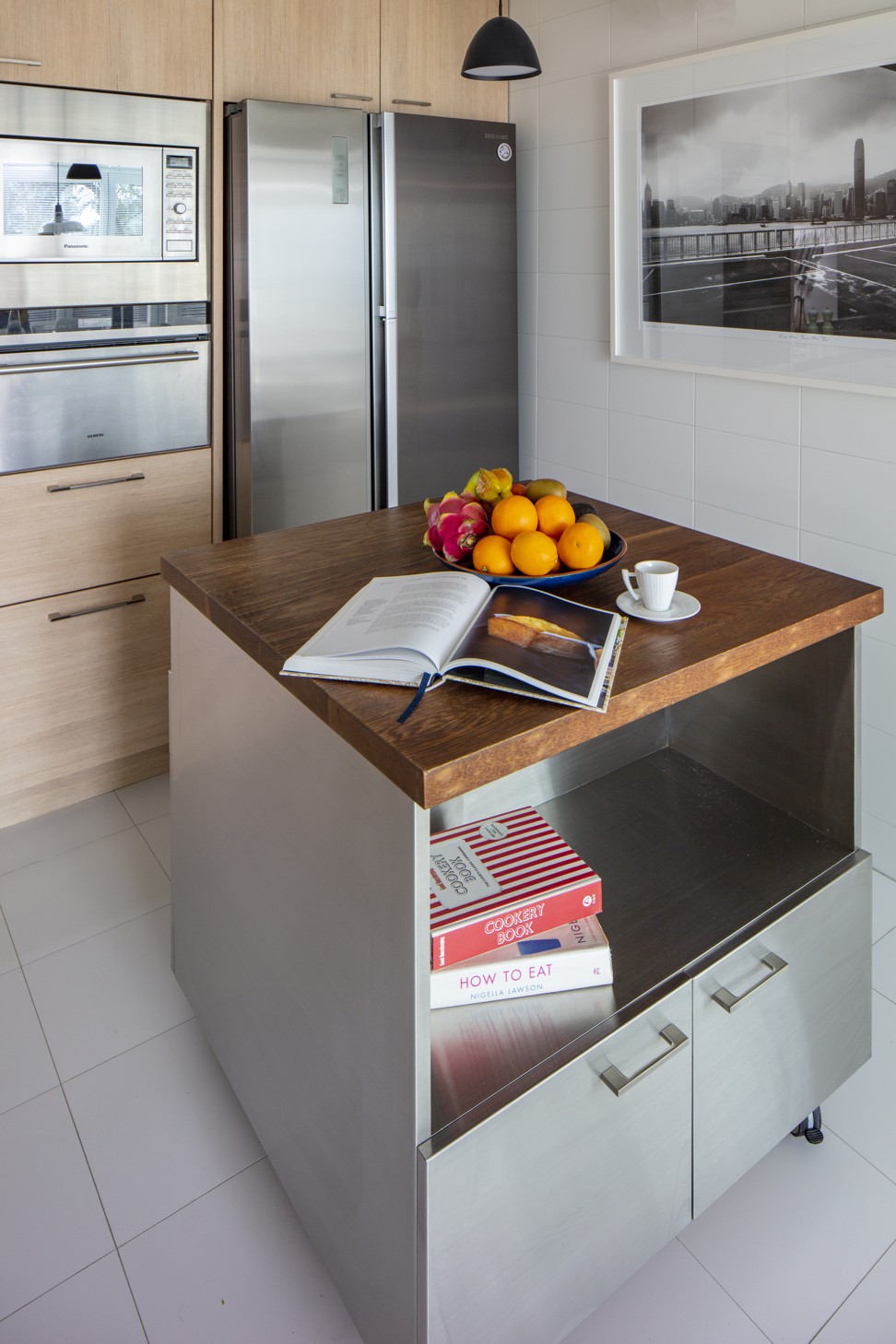 Kitchen The black- and-white print is from the "Views from Tsim Sha Tsui" series by Norm Yip. The pendant light (HK$1,180) came from Boss Lighting Design (52 Morrison Hill Road, Wan Chai, tel: 2572 9668).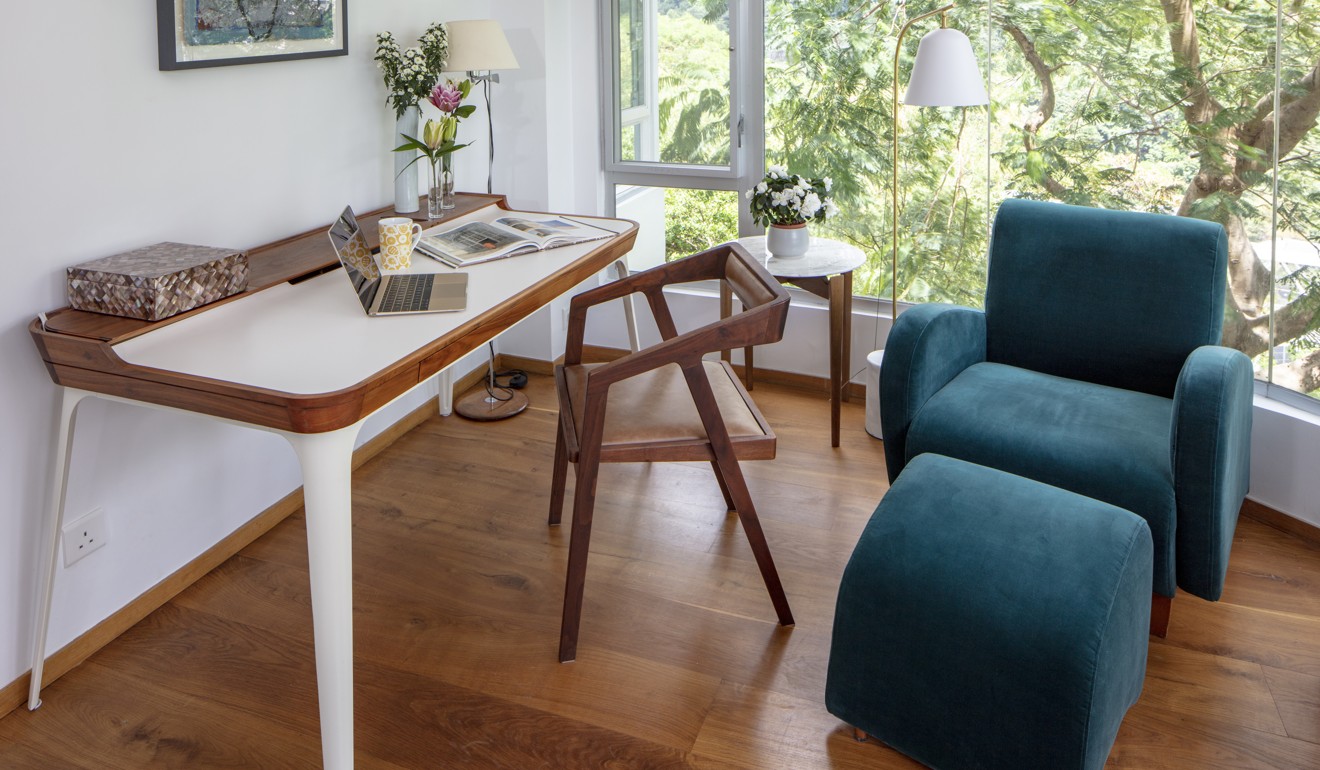 Work corner The Airia desk (HK$21,800), by Herman Miller, came from Lane Crawford. The desk chair (now discontinued) was bought from Nature Evolution, while the armchair by Sancal was purchased in Spain and reupholstered by James Curtain Service. The NORR11 lamp (HK$5,800) is available at Lane Crawford. The side table came from Indigo Living several years ago.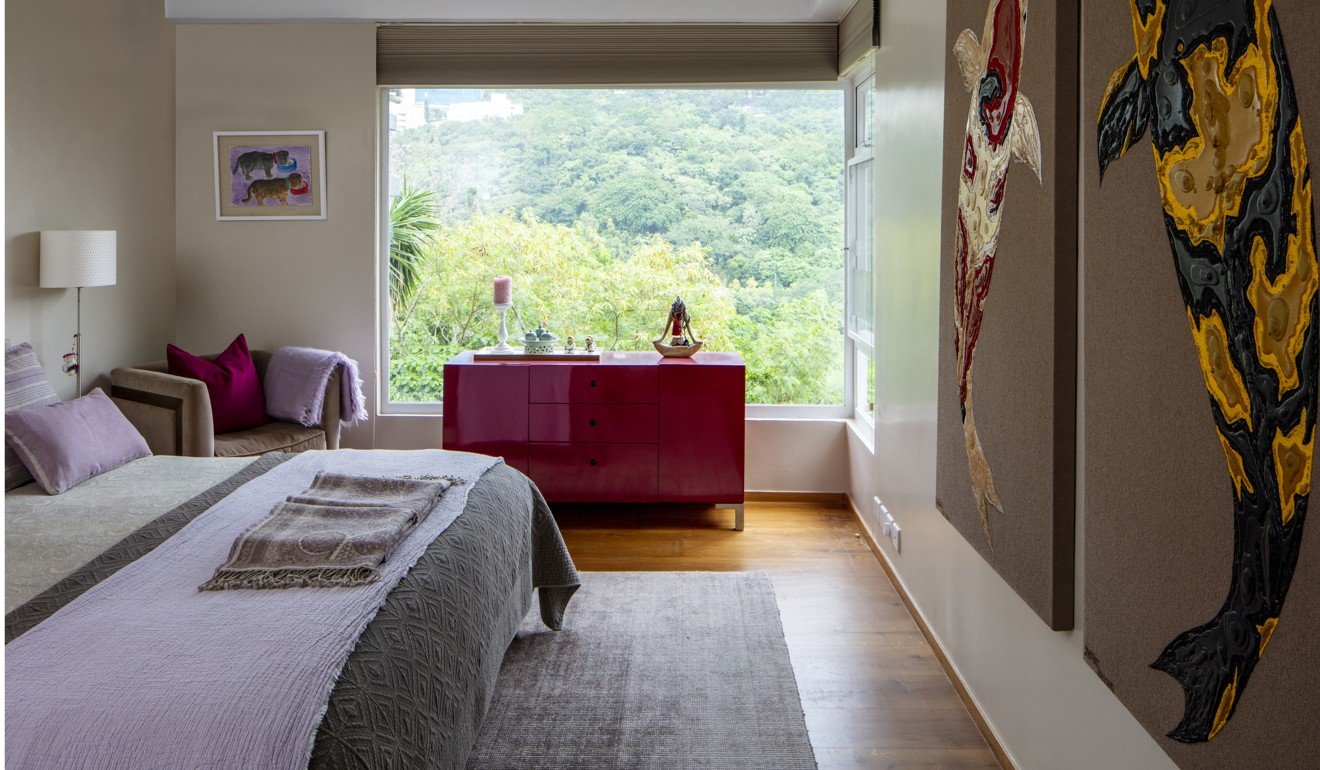 Main bedroom The old sideboard came from G.O.D. while the Westminster tan velvet chair (HK$12,990) and Marcus silver rug (HK$9,900) were from Indigo Living. The mixed-media koi artwork, by Jaruwat W, came from Wellington Gallery. The smaller artwork, Stanley and Sumo, is by the couple's daughter Mia. The floor lamp (HK$449) was from Ikea.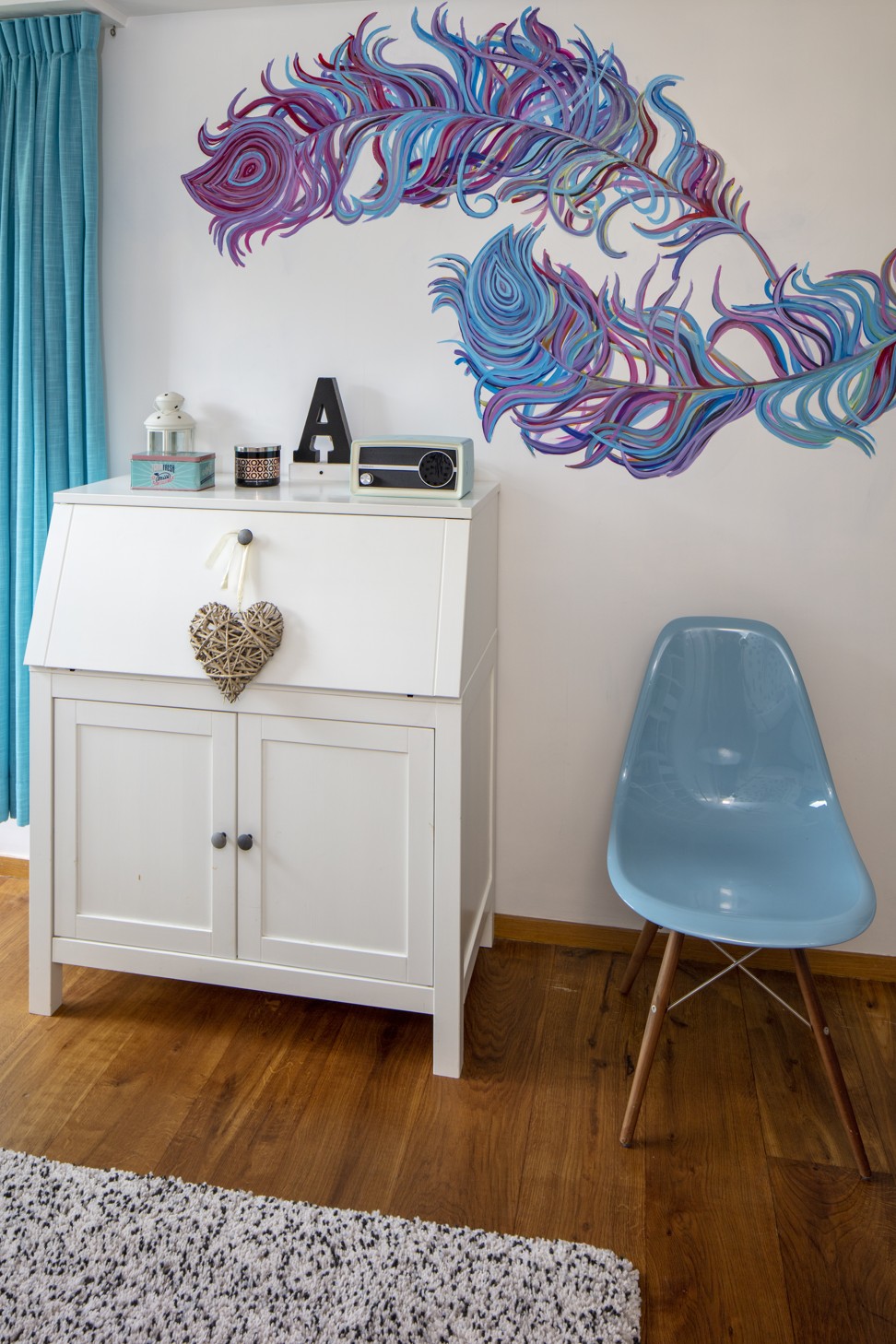 Ana's bedroom The Hemnes bureau (HK$2,490) from Ikea is paired with an Eames-style chair (HK$980) from Nature Evolution against a mural by Elizabeth Hamill.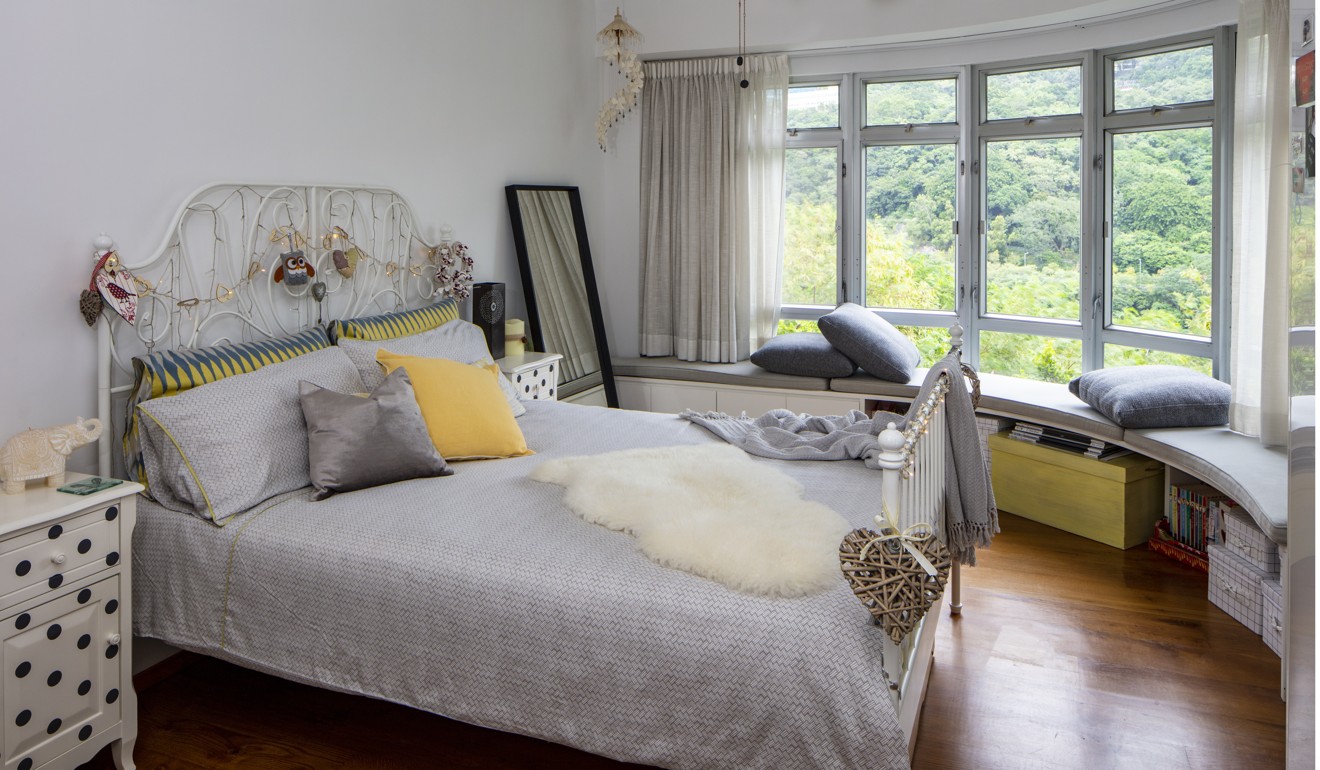 Mia's bedroom The Leirvik bed frame (HK$1,590) from Ikea is decorated with whimsical accessories picked up in Britain. The Leka bedside cabinets (HK$5,600 for two) are from Francfranc. The mirror (HK$699) came from Ikea. The curved bench came with the flat but new cushions were made by James Curtain Service.
---
Tried + tested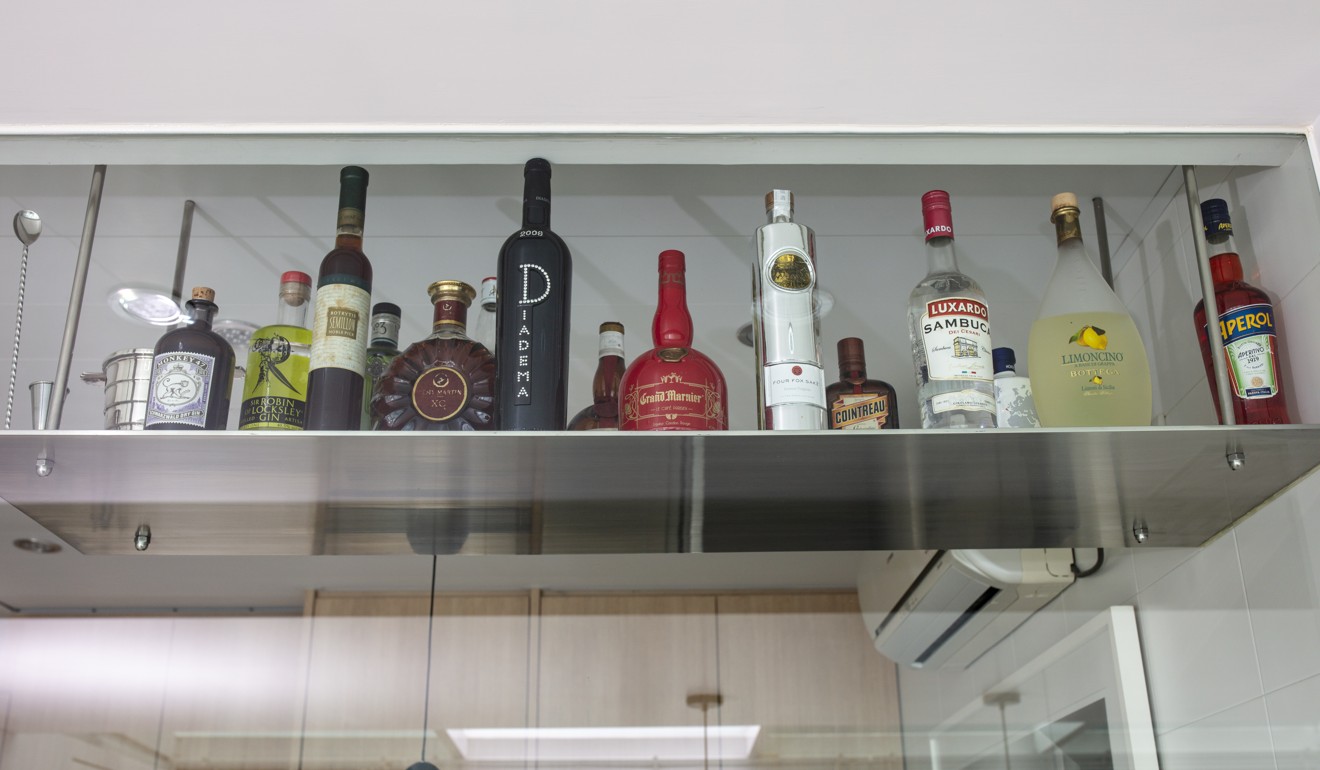 Raise the bar The kitchen was left as it was, but David Konn decided to make a feature of an existing stainless-steel shelf hanging from the ceiling. Because a glass wall separates the kitchen from the dining area, making the shelf highly visible, it was turned into a decorative bar feature.
"I liked having something that wasn't put away," Konn says. "It makes you feel like not everything is completely tidy, and bottles are colourful."