Jason Caroline Design's colour choice for the monolithic suspended chim­ney that forms the focal point of this 4,500 sq ft, three-bedroom Bowen Road flat proved controversial.
"Gold?" spluttered the client, William Wong. "I don't want to be like Donald Trump!"
And yet gold it is. Not gaudy Trumpian bling, but a muted, subtly metallic shade that gleams over a massive stone hearth and minimalist gas fire. Even so, Wong took some persuading by his wife, Ophelia, and husband-and-wife design team Jason Yung and Caroline Ma.
"[William] didn't want the apartment to be flashy. But if we'd gone with what William wanted, the whole place would be dark with barely even a mirror," Ophelia says. "I didn't want it to be flashy either, but I did want it to be warm for our son, Nathaniel. In the end, we split it: William decided on the bathrooms and the elec­tron­ics – he's an IT guy and wanted TVs every­where – and I took care of everything else."
Which is why the flat's colour palette is muted but warm, with shades of taupe and grey complemented by natural wood and stone, and gorgeous matt-glass panels with a texture like peach skin. As well as the gold chimney, the scheme is brightened by pops of yellow, blue and even purple in the soft furnishings ("We got away with the purple dining chairs by telling William the only other choice was bright pink," Ma says).
One of the biggest challenges was the size – it's so big. We needed to find a way to scale down the spaces to make them cosier, and we came up with the pivoting screens
The colours help to define the spaces in this huge flat, which was created from two mirror-image neighbouring units. The two former living rooms now form a large open-plan living space, with bedroom wings behind structural walls at either end, two kitchens to the left of the entrance and a study to the right. Structural and external walls placed at angles create odd-shaped spaces, which meant much of the storage had to be custom made.
"One of the biggest challenges was the size – it's so big," says Ma. "We needed to find a way to scale down the spaces to make them cosier, and we came up with the pivoting screens."
The screens divide the space into three: a dining room, central formal sitting room and casual lounge and television area, all with stunning views of the city and the harbour beyond. A "laboratory kitchen", where Ophelia devises new cakes for her bakery business, Oookie Cookie, opens onto the dining room. (The working kitchen, with a range, professional wok burner and powerful hood, is behind a glass door with a magnetic closure to keep cooking smells out of the living space.) A walk-in wine cellar is at the opposite end of the open-plan area.
"We're not particularly into wine – although we do enjoy wine tasting at vineyards and it's nice to be able to store a few crates," Ophelia says. "It was originally planned as part of the master suite but there's a structural wall next to it that couldn't be moved. We weren't sure what else to do with the space."
One of the original trapezoidal kitchens is now William's study, decorated in his favoured dark tones. Distressed metal adds an industrial touch to the back door and to a wall in an adjacent storage area (previously helpers' quarters), now cleverly fitted with rolling library stacks to maxi­mise the space.
Like the rest of the flat, the master suite is huge. Previously three bedrooms and two bathrooms, the space includes a bedroom, an en-suite bathroom, a double-ended walk-in dressing room, a walk-in wardrobe devoted to Ophelia's handbag collection and a mini pantry and fridge, stocked with supplements and chocolates. The materials are soft and sumptuous, including wall-to-wall carpet, a pair of grey velvet chaise longues and panels of taupe matt glass.
The walk-in dressing room is pure Hollywood glamour, with deep carpet, mirrored wall panels, a circular pouffe and sliding doors made from glass embedded with a fine metal mesh that shimmers in the light.
"It's beautiful at night, with the reflec­tions of the view," Ophelia says. "We use our bedroom as the family room – this is where we all hang out together."
The bathroom design was William's domain, and it is fitted with two TV screens – one in the wet room and one opposite the toilet. He wanted a third next to the washbasin but Ophelia put her foot down. "It was too much," she says.
At the other end of the flat are another two bedrooms – a guest room that doubles as a mahjong parlour and one for son Nathaniel with an en-suite bathroom and a large adjacent playroom.
"Nathaniel will be seven on Valentine's Day and wasn't sure about being so far away from us at first, but his dad told him that he'll love it when he's older," Ophelia says. "And it's great for play dates – the boys can make all the noise they want.
"Feng shui is not that important to me, but I wanted to stick to the tradition that you should not be able to see out of the window from the front door, and the fire­place and chimney achieved that, while still allowing natural light into the entrance."
---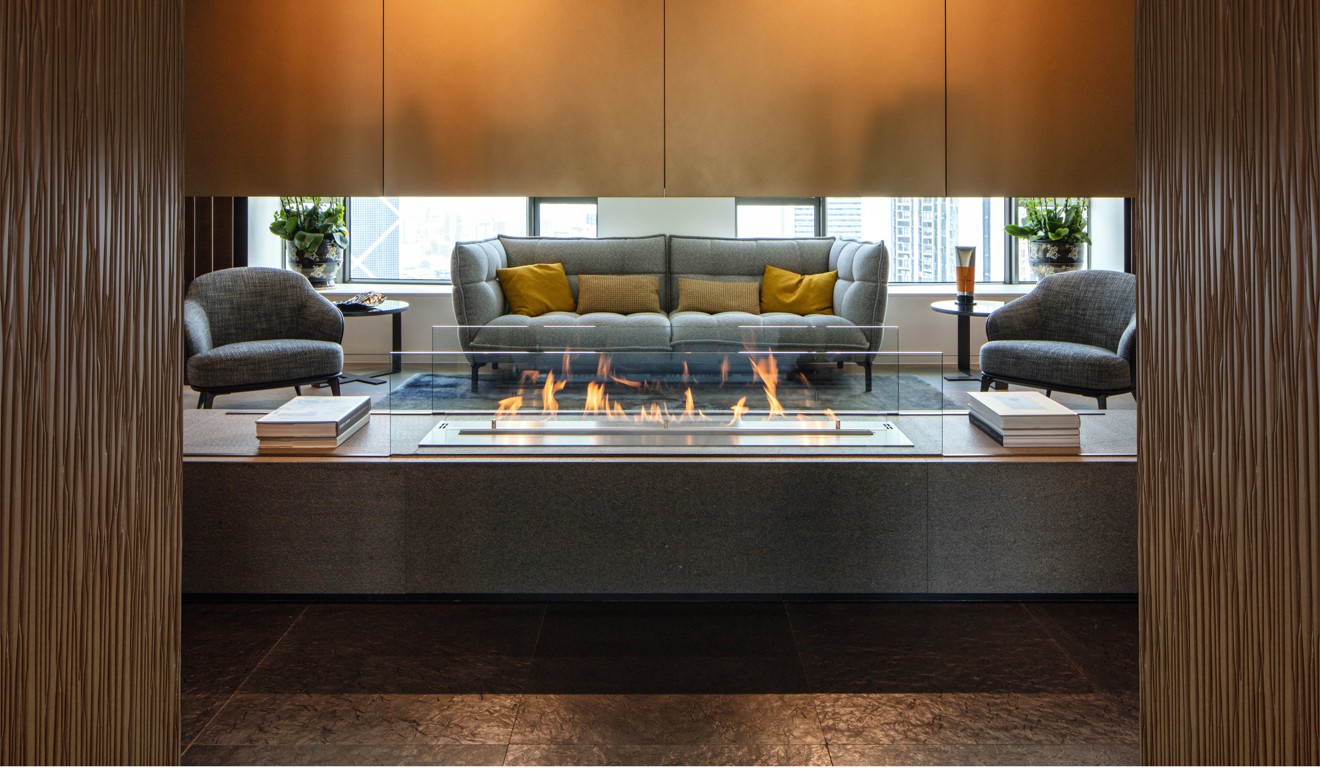 Formal sitting room The Fireline Automatic fireplace by Planika was HK$121,000 (US$15,450) from Essere. The chimney in antique light-bronze stainless steel is a custom-made cabinet by Jason Caroline Design and built by the contractor for HK$100,000. "I didn't think we'd use the formal sitting area much, but our friends always choose to sit here," Ophelia Wong says. "We're really looking forward to putting the fire on this winter."
The Husk sofa (HK$92,800) and Eileen round tables (HK$12,000 each) are by B&B Italia and came from Colourliving. The Leslie armchairs (HK$37,675 each) are by Minotti and came from Andante. The otta phyllite natural stone tiles (HK$3,690 per square metre) were sourced and installed by the contractor.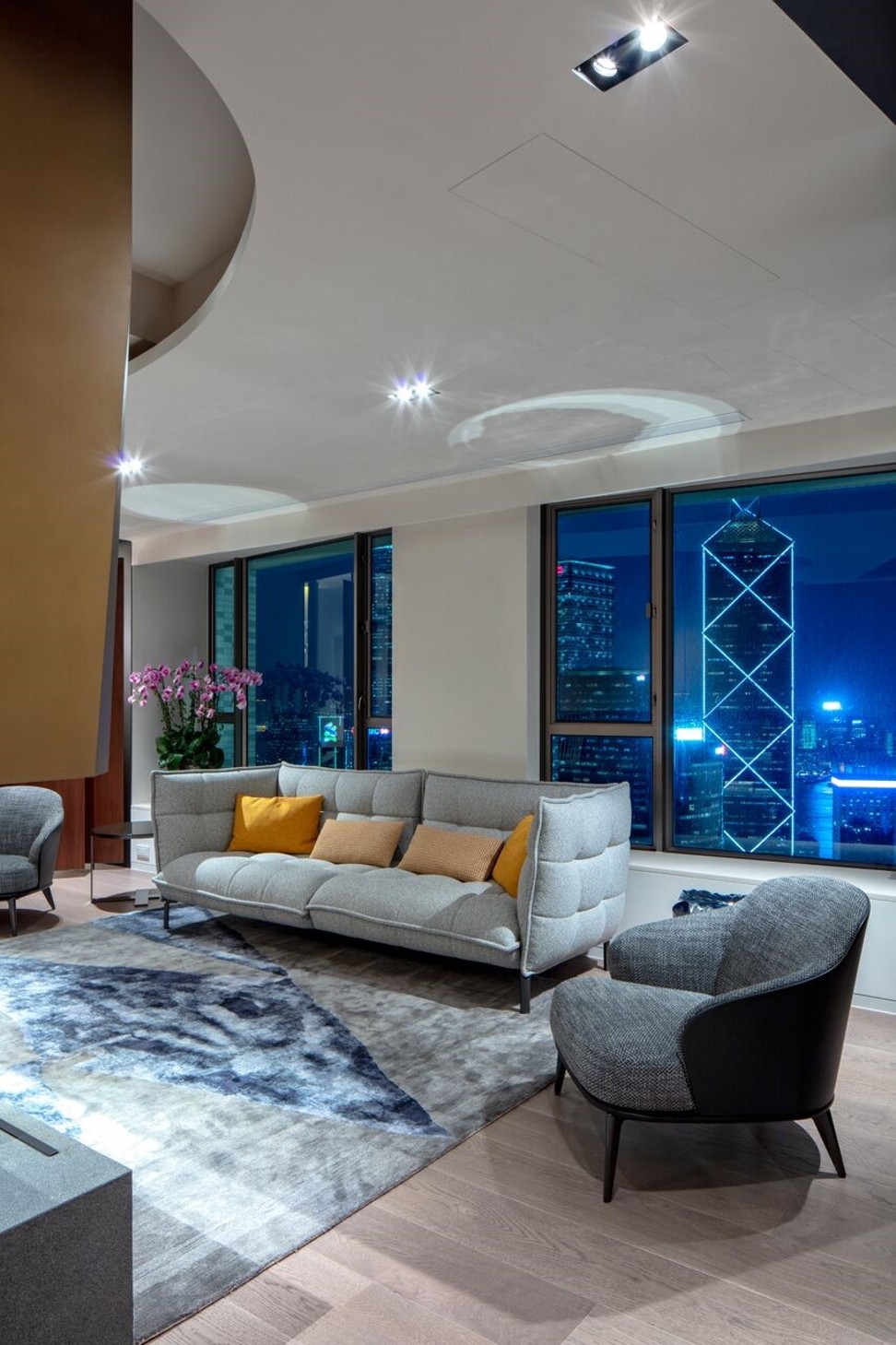 Formal sitting room detail The living room has Hong Kong's skyline as its backdrop. The rug was from Fort Street Studio (price on request).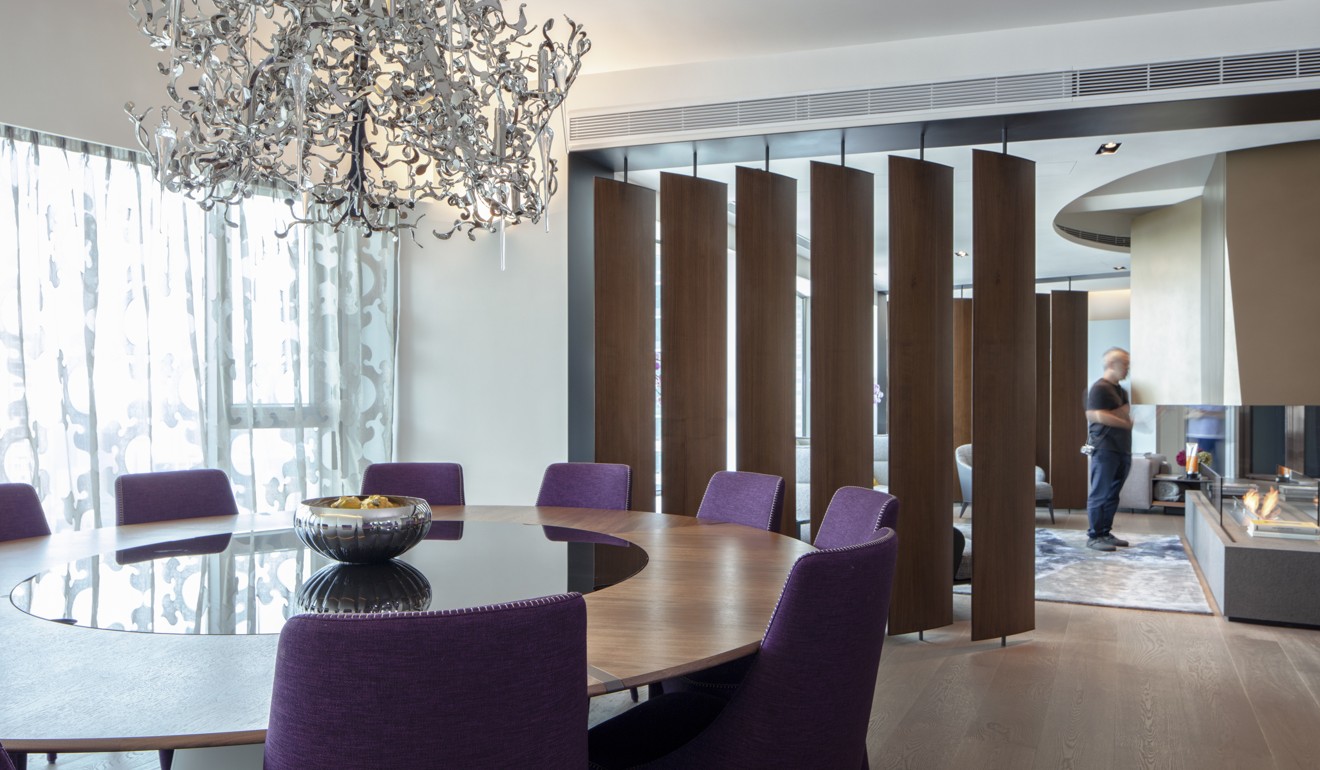 Dining area The 2.5-metre-diameter Fang dining table, in canaletto walnut wood with crystal lazy susan, is by Giorgetti and came from ViA (price on request). The Febo dining chairs, by Antonio Citterio for Maxalto, were HK$18,639 each from Dentro.
The Flower Power chandelier by Brand van Egmond was HK$65,000 from Zodiac Lighting. The curtains were made from Paloma fabric by Trevira CS and cost HK$1,900 per metre from Cetec. The STP oak limestone flooring was HK$1,912 per square metre from Equal.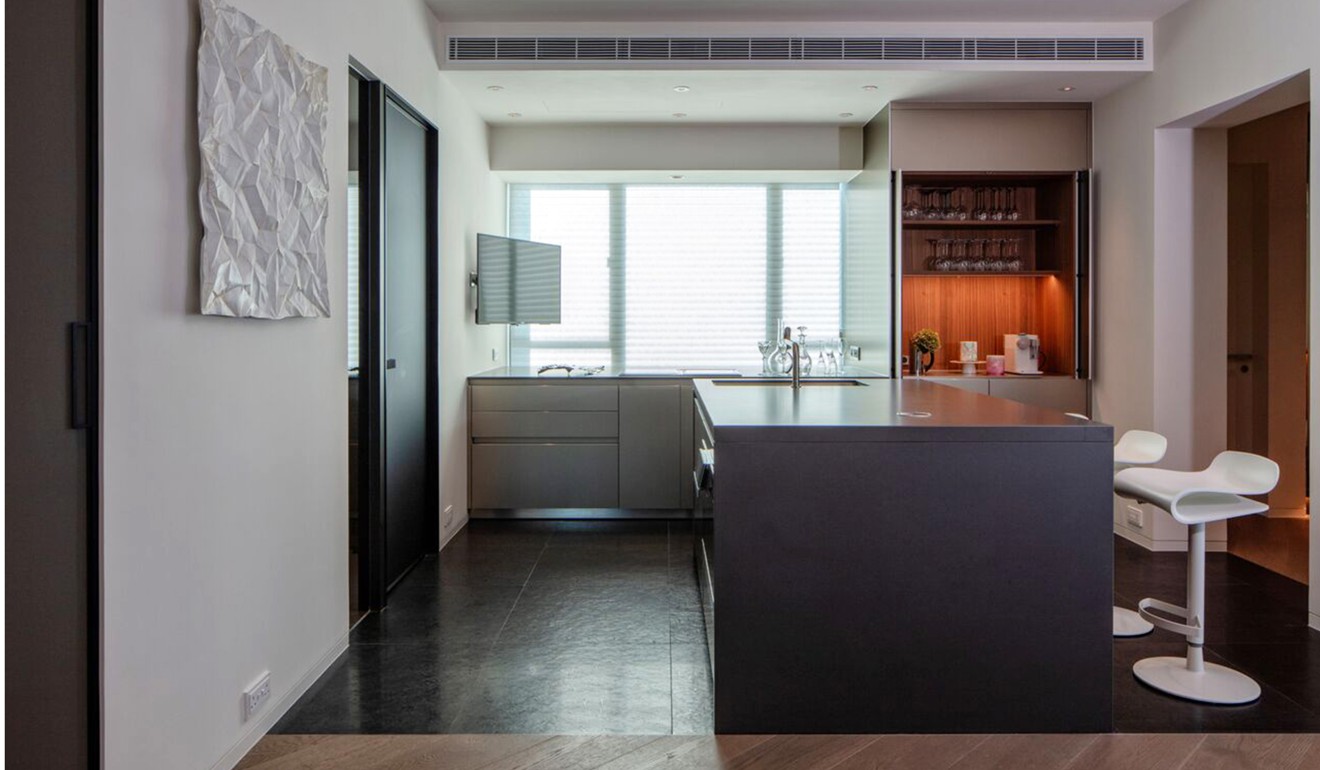 Kitchen "We painted the kitchen wall white to go with the artwork – white on white," says designer Caroline Ma. The "Unfolded" origami piece is by American artist Kevin Box. The silestone-topped island, cabinetry and pantry are from the Bulthaup B3 series in aluminium sand beige (prices on request) and came from The Madison Group. The Kristalia BCN bar stools were HK$6,600 each from Desideri.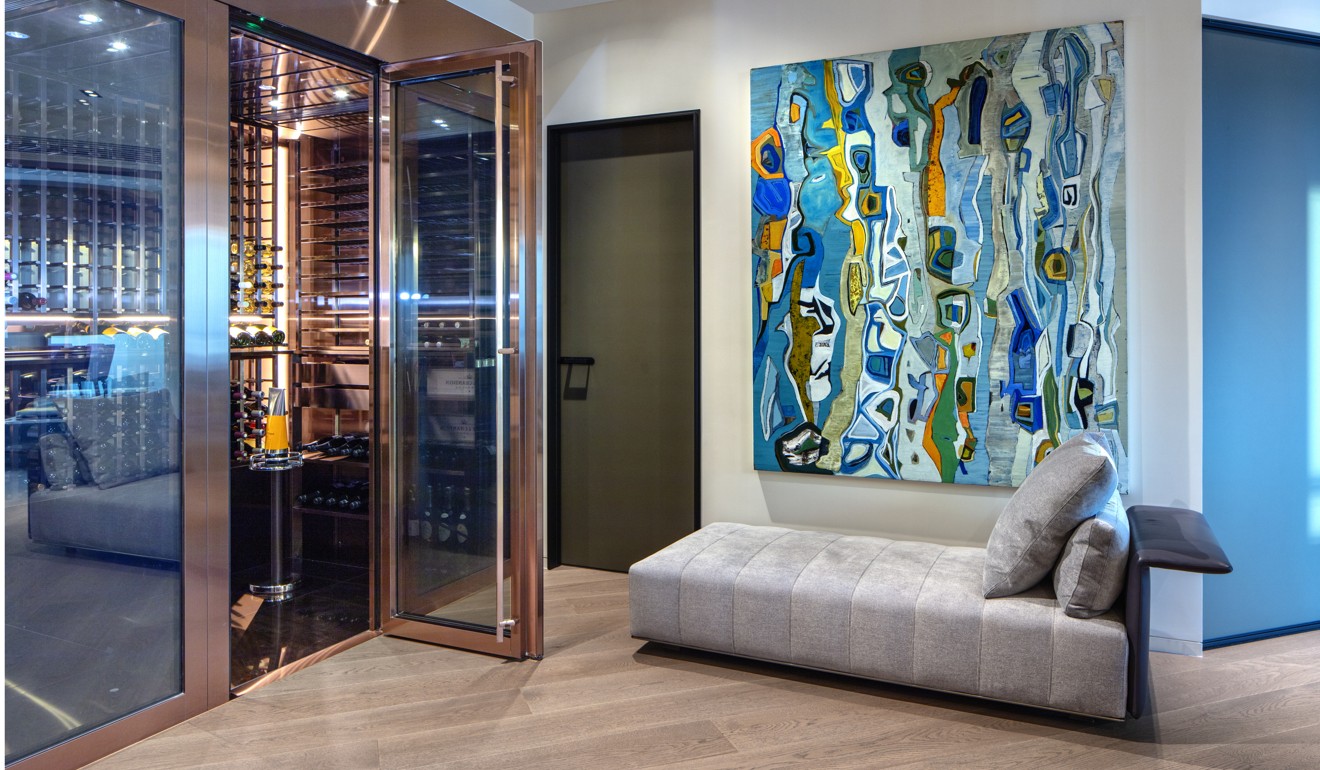 Wine cellar The customised wine cellar is by Raydos (price on request). The painting, titled Waterford, is by Los Angeles-based artist Chase Langford. The Minotti Freeman couch was from Andante (price on request).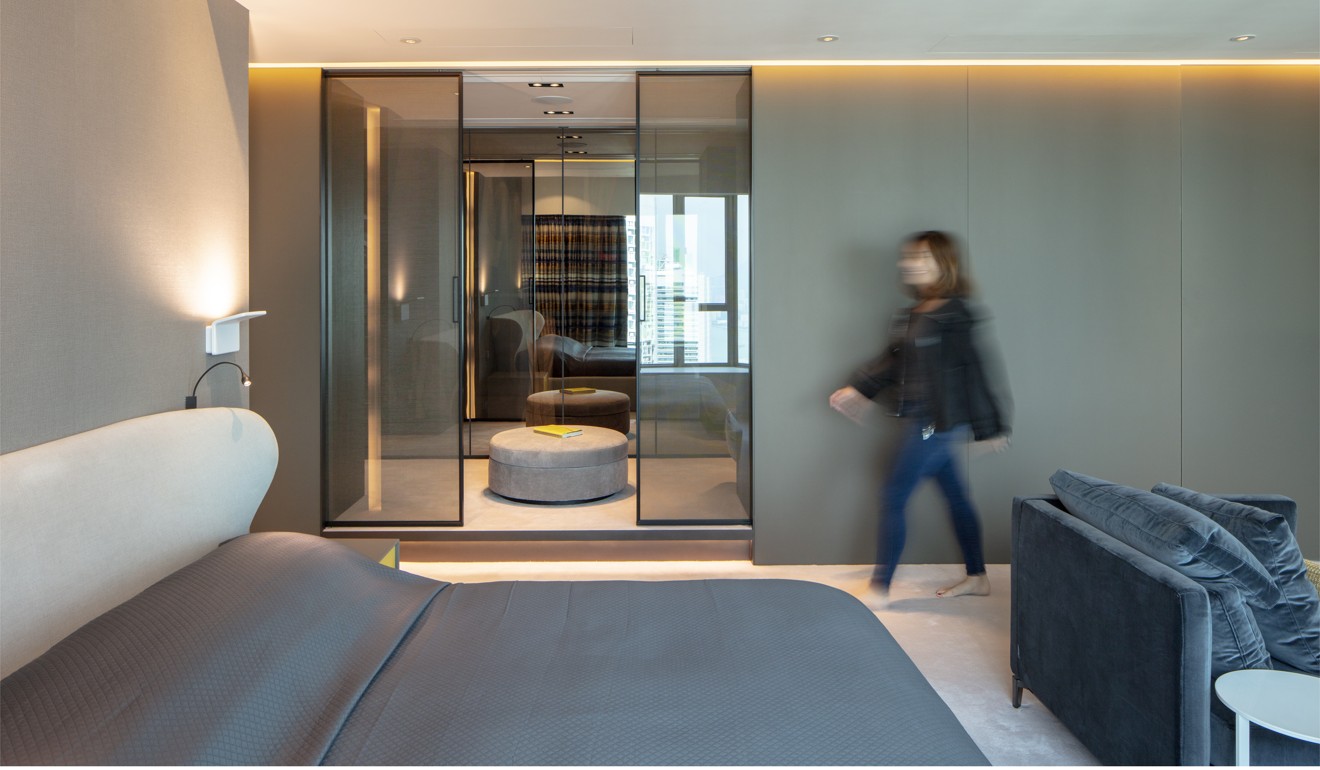 Master suite The B&B Papilio bed (HK$48,900) was from Colourliving. The Andersen Paolina chaise longue by Minotti was HK$45,590 from Andante. The Cuma uplighter on the wall (HK$3,000) was from Artemide and the Viabizzuno Toccami reading lamp (HK$4,300) from Lumen Arts. The pouffe (HK$6,600) was custom made for Jason Caroline Design by Arredo.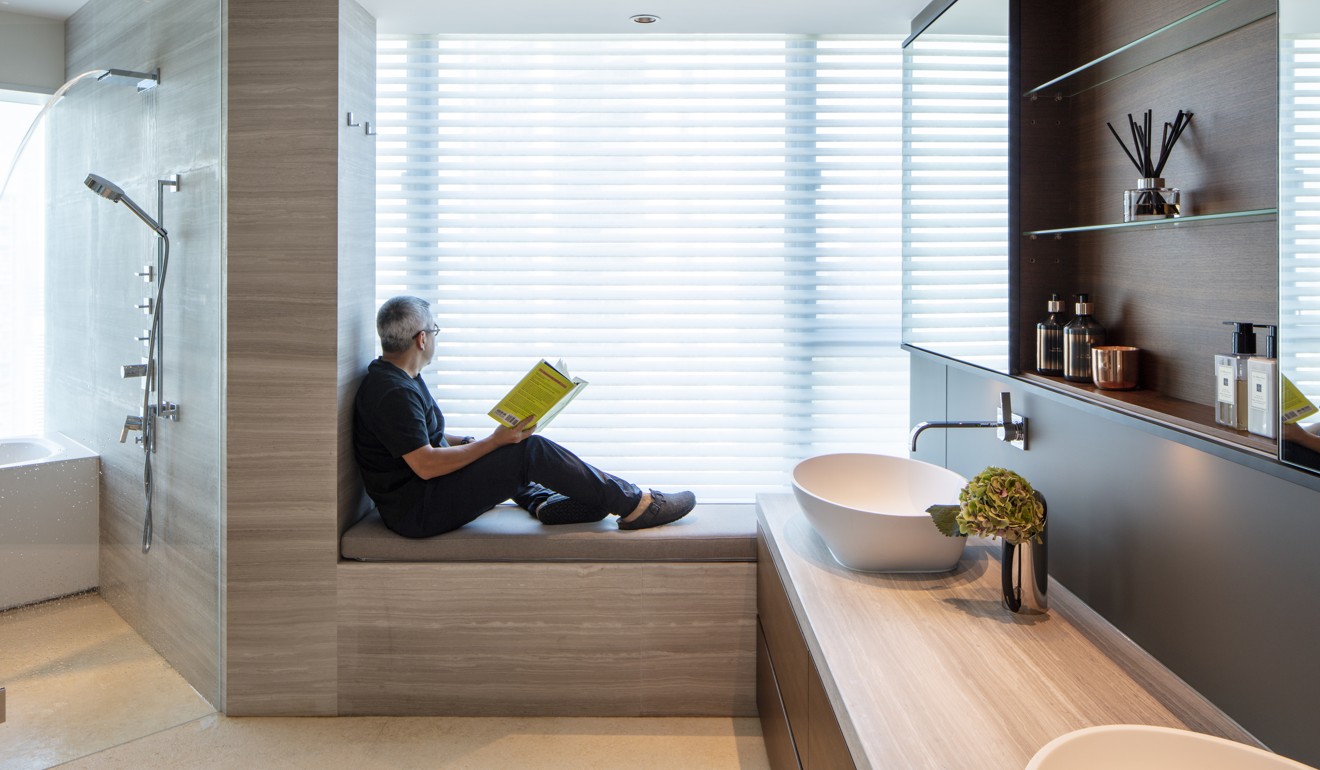 Master en-suite bathroom The Solidea basin by Antonio Lupi was HK$17,000 from E.Bon. The electric Luxaflex blinds were HK$16,237 from Arredo (tel: 2724 1803). The MEM tap (HK$10,800), Dornbracht handheld shower (HK$9,500), Dornbracht waterfall shower (HK$11,900) and Villeroy & Boch bathtub (HK$15,900) were all from Colourliving.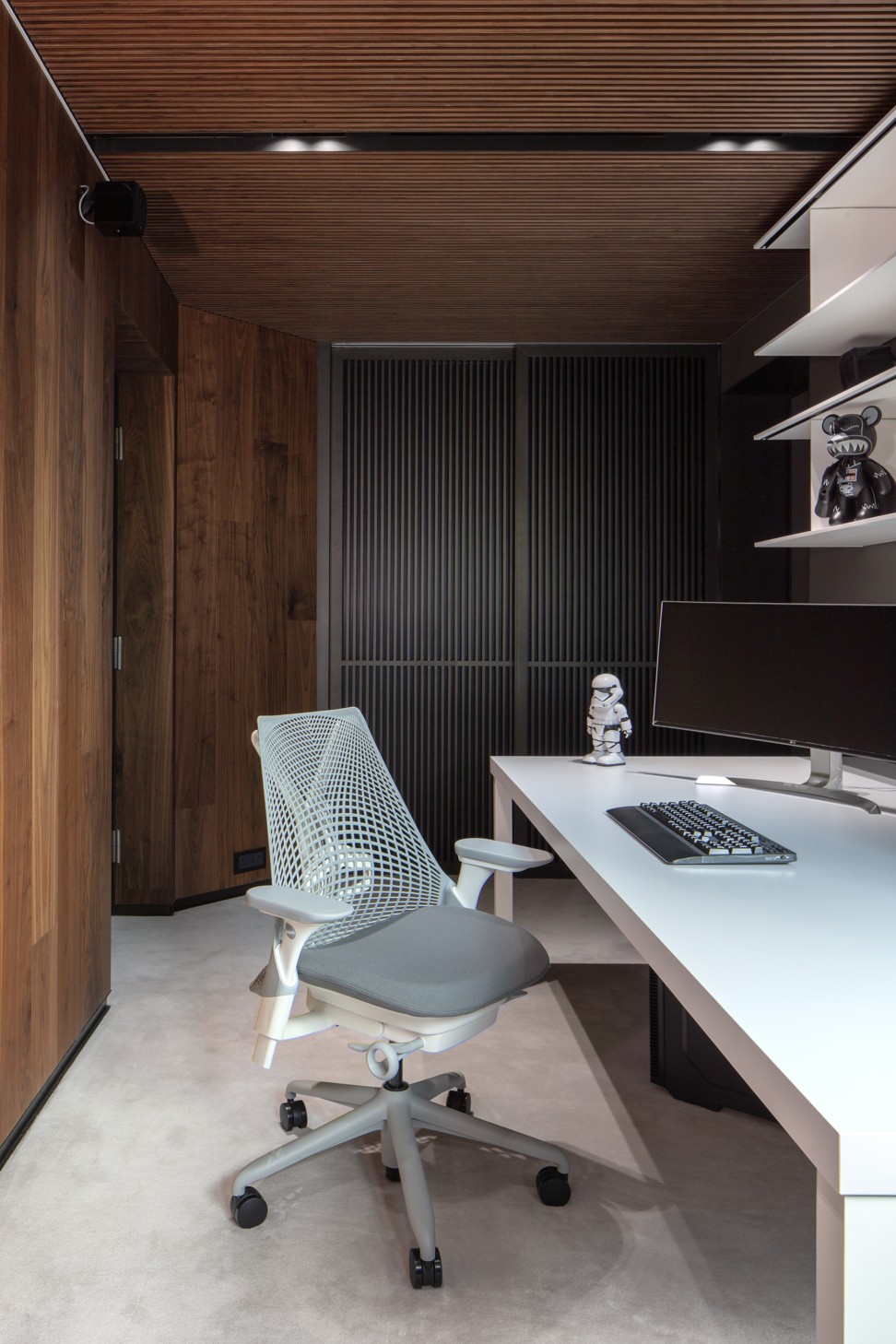 Study Jason Caroline Design's contractor made the custom-designed desk (HK$21,000), walnut acoustic ceiling panels (HK$8,000 per square metre) and wall panels (HK$2,380 per square metre). The Herman Miller Sayl chair was HK$4,840 from Posh and the Poliform Skip shelving (HK$106,000) was from ViA. The carpet was HK$3,960 per square metre from Tai Ping.
---
Tried + tested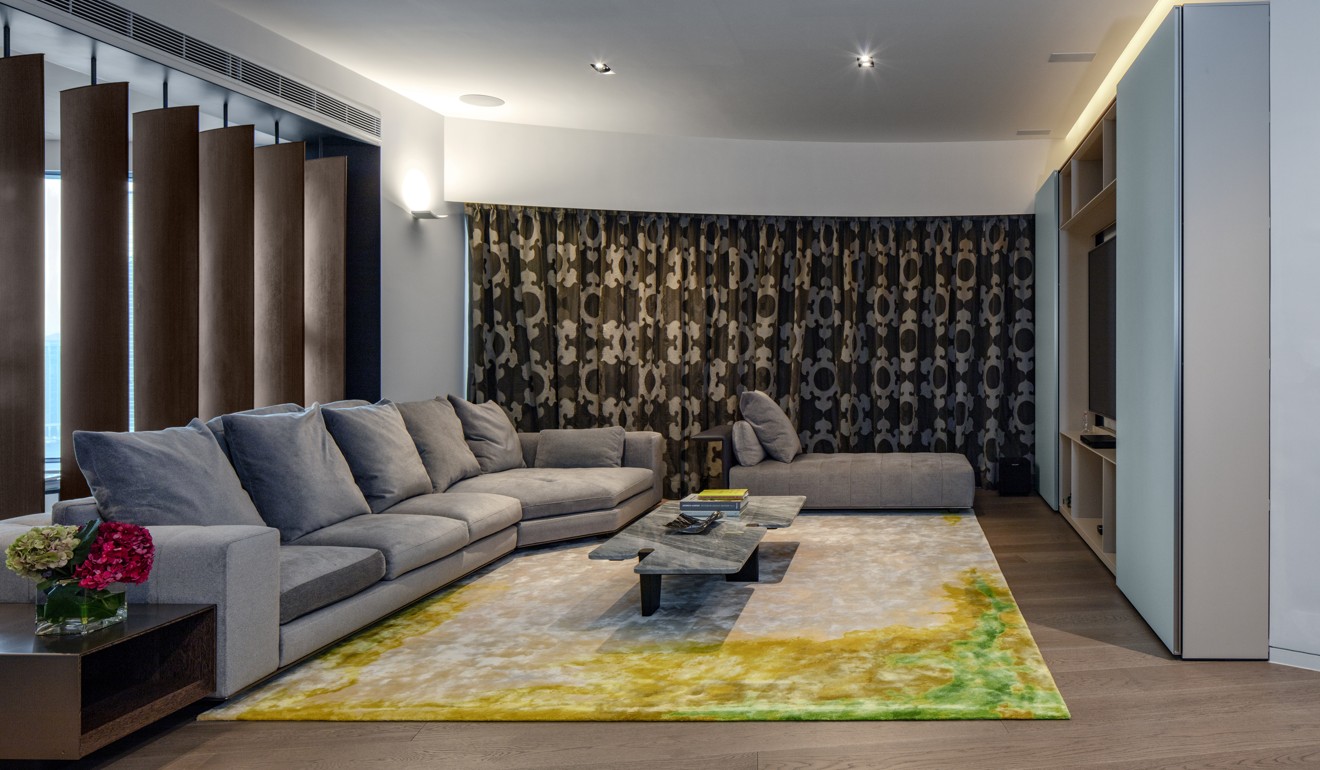 Screen time Pivoting screens made from wooden panels skewered onto metal poles divide the living area into more manageable spaces, including this casual sitting area. "At some angles they appear solid or they can be fully opened to provide a sense of transparency," designer Caroline Ma says.
The pivoting screen was custom designed by Jason Caroline Design and built by their contractor for HK$120,000 (for two sets). The Freeman sofa, Gray end table and Jacob coffee table are all by Minotti and came from Andante (prices on request). The hand-tufted carpet was HK$14,000 per square metre from Tai Ping.