Although South African Caitlin Walker, along with her husband Jonathan, has hopped around the globe, moving from one rental property to another, she works hard to ensure that each location feels like home.
"Living in a place as if you're only there on a temporary basis is awful because you never get that sense of home," says Walker, a banker who moved to Hong Kong 11 years ago. "I can't live as if I'm about to move on. I got to the stage where I didn't want to buy one more thing from Ikea just to make do, so I now buy pieces that I love and have meaning."
The couple's 2,300 sq ft, three-bedroom flat in Mid-Levels is filled with an eclectic mix of old and new pieces that reflects who they are and where they have been. There is a chest made by Walker's father for her when she got married; a wooden box once used for storing eggs, inherited from her grandmother; and a painting that her parents bought as a gift for her newborn daughter – a thoughtful alternative to all the soft toys a baby usually receives.
"The vintage silverware comes from my aunt. She hates cleaning silver so she gives me a piece every time she sees me," says Walker. "Whenever I look at it, I think of her."
Most of the furniture, such as the sofa, dining table and beds, was bought in Hong Kong but the artwork, ceramics and other decorative details were accumulated "along the way", parti­cularly from her homeland.
"South Africa has huge artisanal creativity. You can get some beautiful but quirky handmade things there that don't cost the Earth," she says. "It isn't always easy finding them but that is what makes something a real treasure when you do. Many of the artists, for example, aren't commer­cial and don't market themselves."
Walker used to run a lifestyle store in Wong Chuk Hang at a time when many international companies didn't ship to Hong Kong. Although the business is no longer part of her life, her love of interior decor is. She admits she makes a beeline for homeware shops on her travels, notably Liberty, in London, Britain, where she lived before coming to Hong Kong.
Walker is also attracted to Scandinavian design but says she never knew why until she read that there are many similarities between Nordic and African styles. The geometric rugs and cushions in her home hint at both.
"I also love Ibizan aesthetics and I think that's because of the Spanish island's proximity to Morocco, and Africa," she says.
The outdoor area is just as stylishly influenced by Africa, albeit with a more colonial look. Along with a retro-looking ceiling fan, lush plants, wicker furniture and a barbecue for traditional South African braais, Walker has used images of tropical flora and fauna on soft furnishings to create a calm nook that seems a world away from the city below.
The flat being a rental, practicality was key. The couple installed track lighting along the long, narrow corridor, so it wouldn't be dark and gloomy. And because paint and wallpaper were not options, Walker requested white walls, which allowed her to indulge in colour else­where. Think splashes of hot pink, teal and emerald green along­side dusty blue and mustard yellow on furniture, furnishings and art.
You can have great fun playing around with contrasts and layering various shades. Tropical colours work well in the Hong Kong environment, too
"You can have great fun playing around with contrasts and layering various shades," Walker says. "Tropical colours work well in the Hong Kong environment, too."
The master bedroom is tonally more subdued than the living area while the daughter's room pays homage to pink.
Expressing a desire to buy more art, Walker admits that her flat is full to bursting. But she has the perfect solution – a recently purchased holiday home in South Africa, guaranteed not to have a single piece of flat-packed furniture in sight. ■
---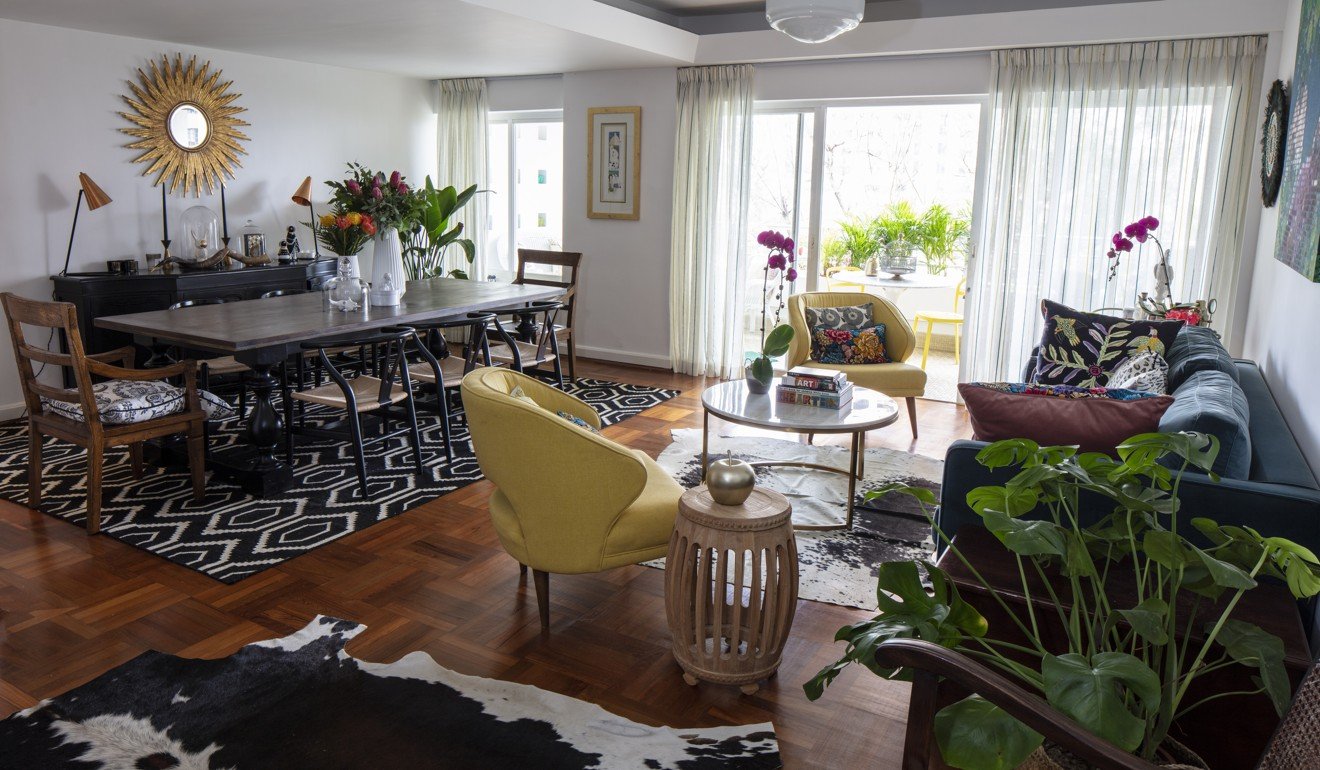 Living area The sunburst mirror and sideboard came from homeware shops in Shenzhen years ago. The table lamps, from Bloomingville, and dining table, from Bowerbird Home, were also bought years ago. The Wishbone-style dining chairs (HK$1,350 each/US$172) came from Decor8 and the chairs at the ends of the table were from Shambala (now closed).
The black-and-white rug in the dining area was bought second-hand for about HK$2,500 from Facebook group Swap-it-hk. The wooden side table and pendant lamp were sourced from mainland China. The silver apple came from Bonton, in Paris, France.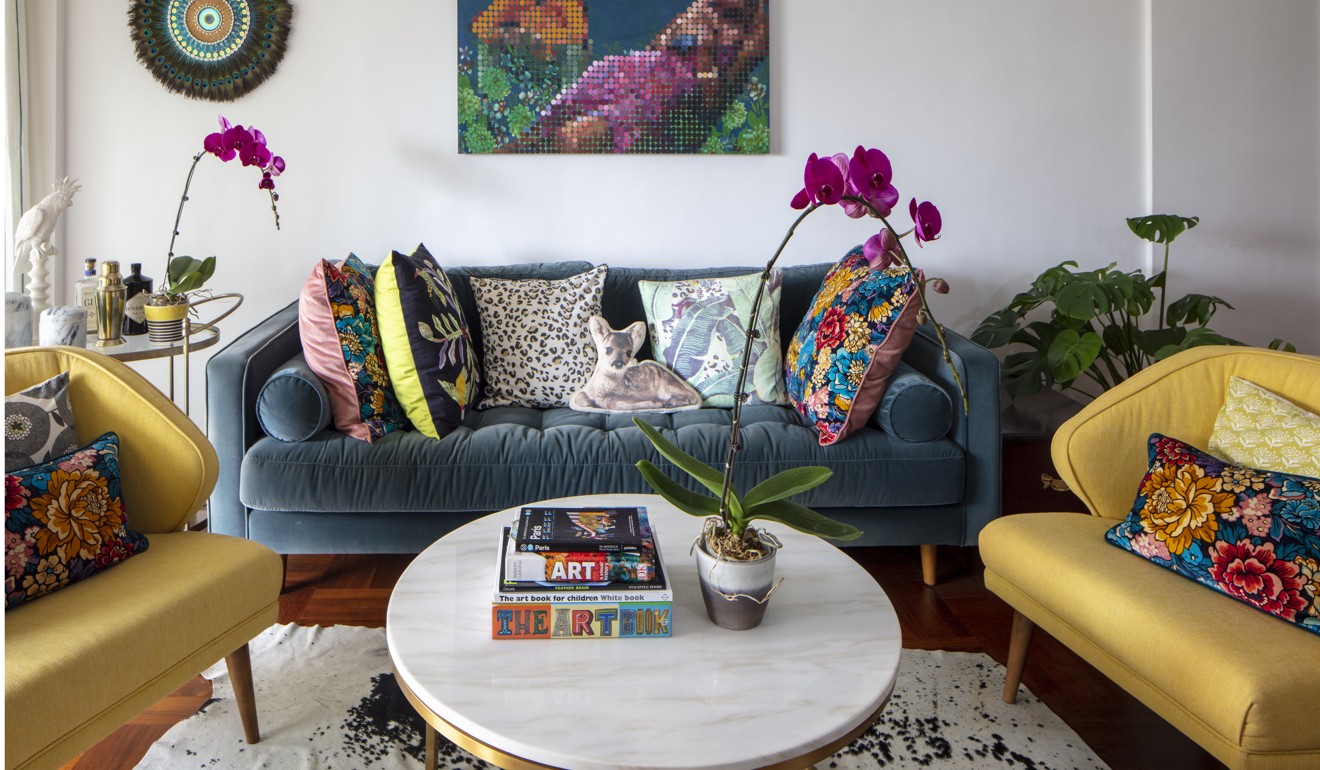 Living room The artwork is by South African artist Varenka Paschke. The peacock feather wall art and drinks trolley came from Apartment 49 years ago. Also old are the velvet sofa and armchairs, which were custom made by Carezza Design. Some of the cushions were bought from Apartment 49 and Ardmore Design.
Others were custom made by Cotton House (6 Li Yuen Street West, Central, tel: 2530 0088) with fabric purchased at Liberty London. The white cockatoo statue was bought from Indigo Living. The rug was sourced from South Africa. The coffee table is part of a pair, custom made via Jasmine Lai TaoBao Platform.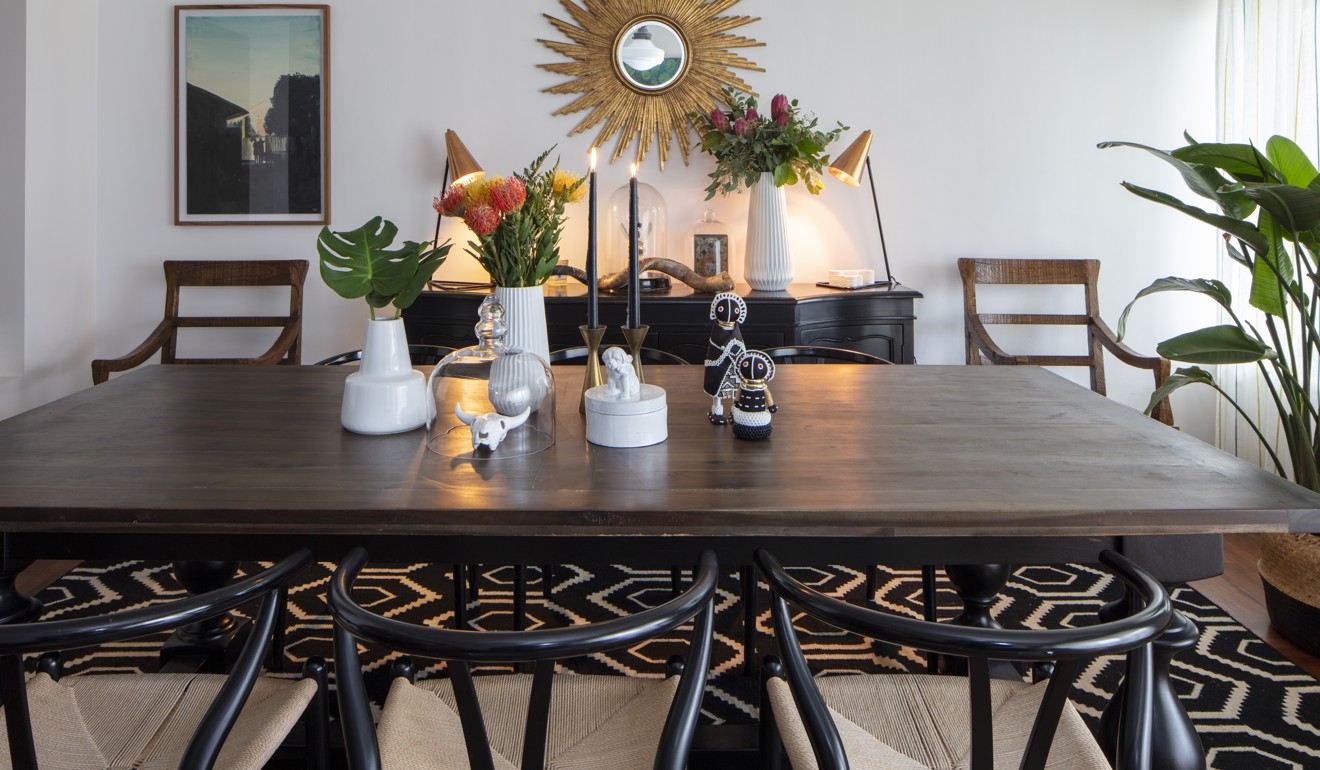 Dining area The artwork, by South African designer and illustrator Kirsten Sims, came from Salon Ninety One, in Cape Town. The glass cloche on the dining table was bought for HK$200 from the Flower Market in Prince Edward and the ceramic skull was from South Africa. The traditional African dolls were bought in Namibia and the ceramic-dog container, from Astier De Villatte, was a gift.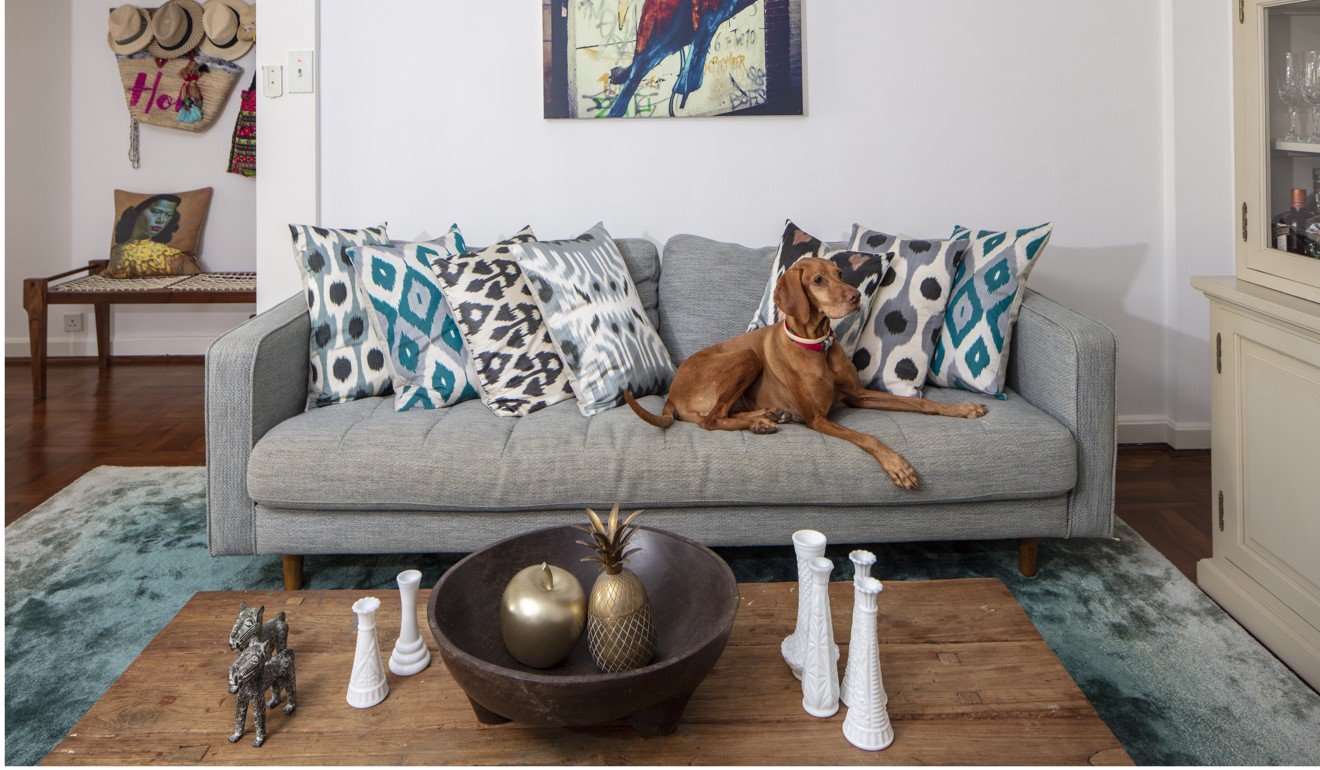 Television area Caitlin Walker took a photo on her iPhone of London street art and had it turned into a canvas (HK$3,000), a service that Colorsix provides. The sofa was custom made by Carezza Design. The bamboo rug (about HK$25,000) was designed and made by Aviva Duncan and the coffee table was bought from Tree years ago. The cabinet was from Bowerbird Home.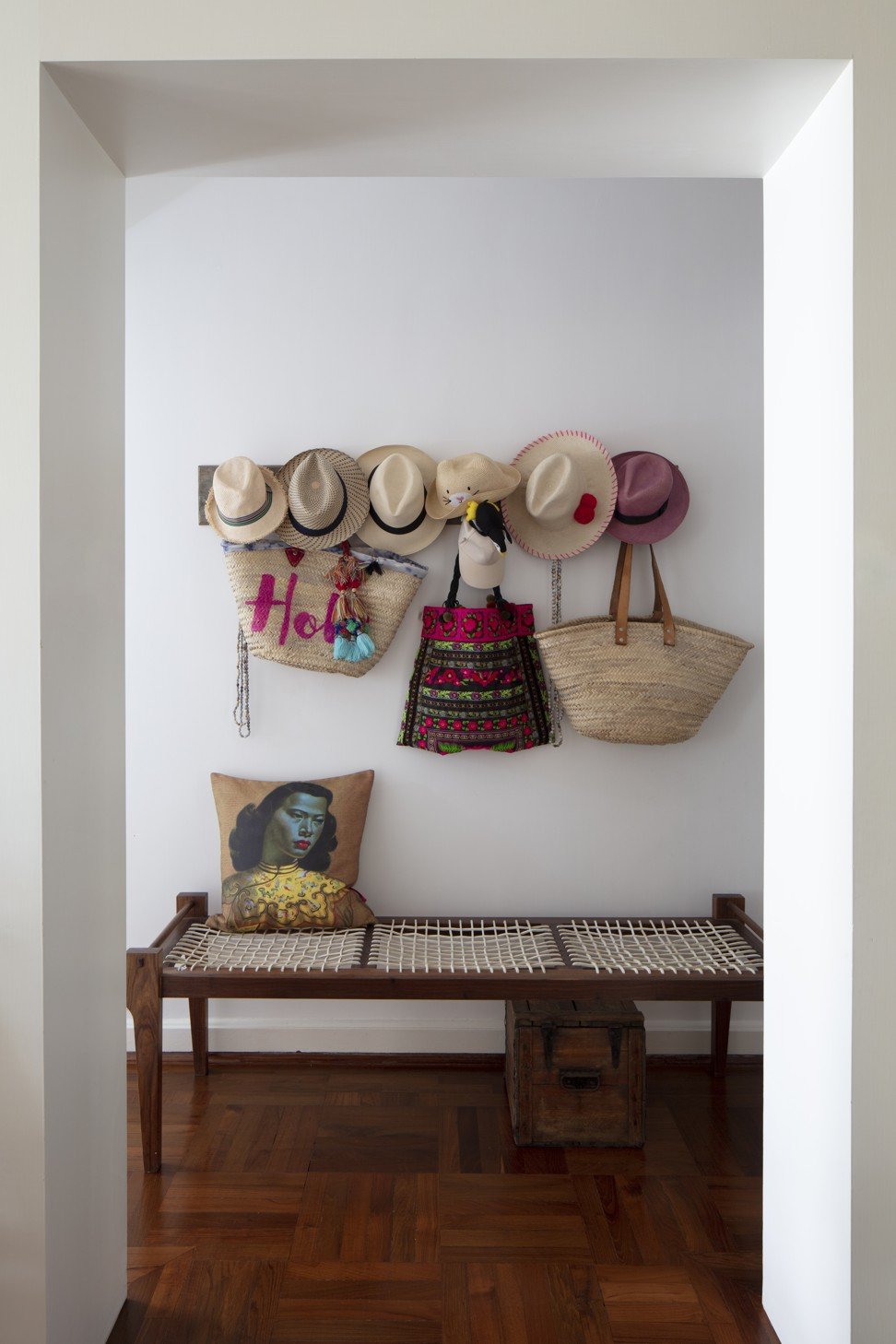 Corridor The hat rack was bought years ago from a shop in Ap Lei Chau that has now closed. The bench seat was custom made in South Africa years ago. The cushion cover with an image of Russian-born artist Vladimir Tretchikoff's most famous work, Chinese Girl, was bought for 480 rand (US$34) through the Tretchikoff Foundation. The antique box is a family heirloom that was originally used to transport eggs.
Balcony The wicker sofa, chairs and side table were samples from a showroom in the New Territories and were a bargain at HK$280 for the set. The seat and scatter cushions were custom made by Cotton House for HK$7,700. The coffee table is the smaller twin of the one in the living room. The bronze jug and leaf plates were from H&M Home in South Africa. The colonial-style ceiling fan came with the flat.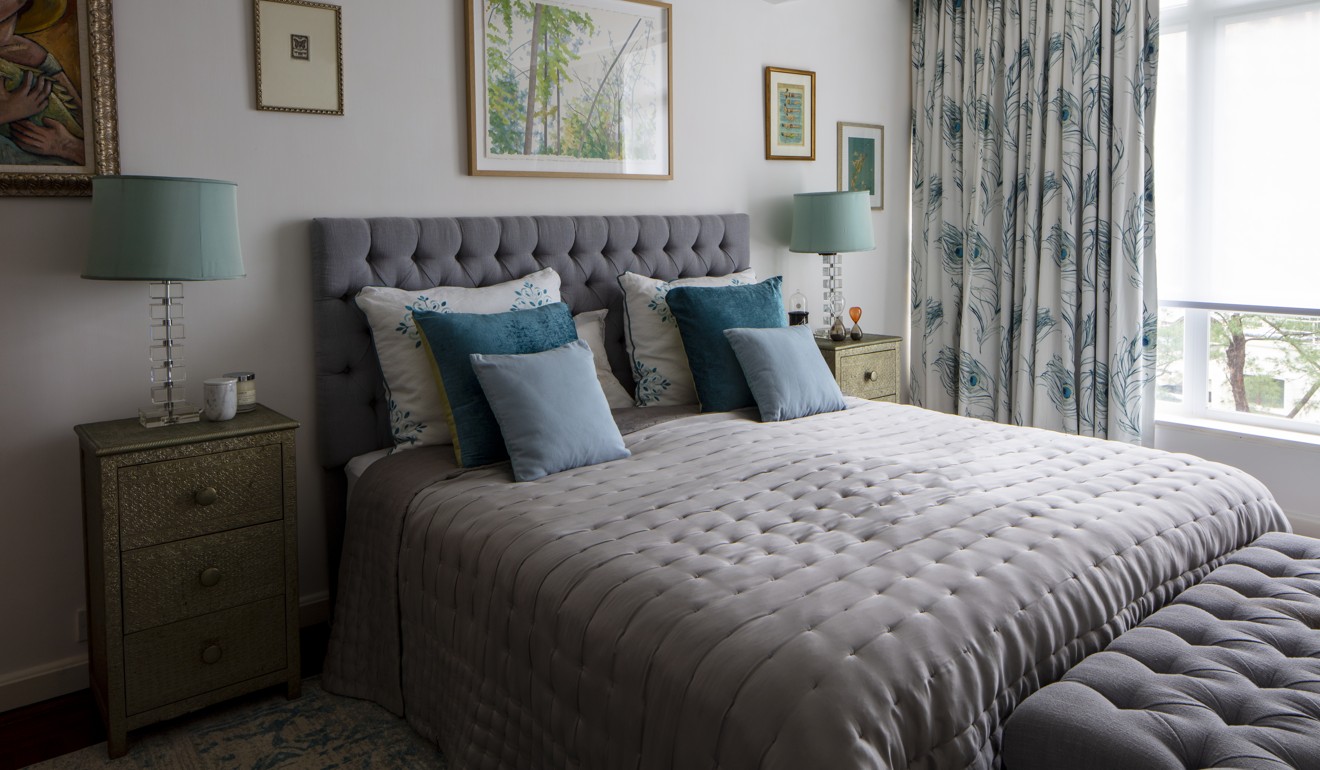 Main bedroom The bed came from Wing On Department Store and the headboard, padded bench and curtains were all custom made by Cotton House years ago. The bedside tables and lamps were bought from Inside a decade ago. The Dalvic distressed transitional rug was HK$8,000 from Miss Amara. The art has been collected from various galleries through the years.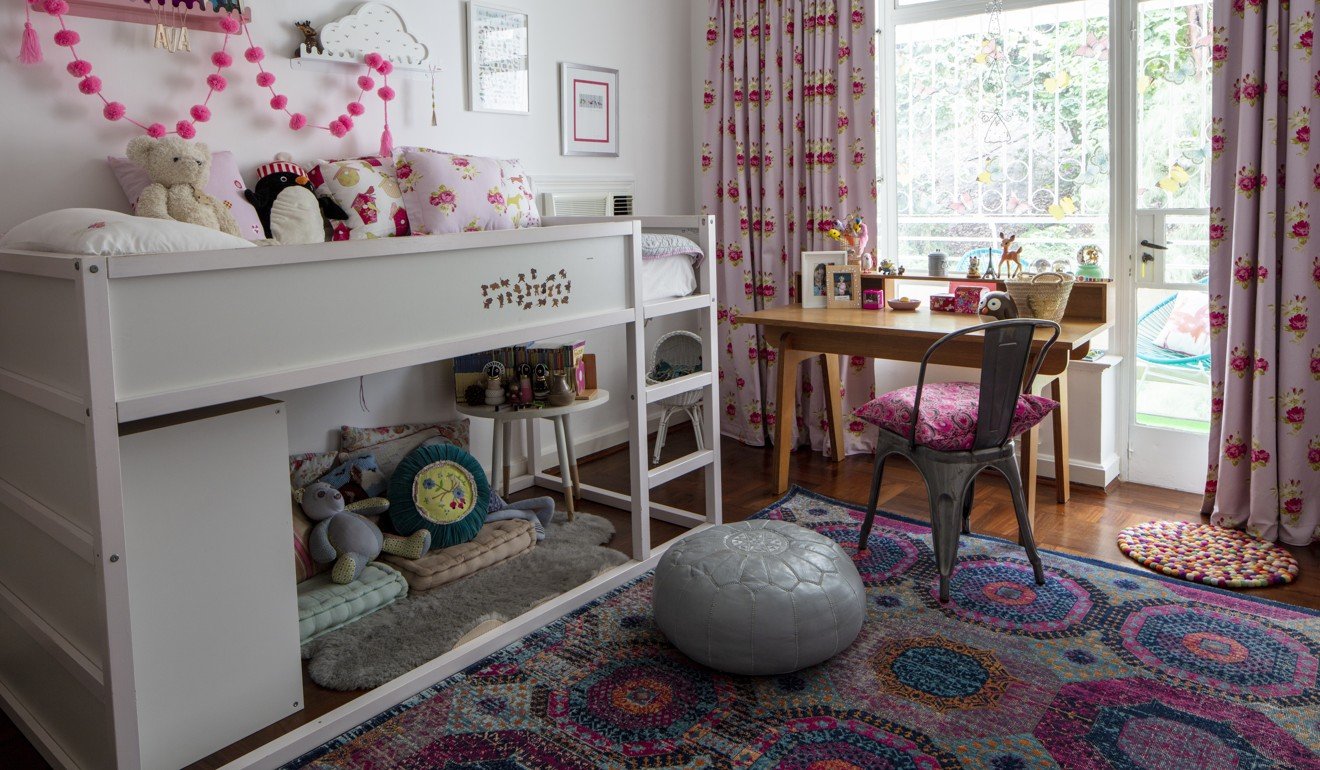 Daughter's room The wall-mounted shelves came from Indigo Living and the loft bed was from Ikea. The round table under the bed is by Bloomingville. The Amman rug was HK$2,700 from Miss Amara and the leather pouffe came from Apartment 49. The desk was bought a decade ago from Homeless and the Cafe Industrial Loft Chair (HK$990) came from Décor 8. The curtains were custom made by Cotton House.
---
Tried + tested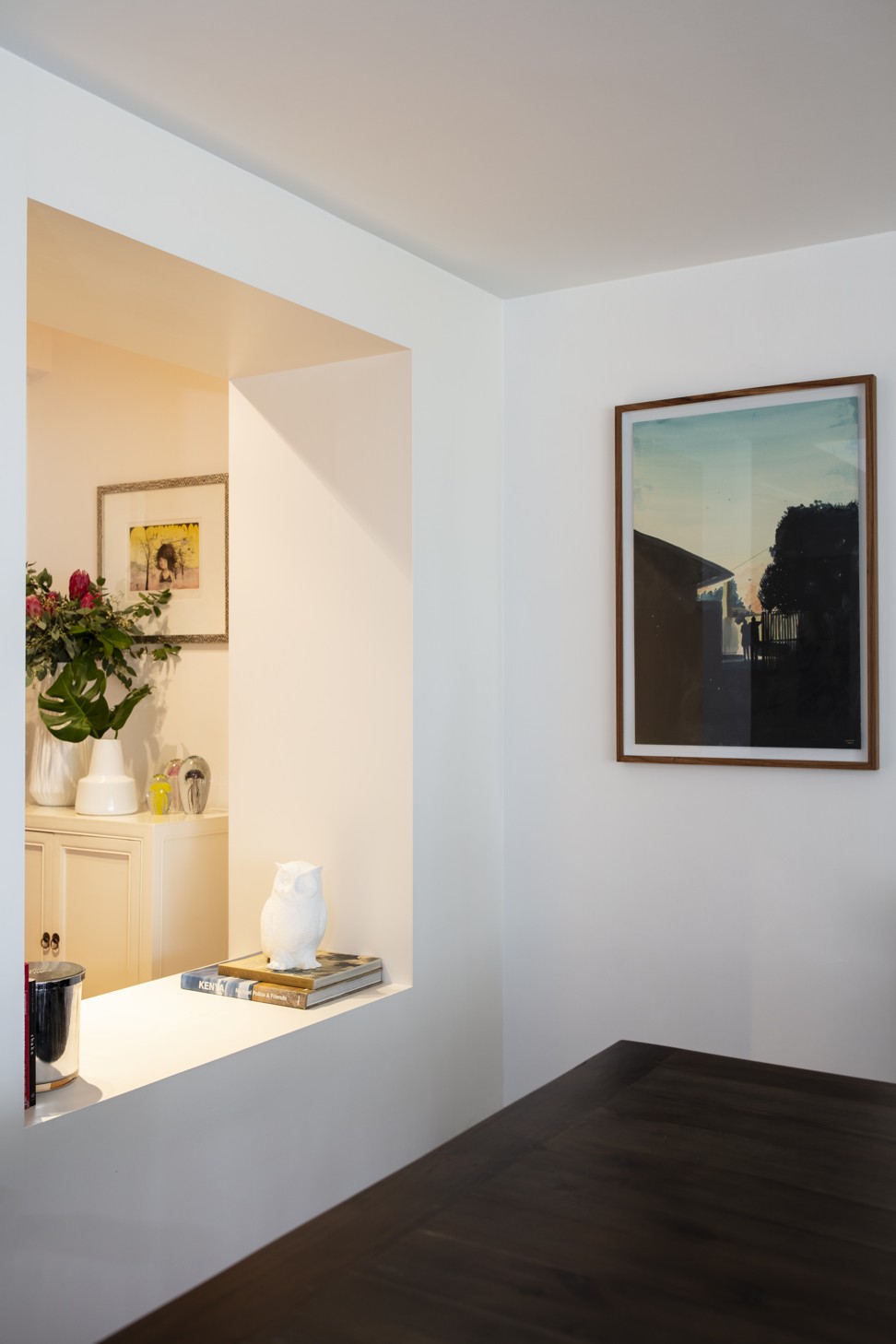 Window dressing A cut-out in the wall between the entrance hall and the living area opens up the former, preventing it from being dark and enclosed, and offers Caitlin Walker alternative shelf space.