As far as home is concerned, make-up artist Fiona Jacob has come full circle. Six years ago, she returned to the same block of flats in North Point in which she grew up and where her mother and brother still live. When the opportunity arose to buy her own place in the complex, she and her husband, Ian, pounced on it even though the flat in question hadn't been updated for 30 years.
"It was a disaster when we viewed it because it had been owned by successive landlords who hadn't actually lived there and consequently hadn't spent any money on it," says Ian, an engineer from New Zealand. "Old pipes were leaking through to the neighbour's property, windows had been bricked up, the bedrooms were dark and dingy, and there was only a tiny enclosed kitchen. What we now have as our balcony had been filled in illegally."
The 1,690 sq ft flat is a shining example of advance planning. The couple trawled through magazines for ideas, distil­ling them down to design elements that ticked both aesthetic and practical boxes. Once they had worked things out conceptually, they enlisted archi­tect Alfred Leung, of Universal Reliance.
Working closely with Ian, Leung took the place back to a shell. He made the guest bedroom/study smaller to enlarge two en-suite bathrooms, one of which is connect­ed to the bedroom of the couple's daughter, Kira, now eight years old. Windows were unblocked and the illegal outer wall was removed, creating outdoor space.
"Alfred and I were a great combination," says Ian. "I knew what I wanted but he would tell me straight up whether it would work or not. He did all the detailing, which I would never have thought about, such as stainless-steel trim around the door frames."
It was Leung who came up with the idea for white panelling across one wall in the living room, to add texture and to disguise the entrance to the master bedroom. The only other door in the room celebrates Hong Kong's maritime association, with a porthole, which allows light through to the two other bedrooms.
Ian worked on the lights, power points and switches, using copper piping from Australia and electrical cable and switches from Germany, and installed carbon dioxide sensors that work with the air-conditioning system to suck in fresh air if oxygen levels dip.
"You need to get [the electrical and plumb­ing plans] absolutely right or they cost a fortune to rectify," Ian says. "You have to take into consideration the smallest details – even the height of light switches – to make everything practical."
The couple's other priority was to use every inch of space. Ian designed an impos­ing sliding front door, which resembles that of a bank vault. He also installed a false ceil­ing in the corridor that contains what is effectively a lined box – perfect for the storage of posses­sions that aren't often needed. A glass window between the guest bedroom and bathroom connects the two areas, making the latter feel larger and brighter.
Ian admits that the project was grossly over budget but he didn't want to take any short cuts. The furniture, art and wallpaper were all bought specifically for the flat – the sole exception being the dining table, which Ian made years ago, after a trip to the Bauhaus Archive Museum of Design, in Berlin, Germany, inspired him to create something timeless.
Fiona's father was a partner in a promi­nent architectural firm and her brother is an interior designer yet neither had the time to take on an extra project and they laughed when Ian said he would put himself in charge. The first time they saw the finished flat was on Christmas Day 2012, two weeks after the couple had moved in.
"My father-in-law just said, 'It's very good'," laughs Ian. "That really was high praise indeed."
---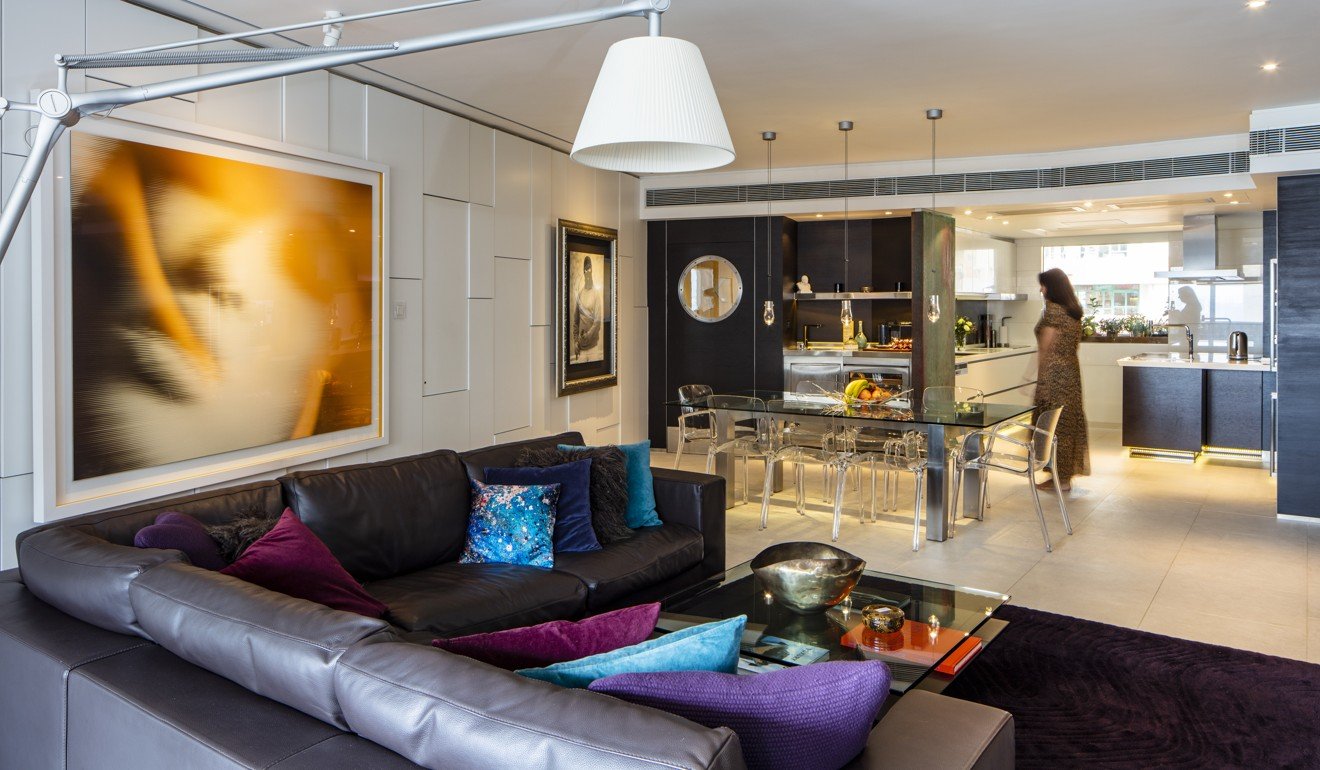 Living room The SuperArchimoon floor lamp (HK$68,000/US$8,690), by Philippe Starck, was bought from Flos. The Long Island L-shaped sofa (HK$218,000) came from Rivolta. The artwork above it, Digital Araki by Laurent Segretier, was purchased directly from the artist. The rug was from Stepevi. The coffee table was bought years ago.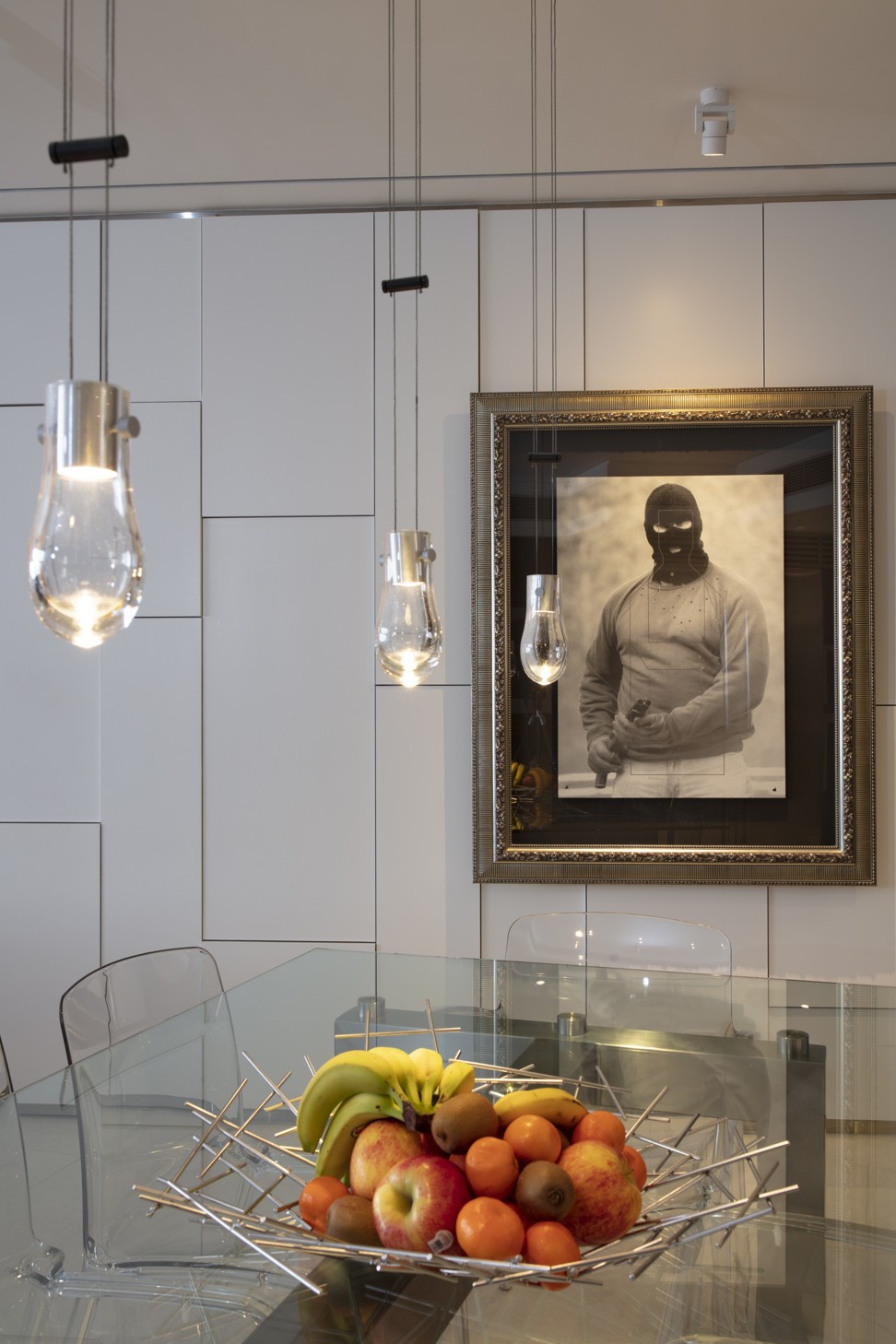 Dining area Above the dining table, made by homeowner Ian Jacob, are Drop pendant lights (HK$14,460 for three) from Anta. The picture is a New Zealand police target-practice poster, given to Ian by a friend, in a frame from Zetter Picture Framer. The Casprini Tiffany chairs were bought from a shop that has since closed. The Centrepiece Blow Up fruit bowl (about HK$2,000) came from Alessi.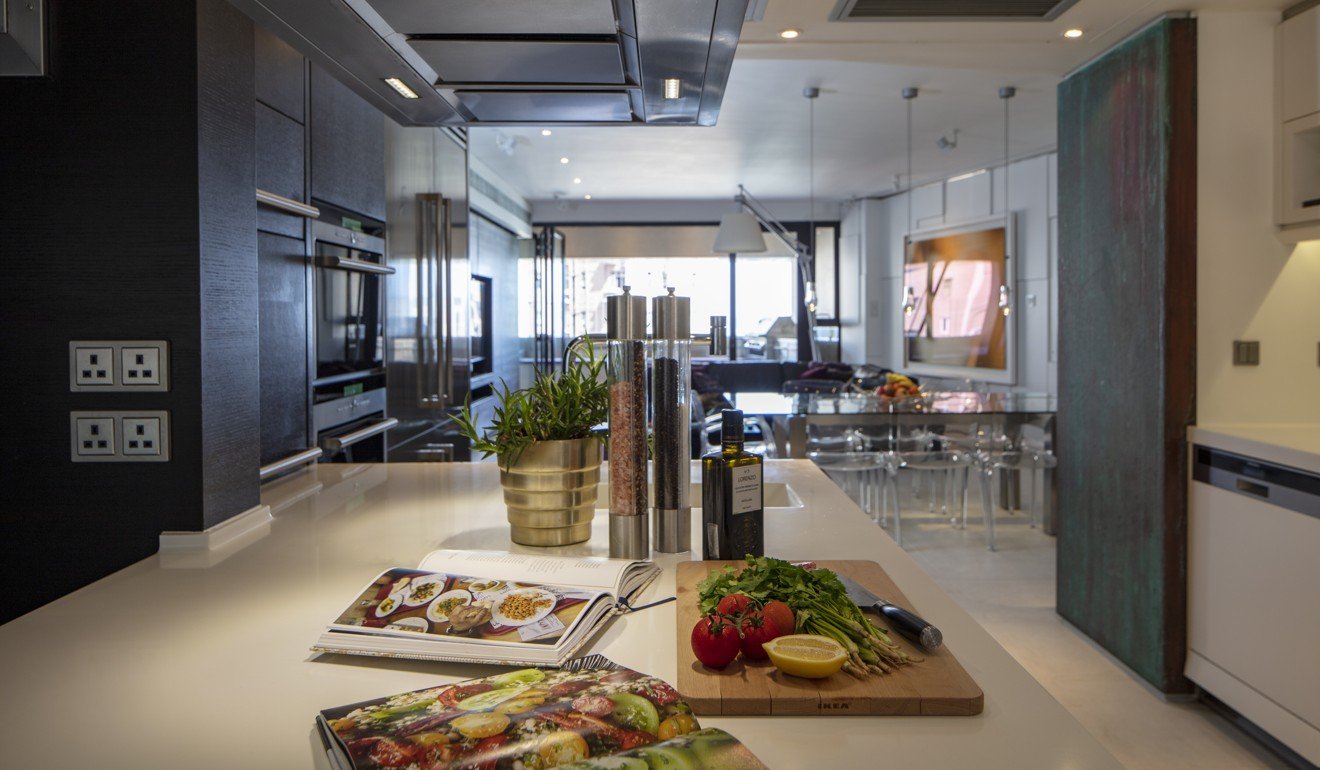 Kitchen The kitchen was designed and fitted by the Jacobs' contractor for about HK$500,000, including all cabinetry, benchtops and appliances. The bronze plant holder came from H&M Home.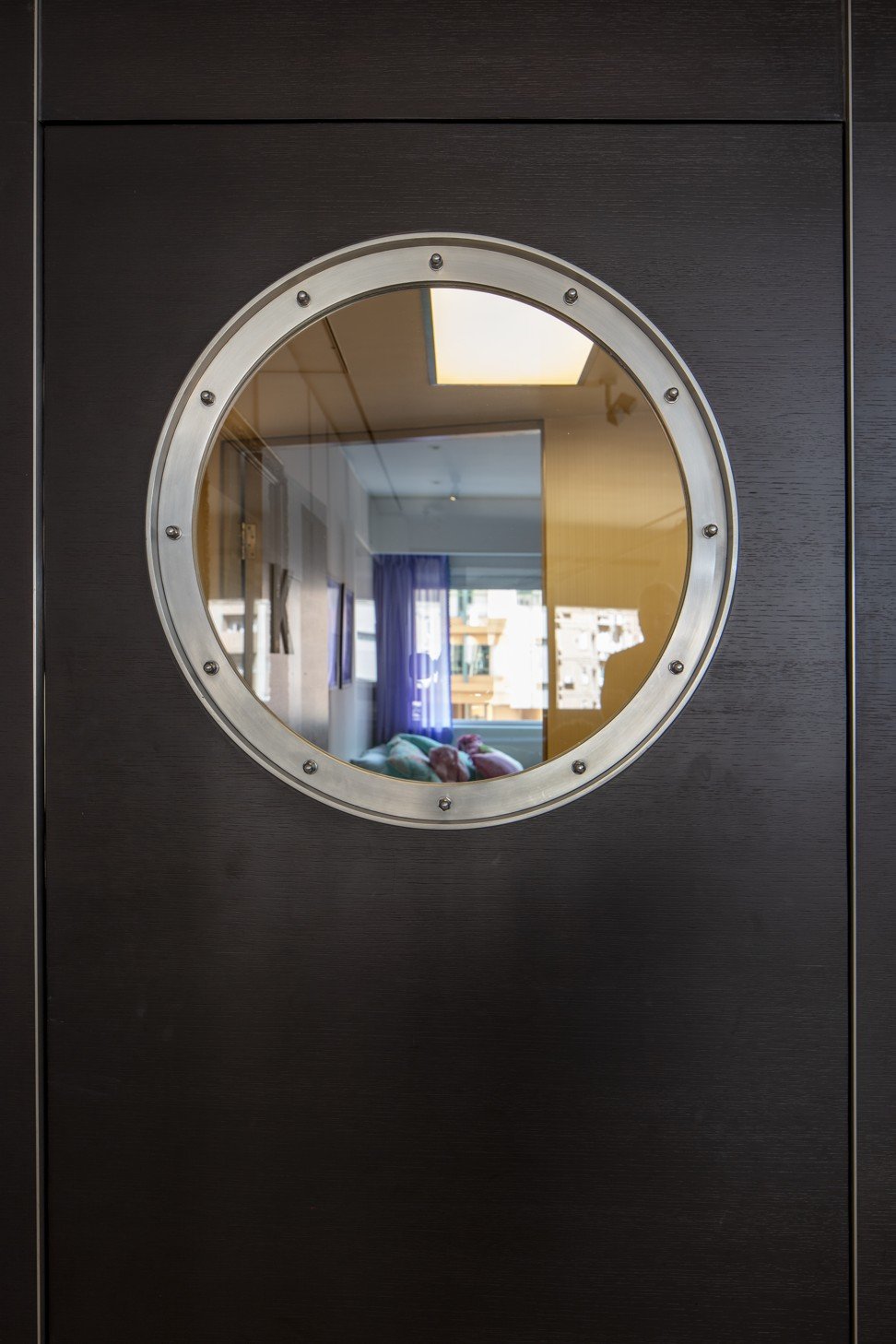 Door detail The porthole was custom made by Tong Chi Stainless Steel Engineering (12 Bedford Road, Tai Kok Tsui, tel: 2391 3032) for HK$2,800 (excluding the wooden door).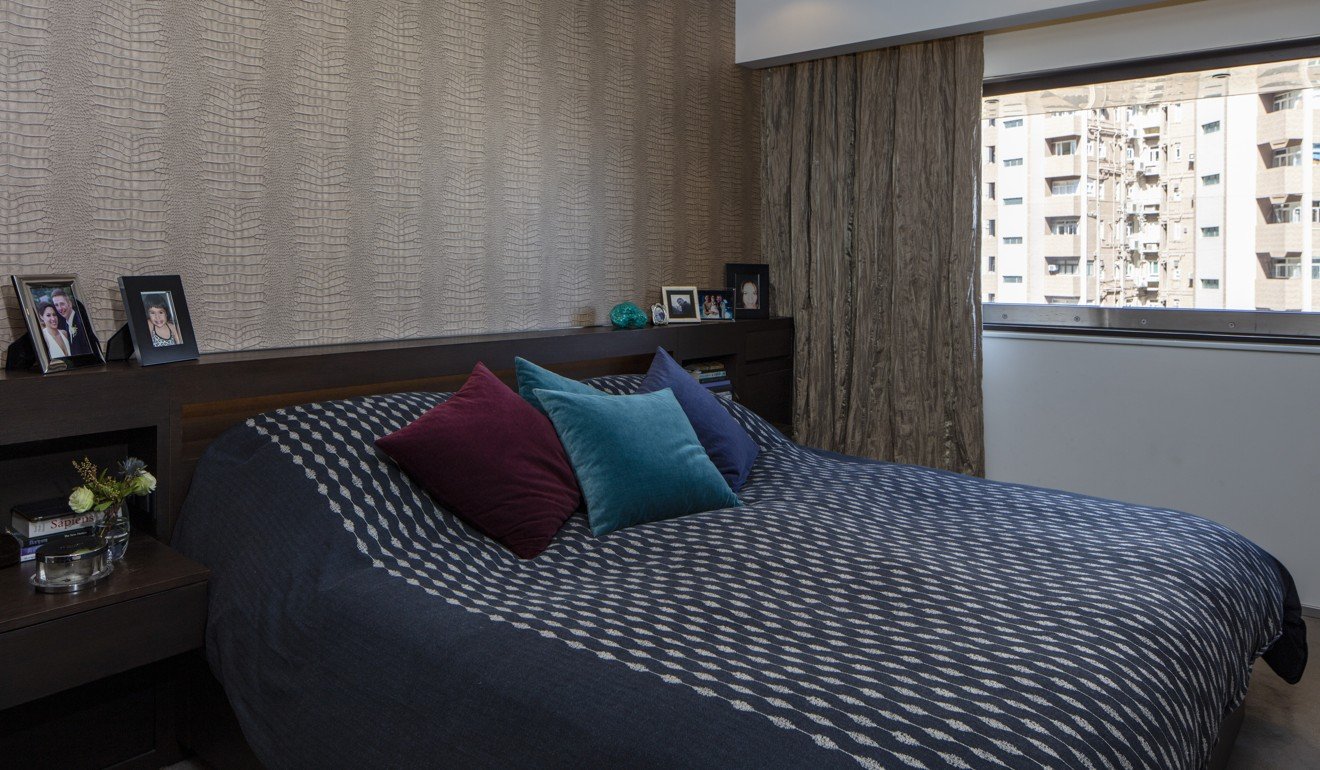 Main bedroom The bed and bedside tables were custom made and the Oake Sutton bedding came from Bloomingdale's. The curtains with blackout lining (HK$4,200) and electric track (HK$5,900) were custom made by Sofo Curtain (107 Queen's Road East, Wan Chai, tel: 2528 6316). The wallpaper was HK$420 a roll from Forever Wallpaper & Carpet (254 Lockhart Road, Wan Chai, tel: 2519 0278).
Main bathroom The Travertine tiles with waterproof treatment were HK$250 per square foot from JC Creative (16/F, Block A, Vigor Industrial Building, 14 Cheung Tat Road, Tsing Yi, tel: 3599 9007) and the marble countertops were from Au Pak (268 Lockhart Road, tel: 2511 1816).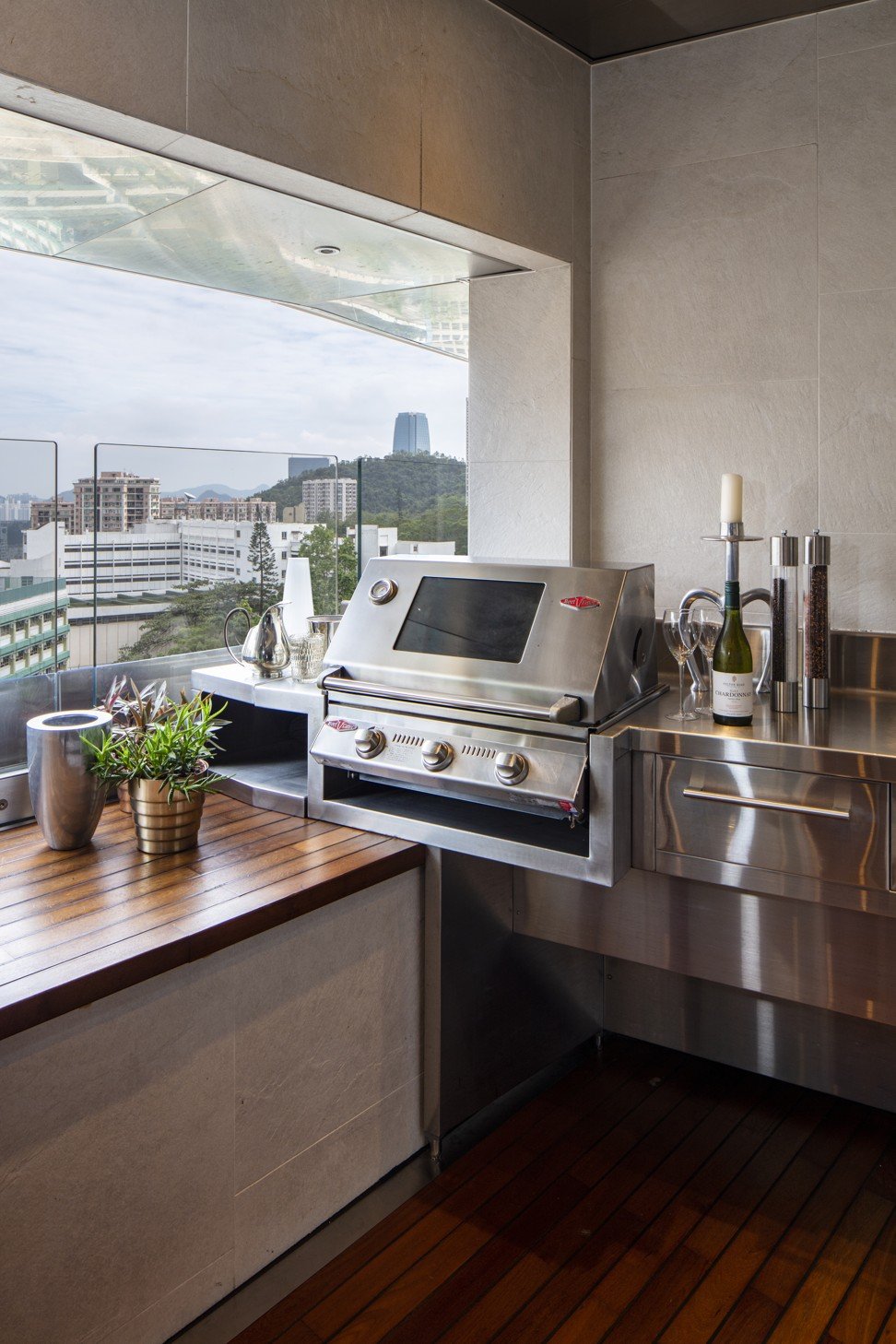 Balcony The teak decking and side unit (HK$13,000) were custom made by Vicky Crystal Floor Engineering (tel: 9235 0111). The barbecue was HK$16,010 from Jervisbay Barbecue World and the stainless-steel unit was custom built by Tong Chi.
---
Tried + tested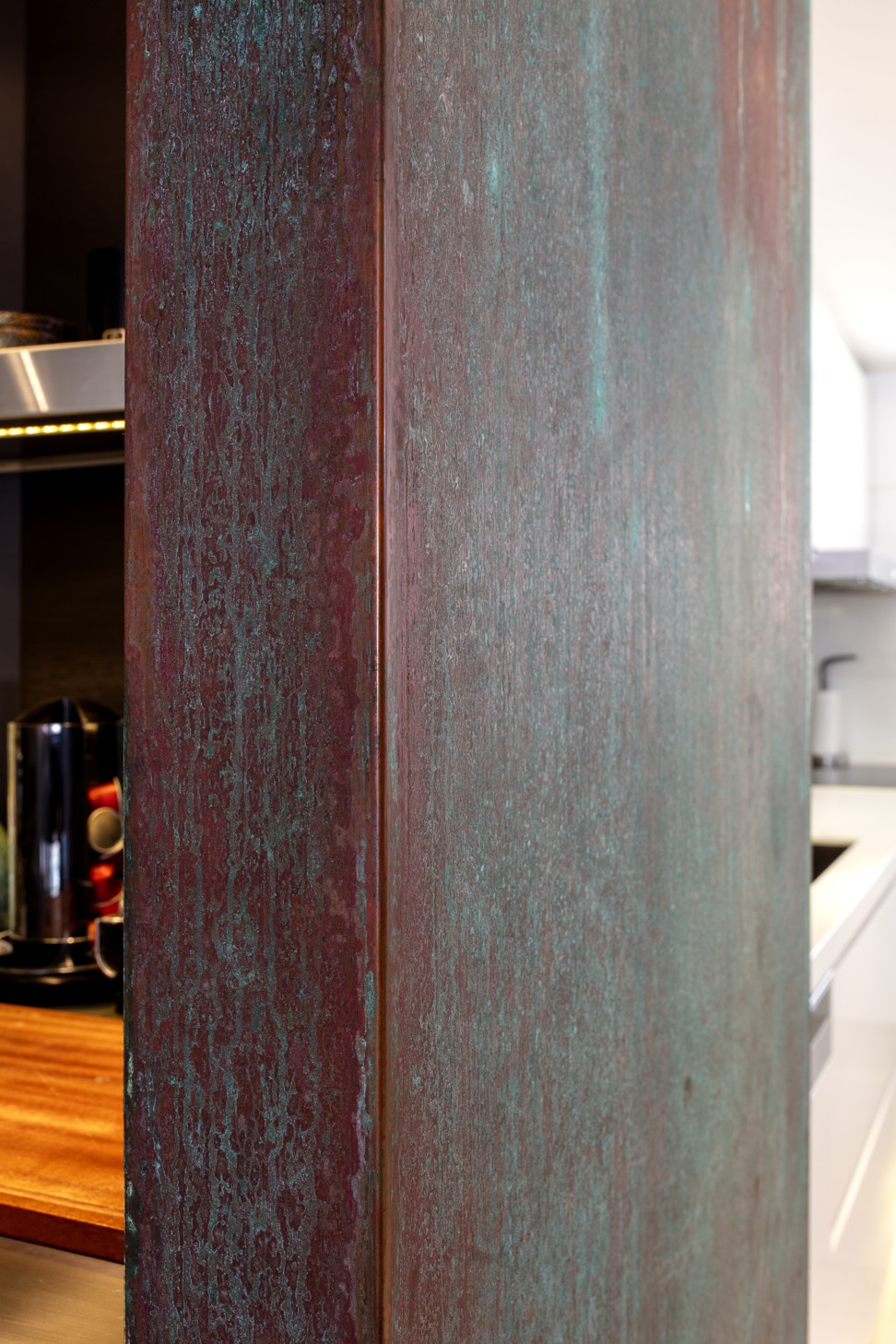 A work of art The Jacobs installed a floating copper wall in the kitchen but wanted it to have a patina that, according to Ian, is a real art to achieve. They tried rubbing everything onto it from vinegar to lemon and salt to a baby's urine-soaked nappy and, eventually, it turned from a shiny surface into the gorgeous green it is today. The copper was HK$10,000 from Win Yip Engineering (21/F, Chun Sing Factory Building, 85 Kwai Fuk Road, Kwai Chung, tel: 9037 5356).