For Stephen Tong Yiu-nin, creating the rugged sophis­tication of his home in West Kowloon was sparked by a daily sighting during his office com­mute to Central.
"There's a huge marble wall in Alexandra House that I just love," he says. "It's got lots of texture and natural holes and little fossils. I was inspired by that, the idea of having a statement wall and designing around it."
When it came to finding a new place to live, Tong, who works for a property management group, says he wanted a spacious place just for himself. "The bachelor-pad cliché, I suppose. I used to live in a loft in Los Angeles so I was after that kind of airy, relaxing space."
Other must-haves included a luxurious hotel-style bathroom and a walk-in wardrobe.
"I wanted something masculine and a little bit unusual – deep, earthy colours with lots of natural elements. I would have loved some outdoor space but in the super-convenient areas I was looking at, that's rare."
Tong decided that the search for his ideal 1,000 sq ft space would mean finding a standard three-bedroom flat with a convertible layout. Two years ago, he found the right candidate in a high-rise with a sea view above Elements shopping mall.
Having enjoyed placing his stamp on two previous flats, in North Point and Wan Chai, Tong was keen to extend the scope for this renovation. One of the three bedrooms became the coveted walk-in wardrobe while another was co-opted as a study nook and extra space for the living area.
"This was important for that airy look I wanted," he says. "If the wall between the living room and this bed­room had been structural, I would not have bought this apartment."
A full-height shelf unit demarcates the space while allowing a view through to the vibrant artworks on the wall beyond. A sliding door and pull-down blinds behind the shelving allow the nook to double as a guest bedroom.
"One thing I don't like is too much white," he says. "You see big white walls every­where and it can be a bit boring."
I would do all this research and choose two or three pieces and then let [interior designer] Chris [Kwong] make the final choice. He has a great eye for colour
Instead, Tong has used large expanses of stone and wood as his canvas, adding plenty of greenery and colour. The statement wall is a giant slab of travertine that spans the length of the open living/dining area. Its rugged layers of sediment lend the space a subterranean quality, which is balanced with bold artworks featuring circles and dots in bright hues. A herringbone floor and a row of house plants add organic interest, as do several curvaceous sculptures.
"I like rounds things and circles," says Tong. "Circles are symbolic of so many important things: circles of friends; the circle of life; what goes around comes around. So I am always drawn to circles in art, especially in bright colours."
Tong sourced all the furniture but turned to interior designer Chris Kwong, who also managed the project, to fine-tune his ideas and ensure cohesion with the broader vision.
"I would do all this research and choose two or three pieces and then let Chris make the final choice. He has a great eye for colour," Tong says. "Sometimes I'd pick some­thing and he would just say, 'No.' Which was pretty funny.
"The only thing I feel I'm missing now is a nice open kitchen, with bar stools. I only know how to cook about 10 dishes but I do make a mean tiramisu. That's something for my next apartment but I want to enjoy this one for a while first."
---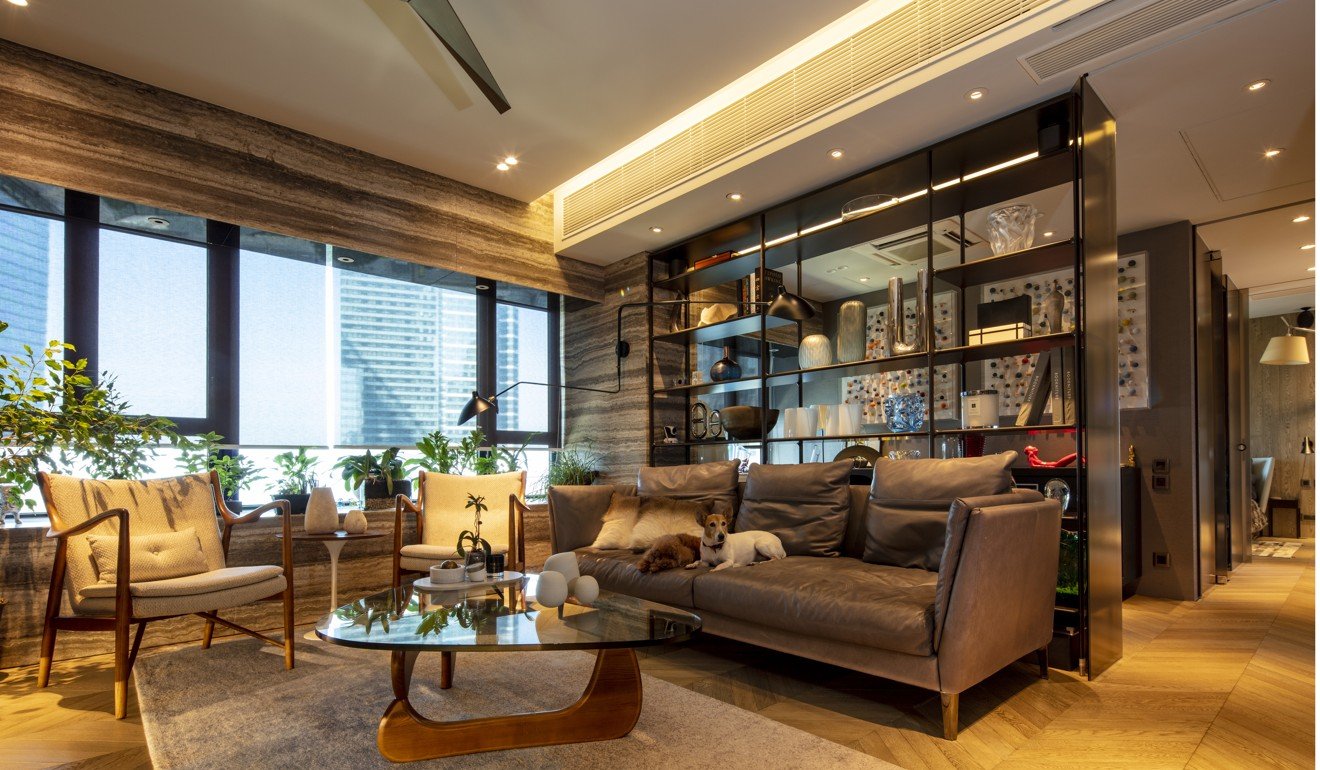 Living room The living area is partitioned by a full-height Rimadesio bookshelf (HK$105,000). The Poltrona Frau leather sofa (HK$68,000) is complemented by a pair of low-slung modernist chairs (HK$18,000 each) from Design Within Reach and a Noguchi coffee table (previously owned).
A deep pile rug (HK$15,000, from Ovo) adds another layer of warmth to the floor's honey tones. The Eero Saarinen side table came from Aluminium (now closed). Similar Serge Mouille-style long-arm lamps are available from Stockroom. The ceiling fan cost HK$4,000 from Life's a Breeze.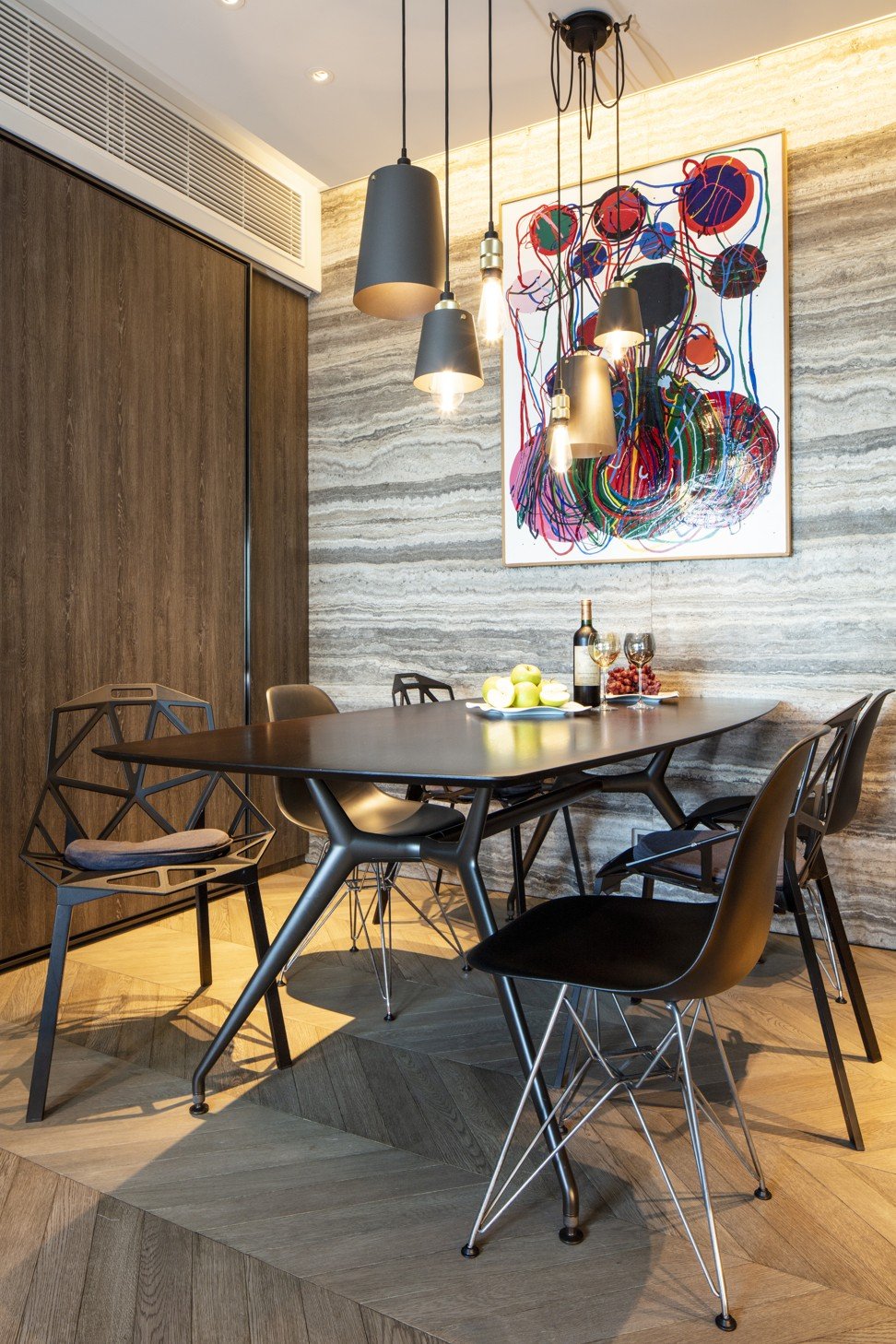 Dining area Craggy lines of grey travertine (HK$90 per square foot from Hop Ching Marble, Ping Ha Road, Yuen Long, tel: 2472 0772) form a muted backdrop to a colourful piece by Japanese artist Atsuko Tanaka (1932-2005), bought at a Sotheby's auction.
The steel pendant light fixtures (HK$20,000 in total) from Buster and Punch cast a copper glow over the Rimadesio dining table (HK$68,000) and metal accent chairs (Eames side chairs, HK$2,800 each, from Herman Miller; Chair One, by Konstantin Grcic, HK$2,700 each, from Magis). The herringbone flooring (HK$60 per square foot) was from Sunwood Building Materials (308 Lockhart Road, Wan Chai, tel: 2827 0990).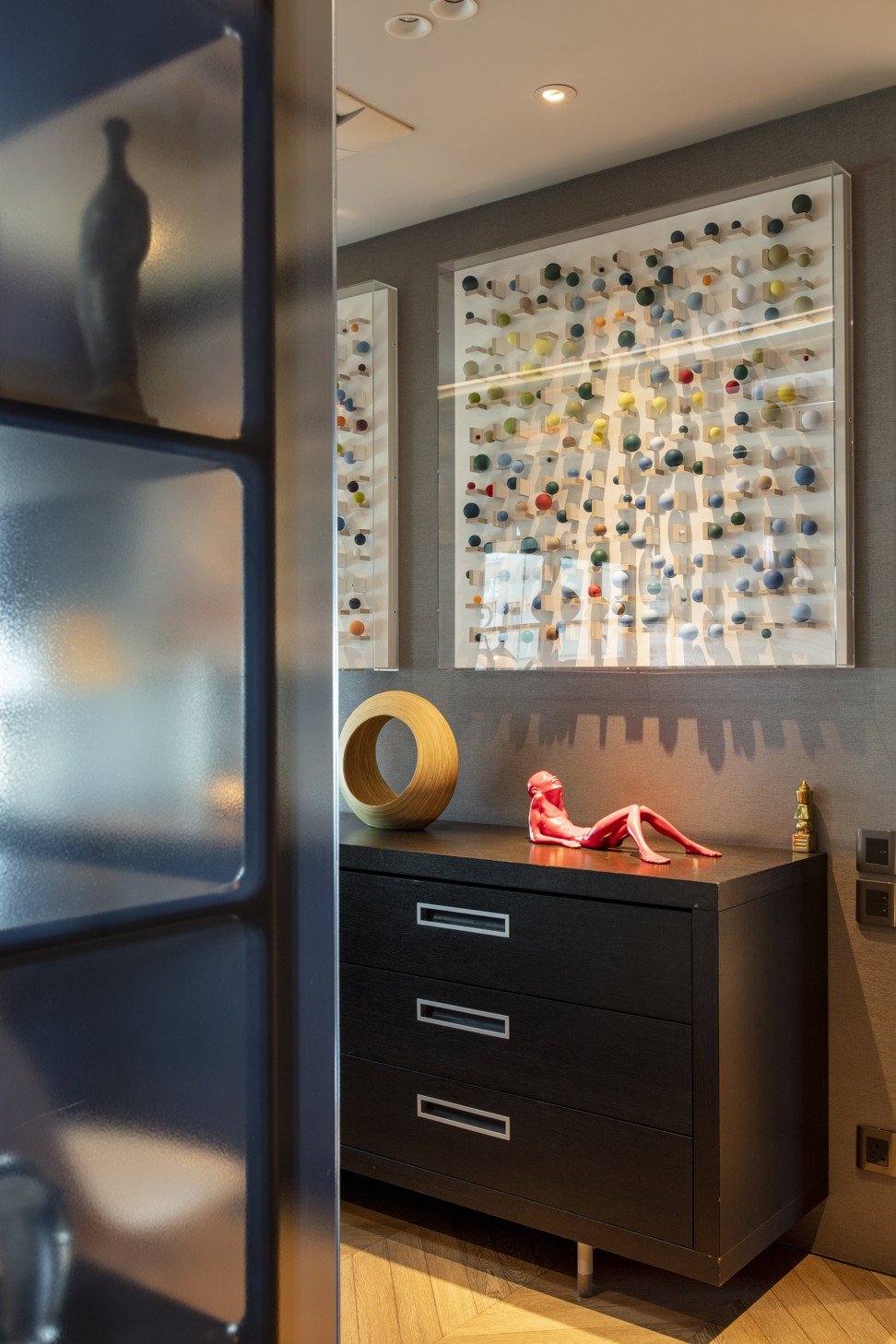 Living area detail The artworks on the wall are by British artist Stuart Hartley and were sourced at London's Mark Jason Gallery. The red figurine (HK$28,000) came from Lane Crawford while the sideboard (HK$40,000) was from Ligne Roset. The circular item was a housewarming gift.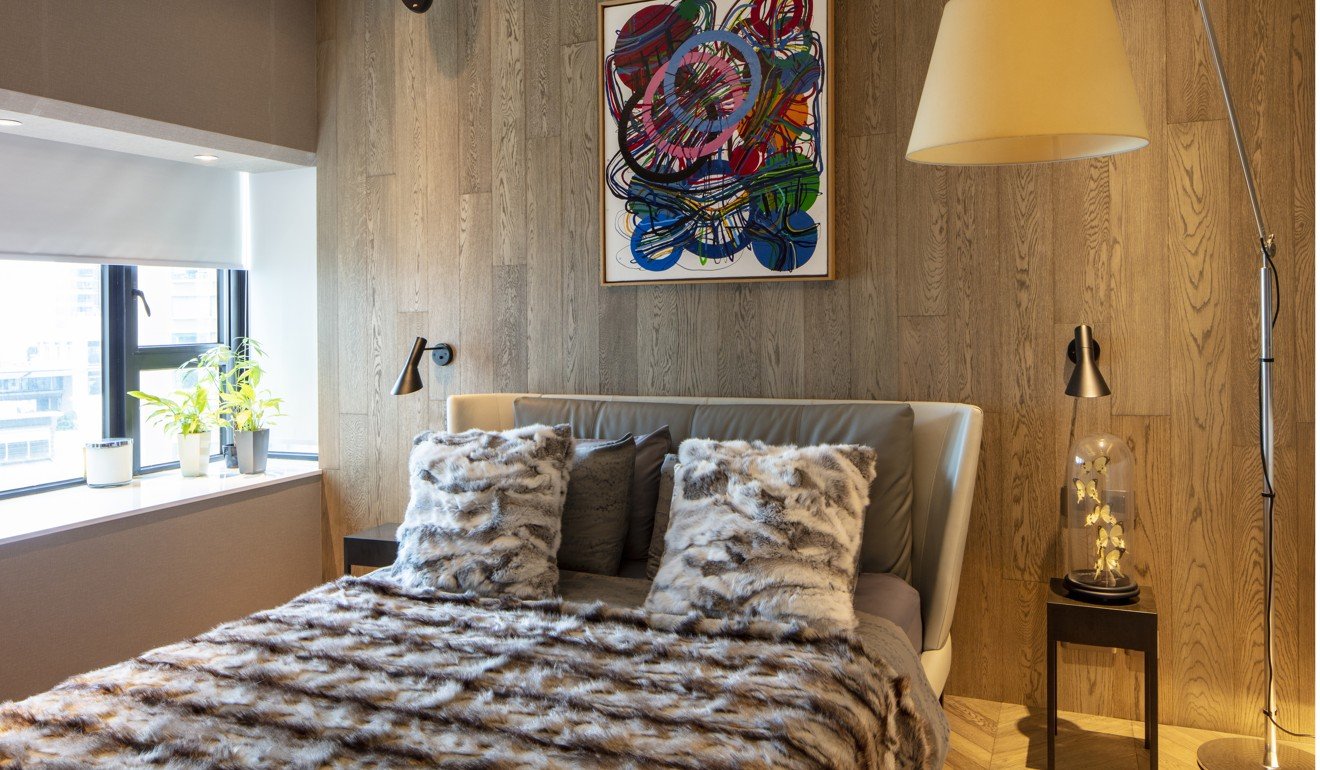 Bedroom From the natural-wood wall and pale leather headboard of the Poltrona Frau bed (HK$58,000) to fur bedding (HK$8,000) from Lane Crawford, the bedroom is a cocoon of warm textures.
The painting, by Tanaka, was bought at a Phillips auction while the Tolomeo floor lamp (HK$9,000) was from Artemide. The bedside tables (HK$6,000 each) came from Anterra, 5 Blue Pool Road, Happy Valley, tel: 2525 9874. Round KEF speakers are affixed to the ceiling.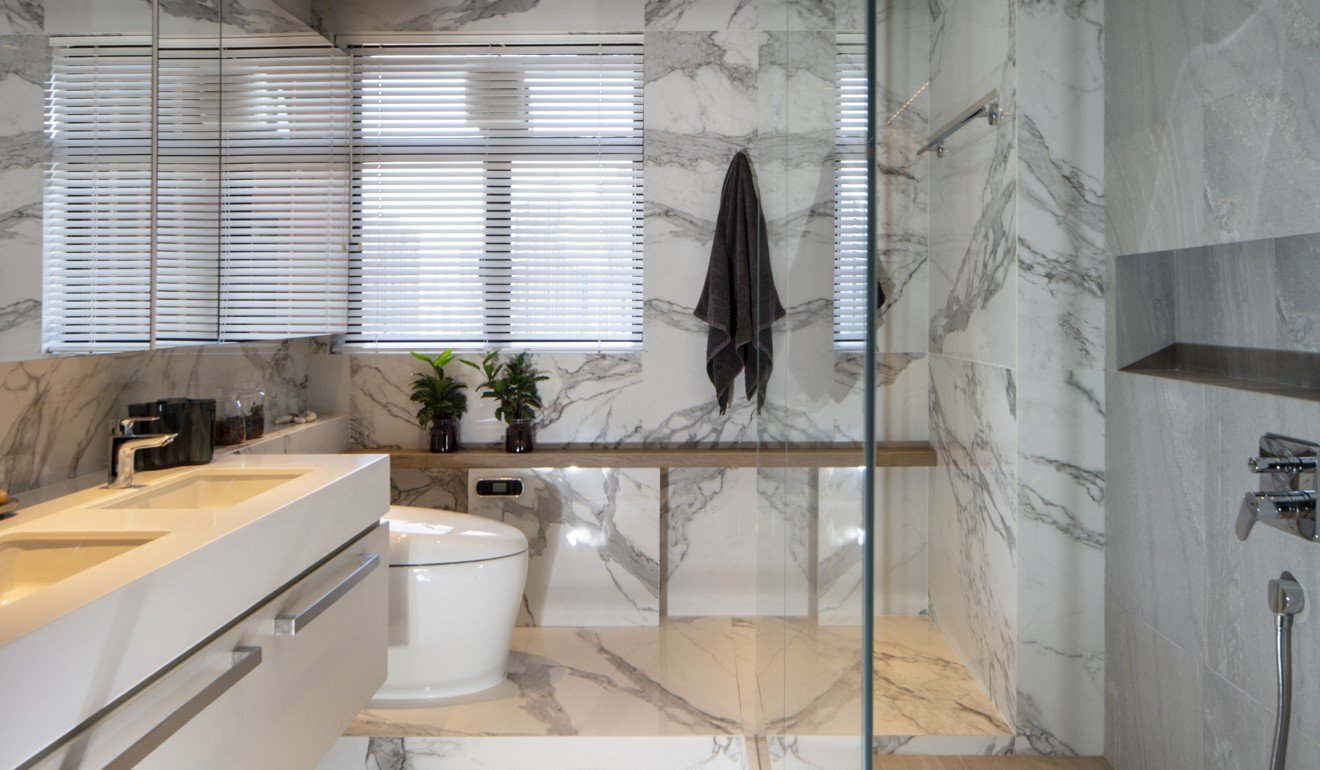 Main bathroom The white marble tiles were sourced from Hop Ching Marble and cost HK$60 per square foot. The recessed sinks in the double vanity (HK$5,000 each) came from Kohler.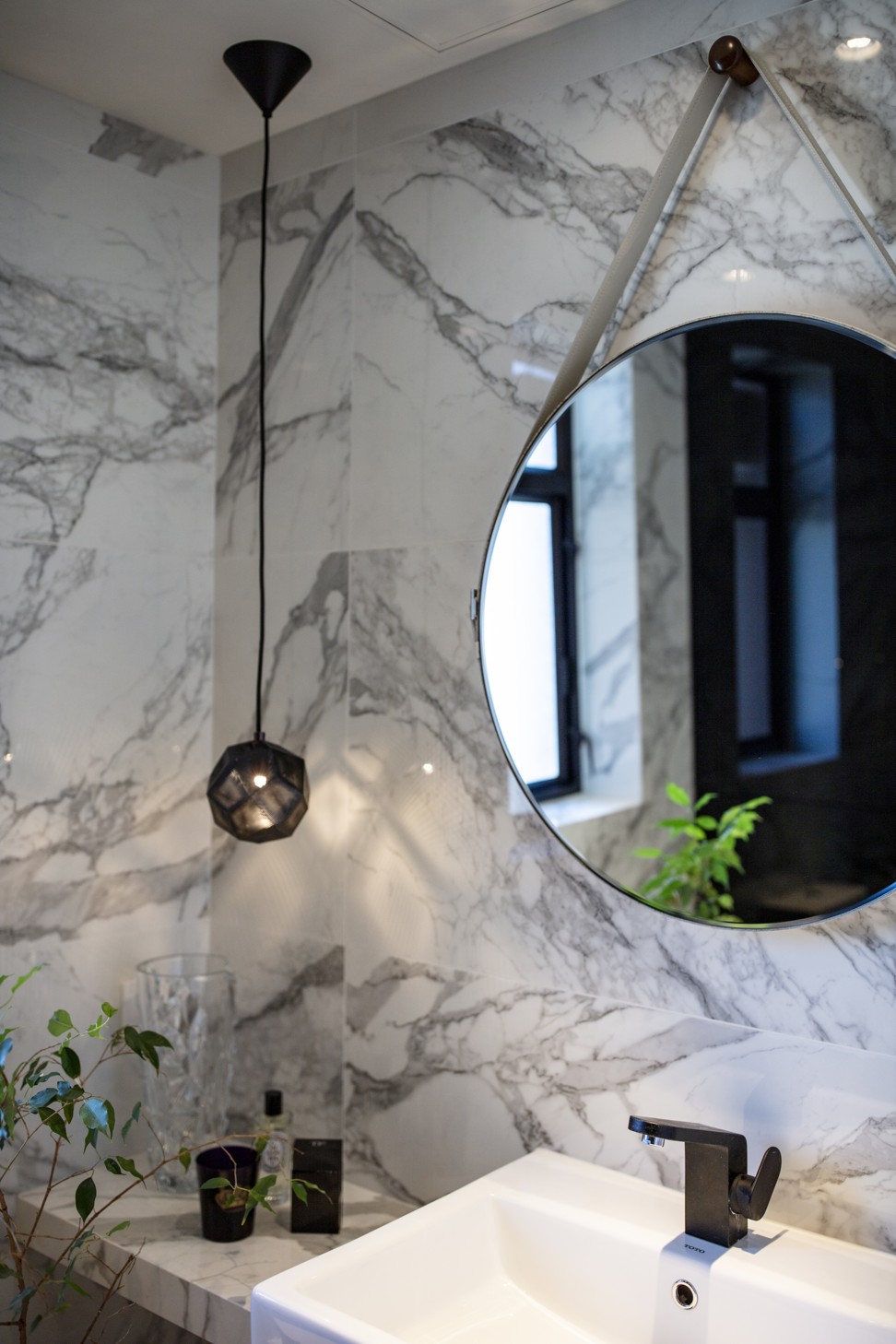 Guest bathroom The circle motif continues into the guest bathroom with a round mirror (HK$18,000, from L's Where) and a Tom Dixon pendant sphere that cost HK$4,100. The sink (HK$4,000) and black mixer (HK$5,000) were both from Toto.