Future proofing a home can take different forms. For Carmen and Callum Tse, who drew up a 10-year plan, it meant ensuring there was room to grow.
Before that could happen, however, the couple had to find a place to live. "We wanted to be able to get to work in 30 minutes," says Carmen Tse, who works in merchandising in Tsim Sha Tsui while her husband, a physiotherapist, commutes to Central.
This 800 sq ft Tin Hau flat met their requirements, says Carmen. But to ensure they'd be happy in their home for the next decade, they called in Leung Chi Ling, an interior designer who had been recommended by friends.
Letting in more light was top of the agenda. Although twice the size of the unit the couple had been renting, their new apartment was dark at its core, with rooms on two sides of the living area blocking the sun. The solution was relatively easy: space-saving sliding doors fitted with ribbed glass provide privacy but allow in natural illumination.
Where there had once been a foyer eating into this space, the main door now opens directly into a living and dining area with a dedicated (and tiled) space for TRX workouts. On the opposite side, picking up on the dark-grey aluminium doors and light engineered-wood flooring is a curvaceous wall unit and mirror that bounces light and softens the predominantly straight lines elsewhere. Leung, of Millwork Interiors, says: "I always like round corners. It's so nice to feel them."
The rooms themselves remained roughly in their original locations: apart from the main bedroom, with its striking blue feature wall and an en suite bathroom, there is a spare, future bedroom, another bath­room plus a "study" – really a music room with desks accommodating Technics turntables at optimum spinning height for Callum Tse.
"I have the kitchen," Carmen says. "We spent the majority of the budget in the kitchen. That's my room."
That's probably why, several months after the apartment was completed last year, she still remembers vital measurements, including the width of the door frame (72cm) and floor space (63cm) between the two countertops. The galley-style kitchen may be narrow, but there is room for a washing machine and separate dryer at one end, as well as a full-sized oven and dishwasher.
Carmen, who likes to bake, also has a counter on which to roll pastry. "It's about 80cm wide [and 60cm deep]," she says, adding that instead of stainless steel (too industrial) or stone (porous), she chose an acrylic material for her countertops because it's easier to clean.
The design process took just one month in part because of Carmen's interest in the kind of detail that clients often have their designers sort out. "She's really organised," says Leung. "And she knows what she wants."
The Tses were also prepared to do the legwork: to work out the optimum height for their dining table pendants, she searched for information online and then visited Ikea to size up their settings.
"They texted me and said, '1.6 metres [from the floor to the bottom of the light; and 70cm from tabletop to light],'" Leung says.
Her clients also ensured the blue behind their bed was the correct hue. Having been inspired by a Pinterest image, they later opted for a darker shade, following Leung's advice. "We came in at noon just to make sure the colour would still be bright enough," Carmen says.
As part of their future planning the couple added electrical sockets everywhere they might be needed, including in the wall-hung cabinet, where they were thinking of hiding the vacuum cleaner.
Although that idea proved impractical, and their Dyson V8 machine now stands outside the unit, it does seem every other conceivable base has been covered.
Referring to their long-term plan, Carmen mentions the music room and explains why the furniture in there is all movable (as it is in the spare room). "If we do end up having two kids, the study is going to go there," she says, pointing towards the exercise nook.
"You're thinking two children ahead?" I ask.
"That's what [Chi Ling] means by me knowing exactly what I'm looking for," Carmen says, laughing. "We want to stay in this place for as long as possible."
---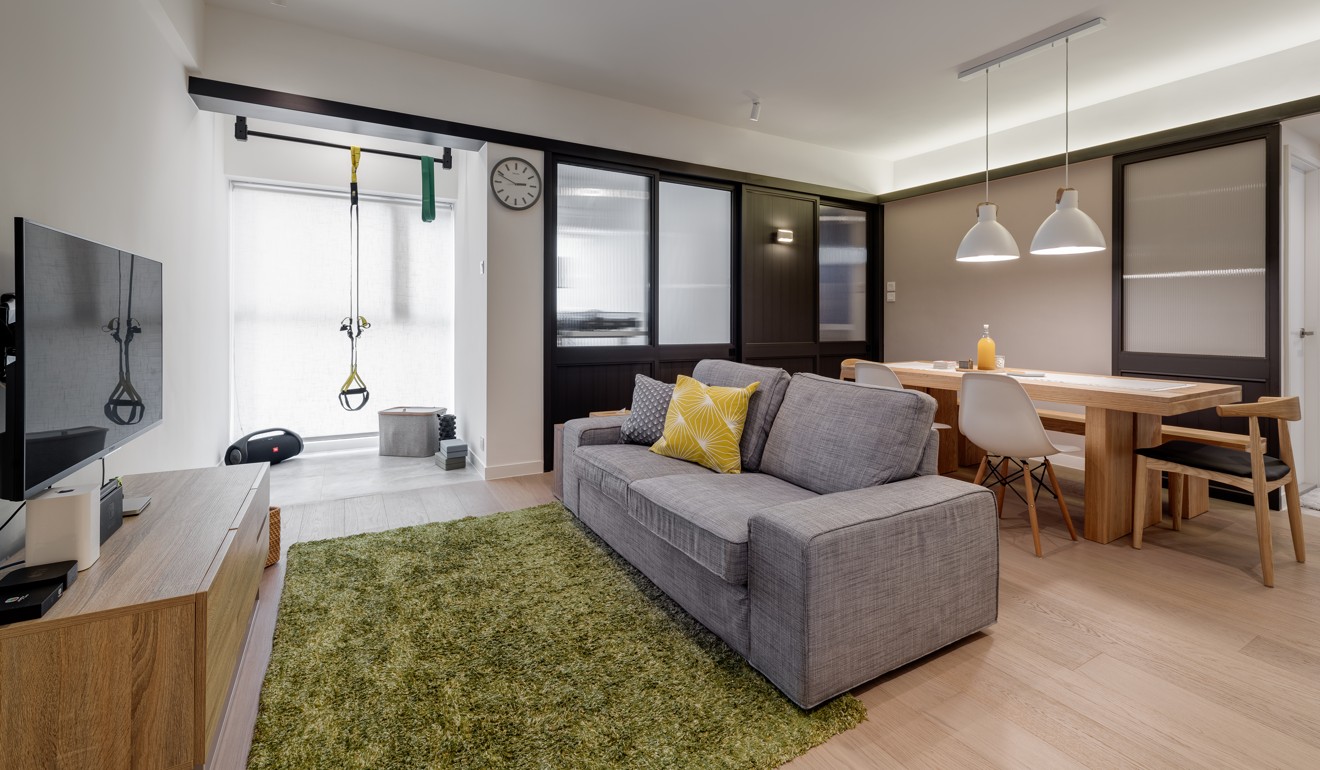 Living area To make the most of available light, Leung Chi Ling, of Millwork Interiors, designed ribbed-glass doors for the study/music room beside the exercise nook, the main bedroom in the corner and the guest room by the dining area.
The sofa (HK$3,290) came from Ikea; the rug (HK$2,200) from Francfranc; the television console (HK$2,999) from Pricerite and the small sconce (HK$899) from Megaman. The engineered oak flooring (HK$70 per square foot) came from Maywood Timber (66 Tong Mi Road, Mong Kok, tel: 2395 2530).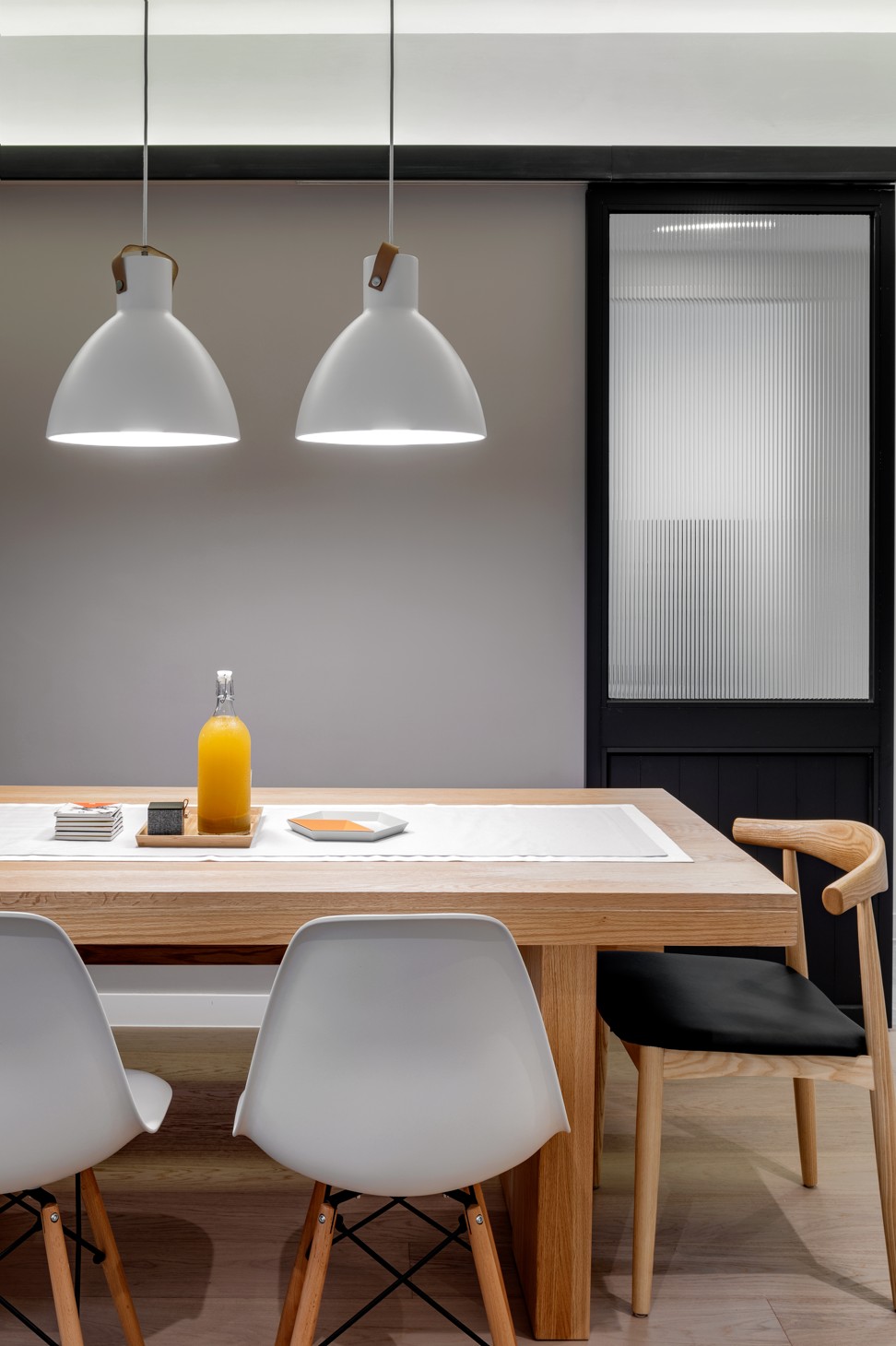 Dining area The pendant lamps (HK$1,050 each, from Megaman) illuminate a dining table (HK$9,000) from Stockroom. The white Eames-style chairs (HK$520 each) and wooden chair (HK$1,280) came from Homelike.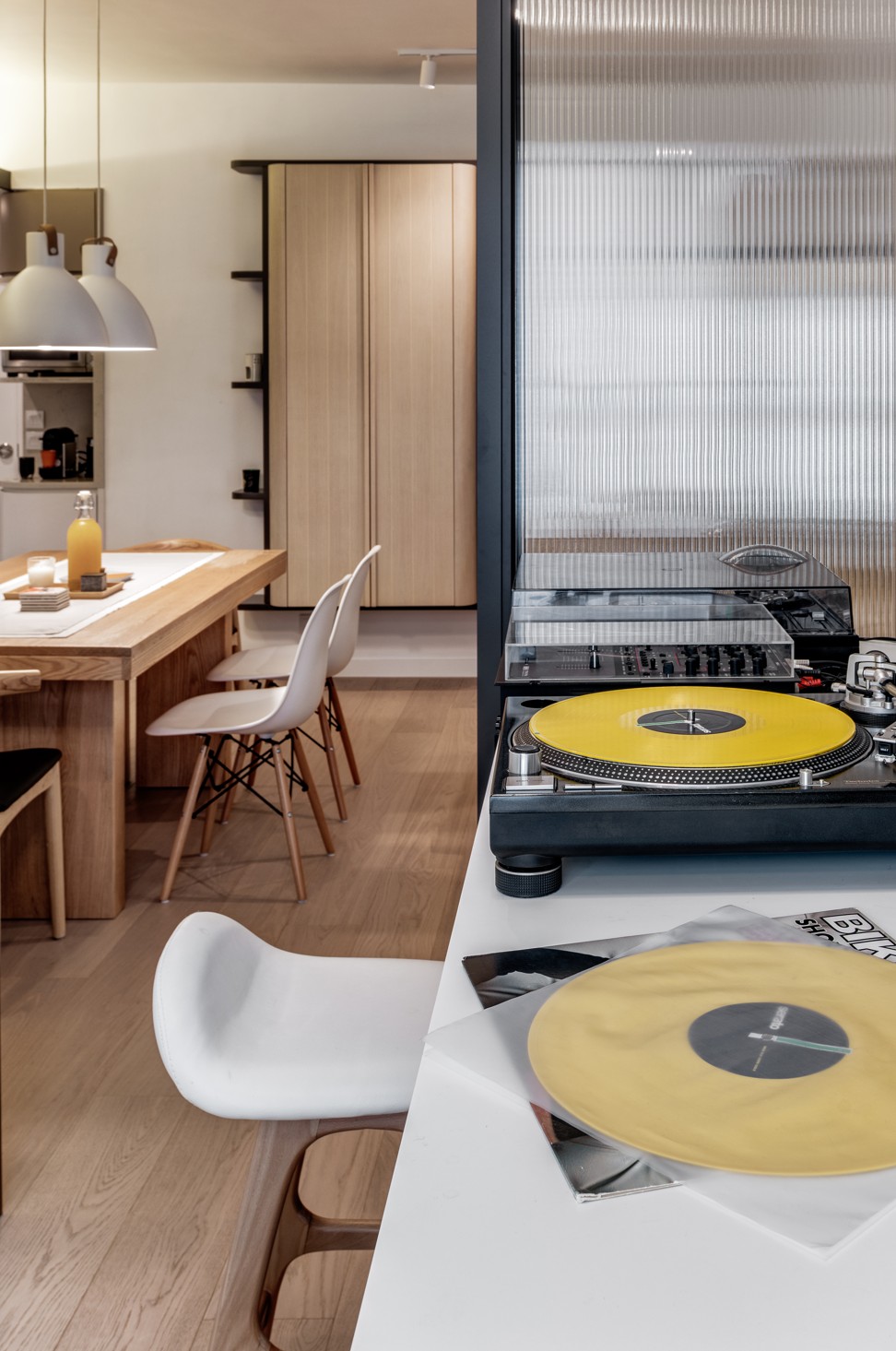 The music area The music room is furnished with loose furniture from the homeowners' previous flat, including a stool (HK$980) from Homelike and table (top HK$649; legs – not seen – HK$400 each) from Ikea.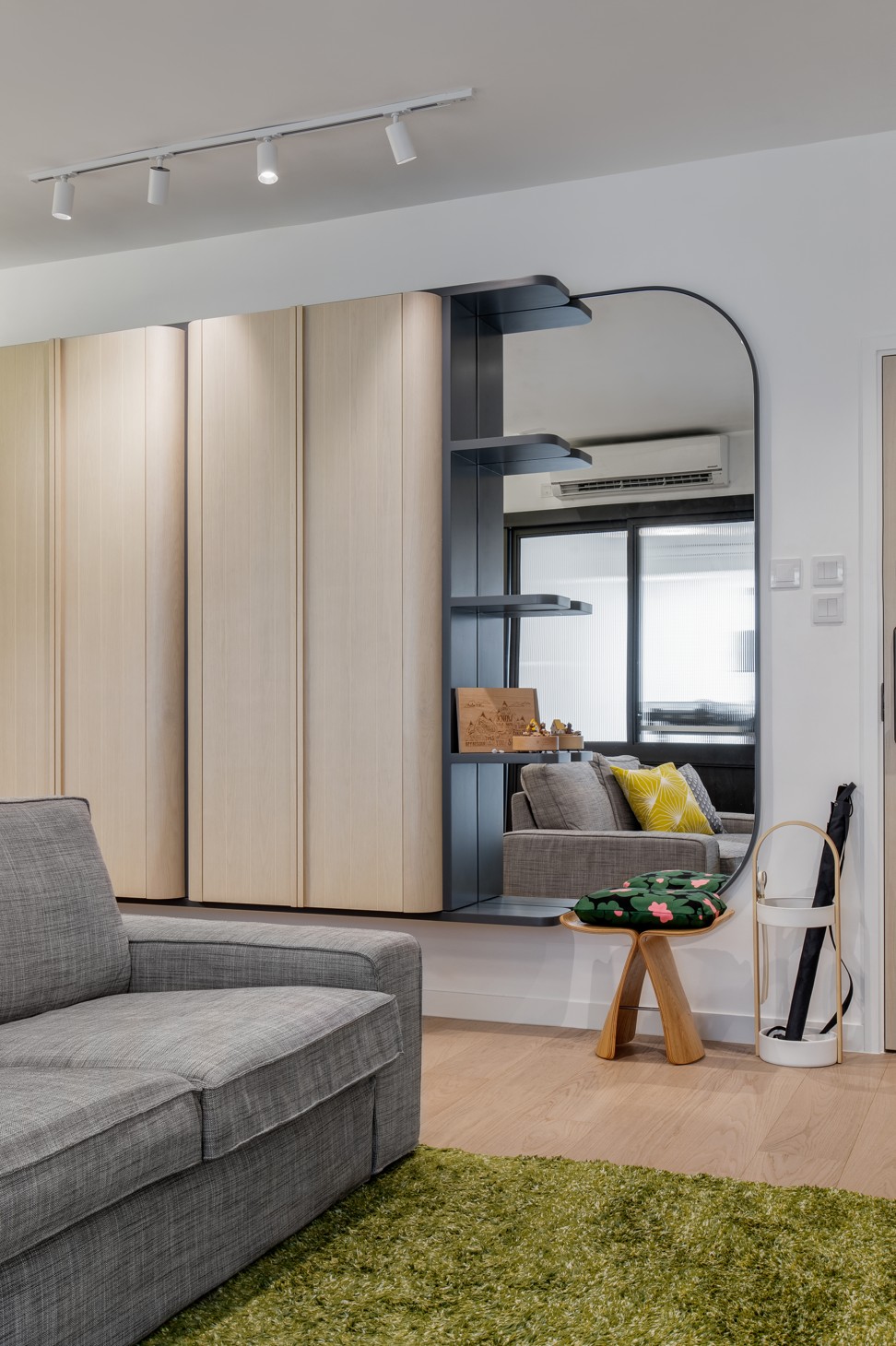 Living area detail The cabinet and mirror (HK$29,700 in total) were designed by Chi Ling Leung. The Butterfly Stool (HK$520) came from Homelike, the cushion (HK$450) from AJY Designs and the umbrella stand (HK$350) from Homeless.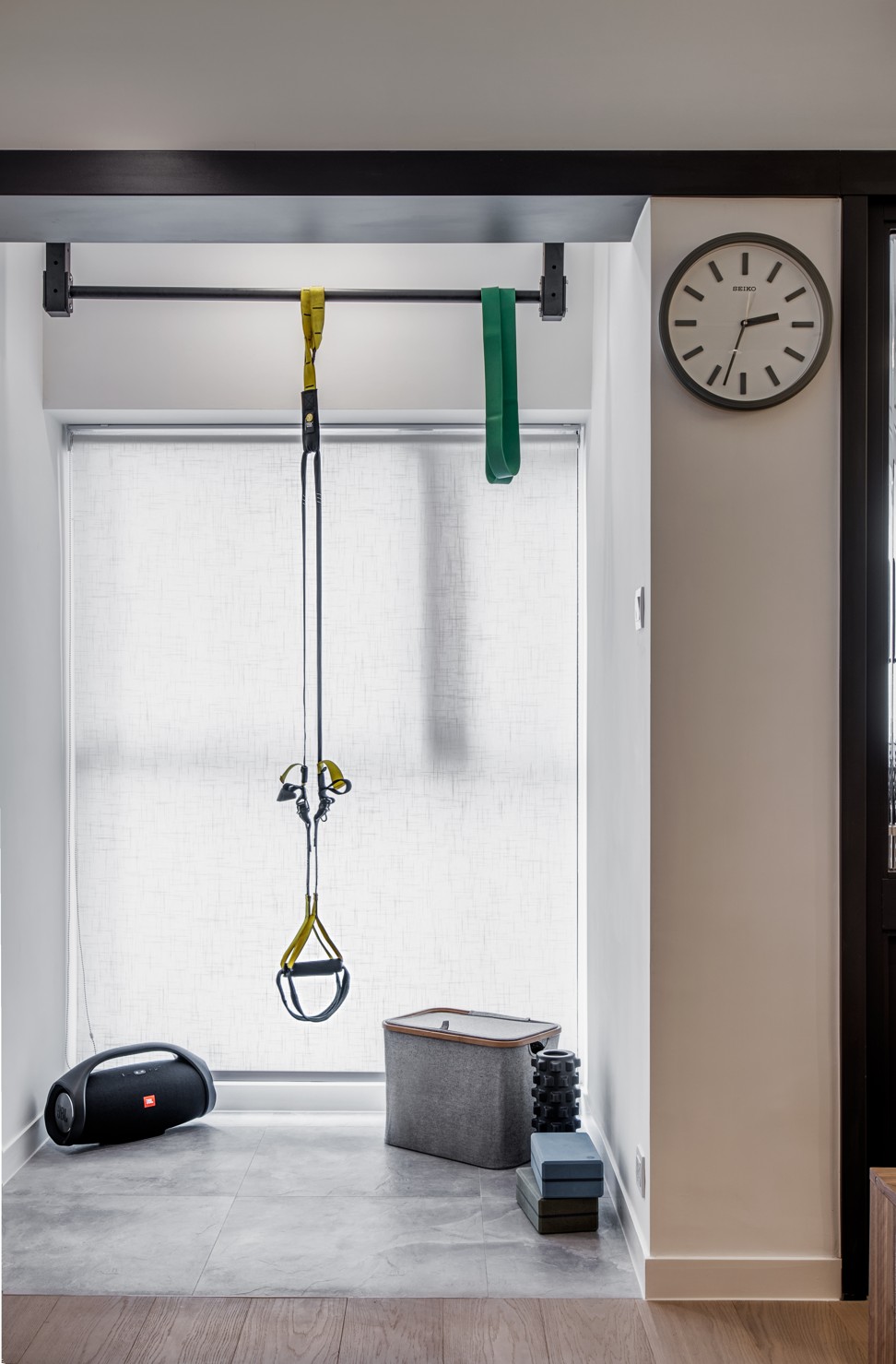 Exercise nook The tiled exercise nook is equipped with TRX, yoga blocks and a bar bought on Taobao. The box, from PriceRite, contains small equipment. The wall clock was bought at Sogo years ago.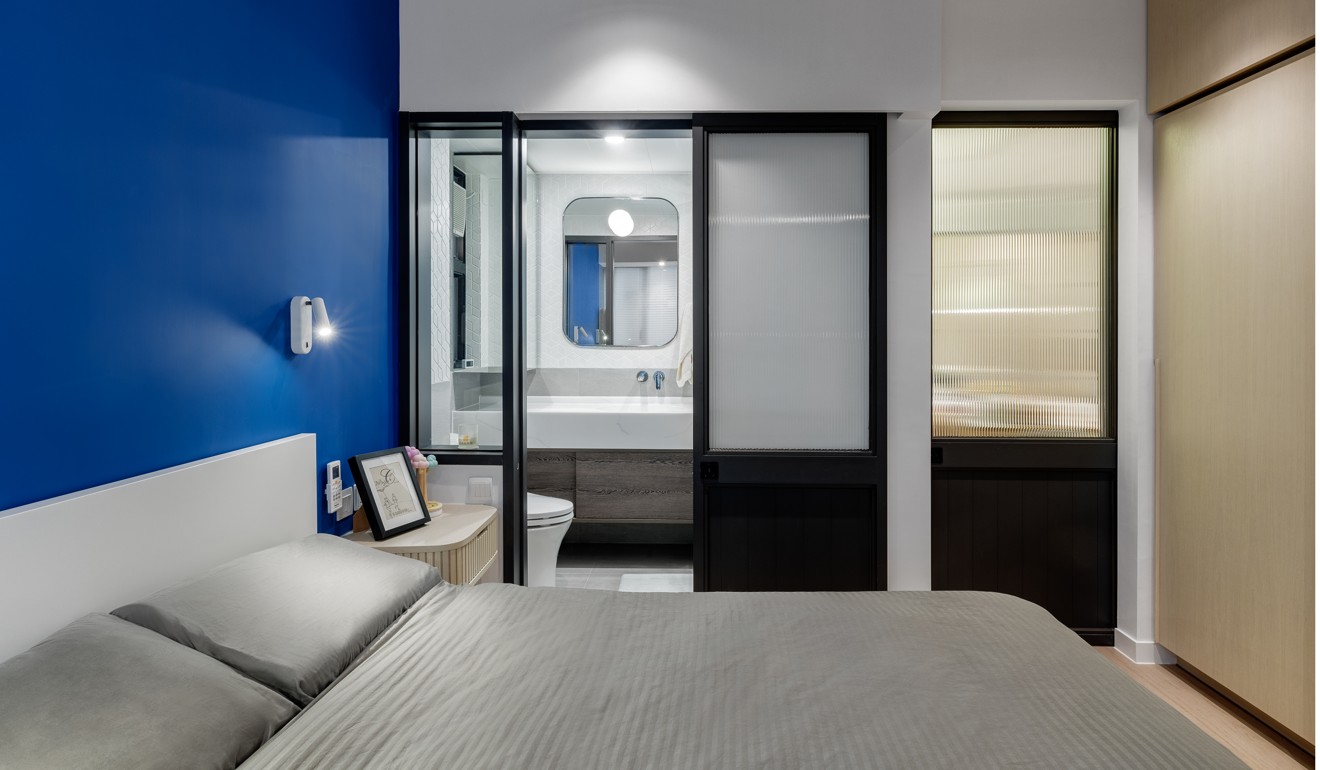 Main bedroom The blue feature wall was inspired by a Pinterest picture. The bed (HK$4,390), from the owners' previous home, came from Ikea and the bedside lamps (HK$799 each) from PLC Lighting. The bedside tables and dressing mirror were designed by Leung Chi Ling.
---
Tried + tested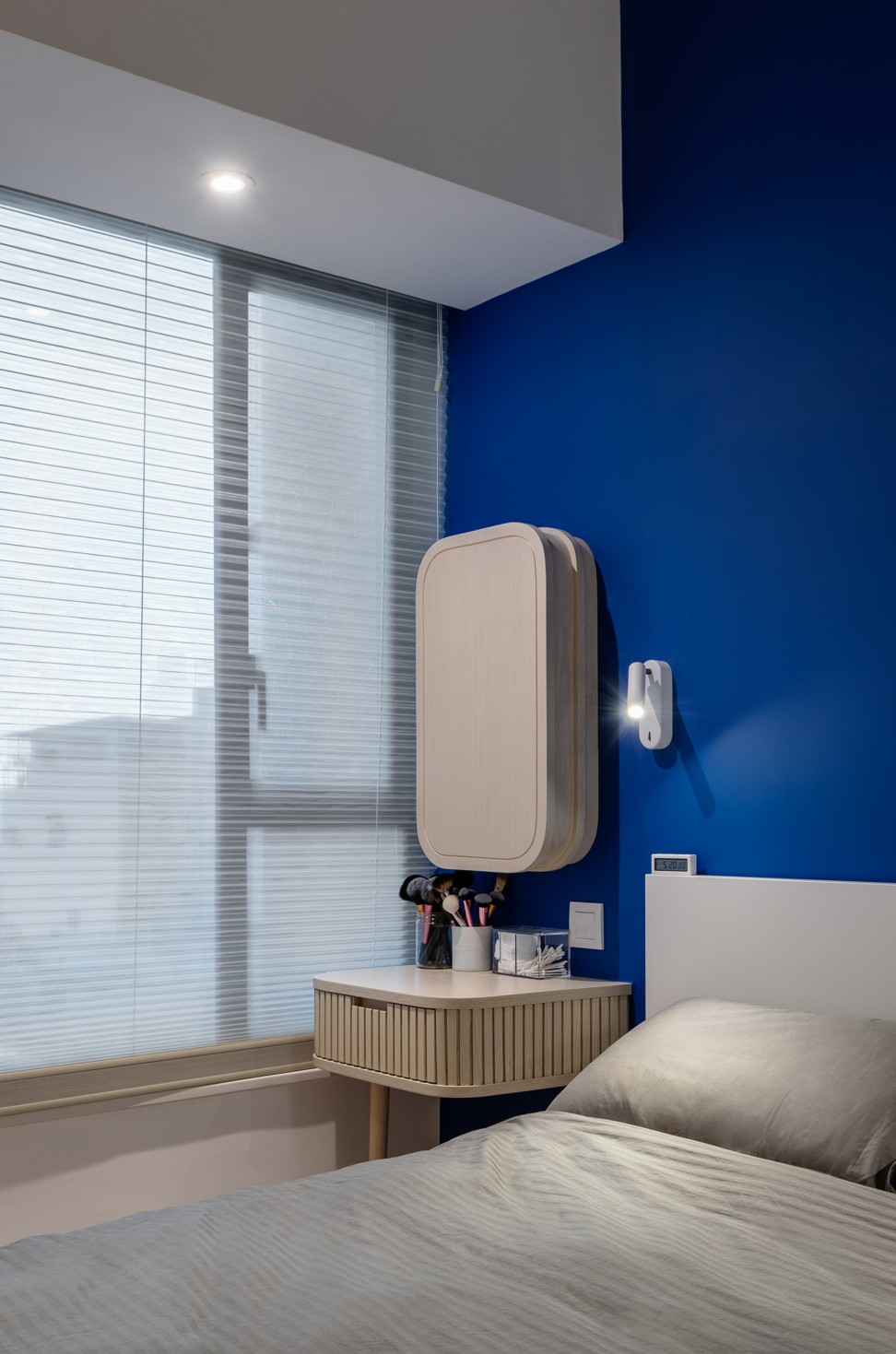 To save space, one of two bedside tables was made to double as a dressing table, hence its raised height. The one-legged unit (HK$9,000, including mirror cabinet) was designed by Leung Chi Ling and built by Kin Tat Contracting.