French interior designer Peggy Bels is a master at turning spatially challenged flats into chic urban bolt-holes. When a client bought this 550 sq ft property in Sai Ying Pun, it was a typical Hong Kong flat, with two tiny bedrooms, a small bathroom and a kitchen that was effectively a hotplate in the corridor. Bels knocked everything down and started from scratch. She reconfigured the layout, creating one bedroom with a decent-sized en-suite bathroom and making everything else (apart from a helper's room) open plan.
"The layout plan of a small flat is crucial because you need every centimetre to work for you," says Bels.
Reluctant to wall in the bedroom, because that would have affected the light, she created a glass partition between it and the living area, which gives the flat depth and makes it seem larger. Bels incorpor­ated black frames into the partition and sprayed all window frames in a matching matte lacquer.
"The black frames the view and makes the flat feel more contemporary," Bels says.
A predominantly monochrome palette throughout the flat adds to the modern, minimal look. White walls would have looked cold and stark, so Bels and her client opted for a concrete finish, which feels surpris­ingly warm. Five layers were applied to achieve the desired effect. To prevent it from appear­ing too industrial, she teamed the concrete with brass detailing, which appears as skirting under black cabinetry in the bedroom and kitchen, and on lighting.
Cement can sometimes be too raw, so the brass makes the apartment feel elegant and more feminine as well as adding understated colour
"Cement can sometimes be too raw, so the brass makes the apartment feel elegant and more feminine as well as adding understated colour," says Bels.
Incorporating pattern and texture in a small flat has to be carefully thought out. Too much and you produce a clashing, cluttered feeling; too little and the space will appear boring. Design continuity in the materials used is also key. Bels laid ash-grey timber floors in a herringbone pattern throughout, and chose the same type of marble for the kitchen counters and bathroom.
Bels' client didn't want to reuse furni­ture from her old flat, which made the designer's job easier, allowing her to chose pieces that fit precisely into each desig­nated space, including the sofa, which was re-upholstered in a more appropriate shade.
If a home has style, it doesn't matter how small it is
However, there were some things Bels couldn't change, notably the outlook onto neighbouring flats from back windows. To get around this in the kitchen, she installed a window box and filled it with a tall, grassy plant. In the main bathroom, Venetian blinds and a floating mirror offer a similar buffer to the less-than-ideal vista.
"We did the best we could with the window treatment and the space," says Bels. "But if a home has style, it doesn't matter how small it is."
---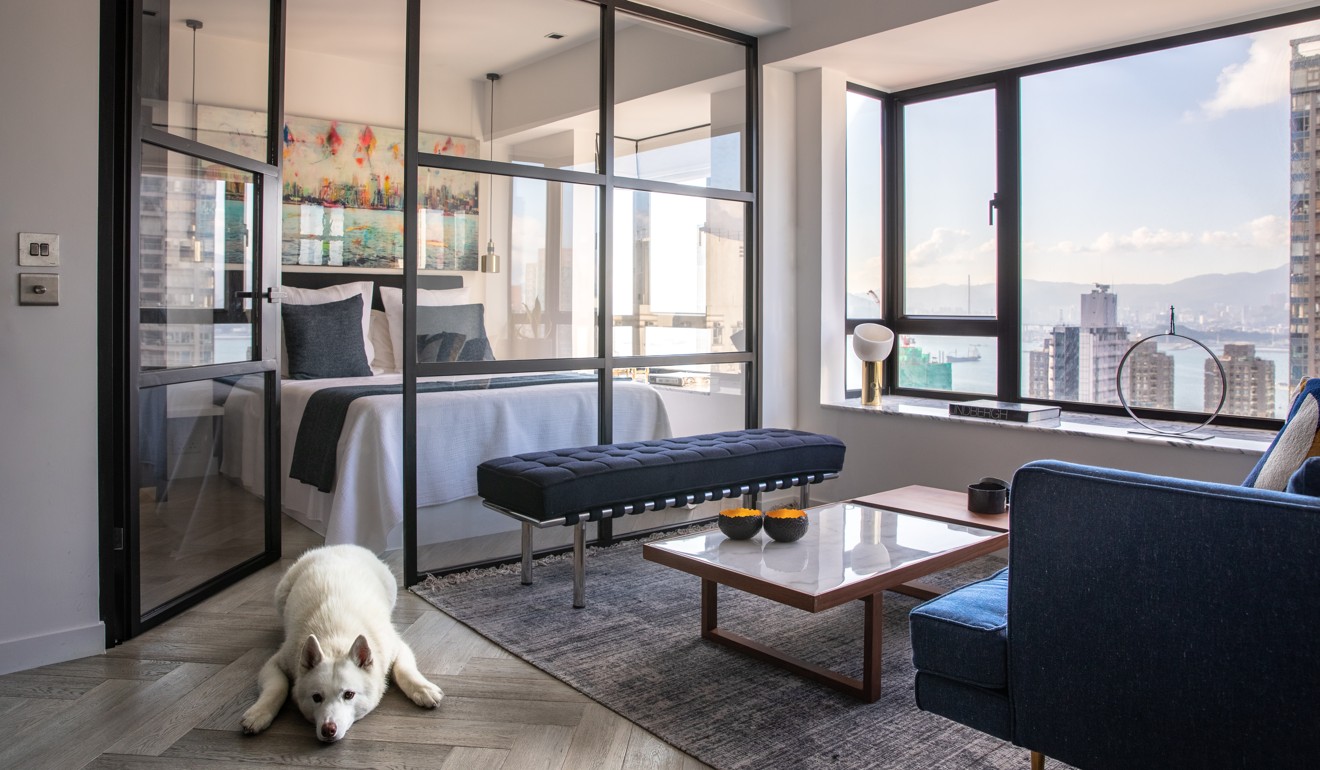 Living area The sofa (HK$18,000) and coffee table (HK$6,000) were by Organic Modernism. The bench was custom made for HK$3,500 by Kai Ngai Furniture (328 Lockhart Road, tel: 2573 1196). The Herringbone flooring by Wonderfloor cost HK$90 per square foot.
The lamp on the windowsill was HK$2,000 from Sonder. The circular sculpture is by French artist Nathalie Decoster.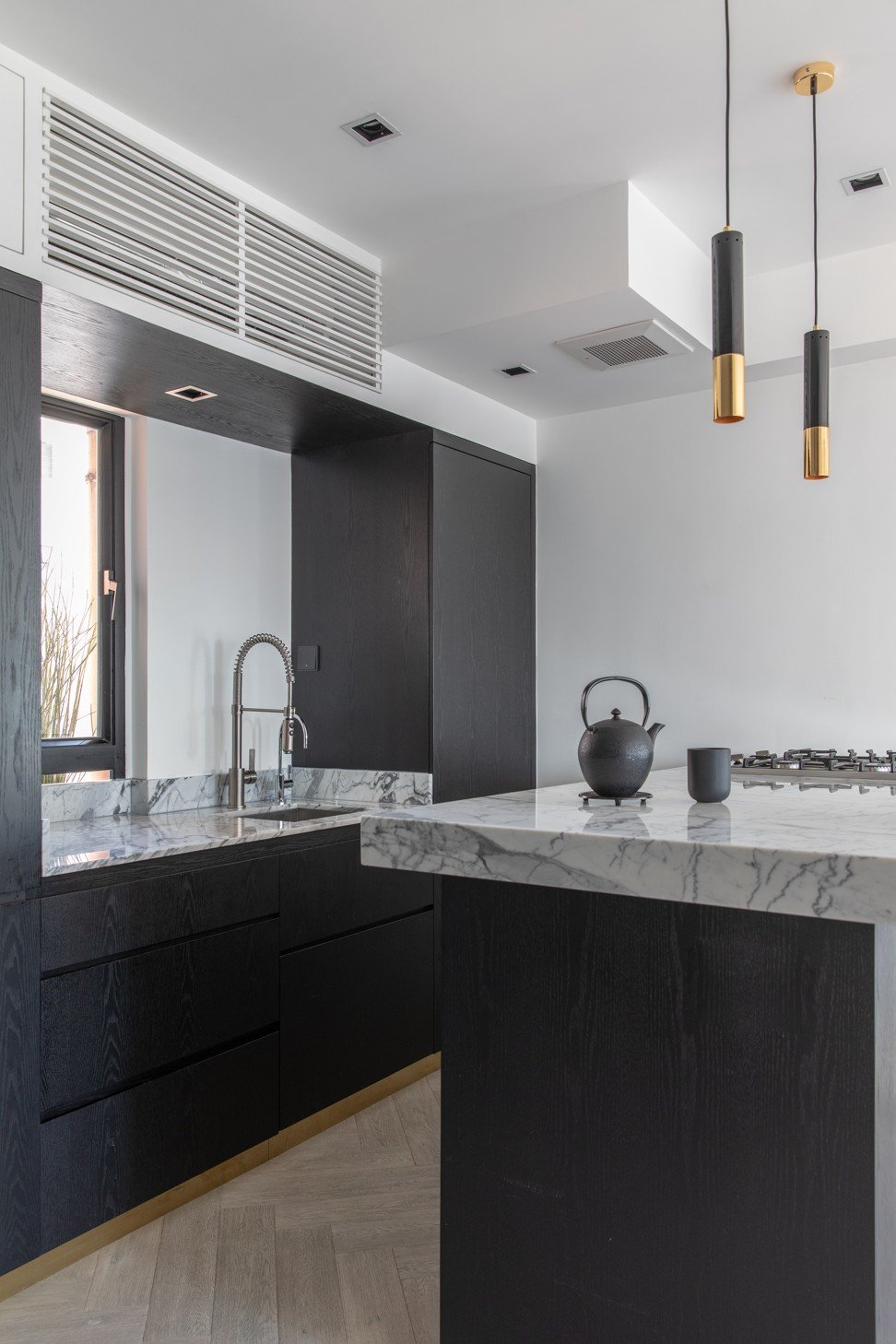 Kitchen All the kitchen appliances came from Miele. The pendant lights cost A$159 each (HK$900) from Zest Lighting. The counters were custom made with Calacatta marble from Sing Fai Marble (242 Lockhart Road, Wan Chai, tel: 2511 8375).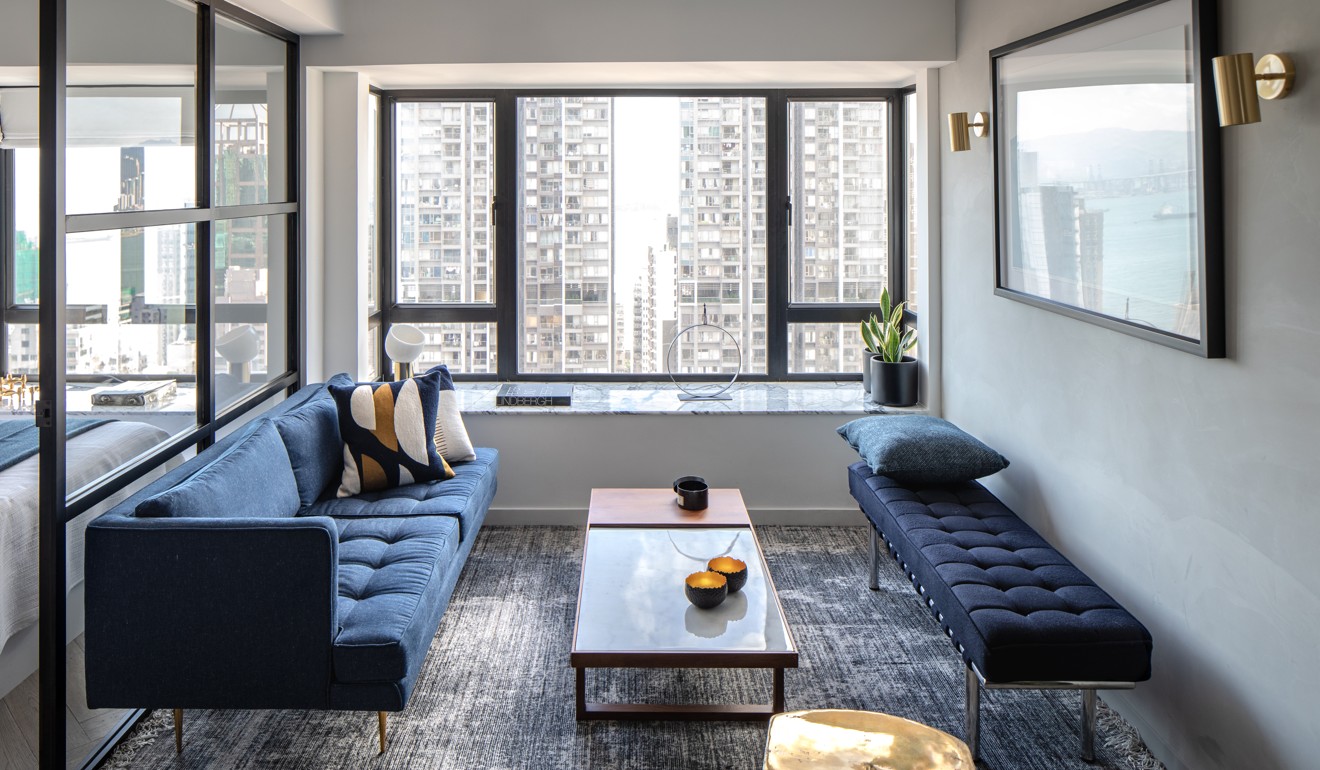 Living area The frame of the photographic artwork, "Off Piste", by Eugene Tan, from Australian gallery Aquabumps, echoes the black frames incorporated into the glass partition separating the bedroom from the living area. The wall lights were HK$350 each from Taobao (taobao.com).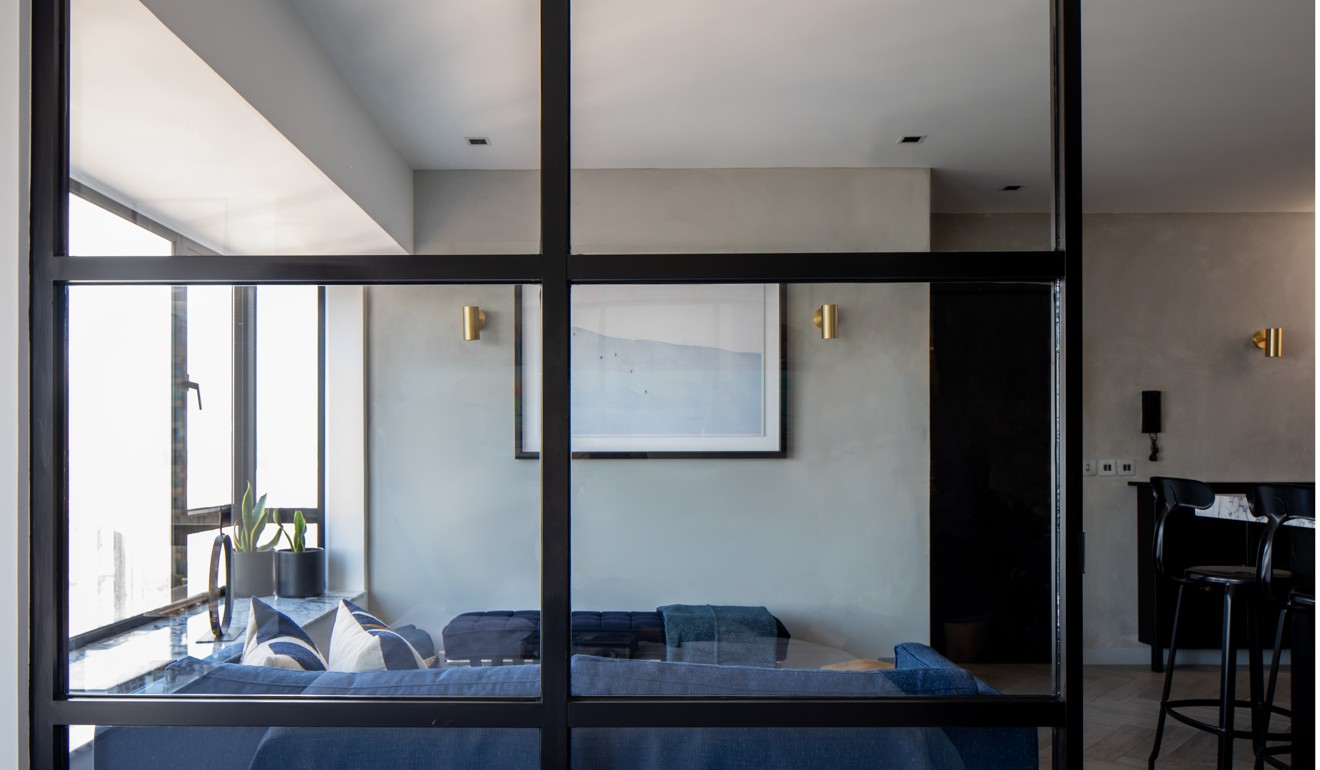 Living area The wall lights were HK$350 each from Taobao.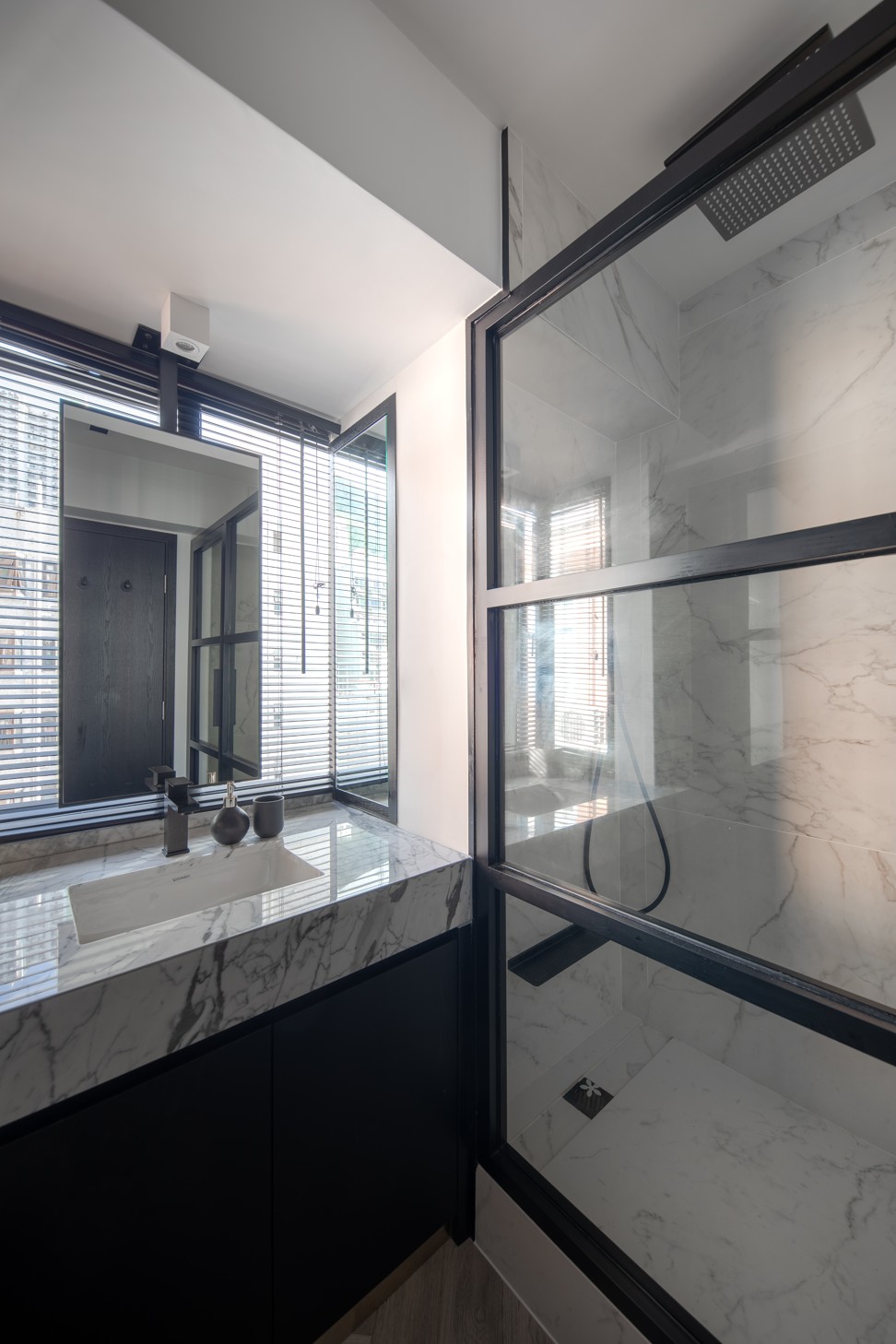 Bathroom The bathroom is lined with Calacatta tiles (HK$80 per square foot), by Atlas Concorde, from Pacific Building Material while the sink top is a slab of Calacatta marble from Sing Fai Marble. The taps and shower fittings all came from Meir.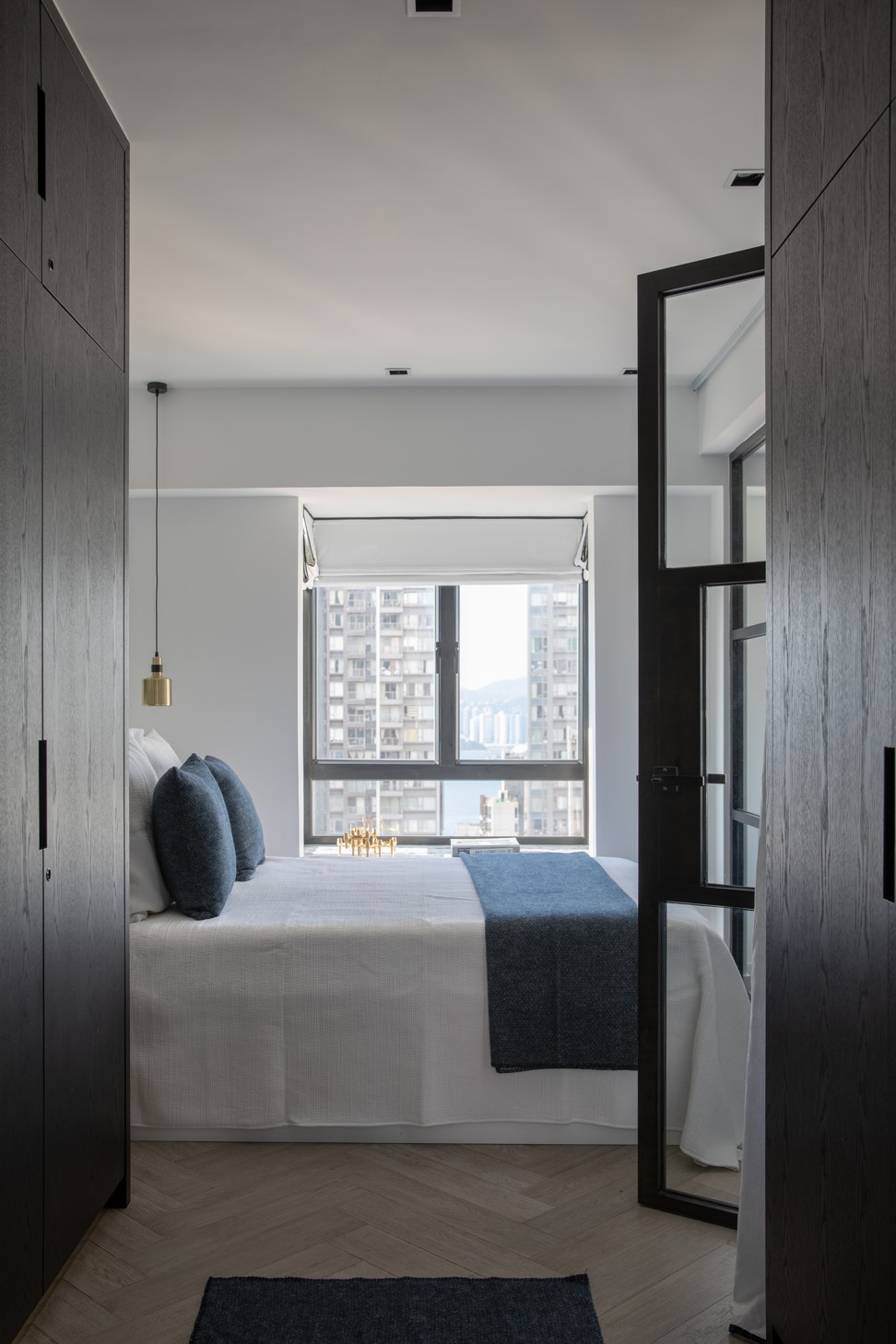 Bedroom Peggy Bels' client wanted a good-sized bed and as much storage as possible but it was impossible to find bedside tables small enough to fit the leftover space. Instead Bels (peggybels.com) built a shelf into the wall on each side and installed hanging lights above to free up shelf space for other essentials. The bed (HK$12,000) and wardrobe (HK$45,000) were designed by Bels.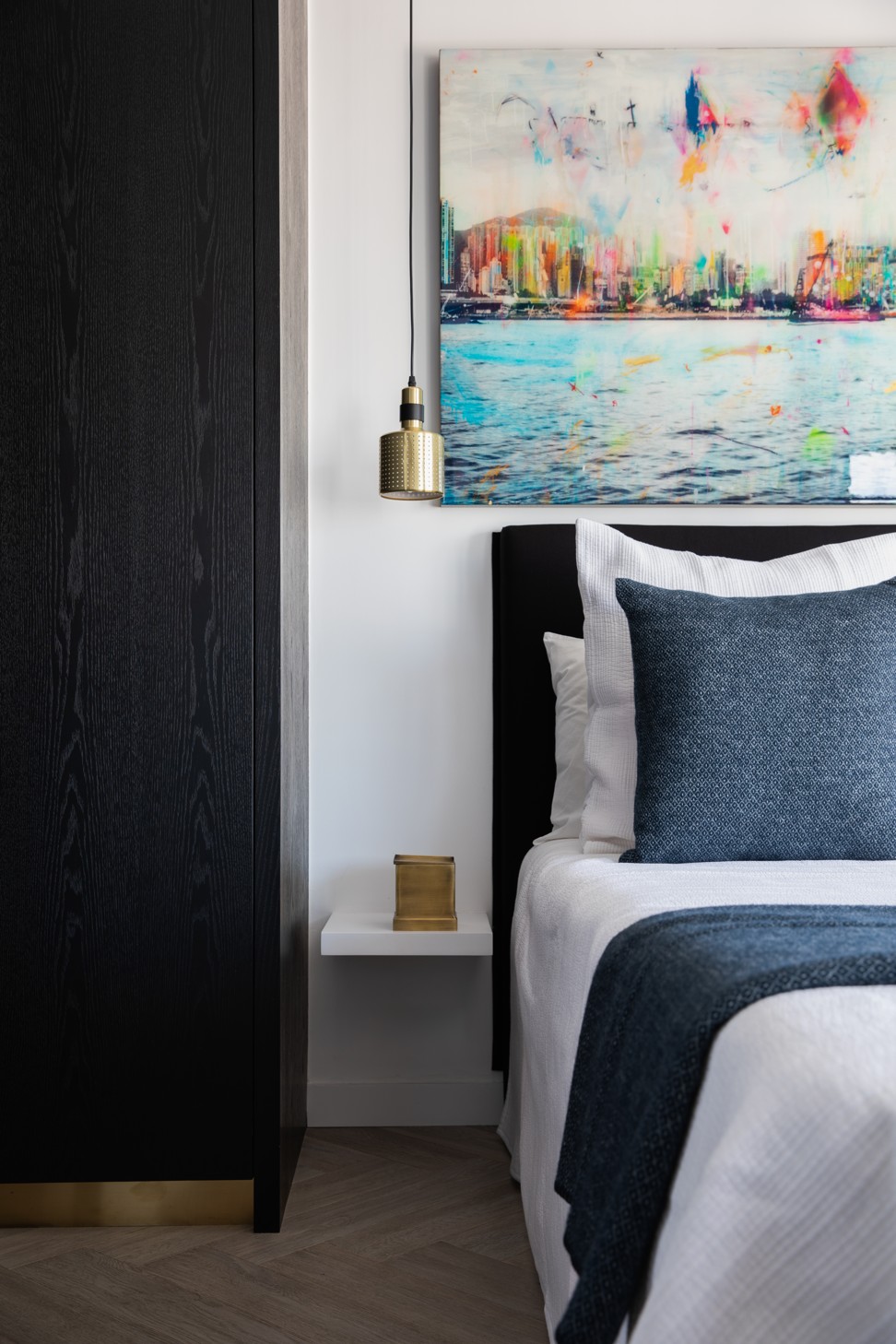 Bedroom detail The artwork, by Spanish painter Alberto Sanchez, came from Retrospect Galleries. The hanging lights, by Bert Frank, cost HK$3,200 each.
---
Tried + tested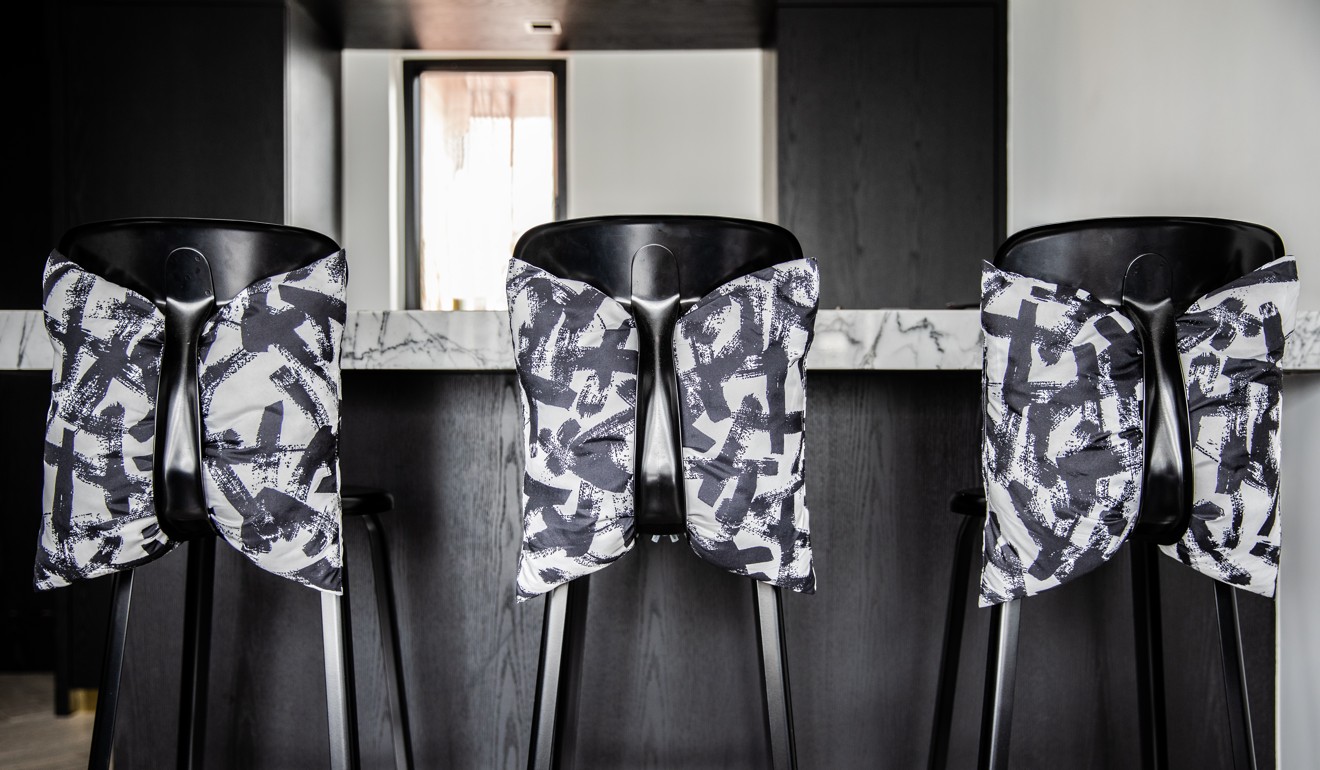 Hang back In a small flat, where can you store cushions for easy access?
Peggy Bels' client came up with a handy spot within view and reach: she threads
them through the backs of classic Nicolle bar stools (HK$3,500 each,
from Chaises Nicolle).