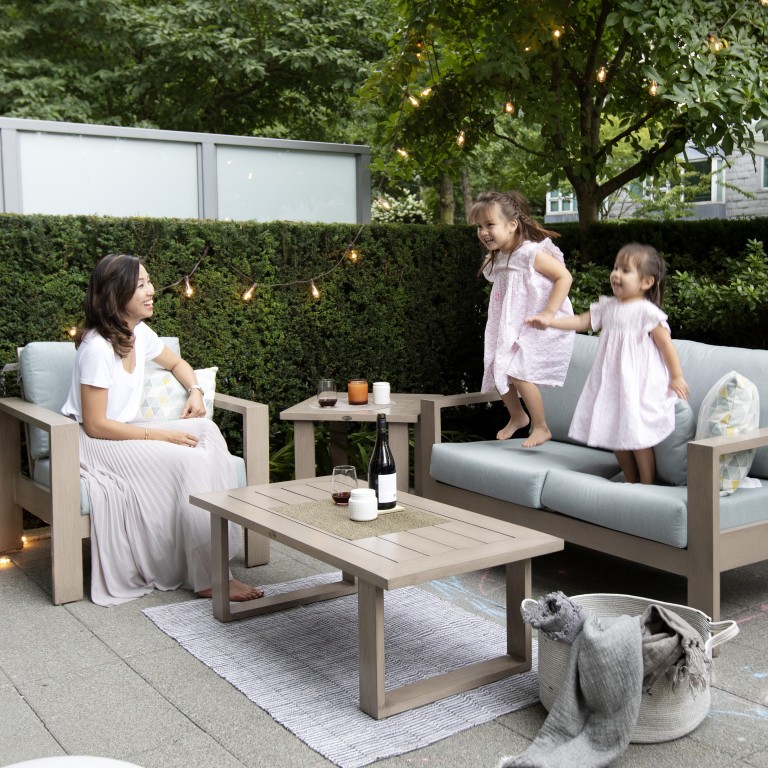 Overlooking Vancouver's Stanley Park, this timeless townhouse has a view to die for
A lawyer couple's family home is a beautiful blend of vintage and contemporary influences but it's the coveted location that steals the show
For peripatetic couple Joanna Leung and Pierre Loicq, Vancouver has become more than a base, and that owes much to the town house they bought in the Canadian city six years ago. Through a minimal makeover and a host of other travel-inspired interior touches, their West Coast pied-à-terre has become a special family home where they spend eight months of the year with their two daughters, aged five and three.
"We do have properties elsewhere," says Leung, referring to residences in Wan Chai, Hong Kong, and Miami, in the United States, "but Vancouver is home."
Leung, who grew up in Vancouver, worked as a lawyer in Hong Kong from 2010 to 2016. She is now the vice-president of business development for her family's 39-year-old outdoor furniture company, Ratana, which is headquartered in Canada.
"That's actually how we met," teases Belgian-born Loicq, also a lawyer. "I hired her! It's not every day you get to interview your future wife!"
With Leung's role requiring her to pay regular visits to Hong Kong – where Ratana's head office for the Asian and European markets is situated – this is a family on the move, with an interiors style to match.
Their two-level, 1,300 sq ft, two-bedroom town house is in Coal Harbour, a neighbour­hood coveted for its seaside location and proximity to Stanley Park.
The mixture of mid-century modern, vintage and contemporary influences throughout the 16-year-old house is immediately apparent on the open-plan first floor. Here, walls are decorated with art and personal memorabilia, including a framed map of Hong Kong, First Nations artwork from Canada's indigenous peoples, and photographs and prints from Belgium, Cambodia and London, Britain. The circumference of art unifies the floor while allowing individual spaces to emerge.
The couple didn't want a home that was too trendy or relied on a single designer or design element. "We need to be able to come home and feel good about our lives and see ourselves reflected in our home," says Loicq. "Our style is intemporelle [timeless]."
A 200 sq ft patio graces the front of the house. "We wanted to have space where we could marry indoor and outdoor living," says Leung. "We carefully picked pieces for both the living room and patio to create a continuous flow."
Inside the living room, Michel Ducaroy's Togo sofa for Ligne Roset is comfortable and welcoming. Interestingly, Loicq and Leung chose the same classic set from his childhood, in Belgium in the 1970s. "I felt if it was good enough for me growing up, it's good enough for my family," he says.
Dividing the living and dining areas is an original Florence Knoll credenza the couple found while on honeymoon in New York, just after buying the town house in 2013. They so loved the green marble in the kitchen and fireplace hearth that when they spotted the piece in matching green marble, they immediately had it shipped home.
"But it arrived in a shambles," recalls Leung. "It was in so many pieces and none of the antique stores wanted to touch it. They all said it was hopeless."
But, given her family's furniture connections, help was at hand: workers at Ratana meticulously rebuilt the credenza to near-new condition.
Another classic piece commanding attention downstairs is the Eero Saarinen Tulip table, above which is Vancouver-based designer Omer Arbel's signature "bubble" Bocci chandelier. Against the wall are shelves that provide the perfect perch on which to display some of the couple's collectibles, including vintage toys, books and a Loicq family Anglican Bible dating to the early 1900s.
The area that saw the most dramatic change was the kitchen, where cabinetry was updated. Original dark cherrywood doors were replaced with high-gloss melamine cup­board and drawer fronts in crisp white above the counter and taupe below, which helped compensate for the lack of light at the back of the house.
The two bedrooms on the top floor both enjoy views of a public park that is one of the city's favourite destinations for locals and tourists alike. Whereas the girls share a bright room with fun accoutrements, such as a tree-shaped bookshelf hung low for easy reach, their parents bed down in a calm oasis of taupes and greys with few distractions (there is no television, for starters), except for the view of Stanley Park.
Looking out at their north-facing vista, Loicq reflects on their decision to buy this town house: "If we were going to live in Vancouver, I wanted an iconic Vancouver view. What's more Vancouver than Stanley Park? And now, we have it right outside our front door."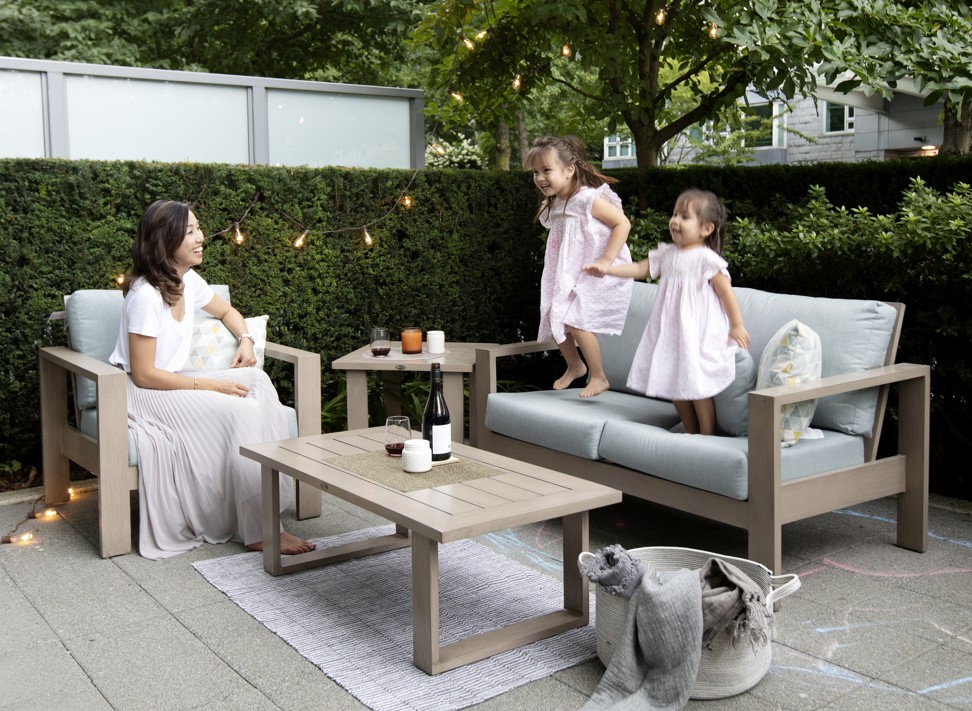 Patio
The chair (C$1,412/US$1,000), love seat (C$2,200), coffee table (C$738) and end table (C$500) all came from
Ratana
's Park Lane collection. The rug (C$39.95) came from
Simons
.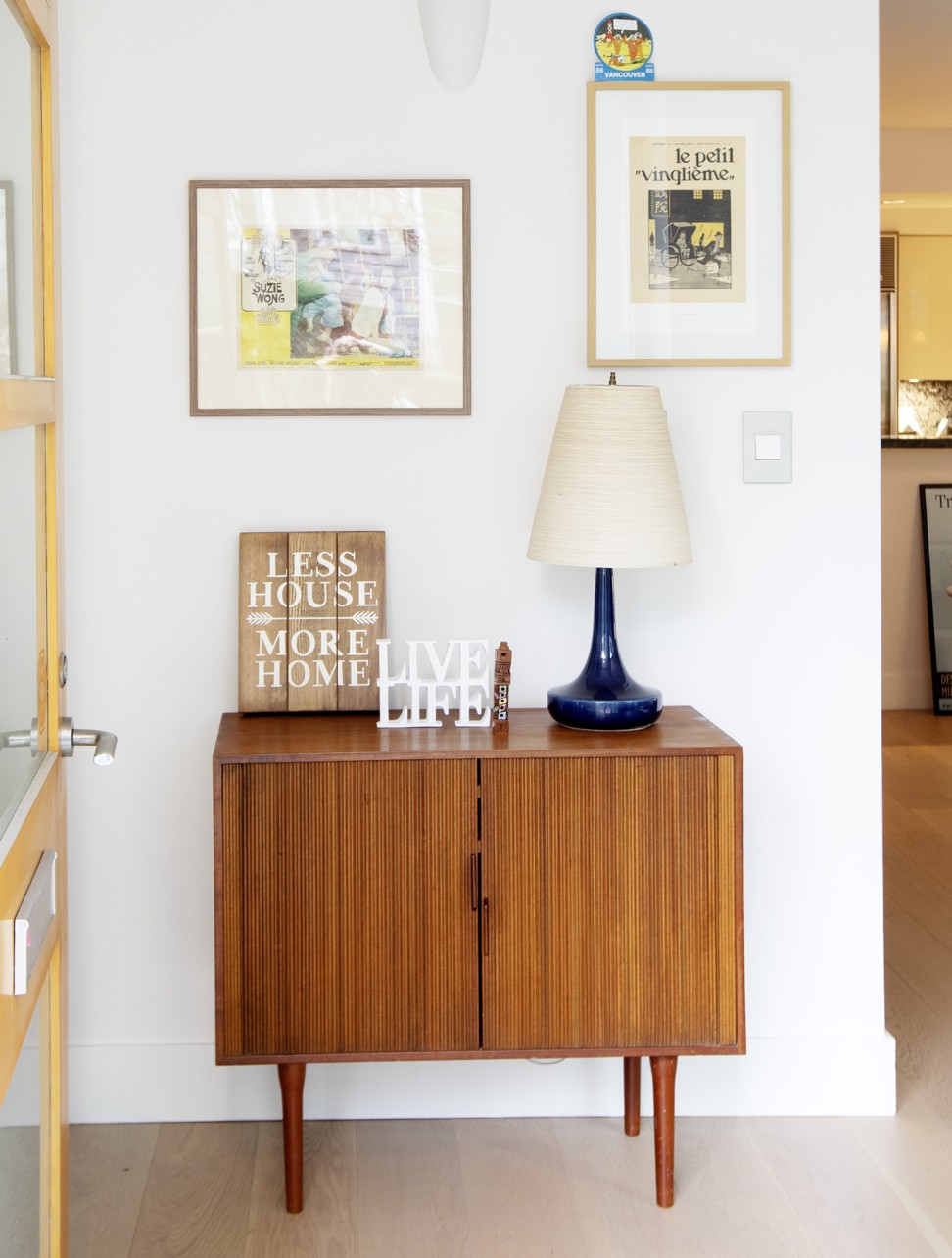 Entrance
The 50s Danish cabinet (C$875), which features a tambour door, came from
The Fabulous Find
, also the source of the table lamp (C$400), which was designed and produced in the 60s by Danish husband-and-wife team Lotte and Gunnar Bostlund. The framed "Suzie Wong" lobby card (HK$500), dating from the original release of the 1960 film
The World of Suzie Wong
, came from
Picture This
.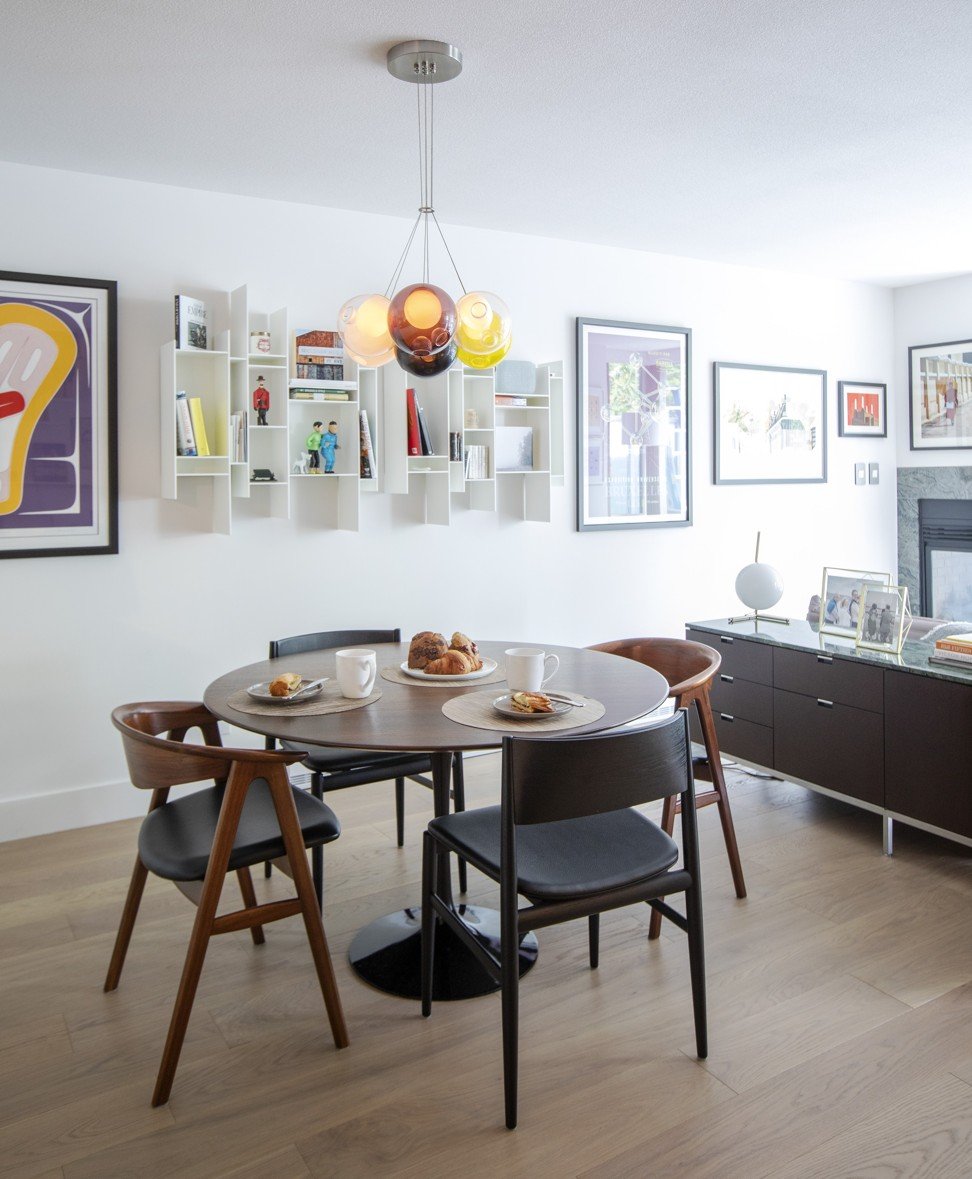 Dining area
The 1950s Eero Saarinen Tulip dining table for Knoll (C$4,800) came from
Regeneration Furniture
, also the source for the two 70s 52 Compass teak dining chairs (C$2,100 each), by Erik Kirkegaard for Høng Stolefabrik. The Neve black leather chairs (C$1,495 each) were from
Porro
. The two wall-mounted Randomito shelves (C$1,126 each) came from
MDF Italia
.
The coloured-glass orbs of the custom-made
Bocci
chandelier (C$5,190) were chosen to complement the purple, yellow and red of the Robert Davidson artwork, P
ut Your Complaints 'Ere'
(2002), which was bought at
Stonington Gallery
. The green marble credenza (US$7,500), a 1960 Florence Knoll design for Herman Miller, was purchased from
Converso
.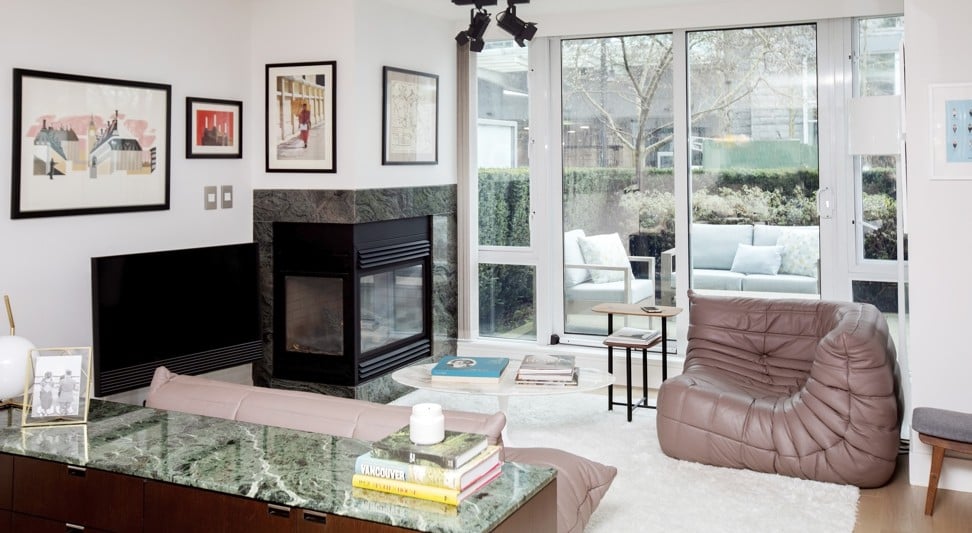 Living area
The Togo sectional sofa (C$10,365 for the three-seater set) was from
Ligne Roset
, also the source of the two-level Piani Occasional Table (C$780). Mementos on the walls include a print of London, from
Potterton Books
, and a map of Hong Kong, by Austrian cartoonist Frederich Schiff (1908-68), from Picture This.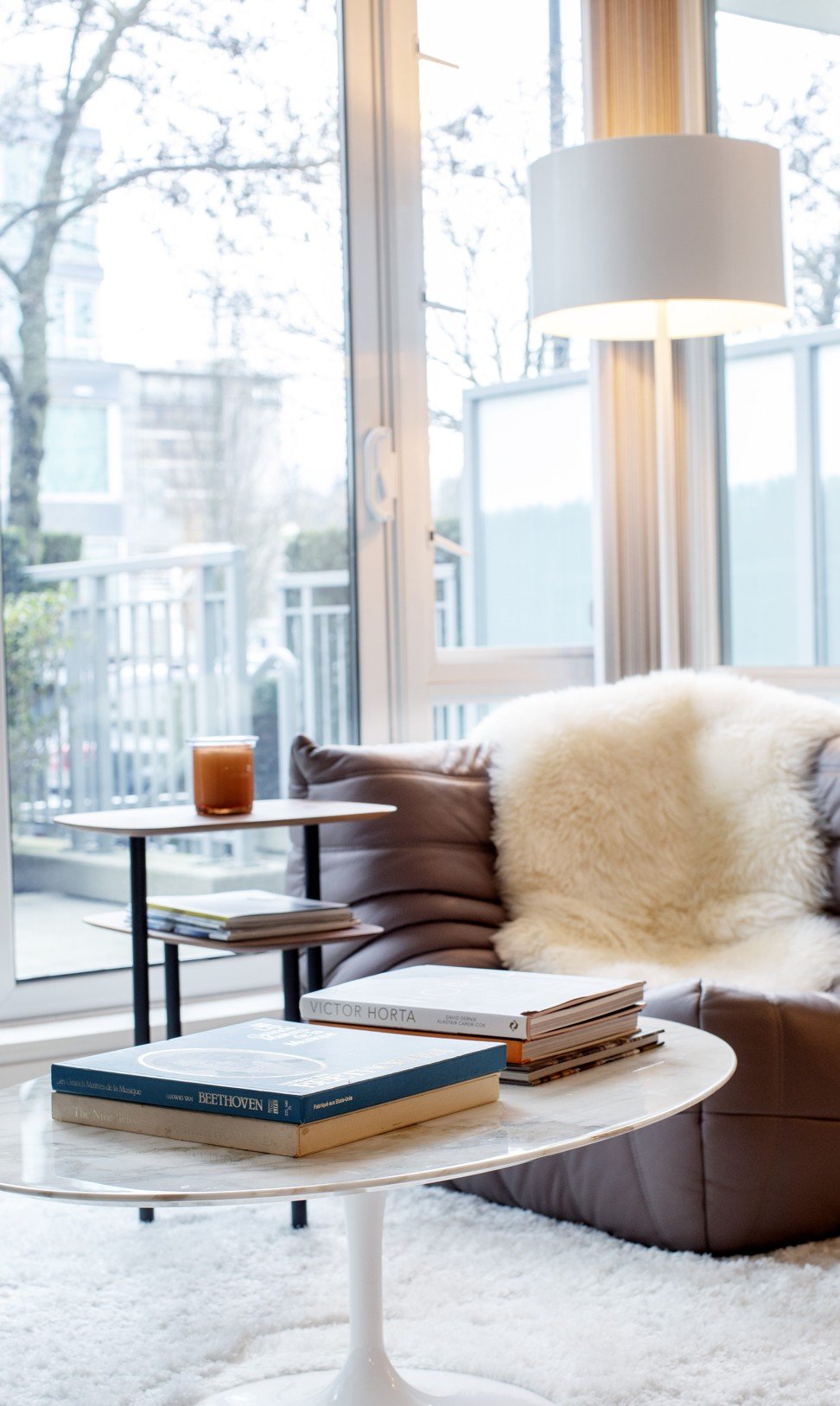 Living area detail
Surrounded by floor-to-ceiling windows, this corner of the living room perfectly showcases dramatic pieces, such as the Spun Light F floor lamp (US$1,695), by Sebastian Wrong from
Flos
. An Eero Saarinen coffee table (C$2,502), from
Knoll
, nestles atop a Ligne Roset Cube rug (C$1,995).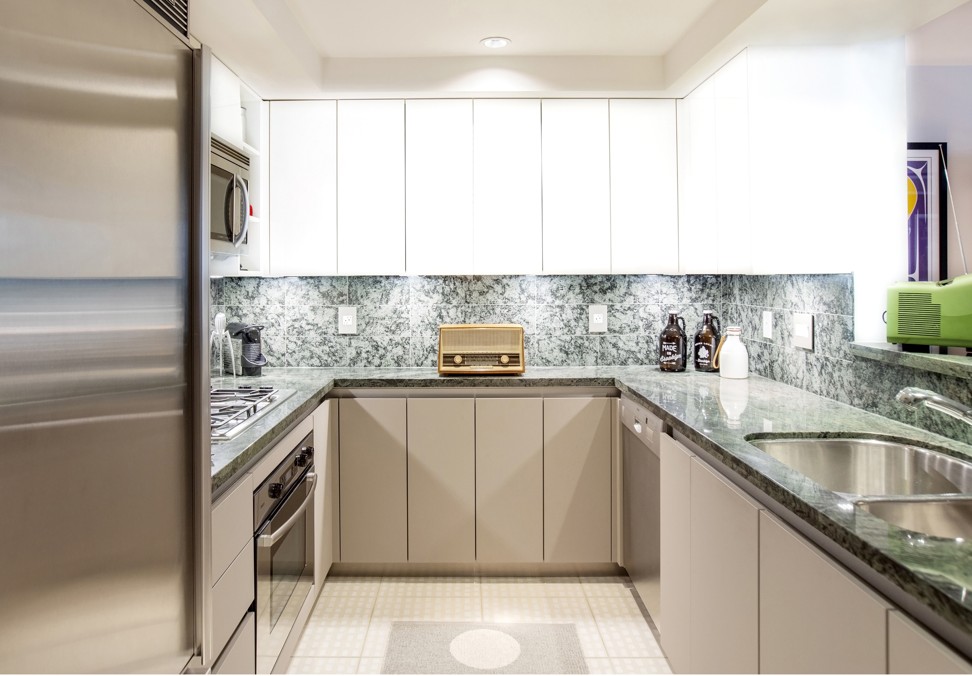 Kitchen
The custom-made glossy melamine Rubik cabinet doors (about C$15,000) were by
Beeck Küchen
. On the counter sits an original 60s German-made Telefunken radio (HK$4,000, from
Nlostnfound
), which has been modified to connect to a smartphone.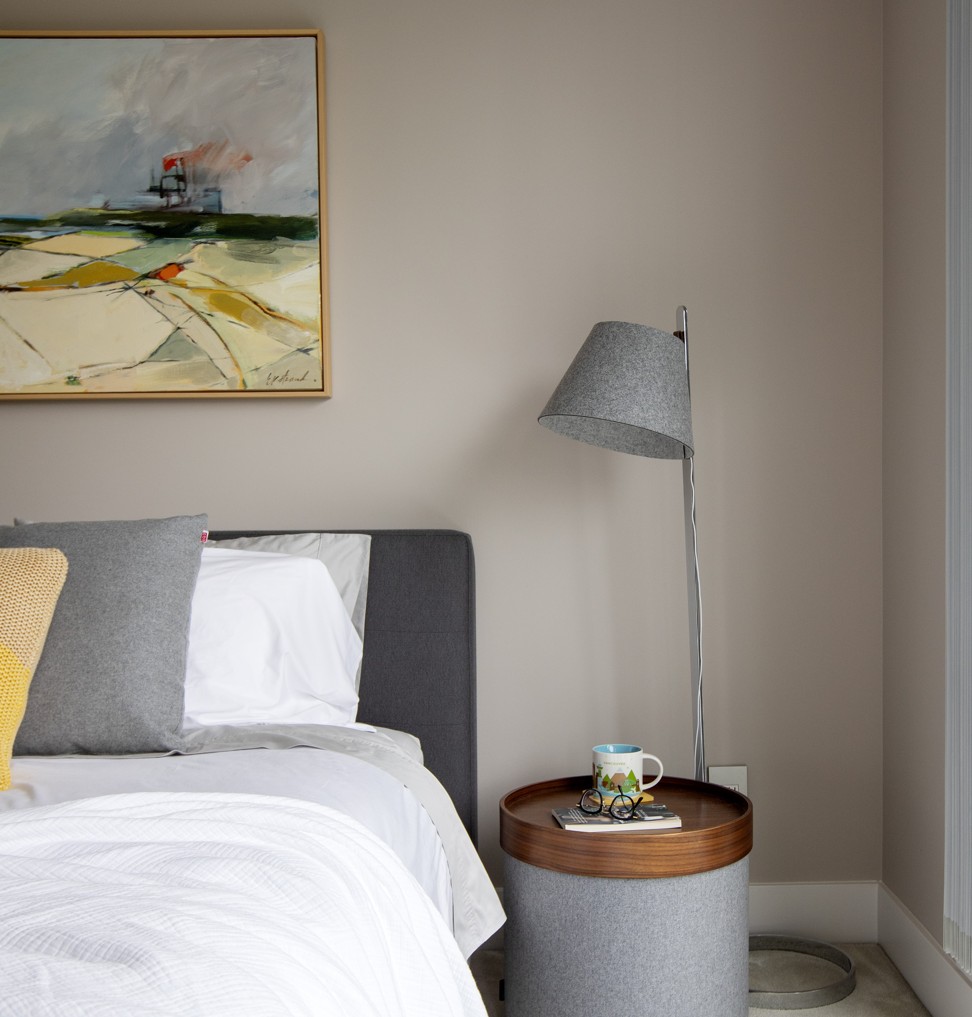 Main bedroom
Farm at March Point
, by US-based artist Kris Ekstrand, came from
Museo
. The Pablo bedside table lamp (C$535), from
Spencer Interiors
, features a magnetic felt shade that allows it to be clipped on any ferrous surface. The bedside table (C$225), with walnut top (C$195) came from
Vancouver Special
.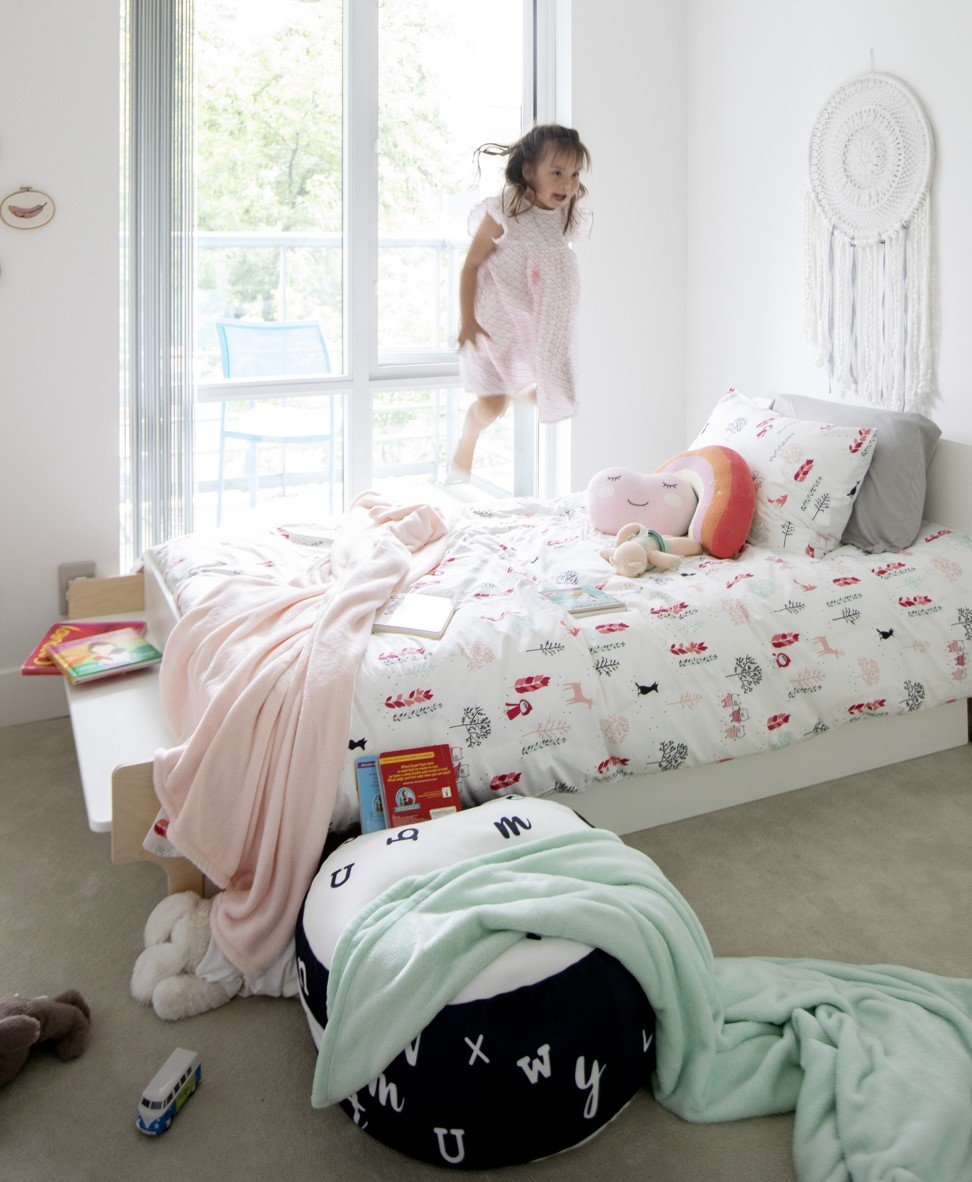 Girls' bedroom
The River Twin Bed with trundle and built-in bench (C$1,390 in total) came from
Oeuf
. The Gautier Studio ABC beanbag (C$86) was from Simons.
Tried + tested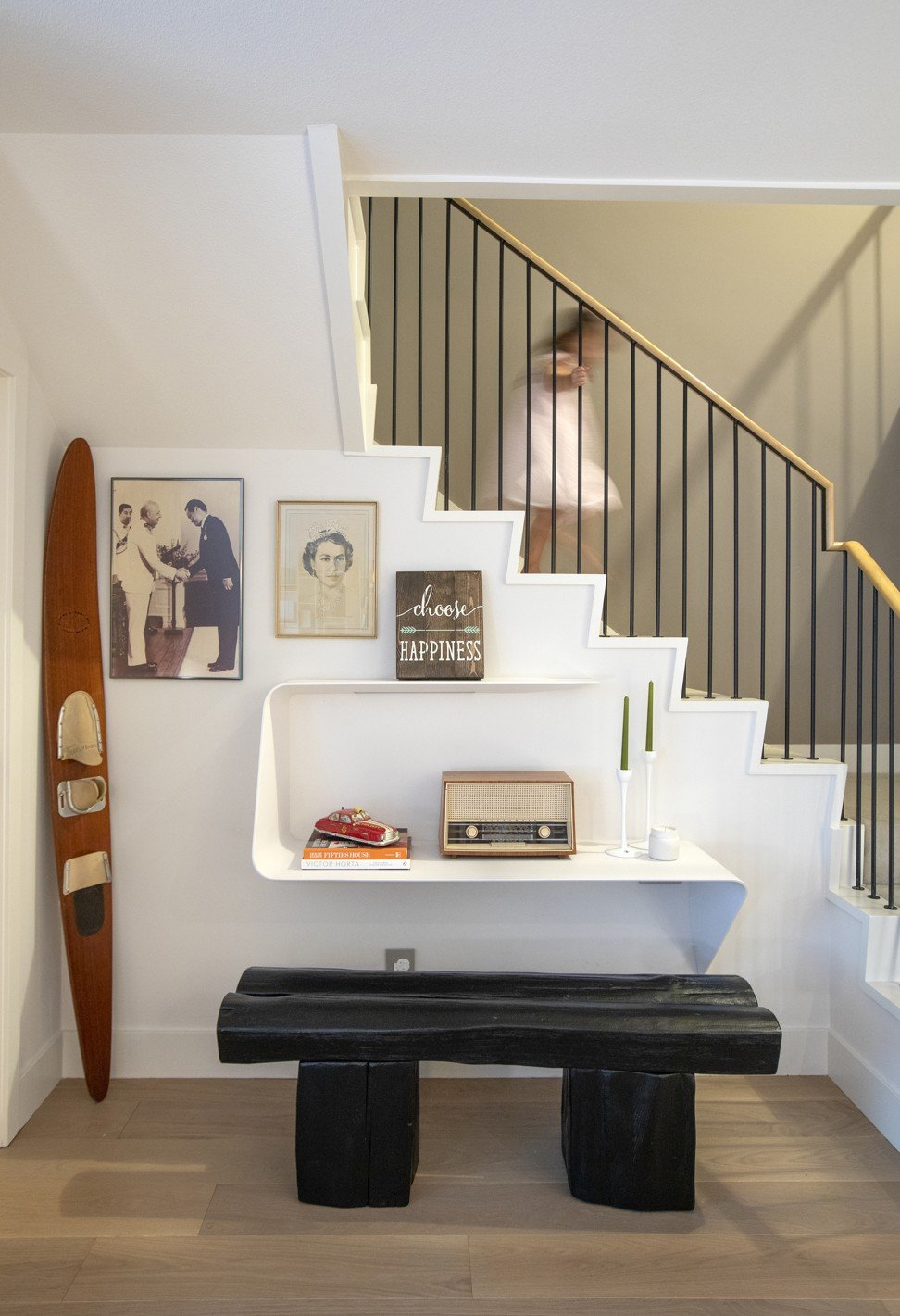 Turning a corner
It would have been easy to use the open space at the bottom of the stairs simply as a transitional area. Instead, Joanna Leung and Pierre Loicq turned it into a functional nook. By mounting a Mamba bookshelf (C$2,980), from MDF Italia, at table height, they have created an ideal arts-and-crafts spot for the girls, who will probably use it for homework when they are older. Juxtaposing the clean, contemporary curves of the shelf is the rustic Charred Cedar Bench (C$4,650), by
Martha Sturdy
, made from salvaged wood.
This article appeared in the South China Morning Post print edition as: Rooms with a view