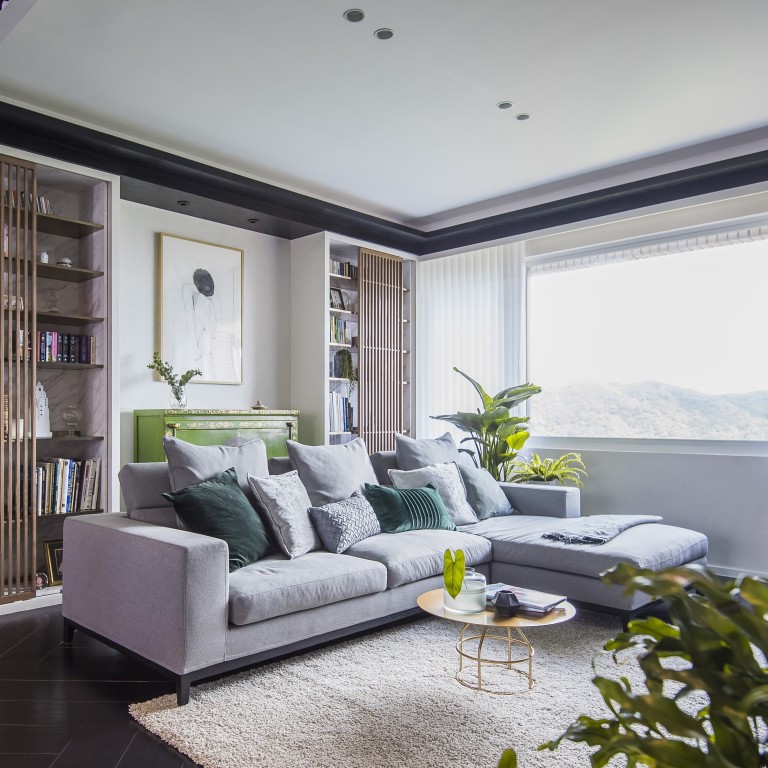 Hong Kong flat inspired by Moroccan riads and Chinese handicrafts is a lesson in subtlety
A chic, monochromatic apartment in Tai Tam ties the owners' favourite elements together seamlessly
Avid travellers, with a particular fondness for Morocco, the owners of a 1,500 sq ft home in Hong Kong Parkview, Tai Tam, also have a deep appreciation for tradi­tional Chinese handicrafts, and wanted this to be reflected in the renovation of their home. The twist for the designer, Howard Chung Chi-ho, of HIR Studio, was that it still had to be chic, modern and, ideally, in a monochromatic palette.
"I love Morocco, too," says Chung, "and a riad [a tradi­tional Moroccan villa] has the most intricate decorations, colourful and exotic, with lots of patterns and textures. We wanted to bring a touch of that richness into the project using different geometries in different materials. But we didn't want to create ornaments just because they are beautiful. Everything had to have a function or contribute to the overall design."
The renovation, which took six months and was com­pleted early last year, has translated geometric Moorish patterns into subtle and simplified embellishments through­out the two-bedroom, south-facing flat, in a design that is far from minimalist but still shaped by sleek, contemporary lines.
Taking a cue from an apple-green Chinese cabinet that the owners wanted to feature, green and gold accents provide an exotic contrast to the flat's large expanses of black and white.
On close inspection, the monochrome surfaces reveal subtle gradations of pattern and texture. The off-white walls have been finished using perlata, an Italian plastering technique also found in riads, that gives the walls a pearl­escent irregularity.
"The use of perlata was an input from the client, who had fond memories of the same walls in her childhood home [in Hong Kong]. They have a baby now and she wanted her children to grow up in a similar atmosphere," Chung says. "She is nostalgic, and keeps every­thing – she even has books from when she was in kinder­garten. So we had to make sure we incorporated lots of storage."
White can also be seen on the tiled floors, window treatments and the marble backing to the living room's full-height bookcases. Black gets a more whim­sical treatment: herringbone wood floor­ing, ceiling lattices and air-conditioning vents laser-cut with geometric patterns. Fitted black lacquered cabinetry in the study is a mixture of criss-cross designs and oblique shelving. In the kitchen, semi-gloss cabinets hunker over a coal splash­back of plank-like tiles, playfully installed on the diagonal.
"Black is a design challenge," Chung says. "It makes things look smaller, so in Hong Kong, it's not common to use a lot of black. If you don't use it correctly, it can make things look dark and dull. We brought in more lighting to compensate."
As well as diffused lighting from ceiling coves and backlit shelving, which empha­sises the textures at play, extra lighting is evident in the black-panelled entrance corridor, including spotlights on a pair of traditional Chinese ceramics.
"My clients love Chinese handicrafts and we had to think about how to feature them in a modern, uncluttered way," says Chung. "I was happy with what we managed to achieve, with the silk painting on the wardrobes, for example. It was a good balance.
"Hong Kong is not yet completely stripped of craftsmanship. There are still places that make things by hand the traditional way, which is always better than monotonous pieces that have been rolled out of a factory."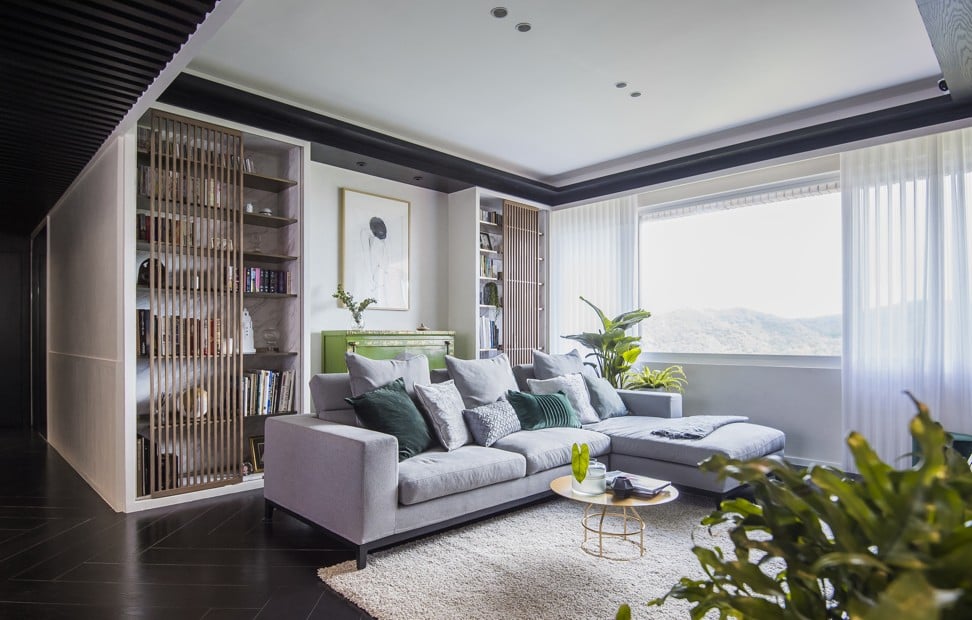 Living area
The L-shaped sofa (HK$20,000/US$2,500, from
OVO
) is dressed with cushions from
Ikea
that cost about HK$200 each. The rug (HK$2,000) was also from Ikea while the coffee table was previously owned. The vertical blinds were HK$4,000 from
Many Blinds
.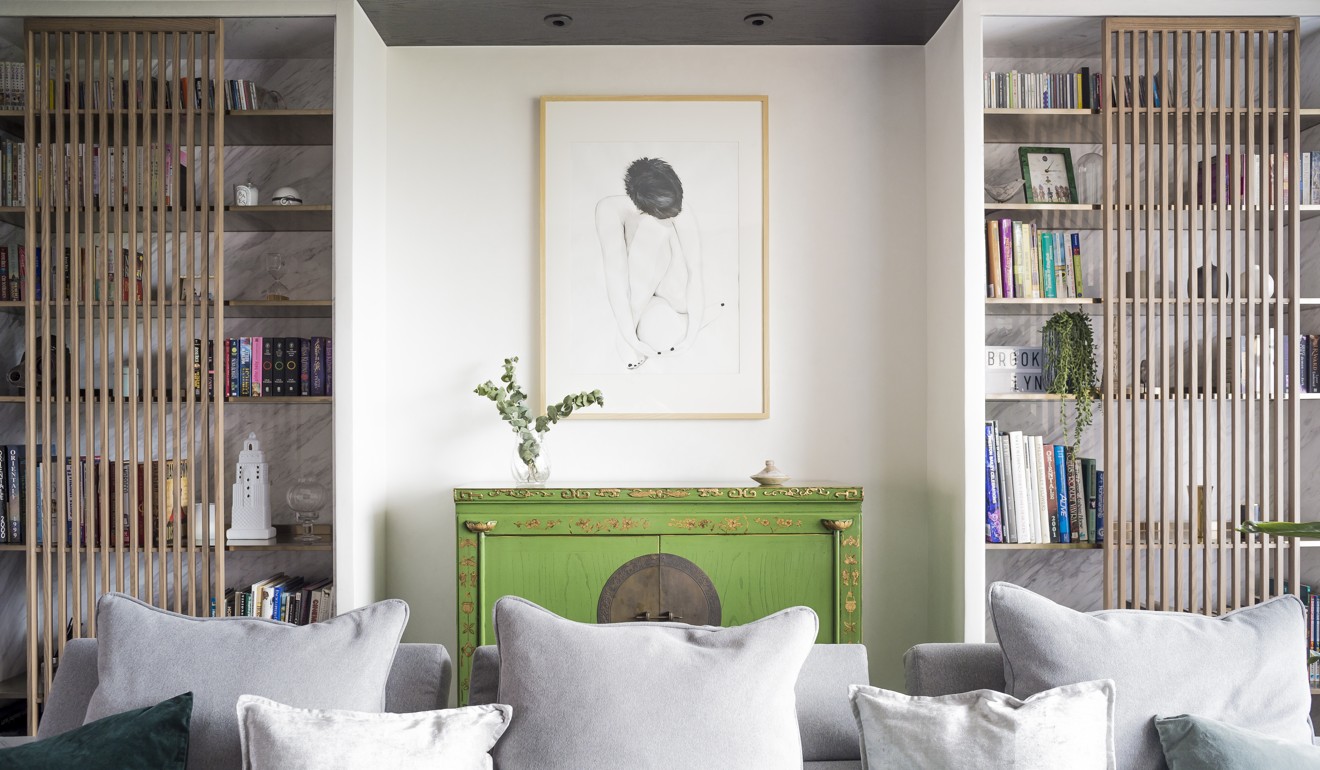 Living area detail The bookshelves, designed by HIR Studio and made for HK$75,000 in total, are lined with white marble, with steel-reinforced, brass-coated shelves. The vertical oak sliding screens are also reinforced with metal, to ensure precision. The green cabinet is a family heirloom and the art is a piece the homeowners have had for a long time.
Dining area
A traditional round dining set complete with Lazy Susan is made contemporary with a marble table top on a brushed brass base (HK$28,000 in total) and matching chairs (HK$2,800 each), all from
Artura Ficus
. The herringbone dark-wood flooring cost HK$80 per square foot from My Habit (308 Lockhart Road, Wan Chai, tel: 2519 6000). The black planter (HK$200) was a
Taobao
find.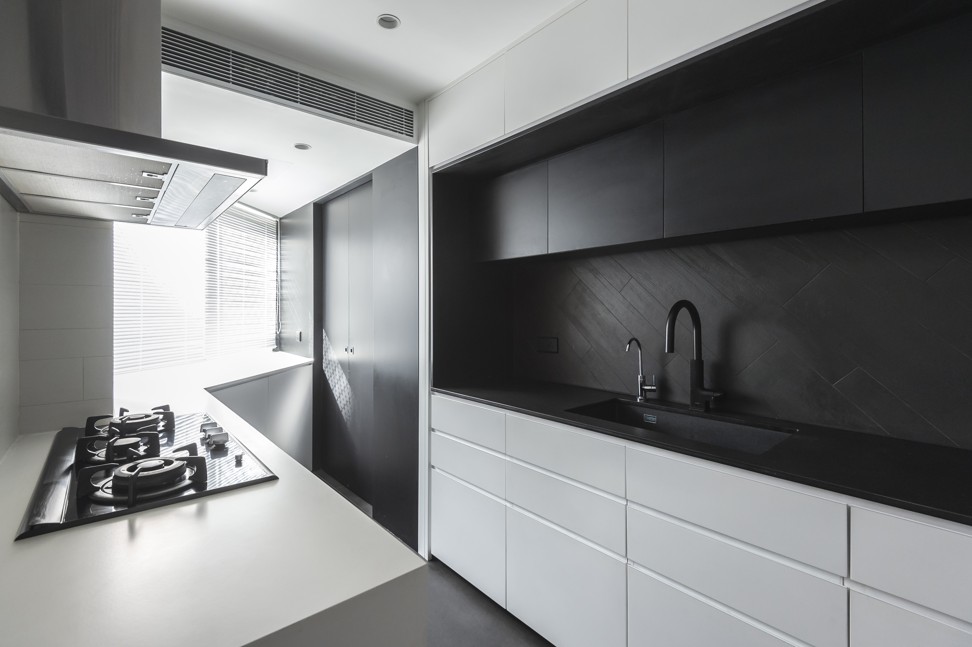 Kitchen
The cabinetry was designed and built by architect Howard Chung, of
HIR Studio
for HK$150,000. Long, textured black tiles (HK$80 per square foot from Pacific Casa, 300 Lockhart Road, tel: 2528 5088) have been installed diagonally, creating a subtle contrast against stone counters (HK$800 per square foot from
Formica
).
The extra-wide Plados sink cost HK$3,900 from Hop Lung Building Materials (293 Lockhart Road, tel: 2802 2273). The Moen taps – HK$4,870 for the main tap and HK$2,000 for the smaller one, for filtered water – were from Vincent Sanitaryware (288 Lockhart Road, tel: 2511 2687).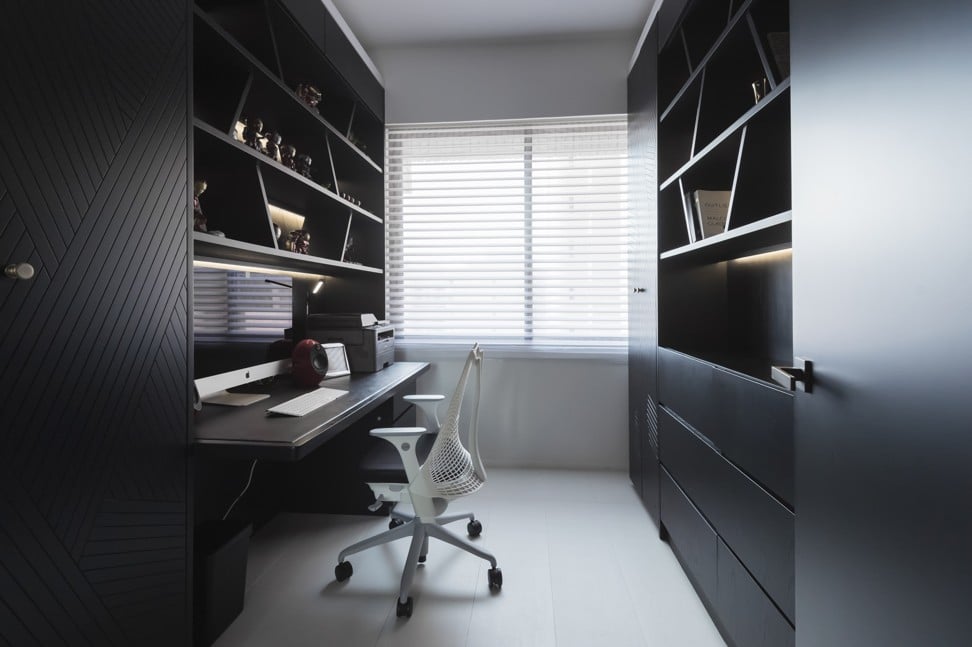 Study
The fitted cabinetry, finished in black lacquer paint, cost HK$65,000 in total. Balancing the dark cabinetry is a white-tiled floor (HK$80 per square foot from Pacific Casa) and white blinds from Many Blinds that cost HK$2,500. The office chair was HK$6,400 from
Herman Miller
.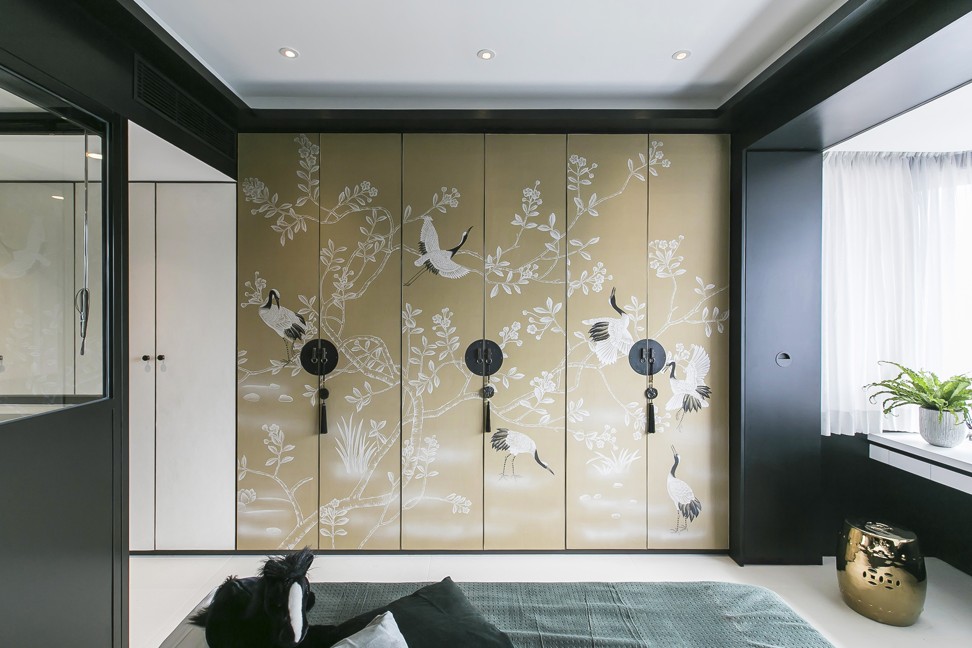 Main bedroom
What if your heart is set on a mural but your flat doesn't have the wall space for it? HIR Studio solved this problem by using wardrobe doors to accommodate the clients' love of traditional Chinese painting. The custom-designed image was hand-painted onto Thai silk by artists in Hangzhou, Zhejiang province, in a project coordinated by
Lala Curio
that cost HK$17,600.
Embellishing the traditional Chinese theme are Ming- style door fittings from Chiu Kee Metal Works (46 Upper Lascar Row, Sheung Wan, tel: 2363 0130) that cost HK$1,000 each. The gold stool was bought years ago from
Home Essentials
.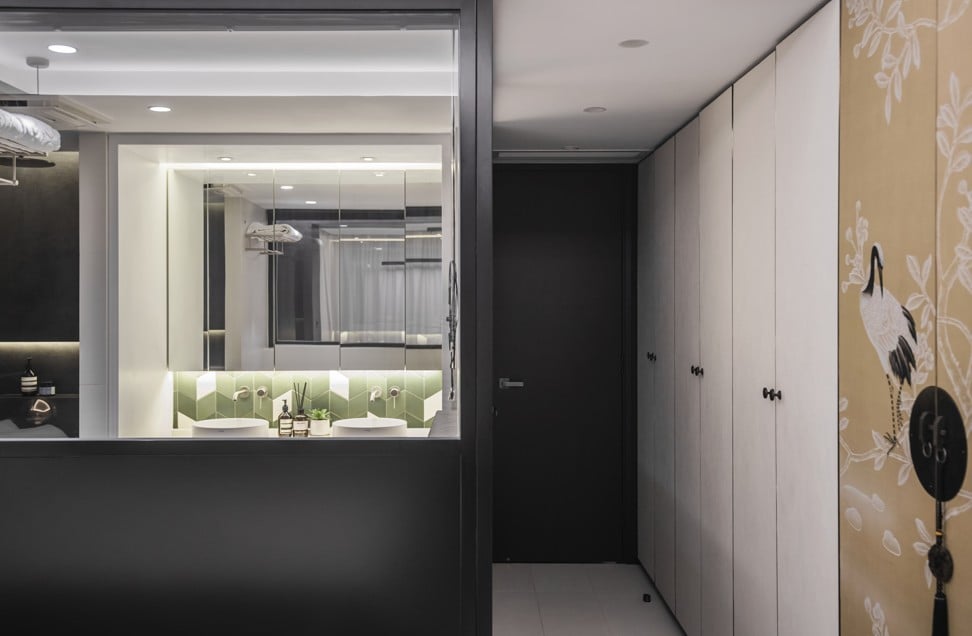 En-suite bathroom
Green rhomboid tiles (HK$180 per square foot, from Anta; antahk.com) add a splash of colour to the black-and-white en-suite bathroom, which has been fitted with a large window to the bedroom. The Galassia basins (HK$8,190 each) and Rubinetterie Treemme tapware (HK$5,980 for each set) were sourced from
Oscar Bath & Kitchen
.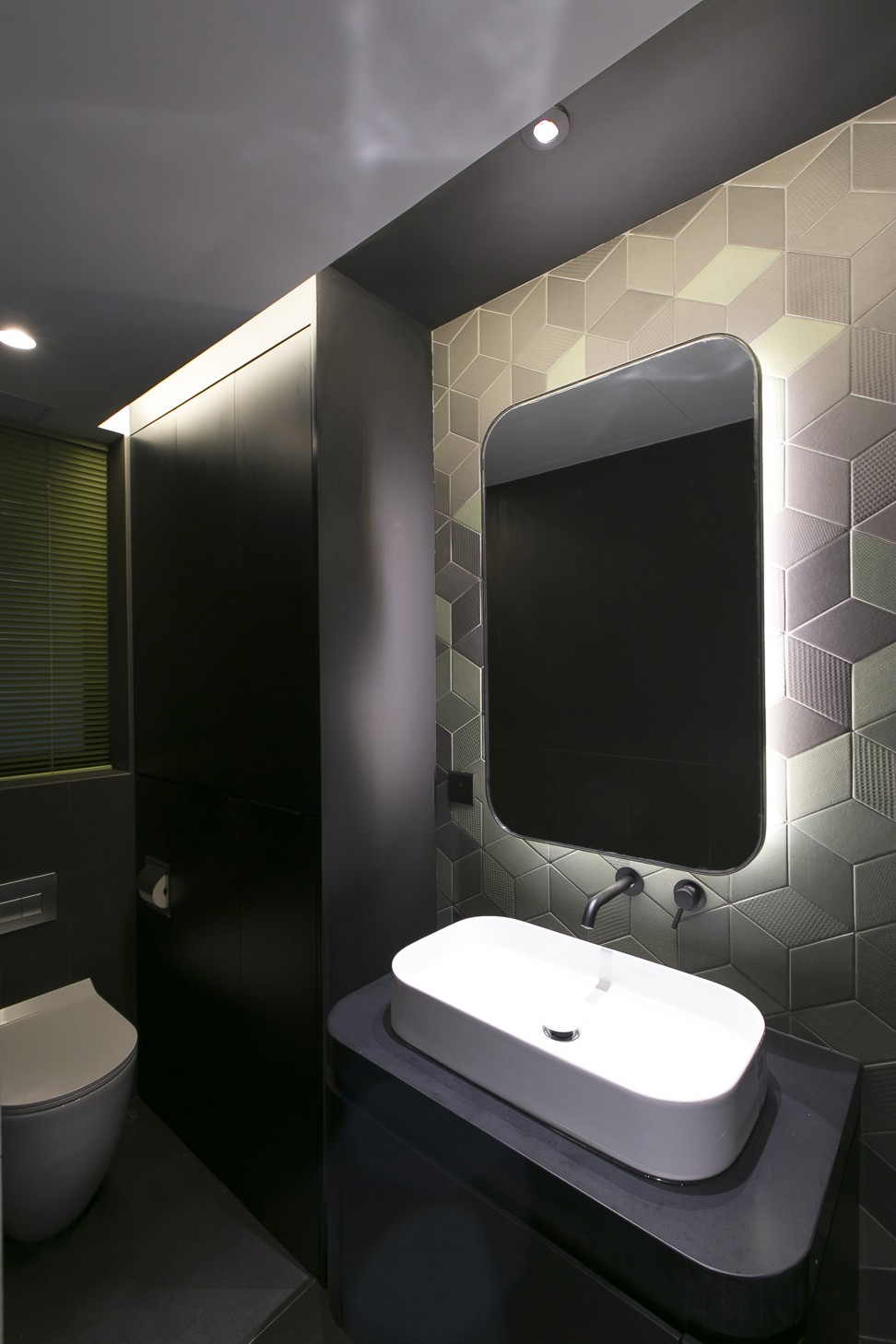 Guest bathroom Grey and sage-green tiles (HK$180 per square foot from Anta) define a mirror with rounded corners, which was designed by HIR Studio to complement the similarly shaped Galassia basin (HK$6,860 from Oscar Bath & Kitchen) and black stone countertop (HK$800 per square foot from Formica).
This article appeared in the South China Morning Post print edition as: A study in contrast