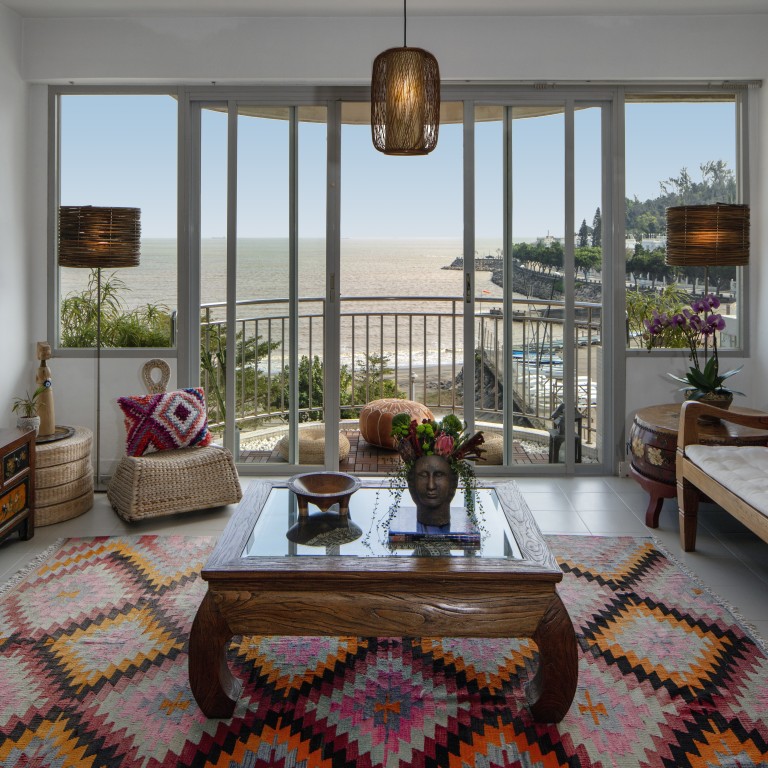 Inside a Brazilian party planner's creative and colourful family home in Macau
Cassia Schutt's split-level flat has stunning views of Hac Sa Beach, in Coloane and pays homage to both her native Brazil and her adopted home
Once a year, go somewhere you've never been before."
That piece of advice, attributed to the Dalai Lama, is framed beside a list of 10 places Cassia and Eduardo Schutt visited around the world with their sons, Noah and Enzo, when they were six and two, respectively.
Four years later, the family can add many more destinations to their inventory, although they also return regularly to favourites Indonesia, Thailand and Hong Kong. Then there's Brazil, from where the couple hail.
In 2006, because of Eduardo's work for an airline, the Schutts moved from Rio de Janeiro to Macau, their base for global adventures. There, Cassia segued into work as a party and fashion stylist. Party with Meemo, the company she co-founded in 2011, lights up Instagram with its unique events.
From their split-level flat beside Hac Sa Beach, in Coloane, Cassia fills her days dreaming up creative uses for balloons, lanterns, fairy lights and other accoutre­ments. Joyful colour warms every corner and inspirational sayings quash negativity. Among them: "Love is all you need."
Eight years ago, the Schutts moved into the 2,500 sq ft, five-bedroom rental flat after Eduardo, a keen surfer, saw its views and everything else it had to offer (popular Portuguese restaurant Fernando's is near­by). They were ready to leave Macau's crowded city centre and fancied a home that promised a lifestyle similar to the one they had enjoyed in their old flat opposite Rio's Leblon Beach, beside world-famous Ipanema.
Continuing to surround them now are not just memories of Brazil – bolstered by table-top oratories and a statuette of Christ the Redeemer, with outstretched arms. Old Macau is also present: Chinese furniture and antique reproductions – from the many furniture shops that once lined the San Malo district – feature in the main living areas and couple's bedroom. Both enjoy views of the beach and boardwalk.
The sitting area makes the most of the flat's location. Helping to draw attention seaward is a painting by Australian artist Jai Vasicek, whose whimsical, garlanded female subjects speak to Cassia. Having worked in Brazil as a casting producer (for advertisements and films), she now also styles for Bali-based, Brazilian fashion brand Totem, whose models she has photo­graphed on the streets of Macau. "I love to create scenarios and I love accessories," she says.
An effective setting the couple have created for themselves is a room within a room. Facing inward, this corner of the living area accommodates the family when they are relaxing, and working: a desk is slotted into a former balcony nook on the side of the flat. On shelving that accommo­dates a television as well as travel and other mementos, a sign declares: "I love you every single day."
Cassia's party storeroom is situated near the front door, just before a short flight of steps decorated with stickers. Walls in this room are lined with Ikea's Kallax shelving units, whose cubes, by legendary Swedish product designer Tom Hedqvist, have organised millions of homes and offices. The assortment of stemware and party whatnots recall memorable events she has organised.
It is perhaps a given that the children's rooms, on the upper level, are full of fun. A trundle bed in Enzo's room allows him to continue sleeping beside his older brother, whose own room, for now, accommodates guests … and drums. A blank globe sits on a chest ready for the boys to fill with the countries and continents they have traversed.
Nearby, a sign reads: "Happiness is a journey, not a destination."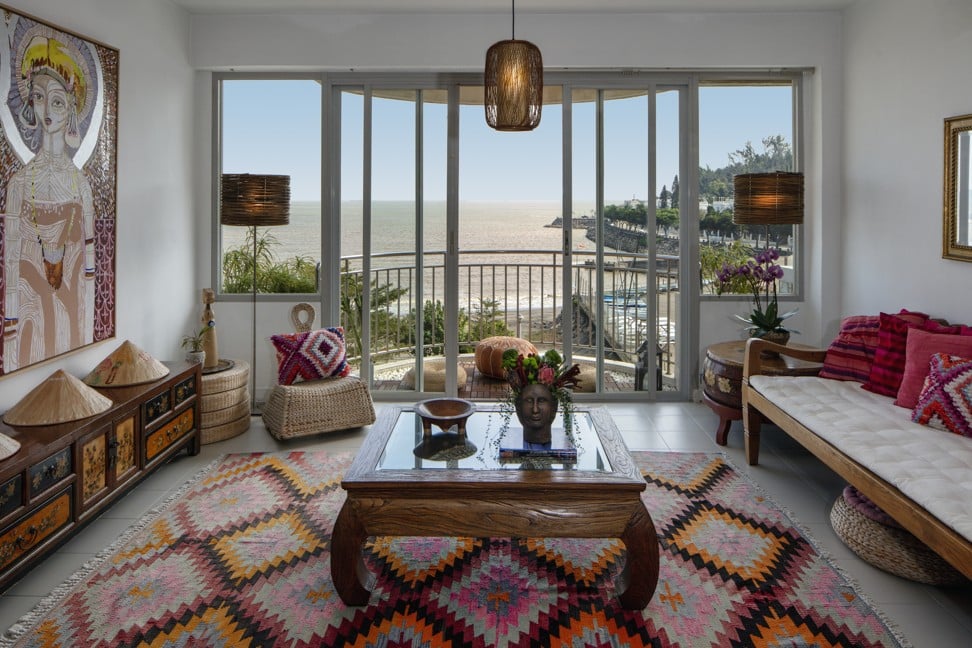 Living area
The sitting area overlooks Hac Sa Beach, in Coloane. The drum side table, wooden bench with pink cushions and bow-legged coffee table were all bought by
Cassia Schutt
years ago from furniture stores that used to line San Malo. By the balcony doors, the round floor cushions were from a Taobao shop called Sunny Grass House.
The floor lamp base was from
Ikea
, with bamboo shade from
Piment Rouge Lighting
. The low banana-fibre chair is a discontinued Ikea item. The Turkish kilim rug came from a shop on Etsy now closed and the pendant lamp was from a market in Guangzhou.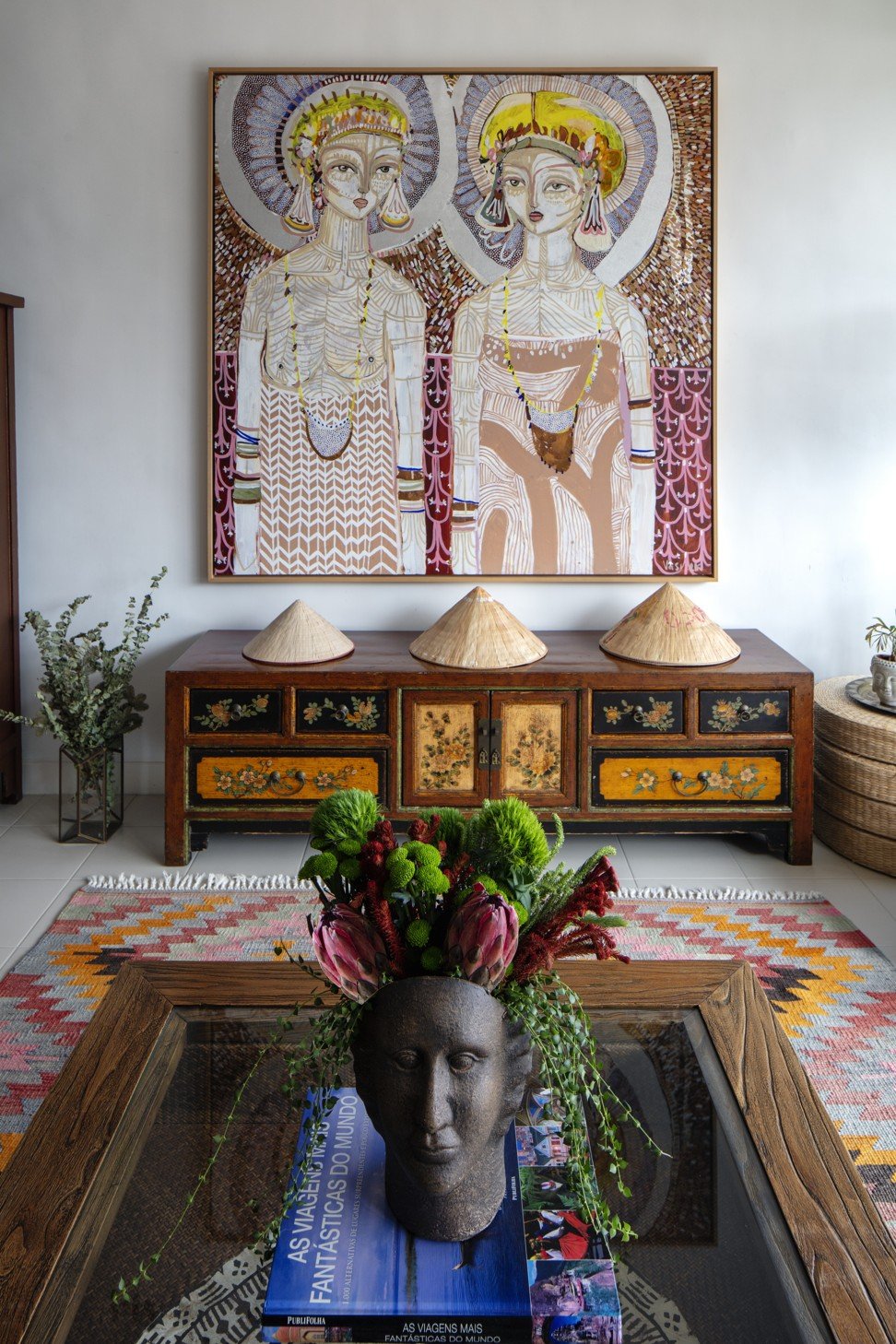 Living room detail
Taking pride of place in the living room is a painting by
Jai Vasicek
, from
Fenton & Fenton
. The TV cabinet came from a shop, long closed, in San Malo. The hats were from a market in Hoi An, Vietnam. The head vase (199 patacas/US$25) was from
Zara Home
.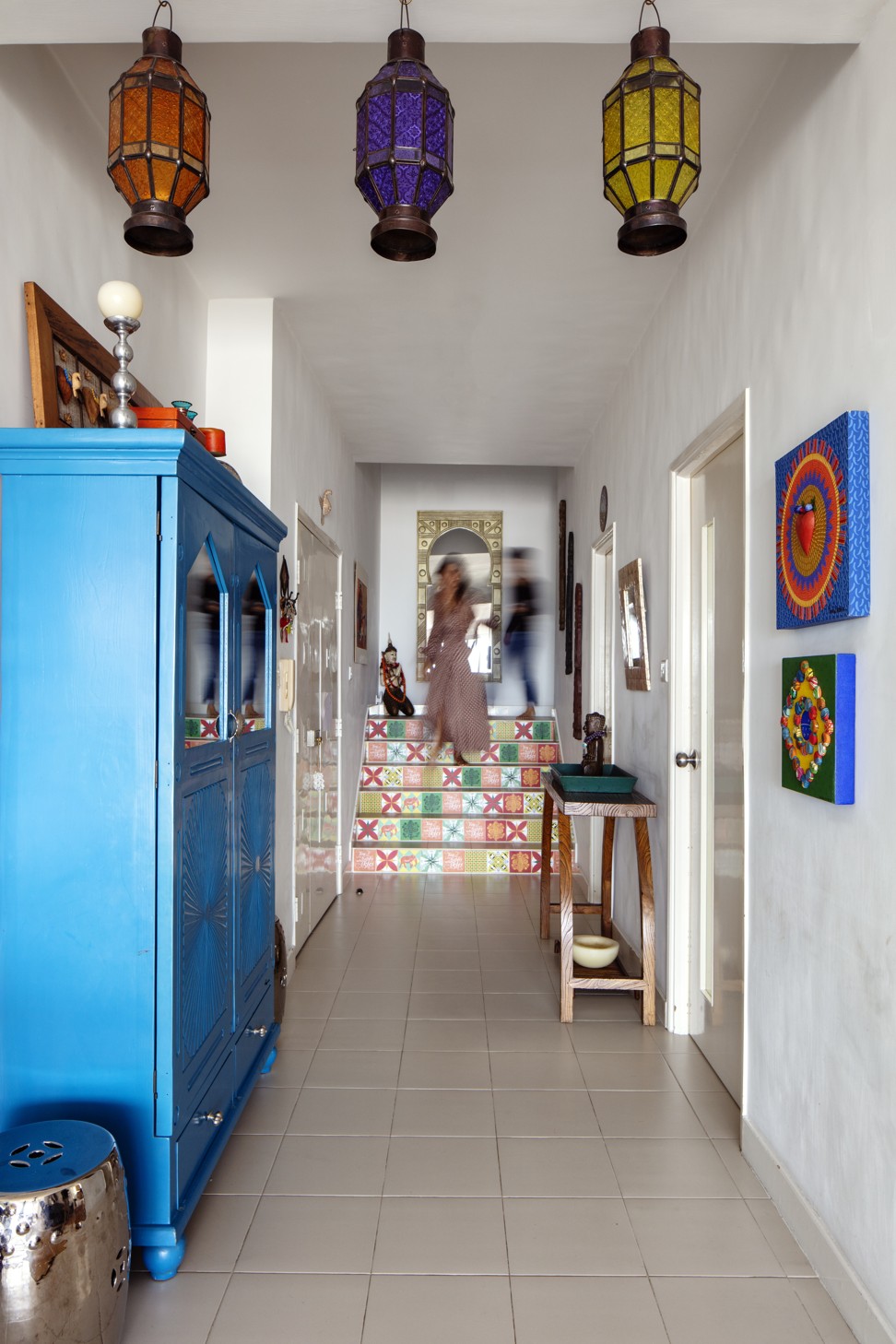 Corridor The front door opens into the main corridor, in front of which is a console that was bought a long time ago from a shop in San Malo. Flanking the console are the kitchen and Cassia's party storeroom. The boys' rooms are situated up the stairs, at the top of which is a mirror custom made by a shop that used to be in San Malo, and a sculpture from Bangkok, Thailand.
The blue cabinet and silver ceramic stool were bought from Zhuhai years ago. The hanging lanterns came from Bali, Indonesia, and the two blue artworks were from
Lugar Babel
.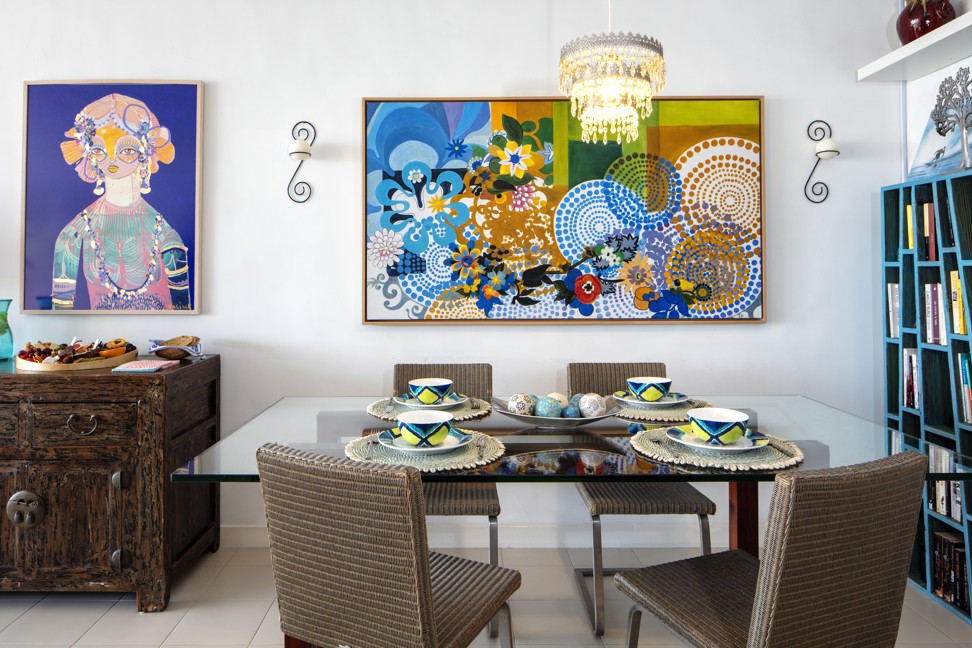 Dining area
The dining table and blue bookcase were from a shop in Macau now closed; the chairs are a discontinued item from
TREE
. Flanking the floral painting, also bought in Zhuhai, are candleholders from Lugar Babel. The chandelier came from Ikea years ago.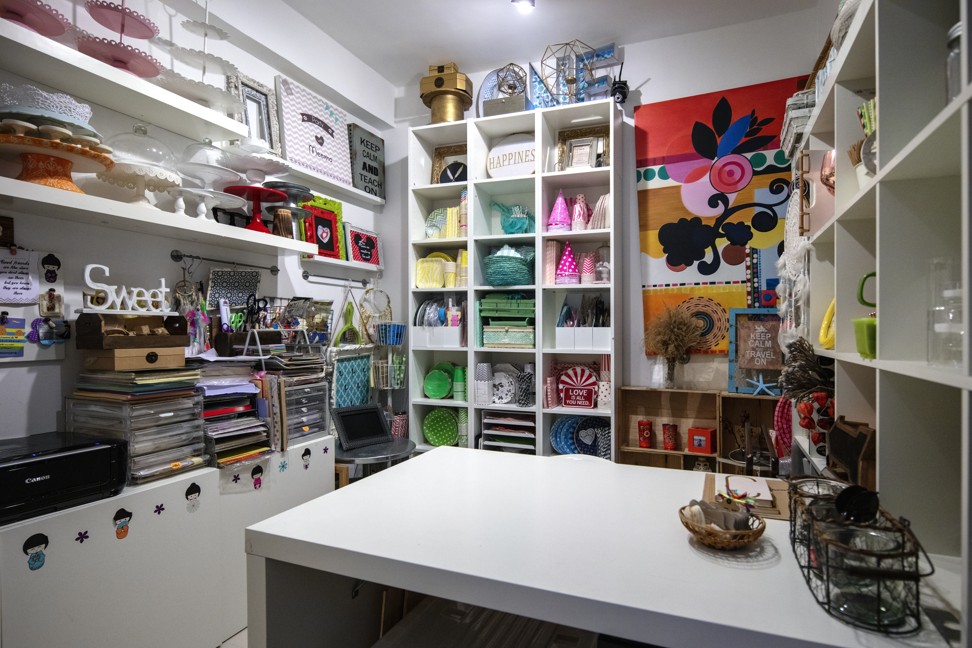 Party storeroom
Cassia stocks items for her party business,
Meemo Party Accessories
, in a room furnished with shelving from Ikea. The cake trays came from Anthropologie and through Taobao.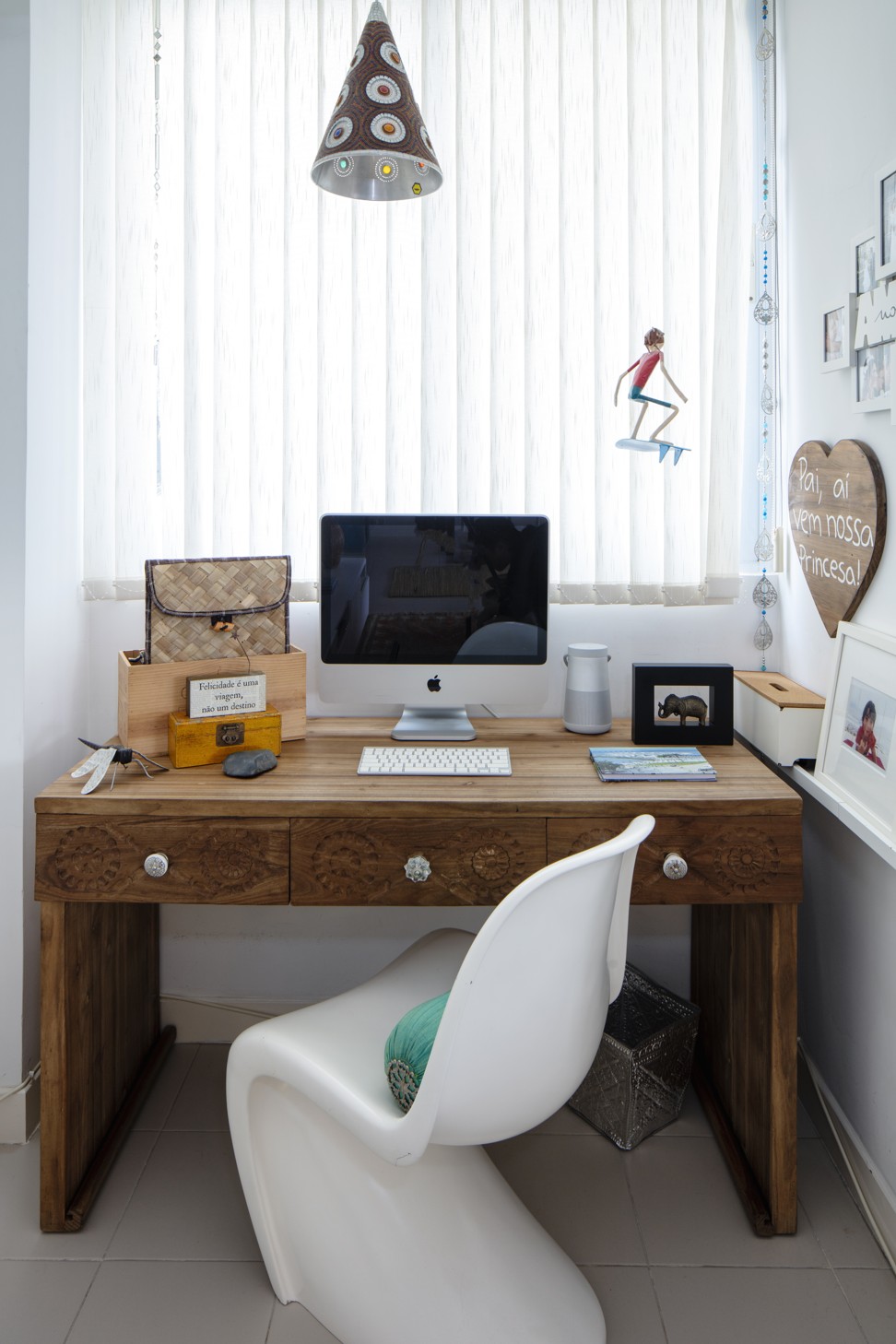 Work nook This corner of the living room is furnished with a desk and reproduction Verner Panton chair, from shops in San Malo. The pendant and silver box came from Bali.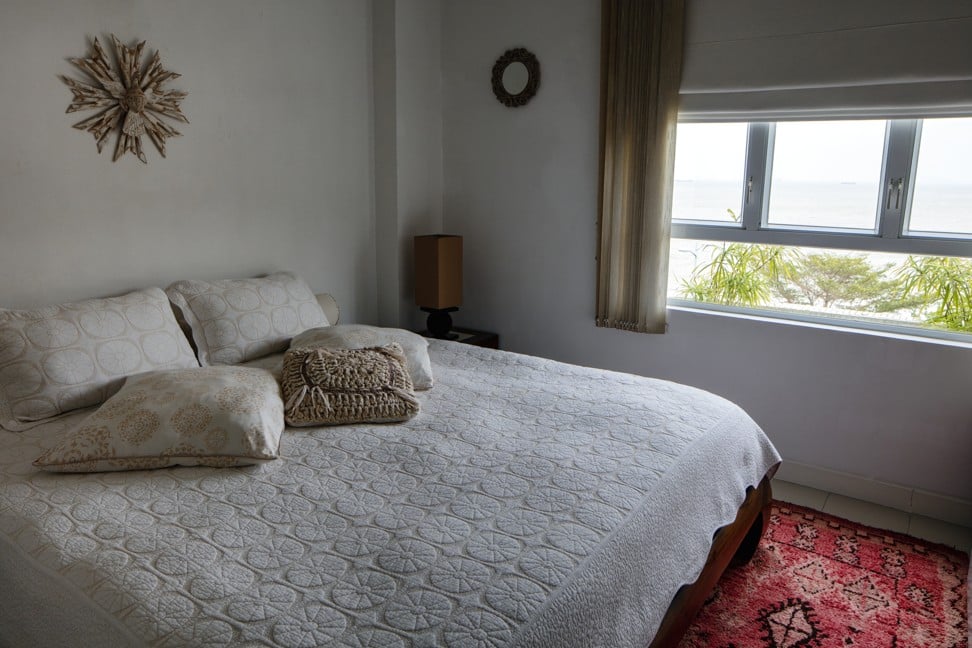 Main bedroom On the same side of the flat as the sitting area is the main bedroom. Above the bed is a sculpture of a dove, symbol of the Holy Spirit. The bed, bedside table and lamp were bought from a shop in San Malo years ago. The rug was from Morocco.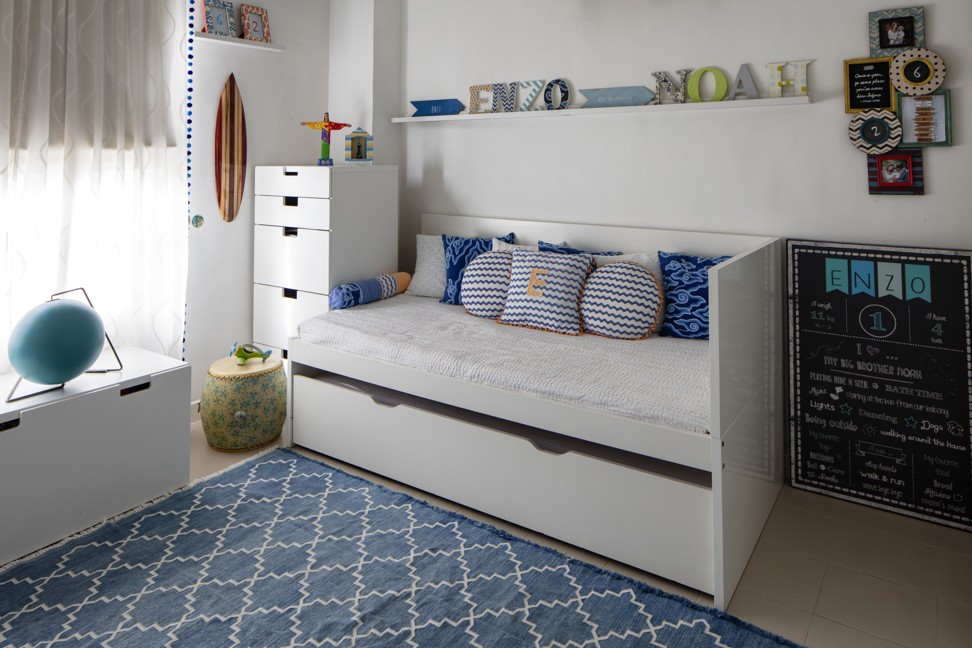 Enzo's room The trundle bed, from Ikea, accommo­dates Enzo and Noah. Also from Ikea was the tall cabinet. The chest came from Byron Bay, Australia. Cassia sent pictures of the cushion-cover fabric to Etsy shop WanderlustbyAlissa, which custom made the letters for about US$100 in total, using the cloth patterns for inspiration.
The rug was from
Inside
, the blank globe from Anthropologie and the drum stool from Zhuhai.
Tried + tested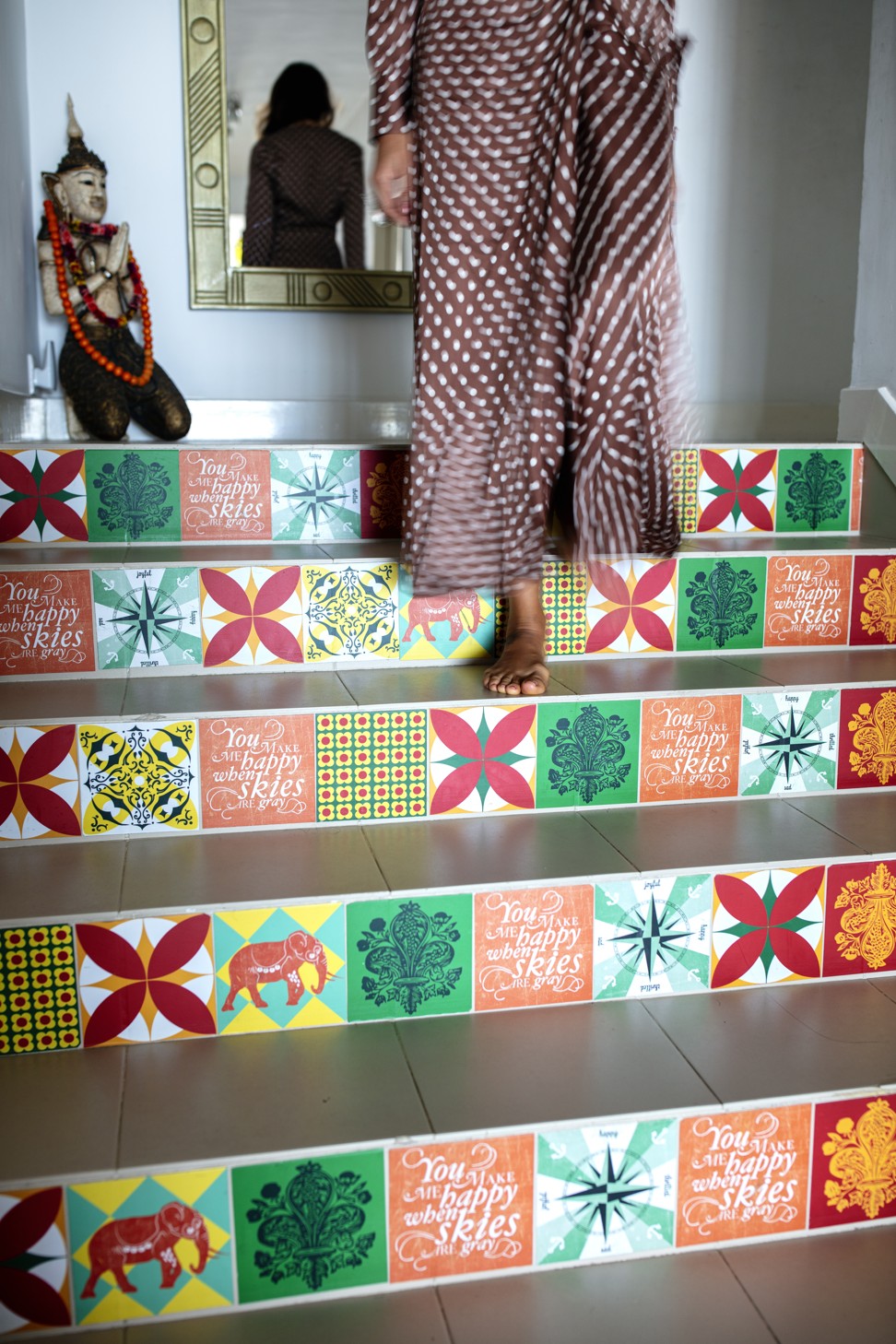 Tile style Tile decals have long been a cost-effective way to conceal ugly surfaces. But the variety of patterns and colours has surged in recent years. Quality has followed suit, with some peel-and-stick vinyl varieties even offering the option of grouting to appear more realistic.
Despite being eight years old, the tile stickers on the stair risers in Cassia Schutt's flat remain in good condition. "They are a highlight," she says. "They are the first thing people notice when they visit our home for the first time." Hers came from
Gecko
, in Brazil, but tile decals are also widely available on
Etsy.com
.
This article appeared in the South China Morning Post print edition as: Life's a party