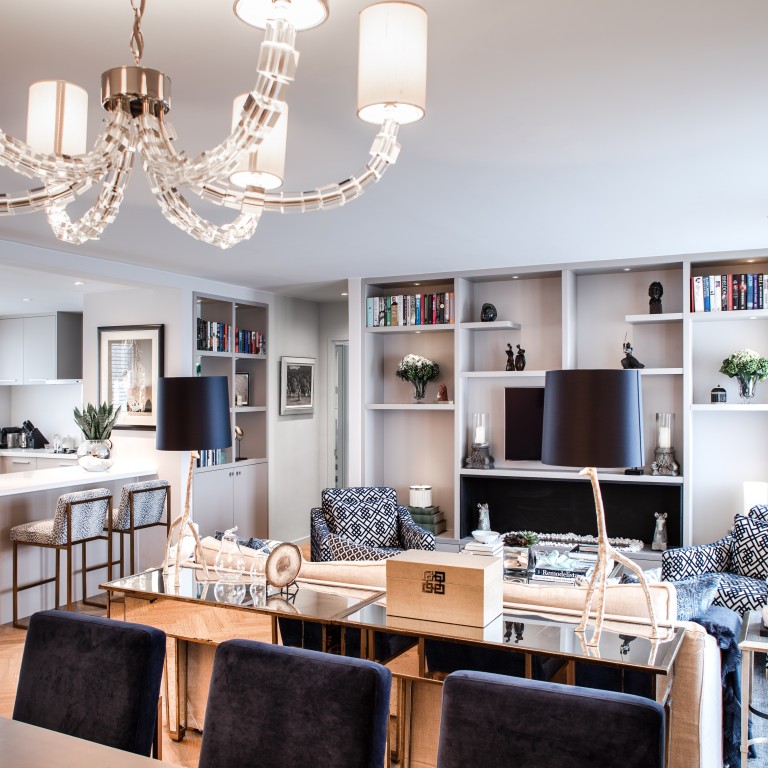 Hong Kong couple downsized to live it up in a 1,450 sq ft open-plan apartment
A semi-retired shipbroker and his foodie wife swapped their four-bedroom family house for an airy, spacious flat with a large kitchen
Three became one, bedrooms that is, when Simon and Tracy de Courcy Hughes moved into their 1,450 sq ft flat in Pok Fu Lam.
After 48 years in Hong Kong, three children and five grandchildren, the couple called time on their four-bedroom family house in the same area and decided to downsize.
"We went to see a lot of flats, and even made an offer on one in Conduit Road but they raised the price so we said no," Simon says. They finally decided on a place 10 minutes down the road. "It was a rabbit warren. We'd seen it a couple of times and said, 'Well, we'd better get Nic in to do something.'"
Enter Nicole Cromwell, a lifelong family friend and owner of Nicole Cromwell Interior Design, with plenty of ideas for turning the cramped three-bedroom flat into an airy and spacious one-bedroom home.
In the original layout, the front door opened "almost straight into the kitchen", the helper's room was in the middle of the flat and the living room had odd, mis­aligned windows, Cromwell says. But it was a decent space in a convenient location with a lovely view of the Lamma Channel.
As the couple's grown-up children and their families also live in Hong Kong – "We're lucky that they're all still here," Simon says – they had no need for a guest bedroom. This gave Cromwell the freedom to absorb two of the three bedrooms into other areas of her new floor plan: one into the large, open-plan kitchen, and the other into the master suite. A larger helper's room is tucked into the space previously occupied by the kitchen.
"My wife is a foodie ­– she cooks really well – so she wanted a big kitchen," says Simon.
She got it. Cromwell used the flat's structural pillars to define the living space, placing the kitchen on one side and the living and dining areas on the other. A breakfast bar links the two spaces, with kitchen appliances tucked neatly out of sight and enviable amounts of storage. The dual-aspect windows allow natural light to flood the bright space from both sides of the flat.
The kitchen has the same calm, neutral colour palette as the rest of the space, with the cabinets in a customised shade of pale grey specified by Cromwell, and fresh white wooden shutters filtering the sunlight through a wall of windows. A herringbone wood floor brings warmth to the otherwise cool scheme.
"Tracy was very involved in the project as a whole and very specific on the colour scheme," Cromwell says. "We worked off a neutral palette and added other colours."
Shades of grey continue into the living area, with navy and pale beige accents in the soft furnishings, and plenty of silver, crystal and mirrored elements adding sparkle and bouncing light around the space.
Cromwell designed and custom made much of the furniture; other pieces were bought on shopping expeditions with Tracy or sourced online. A few items came from their previous home – notably the artwork, including several pieces from Switzerland and Japan, where Simon, now a semi-retired shipbroker, lived in the 1970s.
Asked to choose his favourite part of the redesign, he heads straight to the luxurious master suite. "The original bathroom had a tiny shower, basin and loo," he recalls. But look at it now. When Cromwell knocked out the second bedroom, she split the space between a much larger en-suite bathroom, complete with stand-alone bathtub, and a glamorous dressing room. The latter has the wow factor in spades, with symmetrical wardrobes lined with mirrored panels and a dressing table and stool.
The couple were so pleased with the result that "we copied Nicole's idea for our London house", Simon says. "This is a special pad. It's perfect for the two of us."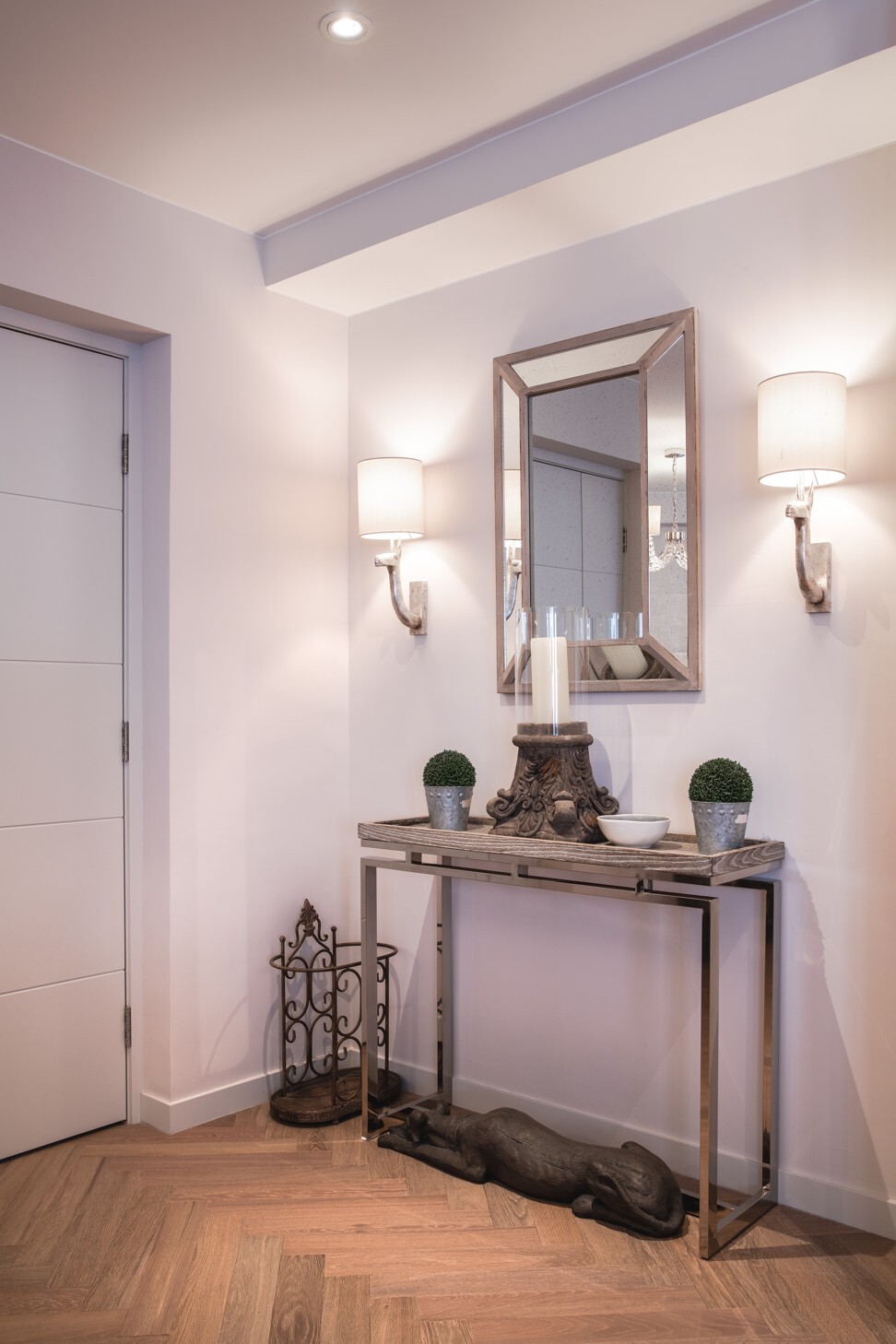 Entrance
The table (no longer in stock), mirror (£50/US$62) and Capital storm lantern (£145) all came from
OKA
in London. The Llama wall lamps in decayed silver were from
Porta Romana
and the dog sculpture was a gift.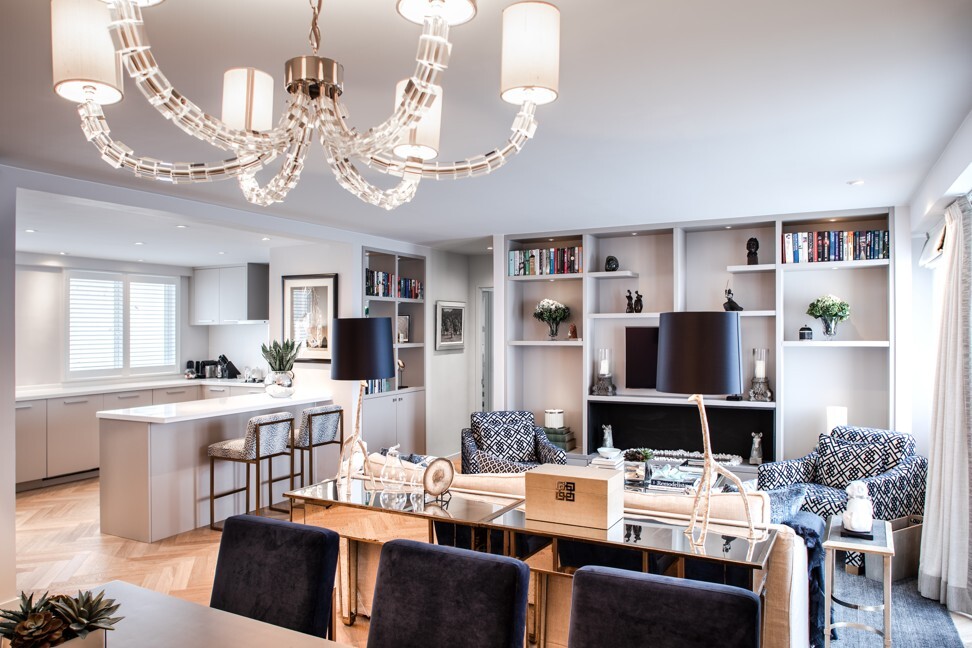 Open-plan living
The neutral palette of soft grey and navy is brought to life by sparkly elements, such as the crystal Lartigue chandelier from Porta Romana in London. The mirrored altar table was HK$7,500/US$970 from
Bowerbird
.
On it are Giraffe table lamps in decayed silver from Porta Romana. The engineered European oak flooring in lavender grey ash is laid in a herringbone pattern (HK$48 per sq ft from Top Floor Engineering, 376 Lockhart Road, Wan Chai, tel: 3568 6263).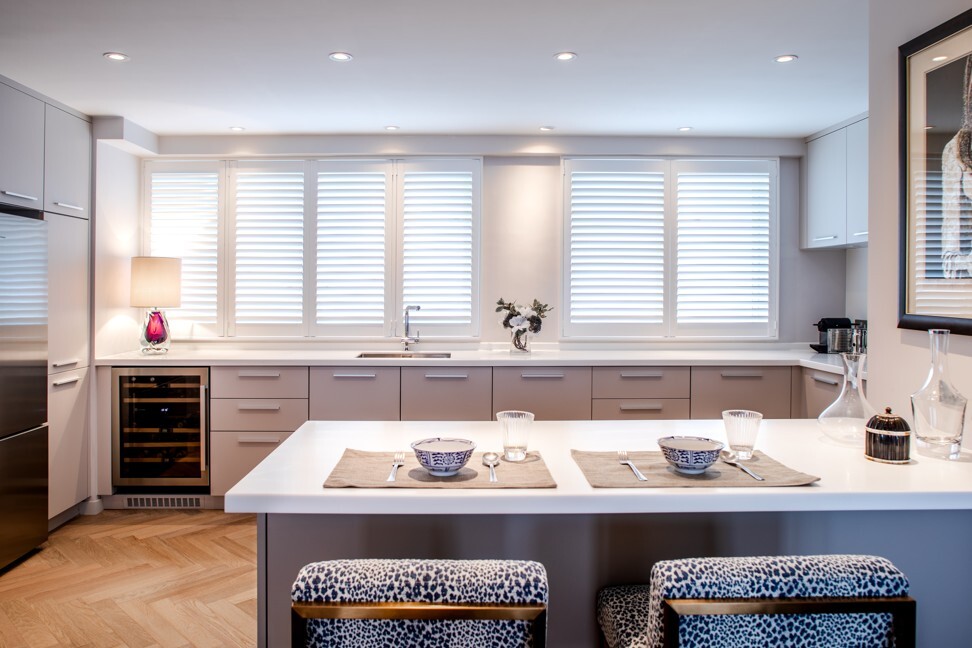 Kitchen
Nicole Cromwell, of
Nicole Cromwell Interior Design
, specified a custom colour for the cabinets (HK$120,000), which were built by
Kuchen
, with a white Corian Verano countertop (HK$48,000). Appliances include a Fisher & Paykel fridge freezer, a Bosch cooker hood and two ovens (one conventional, one compact), a Siemens double burner hob and an Electrolux wine fridge.
The high chairs (HK$2,600 each) were custom made by
Artura Ficus
in Nina Campbell Bagatelle fabric (HK$900 per metre). The aubergine Lava lamp was from Porta Romana. The painting is by Japanese artist Tadashi Nakayama, bought in the 70s when Simon de Courcy Hughes lived in Japan.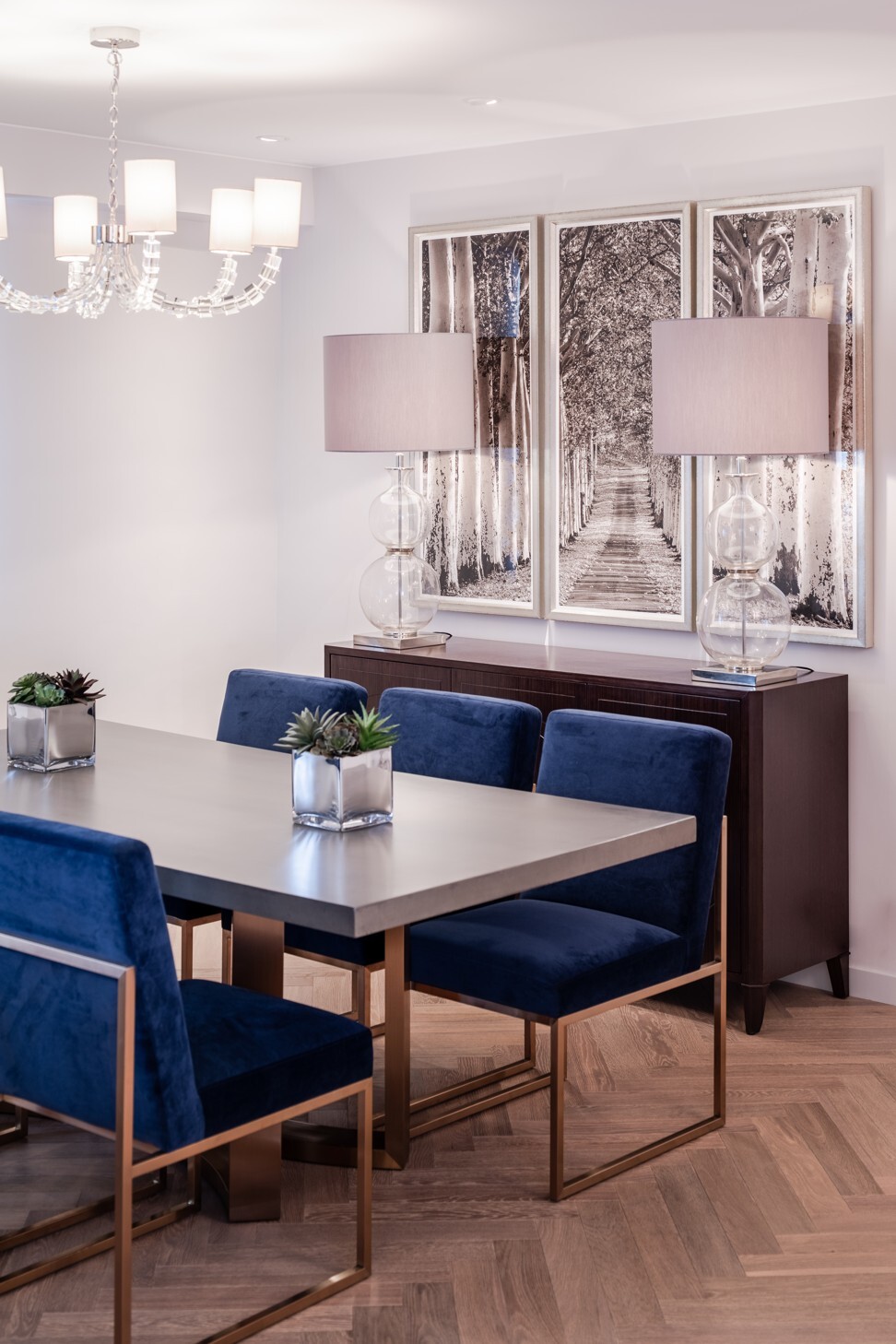 Dining area The faux-concrete-topped dining table with bronze legs was designed by Nicole Cromwell Interior Design and custom made for HK$20,000 by Artura Ficus. The same company also made the velvet and bronze dining chairs (HK$2,700 each) and the wenge-wood sideboard (HK$12,600).
The pair of table lamps are discontinued items from OKA. The triptych,
Avenue of Trees
, by British photographer Charlie Waite, came from London's
Trowbridge Gallery
.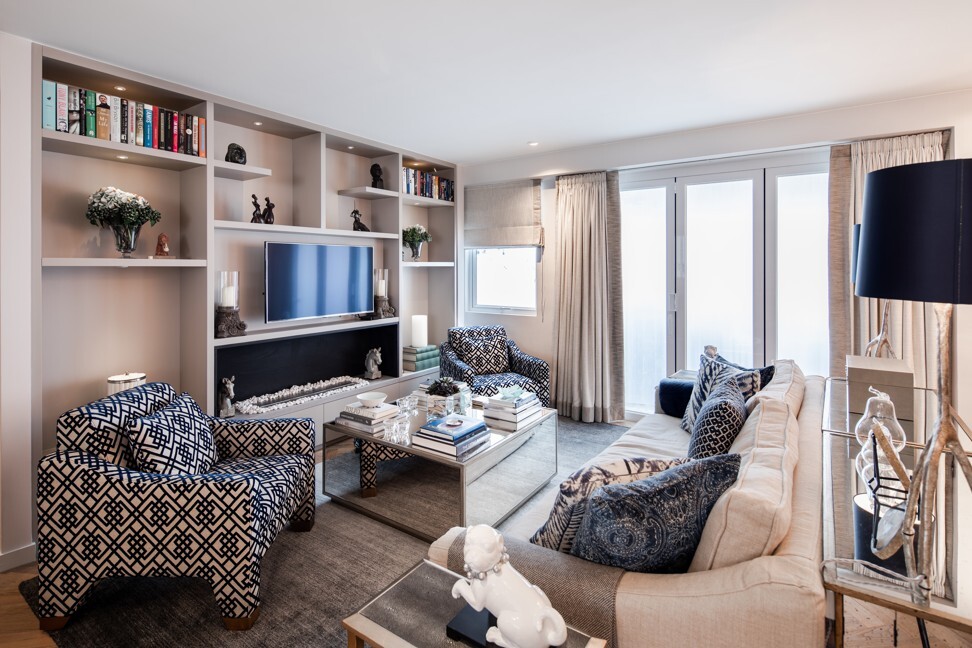 Living area
The sand linen sofa (HK$17,000) and mirrored coffee table (HK$9,800) were from Bowerbird, with cushions made by
Wai Kee Home
. The armchairs (HK$12,000 each) were custom made by Artura Ficus in Saracen fabric from Jim Thompson.
The shelving, complete with concealed wiring and lighting, was designed by Cromwell and built by contractor Sky Well (tel: 2555 6000) for HK$45,000. The side table (HK$4,800) and the dog sculpture came from Indigo Living (indigo-living.com). The rug was HK$18,000 from the Designer Grey collection at CarpetBuyer (26/F, Horizon Plaza, Ap Lei Chau, tel: 2850 5508).
The curtains, in Ricci Cloud fabric by Andrew Martin (HK$360 per linear metre), and roman blind were made by Wai Kee Home.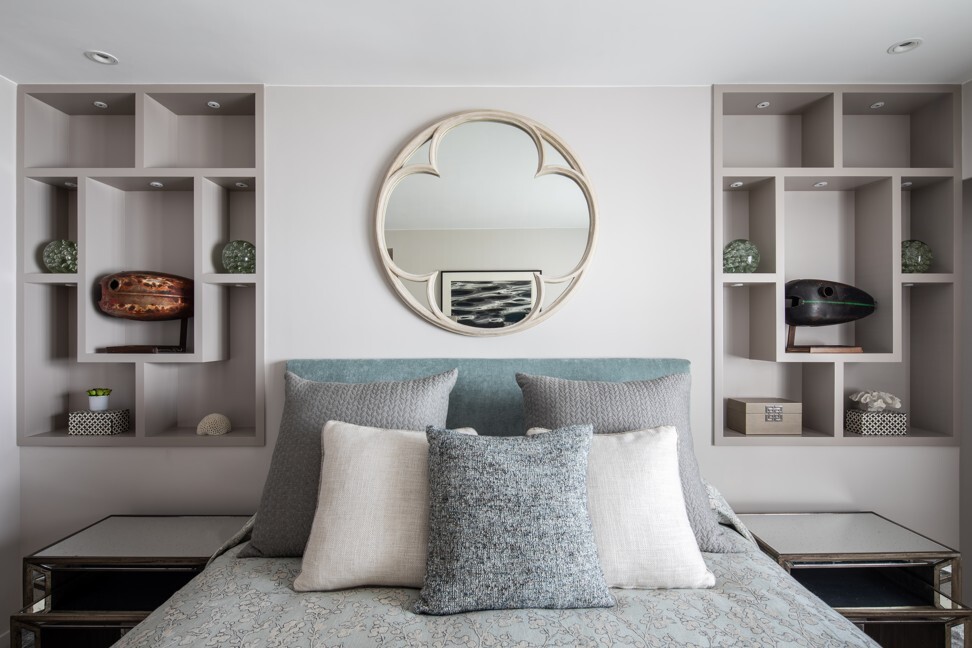 Bedroom The headboard was custom made by Wai Kee Home in Romo fabric (HK$500 per metre), as was the bedspread (HK$720 per metre). The Clover foxed-glass mirror (£675) and Versailles nested bedside tables (£525 for two) were from OKA.
The shelving (HK$24,000) was designed by Cromwell and built by Sky Well. The metal "fish" came from Switzerland and are made from motorcycle fuel tanks.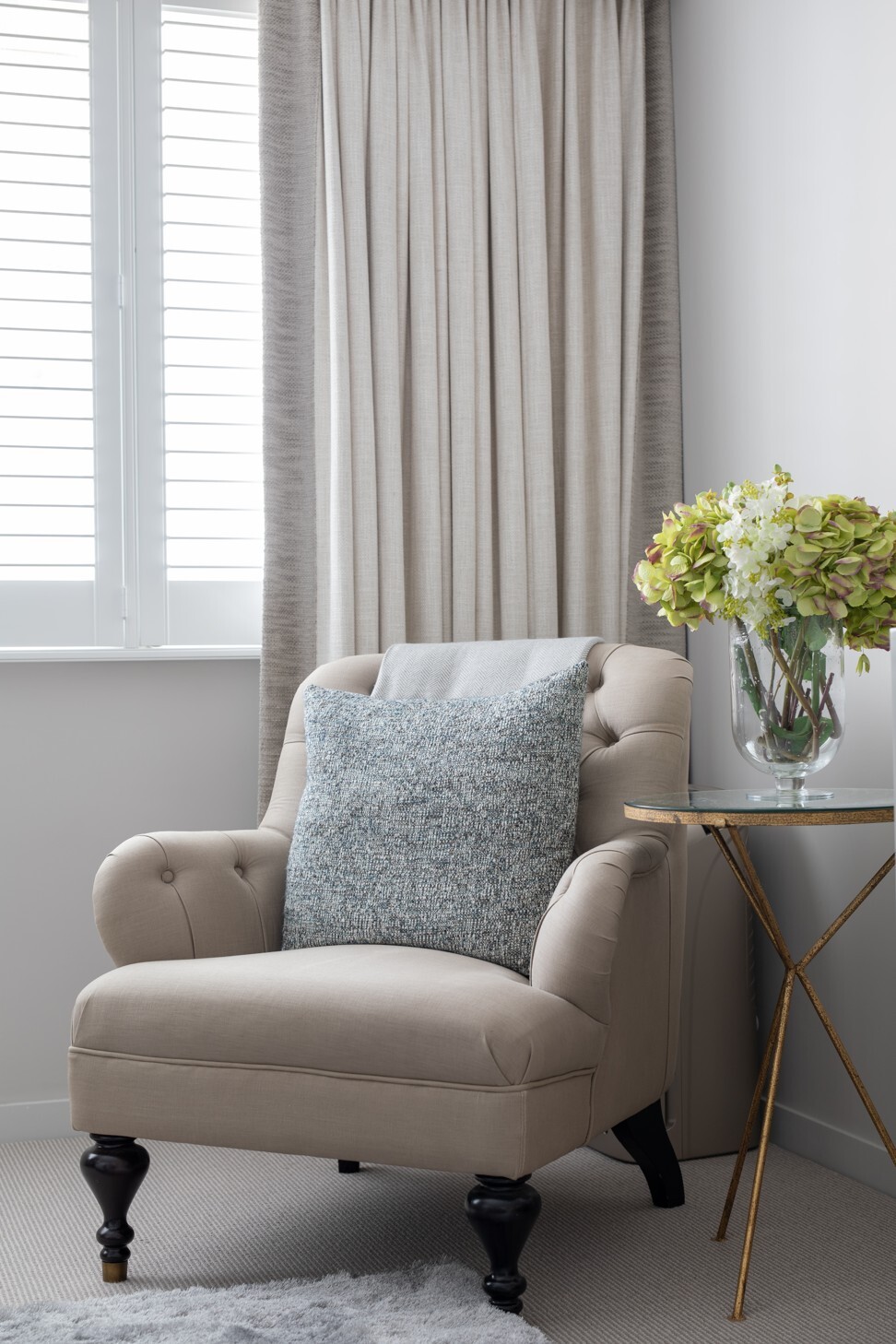 Bedroom detail The antiqued-mirror tripod table (£395) came from OKA, as did the armchair, which is no longer stocked.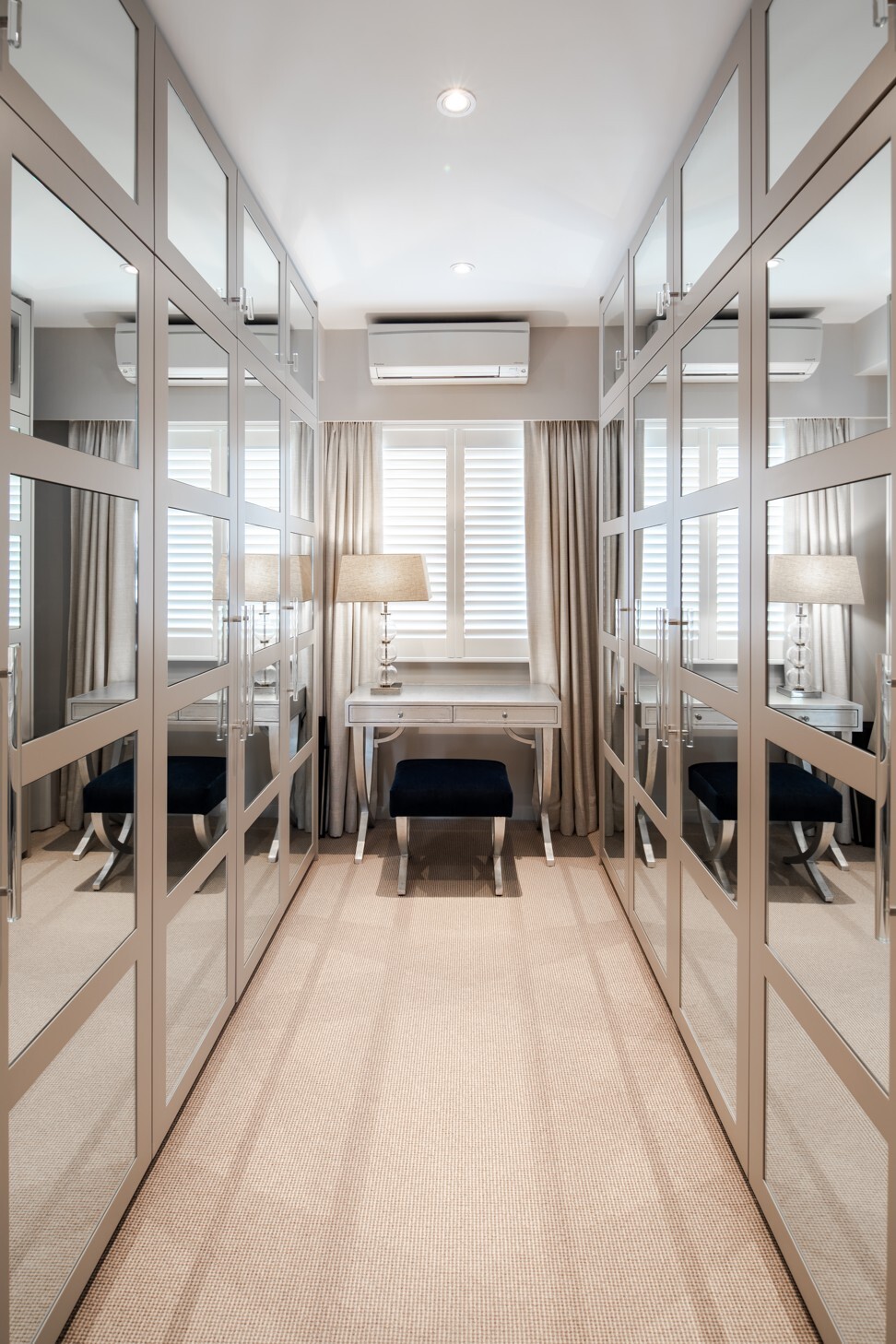 Dressing room Mirrored doors add glamour to the walk-in wardrobe (HK$64,000), which was designed by Cromwell and built by Sky Well, as was the dressing table. The stool was made by Artura Ficus for HK$9,800.
The table lamp was from OKA and the Hunter Douglas louvred shutters in pure white were from Wai Kee Home. The wool carpet was HK$41 per sq ft from Yarns (tel: 2833 2886).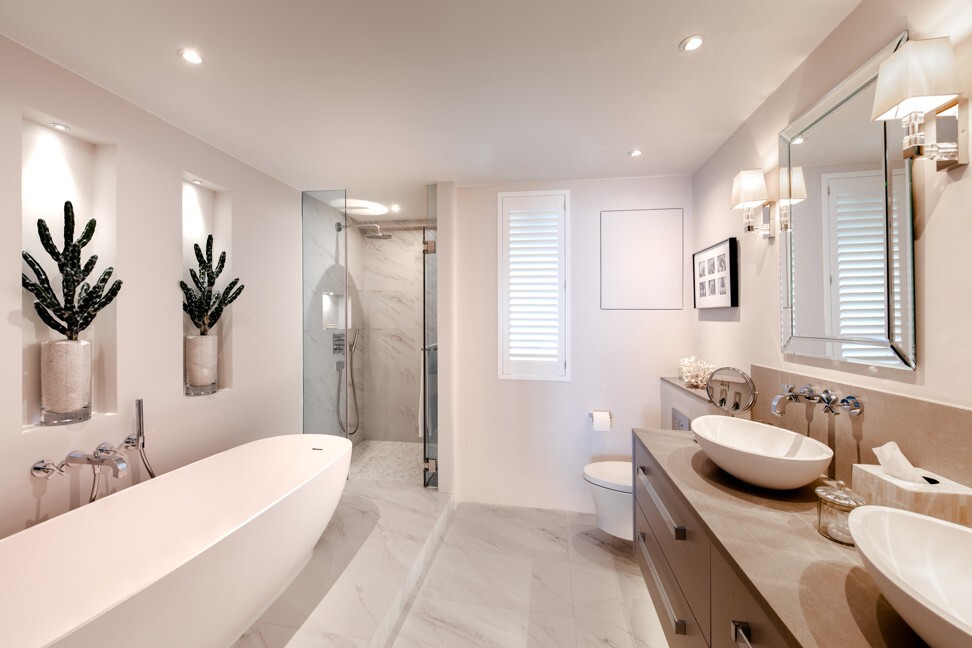 En-suite bathroom By doubling the size of the en-suite bathroom, Cromwell made space for a free-standing tub – Betty, by Mastella, in matt white (HK$43,000) from Eurobath Collection (275 Lockhart Road, tel: 2868 0231). The Hansgrohe rainshower (HK$7,500) and twin Mastella Vov Due basins (as before) also came from Eurobath Collection.
The Axor wall-mounted bath taps (HK$13,000 for the set) and basin taps (HK$8,800 each) were from Sunny Pro (193 Lockhart Road, tel: 2156 0388). The drawers and marble countertop and splashback were designed by Cromwell and built by Sky Well for HK$16,000. Cromwell also designed the mirror, which was custom made by Po Sang Glass and Framing.
The Lartigue bathroom wall lights were from Porta Romana and the faux cactuses were from
Fake It Flowers
, in London. The 60cm x 60cm floor tiles (HK$220 each) and mosaic tiles in the shower (HK$100 per sq ft) were from Domus.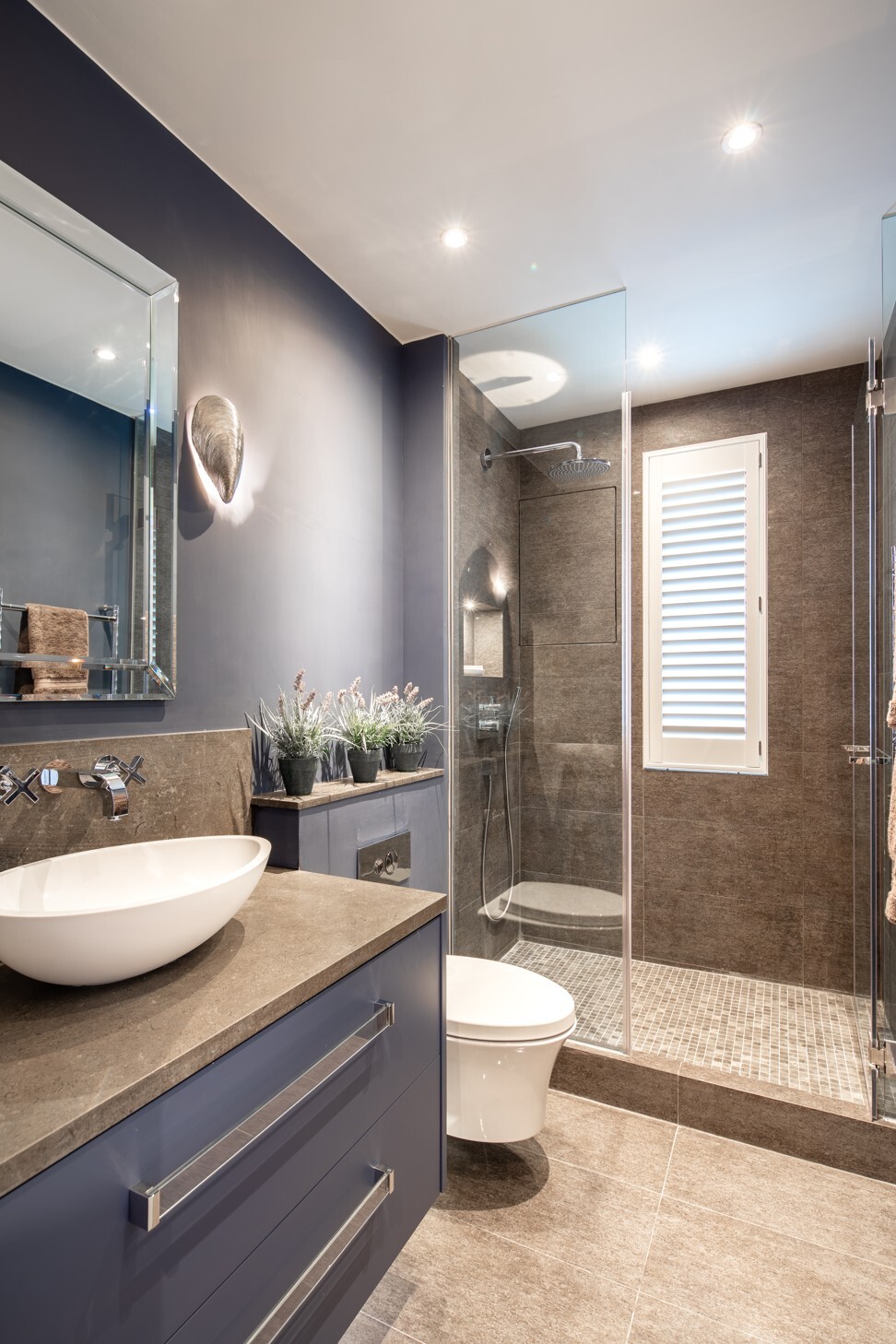 Guest bathroom The vanity unit, with drawers and marble countertop, was designed by Cromwell and made by Sky Well for HK$9,900. The Mastella Vov Due basin (HK$7,800), Kohler toilet (HK$2,600) and Hansgrohe rain shower (HK$5,528) were from Eurobath Collection.
The mirror was custom made by Po Sang Glass and Framing (112 Wellington Street, Central, tel: 2523 6258) for HK$3,200. The Mussel Shell wall light in nickel was from Porta Romana. The Nature floor and wall tiles (30cm x 60cm; HK$120 each) and mosaic tiles (HK$100 per sq ft) were from Domus (174 Lockhart Road, tel: 2877 0235).
Tried + tested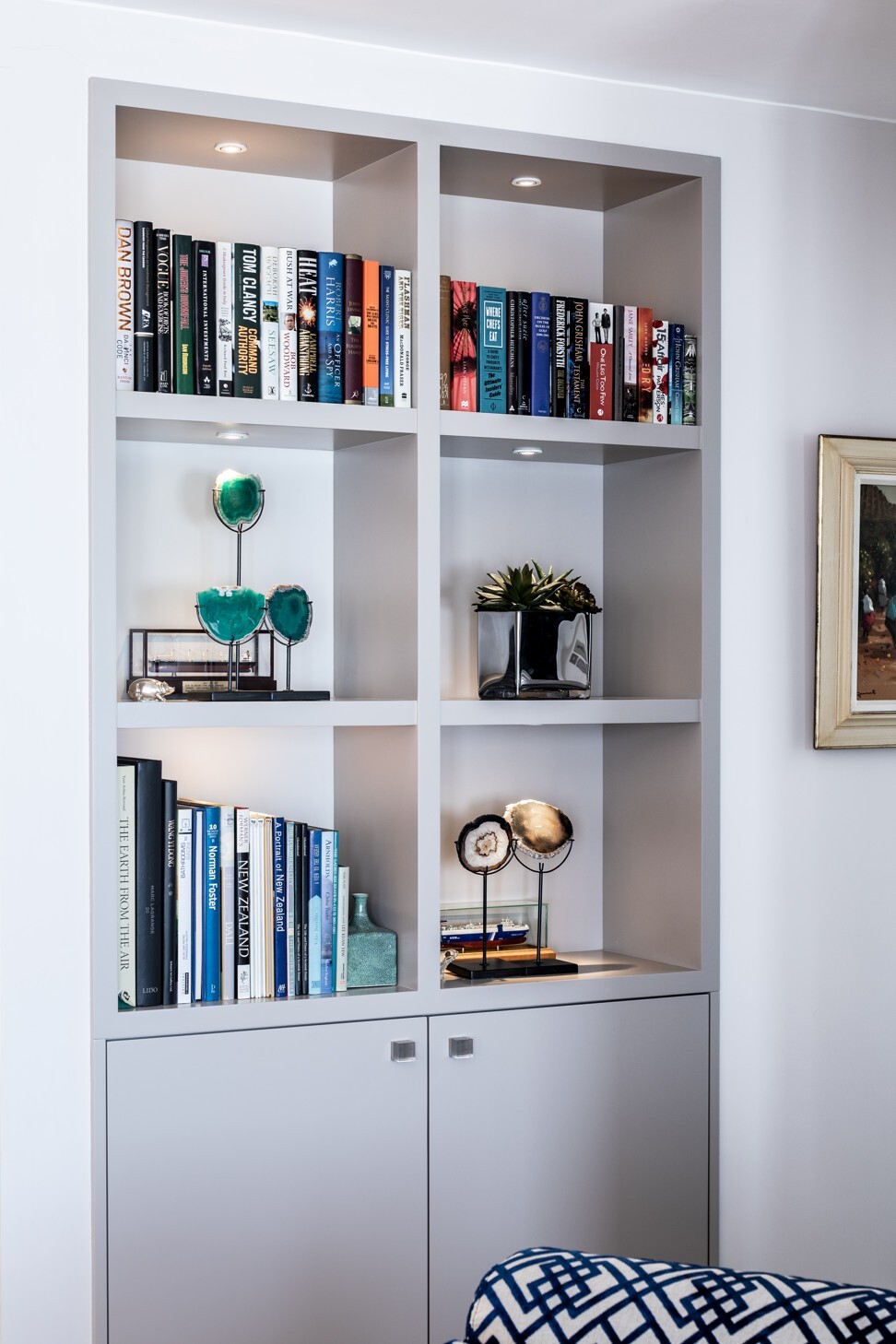 Double duty Rather than allow the flat's structural pillars to dictate her design, Nicole Cromwell got creative. She placed two built-in ovens in cupboards next to the pillar, facing into the kitchen and used the space behind them as display shelving opening into the living area. The cupboard with recessed lighting was designed by Cromwell and custom made by Sky Well.
This article appeared in the South China Morning Post print edition as: Living it up