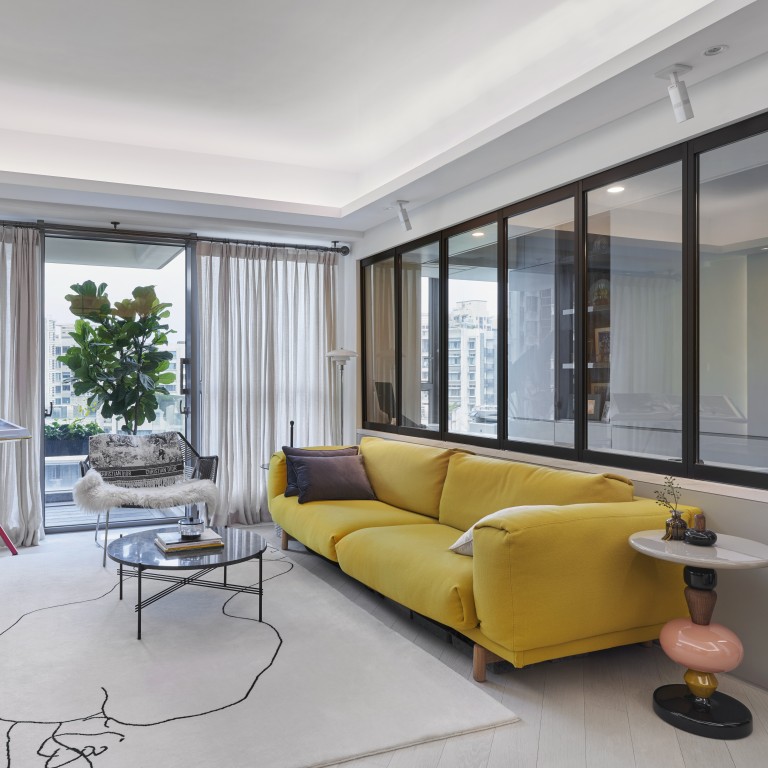 Business as usual: how a Hong Kong home provides the perfect work-life balance
A Tai Po flat, with its own private lift, has been cleverly designed to accommodate a family of four working-from-home adults
There's a lot going on inside this versatile Tai Po flat. The owners are parents who run their own family business from home. Sharing the 1,580 sq ft space is their 31-year-old daughter, who's busy with a start-up, and their 18-year-old son, a university student.
Although the couple bought the eighth-floor flat off the plan six years ago, they rented it out for a few years until their daughter returned to Hong Kong from London, designer Vinki Li says. Tasked with reinterpreting the layout to accommodate a thoroughly 2020 work-from-home dynamic, Li created personalised zones – three en suite bedrooms, plus a home office – to give the occupants the space, privacy and functionality they need.
"The look they were going for was timeless Scandinavian design – but nothing too light or pastel," Li says. They also wanted more light coming in, which the designer achieved without adding more windows but by using glass – transparent and opaque – in internal walls.
The bathroom requirements posed the biggest challenge. The home already had two en suites plus a guest bathroom, but a third had to be cribbed from somewhere. "To achieve this I pushed one of the original walls further towards the master bedroom, allowing the son to have a decent-sized shower and toilet in his room," Li says.
Rather than detracting from the parents' private space, this spatial realignment provided scope to line a corridor leading to the en suite with fitted wardrobes and the mother's requested dressing table, while retaining in their bathroom a double vanity, large shower and free-standing tub.
By positioning the parents' bed in the middle of the room, Li was able to use the headboard creatively. Upholstered on one side for comfort while reading or watching television in bed, it incorporates a desktop on the other side so they can make early-morning phone calls without disturbing the rest of the household. To allow for electrical sockets serving the island bed, wires were run along the concrete subfloor and concealed by engineered timber flooring.
The daughter's bedroom decor, meanwhile, channels a mid-century modern British vibe, inspired by her time in London. It has space for a desk and a generous en suite.
Providing a privacy buffer between all the bedroom zones is the living room, all Scandi chic with its pale timber flooring, organic textures and a wall-mounted "floating" TV cabinet. The designer says elevating furniture off the floor allows a room breathing space. It also draws the eye to statement pieces in the room, such as a vintage rug by Eduardo Chillida, and a signed, collector's edition of A Bigger Book, charting the lifetime's work of English painter David Hockney.
By repurposing a former bedroom beside the living room, Li created a fully functioning home office for up to three people. Behind the generous work stations, all files, documents, office equipment and cabling are neatly concealed in a wall of built-in cabinetry. Glass screens that retain a visual connection to the living room can be folded back completely on two sides to create extra space when guests visit.
Since the family likes to entertain, Li suggested that an open kitchen, facing the dining room across a central island, would be more conducive than the previously enclosed kitchen. The owners' concerns about fumes from wok frying were allayed by the installation of extractor fans in an overhead bulkhead where a wall used to be, and a powerful range hood above the twin cooking hobs.
To assist with food preparation when there are many mouths to feed, Li designed a pull-out work bench that doubles the size of the existing counter tops. As a decorative and practical feature, she also designed an overhead cabinet above the black marble island. Made from frosted glass and black metal, it holds the "good" crystal and stemware.
The dining table can fit six people, and behind it, more floating cabinets store family knick-knacks and dinnerware. This design is repeated in the entrance. "Because this estate has a private lift going to every flat, we had the chance to really use the entrance area," Li explains. "Hence I design­ed floating wall cabinets for shoes and storage."
By customising the existing floor plan, without any major realignment, this flat should meet the occupants' evolving needs well into the future.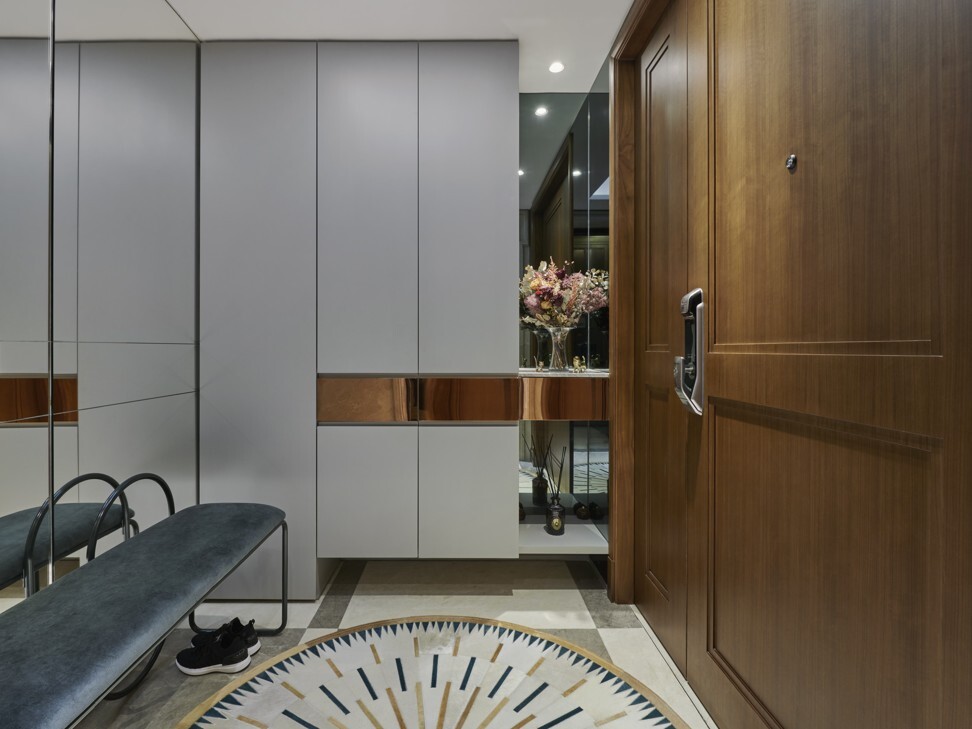 Foyer
The AYTM Angui Bench (HK$6,799/US$877) was from
Nest
, and the rug (HK$32,300) was found on
Taobao
. The cupboards with metallic trim and tinted mirror were built by CPM Decoration for about HK$6,000.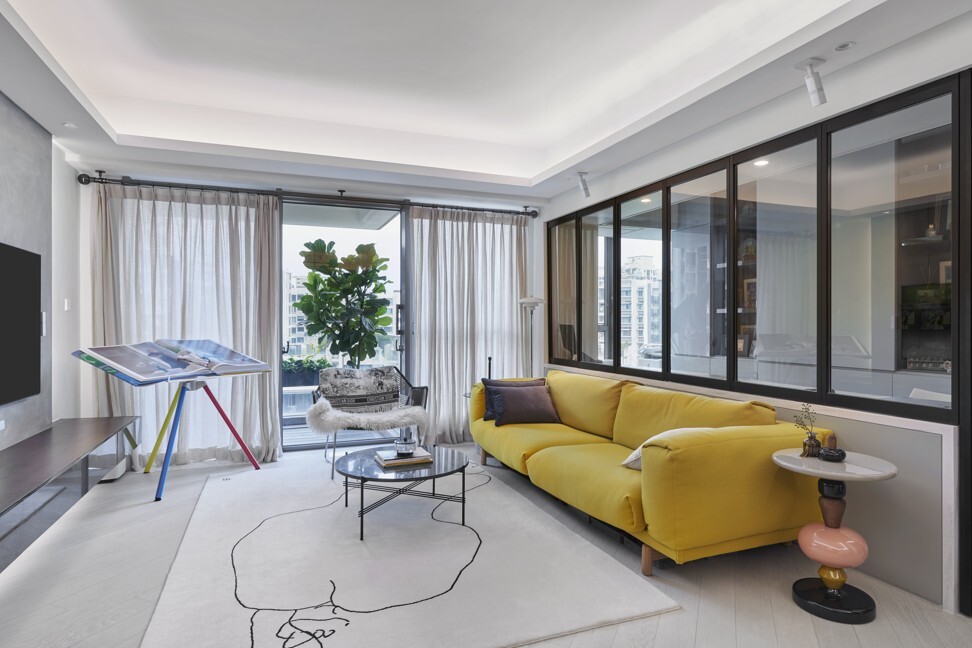 Living room
The living room is styled with a Figura Humana 1948 hand-knotted rug (£5,449/US$7,061) by Eduardo Chillida, on which sits a GamFratesi TS coffee table (£786), both from
The Conran Shop
. The collector's edition of
The Bigger Book
, by David Hockney, with Marc Newson bookstand, cost US$3,000 from
Taschen
.
The Muuto sofa (£3,540); multicoloured Shuffle Table (£358), by &Tradition; and Moroso Tropicalia armchair (£1,300) were from Nest. The Louis Poulsen floor lamp (US$1,517) came from
Finnish Design Shop
.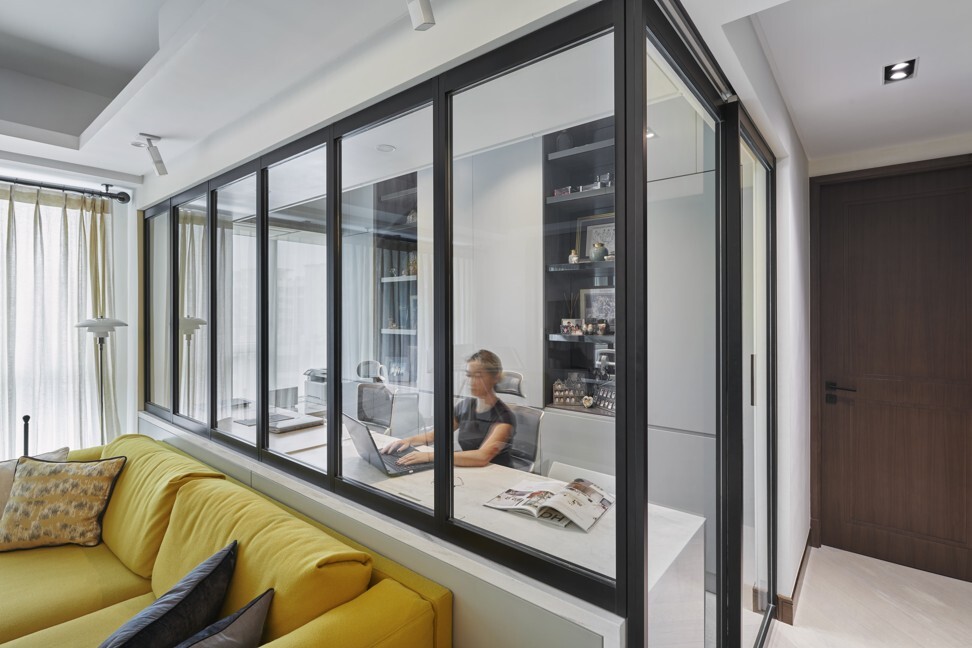 Home office Formerly a guest bedroom, the office is visually connected to the living room by retractable glass panels. The partitions and cabinetry were built for a total of HK$75,000 by CPM Decoration (3/F, D2, Lucky House Industrial Building, 64 Tong Mi Road, Mong Kok, tel: 2398 9098), the contractor for the whole project.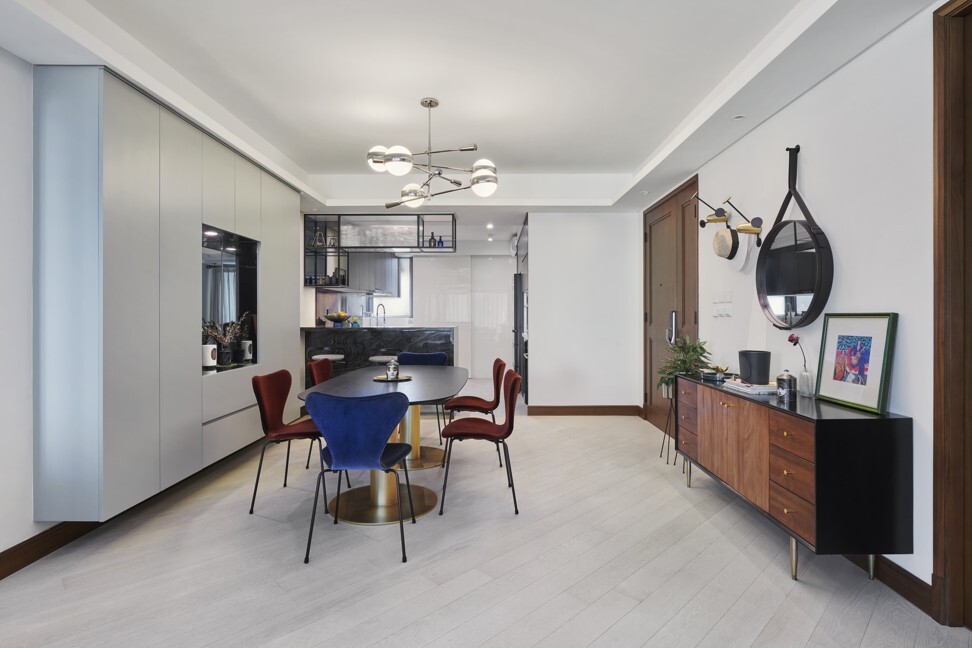 Dining room
The Gubi Elliptical dining table (
€
7,319/US$8,606) is teamed with Fritz Hansen series 7 chairs in velvet (
€
638 each) all from Nest. Providing illumination is an Ipanema Multi-Boom pendant (US$2,095) from
Jonathan Adler
. The mid-century-style console has been with the family for years.
Decorative wall pieces include two Gubi Matégot brass coat racks (HK$1,371 each) from Nest and a
Gubi
Adnet circular mirror (
€
839) purchased online.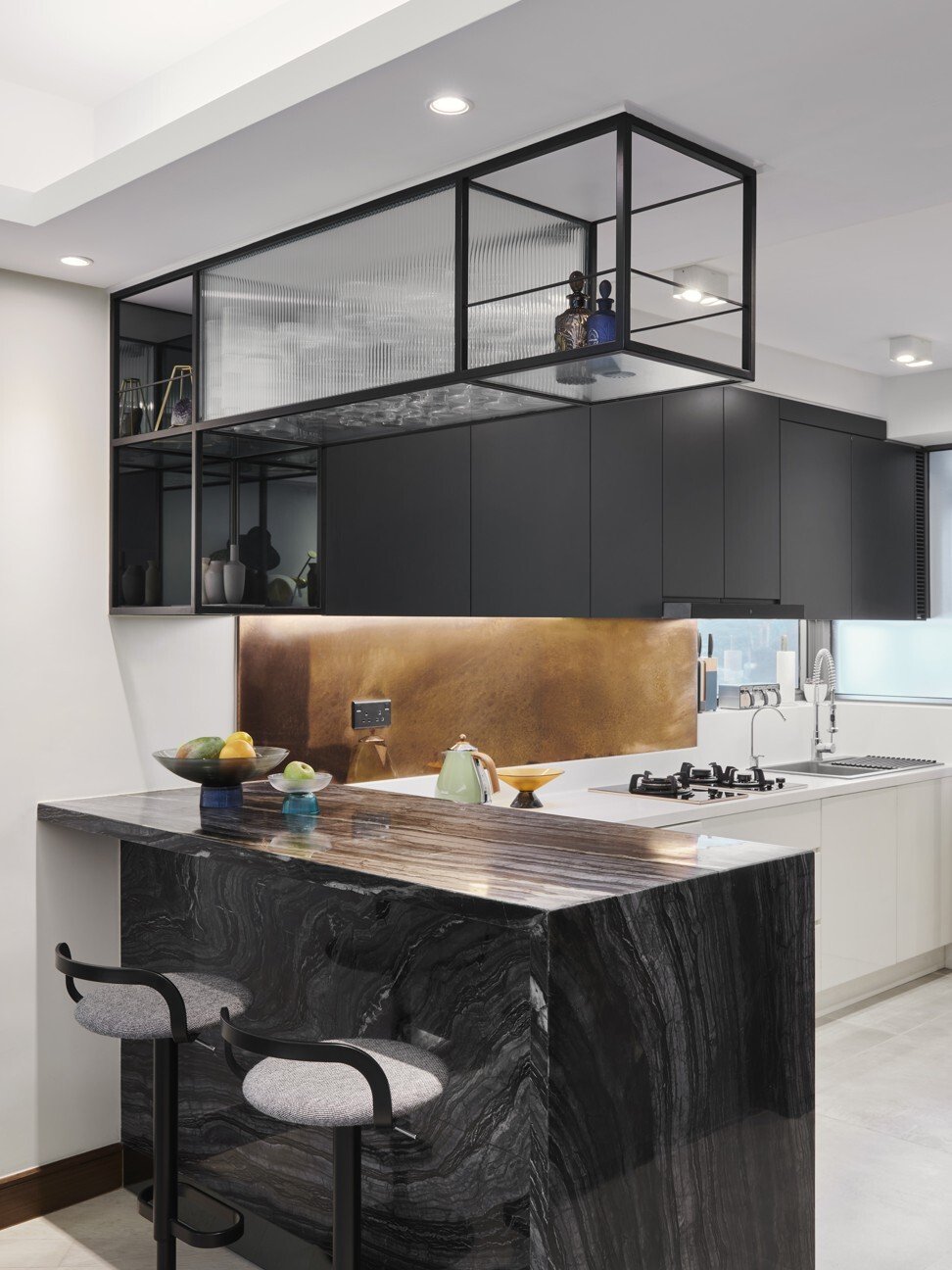 Kitchen The black marble counter with waterfall edge was custom made and assembled by CPM Decoration for about HK$54,000, plus an extra HK$5,000 for the overhead cabinet in glass and black metal. The Lapalma Mak bar stools cost HK$3,766 each from Nest. Behind the work surfaces, a stainless-steel splashback (about HK$4,000) is hand-brushed in a copper-look finish.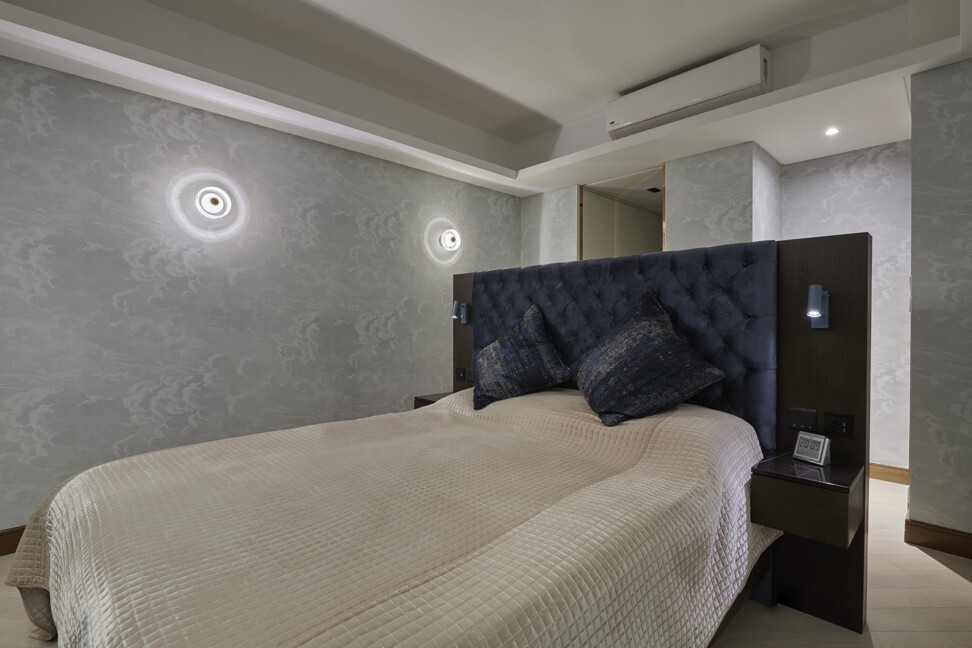 Parents' bedroom
The velvet headboard, made by CPM Decoration for about HK$3,000 in total, features Orsjo Puck lights (£180 each) from Nest. The Fornasetti wallpaper (about £150 per roll) came from
Cole & Son
, and the Stone wall lights (HK$2,673 each) are from
Tom Dixon
.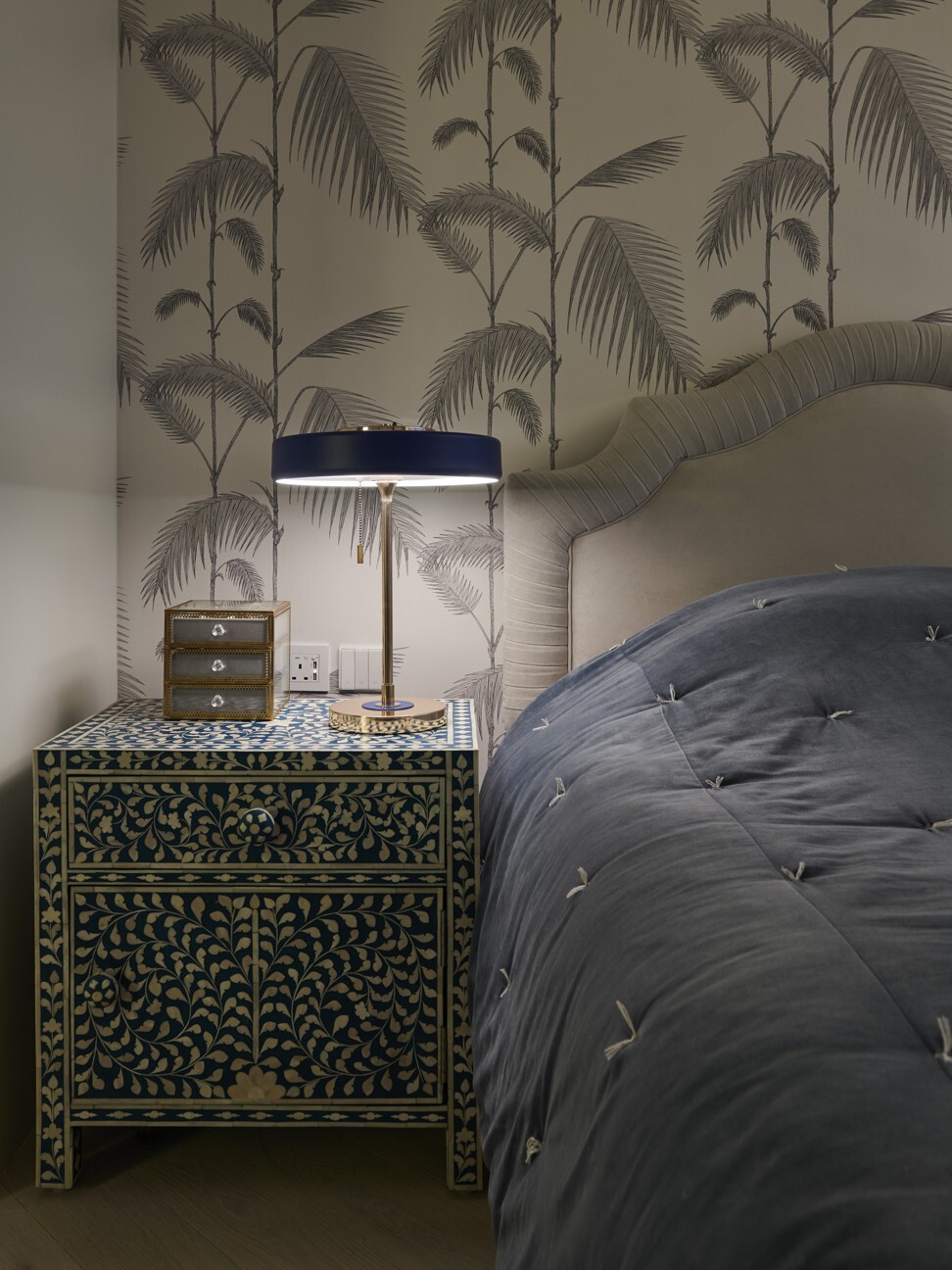 Daughter's bedroom
Reflecting a mid-century modern British style, the daughter's bedroom is wallpapered in Palm Jungle (about £100 per roll) by Cole & Son. The bedside cabinet (US$553), in mother-of-pearl floral design with bone inlay, came from the Vinayak Art School in India, bought through
Etsy
.
The lamp with blue lacquer shade has been in the family for years. The Skyline Furniture Larrabee headboard in light-grey velvet cost HK$5,284 from
Bed Bath & Beyond
.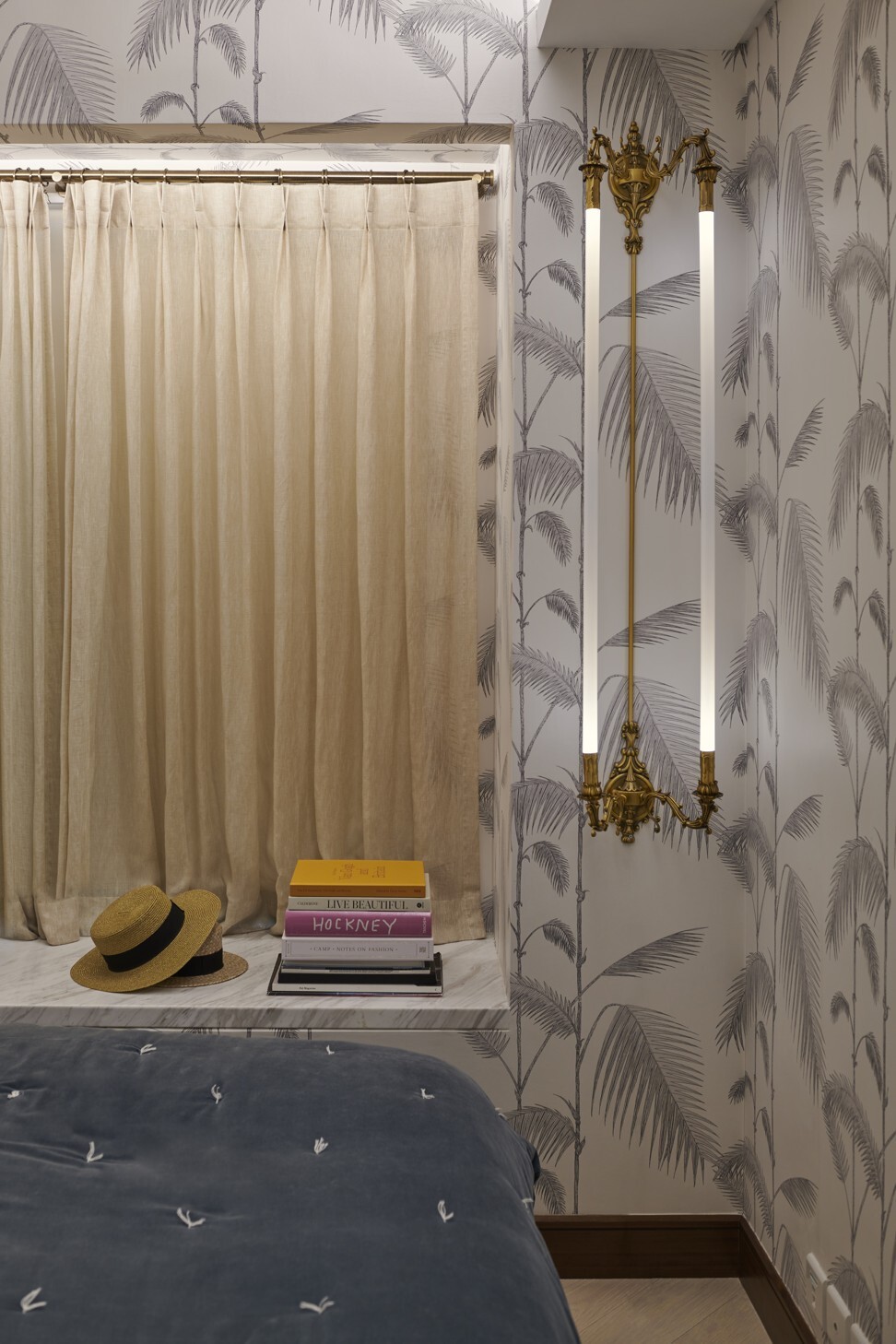 Daughter's bedroom detail
The feature wall lamp (HK$3,580), in copper and frosted glass, is from an upcoming lighting collection by
Vinki Li
, to be launched in early 2021.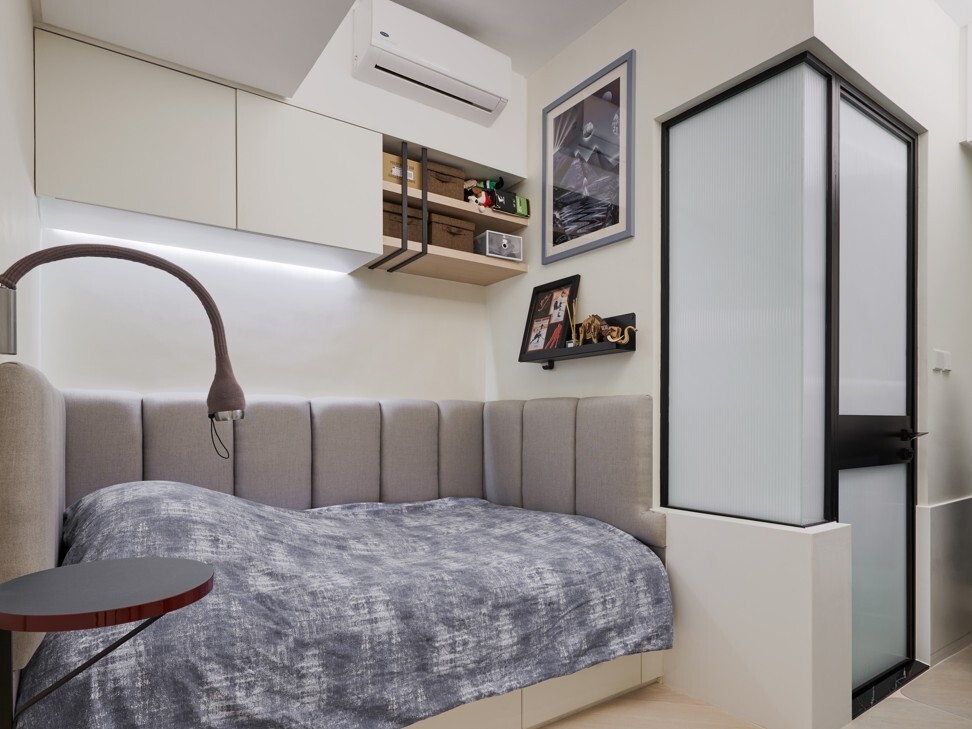 Son's bedroom The unusual shape of the son's bedroom, caused by the en suite addition (behind the frosted glass), called for custom furnishings, which were made by CPM Decoration. The Northern Lighting bedside wall light (€295), Artek Kaari wall-mounted bedside table (HK$2,387) and Muuto folded wall shelf (HK$1,232) all came from Nest.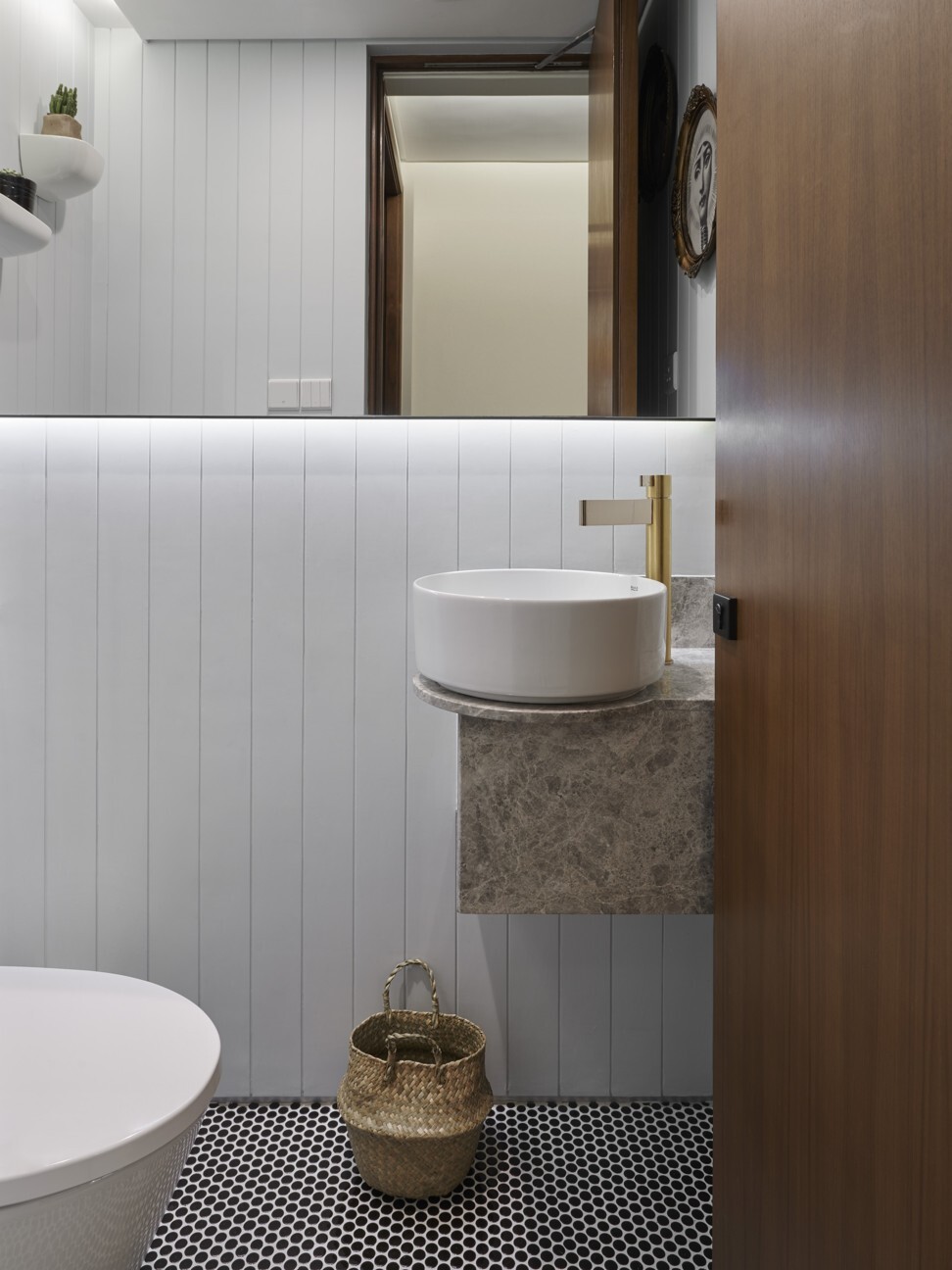 Guest bathroom
The round Roca basin and the Sussex tap in brass were bought at
Reece
in Australia for about A$330 (US$237) and A$730, respectively. The Fornasetti plate on the wall was a gift.
Tried + tested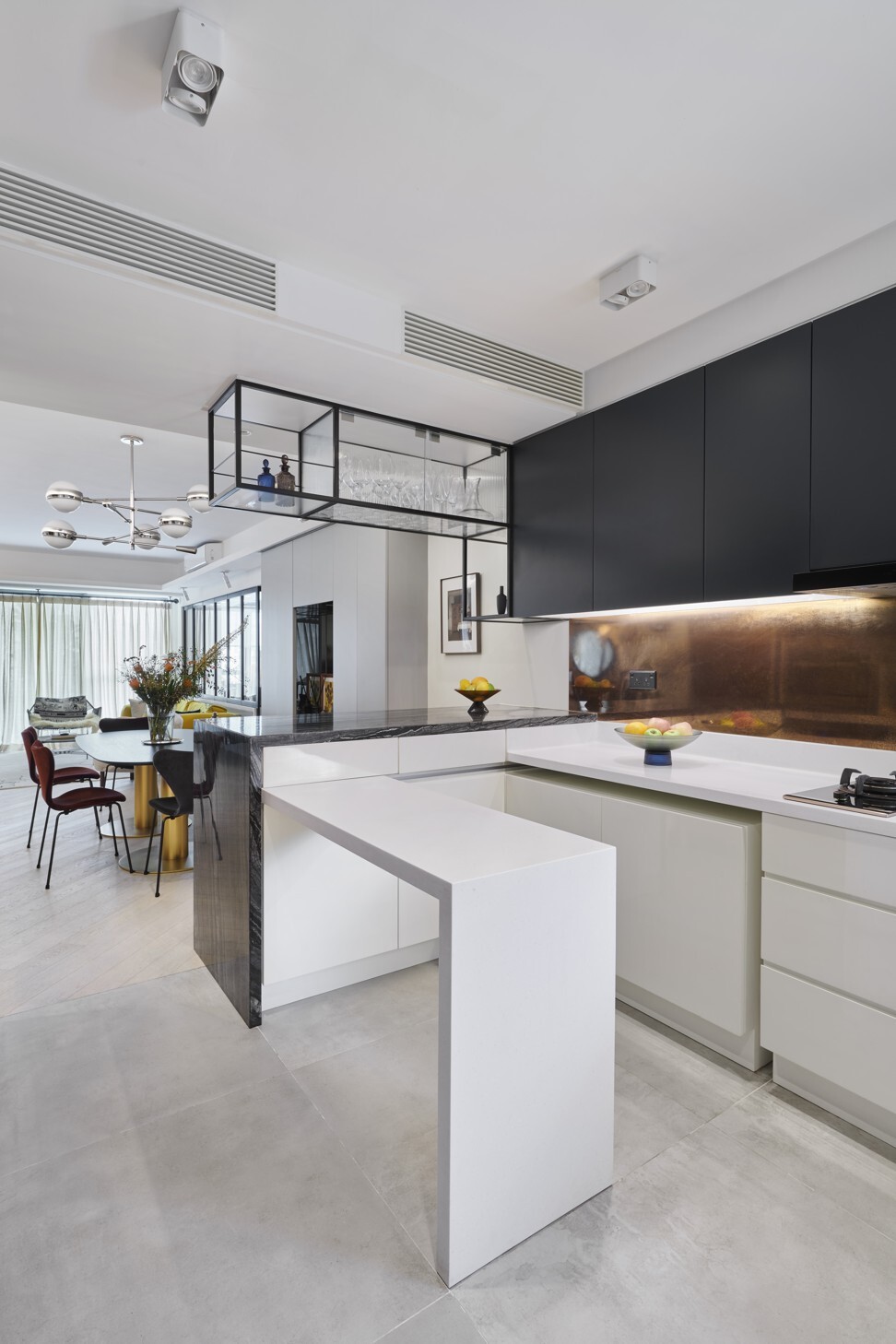 Counter intuitive These homeowners like to entertain, so to provide extra catering space, designer Vinki Licreated an extra kitchen work surface that disappears when not in use. Built to her design by CPM Decoration, the white Corian top on metal subframe slides away on hidden wheels on a track recessed below the kitchen drawers.
This article appeared in the South China Morning Post print edition as: Just the job