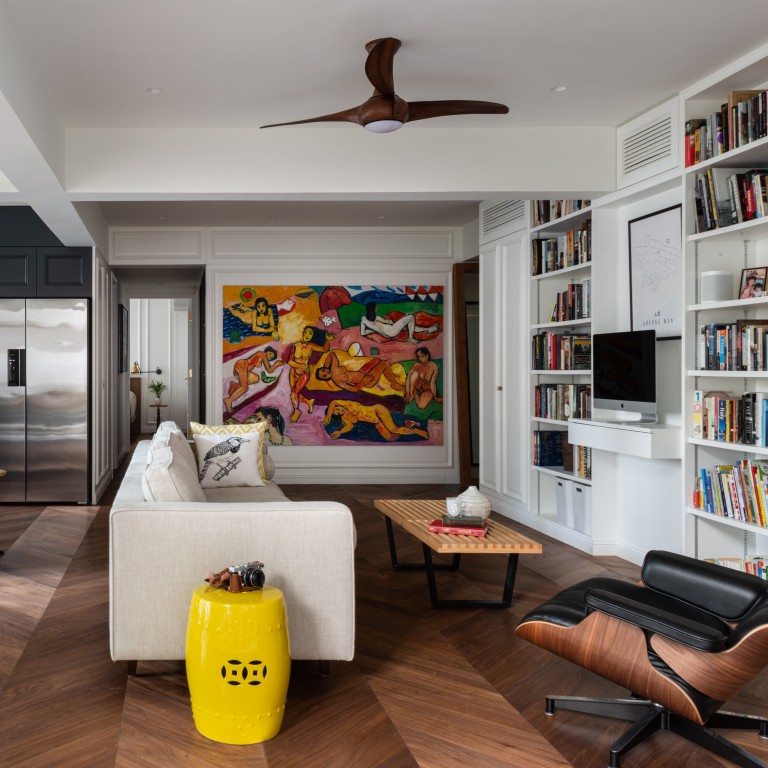 Hotel stays inspired the interiors of this effortlessly elegant Hong Kong home
Nadia Zhu and Andrew Schantz kept a file of all the features they had liked in hotels during their travels, and these details came in handy when they decided to renovate their new Mid-Levels flat
When Nadia Zhu and Andrew Schantz bought their 1,500 sq ft flat in a low-rise 1960s building in Mid-Levels two years ago, they already had a good idea of how they wanted it to look.
"Before Covid-19, we used to travel all the time and we kept a file of things we saw in hotels that we liked: this hallway, that panelling, those doorknobs," says Schantz, who grew up in the United States and works in finance.
Zhu, who works for a flexible workspace provider, stipu­lated a warm colour scheme for the living areas. "I like the combination of creamy white walls, walnut flooring and sunlight," she says. "That's kind of the base of the apartment."
"When we were looking through design portfolios, we looked for those that had the same type of features we liked," says Schantz. "We probably could have figured out the broad strokes ourselves but it was for the details that we needed someone like YC."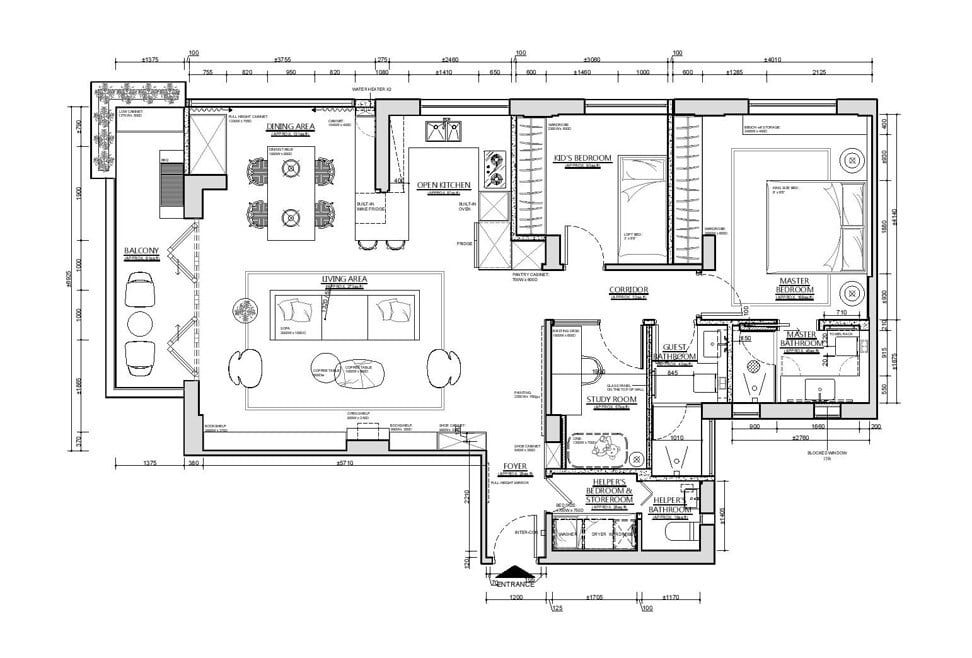 YC Chen, of interior design studio hoo, took on the couple's brief for a casually elegant family home, recog­nising that the atmosphere his clients wanted to achieve would require a layout change (three bedrooms would become two, among other things) and a lot more light.
"By moving the kitchen to where the original third bedroom was, off the living area, and opening it up, it was amazing how much light was brought in and how much bigger it felt," says Chen.
Sunlight now filters through onto the American walnut floors through classic French doors leading to the balcony, which has been newly laid with pale Victorian-style floor tiles. Inside, the colonial-era character continues with a range of elegant mouldings that add texture and refine­ment to the cream walls and cabinet doors.
Where the open areas are honey and light, charcoal cabinetry creates a sleek and moody New York vibe in the new open kitchen, highlighted by brass door handles and white subway tiles.
In keeping with this urbane element, a slimline bar, added along the wall between the kitchen and dining zones, expands the main worktop and bar seating area.
The couple, who have two small children, were keen to create a family space around books so they asked for shelves to be built in as the focal point of the living area.
"When Nadia and I met, one of the first things we found out about each other is that neither of us had a TV," says Schantz. "We still don't so our living area is a space for family interaction rather than a TV room."
The placement of a desktop computer on a shelf desk opposite the sofa does afford the occasional viewing of a movie or, more likely, video calls with family.
Both bedrooms are dressed in restful creams and greys, and in the main bedroom touches of brass on the bedside lights and in the en suite bathroom add a hint of luxury.
Turquoise wall tiles and cabinets in a matching hue inject colour into an otherwise clean white guest bathroom.
Next to the bathroom is the study, a smaller room eked out from part of the original kitchen. An internal window set high up brings in light from the bathroom while the wall adjoining the corridor has been replaced with a glass screen with black frames to mirror the French doors.
"Maybe more natural light would have been nice in the study but we designed it pre-Covid," says Schantz. "It was never meant to be a space for working five days a week with your kids banging on the window and making faces at you while you're in a meeting. But the study has been great for working from home. I'm lucky to have had this space."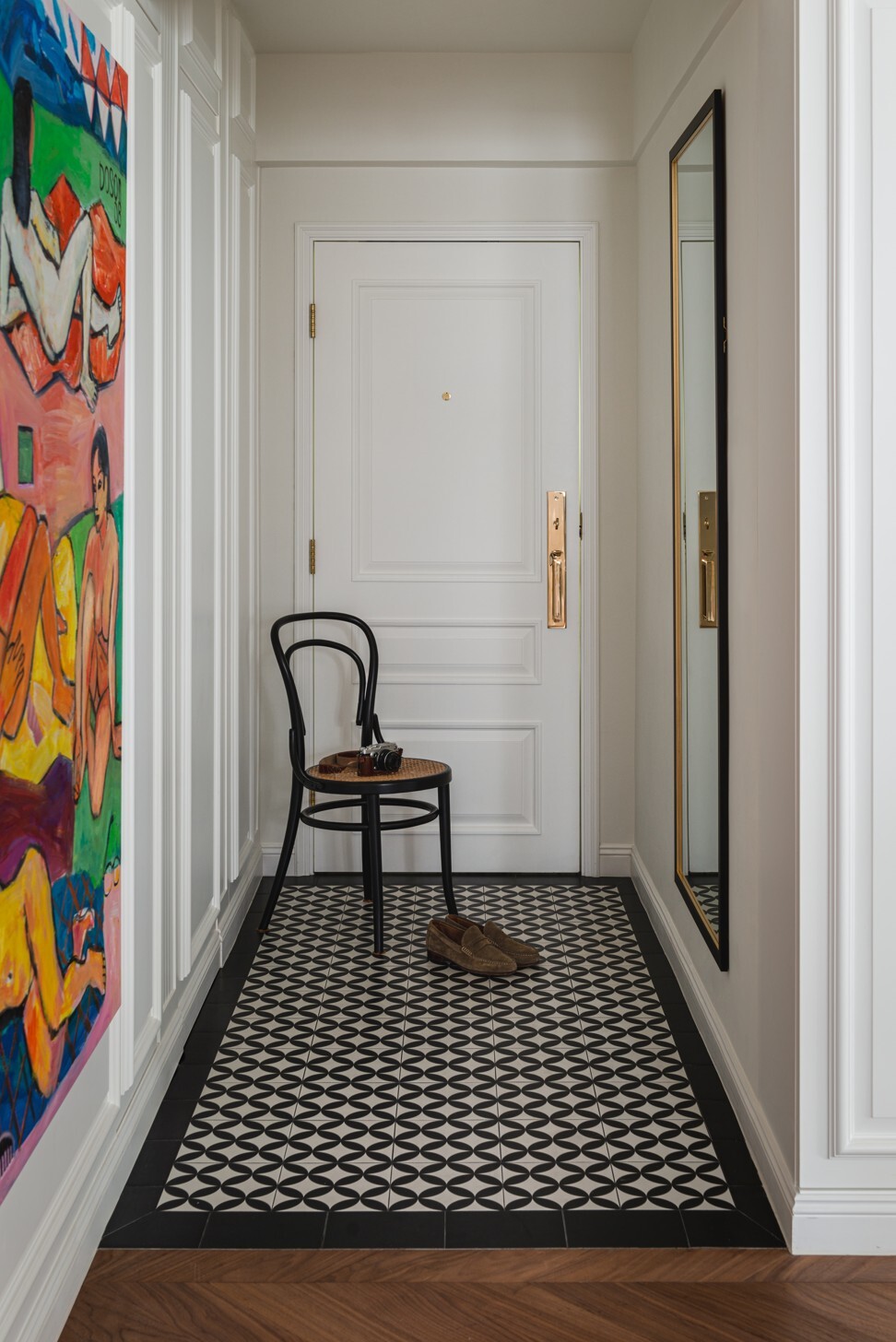 Foyer
The Victorian-style tiled floor (HK$48 per tile from LS 3, 183 Lockhart Road, Wan Chai, tel: 2827 0388) brings an old-world touch to the entrance, flanked by a tall mirror (custom made by
hoo
for HK$3,000/US$388) and elegant wood panelling. The panel on the left hides the entrance to the helper's quarters.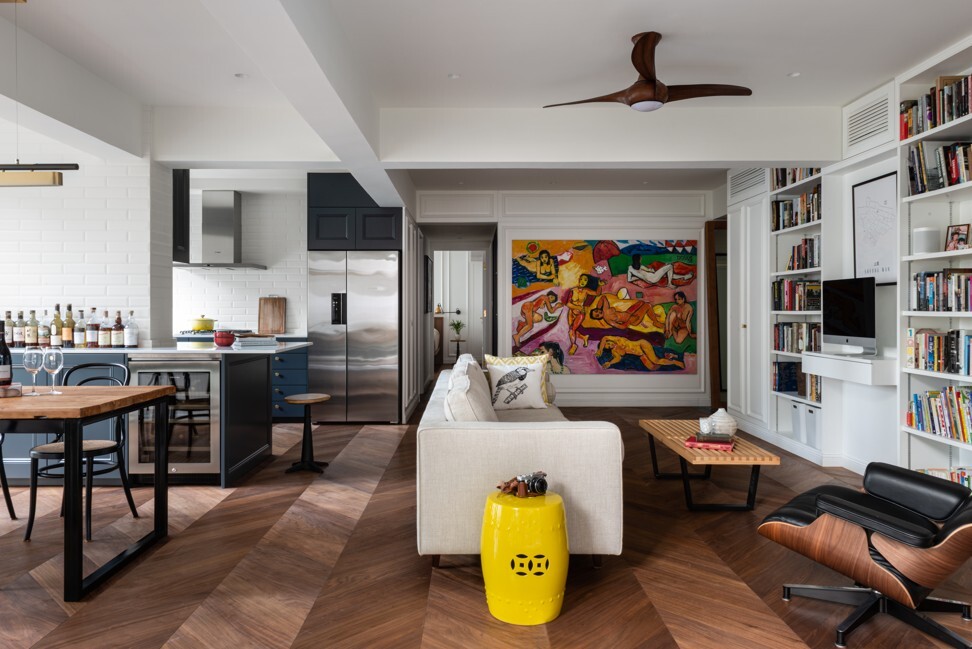 Living area
The painting is by Vietnamese artist Do Son and was purchased through
Thang Long Art Gallery
in Hanoi. The owners liked the shape of a Lispenard sofa by
Herman Miller
, but finding it too small had a larger version made for HK$30,000 by New Bedford Interiors (67 Queen's Road East, Wan Chai, tel: 2520 0330).
The coffee table / bench (HK$8,000) came from Herman Miller. The yellow porcelain stool was from
Taobao
. The chevron oak flooring cost HK$118 per square foot from
Karlian
.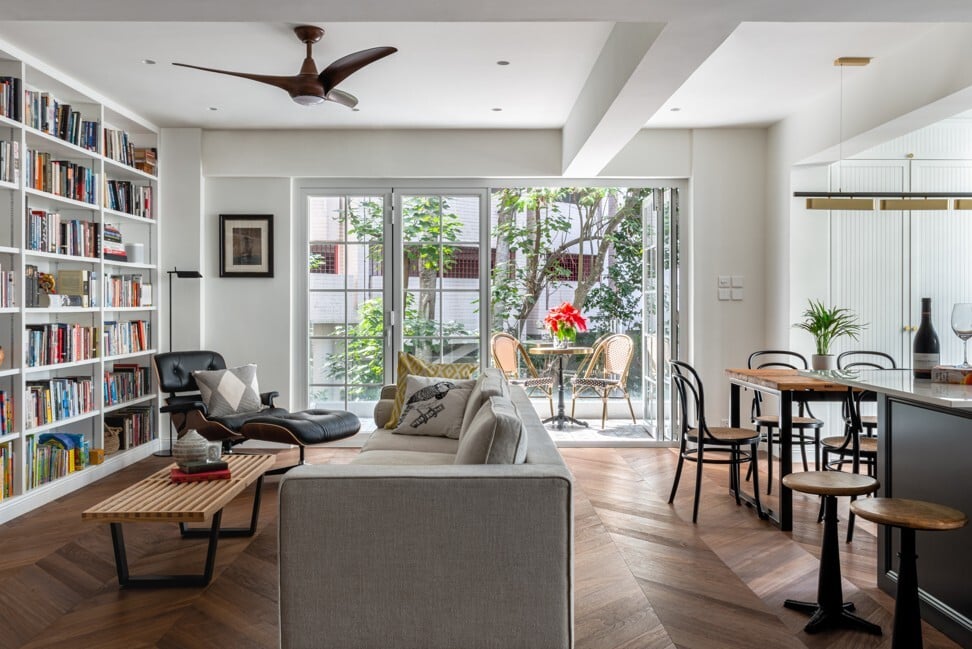 Living area
The Eames lounge chair and ottoman (HK$55,000 for the set) were from Herman Miller. The floor lamp (HK$6,800) came from
Flos
. The ceiling fan has been with the couple for years. The bi-fold French windows were made by
Hang Yue
for HK$50,000. The outdoor furniture (HK$3,000 in total) was sourced through Taobao.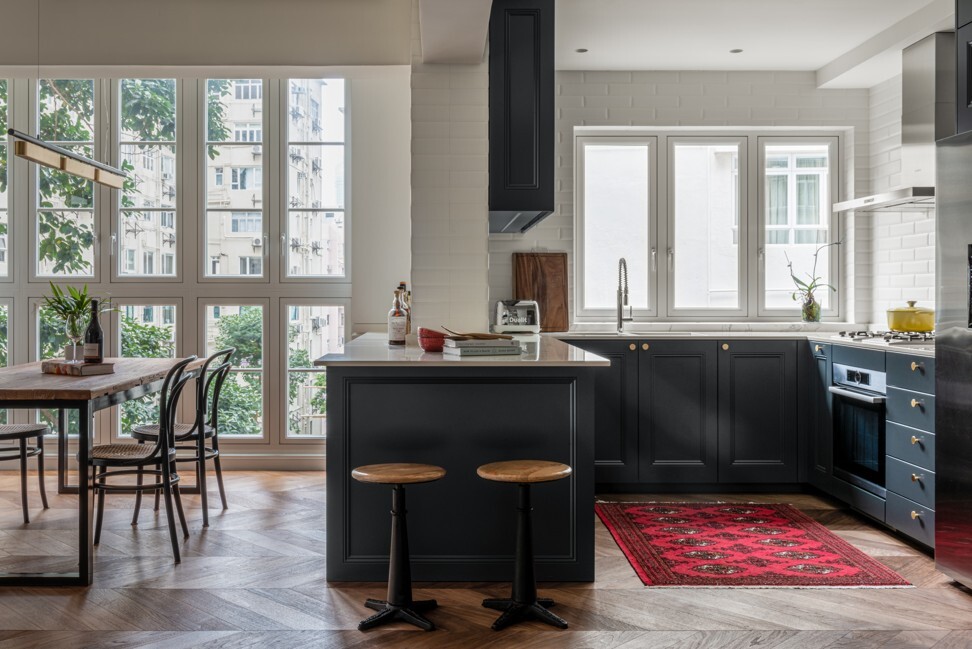 Kitchen
The Eggersmann kitchen (about HK$300,000) was installed by
Kitchen Culture
with brass handles ordered through Taobao. The bar stools were bought a long time ago, as was the
Ikea
rug.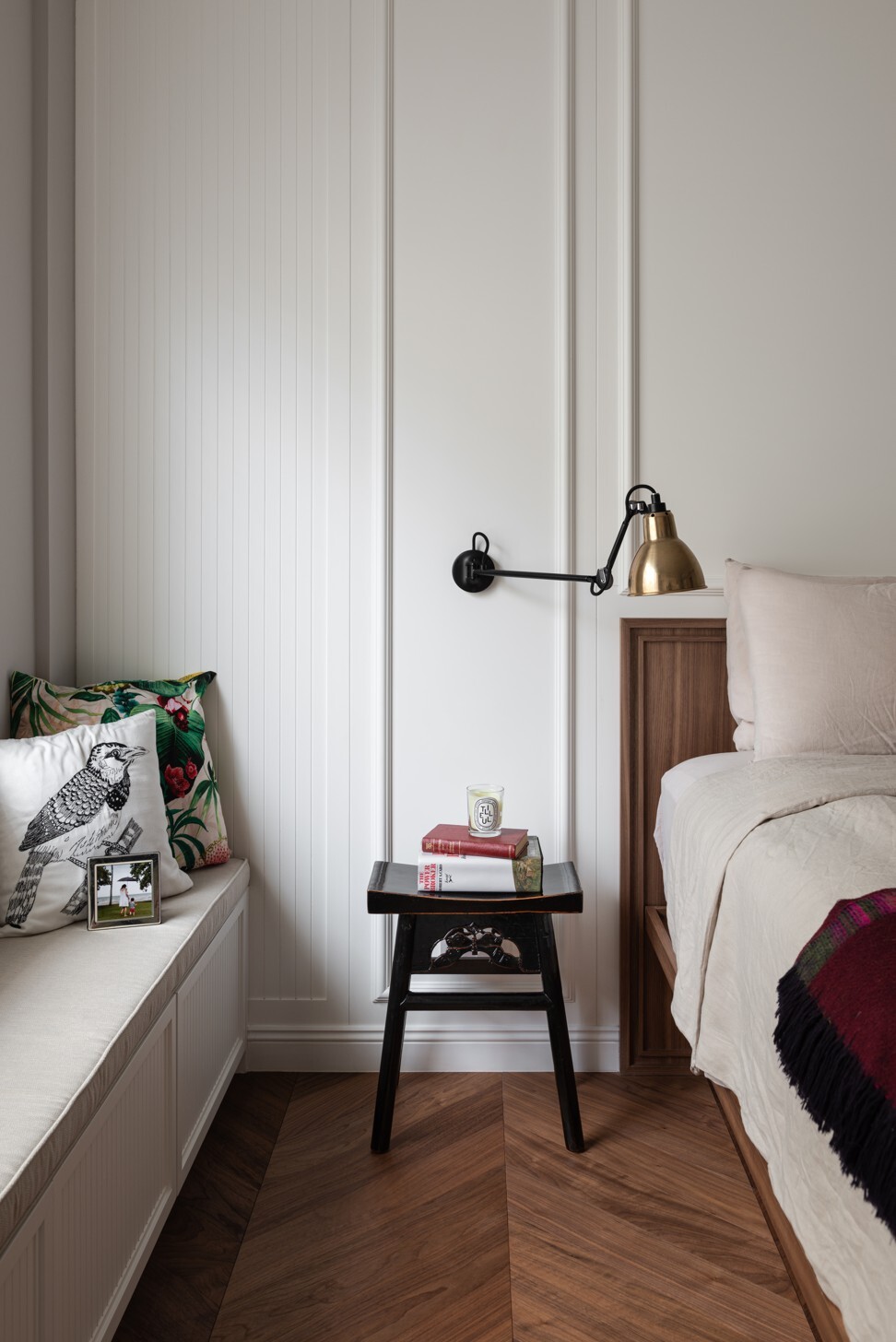 Main bedroom
The window seat (HK$25,000) and walnut bed (HK$18,000) were custom made by hoo. The adjustable wall lights (HK$4,000 each) came from
DCW éditions
and the stool was bought in Shanghai many years ago.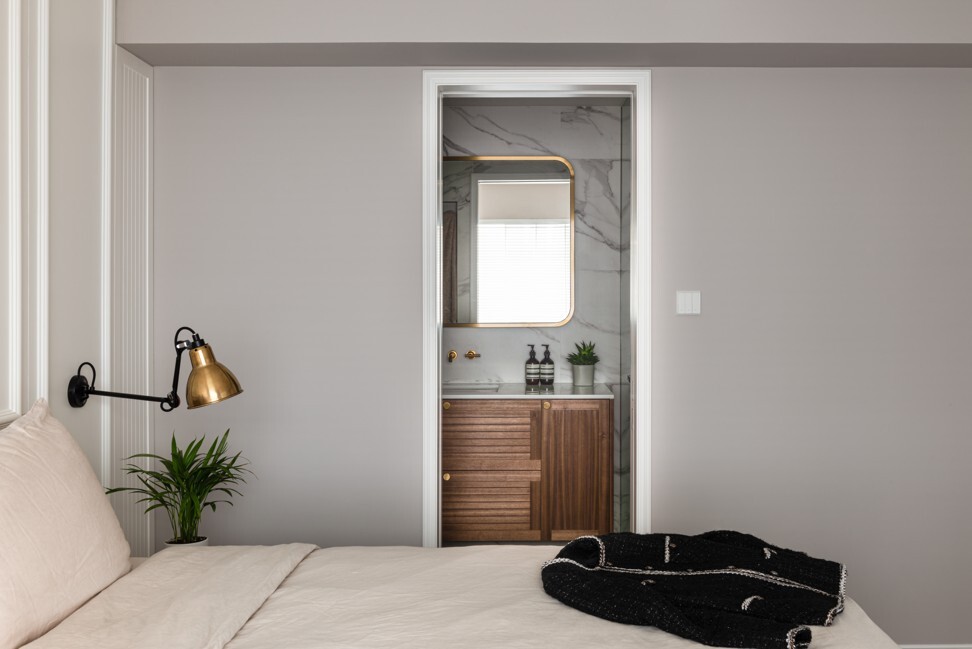 En suite bathroom
The walnut cabinet (HK$15,000) was custom made by hoo, as was the brass-rimmed mirror (HK$8,000). The marble wall tiles were HK$750 each from LS 3. The brass Kohler tap (HK$17,000) came from
Arnhold
.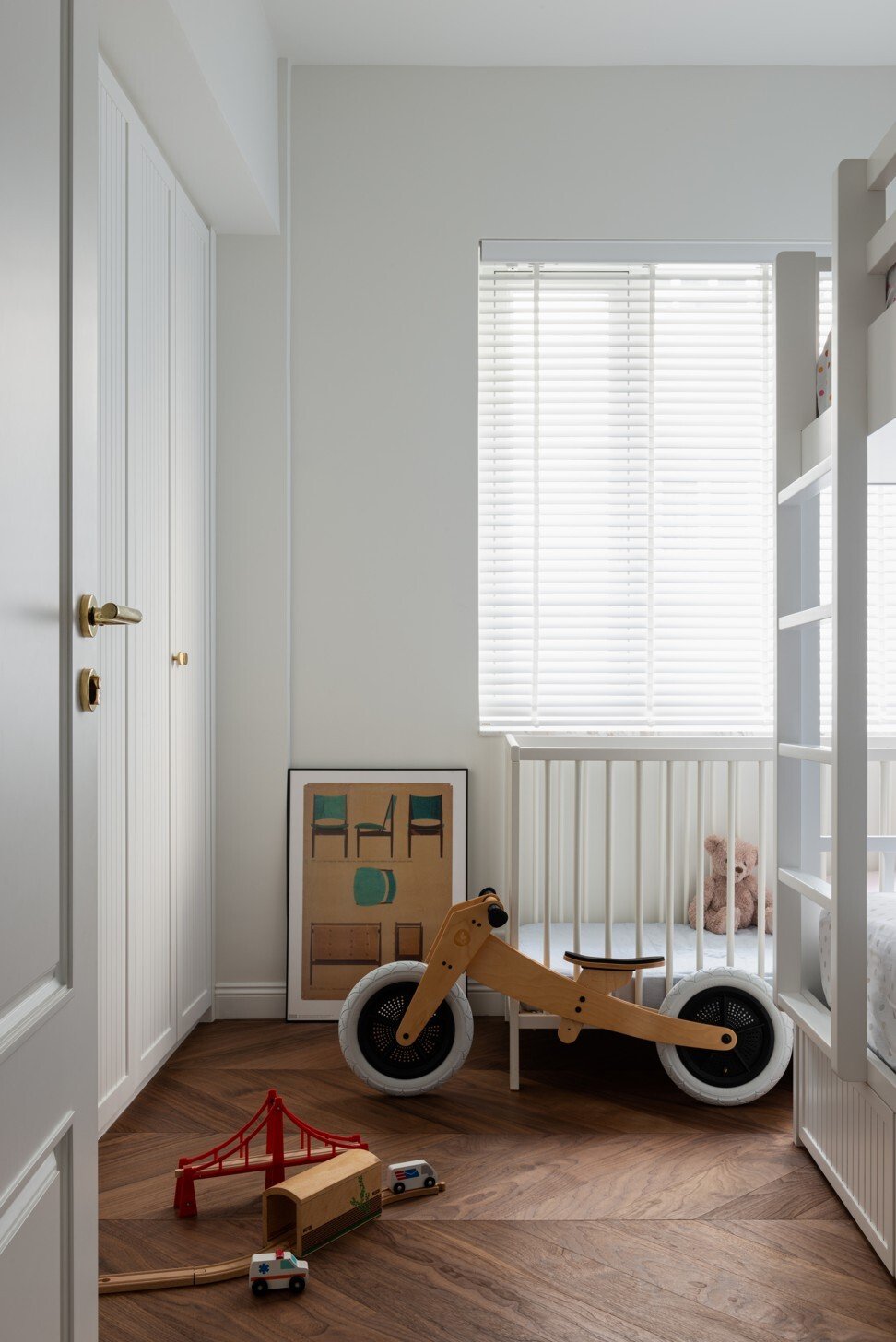 Children's room
The blinds (HK$1,500) were made by May On Decorative Products (37 Fleming Road, Wan Chai, tel: 2598 0031). The poster was from the
Designmuseum Danmark
in Copenhagen.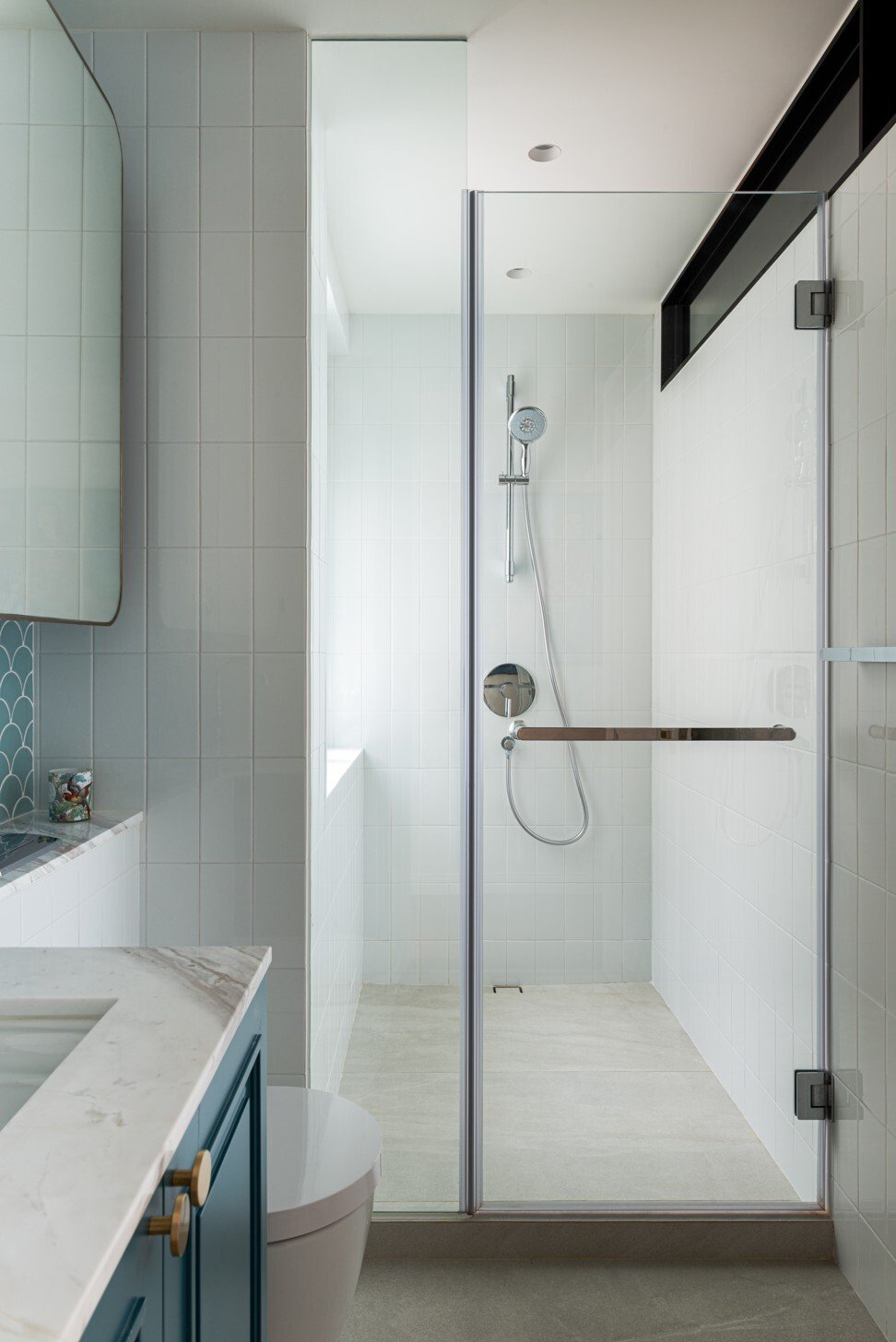 Guest bathroom The teal cabinet (HK$10,000) and the marble countertop (HK$6,000) were custom made by hoo. The shower fittings were from Hop Lung Building Materials (298 Lockhart Road, tel: 2802 2296) and cost HK$10,000.
Tried + tested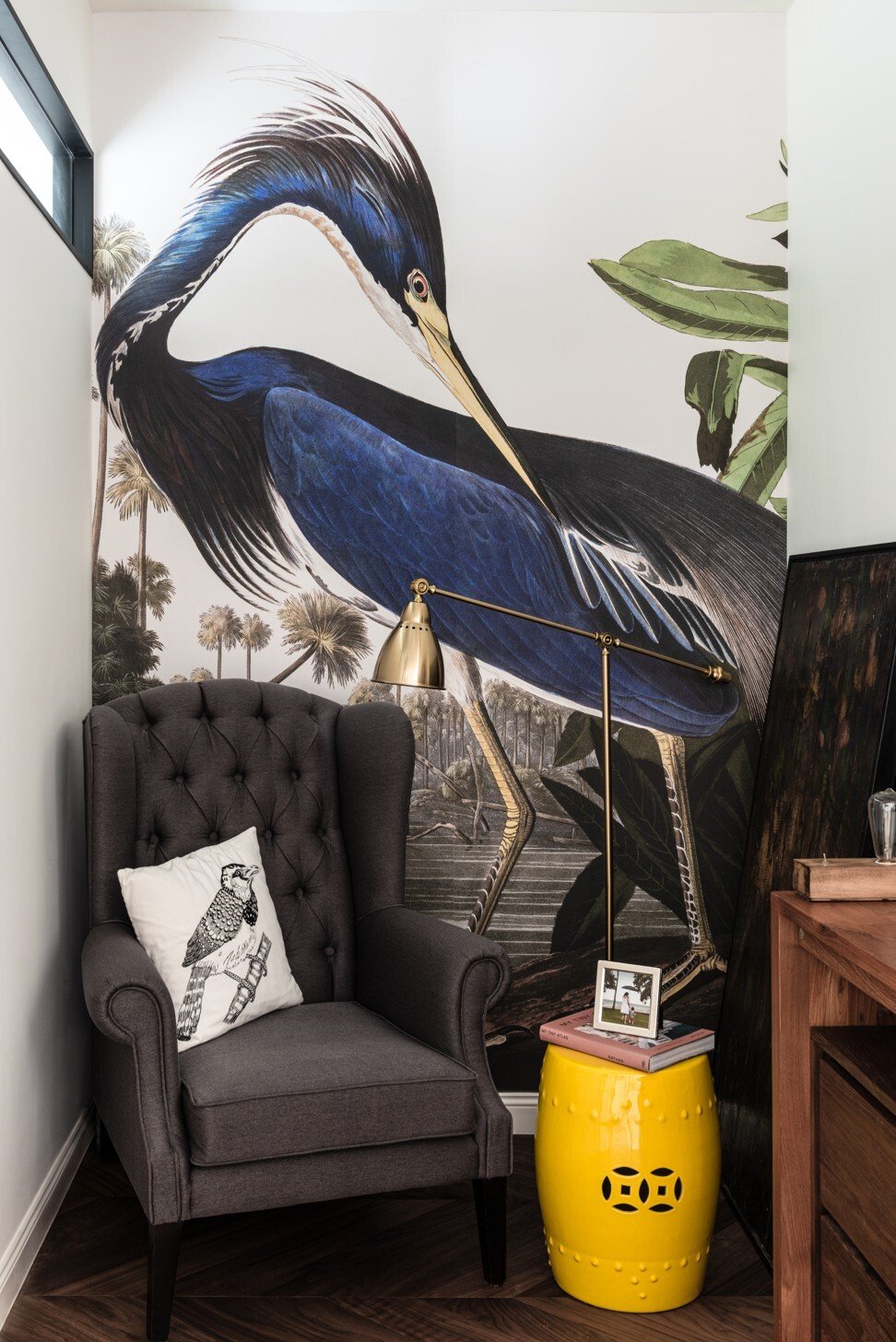 Heron chic
Dramatic wallpaper is particularly effective in small dark spaces, where it can take centre stage and add a personalised touch. In the study, the wallpaper (about US$47 per square metre), from
MuralsWallpaper
, features a print by American naturalist and painter John James Audubon of a Louisiana blue heron, a bird that Andrew Schantz would often see in the marshes of Florida, where he grew up.
This article appeared in the South China Morning Post print edition as: Making light work