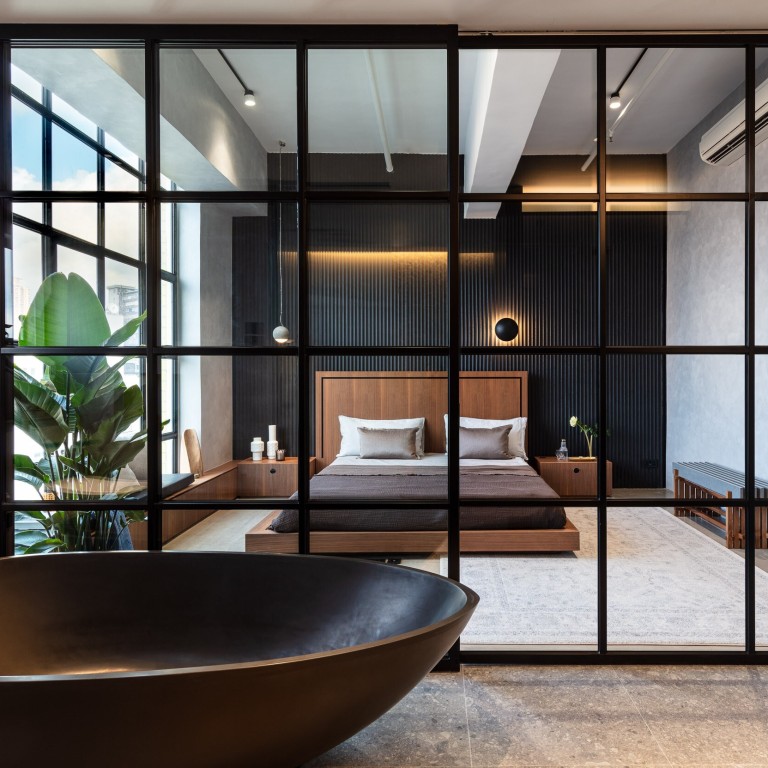 How a Hong Kong interior designer gave a family home a New York-style loft interior
Peter Lampard of DEFT added warmth to the flat's raw, utilitarian aesthetic with rounded edges and natural materials
Originally two units, the formerly lacklustre apartments were given a new lease of life
With its raw, utilitarian aesthetic, industrial-style interior decor has long appealed to discerning urbanites, who prefer concrete to chintz. Hong Kong couple Elena and Jamie McAdam are no exception and when they commissioned Peter Lampard, architect and co-founder of Design Eight Five Two (DEFT), to help transform their newly acquired home on the eastern side of Hong Kong Island, this was the design concept they had in mind.
"'Industrial' is a buzzword but the challenge is finding out what that means for each client and how to translate that into their home," says Lampard. "Elena and Jamie have a young son and a baby so my thinking was 'yes' to industrial, particularly as that would make refer­ence to the location's heritage, but not to the point of being cold, unfriendly or unsafe for children."
The property to be renovated comprised two units that the couple planned to combine. With myriad partition walls, it was initially hard to appreciate the potential, but once Lampard had reduced it to a bare shell, the beauty of the 2,200 sq ft space shone through. With ceilings almost four metres high and an almost ridiculous amount of natural light, the formerly lacklustre flats suddenly had a new lease of life – and that was without any interior decoration.
"The apartment has a very square footplate and it was fantastic to open it up and see it as one vast space," he says.
Lampard drew on traditional industrial elements to create the New York loft vibe the McAdams were hankering after but modified them to fit the young family's needs. He installed banks of black cast-iron-framed windows with low-emission double glazing, and used a resilient, waterproof coating on the hand-plastered Marmorino walls so they could withstand greasy little fingerprints.
He kept the living and dining areas open plan, adding a front kitchen concealed behind a two-metre sliding panel clad in black moulded-concrete. A main, more heavy-duty kitchen lies behind it along with a den-cum-guest room, two bedrooms with en suite bathrooms and the domestic helper's quarters. He also laid polished concrete floors throughout.
"You think the concrete is going to be cold but we added underfloor heating so it's a pleasant surprise when you walk on it with bare feet," says Lampard.
The architect collaborated with neighbouring workshops to customise the apartment's metallic elements and give them local context. Making the industrial look more family friendly is the lack of sharp edges, notably on wall corners and cladding, and the spectacular kitchen island. Topped with veined Carrara marble, it is made of four pieces of copper, which were welded and polished on site, and are rounded on all sides, even at the base.
"The kitchen island is central to the living space so in addition to the desired look it had to have a high level of functionality because there will be little kids running around and playing. We couldn't feature anything that might hurt them," says Lampard, himself a father to a young child. "The craftsman had never done anything like it but it turned out really well."
Although most of the furniture was made to order, Elena and Jamie already possessed several pieces of vibrant art they wanted to incorporate. To avoid clashing colours, Lampard stuck to a neutral palette. He kept most of the finishes black but balanced them with warm walnut and oak. This allowed both the art and the materials to speak for themselves without one overpowering the other.
While the McAdams' main bedroom and bathroom are an exercise in indus­trial chic, their son Taylor's room is a child's dream. A large platform bed is wrapped on two sides by a heavy hammock-style net – a novel, more fun alternative to safety rails, with an open invitation to climb. The steps up to it contain storage drawers while beneath it is a wardrobe and a study nook. A mezzanine space at the other end of the room features timber flooring segments backed with cushioning, which can be turned over at will to give the choice of a soft or hard surface.
"Everyone loves this bedroom but it was only possible because of the high ceilings," says Lampard. "This was such a great project to work on because of the nature of the property, which allowed so many creative options, but also because my clients were very receptive to some of my more experimental ideas."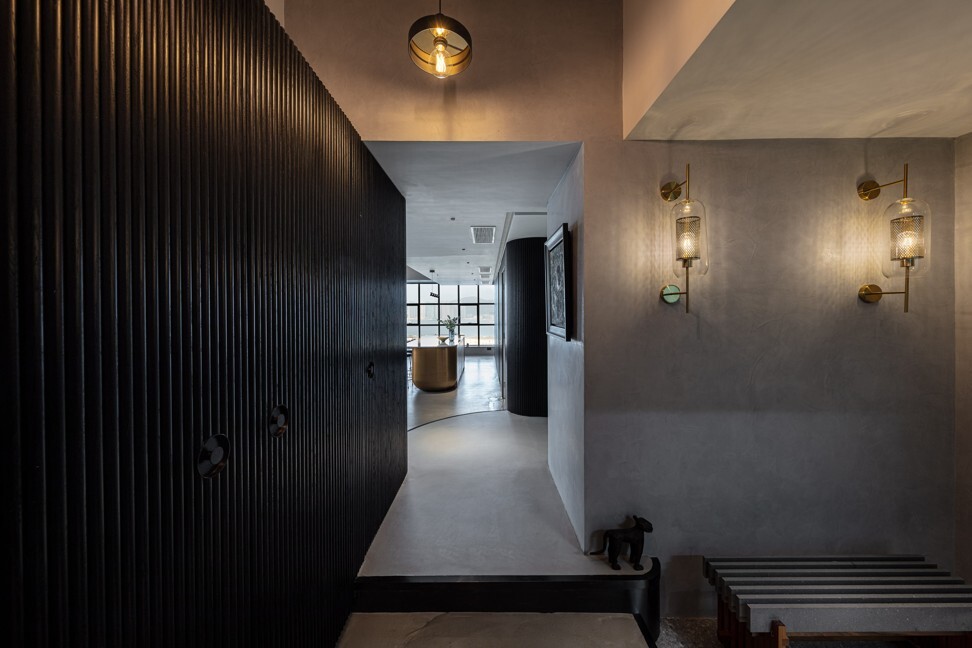 Entrance A minimal entrance hall features a slatted bench designed by Peter Lampard of DEFT and made by Hardwood HK. The ceiling light was from Arkos Light and wall lights from Tudo and Co.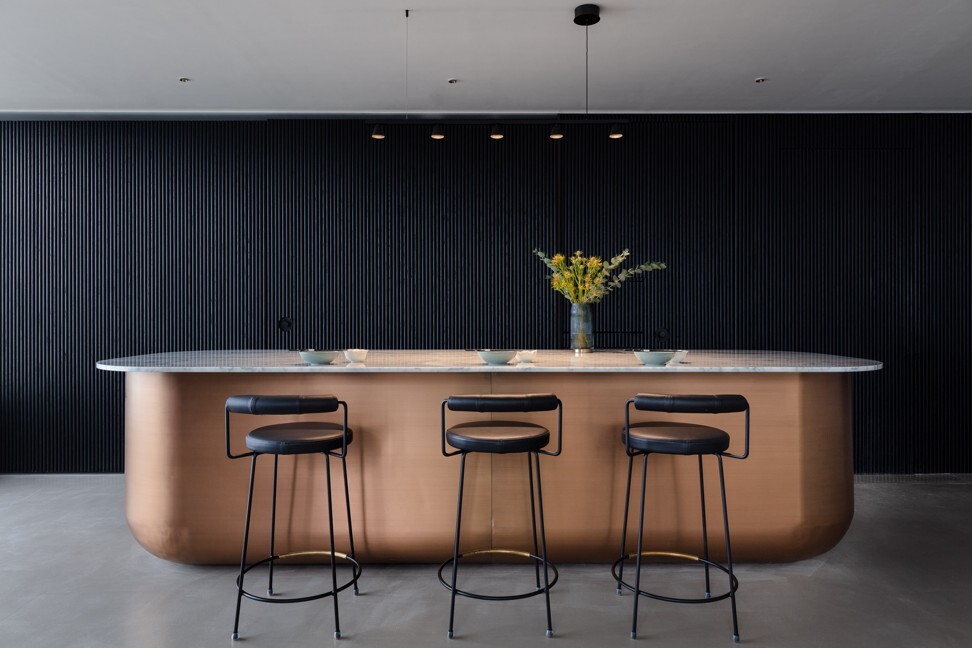 Kitchen island The copper and Carrara marble kitchen island was designed by DEFT and made by Wai Lam Kitchen (tel: 9661 3890) with bar stools by Grazia & Co. The black concrete panelling from Concrete LCDA slides across to access a small front kitchen. The lighting came from Arkos Light.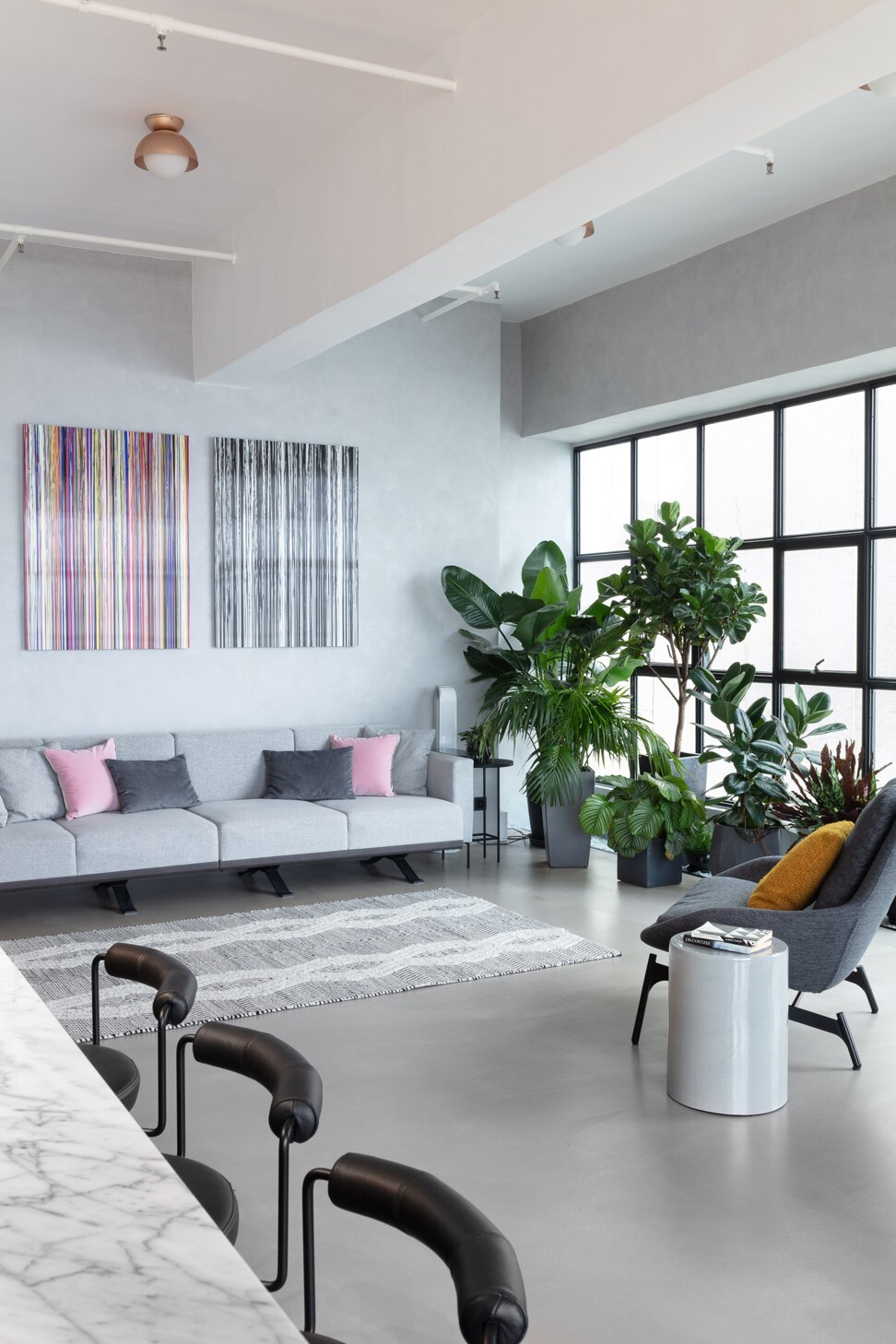 Living area Peter Lampard of DEFT kept the apartment's colour palette neutral so it wouldn't overpower the artwork by Pascal Dombis. The art hangs above a custom-made sofa by DSL Furniture at one end of the main living space.
The rug was from Miss Amara and the white cylindrical stool table was from a local antiques shop. The ceiling light was custom made by Lightcraft.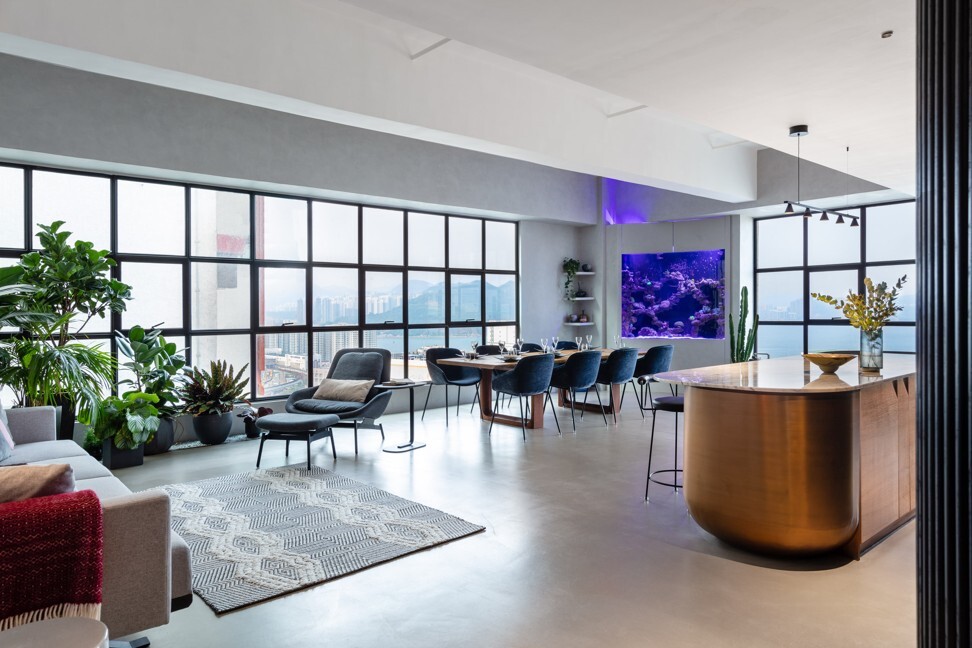 Living area Black cast-iron window frames by Spacious Design Consultants (Yuen Shing Industrial Building, Cheung Sha Wan, tel: 2770 7303) make reference to old industrial buildings and allow natural light to flood the apartment. The armchair and footstool were by Archetypal and the side table came from BoConcept.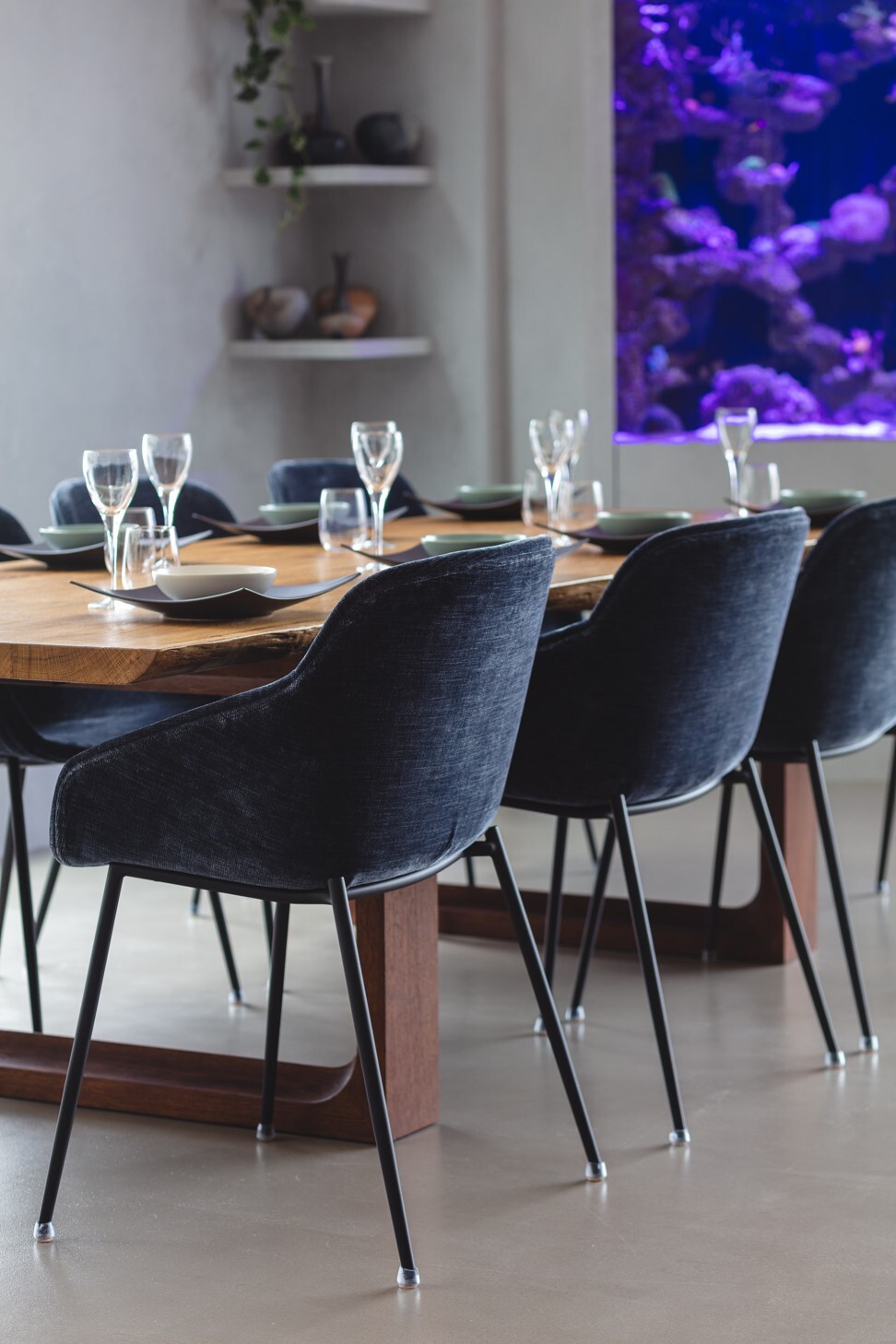 Dining area A fish tank from RedFin Aquarium Design provides a vibrant pop of colour in the dining area. The oak dining table with walnut base came from Hardwood HK and the dining chairs were from BoConcept. The corner shelves were designed by DEFT and built by Spacious Design Consultants.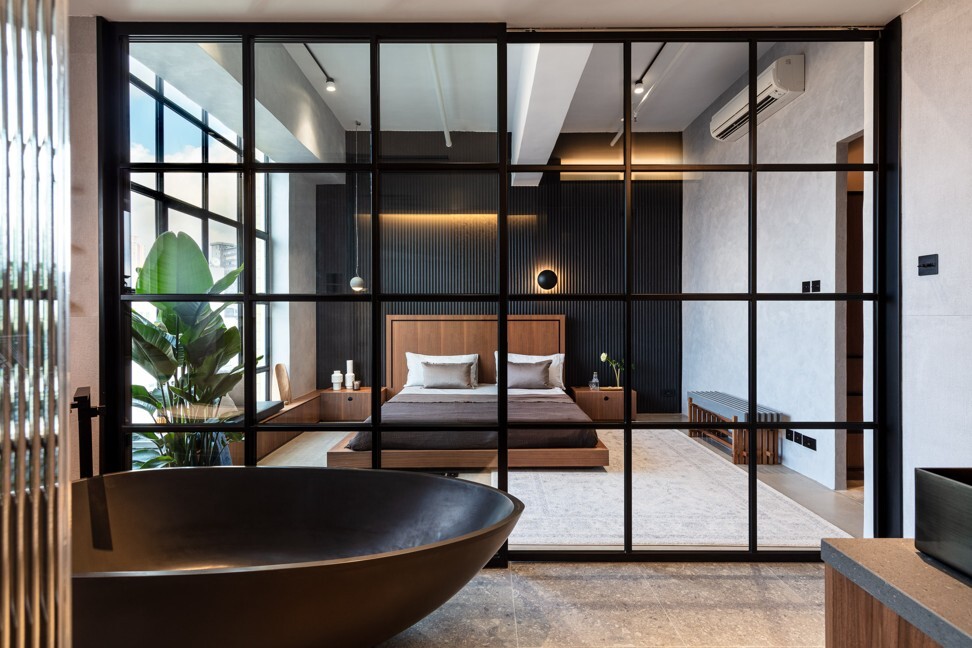 Main bedroom The bed, bedside tables, bench, bath and sink unit in the en suite bathroom were all designed by DEFT and built by Spacious Design Consultants. The hanging pendant light was from Colourliving and the sconce behind the bed was from Arkos Light. The rug was from Miss Amara.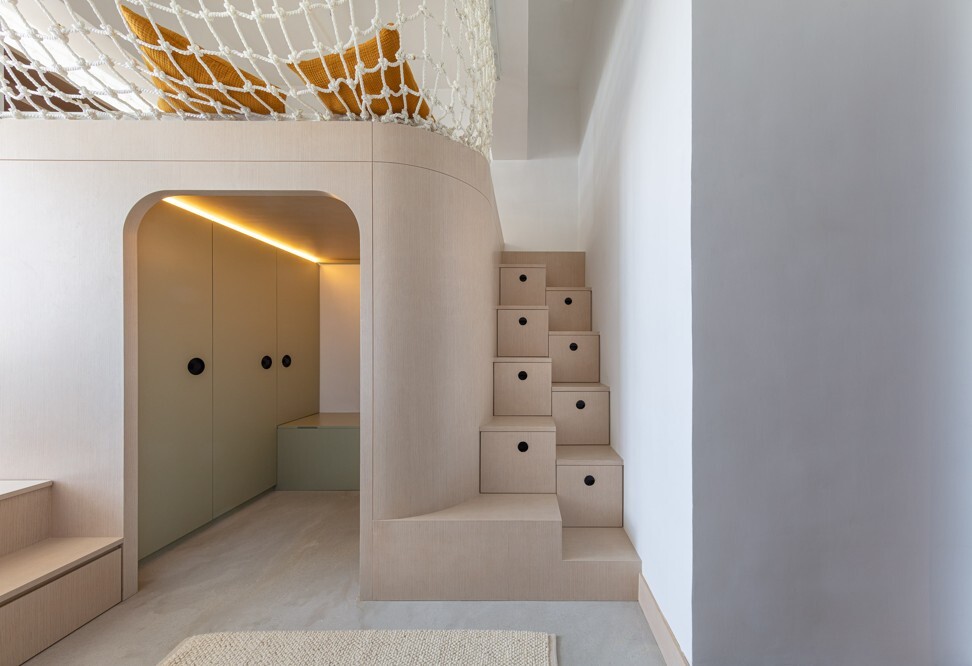 Son's room Taylor's bedroom features a platform bed with net surround and storage built into the wood veneer steps providing access. It was designed by DEFT and built by Spacious Design Consultants.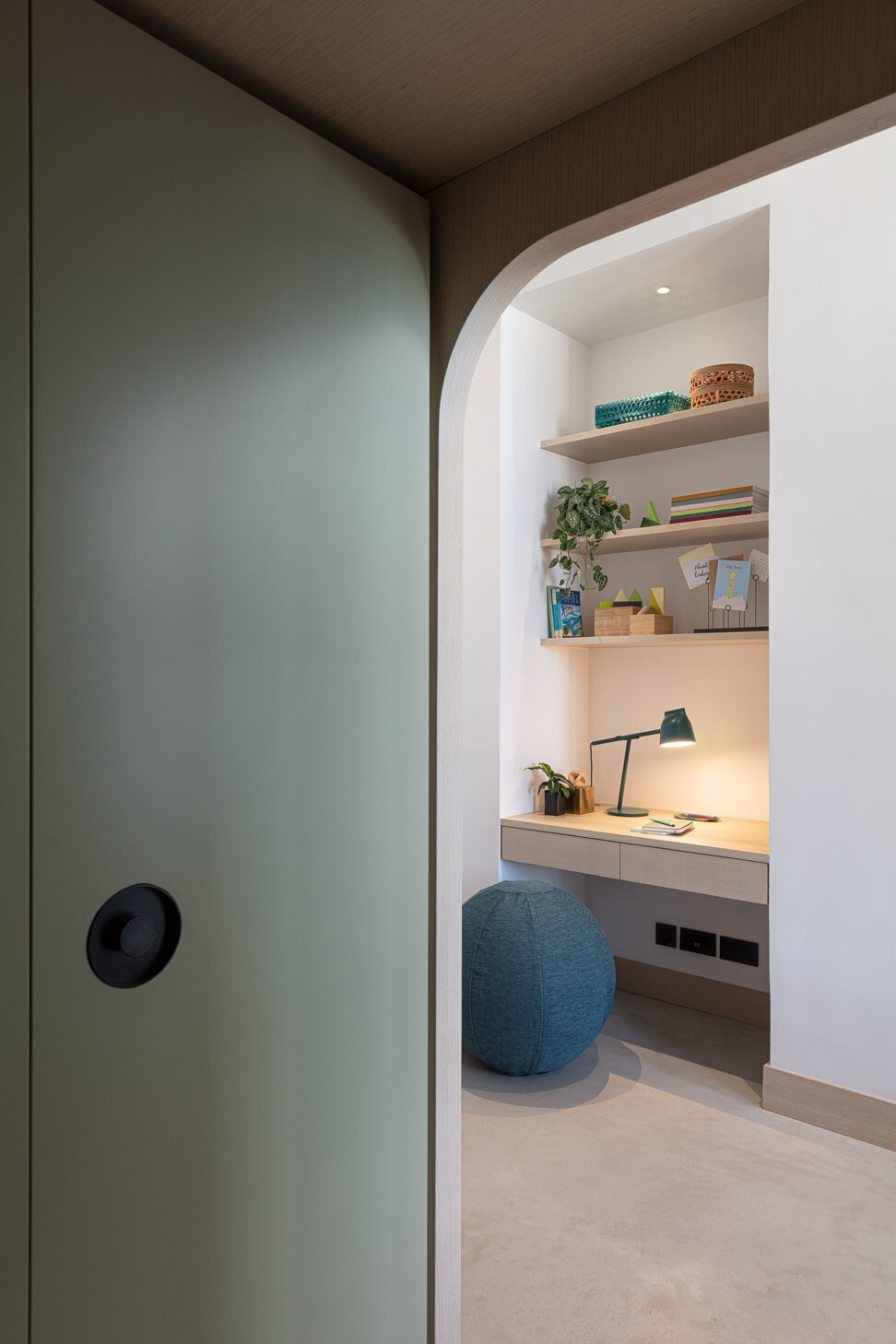 Son's room detail Thanks to the high ceilings, a private study nook fits comfortably under the platform bed. The round seat came from Homeless and the desk lamp was by Nature Evolution.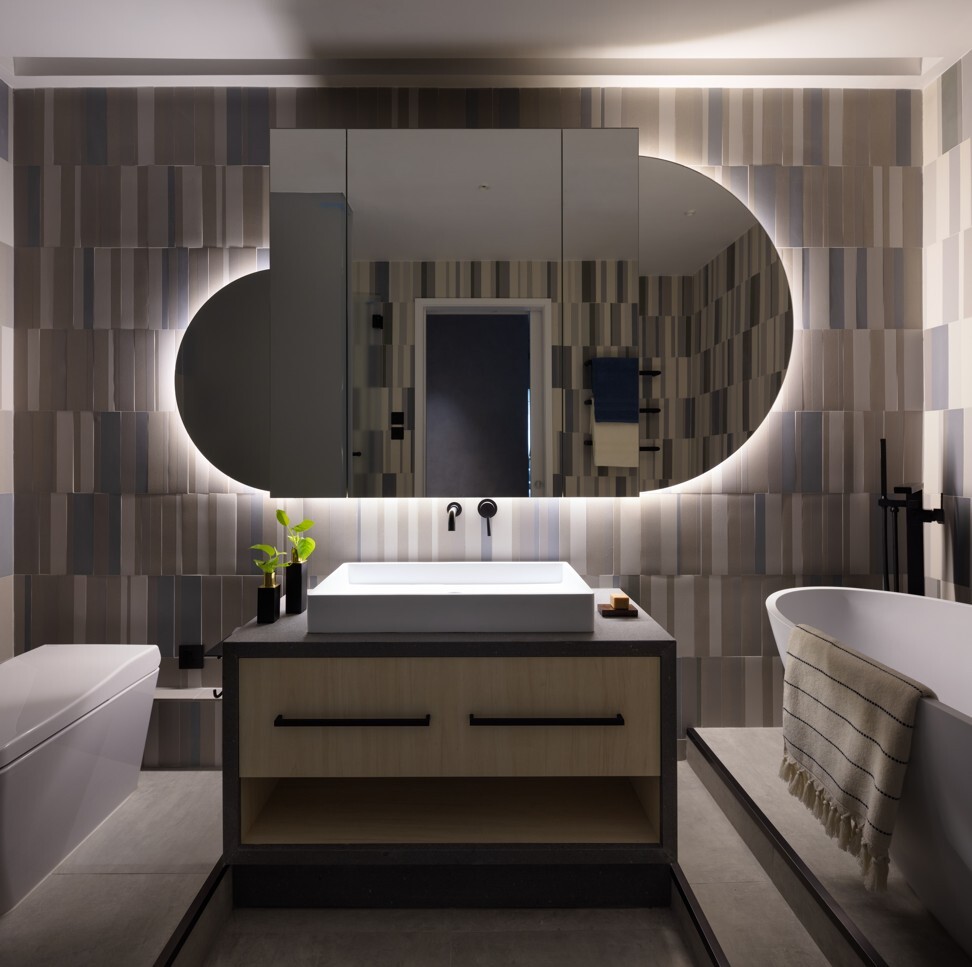 Son's bathroom The en-suite bathroom, including the mirror, was designed by DEFT and built by Spacious Design Consultants. The tiles in graduating colours from cream to grey were by Mutina.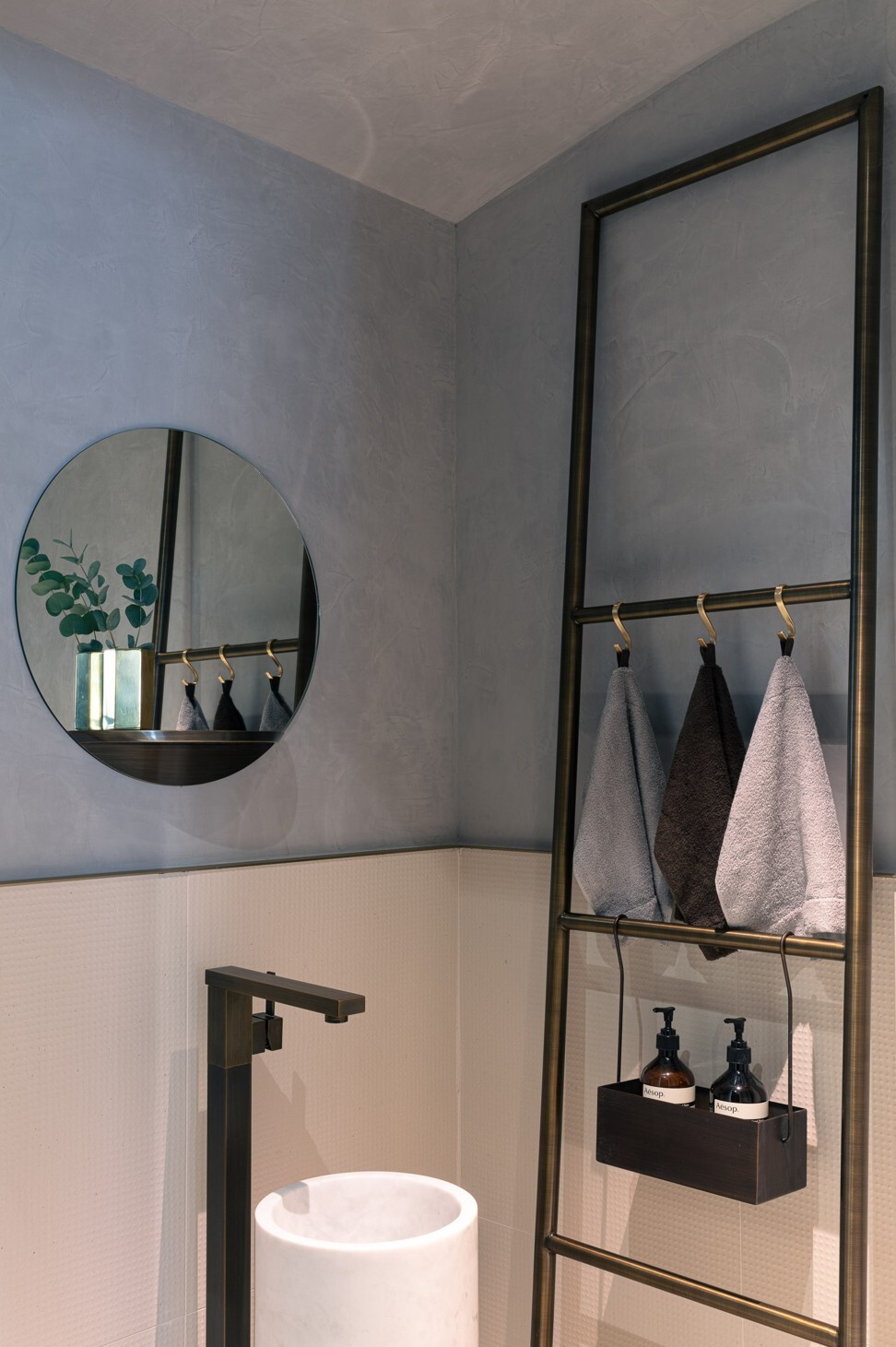 Guest bathroom The sink was by KKR (kkrbath.com). The tap was bought through Taobao (taobao.com). The circular mirror and ladder hanging system were designed by DEFT and built by Spacious Design Consultants.
Tried + tested
Bright idea Peter Lampard positioned the television den in the only corner of the apartment that didn't have windows. To make it feel less claustrophobic, he installed a CoeLux skylight that uses nanotechnology to mimic natural daylight, giving the appearance of the sky and sunshine even though the apartment isn't on the top floor.