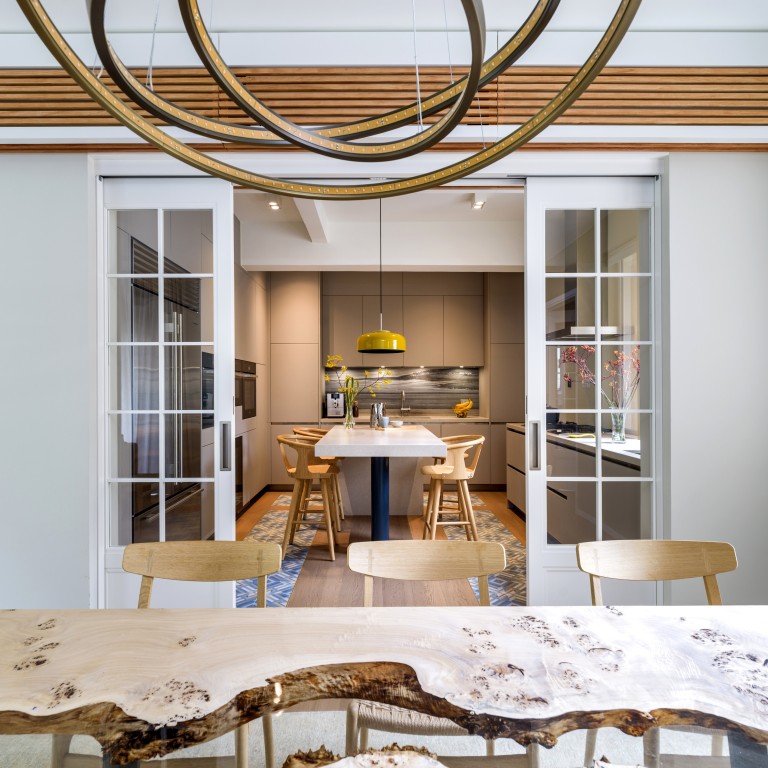 Comfort and style perfectly balanced in Hong Kong family home that brings nature indoors
Jessica Berman and husband Douglas Aitken's 2,200 sq ft flat in South Bay hadn't been renovated for decades, but it had 'great bones and a wonderful floor plan'
French architect Damienne Joly's design concept embraced nature with its muted colours of green, soft sand and light blue and use of wood and stone
Sometimes a place gets under your skin and nowhere else feels like home in quite the same way. For Jessica Berman that place is Hong Kong, and more specifically, a complex in South Bay in southern Hong Kong Island. She lived there from the age of 10 and when she returned after tertiary studies in the United States her parents were still living there. Years later, when a 2,200 sq ft flat in the same development came onto the market, Berman and her husband, Douglas Aitken, wasted no time in buying it.
"The blocks were built in the 1960s so the apartments all have wonderful high ceilings and are very spacious," says Berman. "We have the beach in front of us and the mountains behind, which I took for granted when I was a kid. I grew up being able to walk to school and I wanted my children [aged 18, four and two] to have the same experience of living on the Southside."
Freely admitting she has little design imagination, Berman immediately turned to French architect and interior designer Damienne Joly, of [studio] basalte, who had previously refurbished homes for other members of her family. The couple's new home hadn't been renovated for decades, so Joly gutted it and started from scratch.
"The apartment has great bones and a wonderful floor plan," says Joly. "It is two interlocking squares: the front one contains all the communal areas and the back one the three bedrooms and the two bathrooms. There was no point changing the layout because it worked so well for the family."
She did, however, create an entrance hall by using a large multipurpose cabinet to partition off the front door from the living space, keeping it open on both sides to allow light in and both air and people to circulate around it.
Joly also altered the kitchen. Walled off from the living and dining rooms, it had one window and a small door, was relatively dark and felt separate from the rest of the home. Although Berman didn't want it entirely open plan, Joly knocked down most of the dividing wall and installed glass-paned doors that allow the kitchen to be shut off when needed but still offer a continuous flow of light and sense of space.
She embedded blue patterned tiles into the wooden flooring around the central island to act as practical alternatives to fabric runners, and spent hours choosing the splashback – a striking piece of blue marble that looks like an abstract image of an island and waves.
"The idea was for the kitchen to become a usable space for everyone and part of the family's daily life," explains Joly. "I think it's fair to say it has now become the heart of the home."
Her design concept was all about bringing the natural world indoors. She found a stunning dining table in which wood bisected by a ribbon of glass brings to mind a flowing river, and incorporated wood and stone details into the master bathroom to echo the mountain view from the window. She used a muted palette throughout – hints of green, soft sand and light blue – but when she suggested featuring all three colours in the main living and dining areas, initially Berman and Aitken weren't sure.
"Doug and I thought it sounded strange – if left to our own devices, we would have painted all the walls white – but it was my dad who persuaded us to trust Damienne and go with it and, of course, he was right," says Berman. "Our home has ended up the perfect balance of comfort and style. I still care if something breaks, but it's not the end of the world. Children need to feel free and comfortable – there's more to life than being precious about your possessions."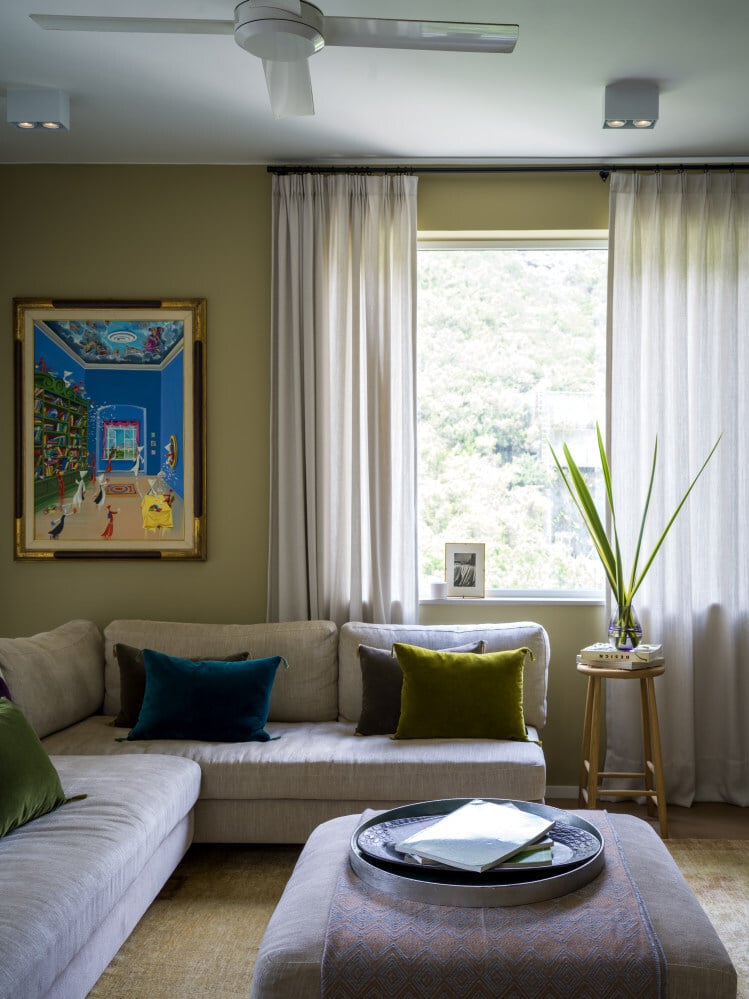 Sitting area The sofa and ottoman were designed by Damienne Joly of [studio] basalte (studiobasalte.com) and made by Tony Sofa (3/F, United Industrial Building, 50 Heung Yip Road, Wong Chuk Hang, tel: 2895 3291). The large tray was from Indigo Living (indigo-living.com). The artwork is by Uliviero Ulivieri and was bought in Florence, Italy, from Galleria D'Arte Faustini (galleriafaustini.it). The ceiling lights were from I. Lighting & Switches (388 Lockhart Road, tel: 2803 5012) and the fan came from e Lighting (elighting.asia).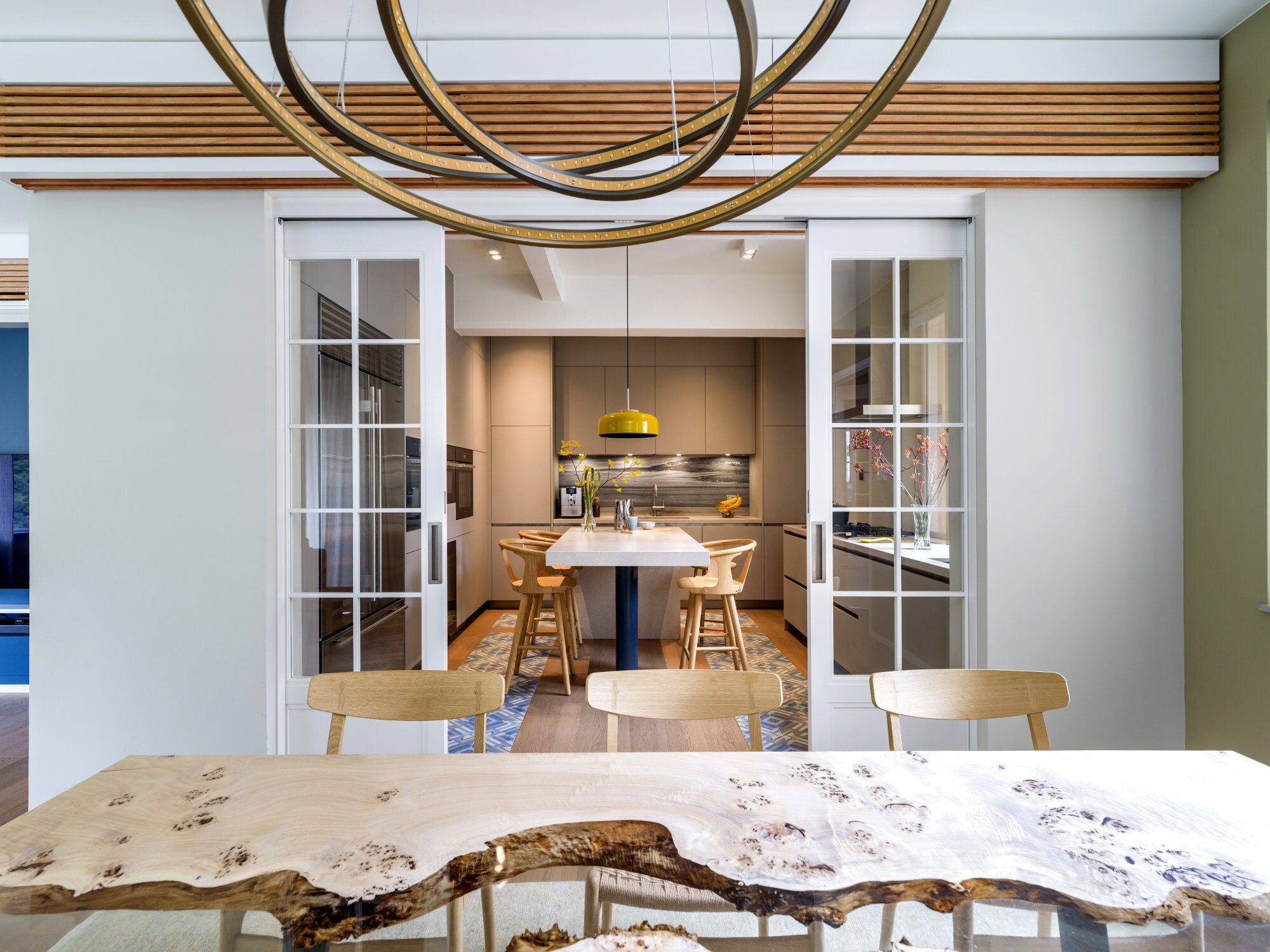 Kitchen and dining area The Poplar River dining table was by Alcarol (alcarol.com) and the Cascade pendant light by Le Deun Luminaires (ledeun.com). In the kitchen, the counter stools were by FDB Møbler (fdbmobler.dk) and the Mutina Azulej floor tiles were from Anta Building Material Supplier (antahk.com). Smoked oak, from 998 Flooring (271 Lockhart Road, Wan Chai, tel: 2951 0898), has been laid throughout the apartment.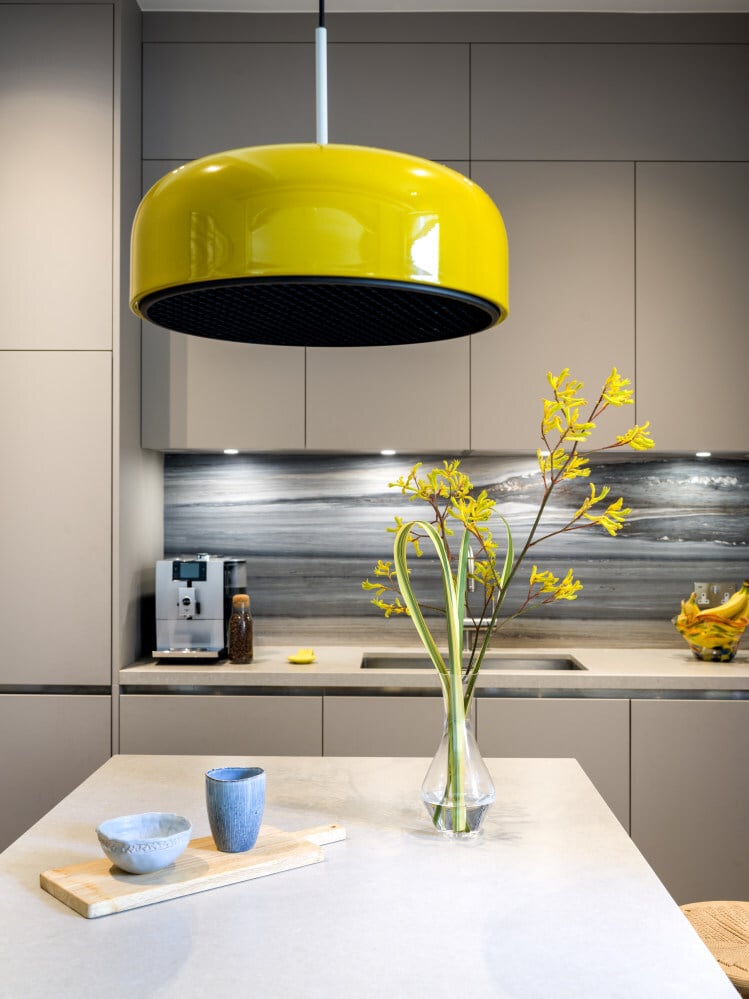 Kitchen Patata Kitchen (patata.com.hk) supplied the kitchen. The turmeric Podgy pendant light was from Please Wait to be Seated (pleasewaittobeseated.com) and the palissandro blue marble slab, used as a splashback, came from Ka Shing Marble Contractors (1132 Canton Road, Mong Kok, tel: 2396 6368).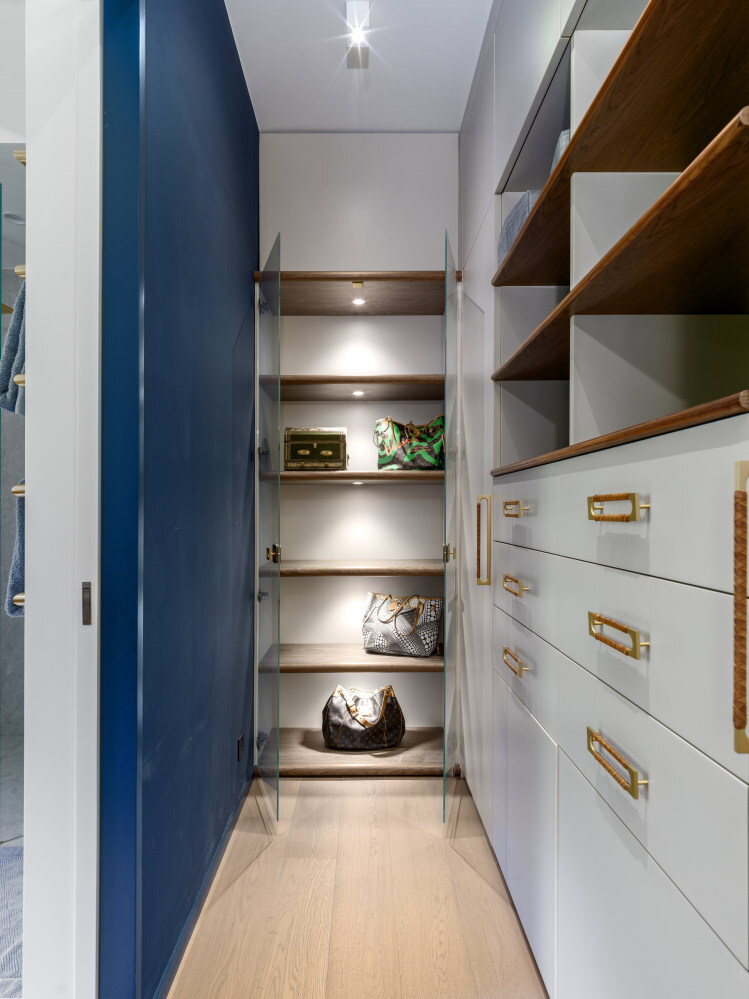 Walk-in wardrobe Dedicated handbag storage means Jessica Berman no longer has to rummage through cupboards to find a particular bag. Along with the storage and other wardrobes throughout the flat, this feature in the main bedroom was designed by Joly and made by Mede Design (mede.com.hk).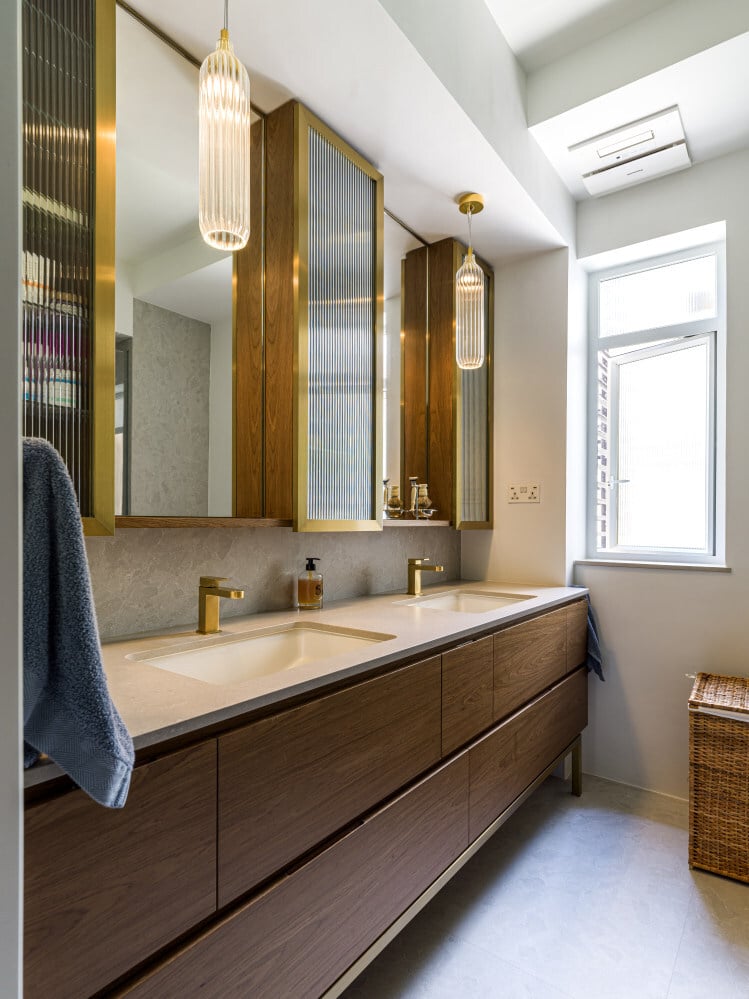 Main bathroom Wood and stone were used predominantly in the main bathroom to reflect the mountain view outside. The Eme tiles by Living Ceramics were supplied by Anta Building Material Supplier and the Flute pendant lights were by Tom Kirk Lighting (tomkirk.com). The mirrored wall cabinets and sink unit were designed by Joly and made by Mede Design.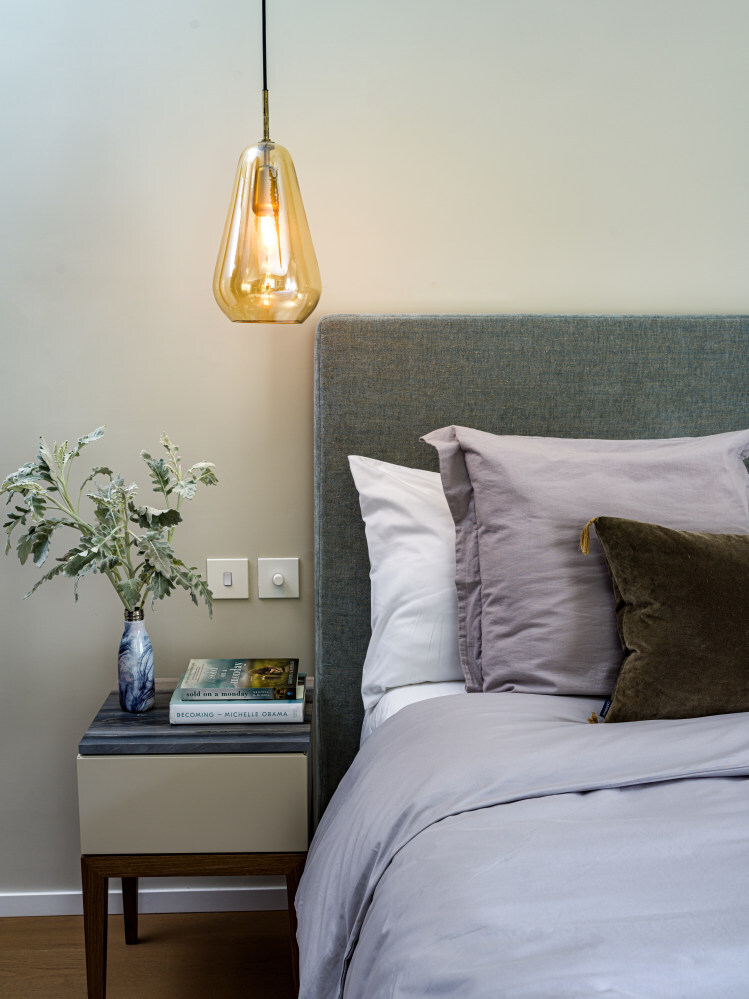 Main bedroom The bed was designed by Joly and made by Tony Sofa. Joly also designed the bedside tables, which were made by Mede Design, incorporating offcuts of the palissandro blue marble slab used in the kitchen. The Anoli pendant light was from Nuura (nuura.com).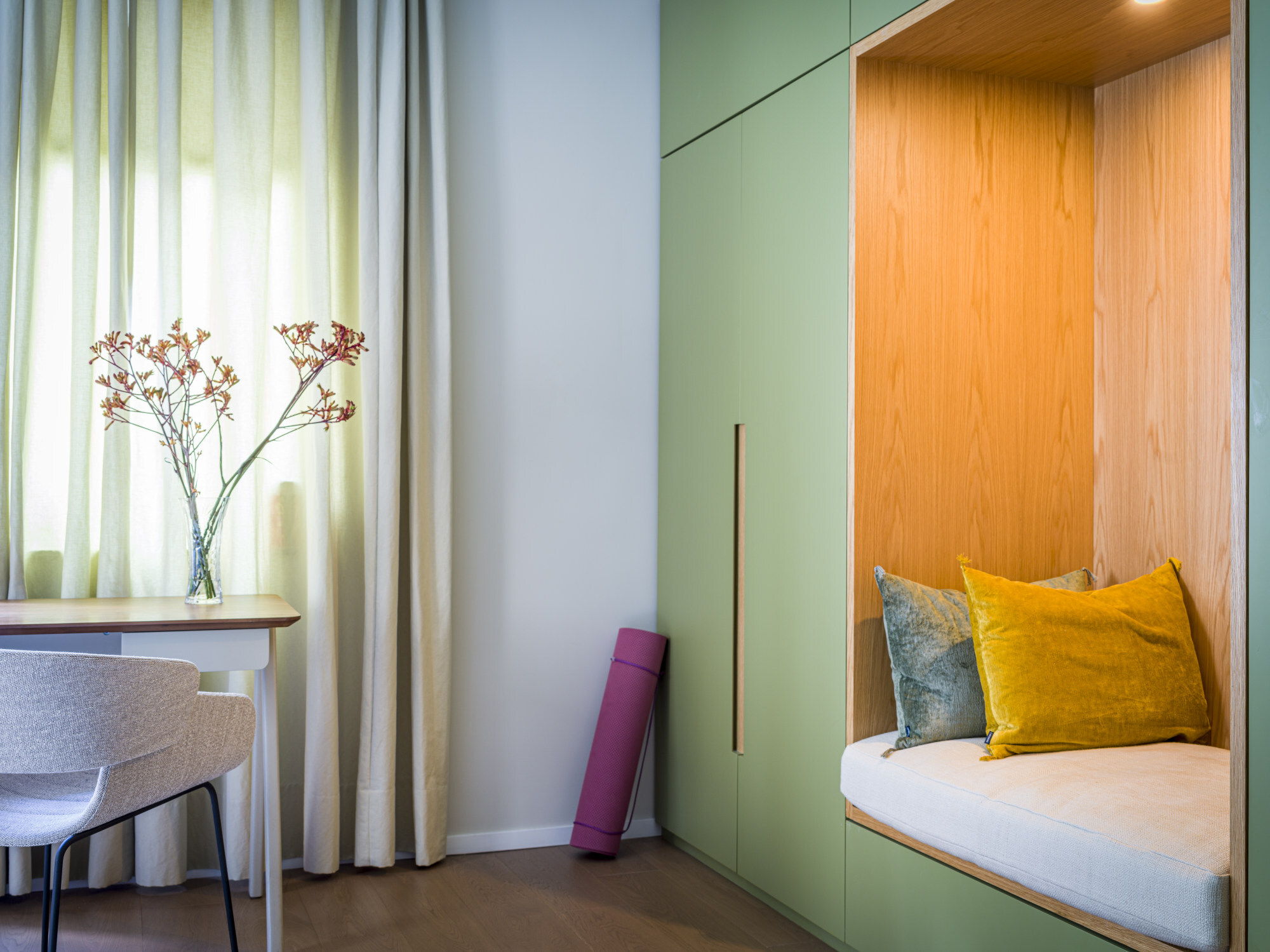 Teen's room Designed by Joly and made by Mede Design, the reading niche in a young adult's bedroom makes a fantastic place for little siblings to hide. French company Caravane (caravane.fr) made the cushions. The curtains were from Classical Curtain (classical-curtain.com). The Racer chair and Stash desk, in walnut with grey stained legs, are by Blu Dot and came from Archetypal (archetypal.hk).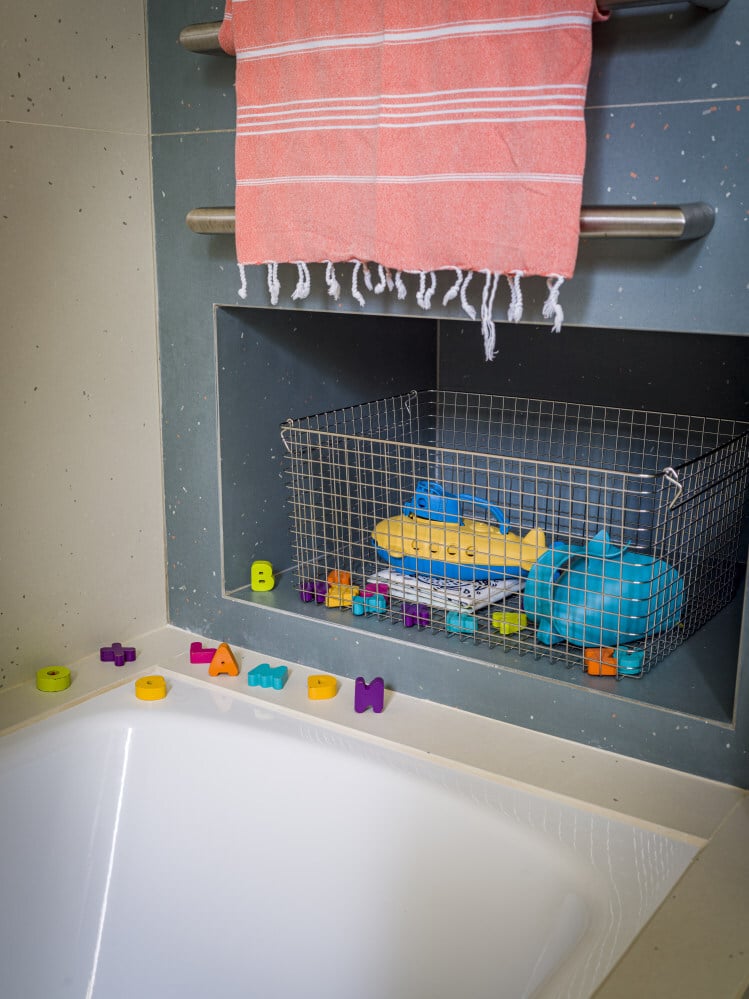 TRIED & TESTED
Toy store A teenage girl and two toddlers share the second bathroom and Damienne Joly was tasked with creating an arrangement that would keep all three happy. She built a niche into the bathroom wall and furnished it with two wire baskets from Muji (muji.com). One keeps the bath toys in check and allows them to dry out; the other (not pictured) contains all the lotions and potions a teen needs.