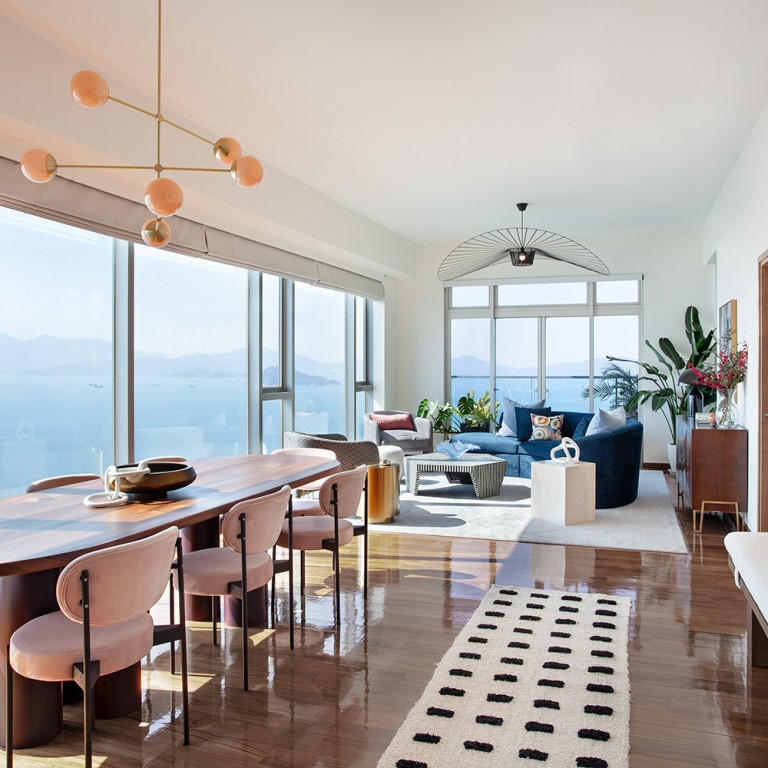 Bespoke furniture, statement lighting give Hong Kong duplex with a sea view the wow factor
Designer Ana Foster-Adams helped a couple transform their 2,000 sq ft rental flat with statement lighting and artisan items from around the world
Curved pieces such as a semicircular sofa balance out geometric lines in the living room, and walls were kept neutral so they didn't compete with the view
A long ferry ride can be an ideal time for catching up on texts and emails but, as Gigi and Roman Hunter found, it pays to take a screen break.
Travelling back to Hong Kong's Central district from a trip to Lamma Island, they spotted a cluster of flats overlooking the water near Kennedy Town at the western end of Hong Kong Island and felt they would make an ideal location for a home.
Since the couple were looking to move, they did some digging and found an old online listing for the development. They contacted the property agent but were told that units in the complex rarely came up. Two weeks later, the same agent called to tell them a tenant was breaking his lease and asked whether they were still interested. They signed immediately.
At 2,000 sq ft (186 square metres) and with three bedrooms, two bathrooms and a rooftop, their new duplex was larger than their previous flat. The couple needed to buy more furniture, but their tastes differed and they soon realised they weren't cut out for interior design.
"We aren't very artistically minded and didn't know where to start. I'm not a Pinterest person at all – I don't have the patience and even if I did, I wouldn't know what to do with it," confesses Gigi, who grew up in Hong Kong. "If we'd furnished our apartment ourselves, it would have been nice and comfortable but very safe design-wise.
"We felt it was time to take a risk, invest in some good pieces of art and furniture and do something different, but we needed a professional to help us get it right."
Designer Ana Foster-Adams had transformed the flat of some friends so, following an introduction, the Hunters chose her to give their home that elusive wow factor.
They decided to concentrate their budget on styling the living and dining area downstairs as well as getting Foster-Adams to work her magic on the open-plan family area and the main bedroom upstairs.
"The downstairs space was all about the amazing, unobstructed sea view," says Foster-Adams. "I kept the walls neutral so they didn't compete with it and instead brought in colour and interest through furnishings, art and lighting."
As she couldn't make structural changes, she had to find other ways to soften the 10-metre-long (33 ft long) rectangular living and dining room. This she did by introducing curved pieces such as the bespoke semicircular sofa, rounded armchairs and dining chairs and oval dining table, and balanced them with geometric pieces such as the hexagonal coffee table. Because the sofa was custom made, they were able to choose the comfiest cushions from a range of samples as well as dictate the dimensions.
"The sofa was a big leap of faith for us. We'd never had a curved sofa before and we probably would have gone for an L shape," says Gigi. "You know curved sofas are very stylish because you've seen them in magazines but they never look very comfortable and our objective was to have an inviting home rather than feeling like we were living in a museum."
The lighting was another experi­mental process, with Foster-Adams convincing the couple to go for statement rather than standard matching pieces.
She sourced artisan items from around the world: the handmade, white-plaster pendants in the hallway were made by a Lithuanian artist; the elegant Vertigo Nova suspension light in the living area is from France; a New Zealand design studio made the globes above the dining table.
"The pendant lamps are all sculptural and add another dimension to the main room," says Foster-Adams.
Upstairs, her role was to advise on colour and draw together existing pieces to create a cohesive, stylish look. Foster-Adams reframed an old photographic artwork and used its colours to set the theme in the main bedroom. She also transformed an open space at the top of the stairs into a glamorous lounge, complete with raspberry sofa, wine fridge and custom-made bar to facilitate rooftop entertaining.
"I've got a feeling this will eventually become a play area but for now I smile every time I come up the stairs," says Hunter. "Left to our own devices, we'd never have gone for such bold colours or put these pieces together in a way that works so well. It might seem strange to have an interior designer for a rental apartment but we couldn't have done it without Ana."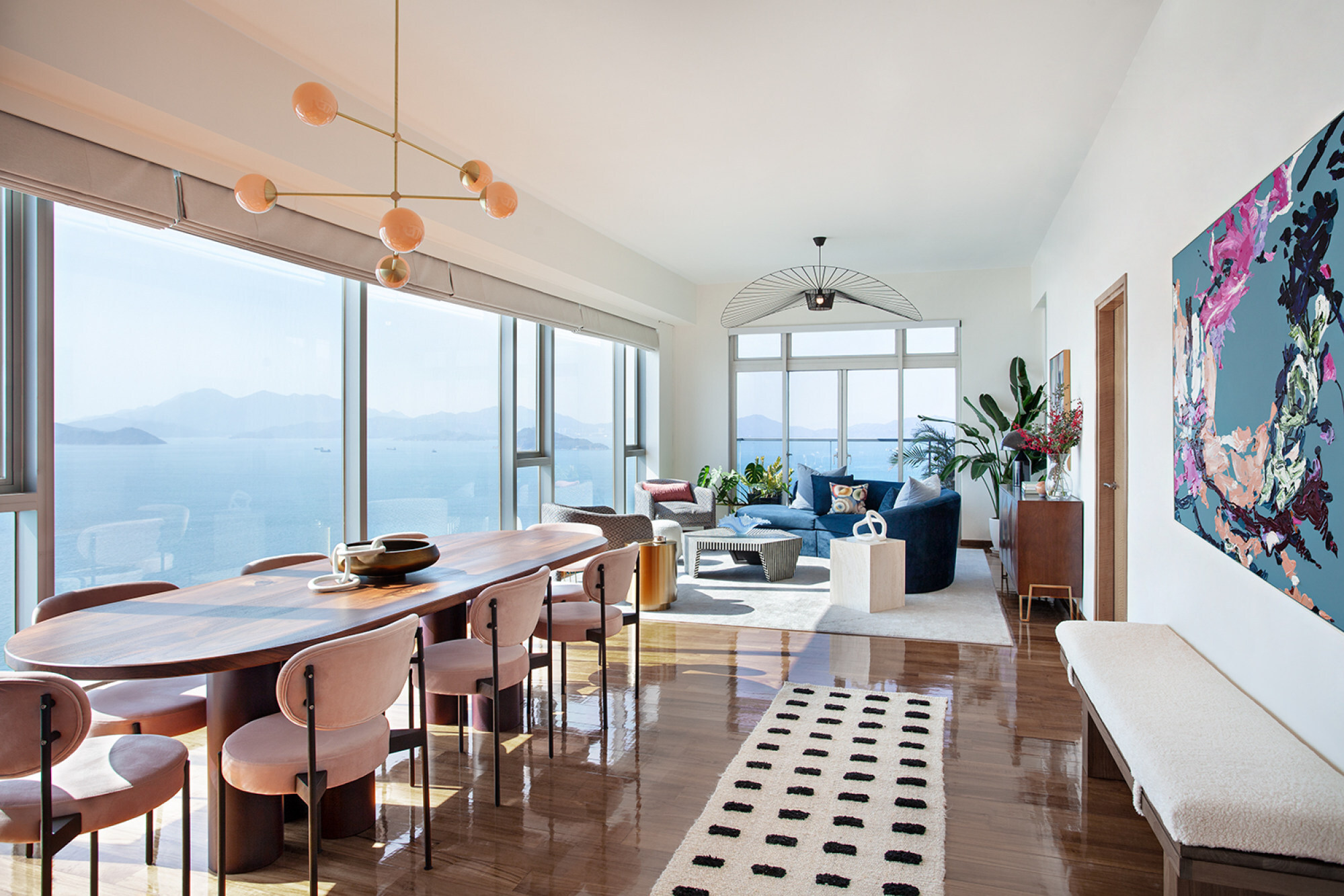 Living and dining area Tenant Gigi Hunter tracked down artist Kerry Armstrong (kerryjarmstrongart.com.au) via Instagram and commissioned a piece of art to reflect the flat's colour scheme. An old bench was given a new lease of life with a sheepskin cushion made by La Maison Curtain & Decoration (134 Queen's Road East, Wan Chai, tel: 2821 9768); the black-and-white wool runner was from Pampa (pampa.com.au).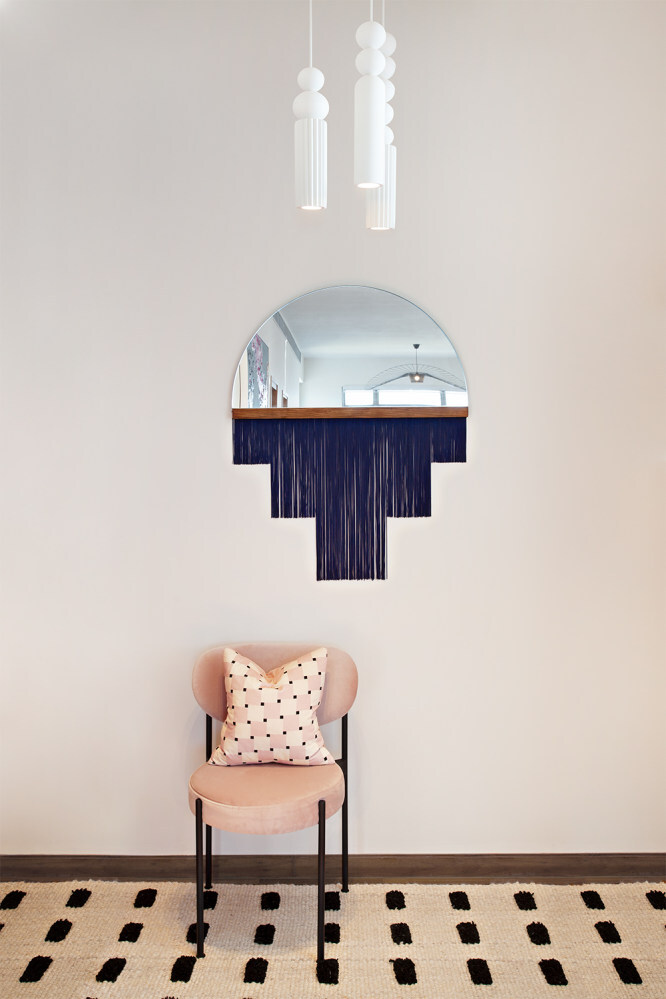 Hallway The bespoke plaster pendant lights in the hallway are by Plaster Studio (plasterstudio.lt) and the fringed mirror came from Lulu Kasa, based in Shenzhen's Design Centre (szdesigncenter.org). The chair was from Fuurn (fuurn.com) and the Laurie cushion from One Nine Eight Five (onenineeightfive.co.uk).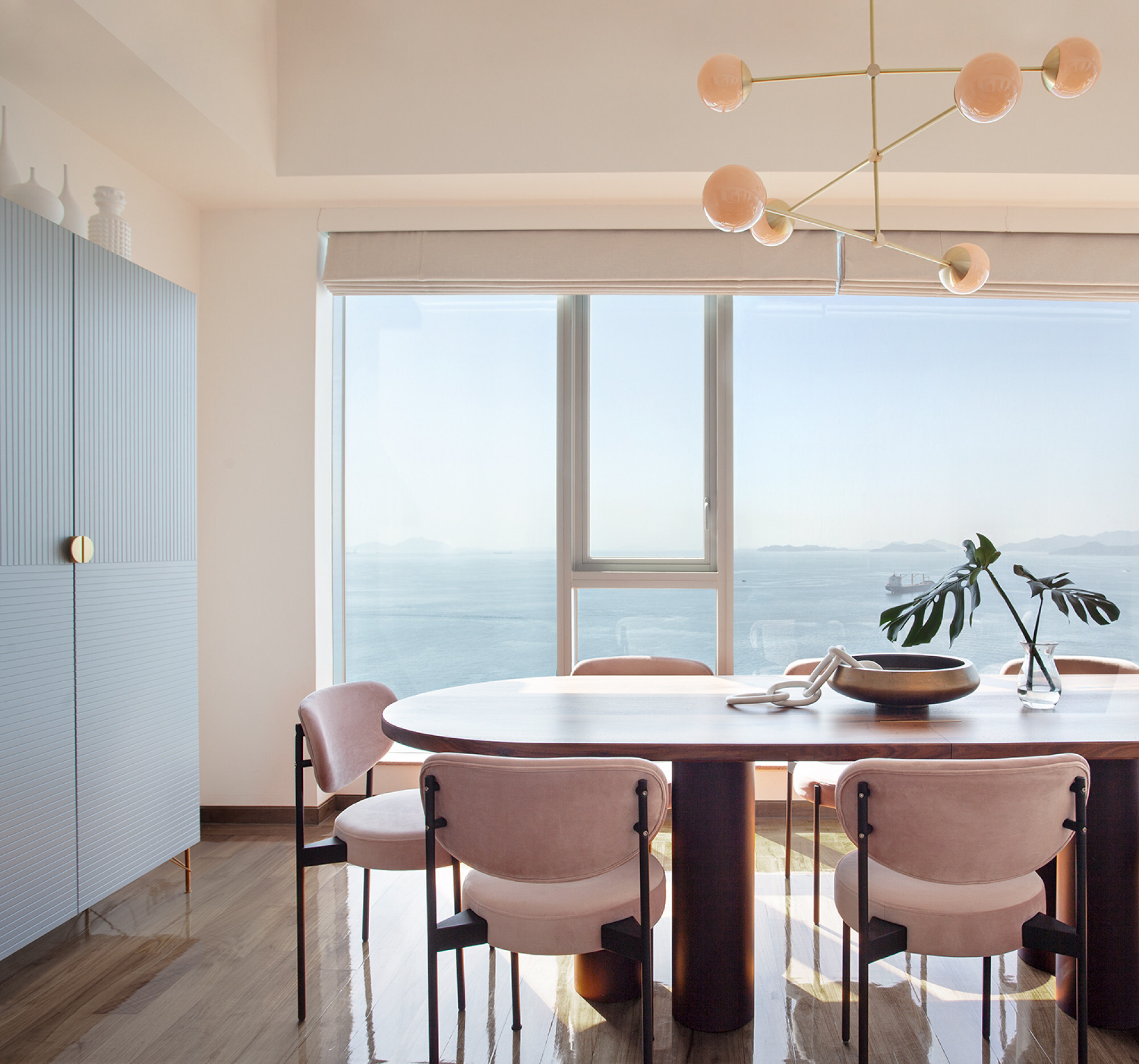 Dining area One of Gigi's favourite pieces – the cabinet in the dining area – is also one of the cheapest. Bought from Ikea (ikea.com.hk), it has been fitted with customised doors by Sprue (sprue.hk). Ana Foster-Adams (anafosteradams.com) also collaborated with Sprue to make the dining table. The white pots on top of the cabinet came from Taobao (taobao.com) and the dining chairs were all from Fuurn. The Line pendant light came from Douglas & Bec (douglasandbec.com).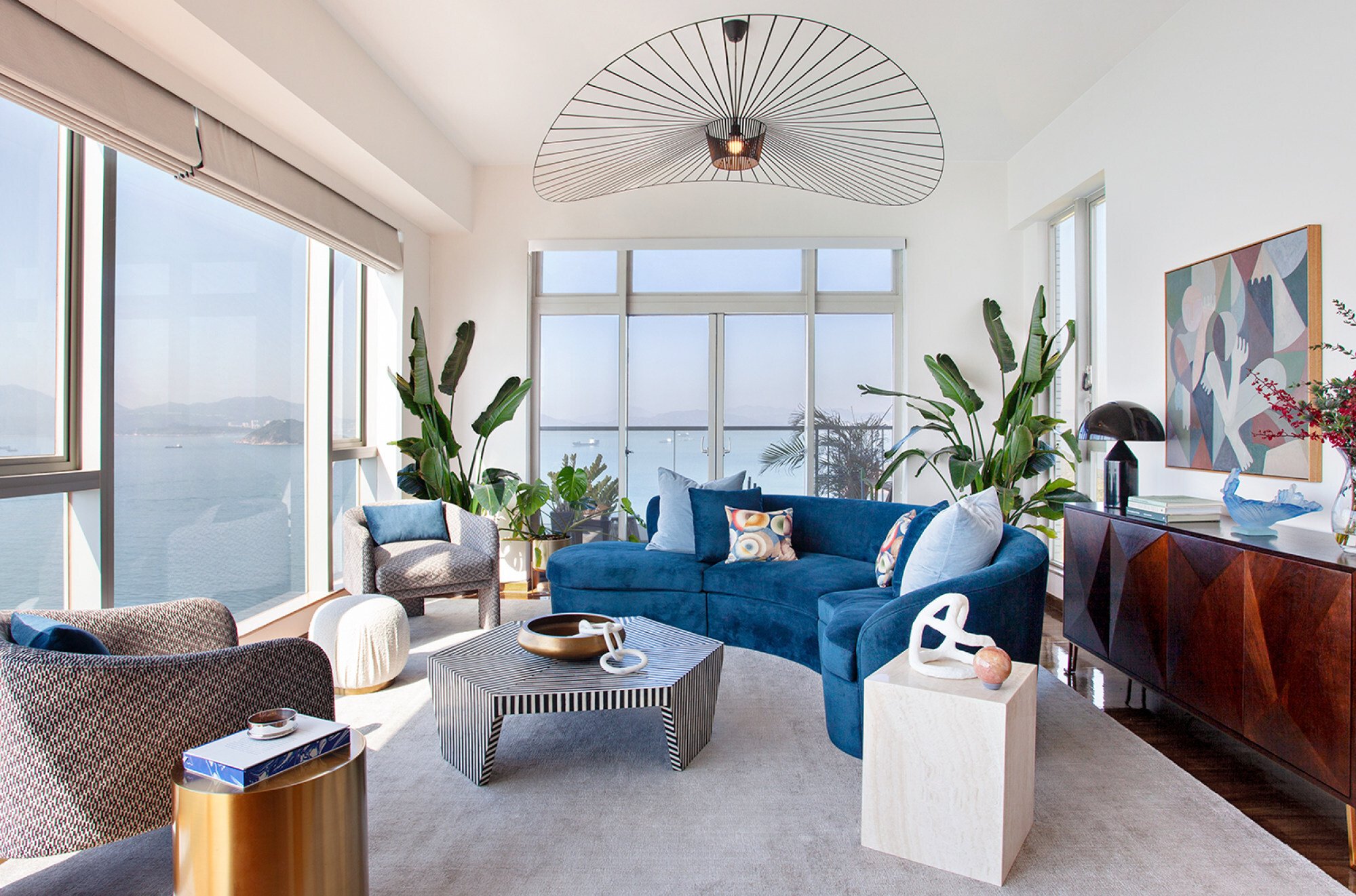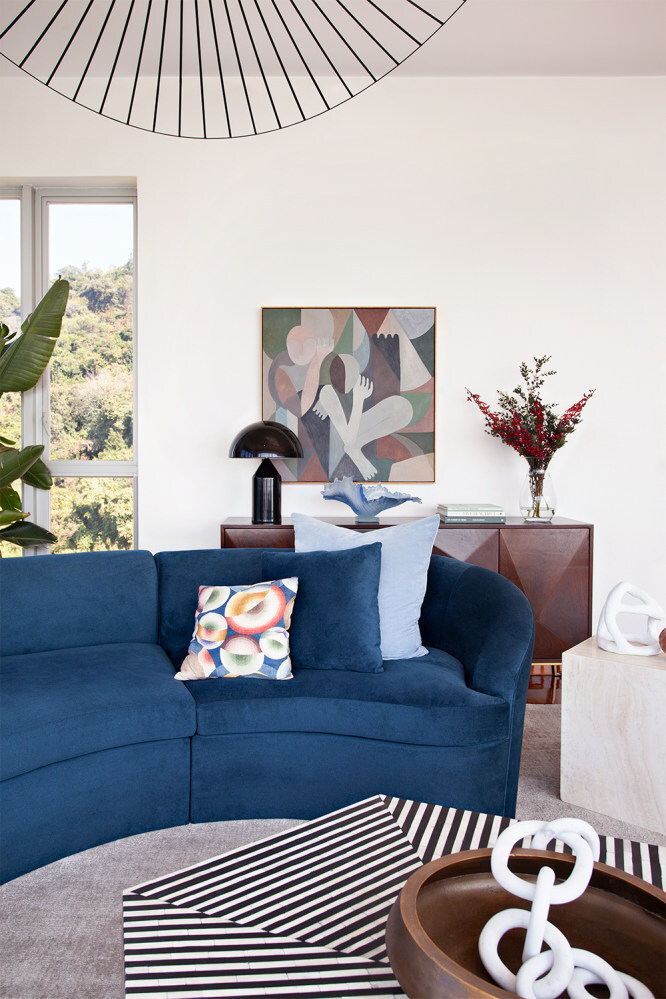 Living room detail The curved sofa and travertine cube side table were designed by Foster-Adams and made by DSL Furniture (dslfurniture.com). The white sculpture on the side table was from Slowood (slowood.hk). The inlay coffee table came from Elephanta Exports (elephantaexports.com), in Rajasthan, India, and the brass bowl and white chain sculpture on it were from CB2 (cb2.com).
Above the sideboard, which was bought from Daylight Furniture (daylightfurniture.com), is an artwork by Charlotte Swiden from Modern Times (moderntimes.com.au). The blue glass sculpture was from London's Vessel Gallery (vesselgallery.com) and the lamp came from AliExpress (aliexpress.com).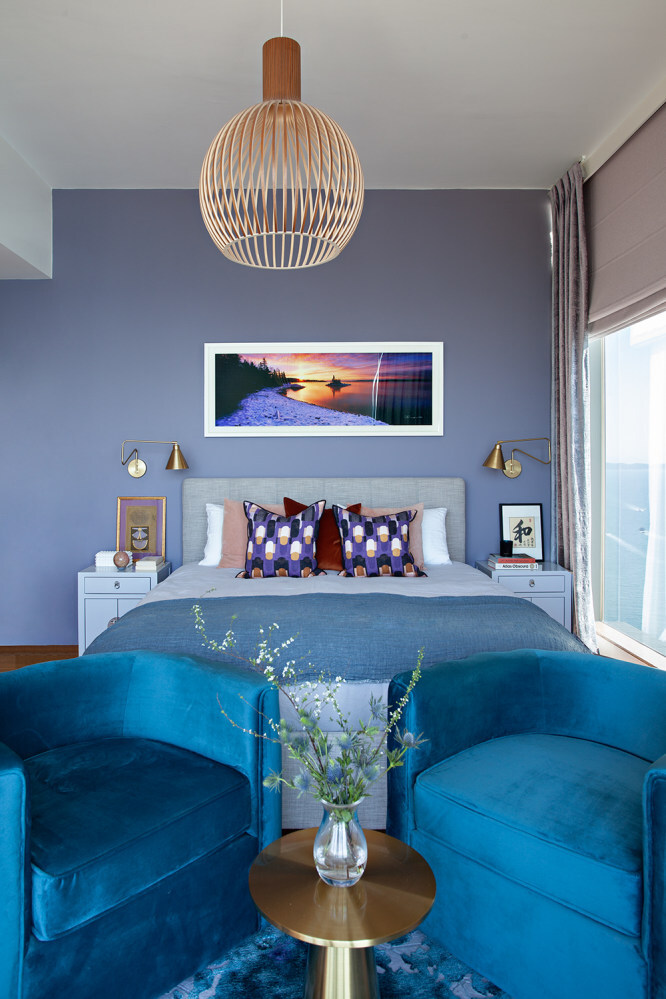 Main bedroom Setting the colour palette in the bedroom is a photograph by Peter Lik (lik.com). The pendant lamp, by Seppo Koho, came from Manks (manks.com) and the Game wall lights, by House Doctor, were from Light and Bay (lightandbay.com). The bed was from Bo Concept (boconcept.com) and the bedside tables were custom made by a shop in Hong Kong that has since closed.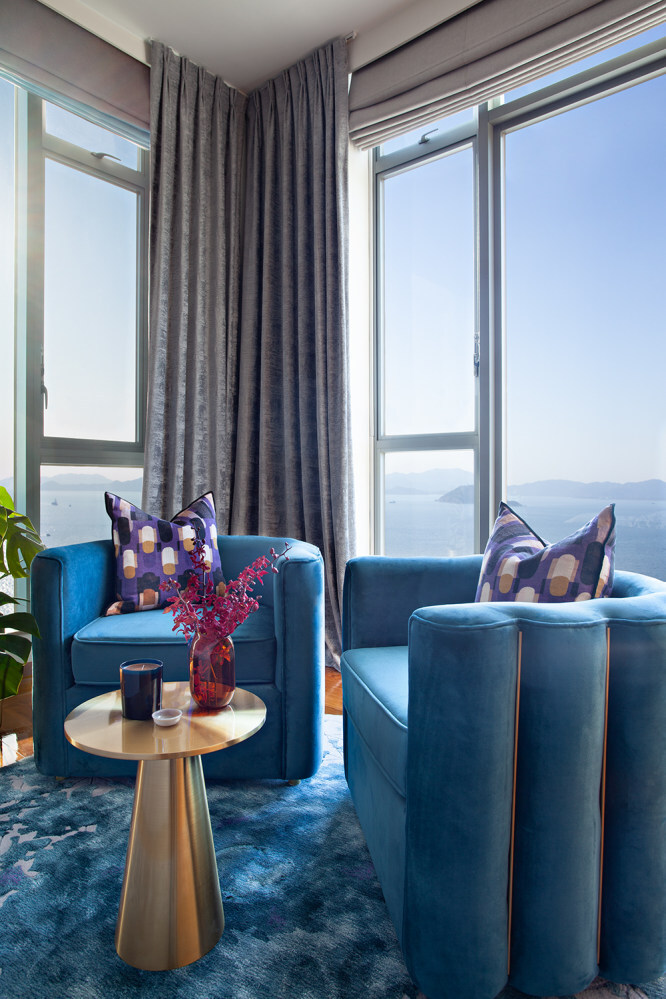 Main bedroom detail Foster-Adams created a seating area at the foot of the bed. The armchairs were found on Taobao and the brass side table came from Lulu Kasa.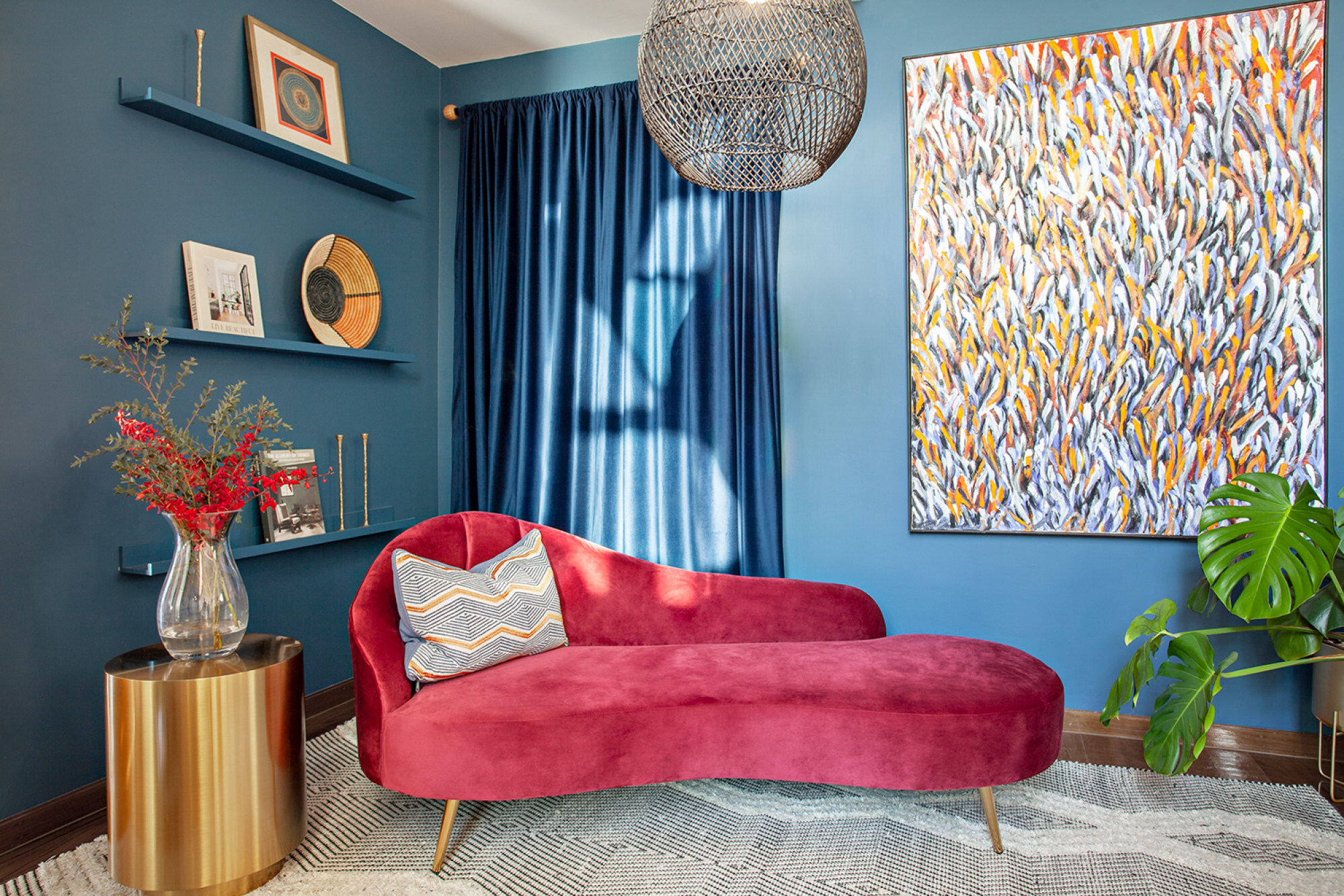 Tried and Tested
Exit strategy Although a necessity, a fire-exit door in the upstairs lounge area was also an eyesore. Ana Foster-Adams disguised it with a velvet curtain from Anthropologie (hk.anthropologie.com), still allowing for easy access should it be needed.
The rattan pendant light and sofa cushion were both found on Etsy (etsy.com); the raspberry sofa, brass candlesticks and plant holder were all sourced through Taobao. The Lack shelves came from Ikea but were painted with Eicó paint (eico.hk) to match the walls. Roman Hunter bought the painting 11 years ago when he arrived in Hong Kong and the picture on the top shelf was picked up on a trip. The rug was from Miss Amara (missamara.hk).