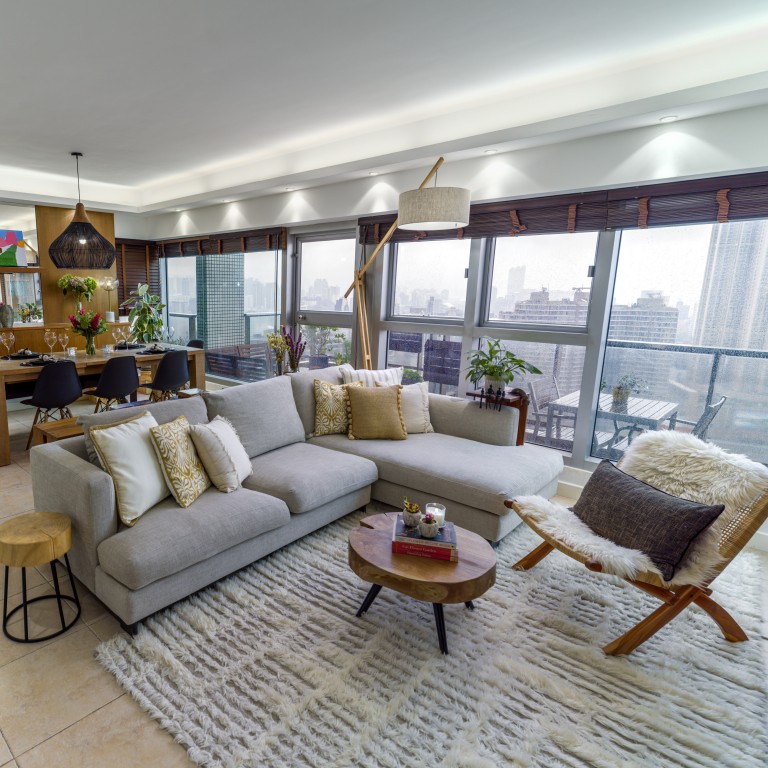 Family-friendly Hong Kong duplex a home for the coronavirus era with its creative approach to living and work spaces
Interior designer Christine Ritter helped a family upsize to a 1,700 sq ft duplex in Tsim Sha Tsui, throwing out old furnishings and maximising storage
As well as practical changes, furniture in natural tones minimises distractions for adults and children when they need to work or learn from home
Video conferencing from the kitchen, clashing schedules, incessant background noise, jostling for comfortable desk space – these were just some of the problems the Batten family were having to contend with last summer.
By October, they knew they had to move. "We tried to make our existing flat work, even converting the kids' playroom into a home office, but by the time we were four or five months into the pandemic we realised the situation wasn't getting any better – it was getting worse," says American John Batten.
When he and his Taiwanese wife, Sharon – both of whom have high-powered jobs, in manufacturing and marketing, respectively – upsized to a 1,700 sq ft, four-bedroom duplex in The Waterfront, in Tsim Sha Tsui, they turned to Facebook group Hong Kong Moms for some interior designer recommendations. Christine Ritter, known for her soft colour palettes, biophilic leanings and family-friendly approach, was a name that came up time and again.
The couple had a clear idea of what they needed from their new rental home. With two sons – eight-year-old Eddie and 10-year-old Isaac – to consider, and with all of them now working and learning from home, they envisaged quiet individual study spaces, areas for play and recharging, as well as a welcoming open living and dining room where the family could come together.
"This really is a home for the Covid-19 age – everyone has different zones," says Ritter, founder of Studio CHR. There was no structural work to be done and the existing flooring, kitchen and three bathrooms were kept as they were, so Ritter began by throwing out most of the family's old furnishings and in the other rooms maximising storage with lots of clever cabinetry.
Sensational views of the Tsim Sha Tsui waterfront and Victoria Harbour are apparent on entering the duplex, and furniture in natural tones minimises distraction. An L-shaped sofa and a sumptuous wool shag rug lightly anchor the space, while a large upcycled oak dining table provides ample room for dinner guests. "There's been a lot more entertaining at home this past year," says John. Beyond is a balcony with a small breakfast table, outdoor seating, lemon trees and a little herb garden.
John's office connects to the living room and has its own distinct personality. Woody and masculine, the room also features walls painted in a deep teal, with a mid-century-style desk running along one wall and a wooden bookcase lining the other. A wine fridge, squeezed between the desk and the window, is there "only because we ran out of space", says John, a self-confessed oenophile.
In contrast, Sharon's upstairs office is bright, breezy and alcohol-free, in blush pink with capacious pine cabinets and shelves reaching almost to the ceiling, as well as seagrass baskets and a cream and apricot armchair. The design was dictated by a need for storage and Sharon's desire for a Zoom-tastic background. When needed, the space can be repurposed into a television room for the children.
Also upstairs are the boys' room and the main bedroom. In the former, Ritter used a Pikachu-yellow lamp as a jumping-off point, adding a sky-blue wall and new white furniture packed with storage. There's a desk and bookshelves in the corner and a beanbag that can be pulled out for reading or slouching. A separate desk sits in the adjacent main bedroom, giving both boys a quiet place to study when online classes clash.
A tranquil antidote to the parents' high-pressure lives, the main bedroom is elegant and grown-up. "The master bedroom had to be a mature space where John and Sharon could switch off," says Ritter, who blended a calming navy blue wall with dark woods, touchy-feely fabrics and cosy blackout curtains.
The Battens couldn't be happier with their stylish, colourful and eminently practical new apartment, which is more than able to cope with the demands of 2021 family life.
"At one point there were five of us working from home – including my niece, whose parents had to go back into the office – and it worked," says John. "Christine gave us everything we asked for."
Living area The sofa, coffee table and Terra Glow floor lamp, all from Tree (tree.com.hk), were chosen to suit the proportions of the room without blocking the view. Christine Ritter, of Studio CHR (christineritterdesigns.com), bought the rug from Miss Amara (missamara.hk), while the Battens sourced the teak and cane chair from Taobao (taobao.com).
They are complemented by a fur throw and a glass table from Ikea (ikea.com.hk), cushion covers from Anthropologie (anthropologie.com) and a wooden stool, which the Battens already owned. Two paintings by the children take pride of place at the rear of the room.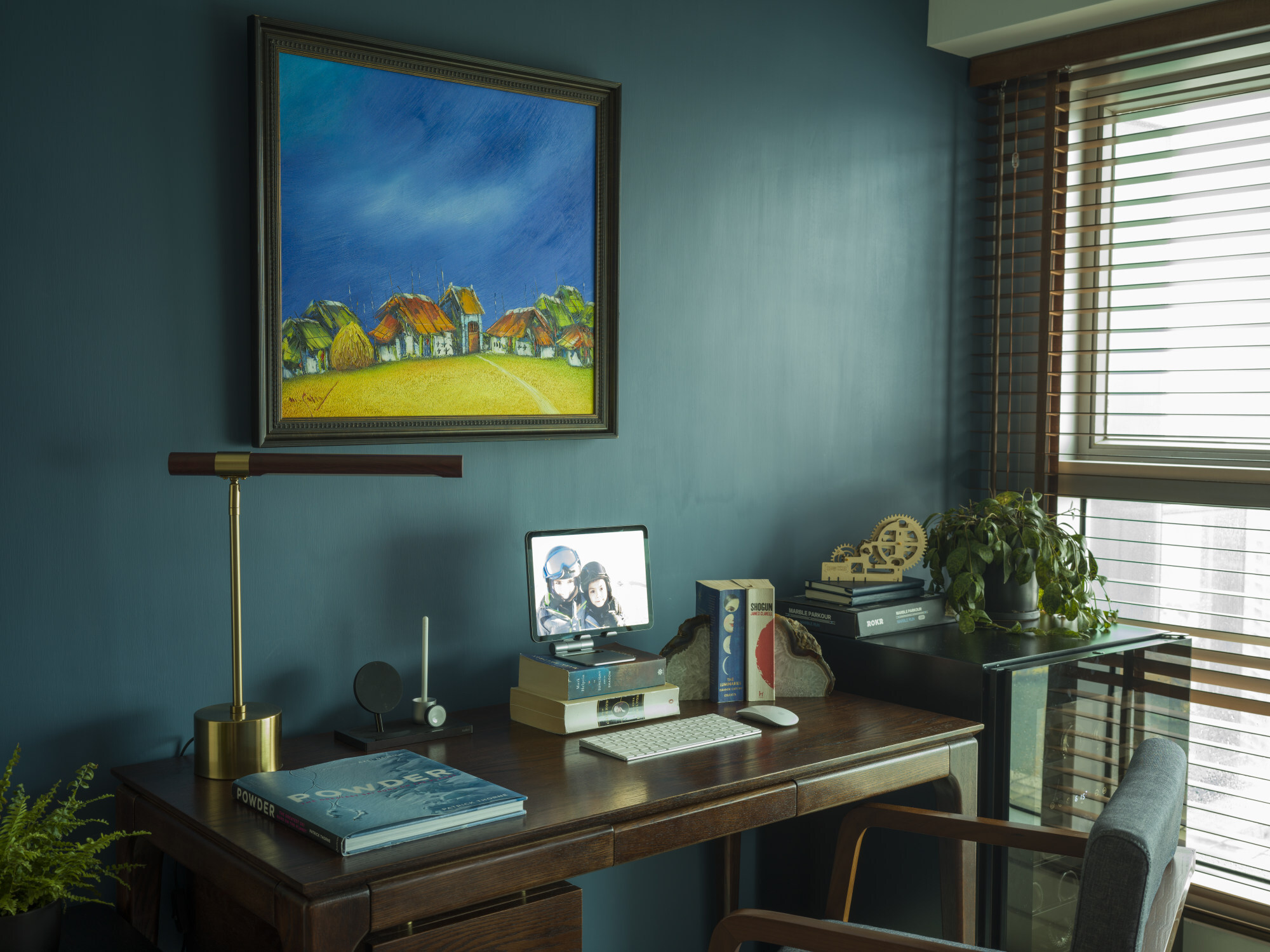 Office John Batten's downstairs office features a wall painted in a bespoke deep teal mixed by 513 Paint Shop (513paintshop.com). The brass desk lamp was ordered from AliExpress (aliexpress.com) and the desk and chair were from Pottery Barn (potterybarn.com). The oil painting, depicting a bucolic Southeast Asian scene, is by Vietnamese artist Nguyen Minh Son (vietnamartist.com/nguyen-minh-son).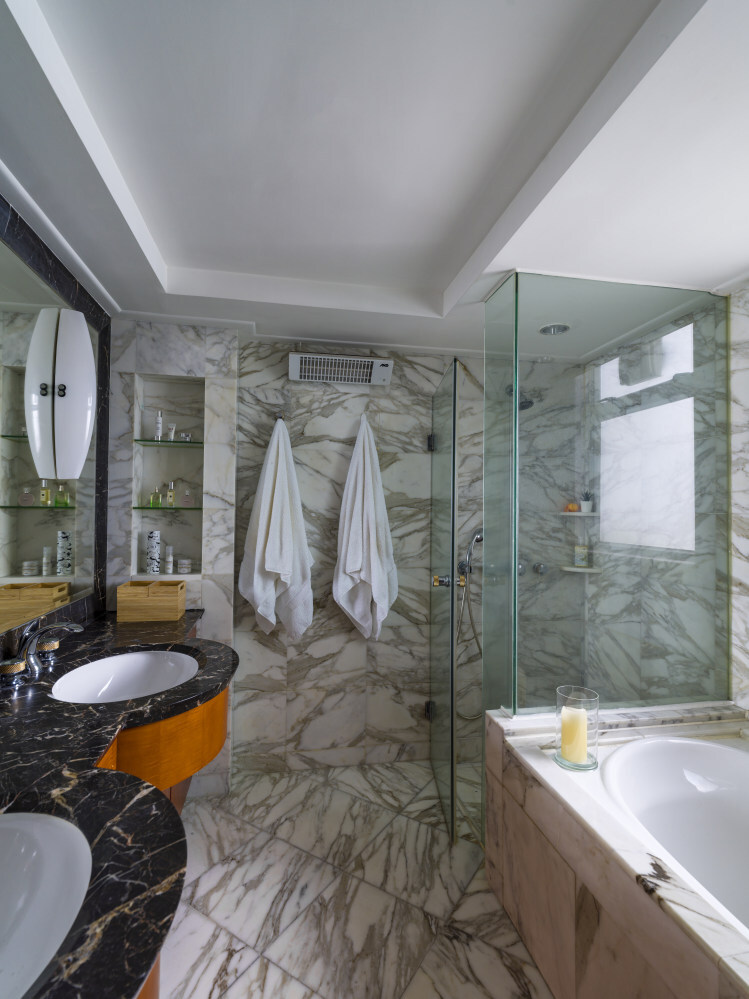 Bathroom No changes were made to the rental apartment's large marble bathroom.
Dining table and balcony A black bamboo lampshade from Tree hangs above an oak vineyard table, which was sourced by Ritter from Facebook Marketplace. "We didn't want anything that could be easily stained," says Ritter, who instead opted to sand back the veneer on the second-hand table to create a rustic look and feel.
It is paired with upcycled dining chairs from Tequila Kola (tequilakola.com) and crockery and glassware from Ikea. The fresh flowers are from the floristry wing of Studio CHR (christineritterdesigns.com/shop).
The balcony is furnished with Applaro outdoor furniture from Ikea and a fold-up rail-hanging table ordered from Amazon (amazon.com).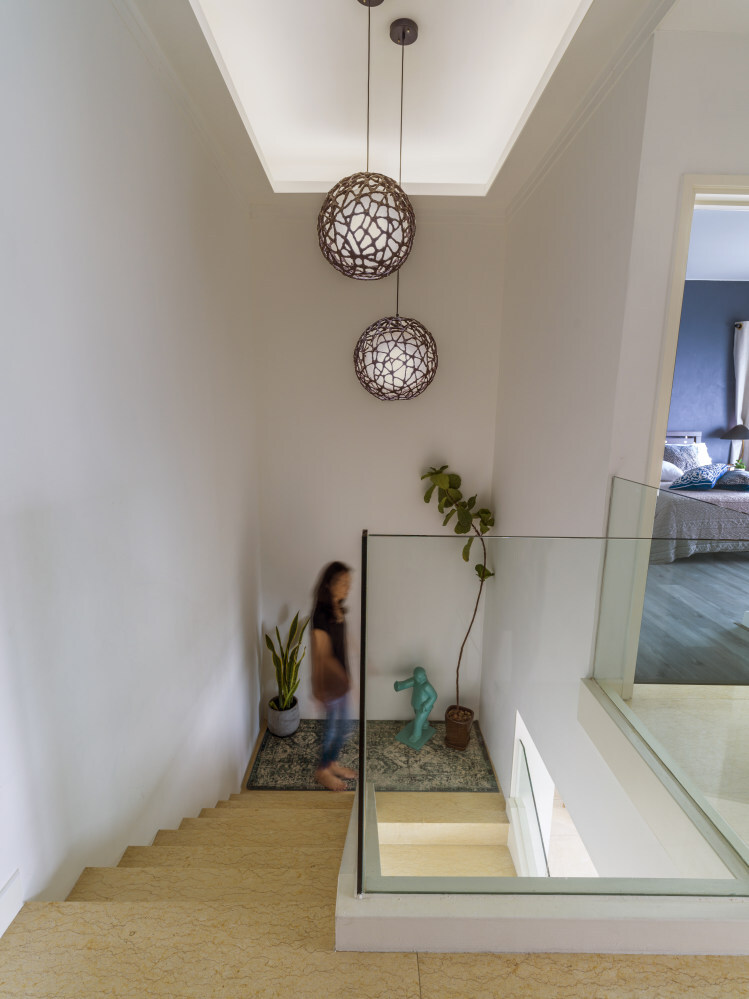 Staircase The existing staircase was zhuzhed up with a rug from Ikea, plants from the floristry wing of Studio CHR and a sculpture made by Sharon. The lampshades came with the apartment.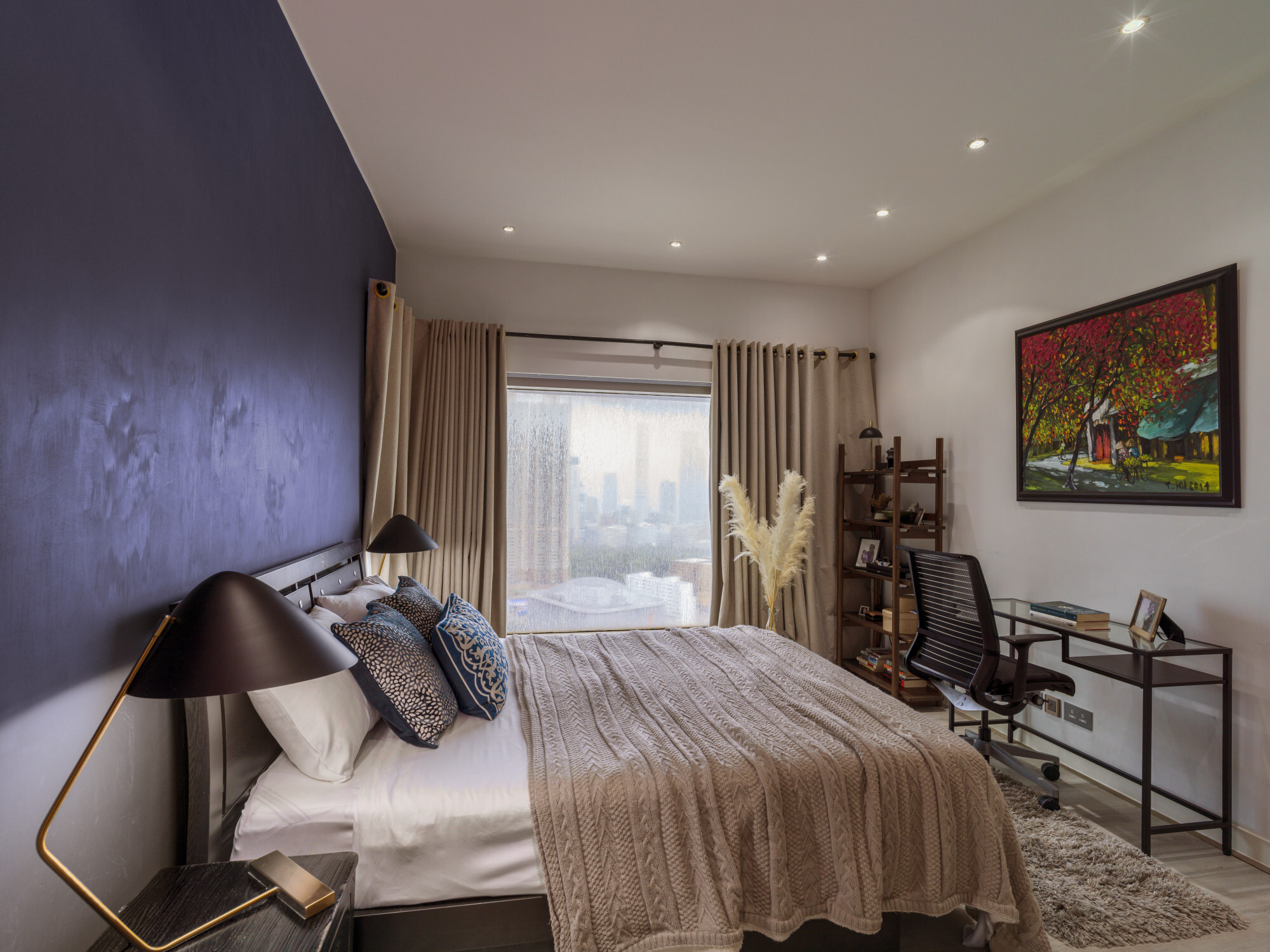 Main bedroom To create a sense of sanctuary, Ritter painted one wall in anthracite blue from Eicó (eico.co.uk) and added made-to-measure curtains from Studio CHR. The Battens brought the bed, rug, cushion covers, throws, bookcase and Steelcase chair (steelcase.com) from their previous home, as well as the painting by Vietnamese artist Le Thanh Son. The bedside tables were custom built by Studio CHR, while the bedside "duckbill" table lamps were ordered from AliExpress. The desk came from Ikea.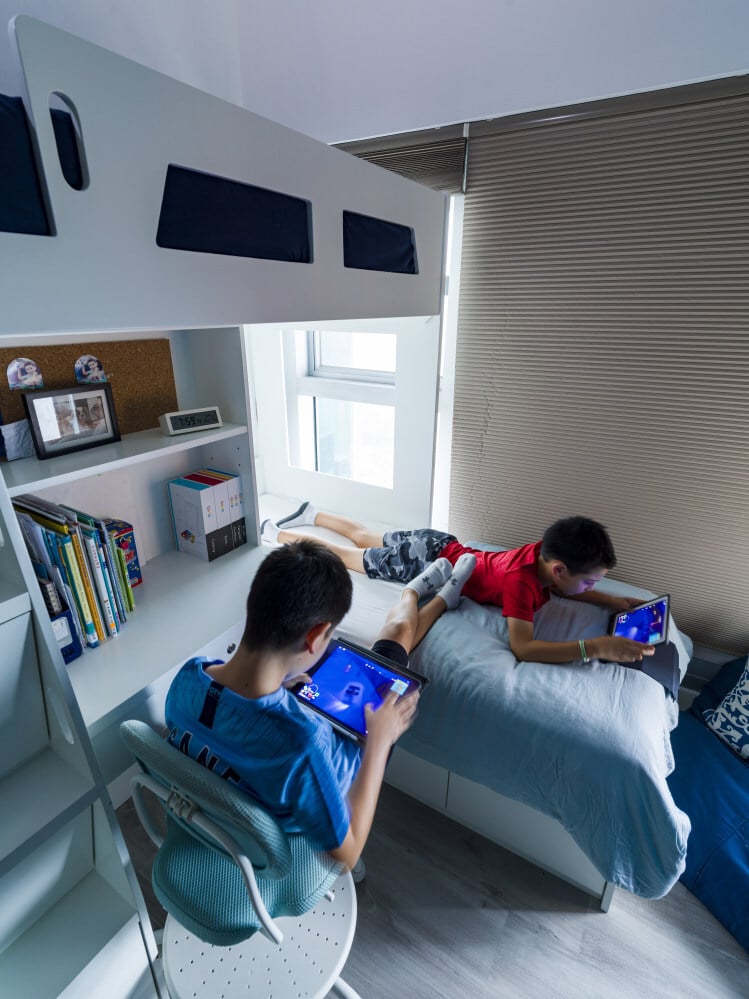 Boys' room The boys' bunk bed came from Simply Life (simplylifehk.com). The chair was from Ikea, the beanbag was custom made by Studio CHR and the linens were from Next (nextdirect.com). The blinds came with the flat.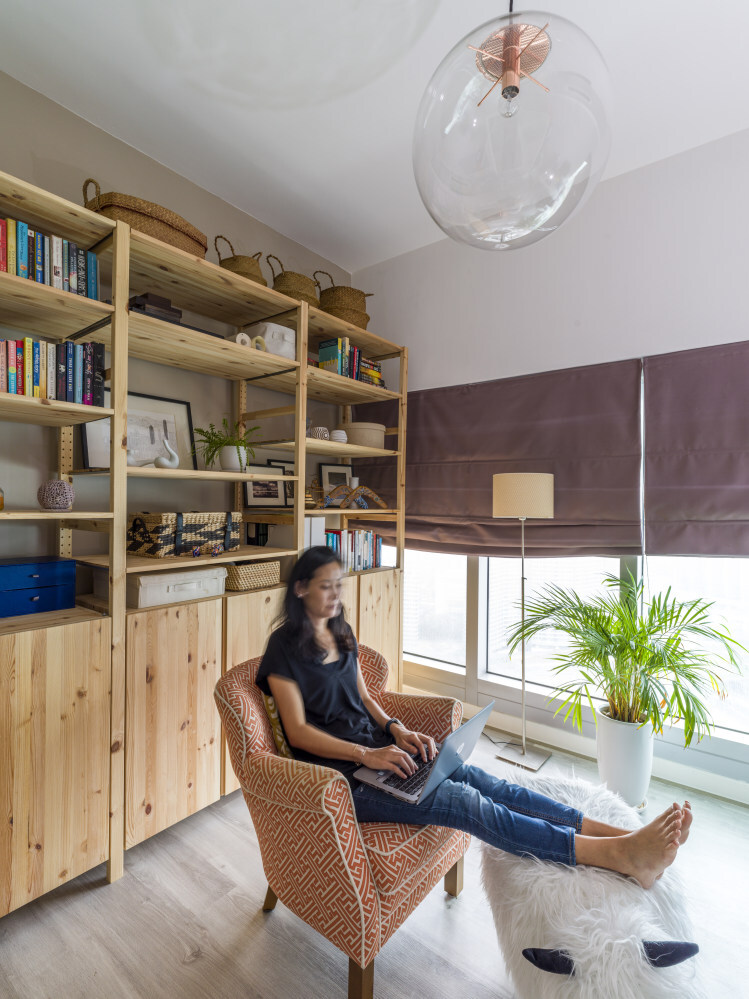 Tried & Tested
Watch this space In Sharon's upstairs office, one wall is taken up by Ivar pine cabinets and shelves from Ikea. "Using stacked open shelving is a space-saver, a great way to organise your office and build an attractive Zoom background," says Christine Ritter.
"Try to display a mixture of personal items like keepsakes from a holiday, art or a favourite selection of books. Baskets and decorative boxes are great for storing notebooks, stationery and USB keys, while adding some plants will add texture and soften the overall look."
Styling: Flavia Markovits Photo Assistant: Timothy Tsang