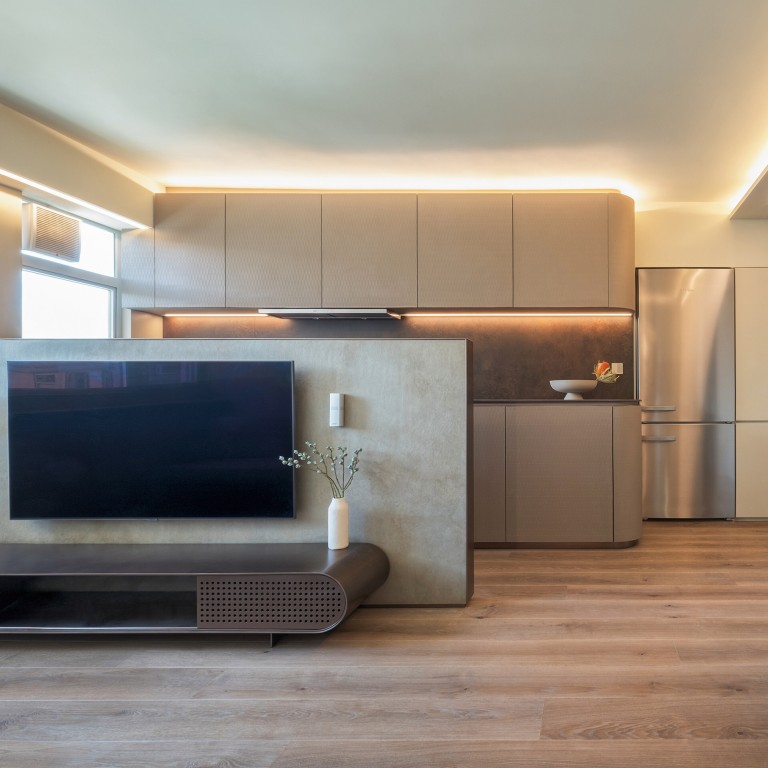 Japanese minimalism, soft lighting and a spa-like bathroom transform a Hong Kong apartment into a calming sanctuary
A film-industry creative turned to designer Udo Lam to renovate a 530 sq ft flat in Wong Chuk Hang, Southern district, and make it a calming sanctuary
Natural materials and finishings were key, as were a bathroom inspired by Japanese hot-spring resorts and a lighting system that bathes the flat in a soft glow
While Japanese minimalism, with its characteristic blond timbers, low-slung furniture, sliding partitions and use of natural materials, is having a moment in interior design, its appeal lies in more than just its aesthetic.
Inspired by the country's traditional Zen Buddhism, it focuses on keeping life simple, clean and uncluttered. Appreciated not only in interiors, but in everything from architecture to ikebana (the Japanese art of flower arrangement), pottery and prose, it encourages the embrace of negative space; a celebration not of things, but that which lies between them. Often what is not there is as important, if not more, as what is.
This made it the perfect antidote to the stressed, overstimulated existence of a film-industry creative who recently renovated this 530 sq ft (49 square metre) flat in Wong Chuk Hang, on Hong Kong Island's south side.
On the recommendation of a friend, she engaged Otherwhere Studio, whose co-founder and chief designer, Udo Lam Wai-wa, transformed the ageing flat into a sanctuary.
First to go were all internal walls, except for one structural barrier, creating a large expanse that Lam converted into a multifunctional space that includes a desk and ample storage. The remaining wall acts as a buffer between the public and private zones of the flat.
The cabinetry, designed by Other­­where Studio, plays an important role in the home, because the owner doesn't have a lot of possessions or collectibles that she likes to "show off", as Lam puts it.
What she does have, however, is a love of clothes, and her walk-in wardrobe needed to accommodate an extensive ensemble efficiently.
"Our client was very detail-oriented," says Lam. "Though designing the wardrobe was collaborative, she knew where every drawer and shelf was to go to meet her needs and how she wanted her clothes and accessories stored. She even had opinions on the depth of those drawers, which is not something commonly expressed by our clients."
This attention to detail, no doubt a by-product of her line of work, eventually led to high-quality materials being the focus of the flat.
With little time for entertaining, the owner wanted the space to be more about her and how it made her feel, Lam says. Natural materials and finishings were key, so she gave the studio the freedom to play to its speciality.
"When designing, we want to create a space that lets the user focus on its atmosphere," says Lam. "Using raw materials, to bring out their best is actually quite complicated, but we work with them in a way that evokes a certain simplicity, and our clients like that."
Warm oak wood flooring runs the full length of the flat, creating continuity and visually elongating the relatively small space.
All directional lighting was removed and in its place a trough, or cove, lighting system was installed. Its soft, diffused illumi­nation creates an instant ambience, and an effect that makes the ceiling appear to float.
But the materials that have the biggest impact are those used in both Lam's and his client's favourite room – the bathroom.
"We both agree it's the bathroom," says Lam. "For her, it's because of the relaxation it provides. Unable to travel now, she at least has her own spa experience at home. For me, it is in terms of the design and construction."
Originally two bathrooms, a main one off the living room and an en suite, Lam merged them to create one large bathroom inspired by Japanese hot-spring resorts. The heavy granite stone basin and jacuzzi bath had to be built on-site, which proved a difficult and expensive exercise, not least because of the craftsmanship involved. But it was worth the effort.
After living with her parents in another flat in the building for a decade, the owner now has her own home that satisfies her yearning for calm. To some it may appear lacking, but to others, in line with the minimalist philosophy, it possesses an emptiness full of possibilities, like a promise yet to be fulfilled.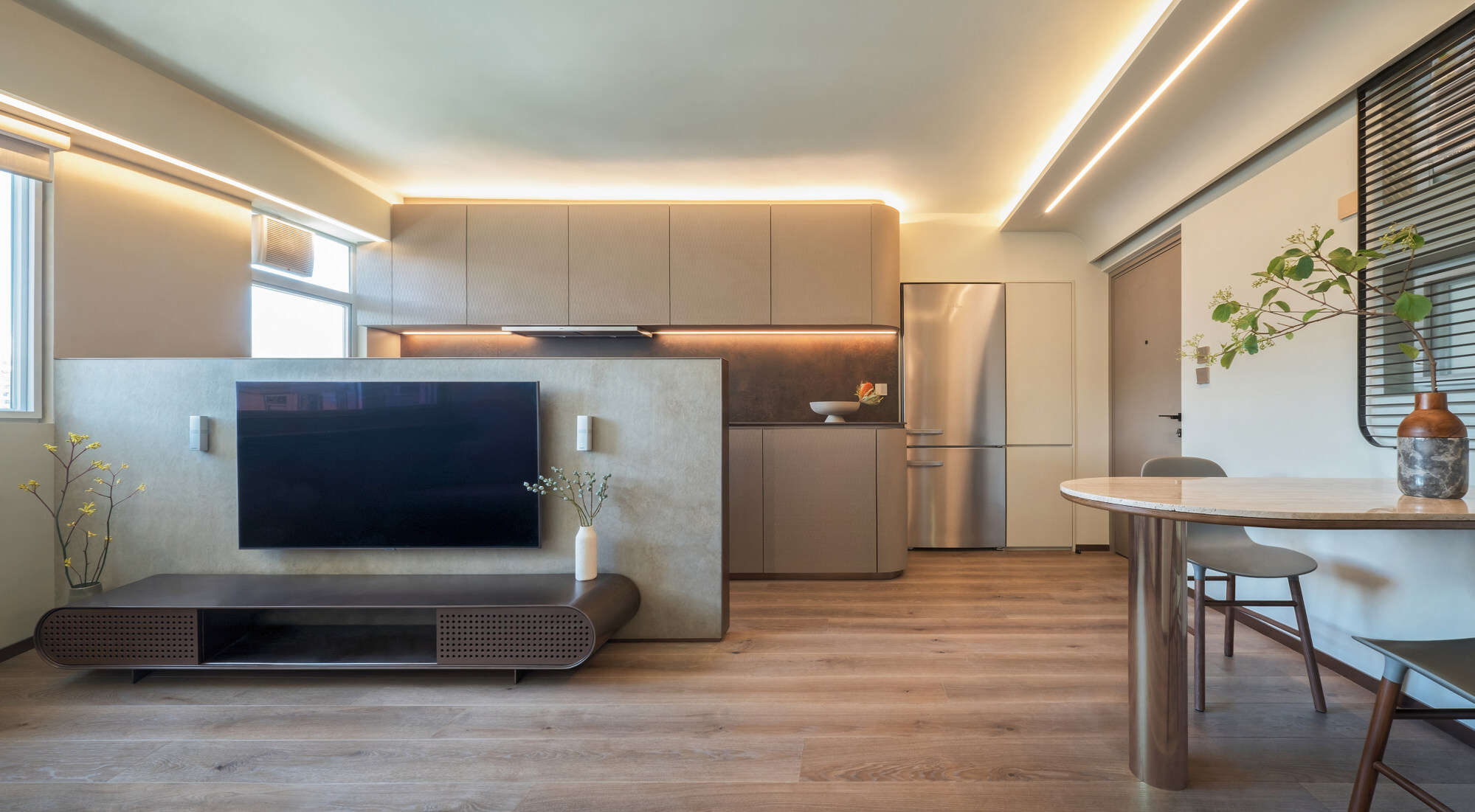 Living room, dining area and kitchen
The low wall between the living room and kitchen lends an openness, but screens the cooking area when friends or family members visit. The dining table, designed by Otherwhere Studio (otherwhere.hk), is extendable for those times. The dining chairs were bought at Nature Evolution Art & Furniture (natureevolution.com.hk) and the television unit was designed by Otherwhere Studio and built in mainland China.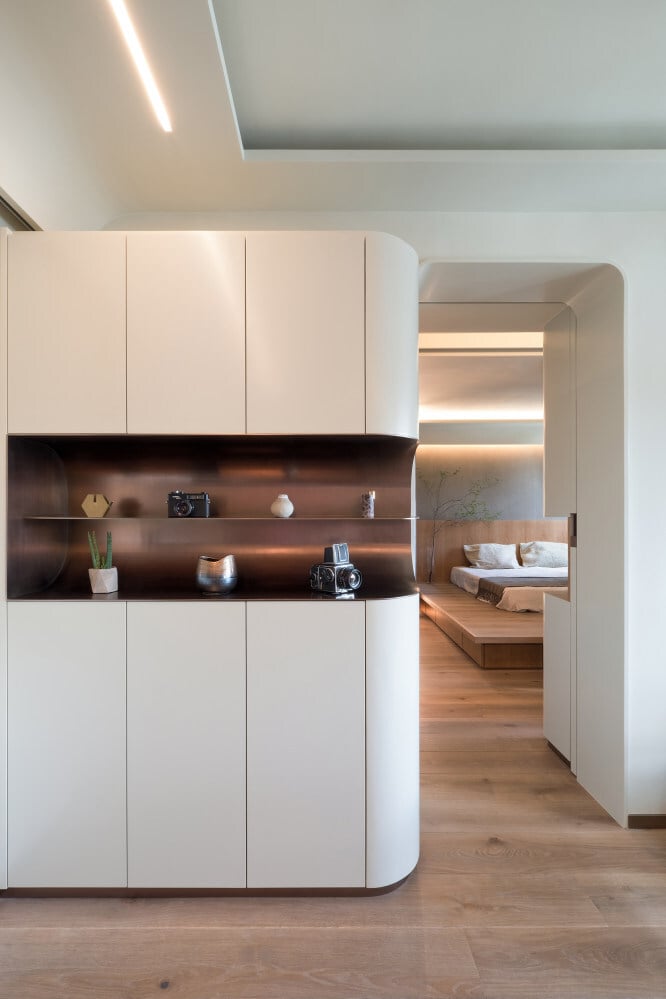 Room divide
Separating the living space and the bathroom, the cabinetry – which features a recess for display items – was designed by Otherwhere Studio. The Bassano oak wood flooring was imported from Italy and supplied by Karlian International (karlianintl.com).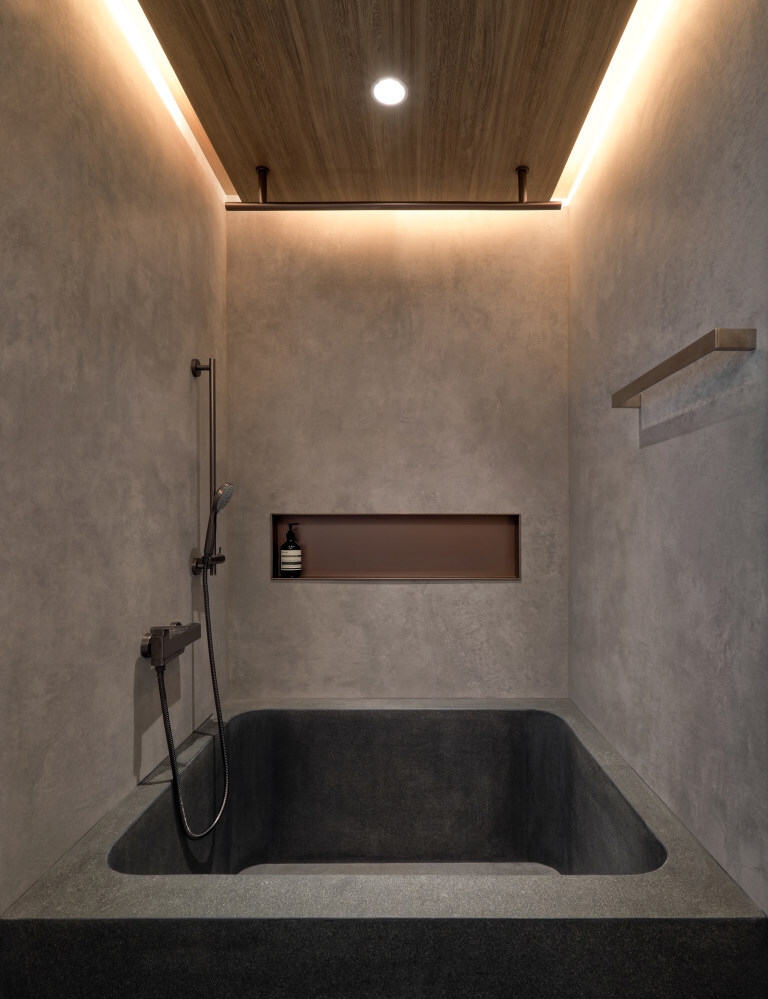 Bathroom
Like the sink, the granite jacuzzi was designed by Otherwhere Studio and built on site. The Palazzani tap ware was supplied by Oscar Bath and Kitchen (oscar-hk.com) and the towel rail was from Bonco (boncohardware.com). The walls have a polished concrete finish and the ceiling is in walnut plastic laminate.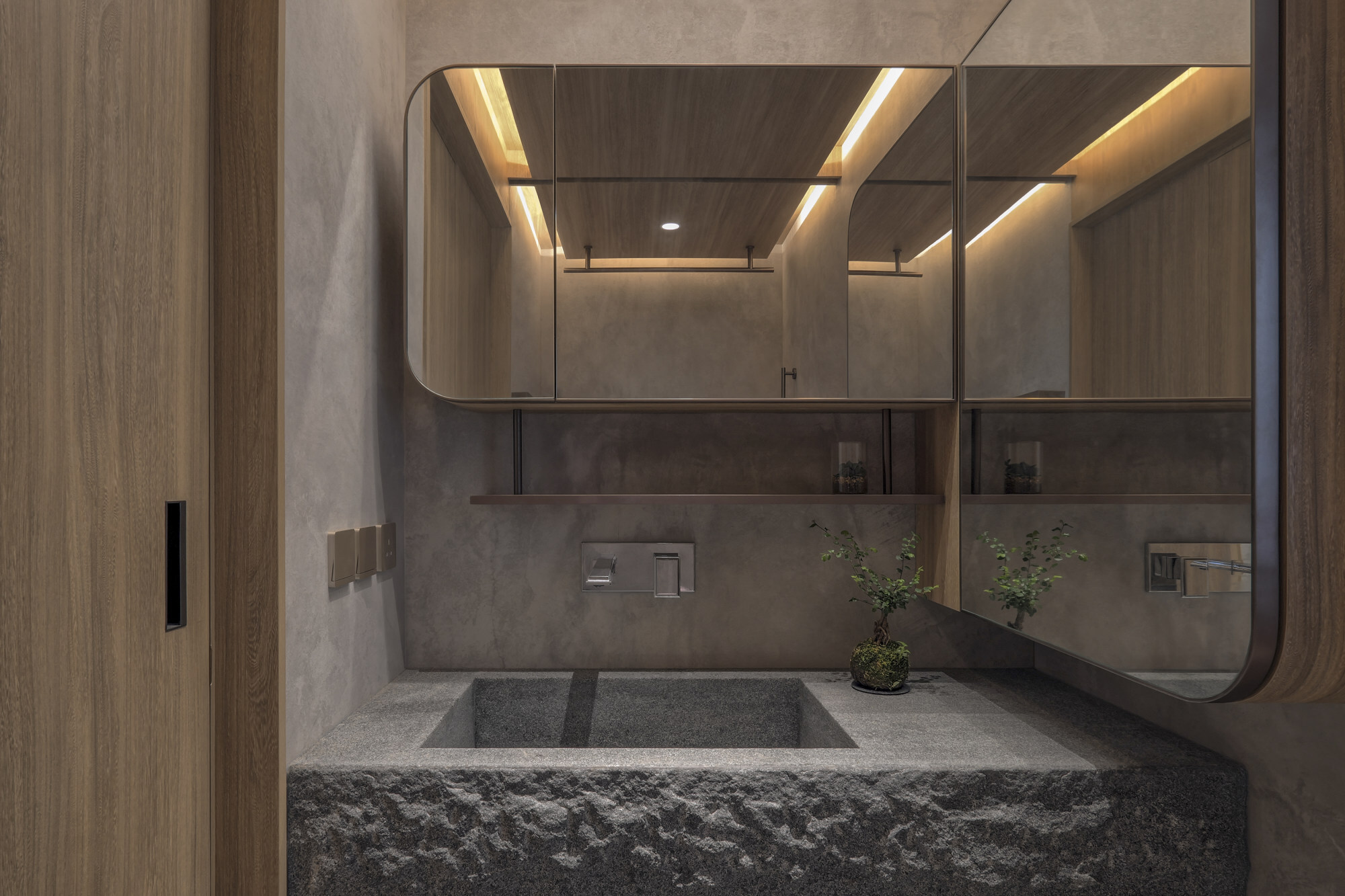 Bathroom detail
The granite sink and mirrored cabinets were designed by Otherwhere Studio and built on-site by a local craftsman at Lee Loy Interior Decoration (tel: 9878 0334). The tapware is from Gessi (gessi.com).
Bedroom
The mattress sits atop hidden storage in a sleeping platform designed by Otherwhere Studio. The bedlinen was from Zara Home (zarahome.com). The bedside light, known as the Knuckle Table Lamp Walnut with Sphere IV, was from Tala (tala.co.uk). The two walls cocooning the bed and lining the hallway are covered in textured wallpaper from the Le Corbusier Arte series, supplied by Tat Ming Wallpaper (tatming.com).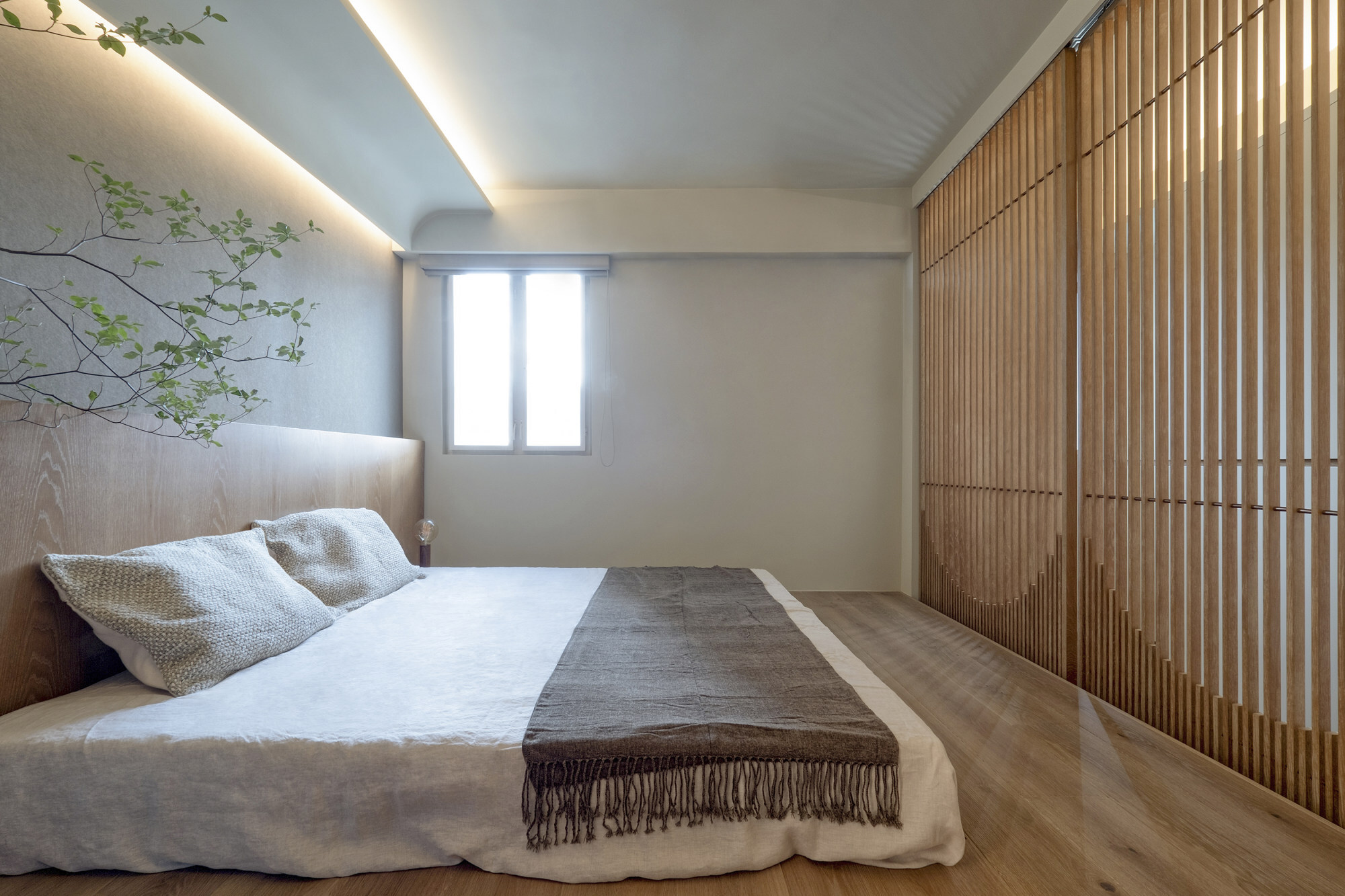 Bedroom detail
The slatted sliding screen, designed by Otherwhere Studio, was made from walnut wood. It closes off the apartment's sole bedroom from the living area and, during the day, creates a beautiful, mottled light effect. It was designed with the flat's two cats in mind.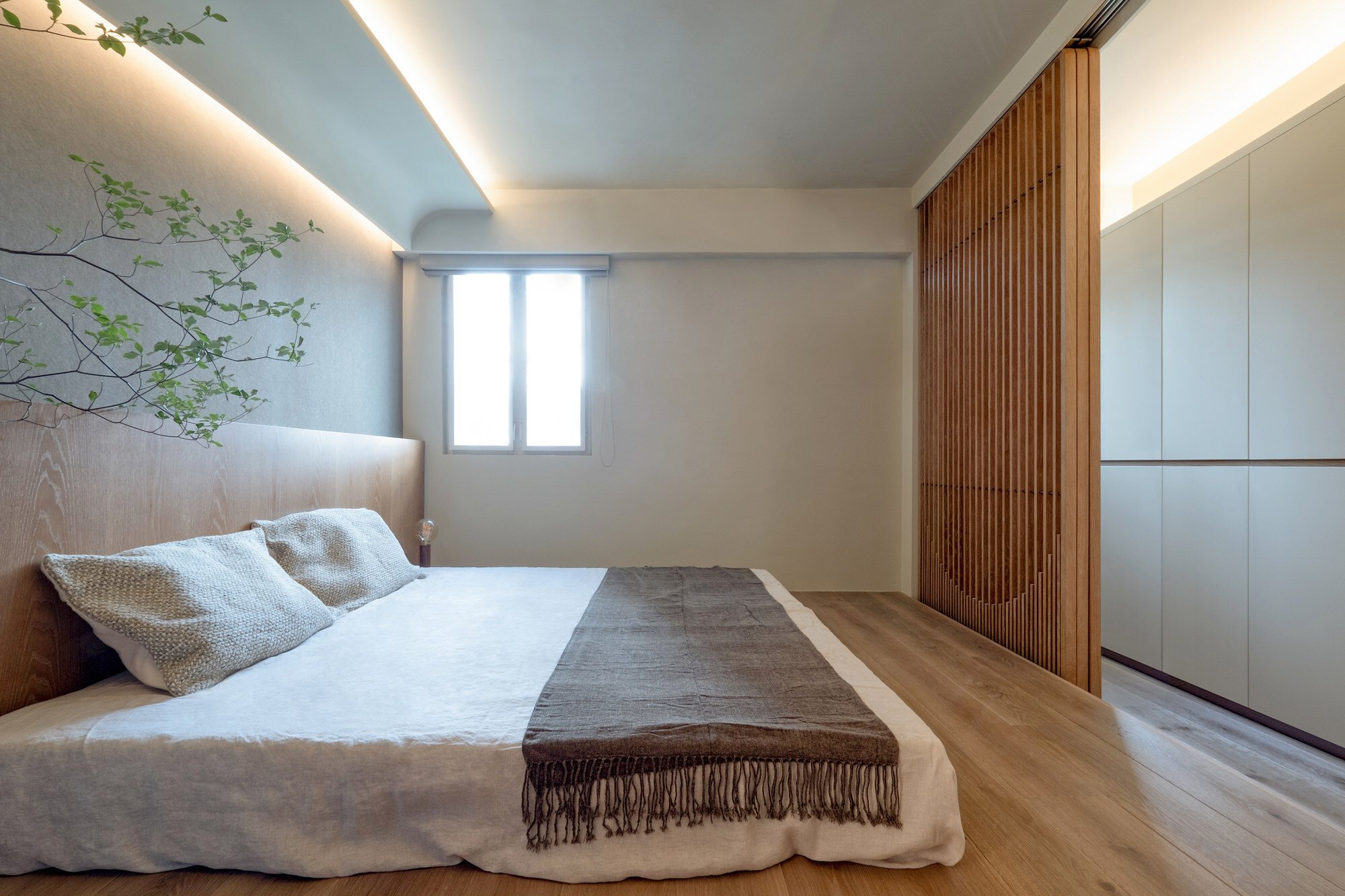 Tried & Tested
Cats' cradle The flat's owner loves her two cats, but doesn't like them sleeping in her bed at night. A solid door sealing off the bedroom would have kept them out, but they fret when they can't see their owner. So Otherwhere Studio designed a slatted sliding screen door, in keeping with the flat's Japanese aesthetic. At night, the cats now occupy the multifunctional space on the other side of the screen, their owner sleeps soundly, and both can keep tabs on each other.