A Hong Kong family home with a mid-century modern vibe has pops of colour and custom furniture
A Mid-Levels apartment has been cleverly designed to adapt to a young family's future needs, right down to the placement of wall sockets in a child's room
To encourage conversation the living room features a television whose screen can feature artworks and movie stills
Five years ago, Hong Kong lawyers Raymond Cheng and Joyce Lai earmarked an interiors project by Keith Chan Shing-hin of Hintegro that they saw in the pages of Post Magazine. The couple didn't have a property that needed renovating; nor was buying one even on their radar. They simply liked the featured flat.
Fast forward to 2021, when their forward thinking paid off. Cheng and Lai had decided to buy a family home and, after an extensive search, chose a two-bedroom, two-bathroom apartment in Mid-Levels on Hong Kong Island, which needed renovating. They remembered Chan and found him, via Google.
"Luckily there was an instant rapport between us all," says Lai. "I must confess that our initial brief was rather vague. We still had the pages of our favourite projects from Post Magazine and we knew we liked Japanese and Scandinavian aesthetics but that was about it."
Several meetings later and Chan and his colleagues Sunny Lai Shek-yeung and Rebecca Yu Pui-man had a design scheme that resonated with the couple. Although they gutted the 1,666 sq ft (155 square metre) flat, structural walls meant the floor plan didn't veer far from the original layout.
One of the main considerations was whether to open up the kitchen but the cons (cooking smells, smoke and mess) outweighed the pros of a larger, more integrated space.
Chan created a hatch between the two rooms, with a sliding window that could be closed to keep all culinary action contained within the kitchen but still allow the "chef" to view activity in the living and dining area.
Leading past the kitchen from the front door to the heart of the home, the corridor was inspired by mudrooms around the world, with spaces for wet umbrellas, bikes and shoes. Floor tiles were laid to facilitate cleaning, with a rectangle of mosaic tiles emulating a decorative runner and brightening the space.
"The coat hooks also add a bit of fun and colour. We saw similar ones in an Airbnb in New York," says Cheng. "We didn't own a property at the time but Joyce took a photo and filed it away for future inspiration."
Similarly, another of Lai's photographs – this time a memory of yellow decor in a Scandinavian cafe – prompted the couple to go for lemon walls in the living area. It satisfied their craving for a more adventurous colour than shades of blue, grey, green or white and added to the mid-century modern vibe they were keen to create.
Lai also sourced vintage armchairs by Danish designer Grete Jalk from a shop in Taiwan, which she placed either side of a wood-framed television screen that can be programmed to show artworks or film stills.
"It's more typical in Hong Kong to have all living room seating facing a television in a heavy cabinet, but our taste isn't typical. We wanted to encourage conversation rather than just sit and watch a screen," says Cheng.
All furniture was bought or made specifically for the flat, and Cheng and Lai also invested in smaller details, such as matt brass fittings in the bathroom and designer tiles, as well as a couple of big-ticket items.
Chan's colleague Sunny Lai and carpenter Ken Chow, of Yat Muk Studio, co-designed and handmade the walnut dining table with Joyce Lai's input and ideas. The legs of the circular table were purposefully positioned for the maximum comfort of everyone sitting around it and the table itself was formed with minimal wood wastage.
"I wanted to support the young generation of craftspeople in Hong Kong and create a very personal and unique piece," says Joyce Lai. "It is designed to fit in anywhere and will be the first thing we take with us wherever we go."
A lot of forward thinking also went into the design of their son Ethan's bedroom. While it is currently a sweet space for an animal-loving four-year-old, Chan came up with several floor plans depicting how the room might look in five, 10 and 15 years.
Consequently, Cheng and Lai made the decision not to have any built-in furniture and Chan incorporated plug sockets for future desk areas and bedside reading lamps.
"Working with Keith and his team opened our eyes to all sorts of possibilities and they have helped us create a home that we love, that suits our lifestyle now and will develop in the future," says Lai.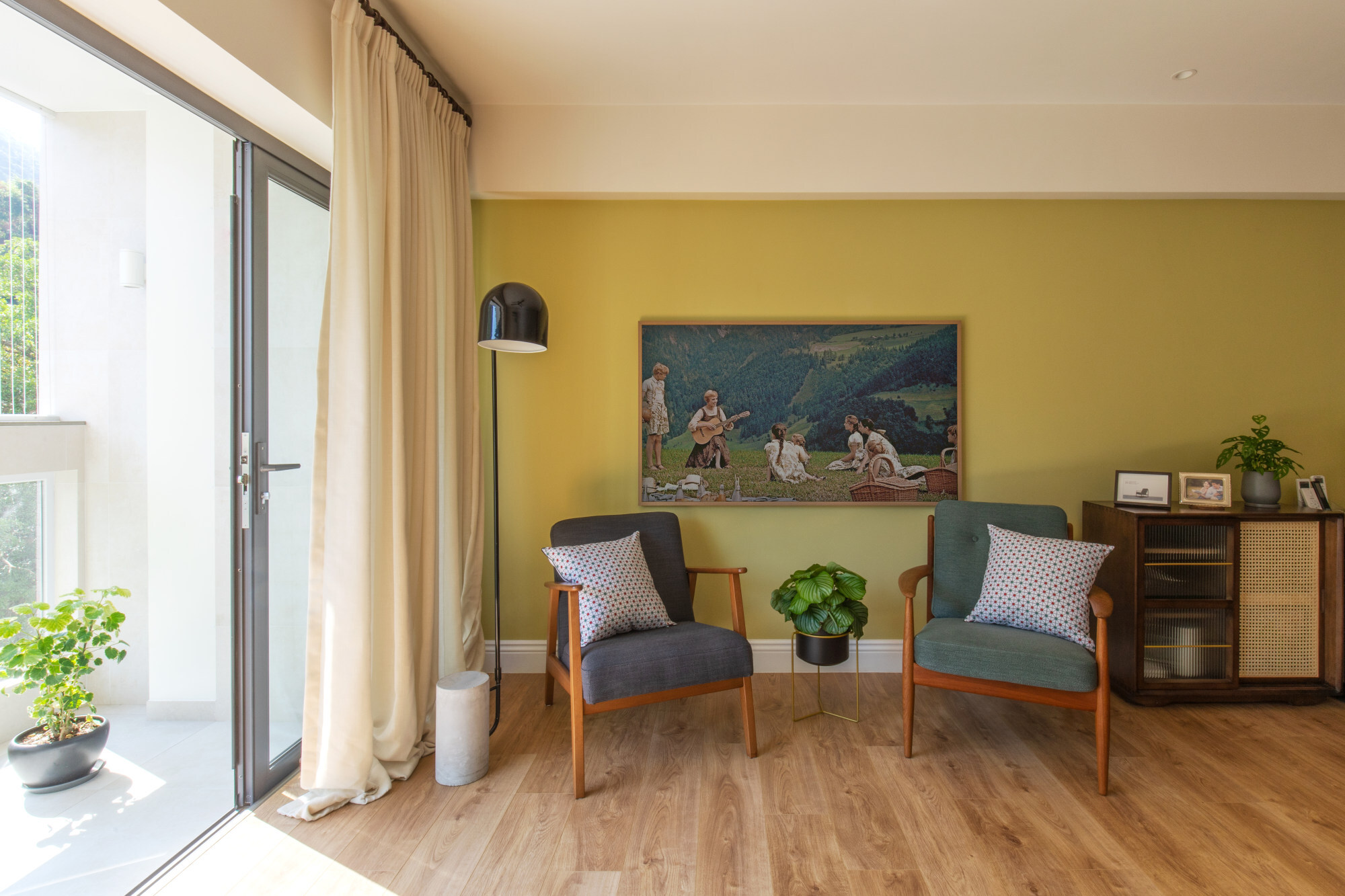 Living area
The wood laminate flooring throughout the flat came from FINfloor (finfloor.co.za). The hemp curtains were custom made by Hung Tat Curtain (Wah Tong Building, 40A Shau Kei Wan Road, Shau Kei Wan, tel: 2568 0183).
On either side of The Frame, a television by Samsung, are 1956 vintage armchairs by Grete Jalk for France & Son, bought from Taiwanese company Husfun_Møbler (facebook.com/husfunmobler).
The floor lamp was bought a decade ago from a shop that has since closed. The Gojibär plant pot with stand came from Ikea and the walnut sideboard, with fluted glass and rattan door, was from Taobao (taobao.com).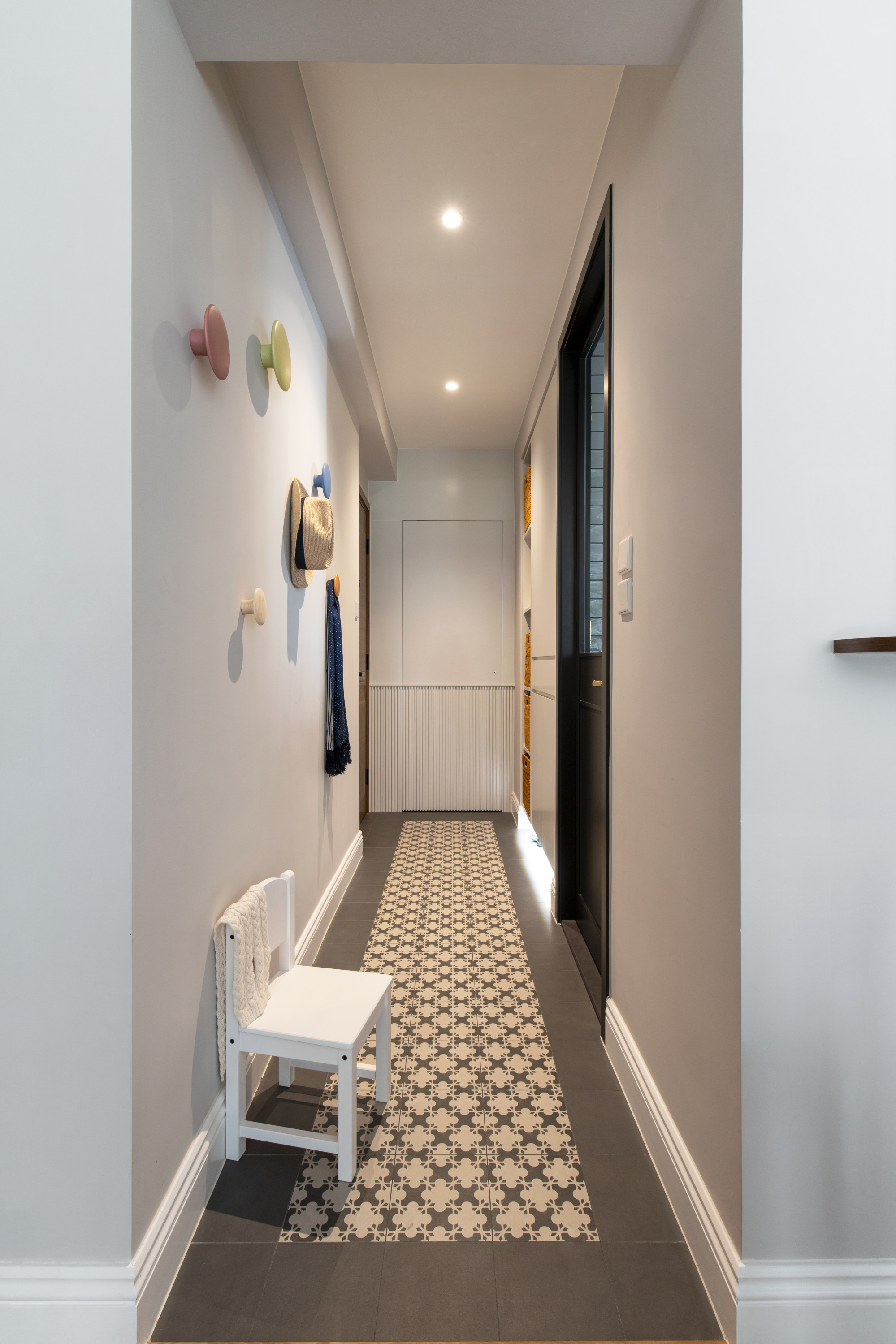 Foyer
Resembling a carpet runner are Estrela Nero floor tiles from the Azulej collection by Patricia Urquiola for Mutina (mutina.it), which are inlaid into Nero floor tiles from Anta (antahk.com). The Sundvik children's chair was from Ikea (ikea.com.hk) and the clothing hooks were from Muuto (muuto.com). The concealed door at the end of the foyer leads to the domestic helper's rooms.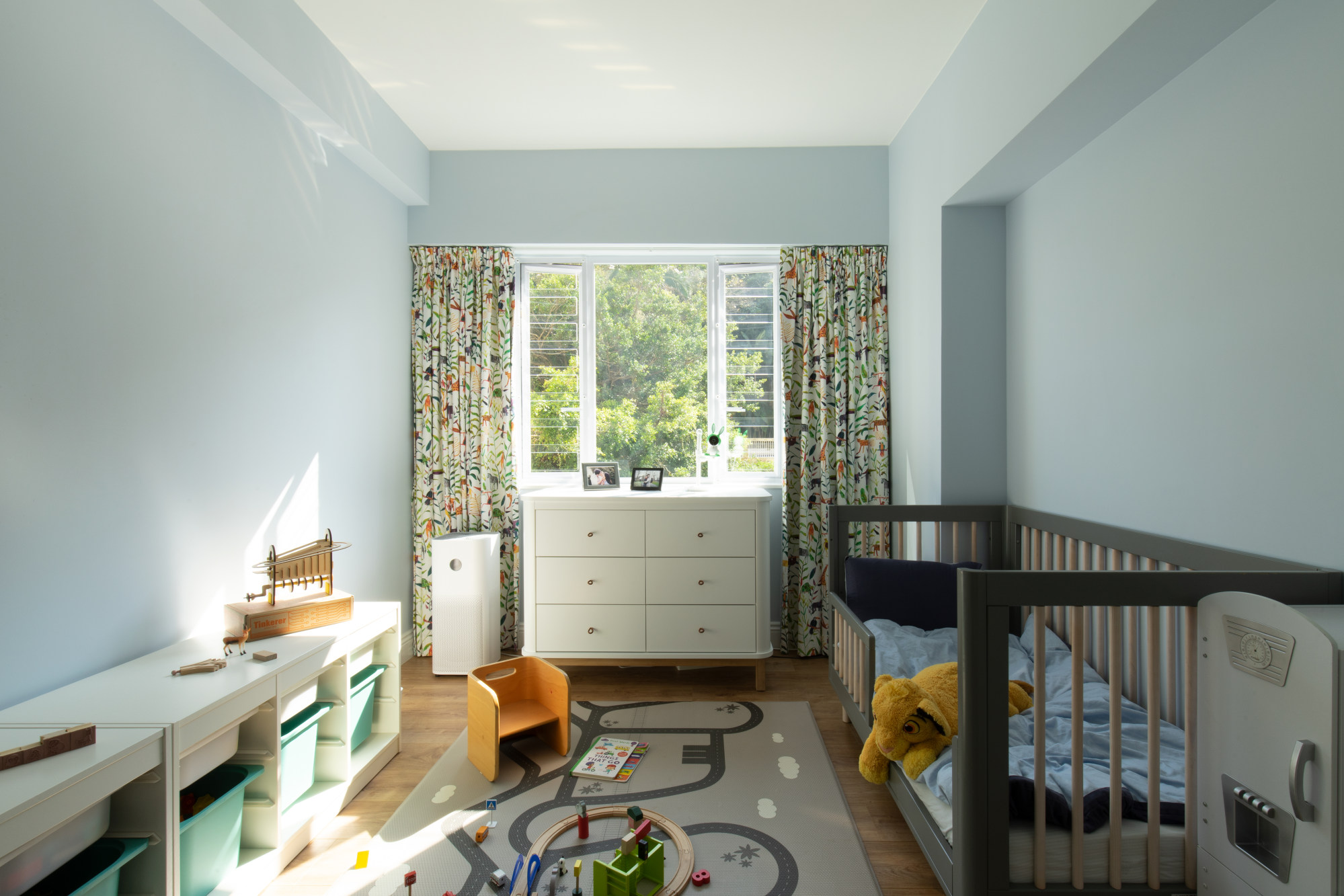 Son's room
Hide and Seek fabric in Jungle from Just Fabrics (justfabrics.co.uk) was made into blackout curtains by Hung Tat Curtain for Raymond Cheng and Joyce Lai's animal-loving son Ethan. The Oliver Furniture six-drawer dresser came from Petit Bazaar (tc.petit-bazaar.com).
The Lolly 3-in-1 convertible cot was from Babyletto (babyletto.com) and at one end of the cot is a toy kitchen from Kidkraft (kidkraft.com). On top of the Trofast children's storage unit from Ikea is a Takara Tomy Lion Bus set from Tinkerer (tinkererbox.com).
The Lulu Play Rug was bought several years ago from Ruggish Co (ruggishco.com) and the Colo Colo chair (with desk) was from Tavolo Kids Living (tavolokidsliving.com).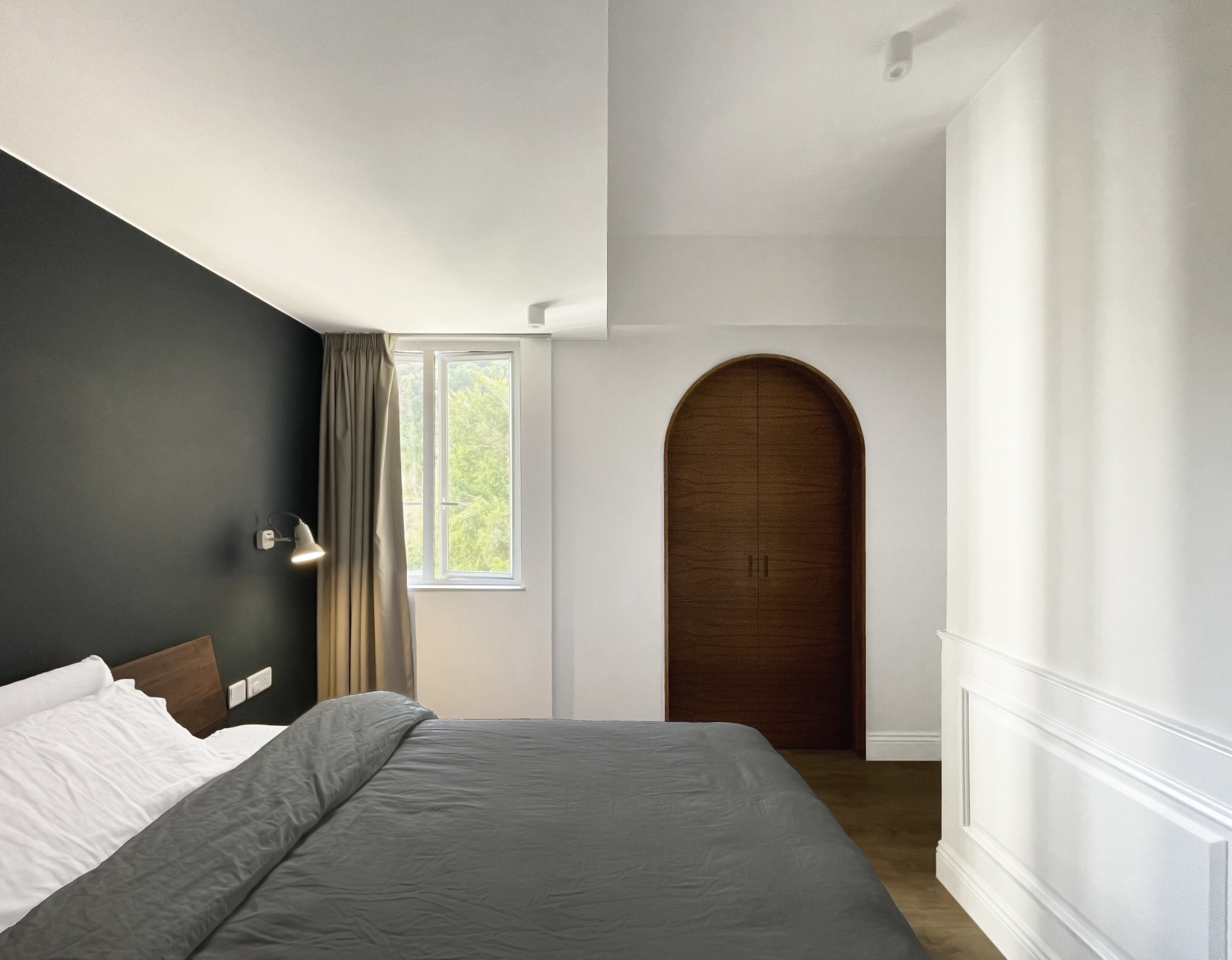 Main bedroom
The Liberal bed was from All The Best (allthebestdesign.com) and the Original 1227 mini wall light, by Anglepoise, from Homeless (homeless.hk).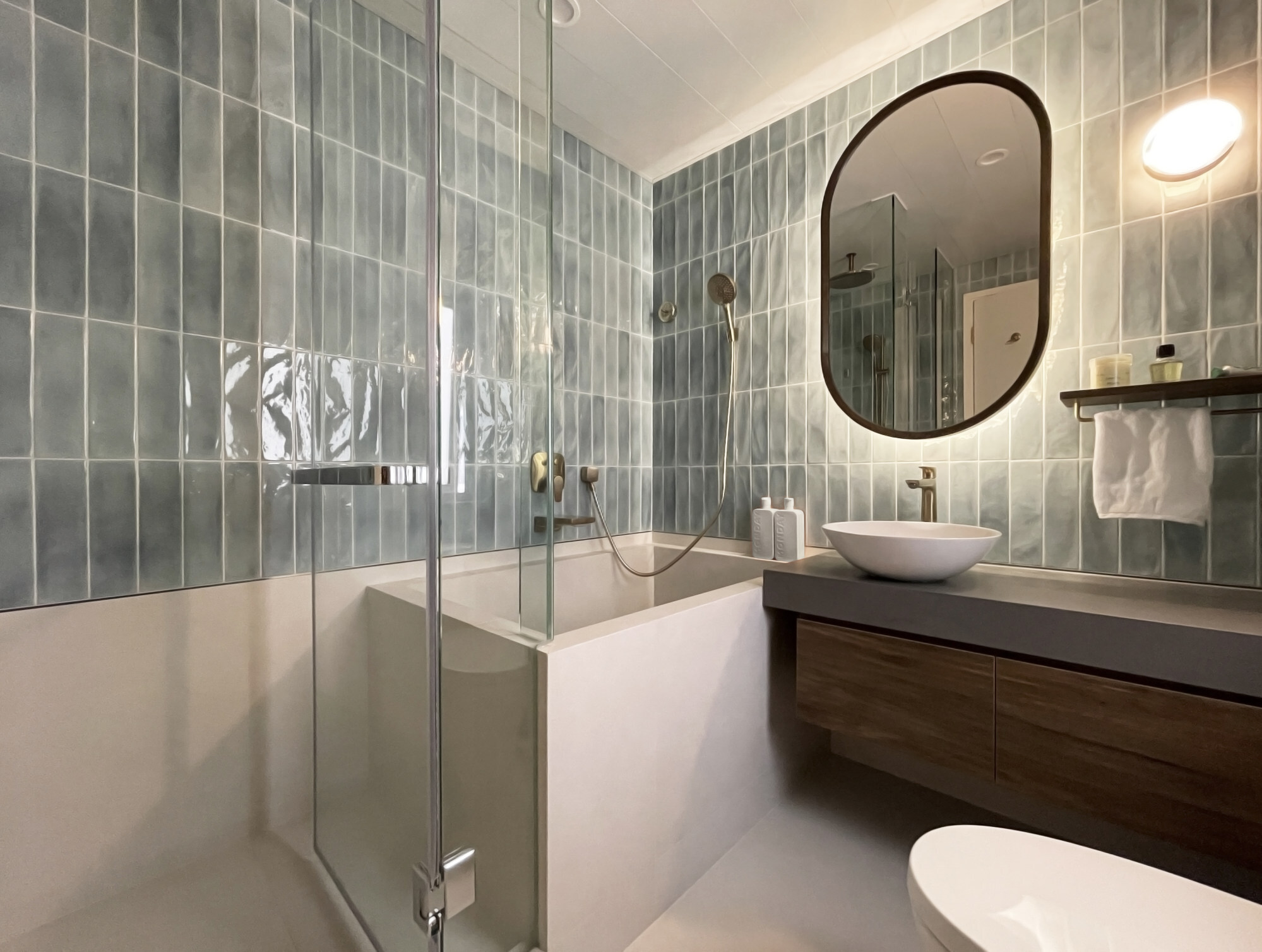 Main bathroom
The walls are covered in blue subway tiles from Hop Hing Lung Ceramics & Sanitaryware (310 Portland Street, Mong Kok, tel: 2396 8844) while Floss Bone tiles, by Anta from Living Ceramics (livingceramics.com), clad the Japanese-inspired bath.
The tub was designed by Hintegro (hintegro.com) and made by Tong's Workshop (tel: 9802 3149) – as were the mirror and the grey quartz and wood veneer sink unit. The worktop basin was from Toto (hk.toto.com) and the taps and shower were from Hansgrohe (hansgrohe.com). The Plaff-On wall lamp, by Marset, was from Homeless.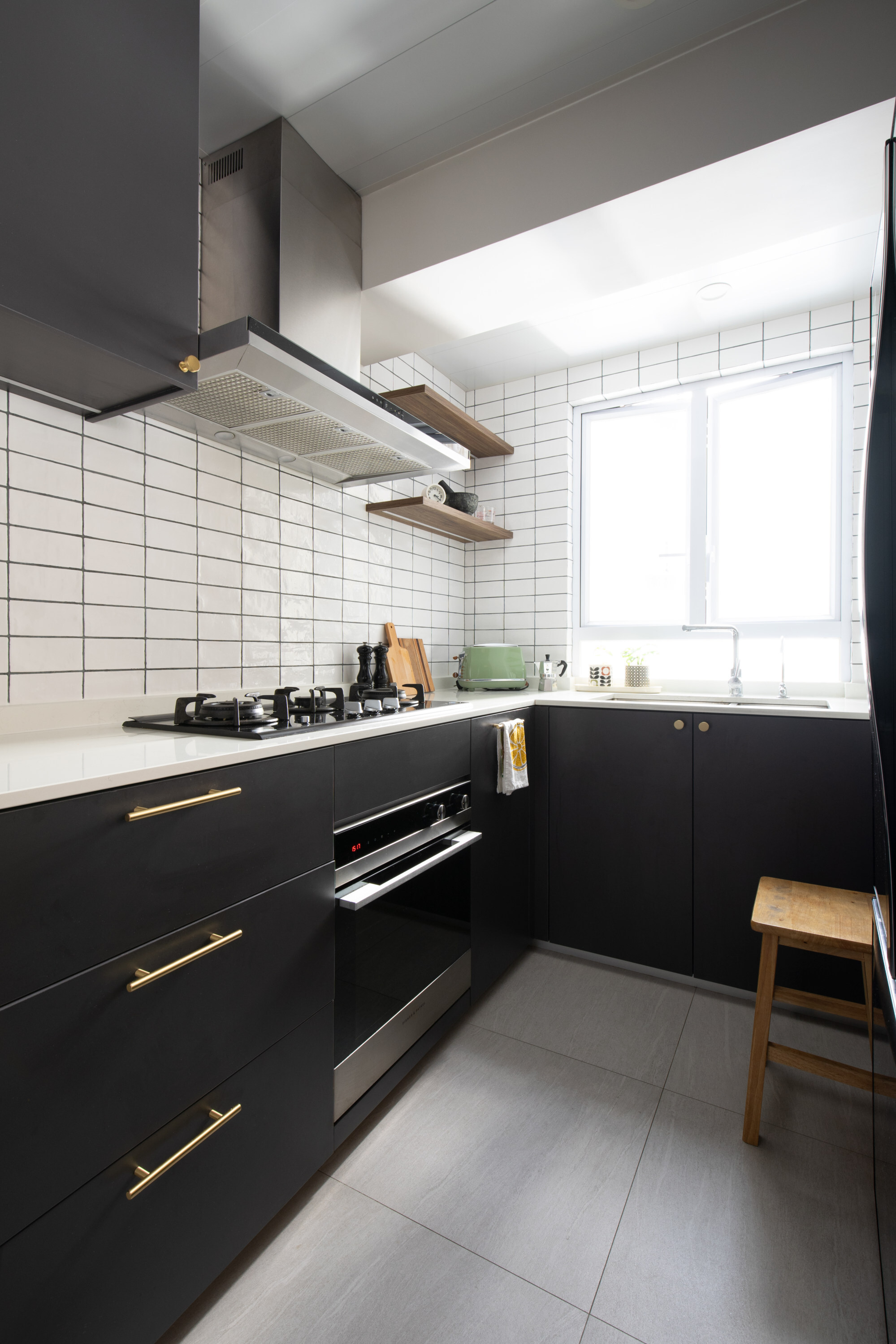 Kitchen
The kitchen was designed by Hintegro and made by Tong's Workshop. The subway tiles came from Hop Hing Lung Material (235 Lockhart Road, Wan Chai, tel: 2511 3013).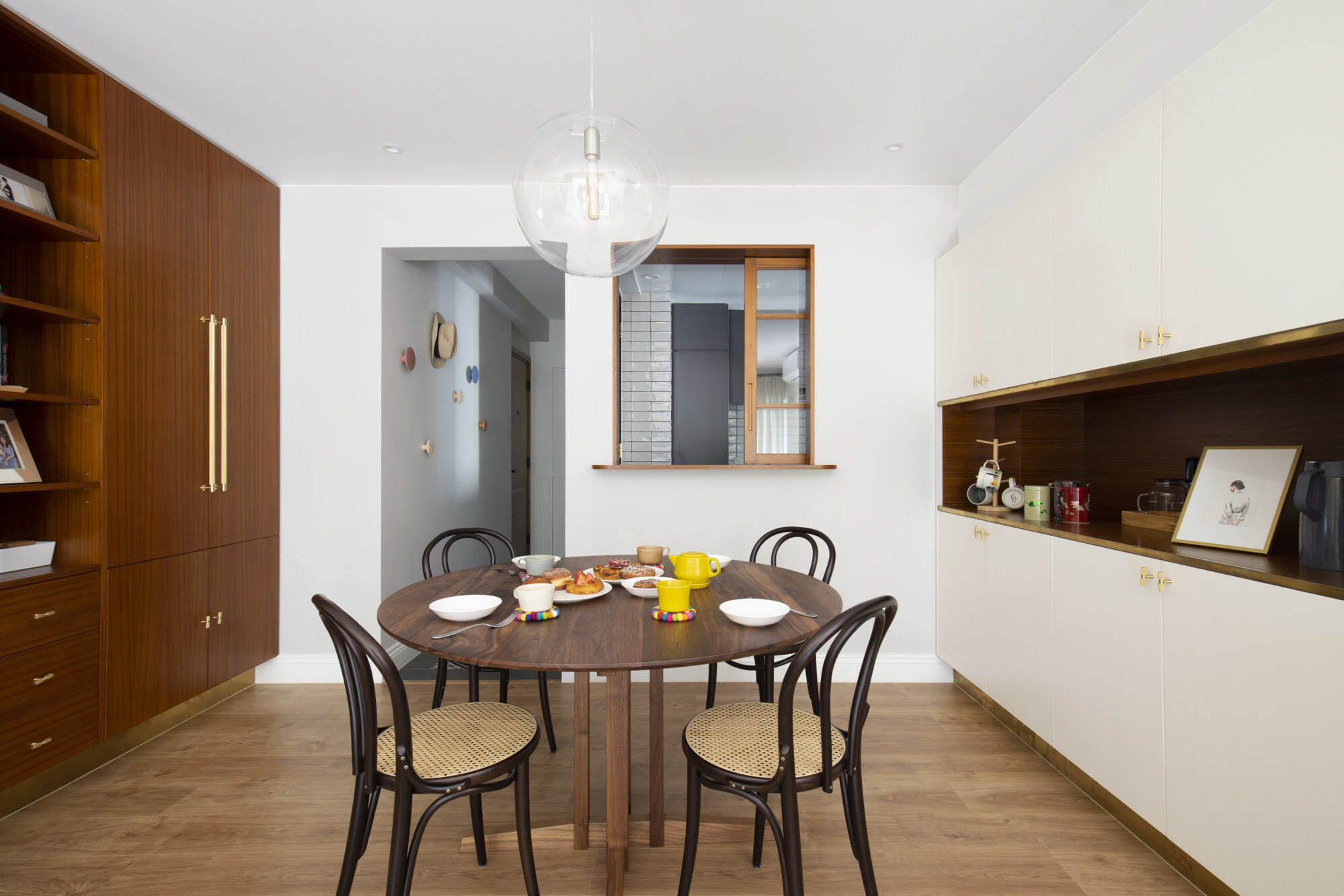 Dining area
The built-in cabinets on either side of the dining room were made by Tong's Workshop. The illustration is by Jessica Durant (jessicadurant.com).
The walnut wood dining table was co-designed by Sunny Lai, of Hintegro, and Ken Chow, of Yat Muk Studio (
[email protected]
) and made by Yat Muk Studio. The Chair 18 dining chairs, by Ton, came from Nature Evolution (natureevolution.com.hk) and the Luna pendant light, by Design House Stockholm, was from Homeless.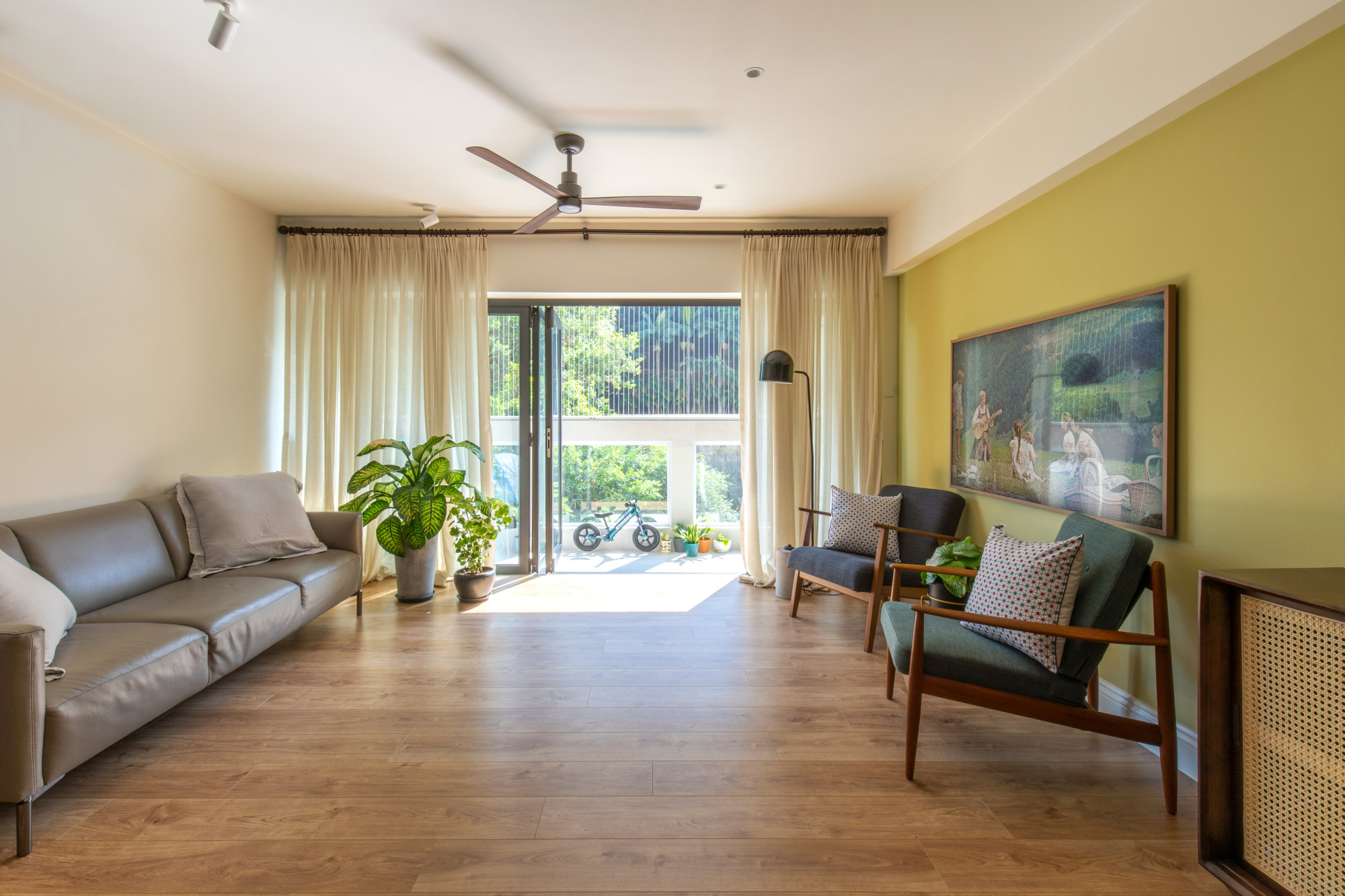 Tried + tested
The balcony off the living room is one of the family's favourite hang-out areas. To keep it safe without resorting to thick bars, Keith Chan strung thin wire from Shang Ting Home Decoration (
www.soengtings.com
) from the parapet to the ceiling.
This approach, which is typically used to keep pets safe in a flat, allows light and fresh air to circulate and doesn't mar the green views. The sofa was from Natuzzi (natuzzi.com).