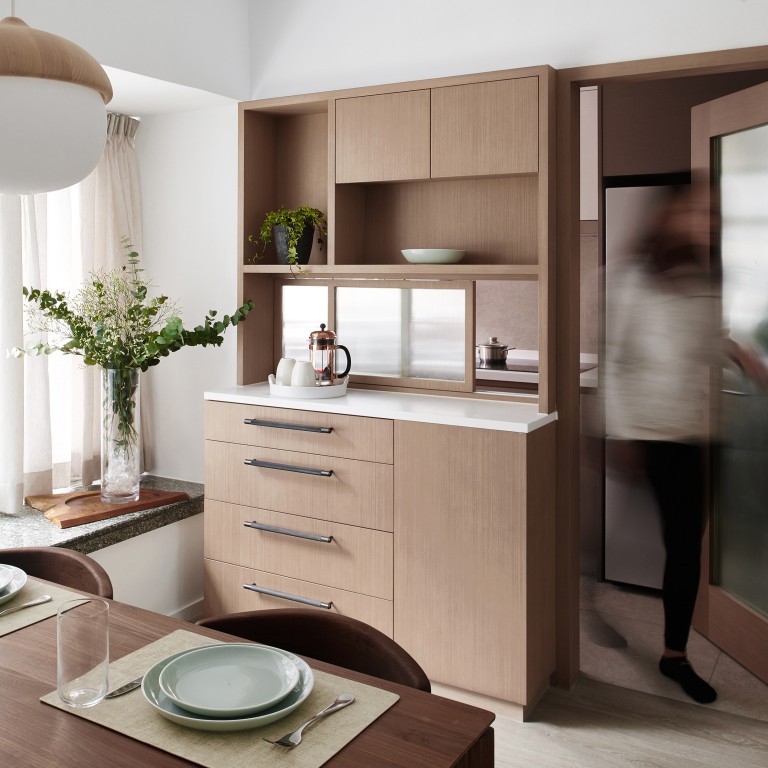 Elderly couple's Hong Kong retirement home an accessible, wheelchair-friendly apartment for them to 'comfortably grow a little older' in
A couple in their early 80s wanted their 800 sq ft Mid-Levels flat to be a space where they could live out their lives independently and safely
They hired interior designer Mary Wong, who made everything reachable for wheelchair users – but with 'lots of soft touches to make it feel like home'
"We're not youngsters," laughs 82-year-old Briton John Armstrong, a financial services retiree who has lived in Hong Kong with his wife, Jean, 80, for nearly 50 years. "And this is exactly what we wanted: a place where we can comfortably grow a little older and have help in the flat when we need it."
In 2021, following 26 years of living in hotel suites courtesy of Armstrong's former employer, and with Jean's health and mobility ailing, the couple bought the 800 sq ft (74 sq m) Mid-Levels flat from their son, who had bought it off-plan 20 years previously.
They also poached his interior designer, Mary Wong Ho-yan, founder and design director of Haven Design, to transform the space into a chic but accessible home where the couple could live out their lives independently and safely.
Rather than making do with the existing floor plan, Wong wanted to create a space that suited the couple's present and future needs and began by taking the flat back to its bare bones; gutting the interiors, tearing down walls and rewiring, as well as updating the plumbing, air conditioning and flooring.
"The [main] door and entrance were very narrow before so we made the kitchen a little smaller so that we could push the wall back and widen the entrance," says Wong, who added a bespoke shoe cabinet and seating area to the now wheelchair-friendly hallway.
"We also demolished a number of walls for an overall more spacious feel and moved the master bedroom door to accommodate a wide sliding door."
Along with these more obvious accessibility conversions – widening doorways and corridors from 720mm (28 inches) to a more manageable 900mm; expanding rooms to allow wheelchairs to turn comfortably; lowering light switches to wheelchair level; removing all barriers, curbs, lips and steps – Wong introduced a number of features to create a sense of open-plan living, such as using a textured easy-clean paint throughout.
She also added a sliding window between the kitchen and dining area to aid communication, and designed a small television cabinet to fit in the corner of the living room to create more space in front of the sofa.
"Most TVs are cable now or have very small accessories so there's no need for a big chunky cabinet blocking the room. It's also easier to dust," says Wong.
From here, a corridor leads to a guest bathroom and helper's room and at the far end of the flat, a bedroom suite that includes an en suite bathroom and a multipurpose room (where a former bedroom stood) that is a study, a dressing room and an overnight room in one: a murphy bed pulls down, should a healthcare assistant need to stay over.
A second set of double sliding doors, with discreet handrails in matching oak wood, lead to an enlarged, remodelled bathroom kitted out with a stone bench for seated showering, safety rails, thermal vents to quickly dry wet floors, and non-slip ceramic floor and wall tiles. "It works very well for us," says John.
Two electronic orthopaedic single beds are accommodated in the suite. "Separate beds with a central corridor make it much easier to get in and out of bed. We don't want John or Jean to have to climb over each other," says Wong of the layout.
An additional protection comes from the installation of floor-level sensor-activated night lights, which gently illuminate the path between the beds and the bathroom. "The lights remind me of aircraft aisle lights. They are very useful," says John.
Windows, behind and in front of the beds, were treated with adjustable louvres and sound-absorbent fabric panels to block out noise from the main road on one side and remote-controlled curtains on the other, ensuring the room always feels grounding and restful.
"I think we have created a safe environment that looks good with lots of soft touches to make it feel like home," says Wong. The clients concur: "It suits me down the ground," says Jean. "It feels quite sophisticated without being fussy. It's a very nice place to be."
Testament to the fact that accessible design doesn't have to be dull.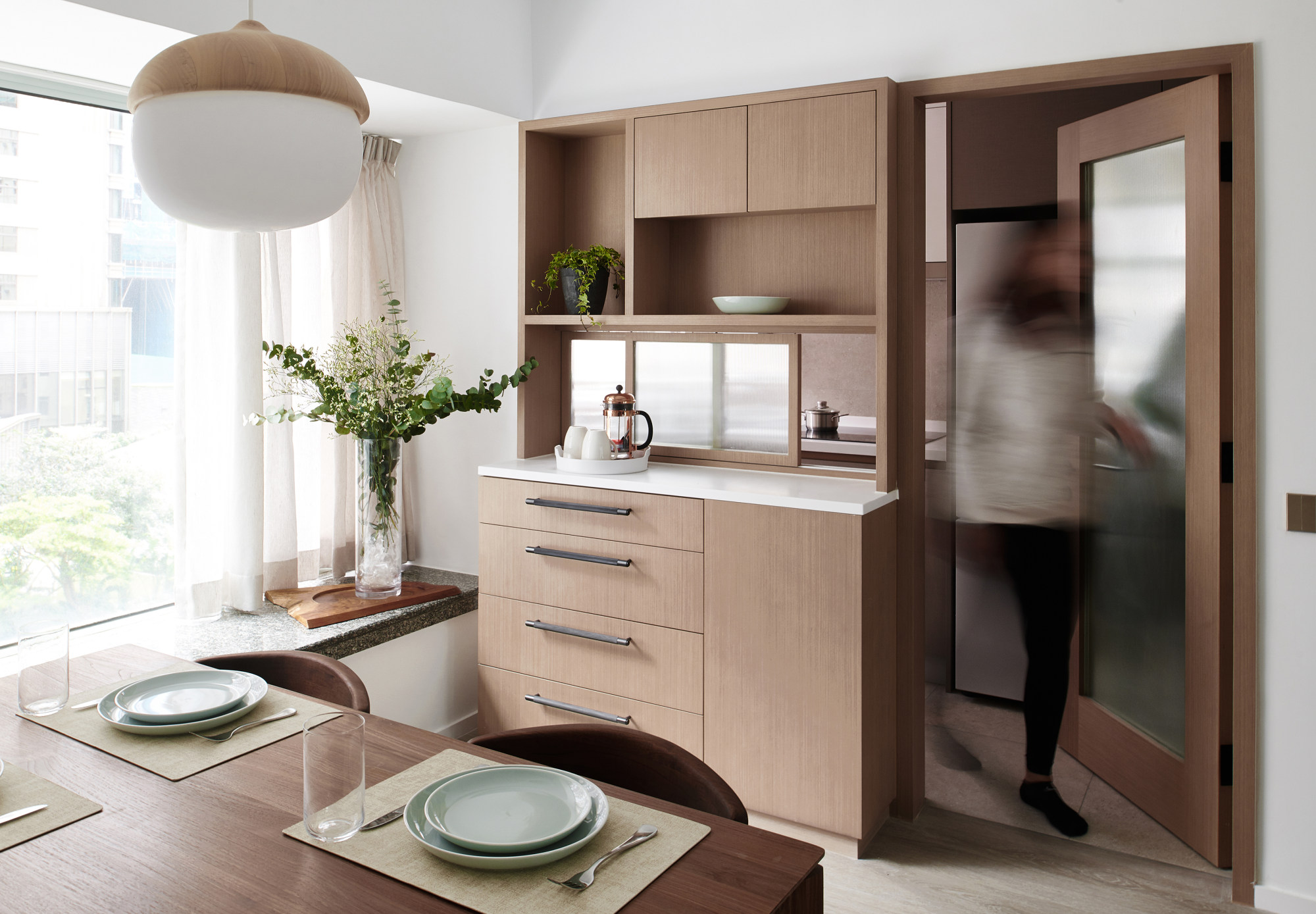 Dining area
Mary Wong Ho-yan, design director of Haven Design (havendesign.com.hk), used kitchen consultants Mplus Contracting (1/F, Kai Kwong Commercial Building, 332 Lockhart Road, Wan Chai, tel: 2445 6188) to create a slightly smaller but more efficient kitchen with dual-sided cabinets and a sliding window.
The Bok teak dining table, which can be extended when family come to visit, and Twist chairs came from Tree (tree.com.hk). The large Terho pendant lamp above the dining table was from Manks (manks.com). The flatware came from Francfranc (hk.francfranc.net).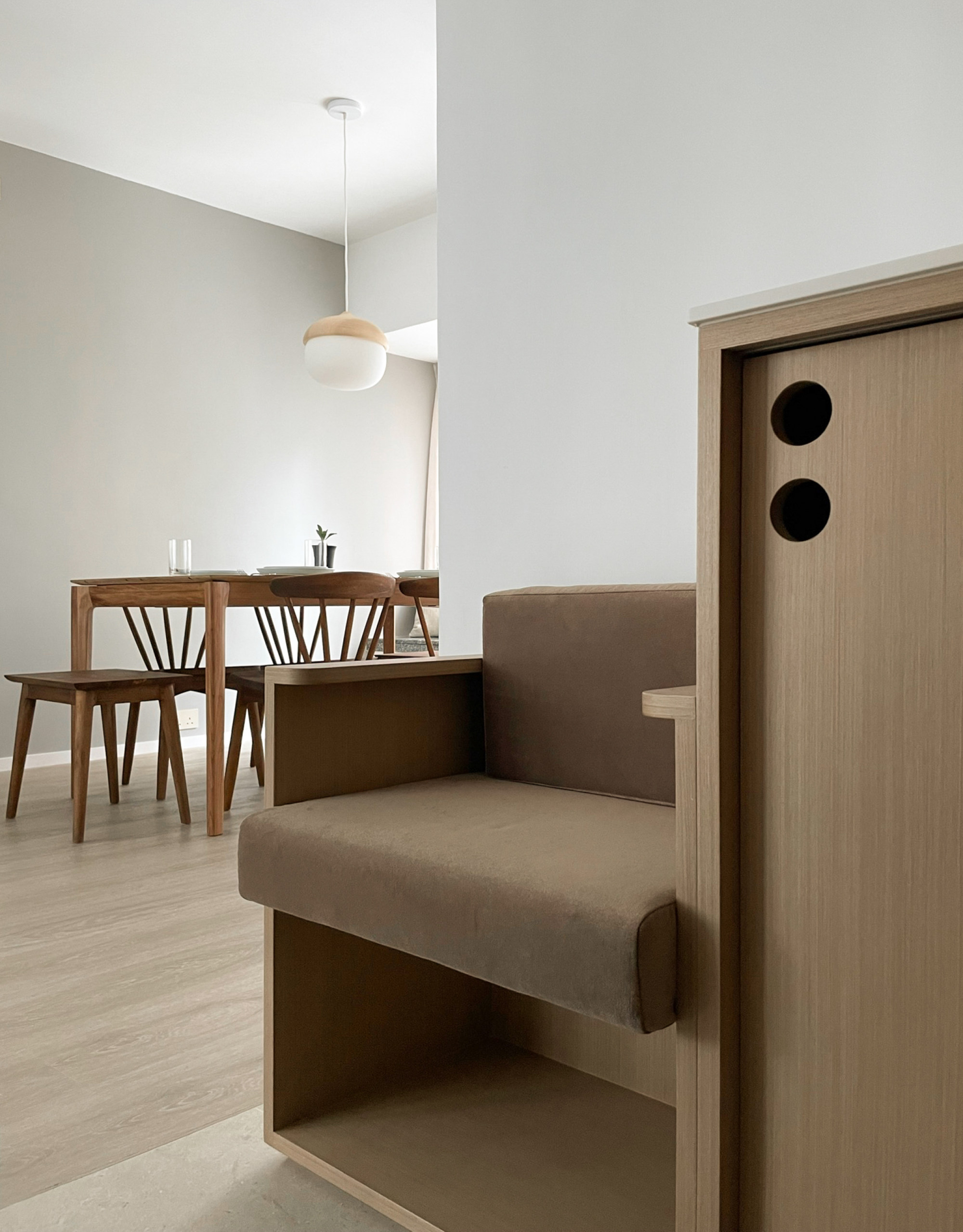 Entrance
"It was especially important to have a seat here to make it easy for John and Jean to remove their shoes," says Wong of the bespoke shoe cabinet and seating area, produced in oak timber veneer with Villa Nova EasyClean fabric (villanova.co.uk) by Wong's contractor, Arcon International (
www.arcon-group.com
).
For continuity and longevity, Wong used environmentally friendly textured paint from Eicó (eico.hk) and oak handwashed matt grey flooring from Karlian International (karlianintl.com) throughout the flat.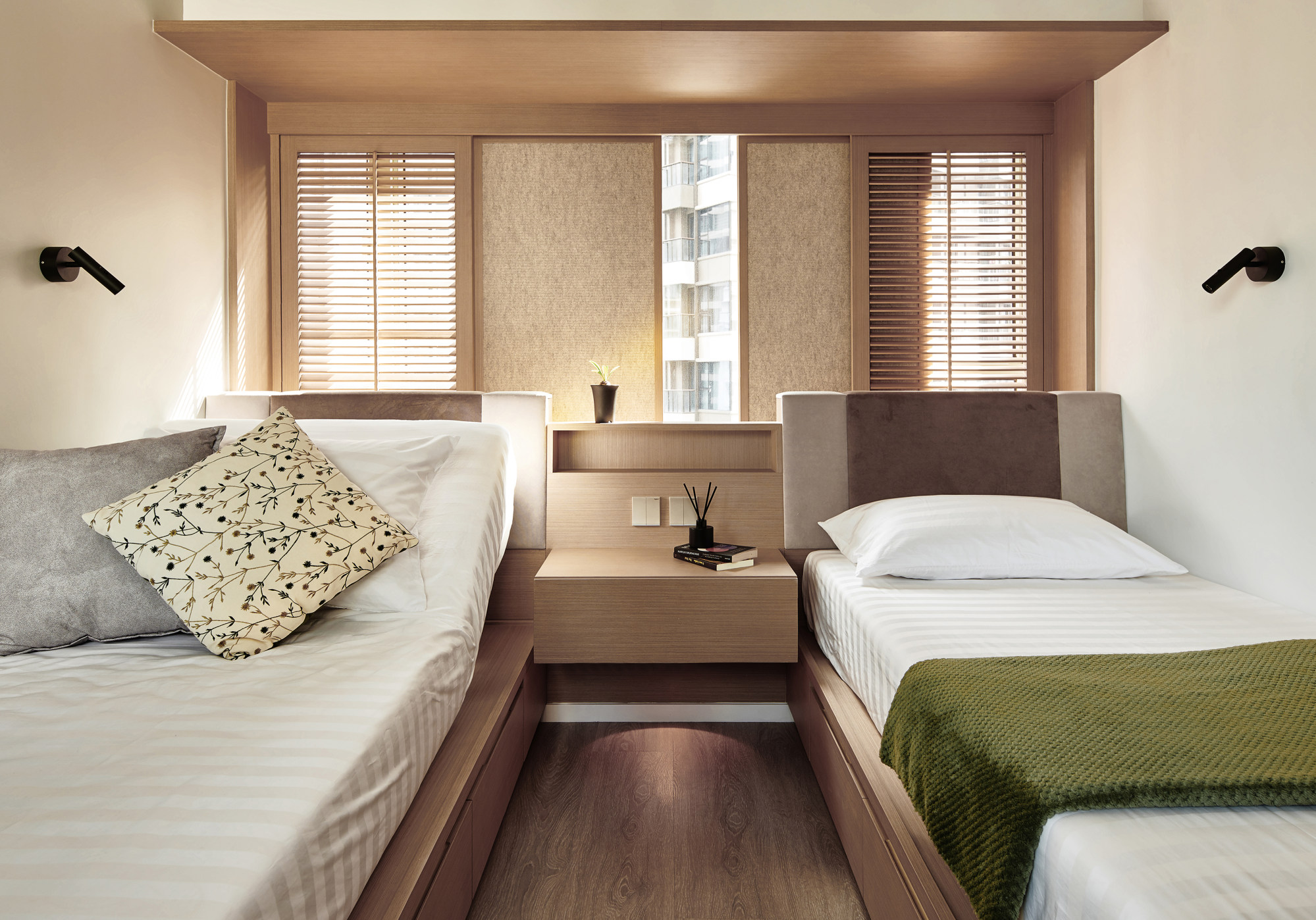 Main bedroom
Arcon International made the beds, which are larger than average, measuring one metre in width. They are topped with orthopaedic mattresses, from elderly care specialists Easy 66 (easy66.com.hk), which can be raised and lowered electronically to help John and Jean get into and out of bed.
Mimicking the hotel style the couple are so fond of is a central bedside table with switches to operate dimmable wall lights from the PLC Group (plc.com.hk). The headboards are made with Atil EasyClean velvet from Villa Nova, while the movable window panels feature sound-absorbing Designtex Wannabe Rib fabric from Tat Ming Wallpaper (tatming.com). The cushions came from Tree's spring florals collection.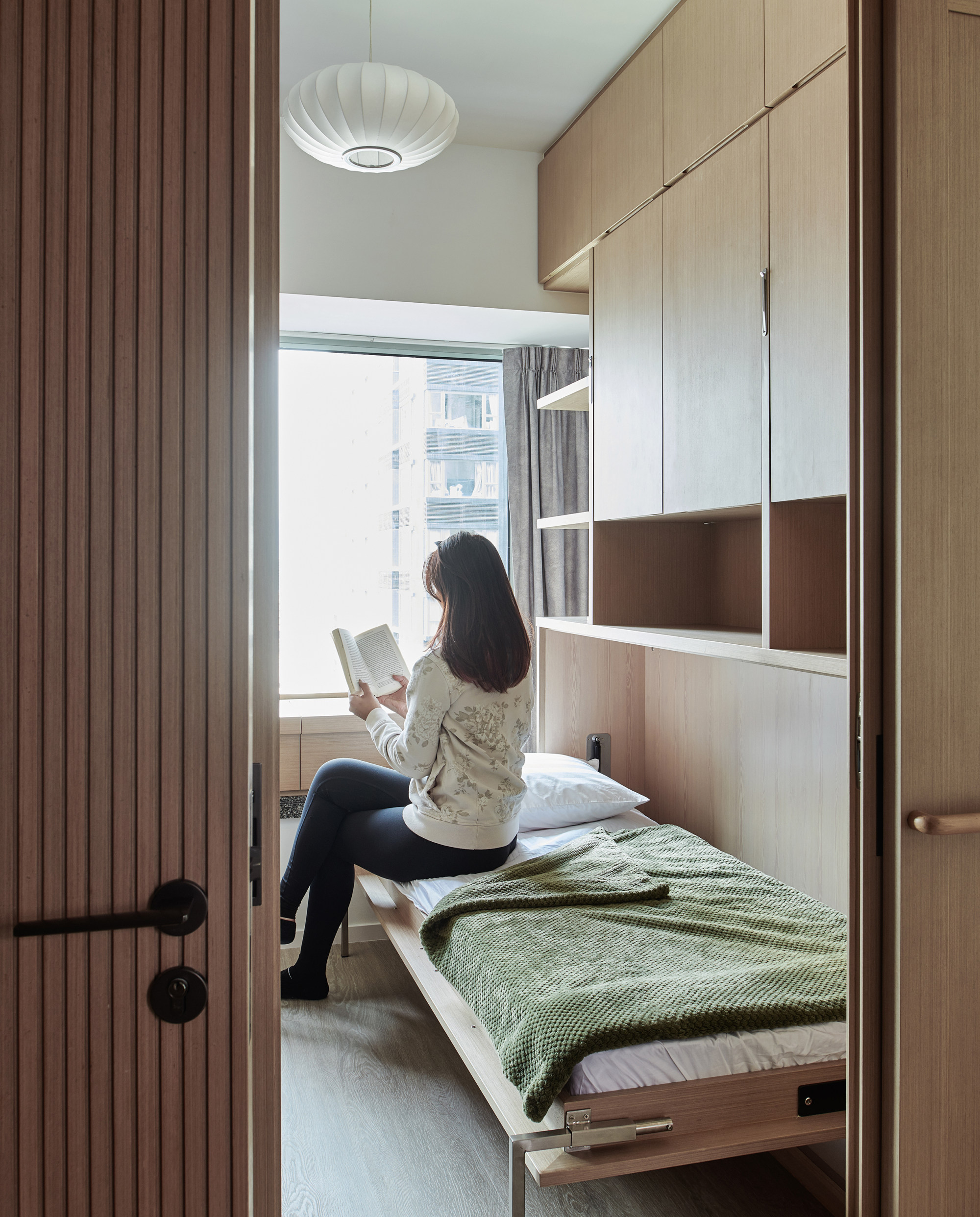 Study, dressing room and guest bedroom
The bedroom suite includes a multipurpose room, with full-height wardrobes, a retractable bay-window desk and a concealed bed, all custom made in oak veneer by Arcon International. The bespoke oak veneer cabinetry artfully conceals a single murphy bed, which can be easily dropped down for visitors. The chair is part of the dining room set and the lampshade was bought through Taobao (taobao.com).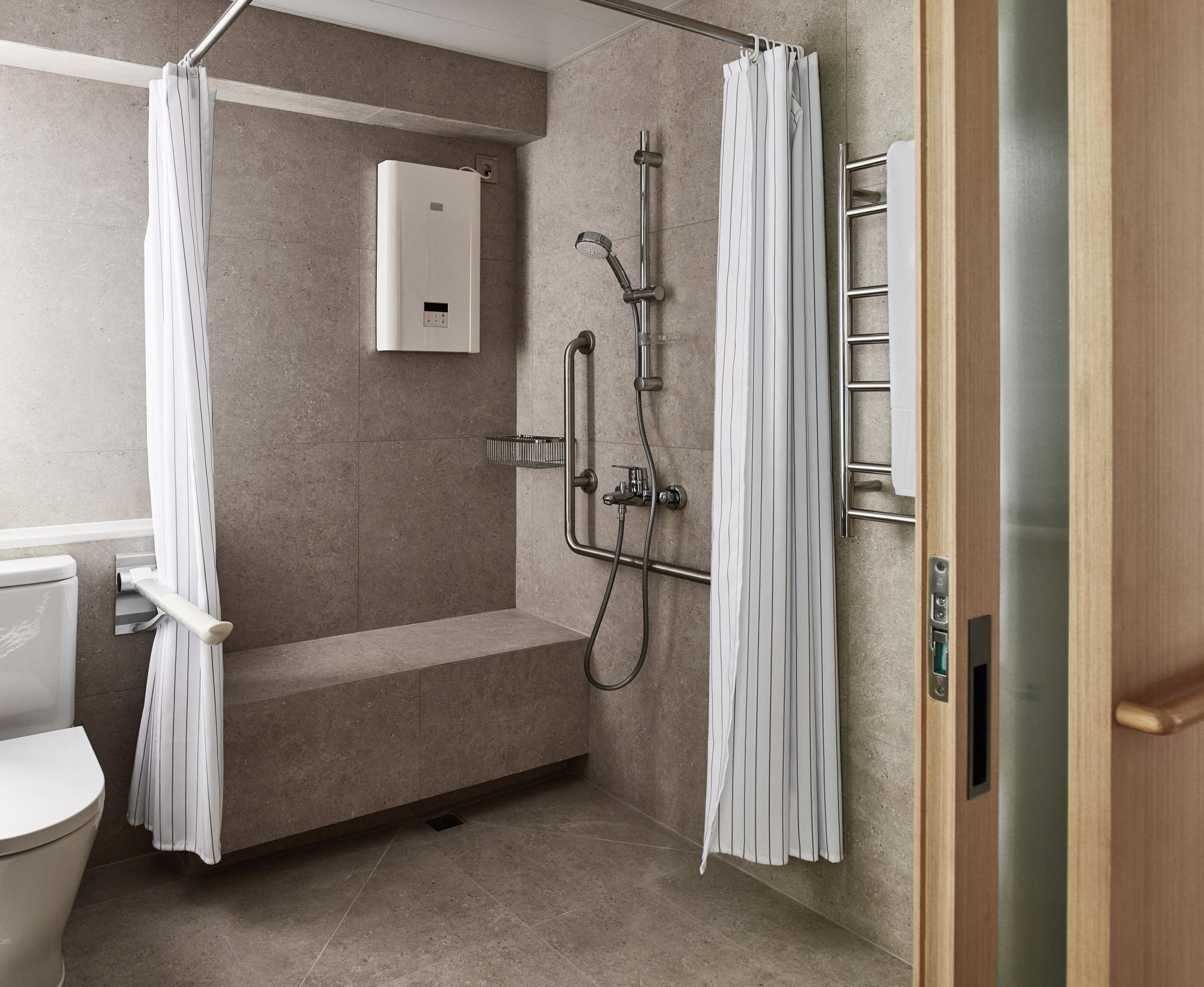 En suite bathroom
Arcon International helped transform a small, dated bathroom into a 50 per cent larger wet room, with plenty of space to manoeuvre a wheelchair and a bench for seated showering. It features ceramic wall tiles and ceramic anti-slip floor tiles, in light grey with a matt finish, from the Bera & Beren collection at Living Ceramics (livingceramics.com).
The shower is from Grohe (grohe.hk), the towel warmer is from Vincent Sanitaryware (288 Lockhart Road, Wan Chai, tel: 2511 2687), the toilet is from Roca (roka.hk) and the safety rails were sourced through Taobao (taobao.com).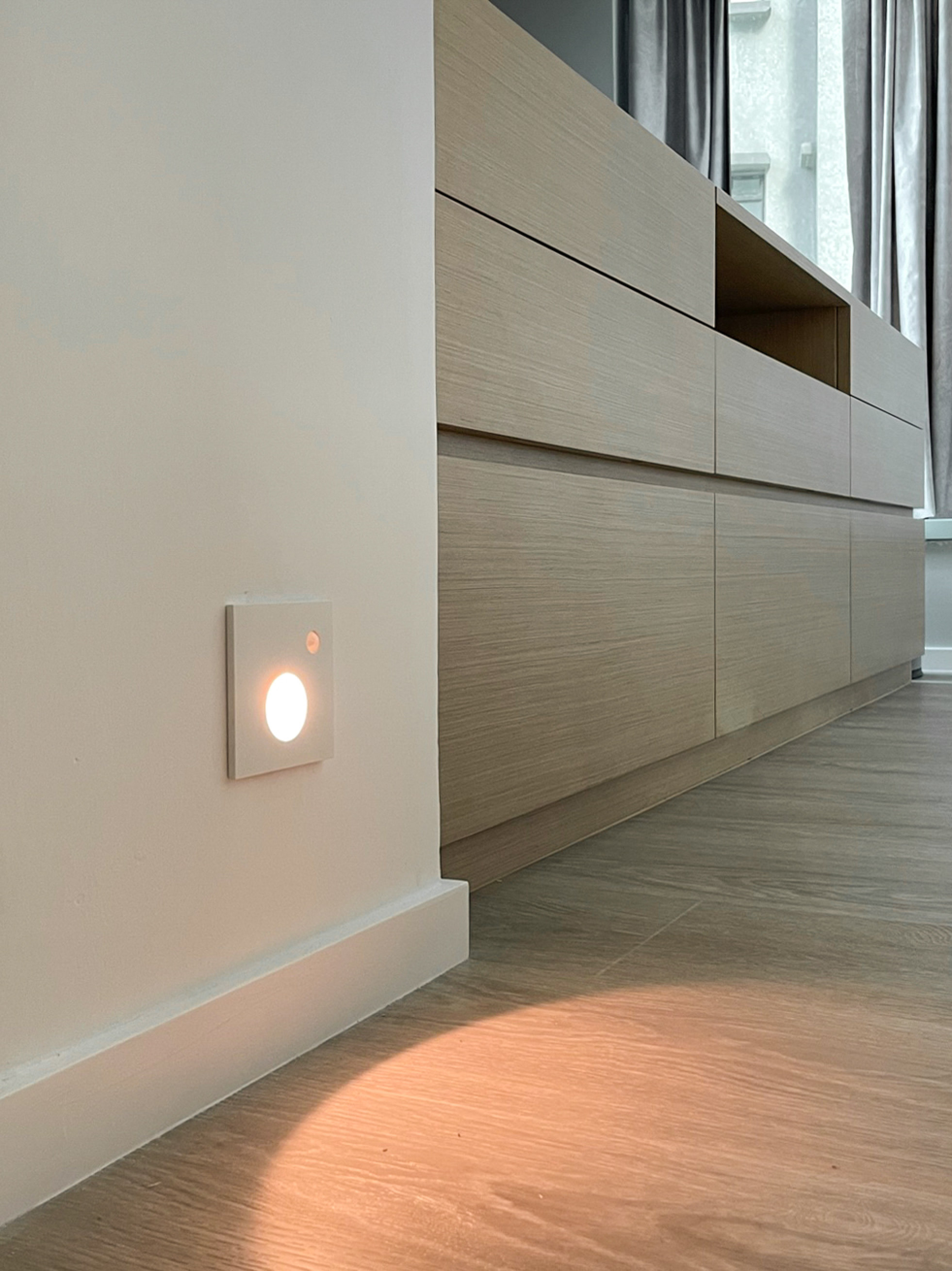 Floor lights
Falls are one of the most common yet avoid­able challenges that elderly people face. One simple solution is to install motion-sensing lights. Wong opted to use downlights from Element Lighting (element-lighting.com) near floor level to light the way between the beds and the en suite bathroom.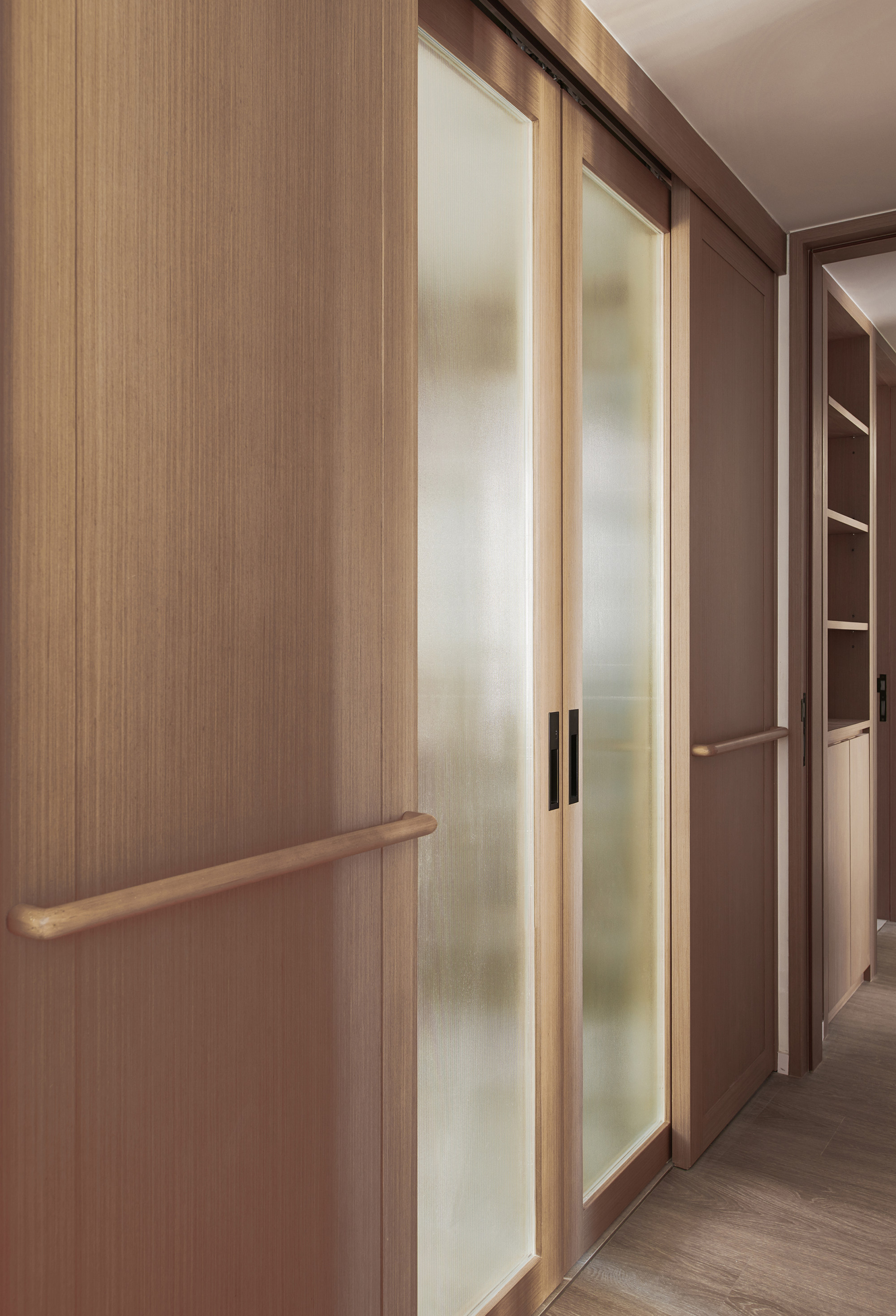 Tried + tested
Double sliding doors, with ribbed-glass panels and discreet handrails, open into the en suite bathroom. "This was our first time designing handrails on the doors along the corridor. Instead of purchasing or making stainless-steel rails, we tried to make it look more subtle by having the rails custom made in solid timber matching the door panels," says Wong.
She advises positioning 40mm-wide handrails at a height of 900mm, as recommended by the Barrier Free Access manual produced by the Hong Kong Buildings Department (bd.gov.hk).