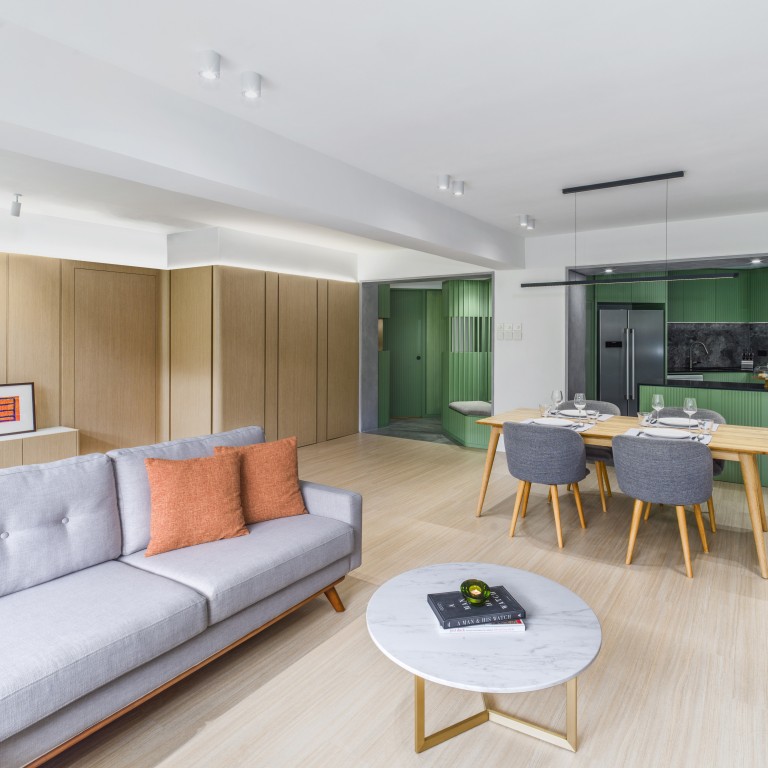 Scandinavian design from living room to bedrooms and kitchen turns Hong Kong family apartment into a future-proofed home
The complete renovation of a 1,400 sq ft Discovery Bay apartment saw it tailored to suit the needs of each family member
All the furniture is custom made to maximise space in the two 'wings' and the living room, while two home offices mean work from home is no issue
When Luke and Mari Logan first laid eyes on what was to become their new home, they were brutally honest.
"It was pretty ugly," concedes Luke of the grey, angular building, one of the first to be built in Discovery Bay in the early 1990s. But it was what was inside that counted, and the 1,400 sq ft (130 square metre) fifth-floor flat – the sum of two flats joined side by side before they bought it in 2021 – met their needs precisely.
The layout allowed not only a bedroom each for their two young sons, but also two home offices, which were must-haves. Despite the odd angles, "we thought, we could make this work", Luke says.
The couple's criteria were honed by the pandemic. Having lived through several waves of Covid-19 in a smaller, rented Causeway Bay flat, with both working remotely and the boys home-schooled in a shared bedroom, the flat they were buying needed to be future-proof.
"We'd realised the hybrid working model would be here to stay," says Luke, an Australian business development consultant, who has lived in Hong Kong for 12 years.
The location was another favourable factor. Luke and his Japanese wife, who works in financial services, wanted their boys to grow up semi-independently, riding bikes and skateboards around the quiet, tree-lined neighbourhood.
Although the interior of the flat was serviceable, this was to be the family's home for at least the next 10 years, so a cosmetic makeover wasn't sufficient. "We really wanted to design everything from scratch," says Luke.
Anthony Lei Chi-son, design director at EMCS Design, was assigned to strip out the interior and reimagine the home in a style incorporating Scandinavian functionality with mid-century modern influences.
Because the two former flats were mirror images, the home is effectively configured as two wings, with a large living room in the middle. In the parents' wing, a former fourth bedroom has been commandeered as Luke's home office. Next to that, the main bedroom and en suite have been reconfigured to correct a perceived misalignment.
"The bedroom felt too small while the en suite had more space than necessary," Luke says. This allowed room for separate his-and-hers wardrobes while keeping the twin vanities, a large shower and Japanese smart toilet in the refitted bathroom.
It also gave Mari a dressing area with a special privacy feature Luke copied from one of his workplaces (see Tried + tested).
Because of the many angles in the home, the couple opted to have all the furniture custom made. Lei explains that while this does add expense to a renovation, it maximises space and achieves a streamlined look.
This works particularly well in the children's bedrooms. The boys like to have friends sleeping over but did not want bunk beds. Instead, their single beds have pull-out second mattresses below, freeing up space for built-in desks.
Elsewhere, bulky items such as suitcases and sports equipment are seamlessly hidden within custom cabinetry.
There was much ado about the kitchen. Because it doesn't get much natural light, and in keeping with the greenery outside, Lei suggested breaking away from a neutral palette with green cabinetry. And marrying that with the same tone in the entranceway.
"I was really unsure about this," says Luke. "I objected, but was outvoted by my wife and Anthony." Luke's reservations were not quelled until he saw the finished result, which, he agrees, makes an impressive statement.
The kitchen contained a number of quality appliances that were still in good condition, so the couple decided to keep them, repositioned within the new cabinetry. As a family that loves to cook, they also installed an extra oven, hob and second fridge, as well as a teppanyaki grill.
Rather than leave the living room – almost a perfect square – as one undefined space, the designer proposed a furnishing arrangement that would visually build zones: one for dining, another for watching television, a third for reading and reflection. The last expands the entrance foyer, where the angular corners are incorporated into custom-made shoe cabinets.
Perhaps the greatest luxury of this home is the second home office, created for Mari, in a redundant former helper's room. Having a dedicated private space enables Mari to continue to work remotely, as she now prefers, even as many people have returned to the office.
That this tailor-made interior so well reflects the characteristics of each family member is a feat of design excellence.
In the final piece of the renovation, the home is also about to get a prettier face. "There's a project under way to completely refurbish the outside of the building," explains Luke. "We're very happy about that."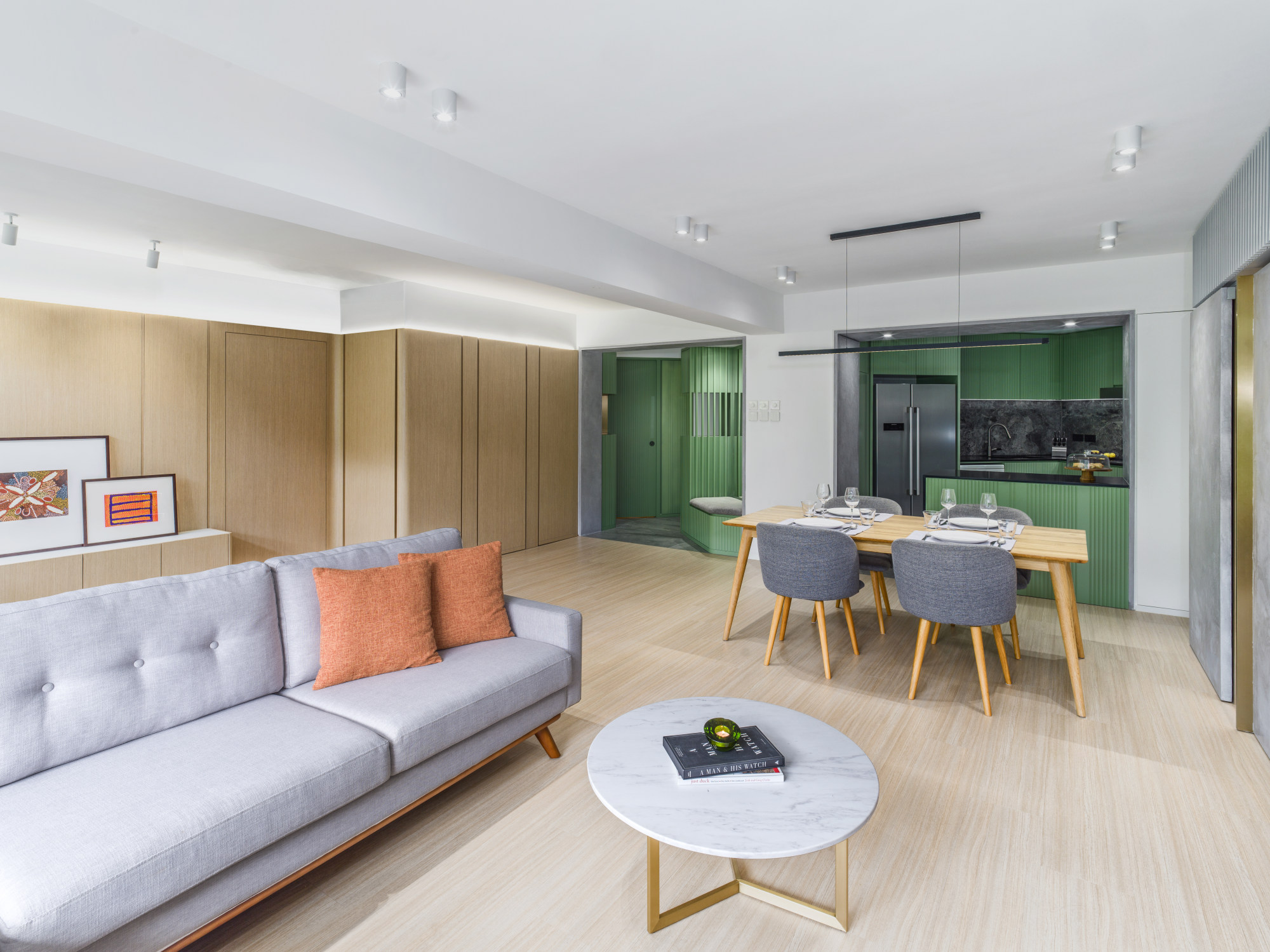 Living area
The living space features a dining table and chairs from Tree (tree.com.hk) below an Inform pendant light from Zodiac Lighting (zodiaclighting.com). The sofa, from Stockroom Furniture Outlet (stockroom.com.hk), is dressed with cushions from Amazon.com. The coffee table was custom designed and made by EMCS Design (emcs.com.hk). In frames displayed on the left are Aboriginal artworks from Australia that were received as gifts.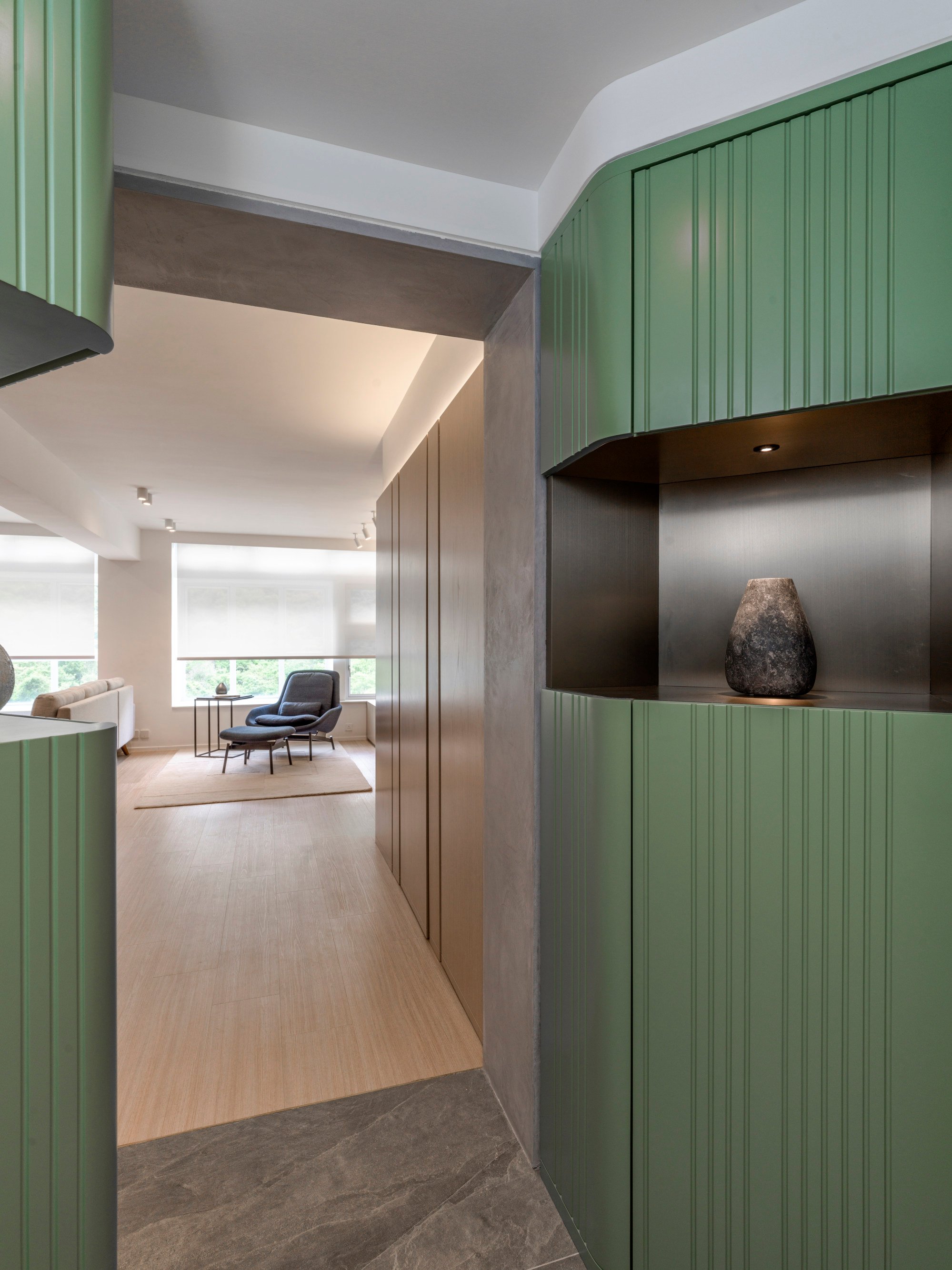 Entrance lobby
Shoe cabinets flanking the front door have been painted green to match the kitchen cabinetry. The ceiling here has been dropped slightly to differentiate the spaces. The reading/reflection zone in the middle distance features a Field lounge chair and ottoman by Blu Dot, from Archetypal (archetypal.hk), a PAT IV side table from Ovo (ovo.com.hk) and a vase from Tree.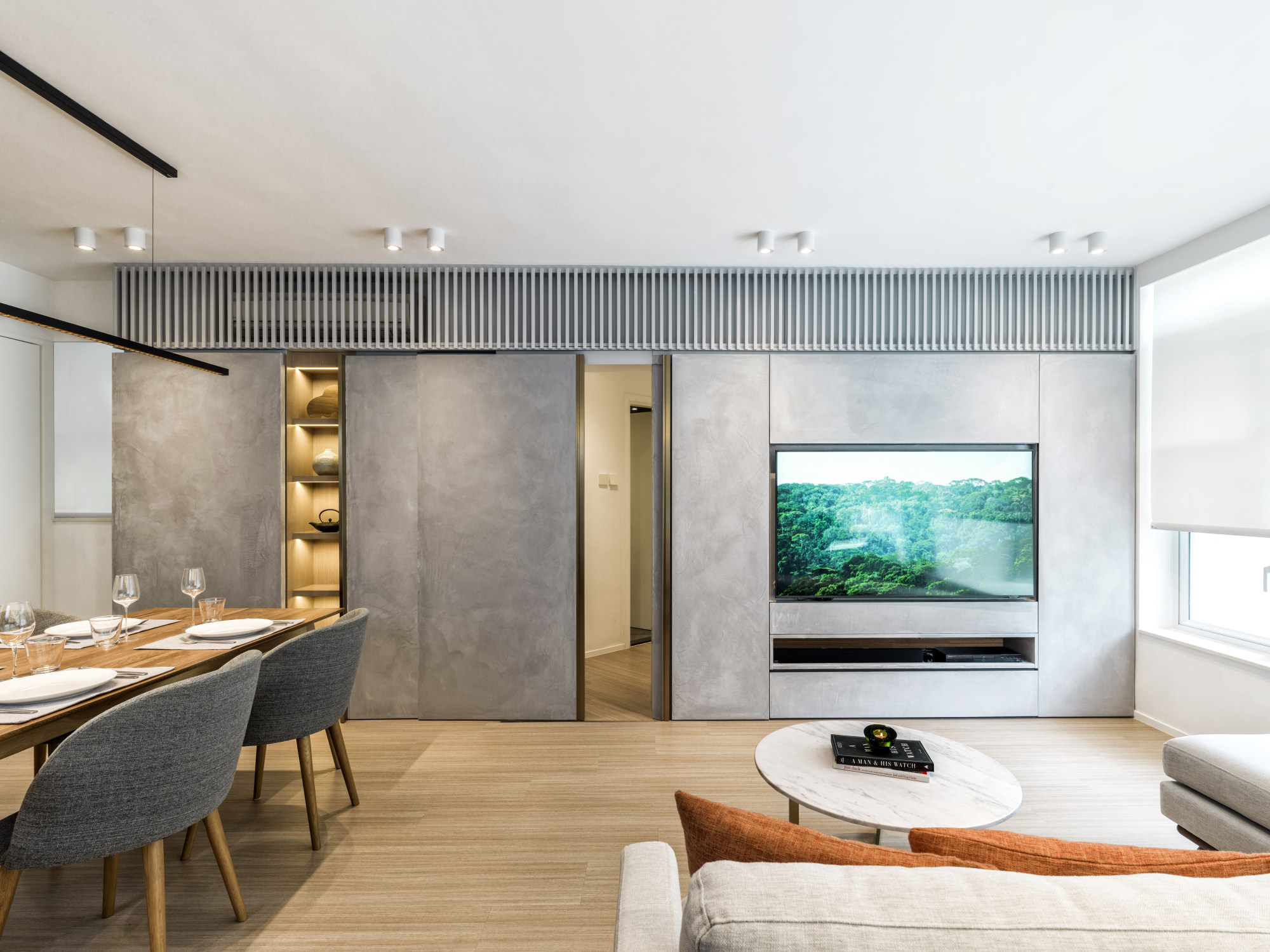 Living area
Instead of a solid wall, the main living space and the parents' wing are divided by floor-to-ceiling storage set behind sliding panels finished in grey Italian plaster. The section on the left houses dining room accessories, with open oak wood shelves displaying objects picked up on the couple's travels, while around the television on the right, cables, DVDs and entertainment devices are kept neatly out of sight. The cabinetry throughout the home was by EMCS Design.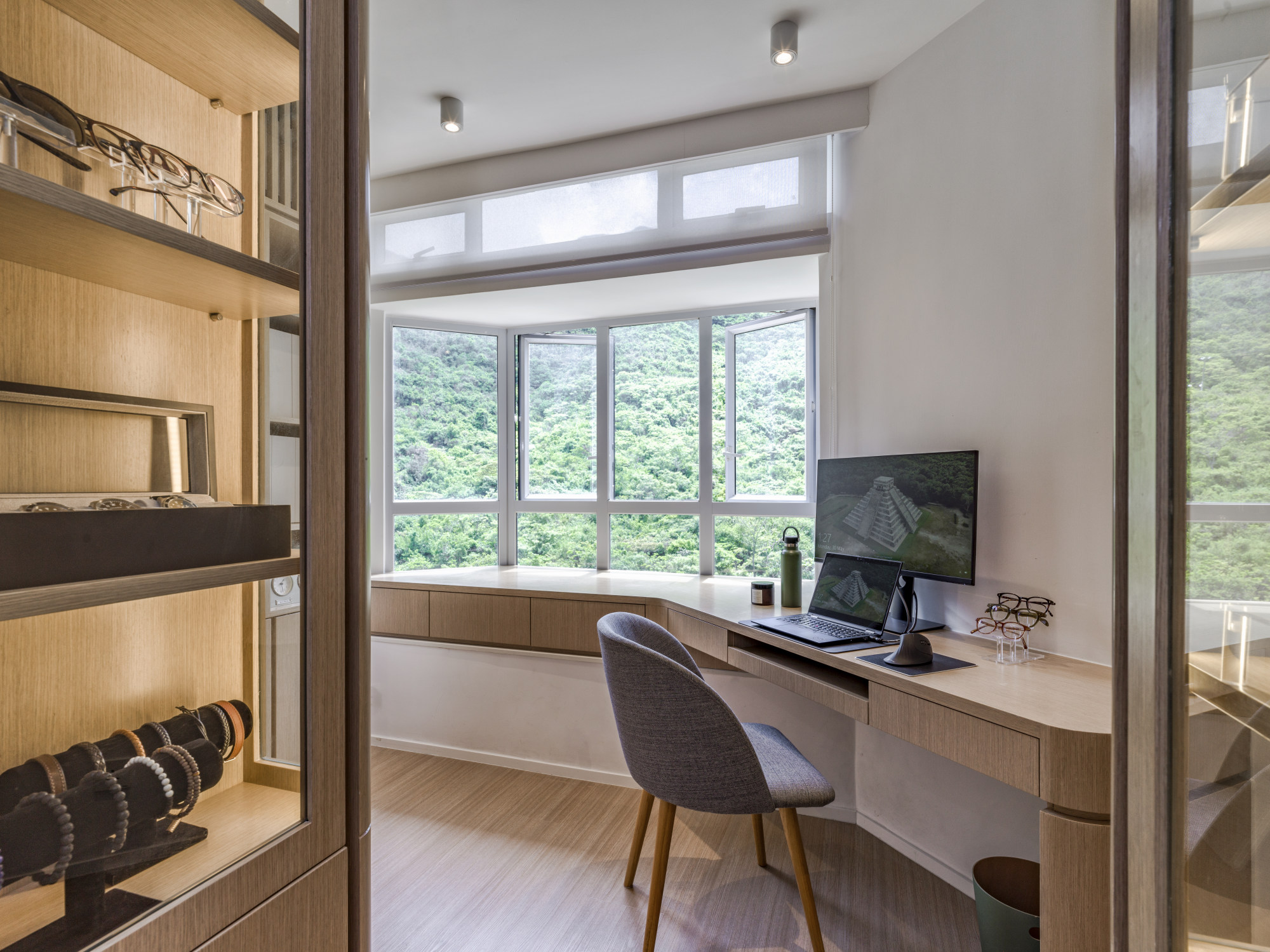 Office
Flanking the doorway into Luke Logan's office are timber and glass cabinets designed by EMCS Design to display his collections of watches, eyewear, wristwear and fragrances. The custom-made desk was by EMCS Design and the chair came from Tree.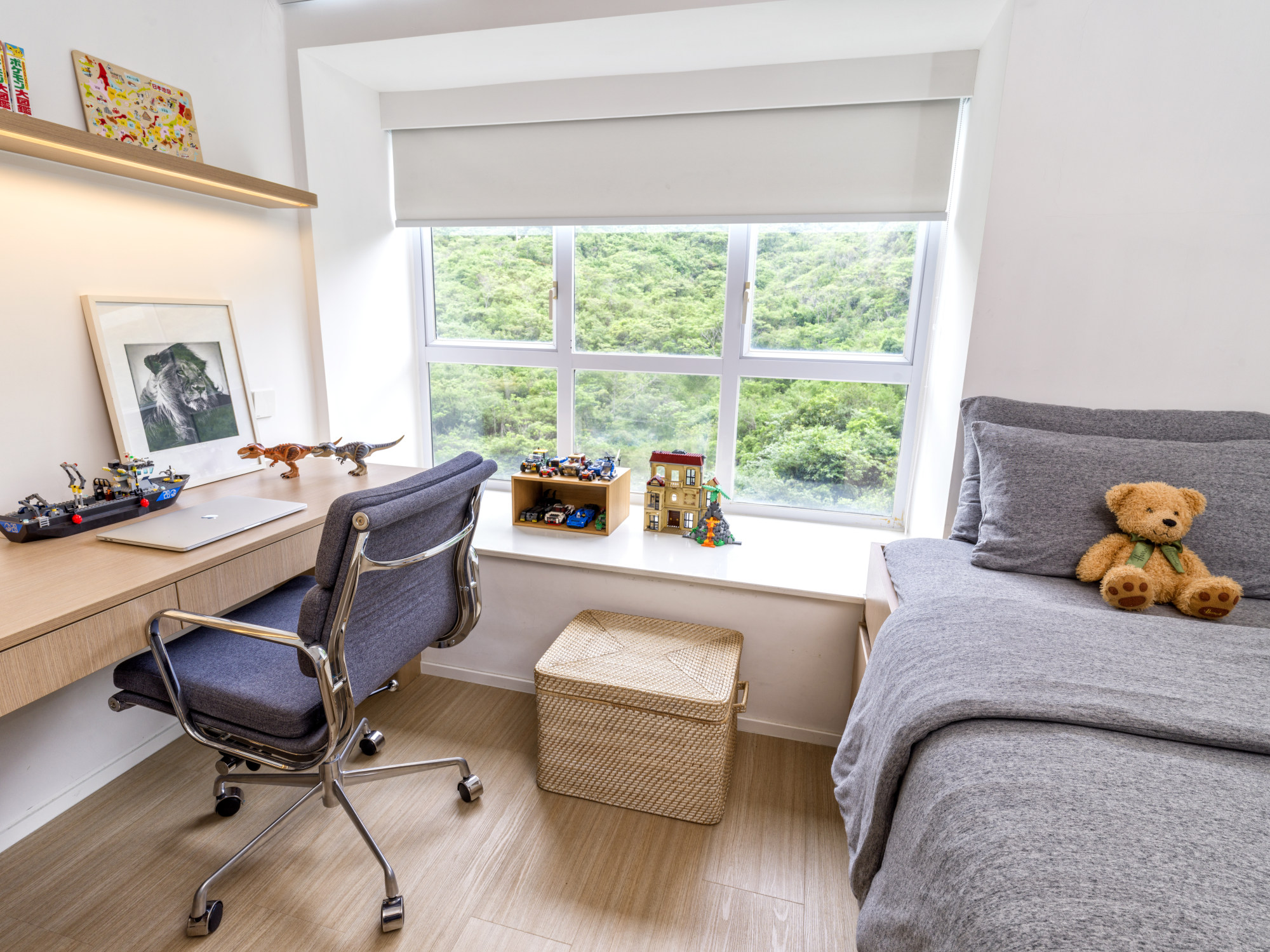 Son's room
To complement his custom-made bed, desk and shelving, all by EMCS Design, the older son chose a Charles Eames-inspired office chair from Stockroom Furniture Outlet. The cane toy box was from Tree. Displayed are the boy's Lego creations and a framed print of a lion (because he is a Leo) by French wildlife photographer Laurent Baheux, bought from Yellow Korner (yellowkorner.com).
Kitchen
The cabinetry, by EMCS Design, has been painted one shade of green, although variances appear depending on the light and viewing angle. The ceiling lights and an LED strip under the wall cabinet came from Login Lighting (21 Fleming Road, Wan Chai, tel: 3707 8022).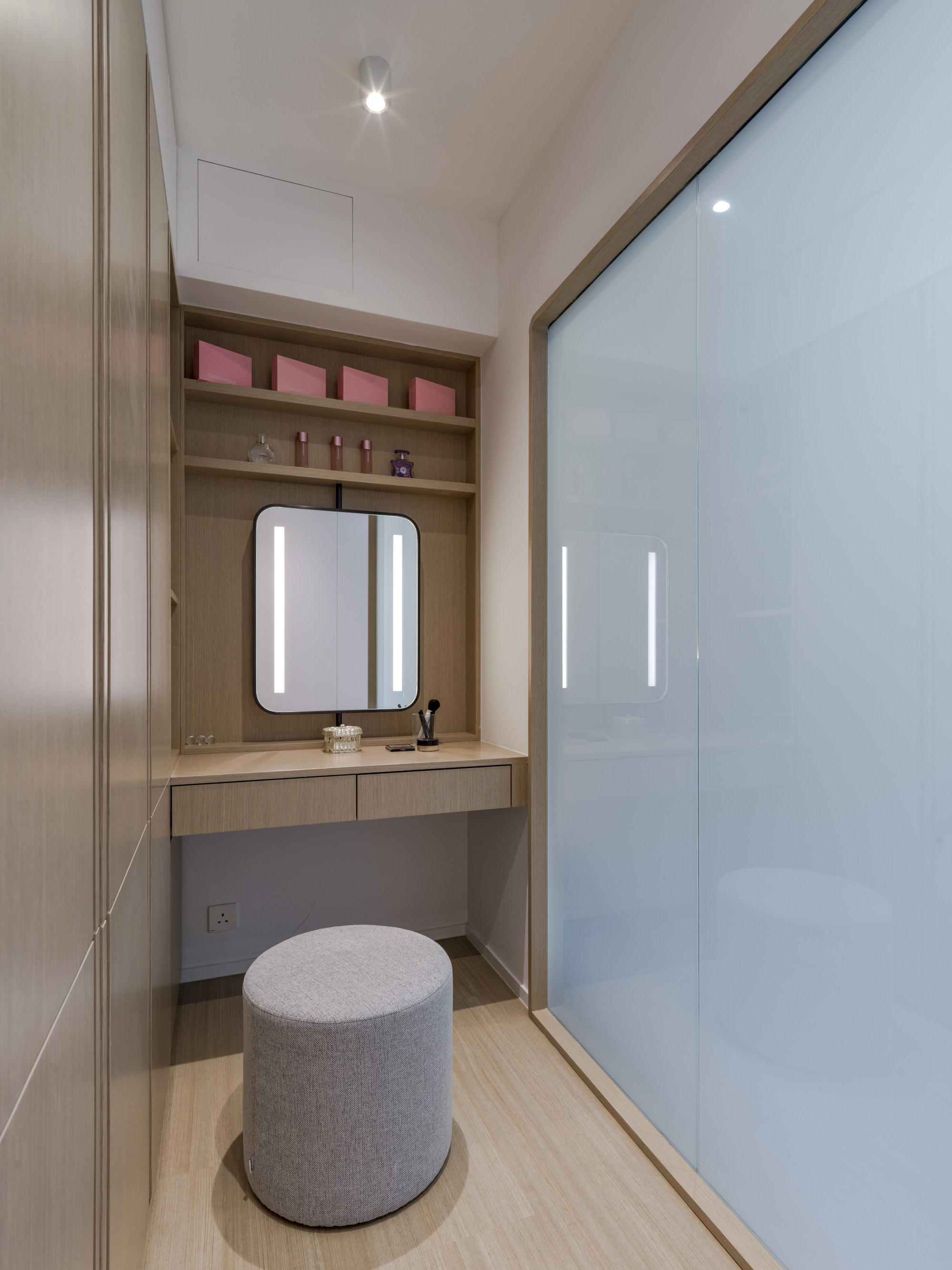 Tried + Tested
A dressing area for Mari features a make-up mirror with built-in lighting custom made by EMCS Design, and a pouffe from BoConcept (boconcept.com). A row of wardrobes lines one wall. On the right is a smart-glass screen from Rosbert Glasswall (rosbertgw.com) that changes from transparent to opaque via remote control, giving Mari privacy when she wants it.