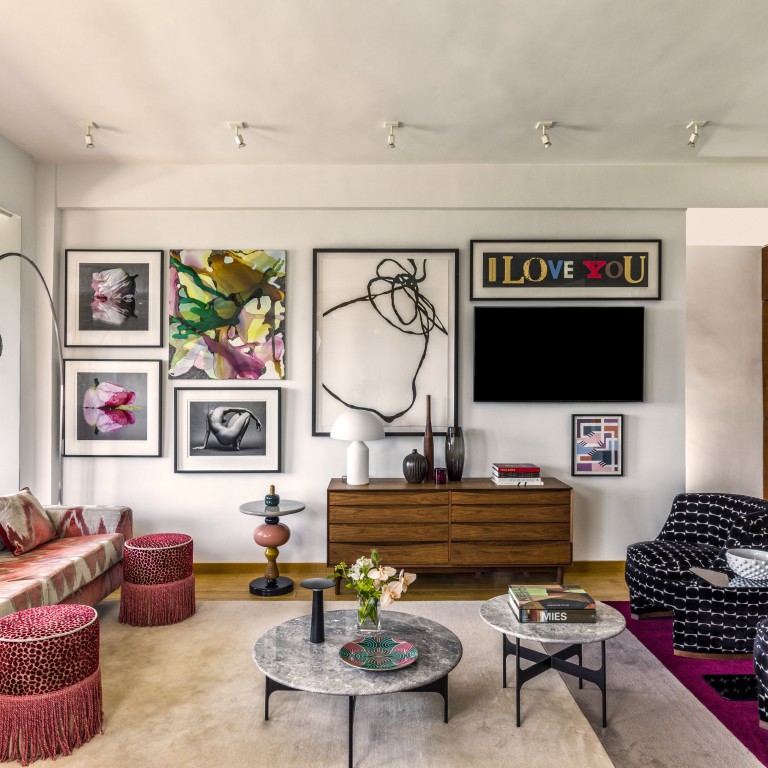 Eclectic art, upcycled furniture in Hong Kong home complete with roof terrace perfect for entertaining friends
Interior designer Aviva Duncan moves every few years, most recently to a 2,000 sq ft flat in Stanley with a spacious roof terrace
She filled each room with art, upcycled a few existing pieces of furniture and carved out a space for a home office in a recess off the living room
Moving home is considered one of the most stressful things in life, but not if you're Aviva Duncan. The interior designer almost relishes the prospect of packing up and starting again in a new space, and recently moved home from Mid-Levels in the northern part of Hong Kong Island to a 2,000 sq ft (186 square metre) flat in Stanley on the island's south side for a lifestyle change.
"I have moved a fair amount, so I have it down to a fine art," says Australian-born Duncan, who has lived in Hong Kong for more than 20 years. "I often visit a new apartment a few times before moving in so I can visualise where my furniture will go.
"I also always book someone to hang pictures and lights the day we move in. It's typically a three-day process from start to finish and after the third day, there won't be a packing box in sight."
It was a bonus that her latest three-bedroom, two-bathroom flat was in great condition. There were no dark rooms to deal with or ugly fixtures to disguise. Duncan even gave her new landlord the colour specifications for the paint she had in mind, and he made sure her walls looked fresh before she took over the lease.
"Most apartments have some unattractive aspects and I've spent a lot of time and energy covering up unsightly things," says Duncan, who has many strings to her design bow, from getting homes in tiptop shape to attract buyers to creating bespoke rugs or teaching summer design courses.
"Everything worked, and I didn't have to do anything to make this apartment liveable, which is very unusual for Hong Kong, especially for someone as fussy as me."
Over the years, Duncan has invested in versatile big-ticket items (such as her Cassina sofa), which are made to last and can fit in anywhere. However, whenever she moves, she usually upcycles a few existing pieces to create a new look.
This time, she re-covered two club chairs in black-and-white, geometric-patterned Gastón y Daniela fabrics and two cute stools in Jim Thompson leopard-print fabric with fringes. Needing something to pull the living area together, she treated herself to a large geometric rug, which she designed.
"A living room rug needs to be big enough to extend under all key pieces of furniture, which makes it a little more expensive but will also make your space look more cohesive," she advises. "I also tell my clients not to be afraid of colour and pattern as rugs are a fantastic way of injecting a bit of fun and character into a room."
Duncan also achieves this with artworks, mixing large statement pieces with eclectic gallery walls. In the living room, she incorporated a television among her art because she isn't a fan of screens being the focal point of the main space. She is also a great believer in buying pieces you love rather than purely for investment and in not sticking to one particular colour, theme or size.
"Any place looks amazing if you have art in it but it looks even better if it's varied and personal," she says. "I hang my art in completely different ways everywhere I live."
In previous flats, Duncan typically used to work at a desk in her bedroom. Here, she has dedicated a recess off the living room to a home office, complete with desk area, built-in storage for all her samples and fabrics and a small "conference" table where she sees clients.
"I have become a bit of a home office consultant lately," she says. "People want to create a proper home office because they aren't going back to work in the same way they once did. They want a comfortable space to work in and beautiful surroundings for when they are on Zoom."
What makes this flat such a find is its spacious roof terrace. Previous occupants had clad the walls in engineered wood and built a platform to create a split-level space but had otherwise neglected it. Duncan cleared away the myriad pots, dead plants and broken furniture, and breathed new life into three existing sofas by giving them new cushions.
"I discovered a whole Martha Stewart gardening angle in myself. I went to the Prince Edward Flower Market and bought loads of plants and matching pots. We are up here all the time, having dinner, reading and gardening. I know restrictions are easing but all I want to do is stay at home, cook and entertain friends," she says.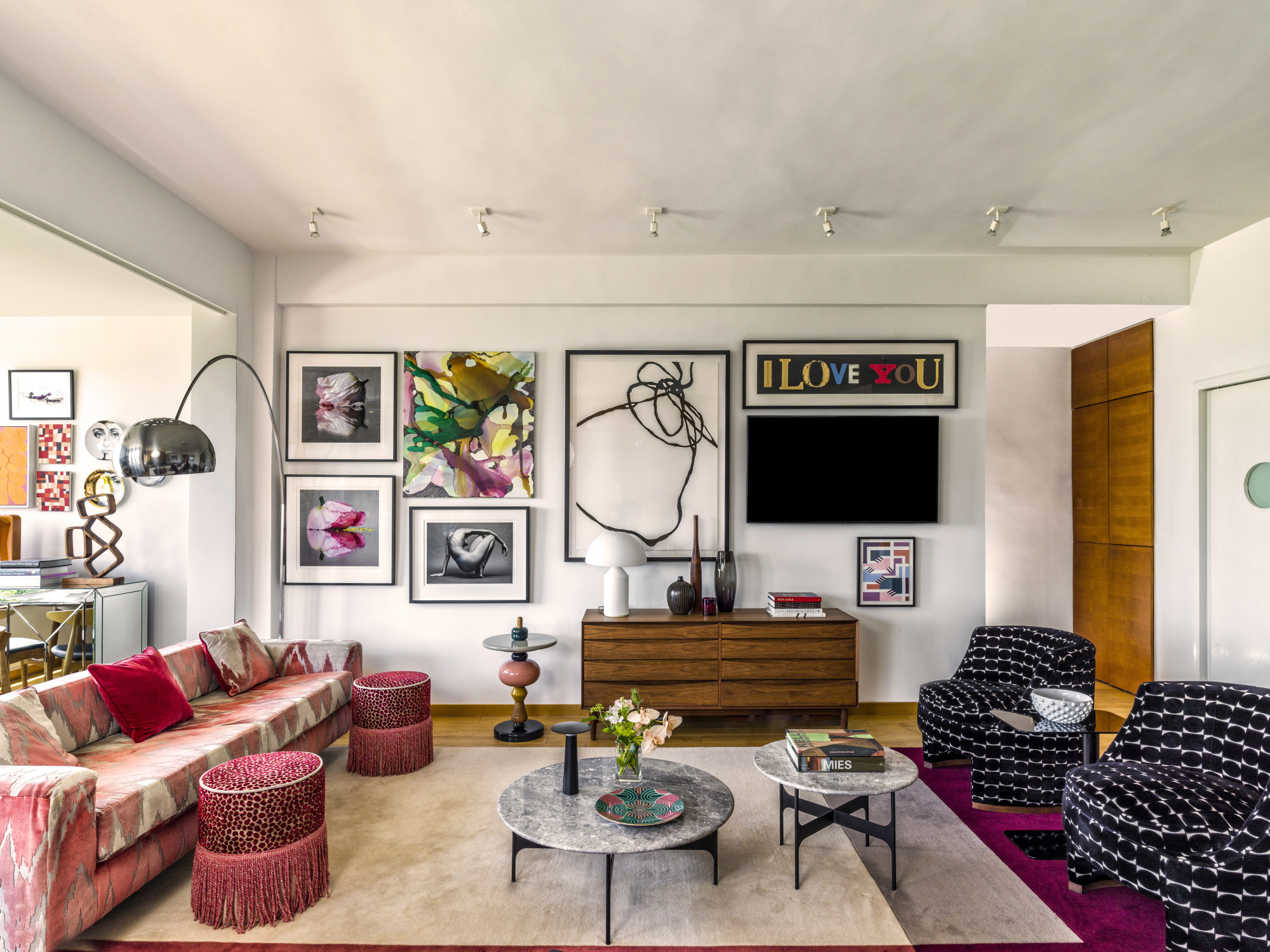 Living room
A lot of Aviva Duncan's living room furniture has been with her for years, such as the white leather Cassina sofa (cassina.com). The pink sofa, also from Cassina, has been re-covered with Lorenzo Castillo fabric and old club chairs have been re-covered in black-and-white Gastón y Daniela fabric, all from Altfield (altfield.com).
The two circular footstools, covered in Jim Thompson fabric and fringing, and the geometric rug were all designed and made by Aviva Duncan (avivaduncan.com). The coffee tables came from Manks (manks.com), on which are a La DoubleJ plate from Matchesfashion (matchesfashion.com) and an outdoor lamp that was a gift.
The black glass side table (between the club chairs), by Tom Dixon, and the bowl on it, by Astier de Villatte, both came from Lane Crawford (lanecrawford.com.hk). The sideboard, also from Manks, features a white Oluce Atollo lamp from Cassina and wooden vases from The Conran Shop (conranshop.co.uk). The bonbon-inspired circular MH1 Shuffle table, by &Tradition, was from Nest (nest.co.uk).
A gallery wall surrounding the television screen comprises the following works by Australian artists, from left: pink flower photography by Carlo Golin (carlogolin.com); coloured abstract acrylic by Lara Merrett (laramerrett.com); black-and-white nude by James Houston (houstonphoto.com); large charcoal abstract and small coloured abstract both by Jasmine Mansbridge (jasminemansbridge.com). I Love You, by Peter Blake, is from a gallery since closed. The Arco floor lamp was from colourliving (colourliving.com).
In the office space off the main living area is a mirrored sideboard found more than a decade ago in Horizon Plaza. The Indian carved, wooden sculpture was bought in Shenzhen. Fornasetti plates from Lane Crawford are hung on the wall with artwork, just seen, of Orange Plasma, by Robert Doble (robertdoble.com). Above it is Charcoal, by Camie Lyons (australiangalleries.com.au); and beside it are two small acrylics by Julia Ritson (juliaritson.com).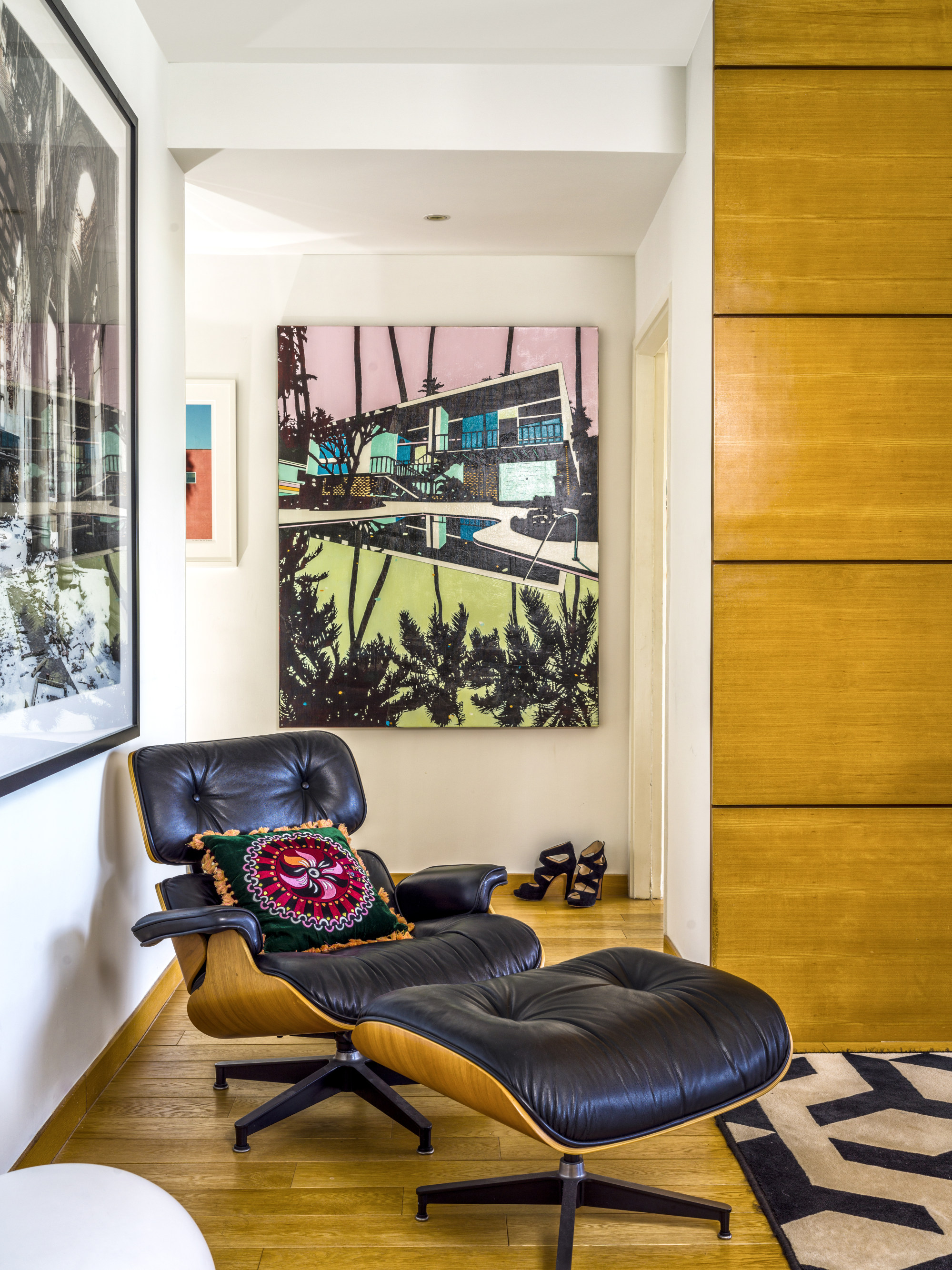 Living room detail
Occupying a corner of the living room are an Eames chair and footstool from Lane Crawford with a La DoubleJ cushion from Matches Fashion. The photograph to the left of the chair was bought directly from artist, Denice Hough (denicehough.com); the artwork behind it is by Paul Davies (pauldavies.work).
Dining area
The 70/70 dining table, by Muuto, was from Nest, and the four Robin Day and two Tom Dixon dining chairs were from Lane Crawford. The Danish glass candlestick came from Manks, and the teal bowl and jug were from Matchesfashion. The rug was designed and made by Aviva Duncan.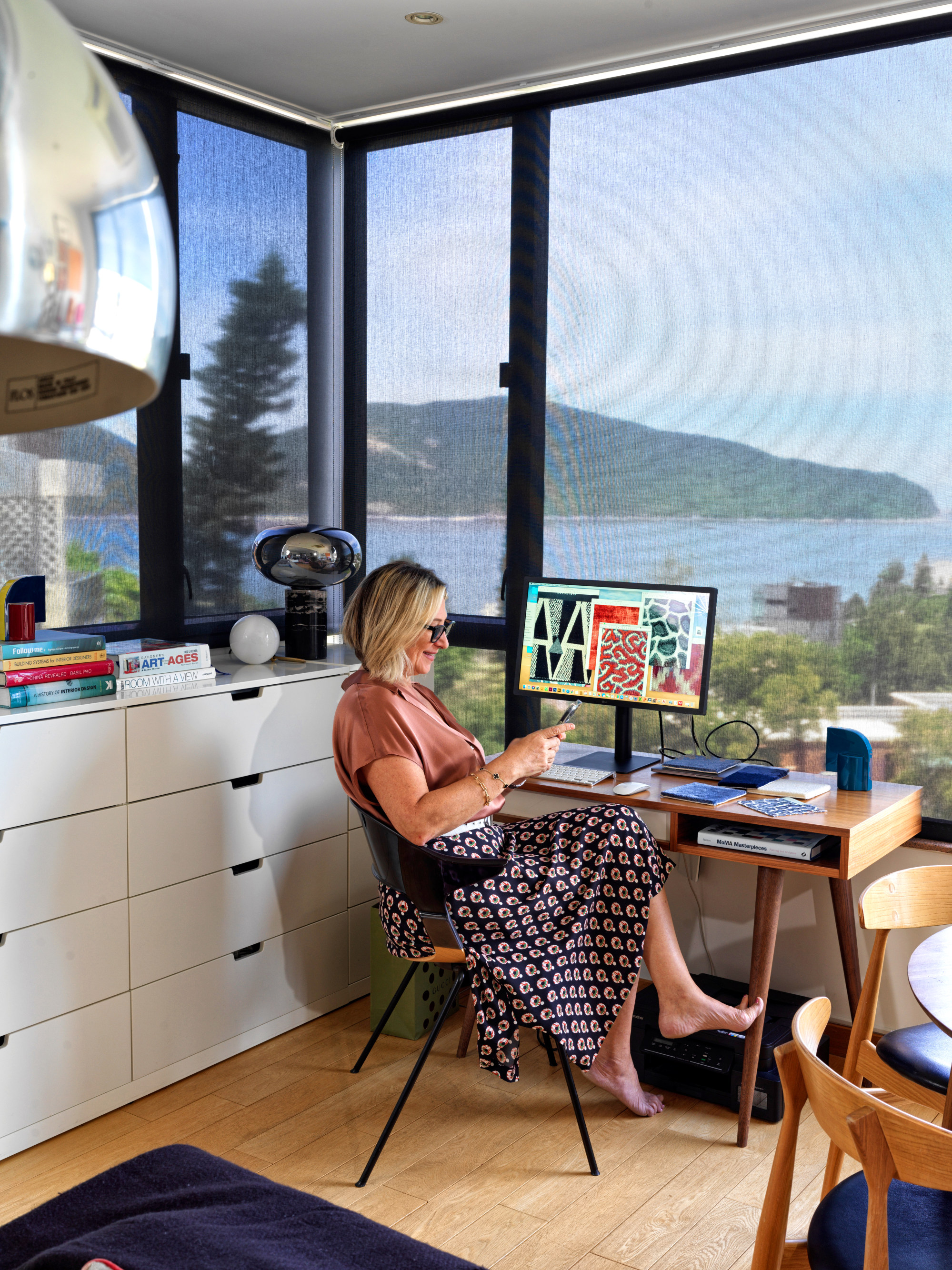 Office
The desk and chair in the office space just off the main living area were both from Lane Crawford and the white drawers were from Ikea. The 1970s vintage lamp with marble base and reflective top was bought years ago in Tokyo. The spherical white Neri & Hu lamp is from Artemide.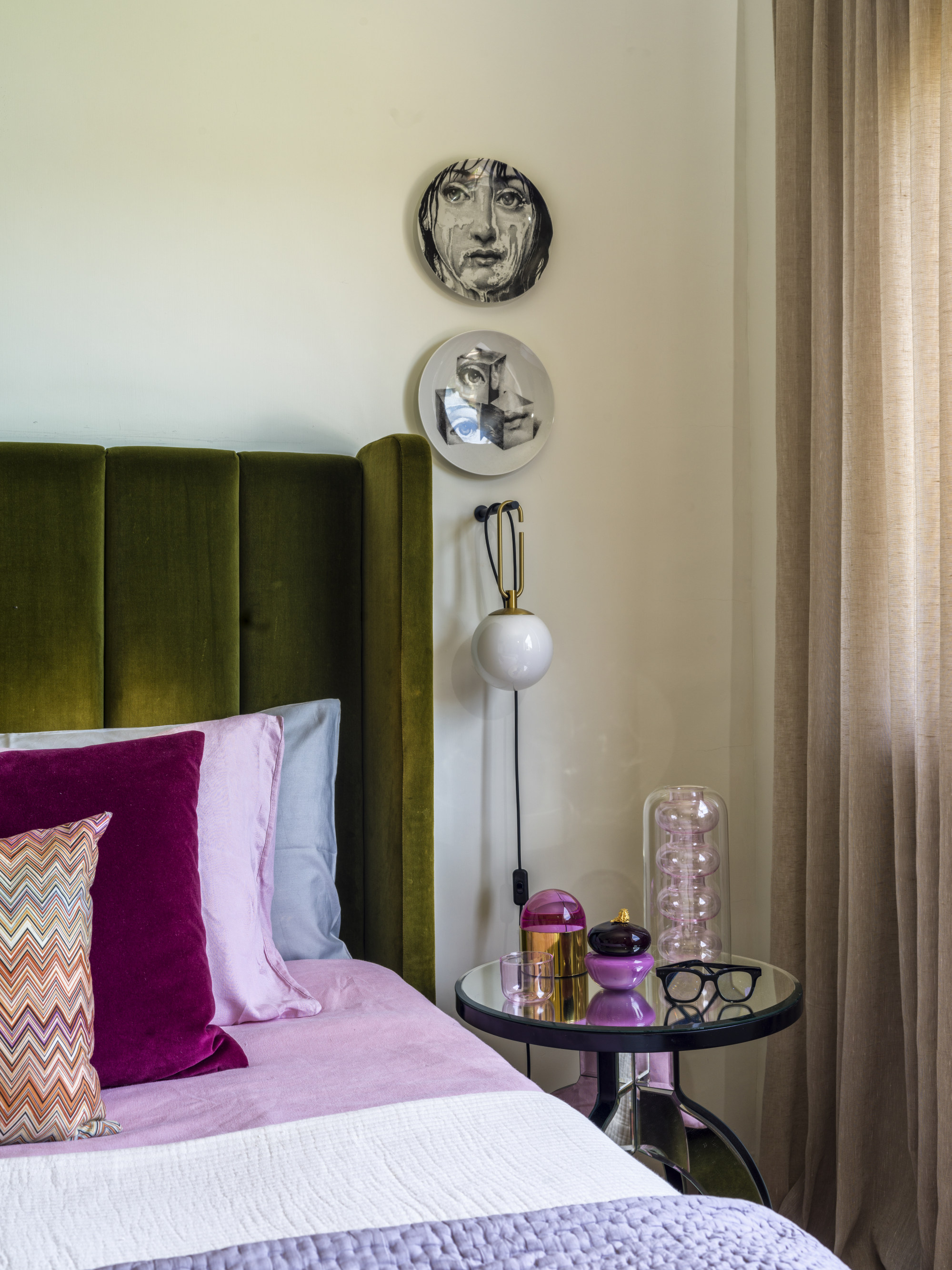 Main bedroom detail
Aviva Duncan designed and made the headboard and the French linen curtains in the main bedroom. The bedside table is from Vintage French (vintagefrench.com) and the hanging lamp, by Neri & Hu, was from Artemide (artemide.com). The pink container, by Tom Dixon, and other ornaments came from Lane Crawford. The Fornasetti plates were also from Lane Crawford.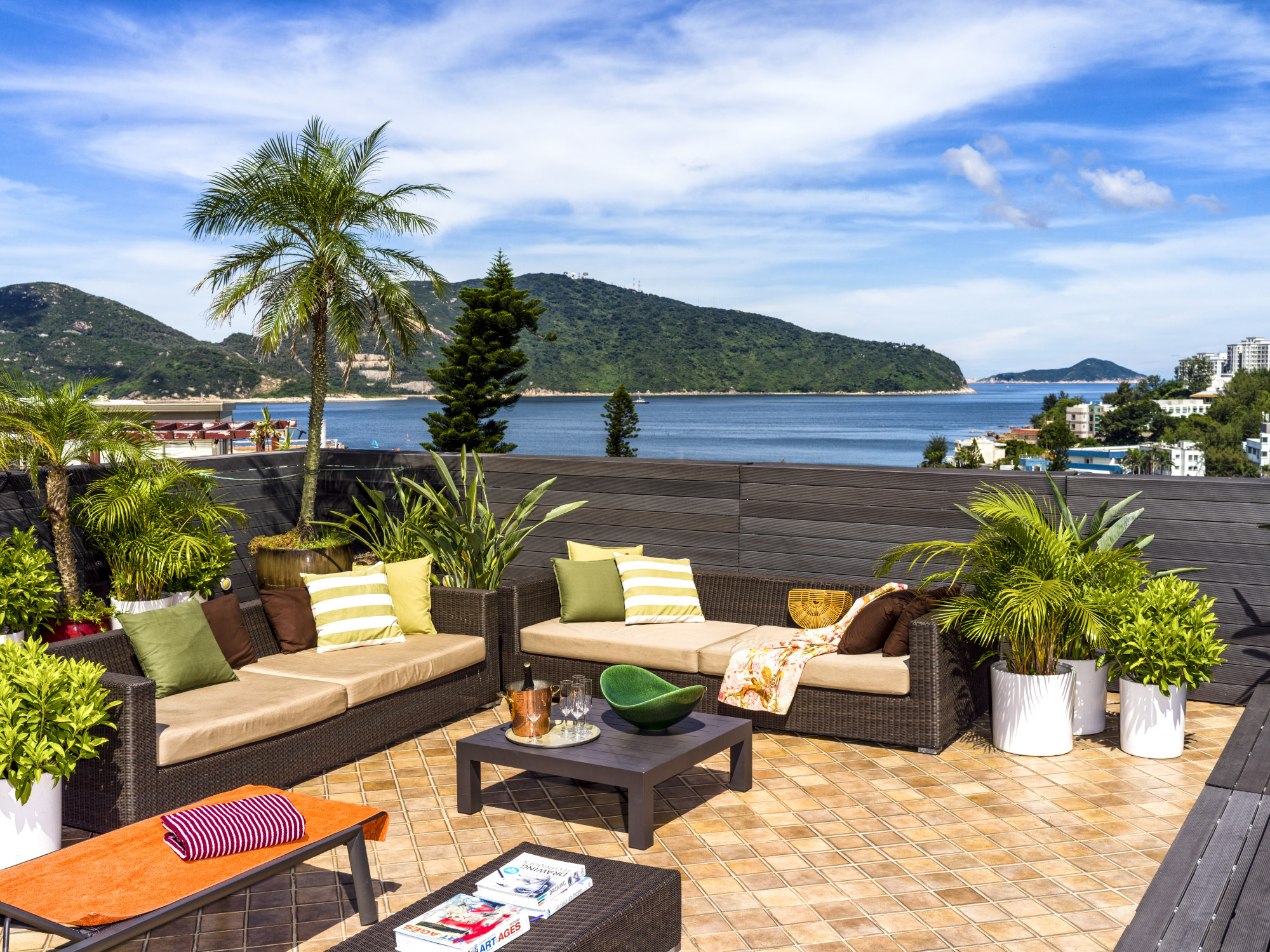 Roof terrace
The sofas on the roof terrace were left by the previous tenants so Duncan bought cushions for them from Ikea (ikea.com.hk). The coffee table and loungers were from Harbour Lifestyle (harbourlifestyle.co.uk). The green bowl was bought in Tokyo years ago and the French beaten-copper ice bucket was a gift. The plants came from P&F Garden, in Pok Fu Lam (pnfgarden.hk).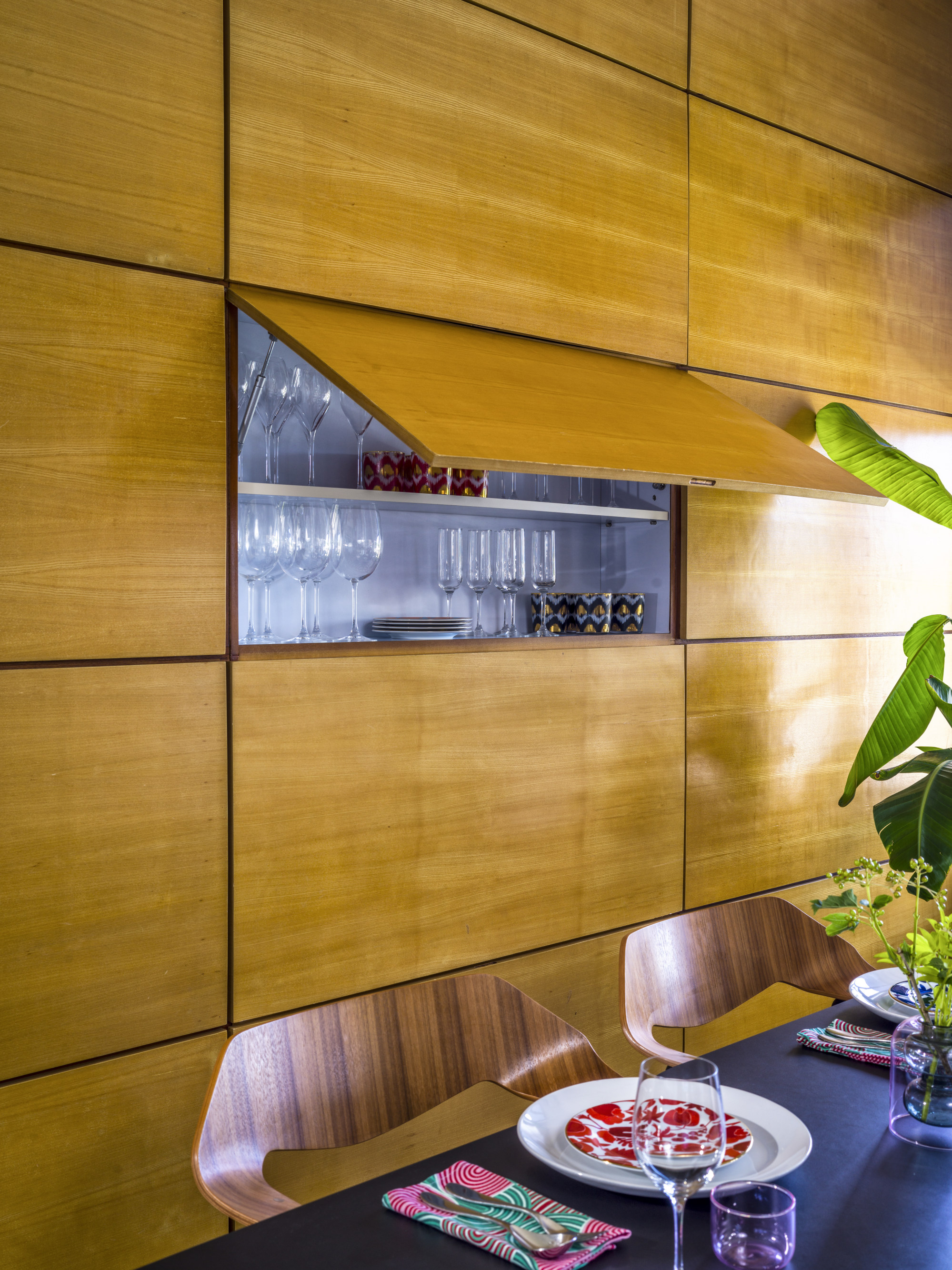 Tried + Tested
Not just aesthetically pleasing, three units in this wood-panelled wall open to reveal storage space – perfect for glassware and china.
Styling: Esther Van Wijck; Photo assistant: Timothy Tsang