An island retreat with old Hong Kong vibes, rattan furniture and a rooftop for entertaining guests
Built in 1965, this one-bedroom cottage on Lamma captivated serial renovator Brooke Babington, who turned the 680 sq ft space into a tranquil city escape
Original 1960s floor tiles lend a vintage feel, rattan screens add privacy and the rooftop is perfect for barbecuing, dining, sunbathing and socialising
"I really like old properties and I always look for non-cookie cutter places to fix up," says former sales trader and long-term Hong Kong resident Brooke Babington, who has been renovating properties in the city for 12 years. "I've always been more of a Cheung Chau girl but my agent told me I had to see this place on Lamma."
Built in 1965 in Tai Peng Old Village – on Lamma Island, Hong Kong – at the end of the appropriately named Snake Path and a 15-minute uphill walk from Yung Shue Wan ferry pier, the one-bedroom cottage, with granite walls and high ceilings, captivated Babington, who also appreciated the privacy it offered.
"It wasn't abandoned. It had been passed down from owner to owner but it had never been really loved and needed a lot of work," she says. She immediately put in an offer.
That was five years ago. Babington took her time renovating the 680 sq ft (63 square metre) house and slowly dealing with major works, such as removing the septic tank and connecting to the sewerage system, upgrading the electrics, replacing the air conditioners, and remodelling the shower room and separate toilet into one cohesive space.
Pulling up the aged floorboards revealed original 1960s tiling, much to Babington's delight. "I'm nostalgic for the old 1950s Hong Kong look and I loved the pattern of the floor tiles," she says, adding that it was also cheaper to restore the tiles than to replace them.
Covid-19 arrived while the renovation was plodding along, giving Babington the motivation she needed to finish the job. "I love the city but I was craving nature and wanted somewhere my daughter and I could come and relax," she says. Structural issues sorted, the next step was to gut the interiors.
An old wooden front door was quickly dispatched in favour of a glass-panelled one, letting additional light into the living room, which was replastered and given an artistic – and affordable – treatment using a stick-on peel-off mural.
Because the living room is overlooked on only one side, curtains were unnecessary. Instead, Babington placed rattan screens across the one window visible to prying eyes.
From the living room, a slim corridor leads to the kitchen, with offshoots to the bathroom and bedroom. The latter is spacious and relaxed, with an enormous window, which Babington also concealed with rattan screens. More screens behind the bed serve as a headboard and focal point in the otherwise cool and uncluttered room.
At the rear of the property, the mishmash of a kitchen was ripped out and replaced with glossy black bespoke cabinets, terrazzo worktops, forest green subway tiles and a stand-alone retro-style mint green fridge.
Opposite is a sunny dining nook, with a circular, marble-topped table flanked by four black-and-white chevron rattan chairs. Between the two, a glass back door opens onto a small courtyard and an external staircase to one of the house's highlights: a rambling rooftop patio.
The rectangular rooftop overlooks the serene, leafy surrounds of the village, with its low-rise buildings and little allotments. "I had a beer with some of the Lamma builders to persuade them to build a cabana for me," says Babington with a laugh, explaining that the materials used were all found on the island.
There is also space for barbecuing, dining, sunbathing and socialising.
"When I want a break I love to stay at the Four Seasons – it's wonderful – but this is something different," says Babington. "This is an experience."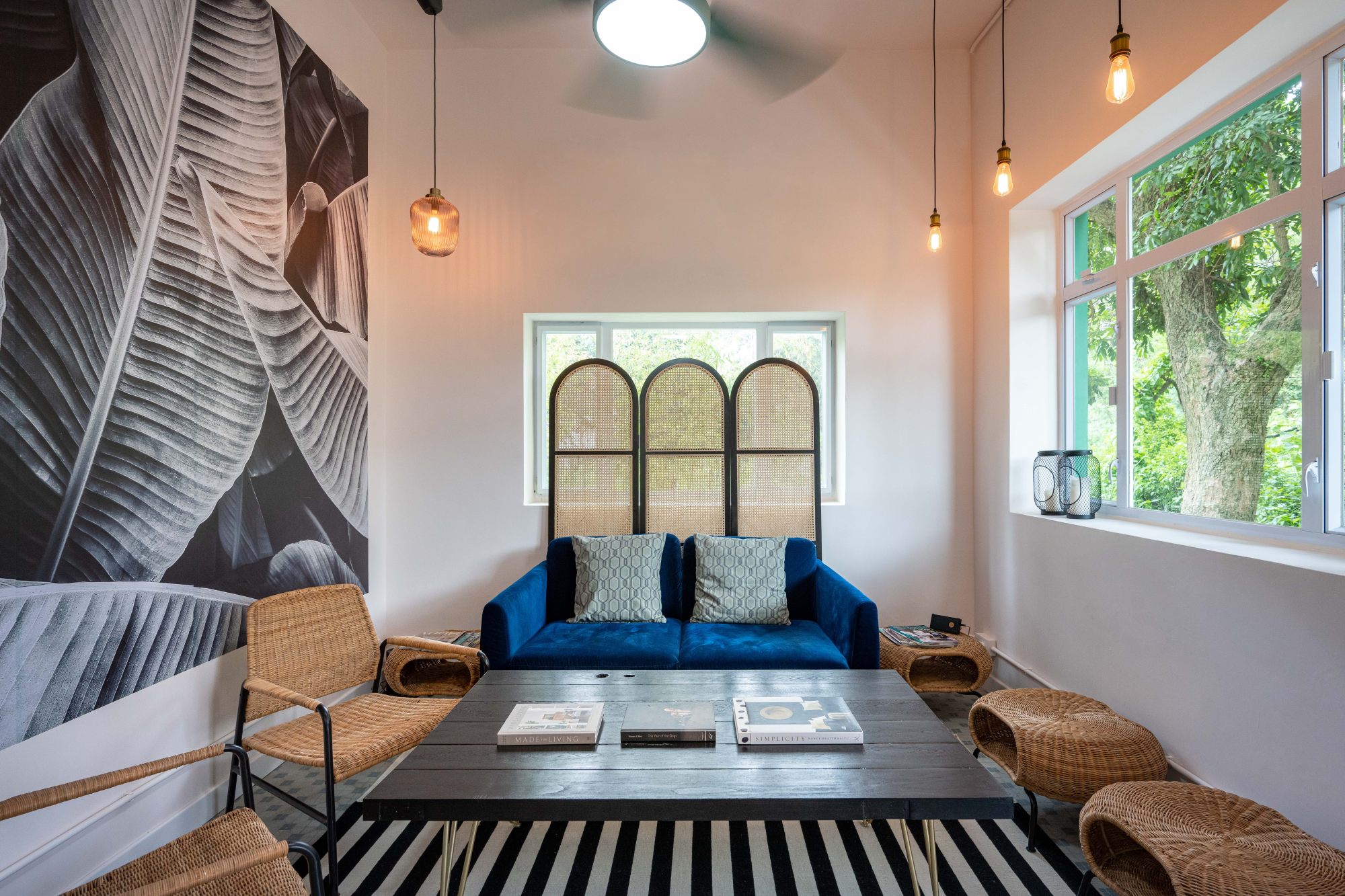 Living room
"Art can be so expensive and I just couldn't find anything big enough that I liked, and then I remembered my grandmother used to do murals and I found these peel-off versions on Amazon. It was the perfect way to fill up the space and cost less than HK$1,000 [US$127]," says Brooke Babington, of the black-and-white palm-print UniGoos Monstera Leaves wallpaper.
The blue velvet sofa, rattan chairs, rattan stools, lighting and black-and-white striped rug were from Ikea (ikea.com.hk). The coffee table was made from the old front door and the rattan screen, like the others in the house, was found on Taobao (taobao.com).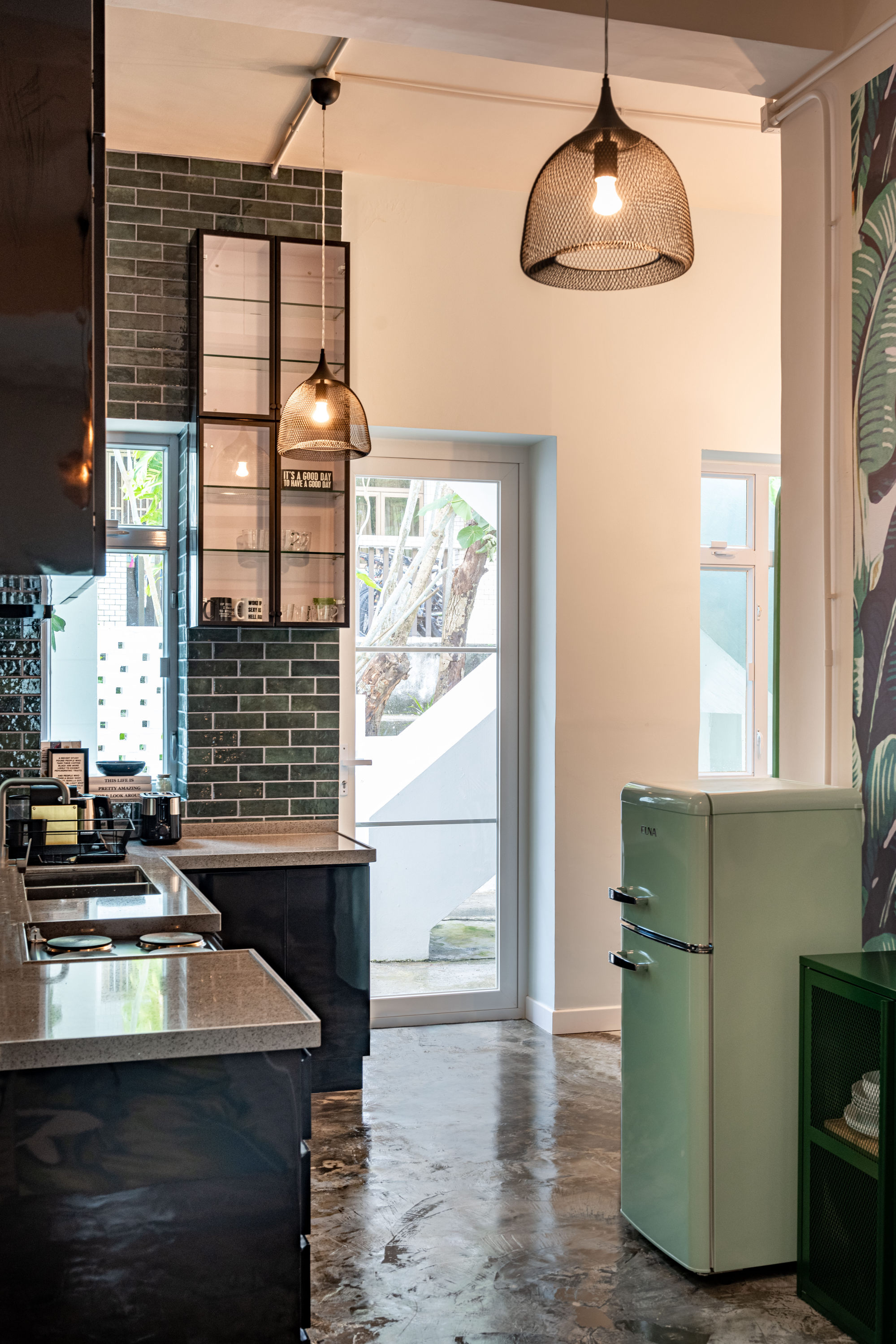 Kitchen
Designed by Babington and installed by her Lamma contractor, Vincent Ng (tel: 9811 9283), the kitchen has tall, glossy black cabinets, terrazzo worktops, forest green subway tiles and concrete floors.
The oven and Smeg lookalike fridge were ordered through Taobao (you may have to change the plugs and wiring when ordering electrical goods from mainland China). The pendant lights came from Decor8 (decor8.com.hk).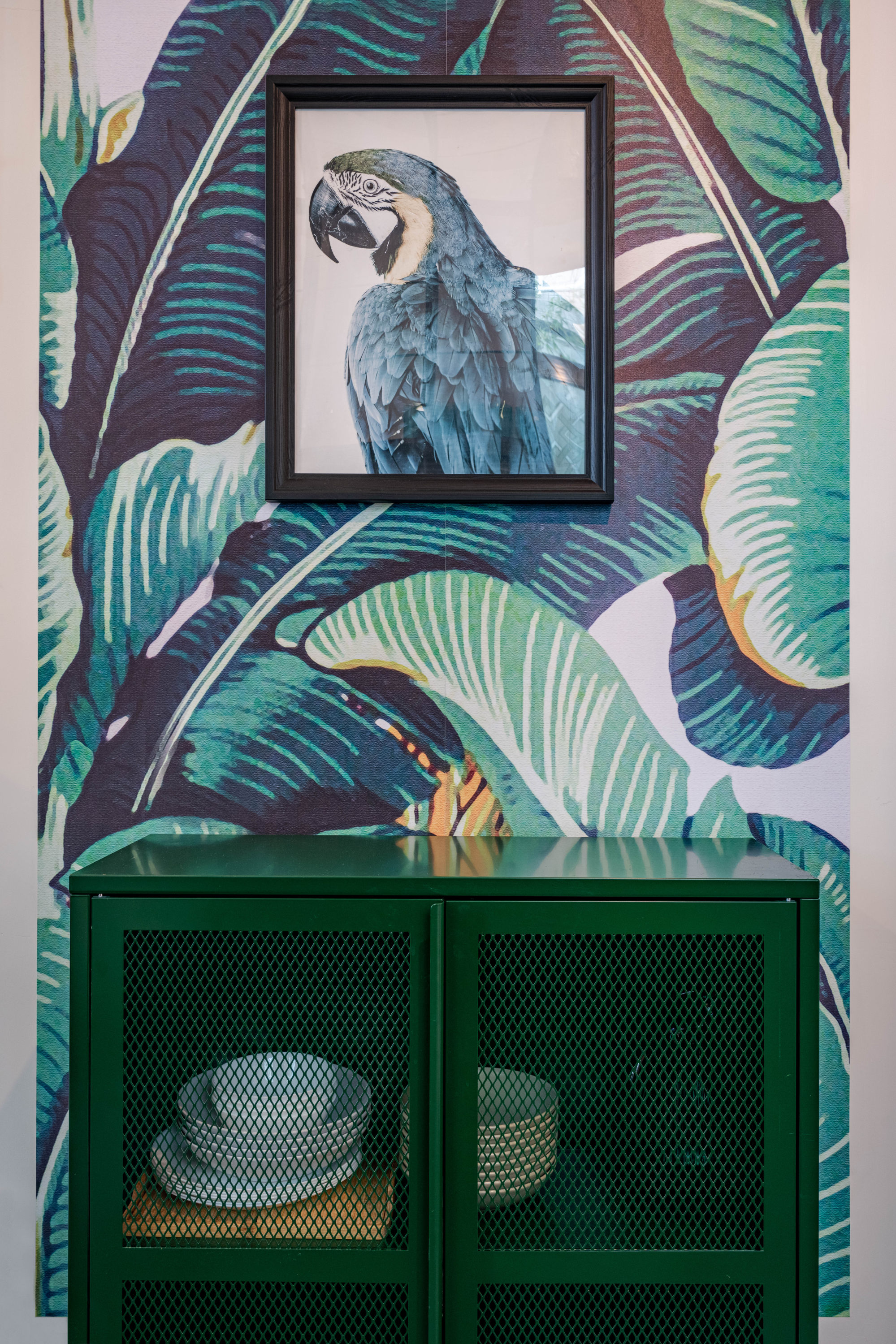 Kitchen detail
The Tropical Botanical Banana Leaf wall mural, by Fightal (from Amazon), is an eye-catching addition to the kitchen. The parrot picture was upcycled after being found in a bin and hangs above a cabinet from Ikea.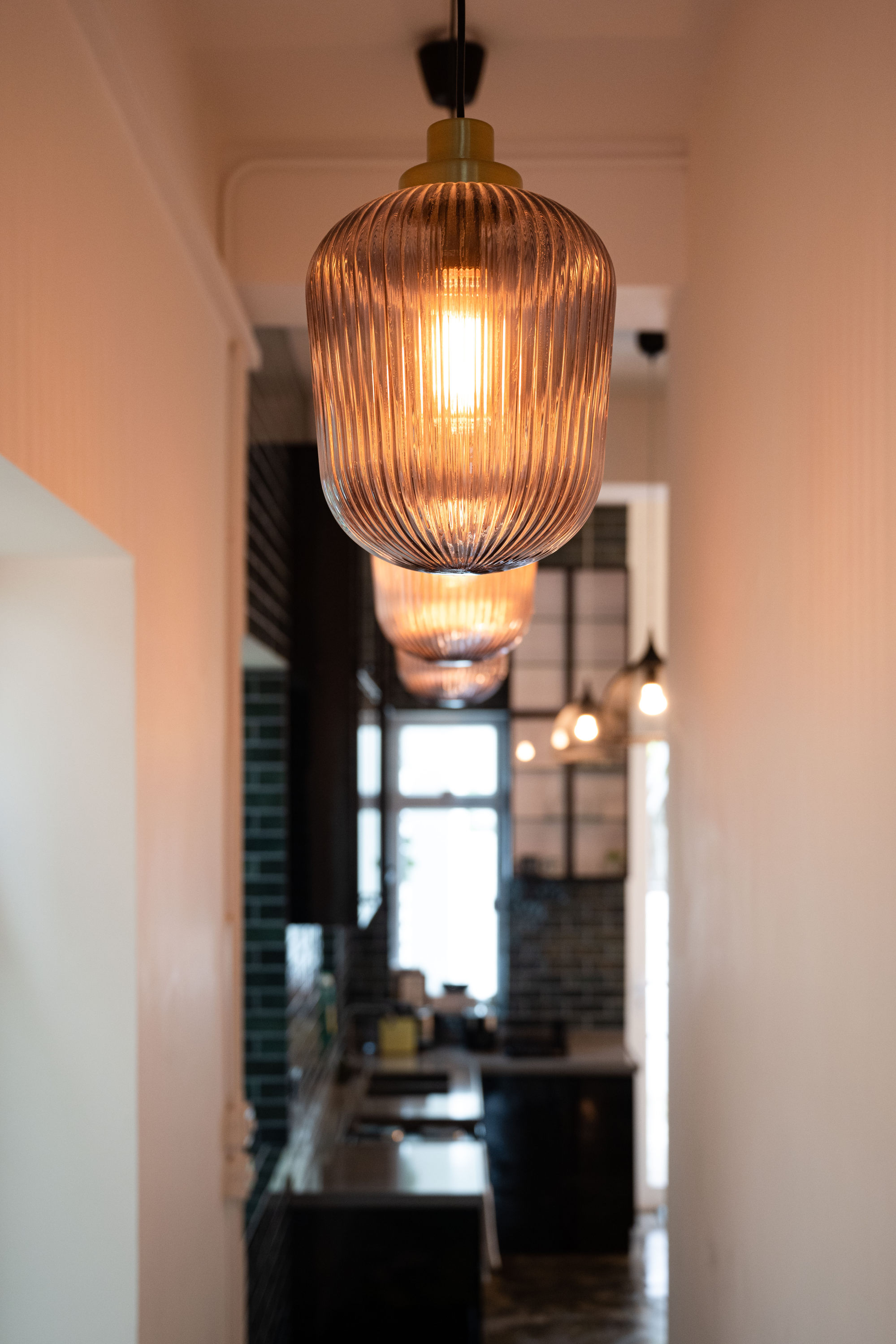 Hallway
The corridor is illuminated with pendant lights from Ikea. Throughout the house, harsh overhead lighting was replaced with warm pendant lamps on dimmer switches.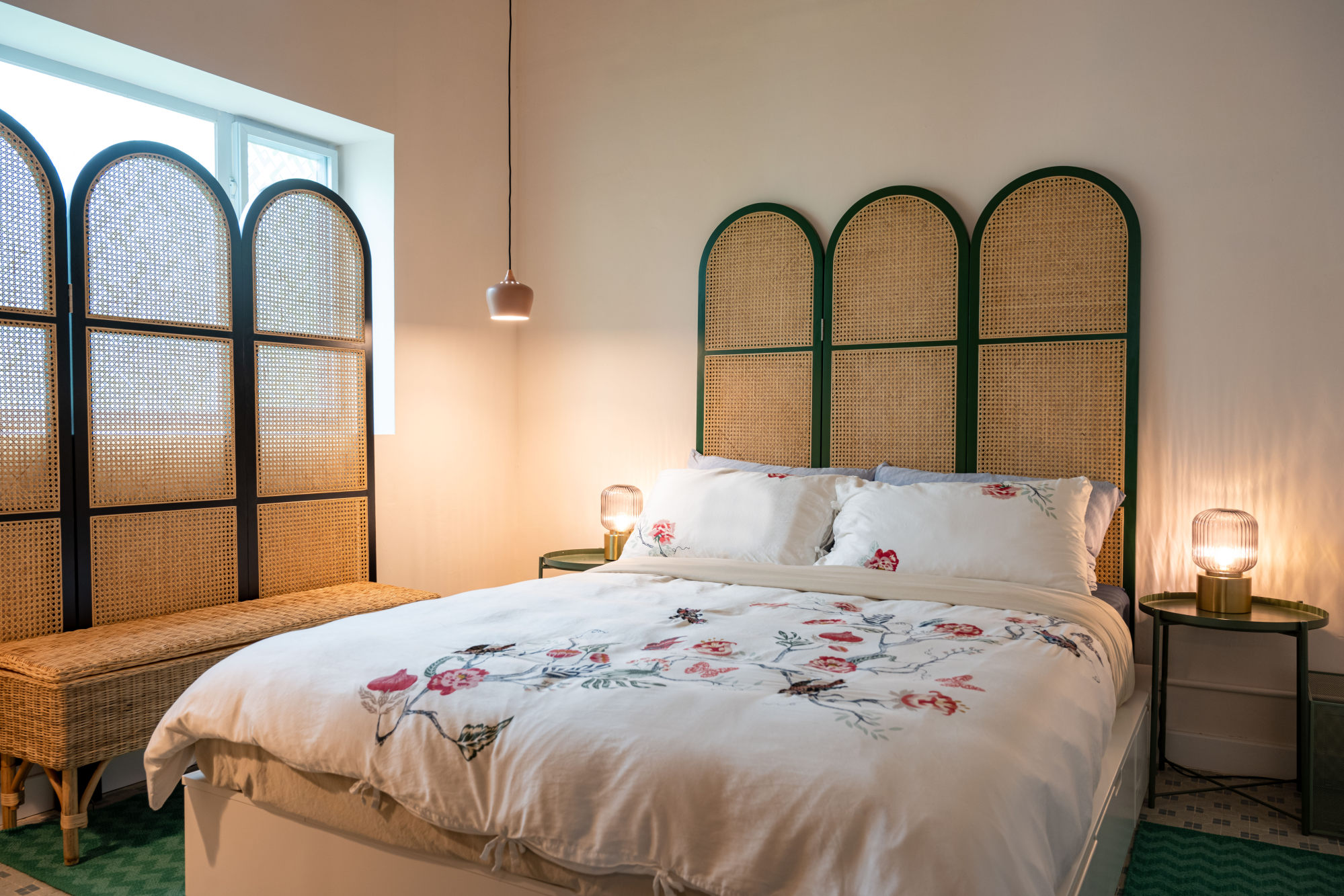 Bedroom
"I'm on a first-name basis with Ikea. It's just easy and they have good design, they know my exact address and the HK$1,000 delivery fee is totally worth it," says Babington, who bought most of the furniture from the Swedish home store, including the bed, the bedside tables, table lamps, pendant lamp, bedding and zigzag floor mat.
A rattan bench, also from Ikea, complements the rattan screens, three of which have been adapted into a headboard.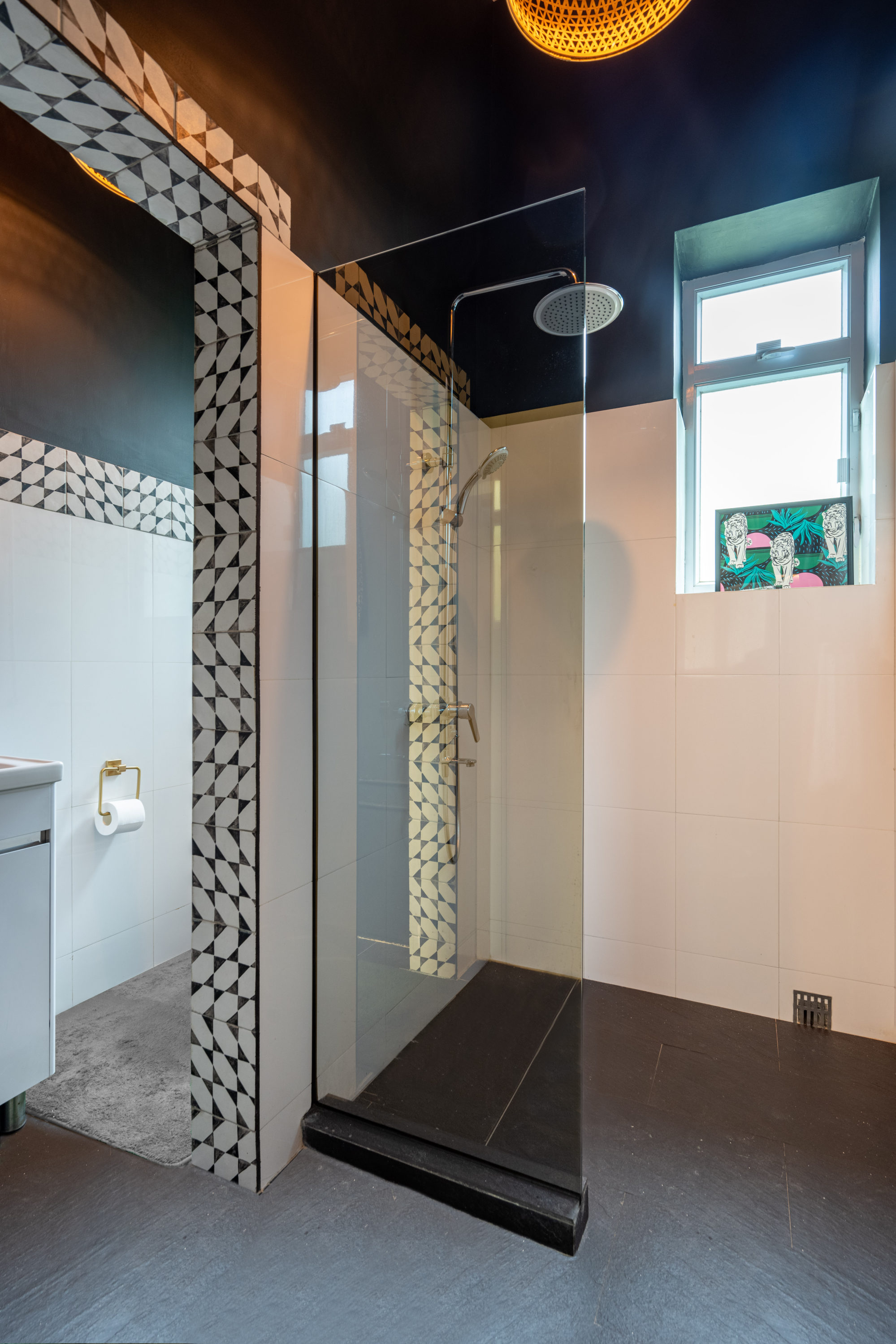 Bathroom
Babington enhanced the existing black floor tiles and white wall tiles with lines of geometric-patterned tiles from a store in Wan Chai, and a coat of Nippon Paint (nipponpaint.com.hk). In the window is a wallpaper sample from Spoonflower (spoonflower.com). "I order them for HK$50 and make them into art," says Babington.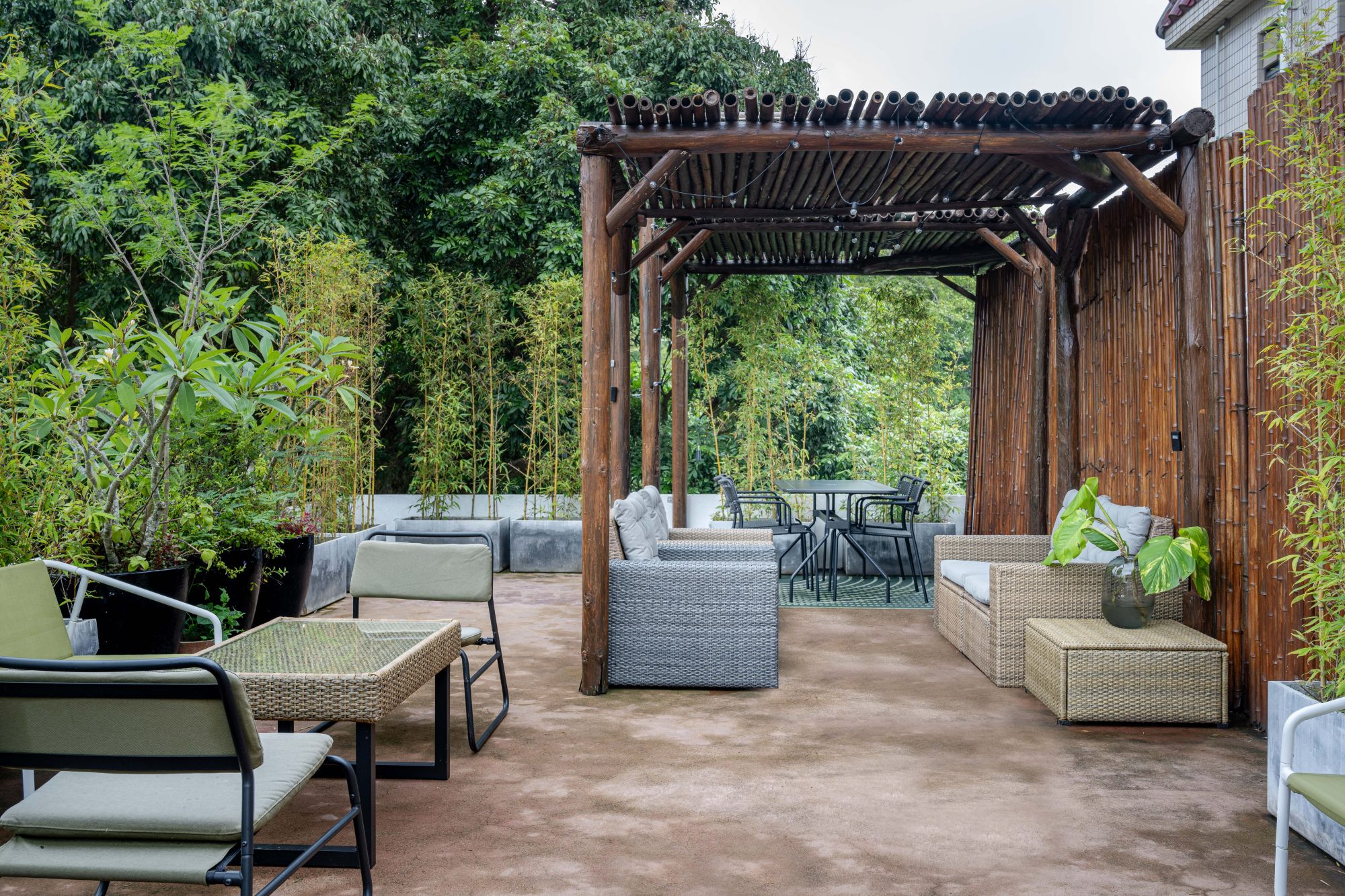 Roof patio
"It's beautiful here. It's the perfect place to drink wine, eat good food, listen to music and look at the stars," says Babington, who commissioned local builders on Lamma to construct the cabana. The hard-wearing tables and chairs were from Ikea and the planters from Jing's Home and Garden (facebook.com/jingshomeandgarden).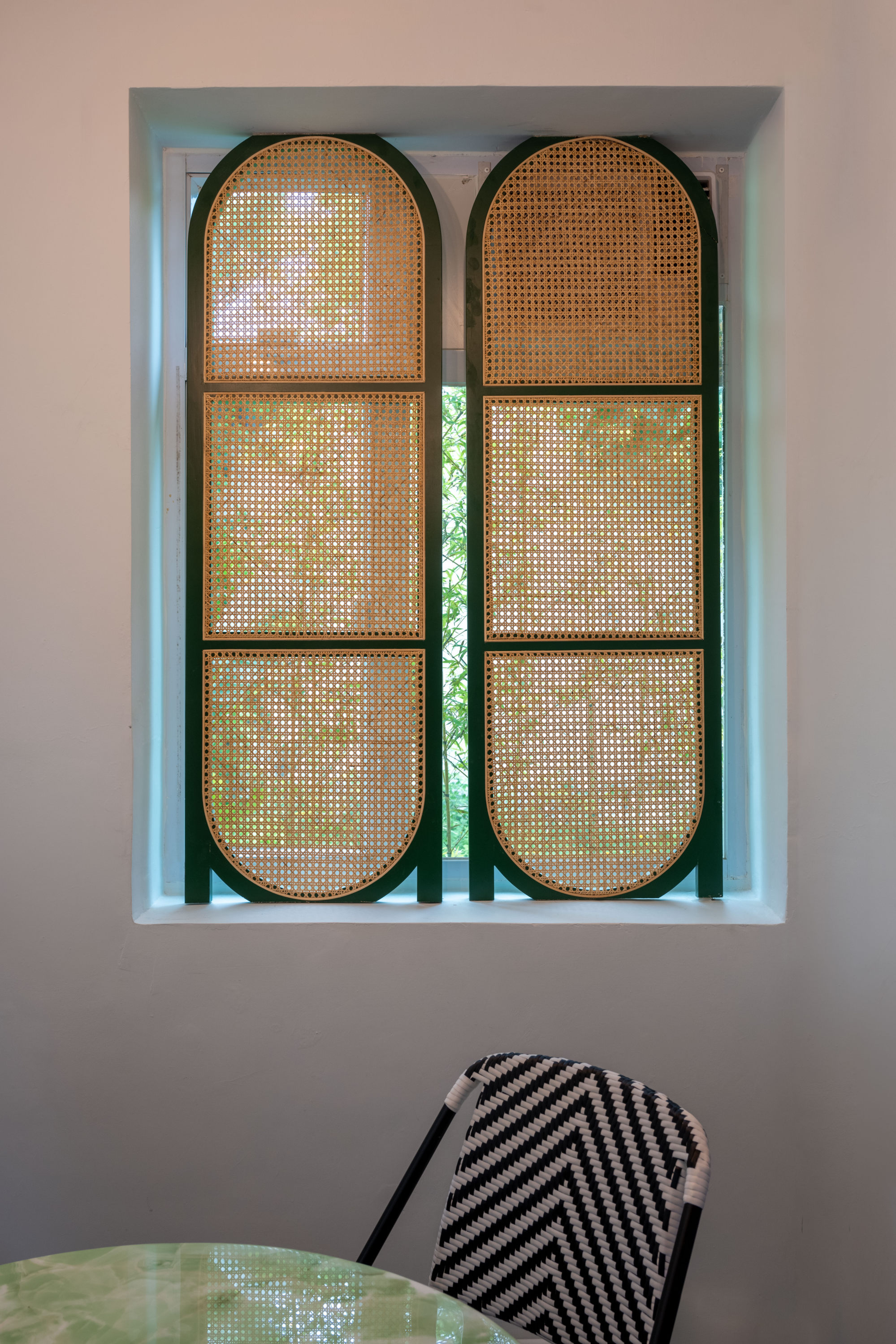 Tried + tested
Rattan screens, from Taobao, are a stylish alternative to curtains or blinds. "Like the wallpaper, they're also peel off so they don't even have to be fitted," says Brooke Babington. "You can just order a standard size, cut them to fit and stick them up."