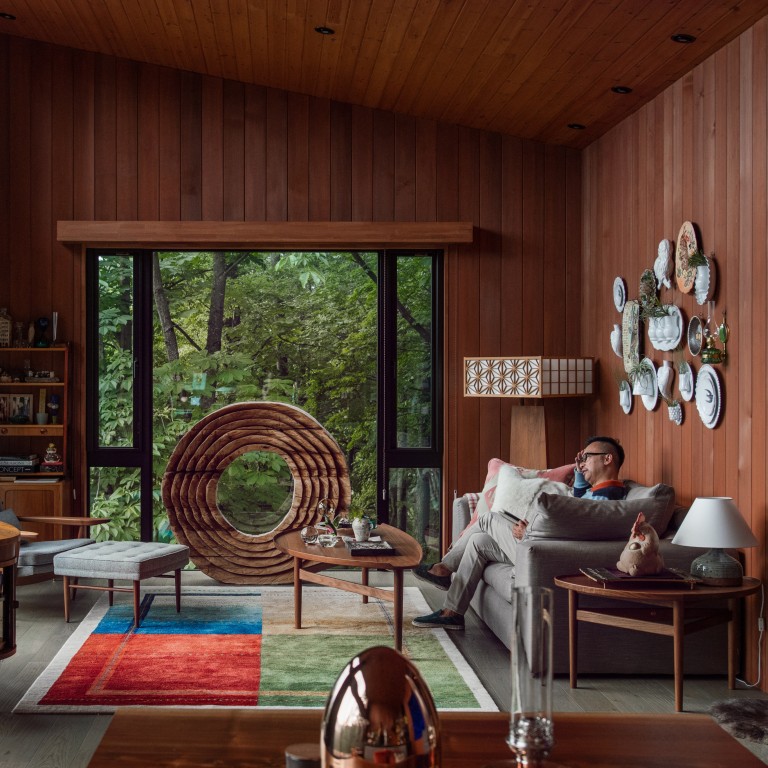 A Japanese cabin in the woods became a Covid escape for two Hongkongers, and was a source of inspiration for their work
The co-founders of AB Concept, who designed Argo at the Four Seasons Hotel Hong Kong, spent 27 months in their holiday home in a Japanese forest avoiding Covid
The duo have emerged with more projects and designs finished, and point to their surroundings there – warm woods, a slower pace of living – as the reason for it
Anyone who still doubts the benefits of working remotely should make a beeline for Argo at the Four Seasons Hotel Hong Kong – not necessarily to pull up a chair and plug in a laptop at the enchanting harbourview bar, but to marvel at how adapting work to life, instead of the other way around, can have clear creative benefits.
That is the experience of interior designer Ed Ng, who, with architect Terence Ngan, created Argo during an extended stay in Japan. In 2020, the co-founders of AB Concept were in the hot-spring town of Karuizawa, in the Japanese Alps, enjoying their holiday home during the Lunar New Year break, when the pandemic began closing in. The best option was to stay put.
This May, about 27 months and many Covid-19 variants later, Ng was finally ready to leave the country, for Italy. By then, Argo's interiors had morphed from concept to reality, with acres of mirrors reflecting spirits literally while lifting them metaphorically.
Two-and-a-quarter years in the woods allowed the pair to produce much more, however. Among other projects, Ngan and Ng emerged with a soon-to-be-completed second house for themselves in Karuizawa, on an adjoining plot of land, plus a collection of wallpaper inspired by the forests, which had donned new season hues in front of their eyes (see Tried + tested).
Ng debuted the new product for AB Concept at this year's Milan Design Week.
The couple have their timber-clad house to thank for fostering productivity. Bought in 2019, just before construction was completed, the 2,100 sq ft (195 square metre), two-storey "mountain cottage" taught them plant cycles, light-and-shadow timetables and how to acclimatise.
"I had a very orderly schedule," says Ng. "Every morning, I spent three hours with my design team, doing a lot of simultaneous sketching."
And when all was done, they could unwind in their glass-fronted living/dining/kitchen space on the top floor; in the Japanese bathroom on the floor below, shared with two bedrooms and a study; or outdoors on the floating wooden deck with fireplace that they added to the property.
Accessed via steps leading down a steep slope from the house, it resembles a simple stage surrounded by an audience of trees.
"Our pattern of life was so, so different from that in Hong Kong," Ng remembers wistfully. "I learned which flowers blossomed first!"
That may be the case, but scrutiny of their "cabin" interiors reveals they did not stint on creature comforts or their well-known style. Several George Nakashima collectibles mingle with pieces by Frank Lloyd Wright, Finn Juhl, Rolf Benz and others, alongside vintage and anonymous flea-market finds, which together form casual design-gallery-like spaces.
"The vibe is a perfect match," Ng says, referring to their Nakashima collection (chairs, stools, lamps, sofa), the most important piece of which is a dining table that had apparently been stored for years in a warehouse before being sold to the pair by the family of Nakashima, a Japanese-American architect and renowned furniture maker loved for his sensitivity to wood.
"For us, buying pieces of furniture is not just about owning them," says Ng. "We always believe they have to bring us pleasure. We think they can bring us joy when using them or when they are around us."
Another special item is the piercing blue artwork hanging from a wall on the top floor. "When we first saw it at Pace Gallery, we thought, 'Oh my God, this is perfect for that wall,'" Ng says.
A similar sense of suitability is everywhere one looks in the house, whose red cedar walls, pine ceiling, oak floors and stone accents provide warmth through­out. The cottage proved so comforting and transformational, in fact, that it inspired the neighbouring house in one important way: its "simplicity".
"This house was Phase One," Ng says, explaining that when the new project is completed, their original home will be used to accommodate guests. One hundred maple, sakura and evergreen trees are also to be planted.
Why?
Ng points to all they have achieved in Karuizawa, and says: "In the forest, you can really focus."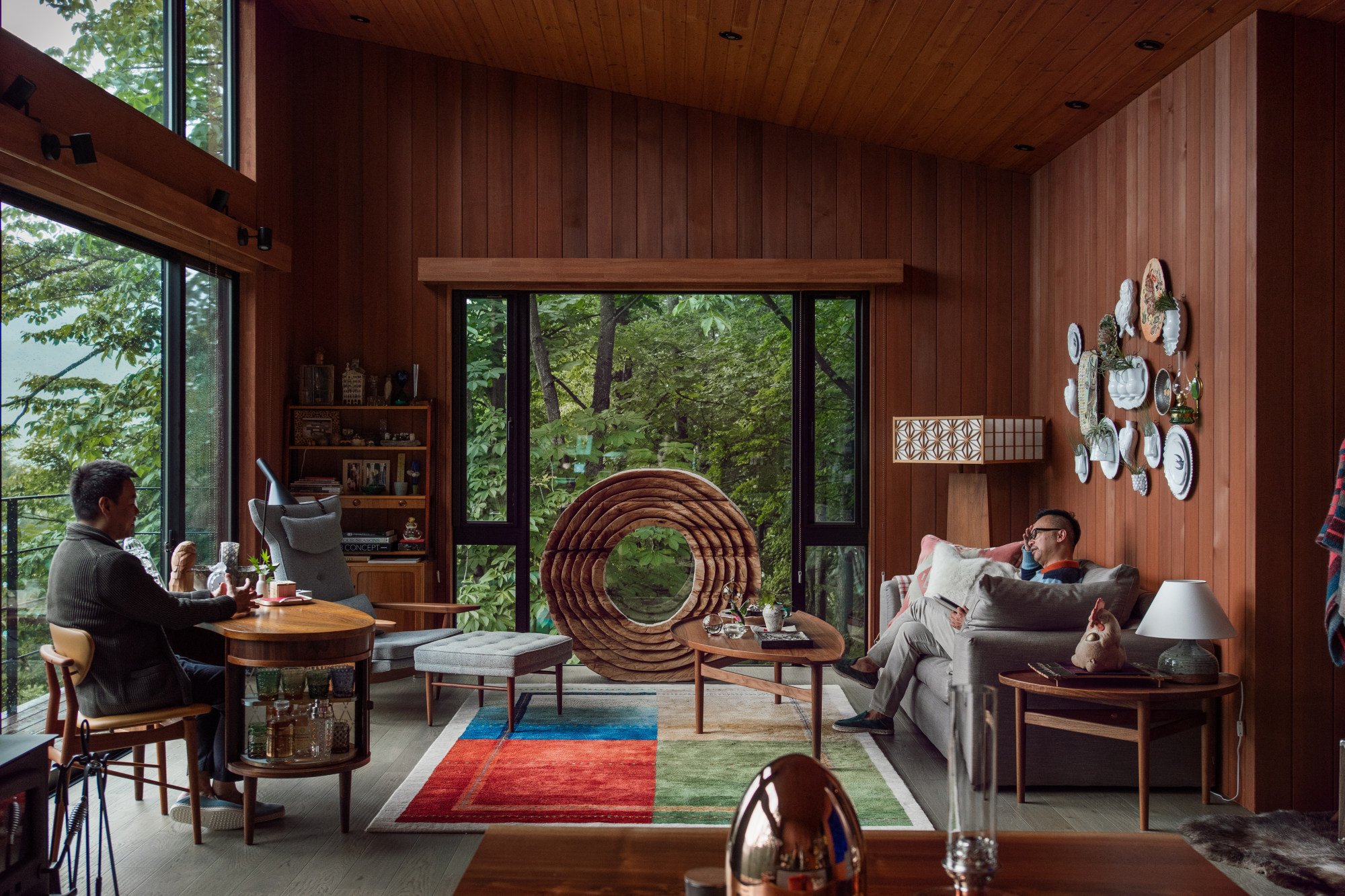 Living area
The living area, embraced by trees, features several pieces by George Nakashima (nakashimawoodworkers.com), including the Asa No Ha floor lamp in the corner and an armchair and footstool. Next to them is an AJ floor lamp, designed by Arne Jacobsen for Louis Poulsen (louispoulsen.com).
The sofa accommodating Ed Ng was designed by Rolf Benz (rolf-benz.com), the colour-block rug by Zollanvari (zollanvari.com) and the coffee table on it by Finn Juhl (finnjuhl.com). The ceramics on the wall are by Astier de Villatte (astierdevillatte.com).
The kidney-shaped rosewood desk, where Terence Ngan sits, is an antique from Denmark. The ringed wooden sculpture is by Portuguese sculptor Paulo Neves (paulonevesescultor.com).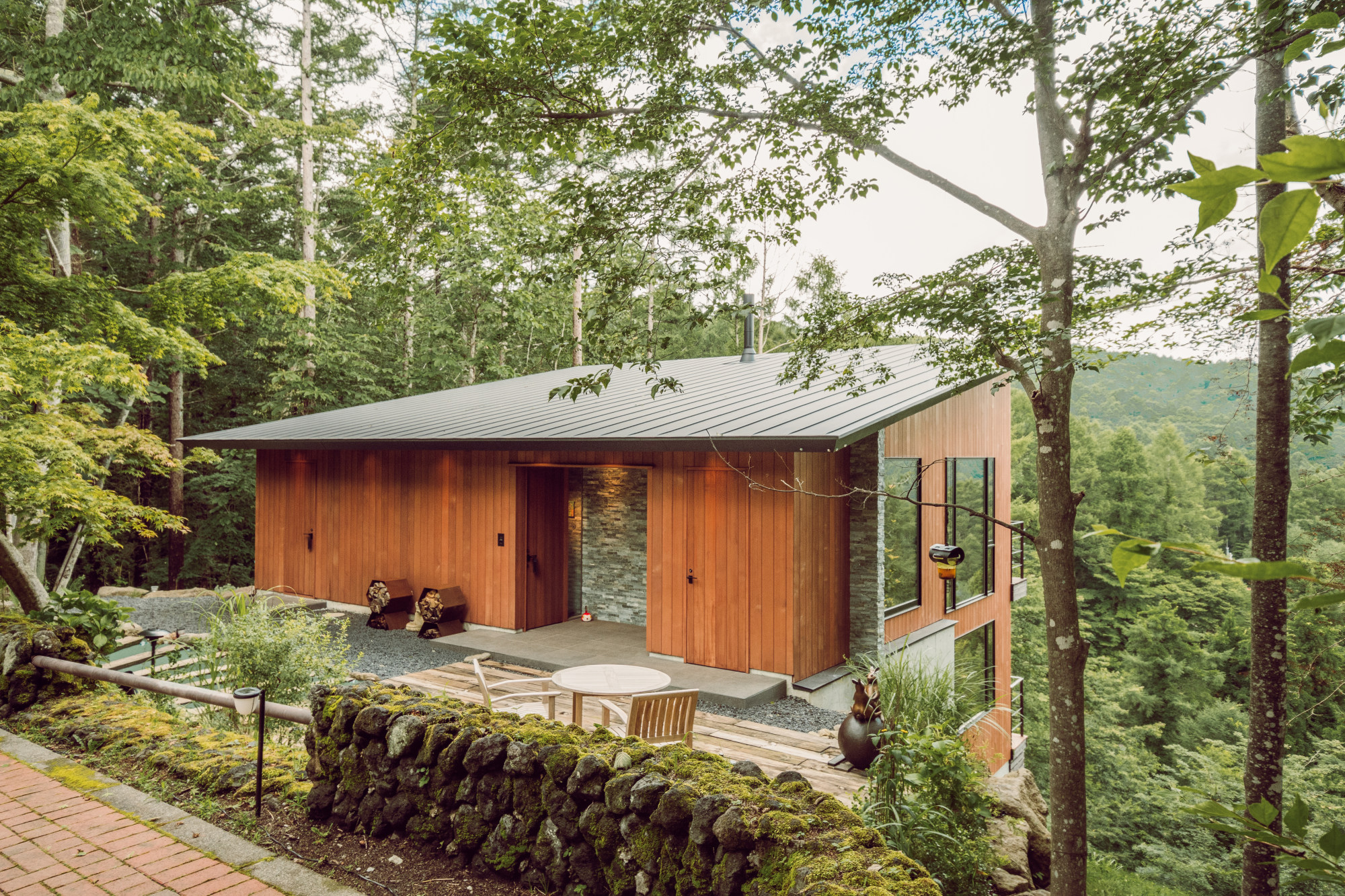 Exterior
Ng and Ngan's "cottage" in Karuizawa, Japan, allowed the pair to realise a different way to live and work.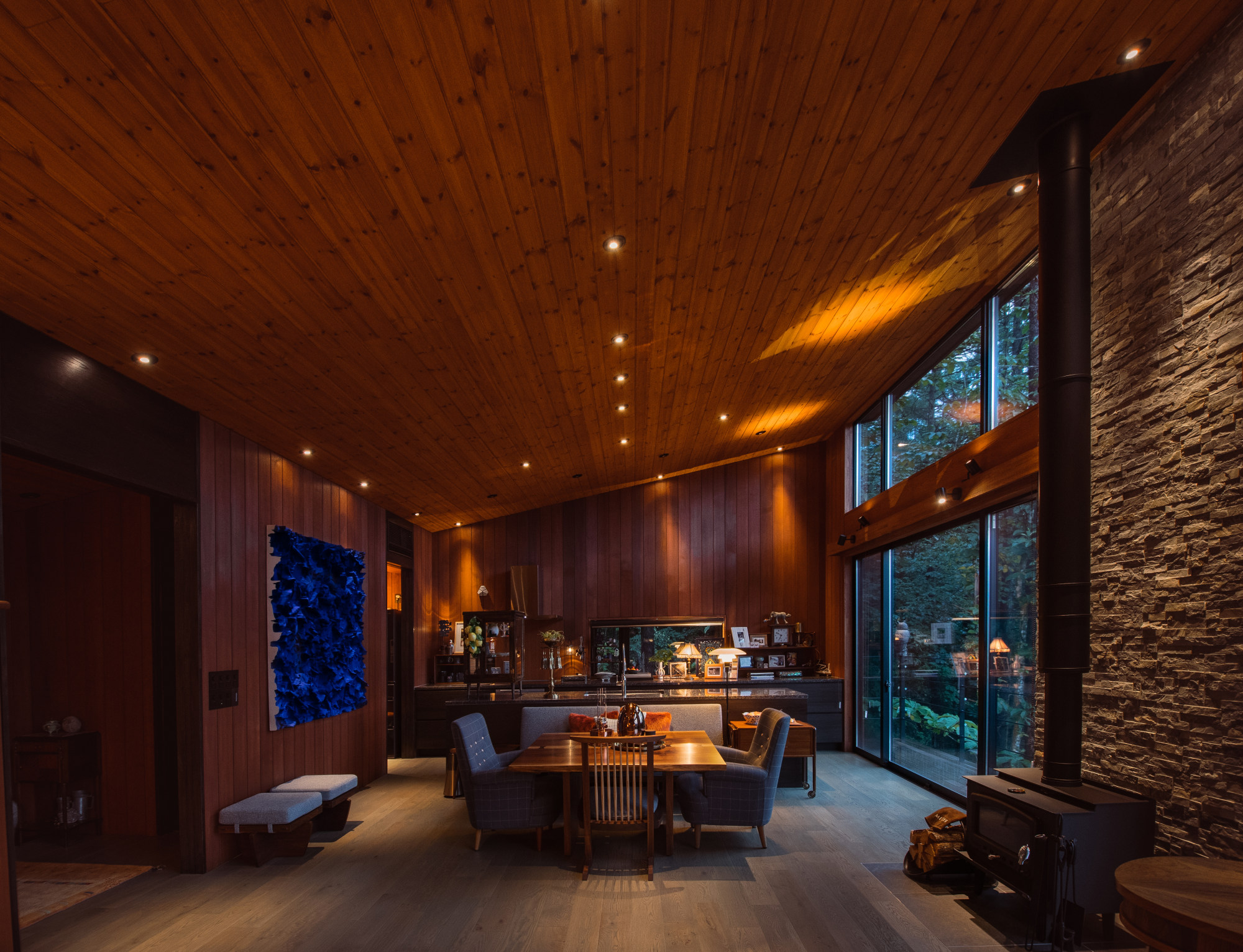 Dining and kitchen
At the other end of the top floor are the kitchen and dining areas. George Nakashima again makes an appearance in the sofa, armchairs, dining table and the stools beneath the hung artwork, by Juri Markkula, from Pace Gallery (pacegallery.com). Beside the floor lamp, by Poul Henningsen for Louis Poulsen, is a vintage drawer cabinet from Denmark.
On the table the Mood egg, which contains cutlery, is from Christofle (christofle.com). The kitchen came with the house.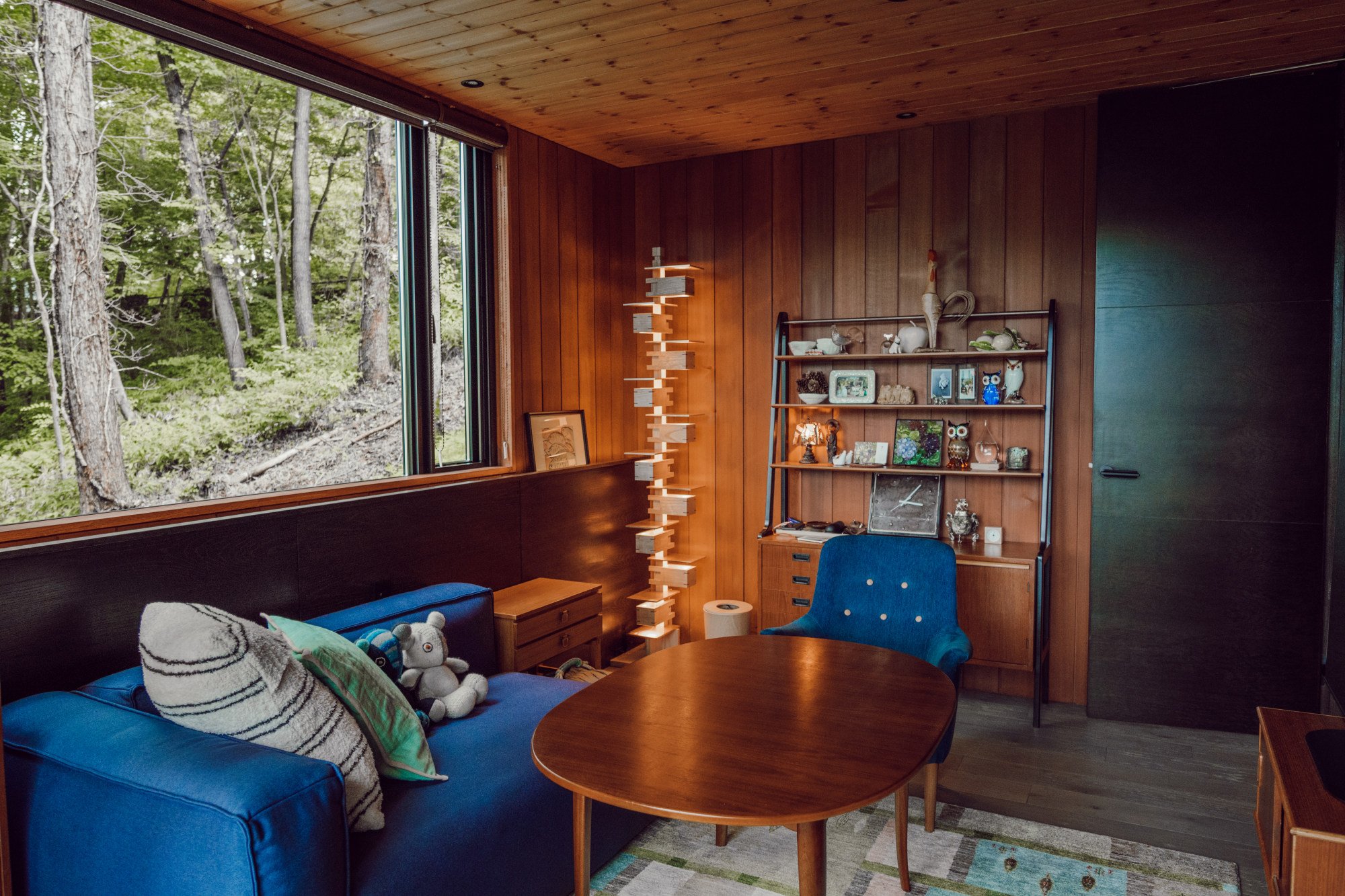 Study
On the lower floor, the study accommodates a special-edition Frank Lloyd Wright Taliesin II lamp (franklloydwright.org), which lights up a corner of the room. The blue armchair is by Rolf Benz and the rug is from Zollanvari.
Bathroom
Naturally the bathroom also has views of the trees. Situated on the lower level, it incorporates an ofuro tub for soaking.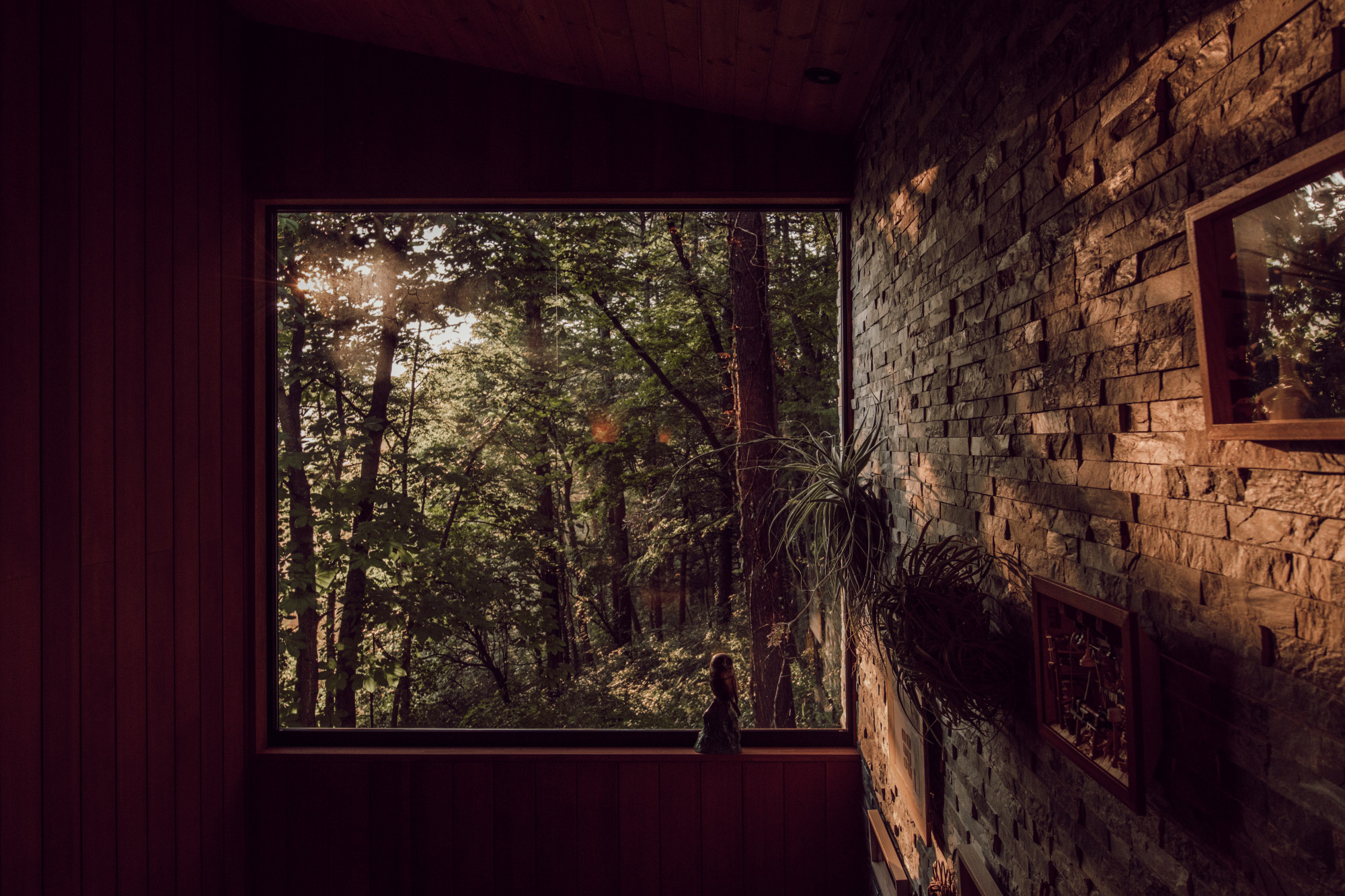 Staircase
A picture window frames yet another view of the forest from the wooden staircase beside a limestone wall linking the two floors. Dotted around the house are sculptures of owls, many of them gifts from friends.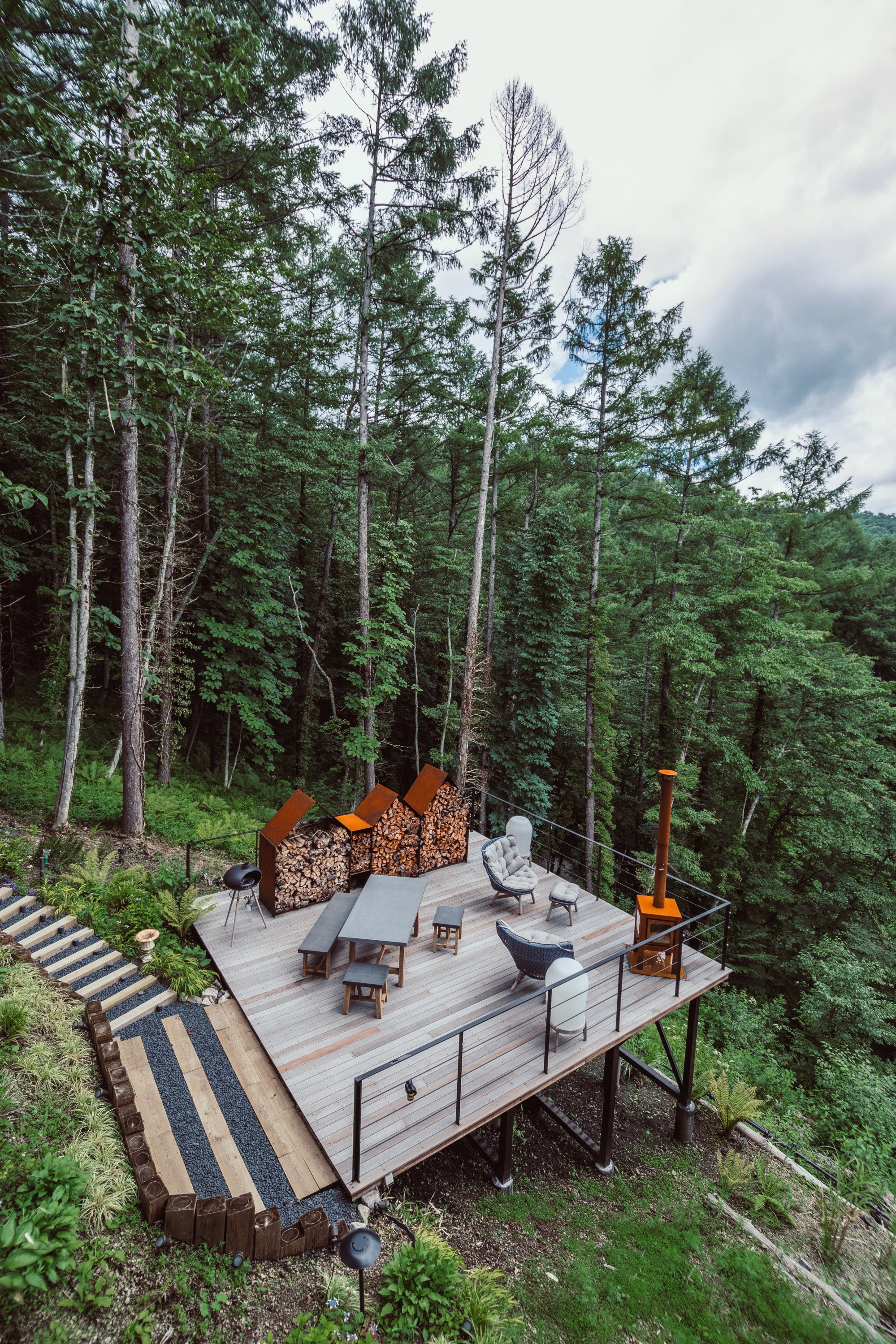 Deck
Surrounded by larch trees, the 385 sq ft deck is simply furnished with Mbrace armchairs by Sebastian Herkner for Dedon (dedon.de). The Chilson outdoor table set is available from Garden Trading (gardentrading.co.uk). The CorTen steel fireplace and Bruges wood store are from RB73 (rb73.com.au).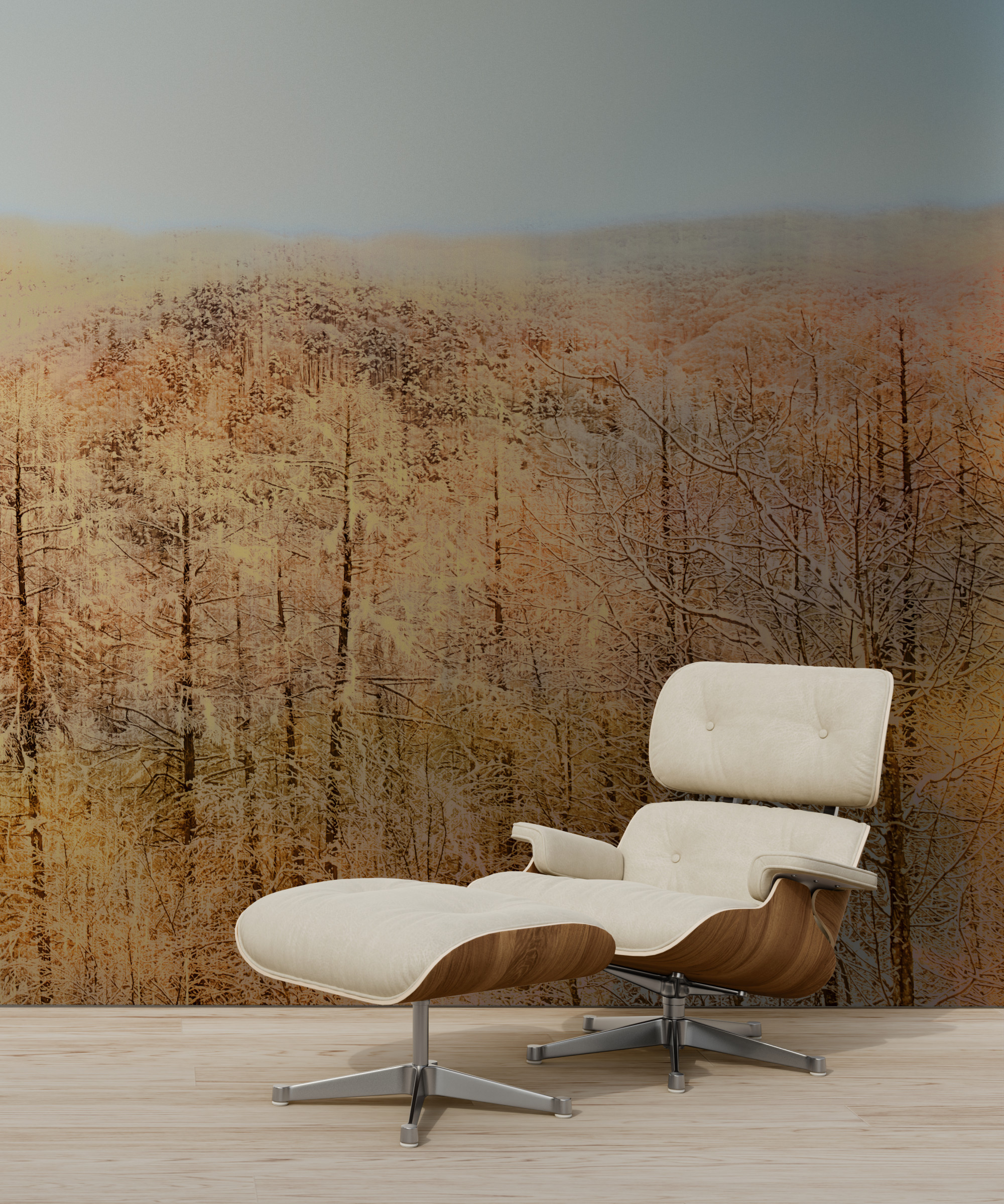 Tried + tested
During an unexpectedly long stay of 27 months in Karuizawa, Japan, Ed Ng, of AB Concept, started studying the ever-changing arboreal vistas. Then he began photographing the forests and the mountain ranges they cover.
The result was wallpaper created from photographs that capture the ephemeral qualities of the landscape, draped in snow, darkened by clouds, shrouded in mist or enlivened by light.
The series, called Tableau, was created in partnership with Calico Wallpaper (calicowallpaper.com) and comes in eight colourways.
.
.