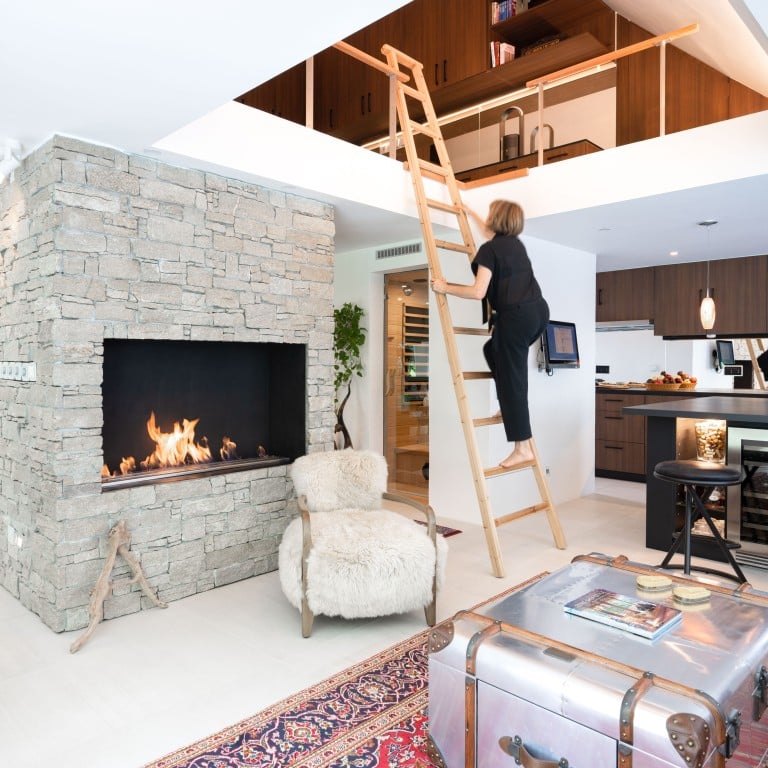 'A very chic tree house': pilot's remote Hong Kong home comes with wooden sauna and an unsteady ladder to reach the bedroom
A pilot poured more than US$200,000 into the renovation of a remote Hong Kong apartment, with no purpose behind the design 'other than doing what I like'
The flat at Sea Ranch on Lantau Island, a failed five-star resort built in the 1970s, has an infrared sauna, a 180kg bathtub and a huge eye-level fireplace
Like most Hong Kong residents, the first time Andrew De Caro saw Sea Ranch he was on a ferry to Macau. When he caught a glimpse as he passed Lantau's south side, he thought it looked fabulous.
He assumed the flats must be expensive. That was 2006 and De Caro, originally from Boston, in the United States, had just arrived in the city.
He didn't know that The Sea Ranch, as it was officially named – although, like so much of the development, the "The" fell into disuse – was a failure.
It had been built as a five-star resort by Hutchison Whampoa in the late 1970s, years before the nearby resort-style residential development Discovery Bay. It had no access road: the only approach was by private ferry or a two-hour hike across Lantau Island.
In 1983, Hutchison pulled out and left it to the residents to manage. Acrimony ensued. By the end of the century, many of the 200 units had begun their long, silent moulder under a subtropical sky.
In 2009, De Caro, who is a pilot for one of Hong Kong's wealthier families, bought his first Sea Ranch flat. It cost HK$1.2 million for 1,250 square feet (116 square metres). On a liveability scale from one to 10, he reckons it was about "a two, maybe a three".
He ended up completely renovating it when, in the process of changing a shower head, the water pipe burst. It's now an eight. He bought another flat, which he rents out.
In 2014, he bought the third-floor flat you see here. It's 650 square feet, not including the 200 square feet of loft space he converted into a bedroom. It cost HK$560,000. On the De Caro liveability scale, it registered about four.
"Until recently, most Sea Ranch properties had been neglected and people did very little improvements," he says. "Anybody who buys one has to understand it's a full-gut remodelling process."
Luckily, he's into design projects. (He's currently doing one in Michigan, in the US.) "I'm a very visual person," he says. "And in Hong Kong, real estate seems to be the best outlet for me, creativity-wise." He left it empty for four years while he circumnavigated the globe professionally twice a month and planned its layout. Renovation began in 2018 and took almost three years.
Because the Sea Ranch flat is set back from the shoreline, with windows opening onto the hillside's greenery, he wanted to create "a very chic tree house". Although there seems to be a Scandi theme – the fireplace, the sauna, the snow-white furry Timothy Oulton chair – he says there's no purpose behind the design "other than doing what I like".
In any case, an authentic Swedish sauna with lava rocks wasn't possible; Sea Ranch's electricity didn't have enough power for that so it's an infrared version.
The fireplace, which uses biofuel, was installed because he'd put up a partial wall, made of granite, between bathroom and sitting room, and wanted to add further ambience. (He was also inspired by the 15th century Petit Hôtel Confidentiel, in Chambéry, France – "a beautiful, beautiful property".) The granite stones, quarried in China, came via a shop in Wan Chai, which also supplied the sifu to lay them.
Like everything at Sea Ranch, those stones, and labour, arrived by boat. The bath, which weighed 180kg (397 pounds), needed six men to manoeuvre it into place. It's possible to get anything delivered, De Caro says, but it costs more and it's time-consuming.
He tells the story of the bedroom mirror, which was 3mm (just over 0.1 of an inch) off – he's a details-oriented kind of guy – and had to be returned to the shop in Mong Kok. That entailed carrying it down to the pier; taking Sea Ranch's private ferry to Cheung Chau; then the ferry to Central on Hong Kong Island; then a van to Mong Kok in Kowloon. Ten steps from the shop, the trolley was bumped. The mirror broke.
Patience, therefore, is essential, as well as passion. Because the flat cost relatively little, he wanted everything in it to be the best he could afford. So he spent HK$1.8 million on the renovation, including US$20,000 on fridge drawers from the US. (See Tried & tested). "Everything has to be good-quality materials for the place to last another 40 years."
He estimates it's now an eight, too. "Things can always be improved on." It's true there are no doors, yet, on either the shower room or lavatory. And you have to climb a distinctly unsteady ladder up to the bedroom (while trying not to imagine the marine police patrol boat to Cheung Chau, the helicopter trip from Cheung Chau to Wan Chai, the ambulance to Queen Mary Hospital).
"I know it bothers a lot of people," he agrees. He's mulling over artistic alternatives, possibly a spiral staircase. "But it would have to be unique in design and function."
In recent years, Sea Ranch has become more popular – and expensive. De Caro estimates that about 60 per cent of the flats are now occupied full-time. One or two are bought and renovated every year. He'd like to buy another. He loves the sense of peaceful community, the sea, the sky, the pink dolphins, the sea turtles, the barking deer.
By the fireplace, there's a capital "A". He found it, one day, on the beach – a flourish of driftwood, as if someone had started to write his name on it.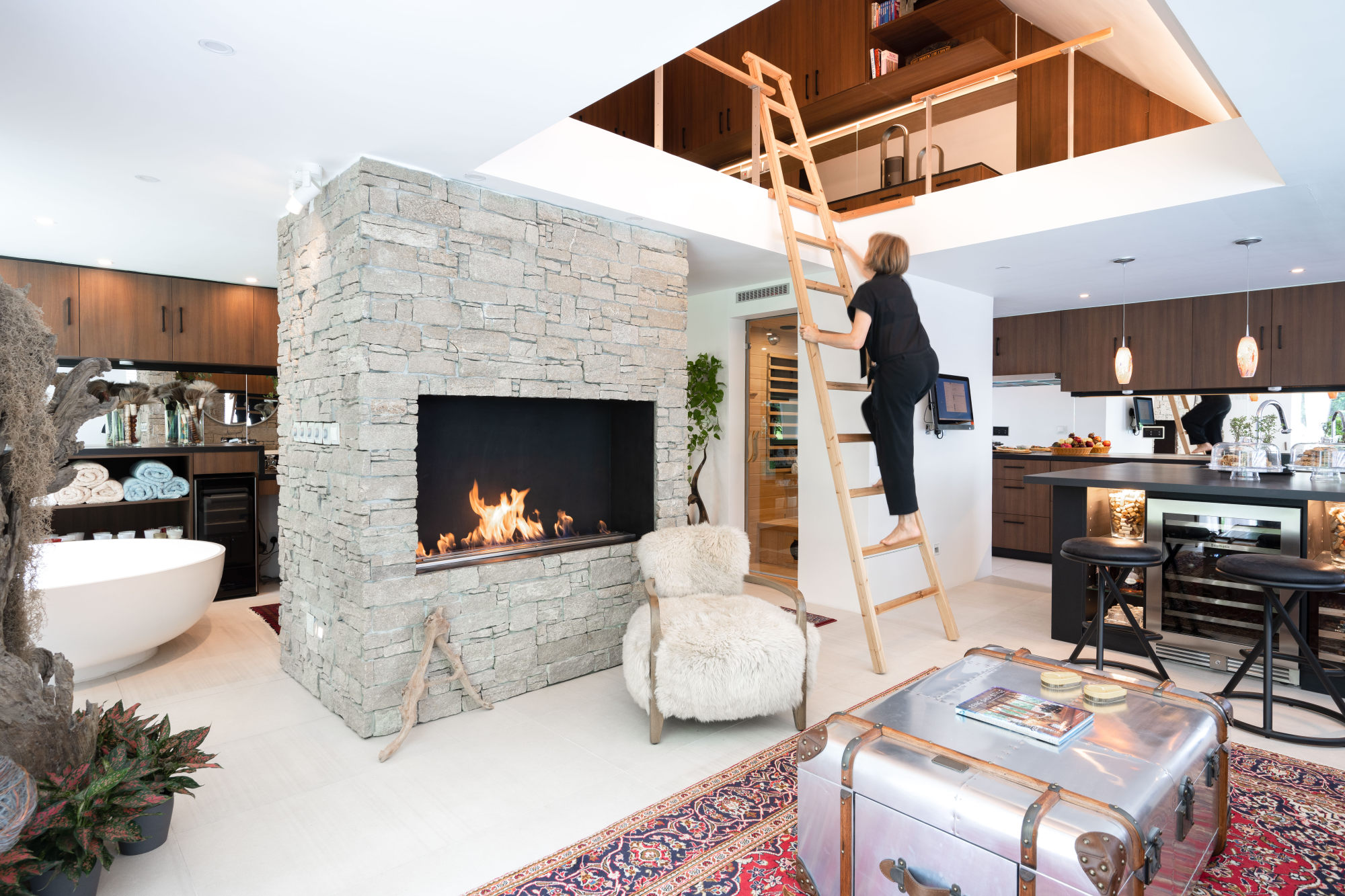 Living area
The trunk, stools and white-fur chair came from Timothy Oulton (timothyoulton.com). The rug was from Ikea (ikea.com.hk). The fireplace was built with granite stones from Omega Culture Stone & Construction Material (31A Fleming Road, Wan Chai, tel: 2877 0019). The ladder was bought on Cheung Chau and the wooden "A" was found on the Sea Ranch beach.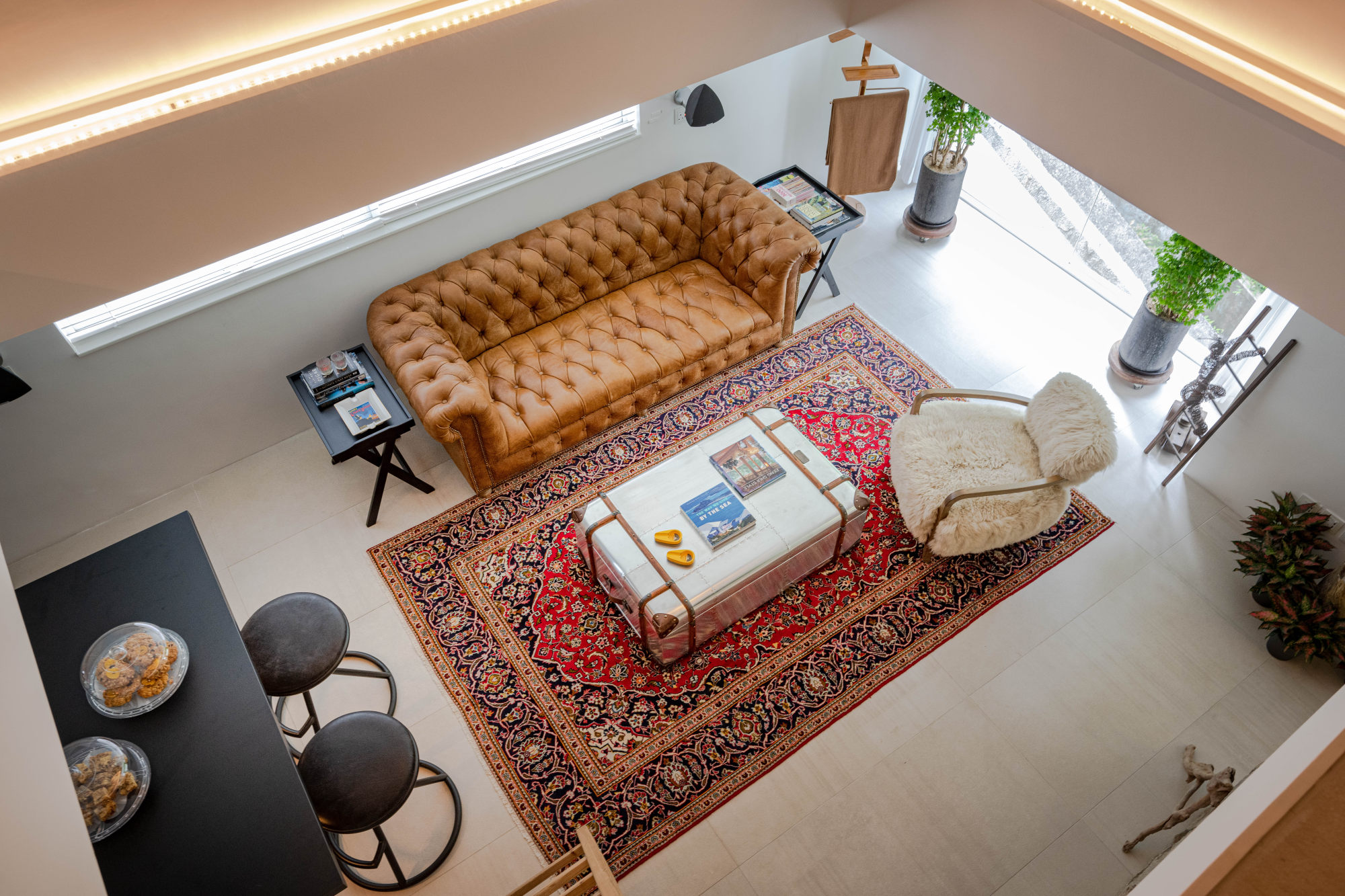 Living area
The sofa came from Timothy Oulton. The butlers' trays on either side of it were from Ikea. The small wire sculpture of a figure climbing a ladder was bought in Bordeaux, France, years ago. The valet stand came from Amazon (amazon.com).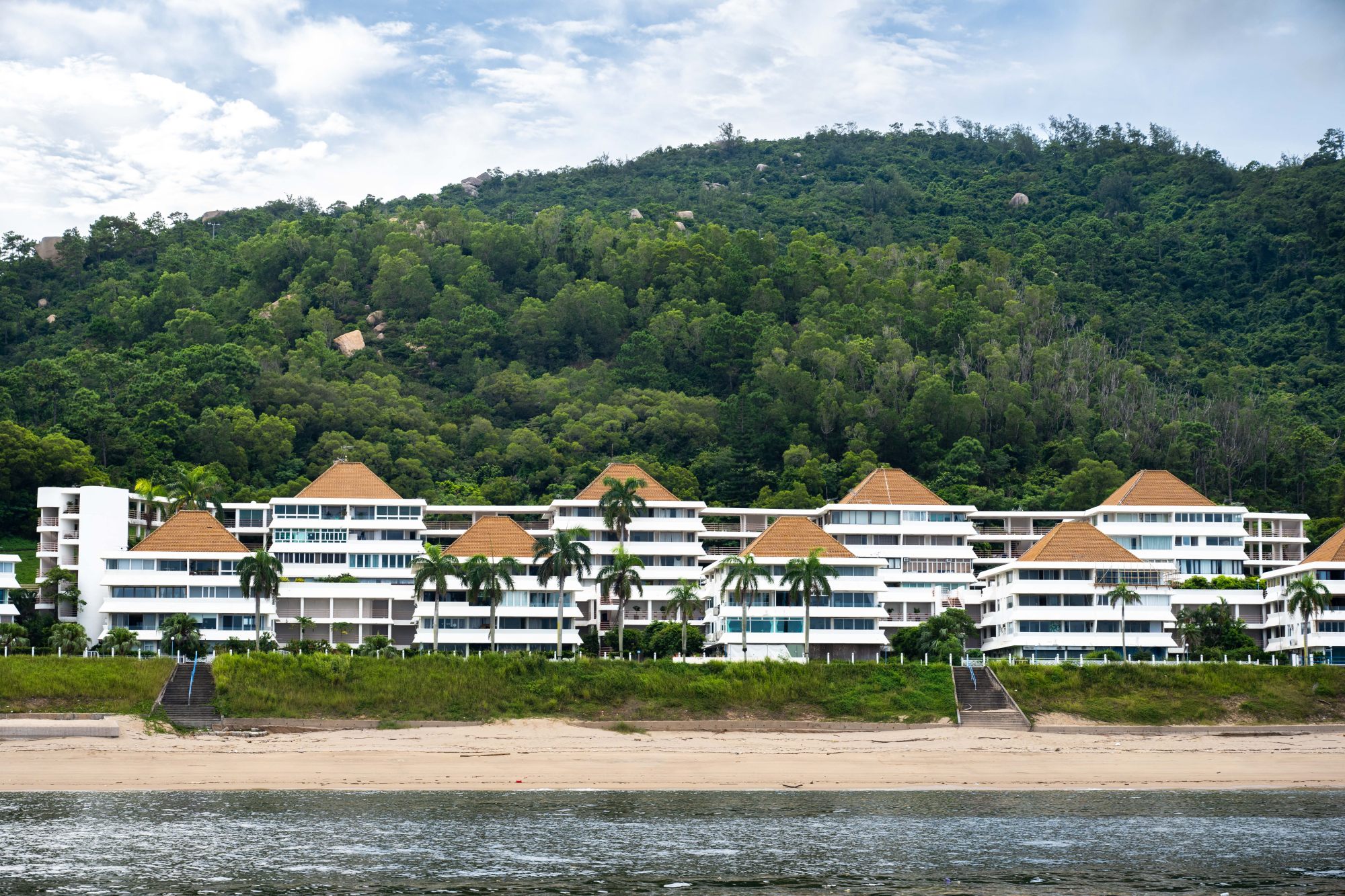 Sea Ranch
Sea and sky. Light and silence. Sea Ranch is having a revival after years of isolation and neglect. But you need passion and patience.
Bath
The bath came from Right Century (345 Lockhart Road, Wan Chai, tel: 2834 1661). The calligraphy brushes were sourced in Beijing's Silk Market. The glass jars and the planters were found in the Mong Kok flower market. The rug was from Ikea.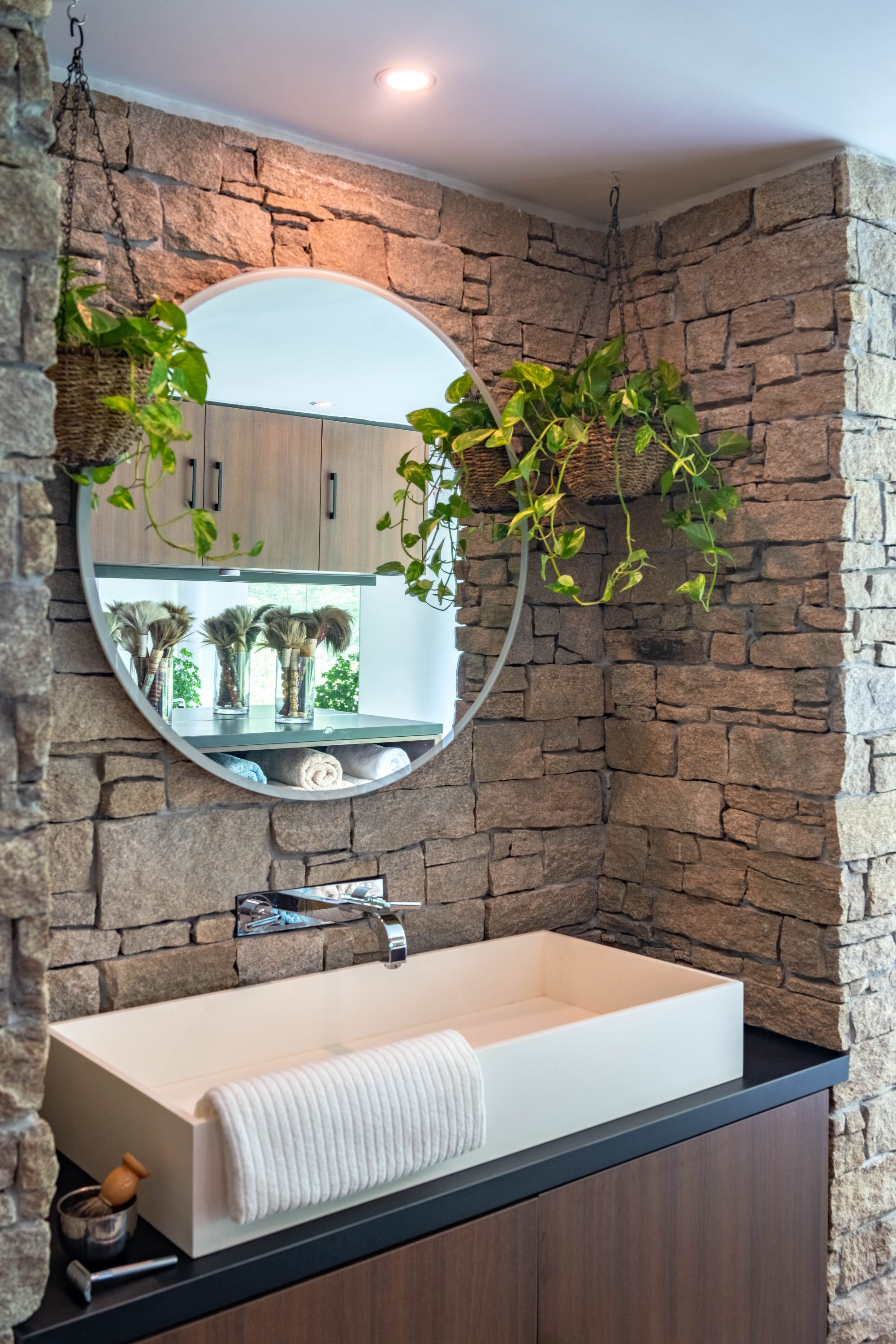 Bathroom detail
In the open-plan bathroom area, the granite stones were sourced, and installed, by Omega Culture Stone & Construction Material Company. The fireplace is on the flip side of the wall. The mirror is from Sunny (Pro) (193 Lockhart Road, Wan Chai, tel: 2156 0388). The washbasin is from Right Century (332 Lockhart Road, tel: 2834 1661).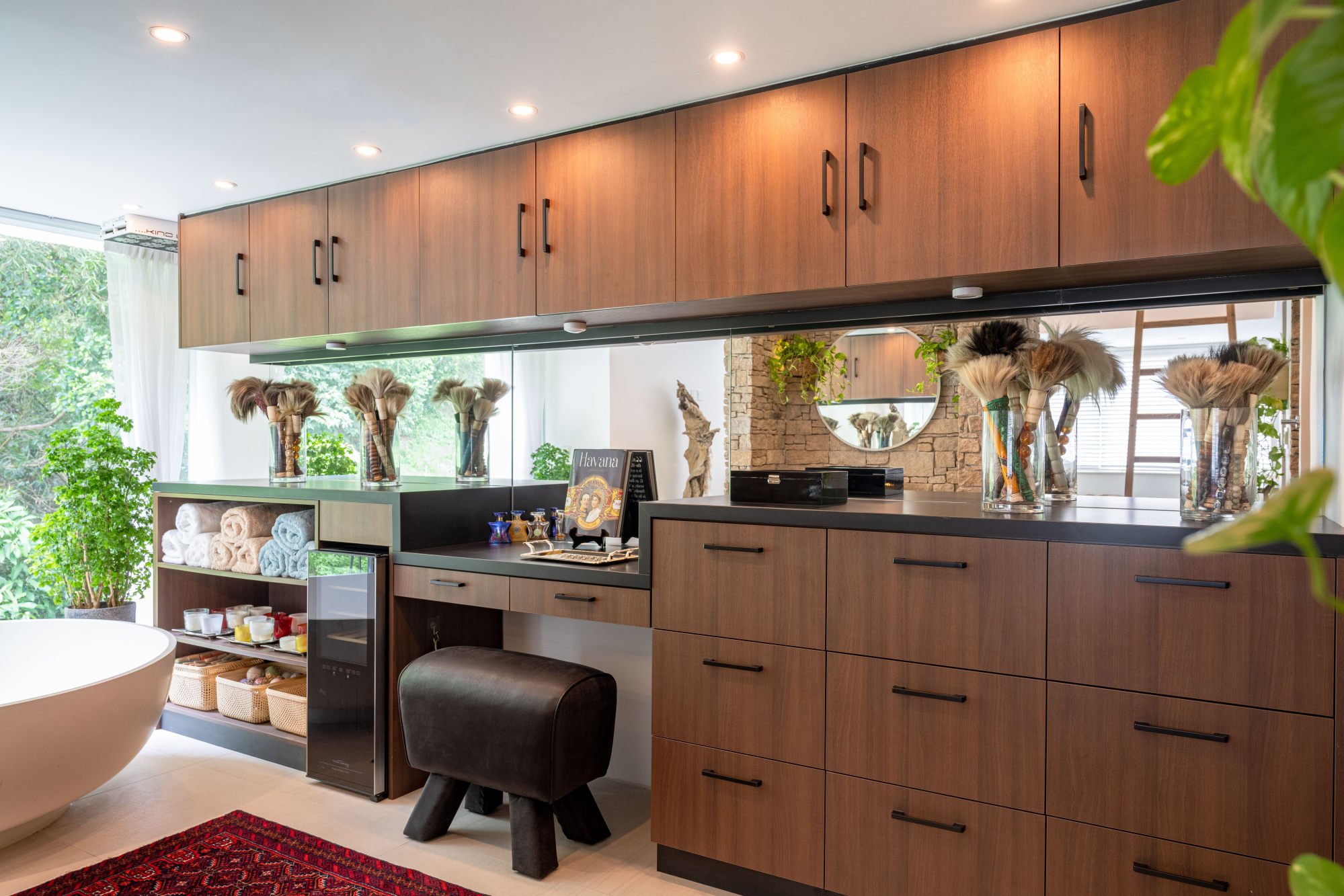 Bath area detail
The fragrance bottles on display are from De Caro's large collection, sourced for their visuals more than smell on his travels. The unit along the wall was installed by Buy Materials Easy (291 Lockhart Road, tel: 2827 1228) and includes a wine fridge.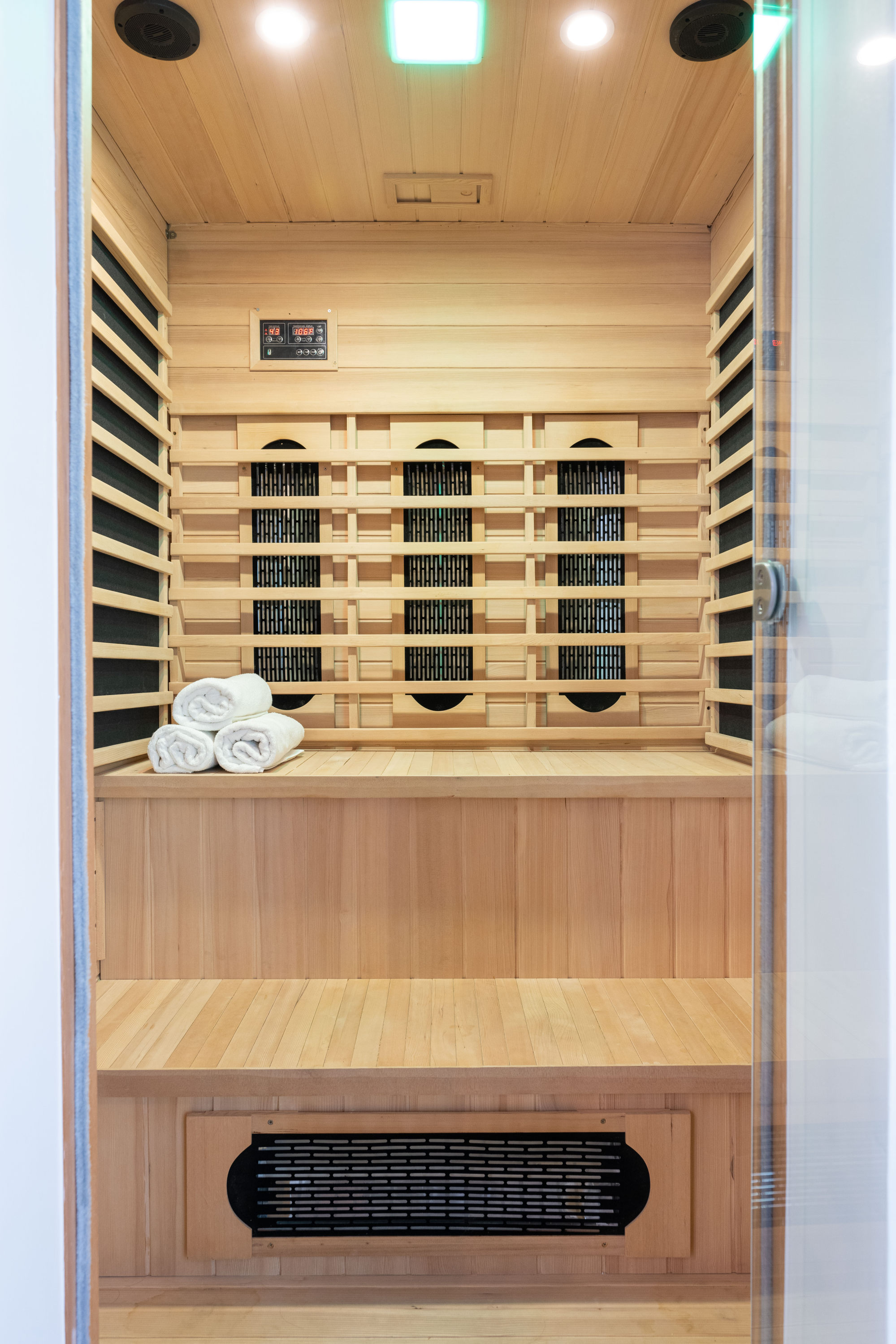 Sauna
De Caro designed, assembled and installed the infrared sauna, which he bought through Alibaba (alibaba.com).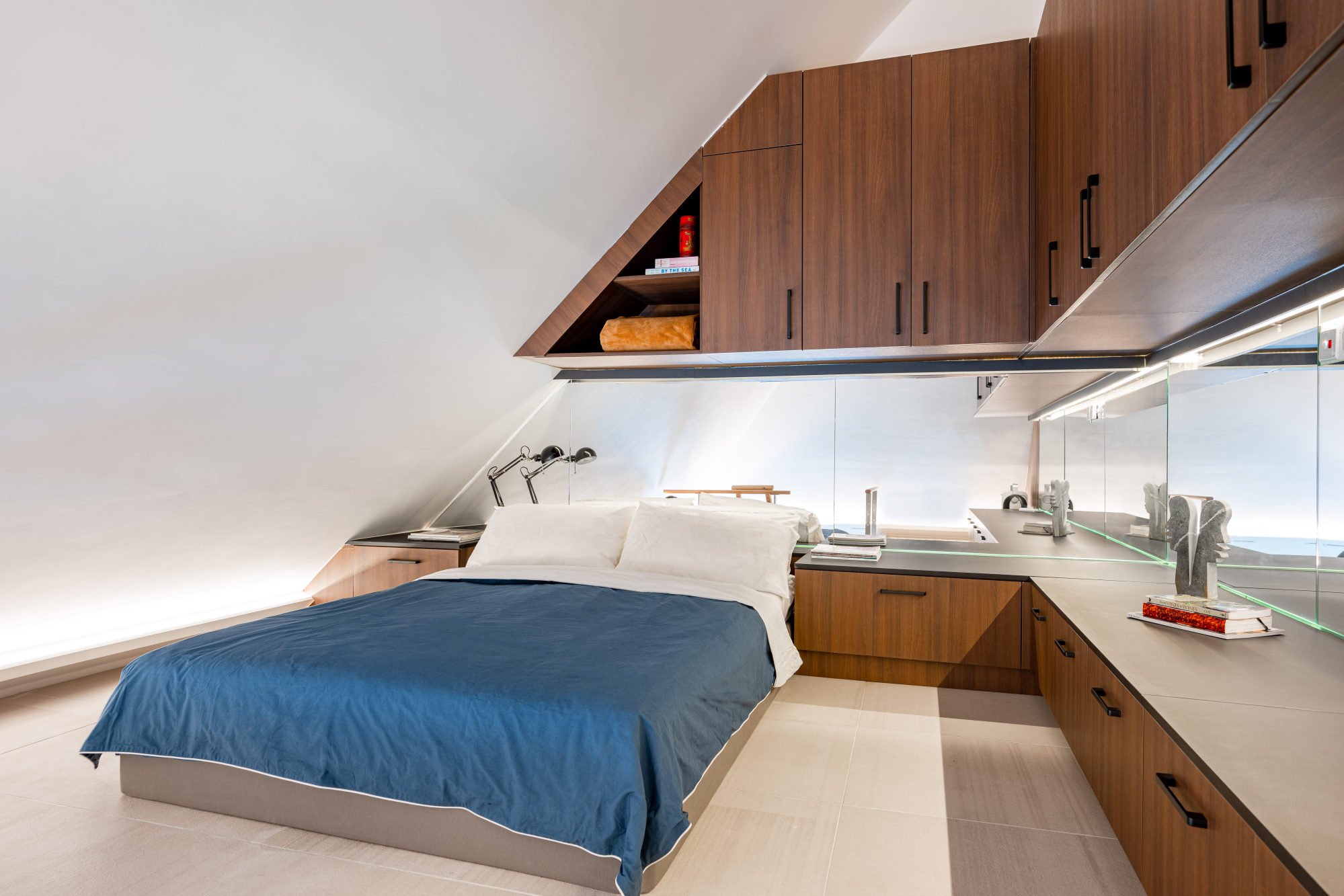 Bedroom
The loft bedroom was designed by De Caro and installed by Buy Materials Easy. The bed, bedside light and bedlinen were from Ikea. The two-headed sculpture is by Zimbabwean artist Tapiwa Chapo (tapiwavisions.art), who had an exhibition in Hong Kong in 2009.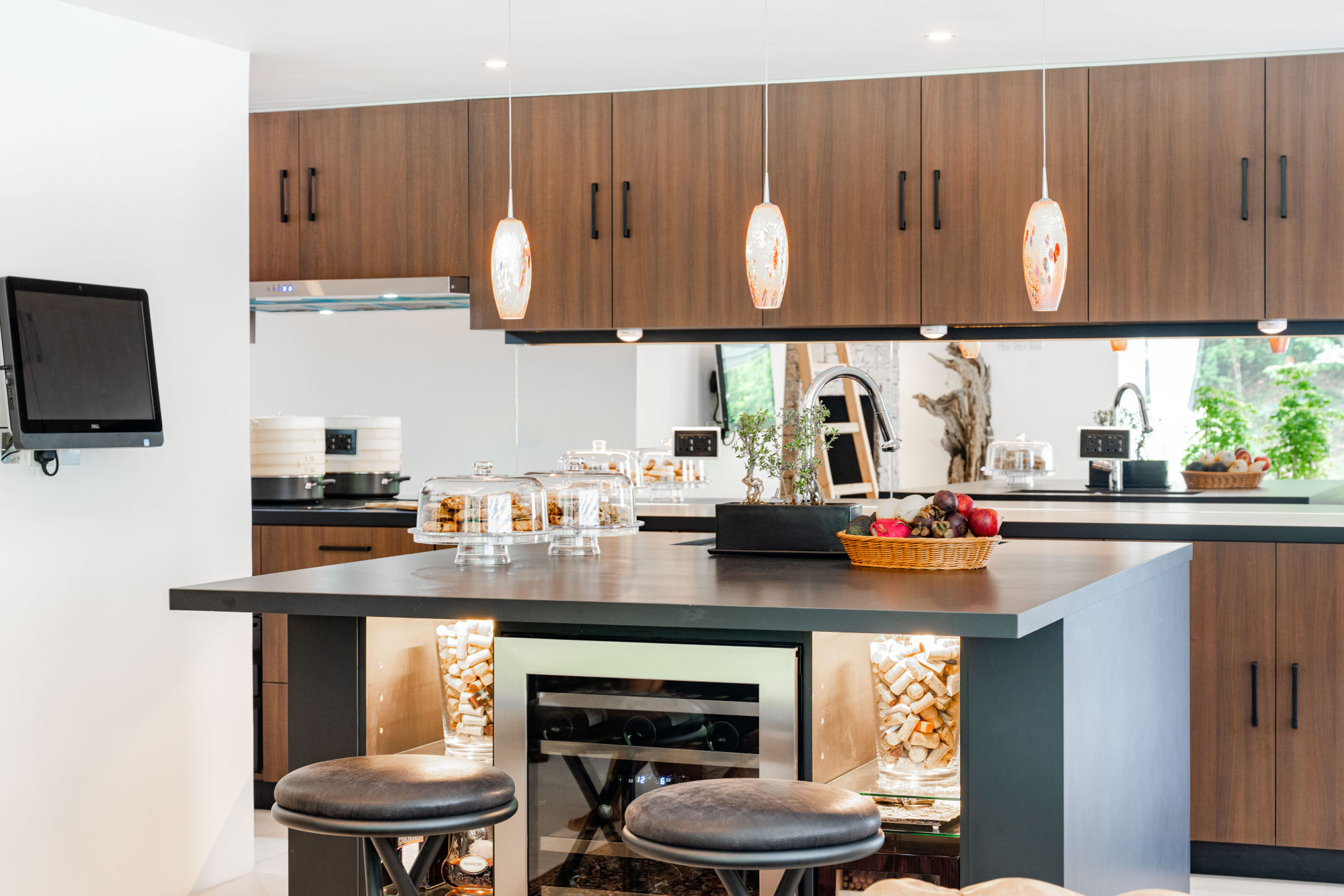 Kitchen
The kitchen was designed by De Caro and installed by Buy Materials Easy. The three lights above the island came from Lightopia (lightopiaonline.com).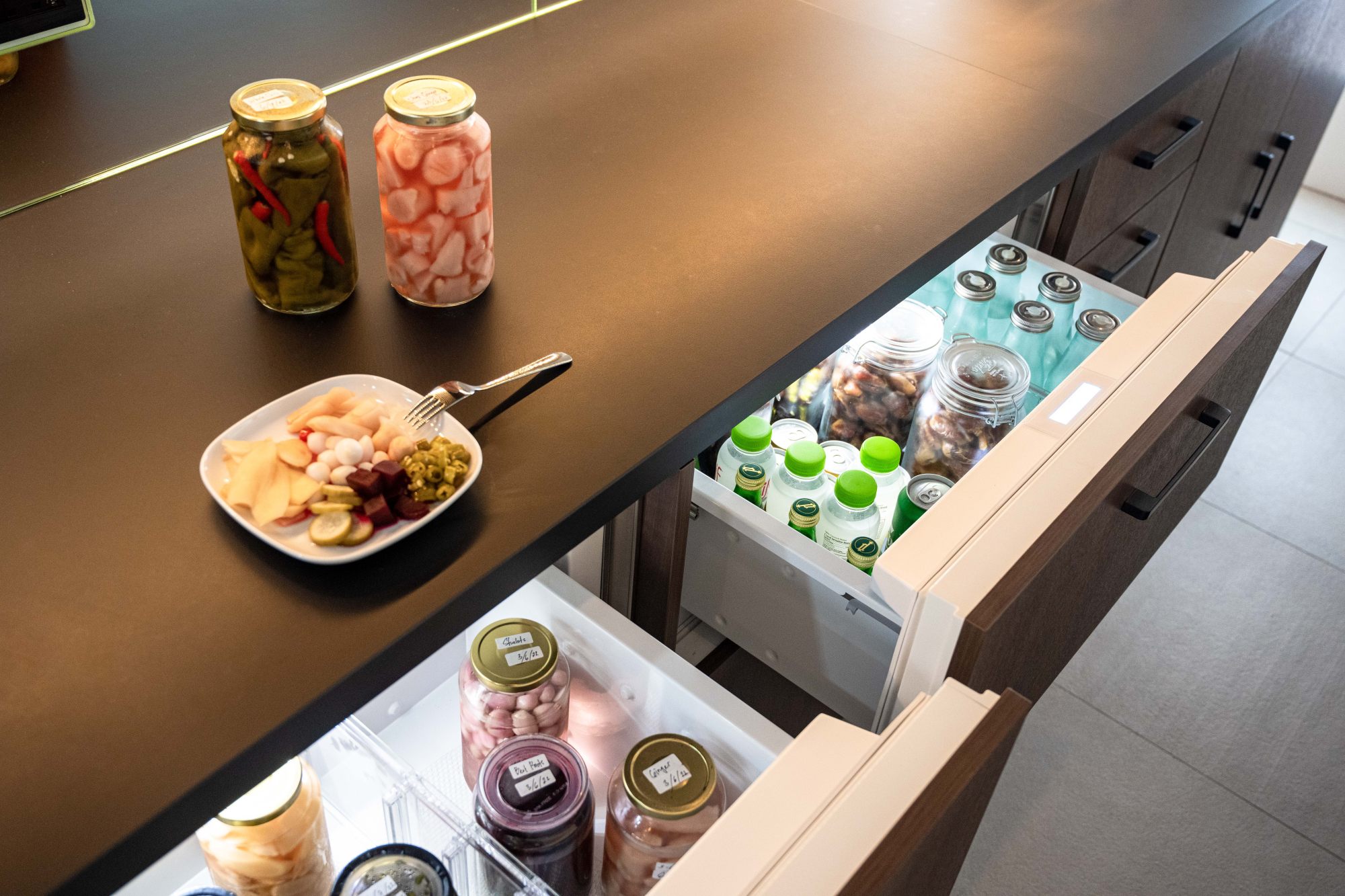 Tried + tested
In the small kitchen, De Caro didn't want the line of the worktop to be broken by a tall fridge. He grew up with boats, which often have space-saving fridge drawers, and decided those were an ideal solution. His were made, in the US, by Sub-Zero (subzero-wolf.com) and cost US$20,000.
Styling Esther van Wijck