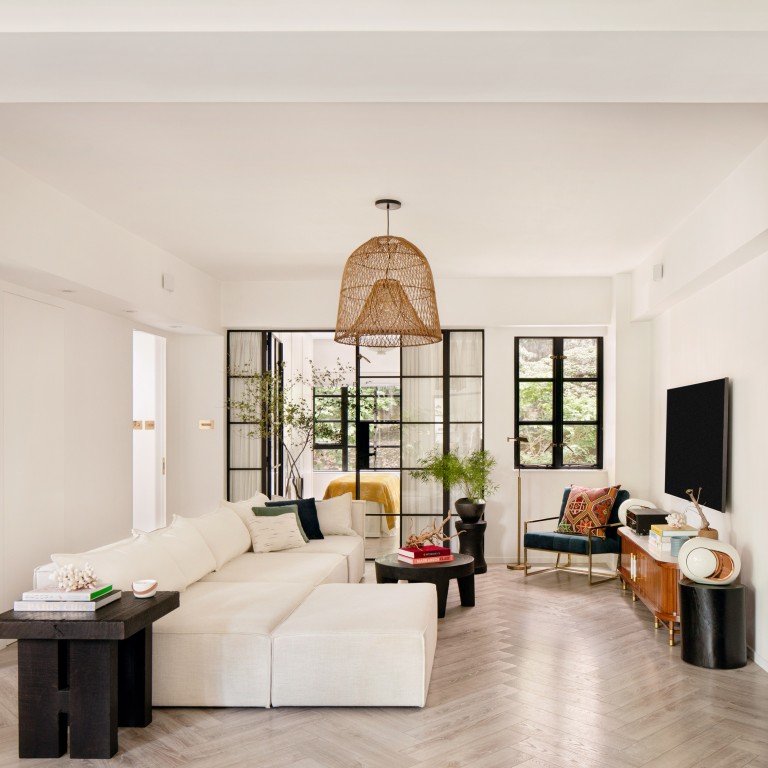 European living inspired this Hong Kong home's design – think sliding glass panels and an open kitchen for dinner parties and natural light
A couple, who had previously lived in England and France, wanted to replicate their European lifestyle of entertaining at home in Mid-Levels, Hong Kong
They renovated their 1,450 sq ft flat to accommodate a chef's kitchen and a 12-seat dinner table that helps 'recreate an intimate restaurant atmosphere at home'
Expecting a 1,450 sq ft (135 square metres) Hong Kong flat to host dinner parties regularly for 12 or more requires creative thinking.
That was the tall order facing the design-and-build team at Hero Design Group, helmed by CEO Ann Chan.
The owners of the flat, both Hong Kong locals, had lived in England and France, and on returning to their roots to start a family wanted to replicate a lifestyle of entertaining at home.
A Mid-Levels neighbourhood where the husband had grown up – and his parents still lived – would provide the platform to meet all their needs: apart from accommodating the family, the flat, beside the verdant environs of the Bowen Road Fitness Trail, would also be an occasional event venue and home office.
The couple, who felt that older-style architecture better suited the internal restructure they wanted, settled on a fourth-floor flat in a mid-1960s building.
In the original floor plan, a series of corridors divided the rooms, taking up valuable space that could be released into an open-plan layout. Removing them as part of a "zero wastage" spatial reconfiguration meant that a dining table could always be set for 12 and expanded into the living area for larger gatherings.
While this works well for social activities, other factors weighed towards the retention of walls. The pandemic had begun. A baby was on the way. And did the owners really want an open kitchen, given the amount of cooking that goes on there?
The Hero team's response was to replace the necessary walls with sliding French glass panels. Not only do these visually connect while also demarcating the private spaces, they allow natural light to permeate from the outside windows, which have been replaced in matching French glass.
In the case of the home office, a curtain on the inside may be drawn for privacy as required.
For the kitchen, the panels can be opened to allow family and friends to be part of meal preparations, or closed to isolate smoke and smells.
With cooking a hobby for this couple, theirs is a chef's kitchen equipped with a large central island and a suite of luxury appliances, including a La Cornue range imported from France, along with a Gaggenau fridge, freezer, wine fridge, oven and steamers.
Chan's suggestion to have green cabinetry – "a shade between olive and sage", she says – is a good match for the outdoor foliage and the owners' penchant for indoor plants.
The kitchen also has a service entrance to a secondary lift lobby, which is handy for restocking supplies. On occasions when private chefs are engaged to cater, the professional crew can come and go discreetly, their skills on display to the watching guests.
The potential to recreate an intimate restaurant atmosphere at home was irresistible for the owners. "This is why we bought this flat, because we thought this could happen," they say.
Of course, the owners don't host large dinner parties every day of the week. But they've found an unexpected advantage in that large dining table, which is useful on so many levels, from casual work station to flower-arranging bench to games area, and everything in between.
Their love of entertaining also informed many of the design decisions for the renovation. Opting for loose, rather than built-in furniture meant that pieces could be moved around easily for a flexible seating arrangement.
For flooring that could withstand heavy traffic and be easily cleaned, the owners chose durable textured vinyl over less practical wood.
When it came to the home's three bedrooms (now two plus study), the owners wanted the main bedroom to feel bigger than it was, which is why Hero gave it the French glass treatment as well.
Its en suite bathroom, visually open to the sleeping area, is divided into three sections: a tub and shower in one; twin washbasins in another; and finally, the toilet, all decorated in contemporary European style with imported sanitary ware.
During the project's planning stage, the owners had no idea how housebound they would soon become, courtesy of the pandemic. They say their home's functional and restful design, the abundance of natural light and greenery, and the ability to enjoy fine dining – in the company of others when restrictions allow – was the saving grace of a difficult time.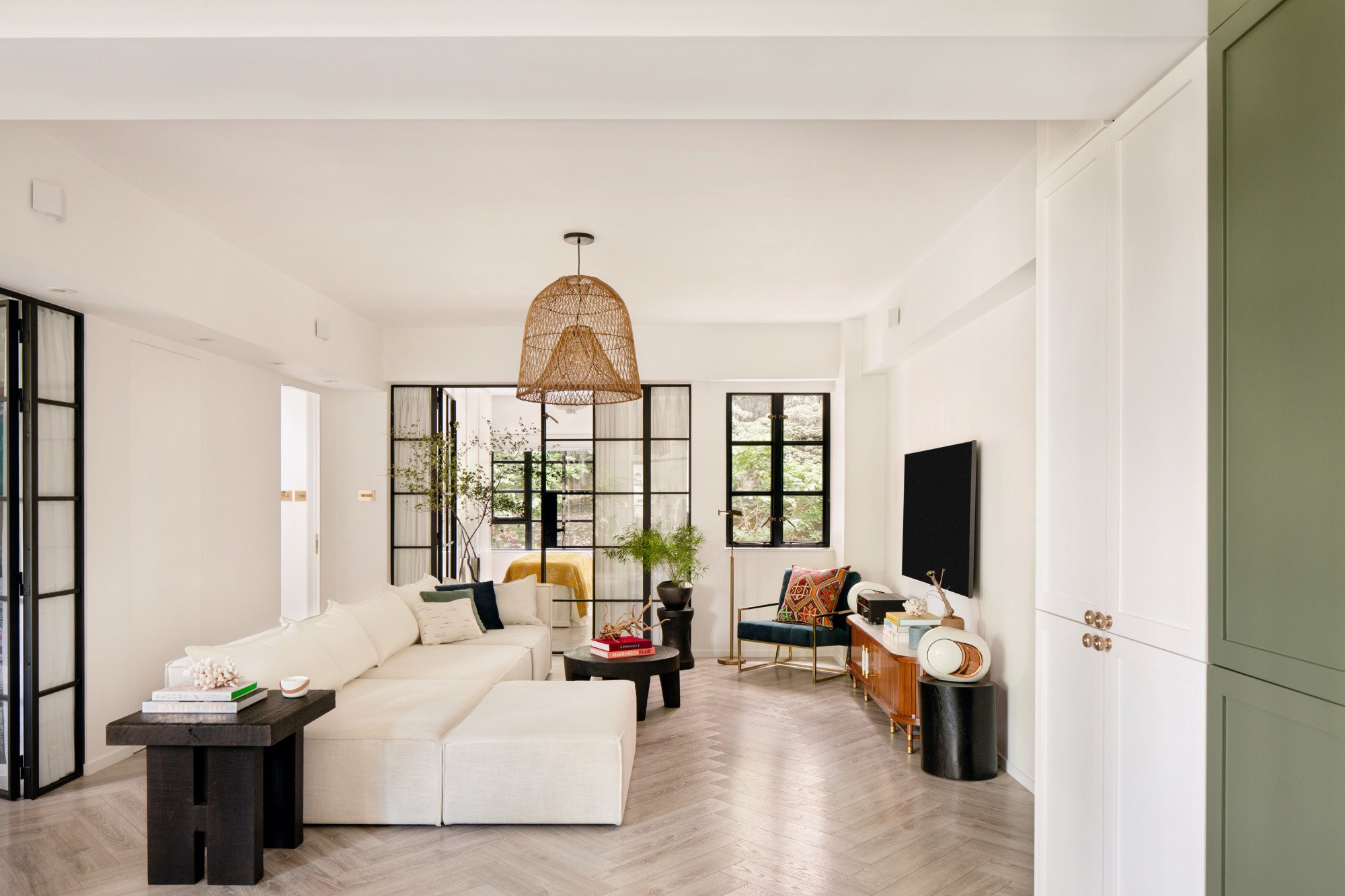 Living room
The bespoke modular sofa was made by Hero Design Group (herodesigngroup.com) and paired with side tables from Restoration Hardware (rh.com). The accent chair, from a vintage market in London, was reupholstered in navy blue velvet, and a basic cushion reupholstered with Pierre Frey fabric (pierrefrey.com).
The television cabinet came from Anthropologie (anthropologie.com), the rattan ceiling light from CB2 (cb2.com) and the planters from Ellermann Flower Boutique (ellermanndesign.com). Behind the living room, seen through a French glass panel, is the baby's room.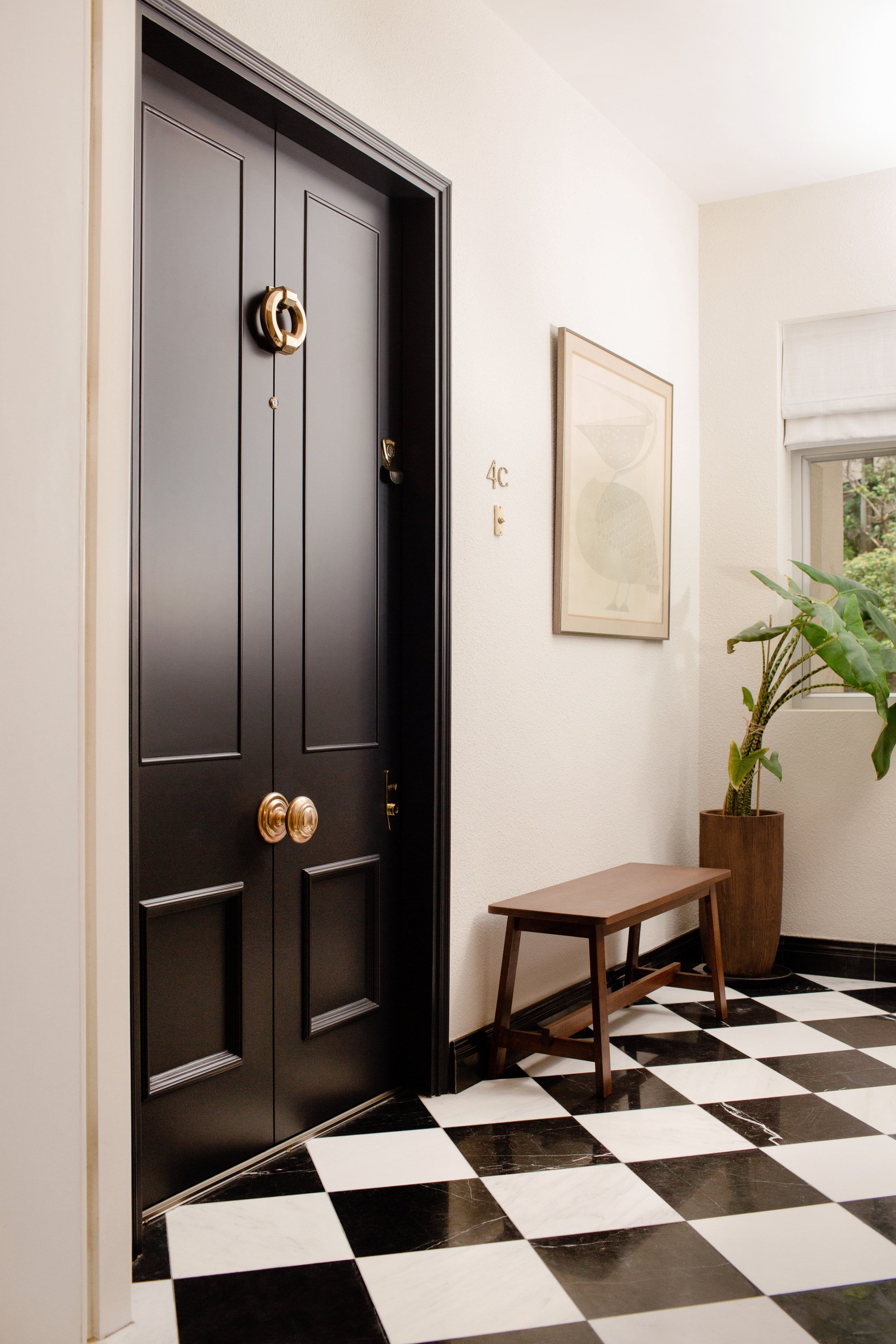 Entrance foyer
To make a statement entrance, Hero Design Group gave the lift lobby a makeover. The front door was made by Hero Design Group and the bespoke brass lock and trim came from Beardmore in London (beardmore.co.uk). The stone floor tiles in alternating black and white were imported from Fired Earth, also in London (firedearth.com).
The low wooden bench is a vintage find from a London market, and the artwork was left behind by the previous owner of the flat. The planter and plant came from Wah King Garden Arts (wahking-garden.com).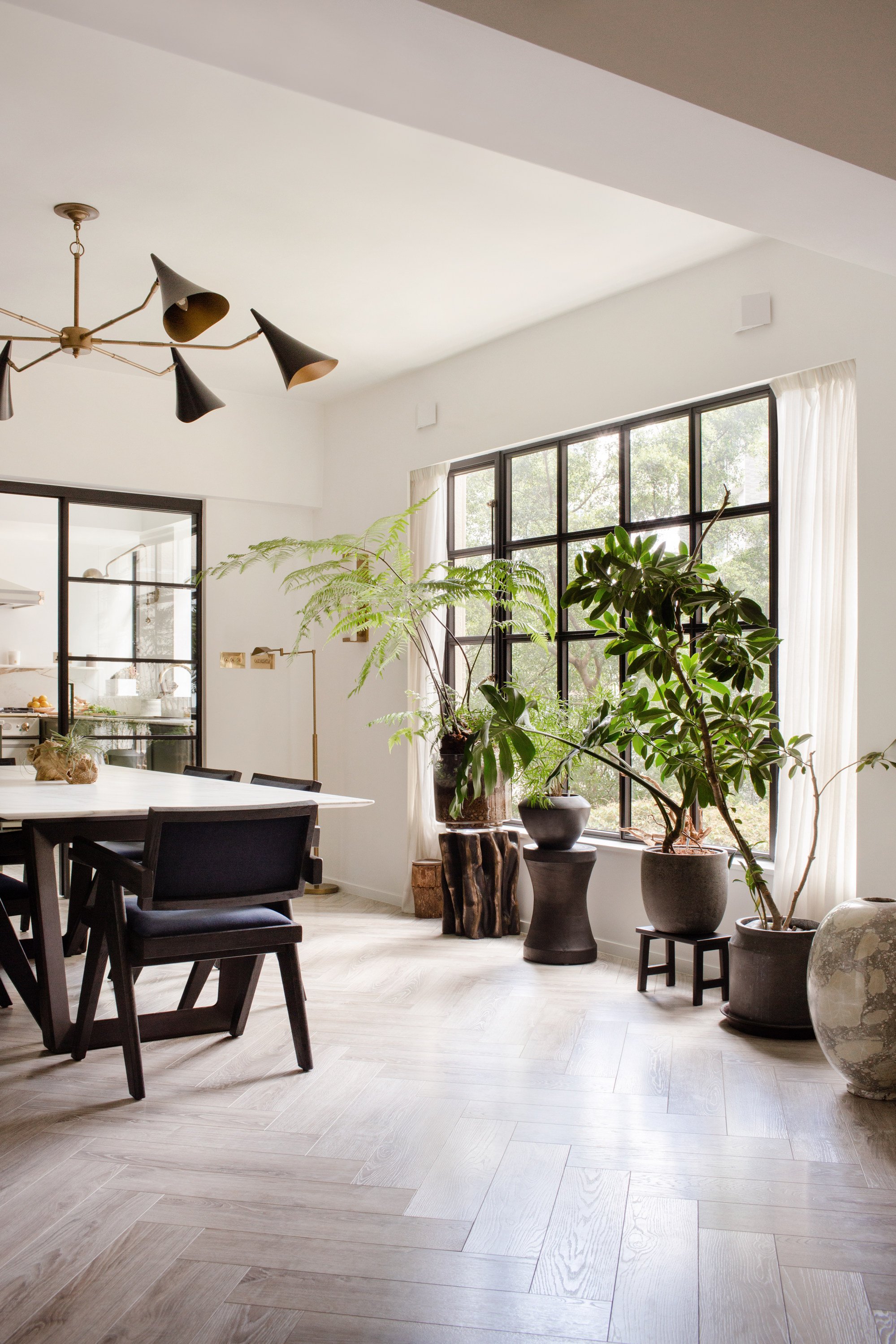 Dining room
Flooring throughout is durable laminate from French brand Alsapan (alsafloor.alsapan.com) laid in a herringbone pattern. The French windows and dividing panels of clear glass in black wrought-iron frames were custom made by Hero Design Group.
A selection of indoor plants is displayed in ceramic planters from Ellermann Flower Boutique and Fleurs (fleurs.hk). The stools they sit on were from Restoration Hardware.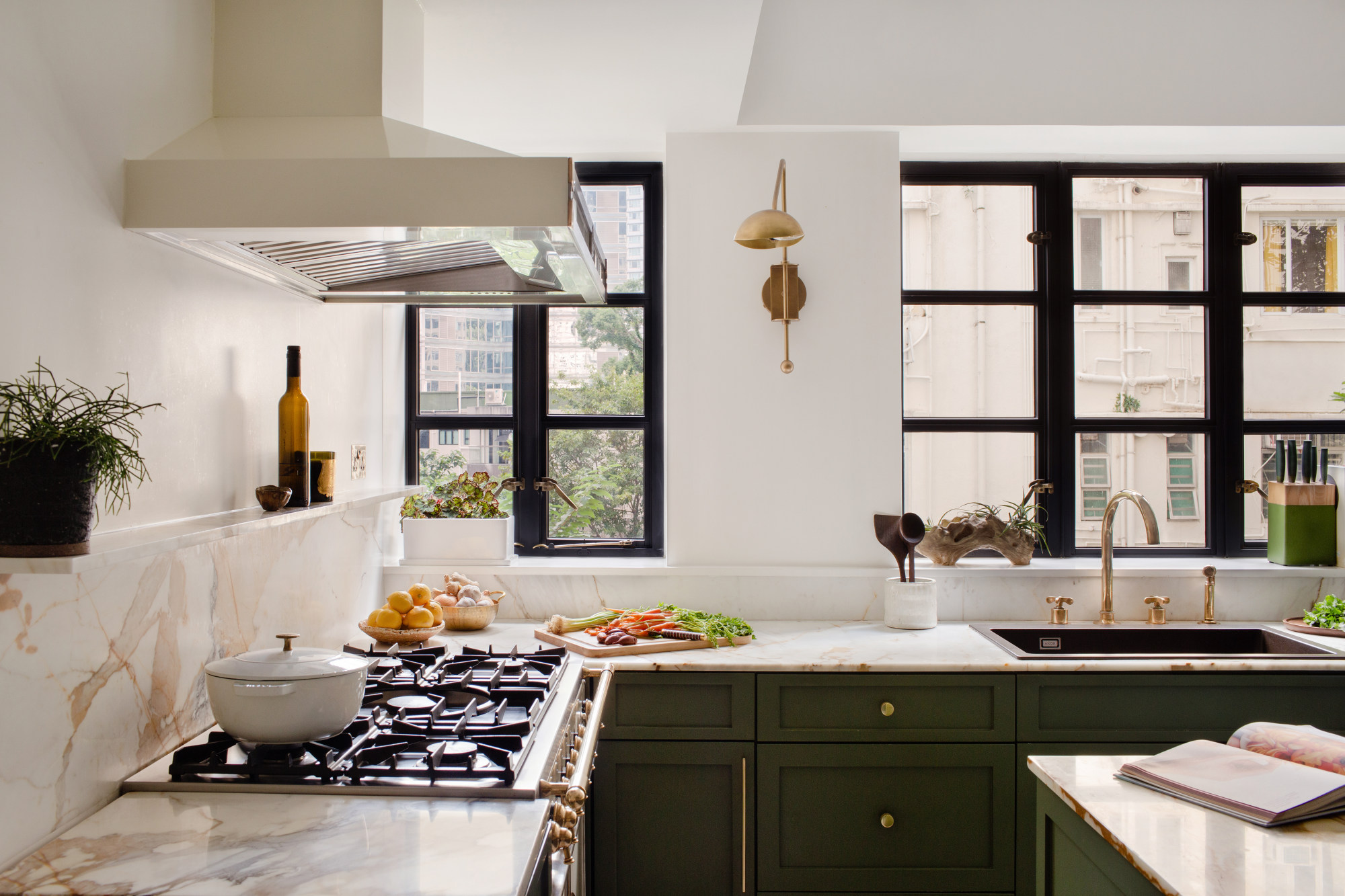 Kitchen
Equipped for preparing gourmet creations, the chef's kitchen, fitted with green laminate cabinetry and Calacatta gold marble tops, was built by Hero Design Group's in-house construction team. The brass tapware came from Waterworks, in London (
waterworks.com
), and the wall lamp next to the sink was from Restoration Hardware.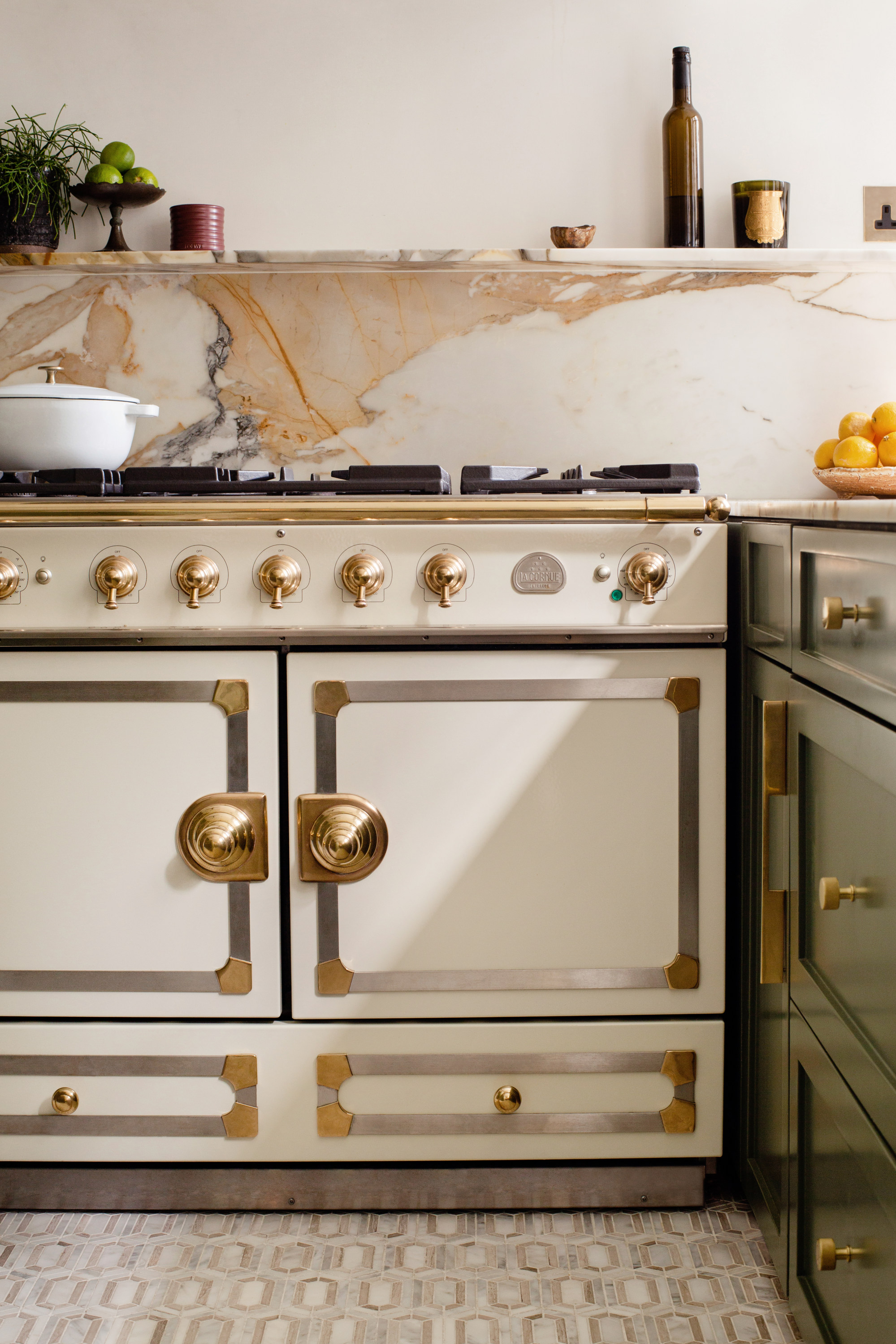 Kitchen detail
Recalling so many amazing meals cooked on a La Cornue range in friends' homes overseas, the flat owner longed to have one of her own. The stove was bought directly from La Cornue at its Paris showroom (lacornue.com), and the Calacatta gold marble used for the splashback and worktops was sourced by Hero Design Group directly from a trade-only supplier in Italy.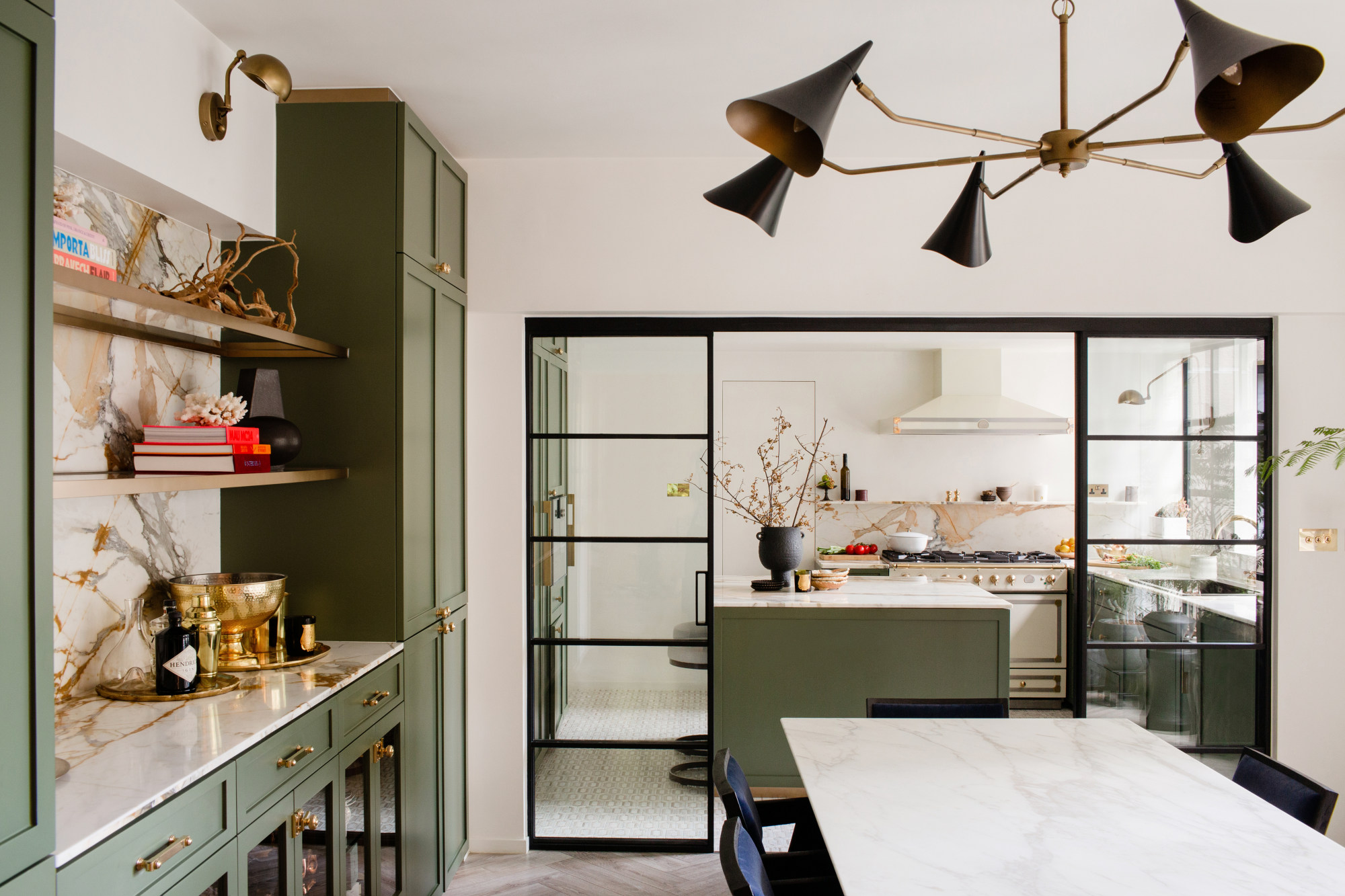 Dining room
The dining table, with an extension (not seen) made by Hero Design Group, came from Poltrona Frau, in Italy (poltronafrau.com), and the dining chairs were from Restoration Hardware. The Patricia Pendant light came from LD Shoppe (ldshoppe.com).
Built by Hero Design Group, custom cabinetry on the left stores the owners' extensive collection of tableware and accessories gathered from around the world. The brass wall lamp above it was from Restoration Hardware.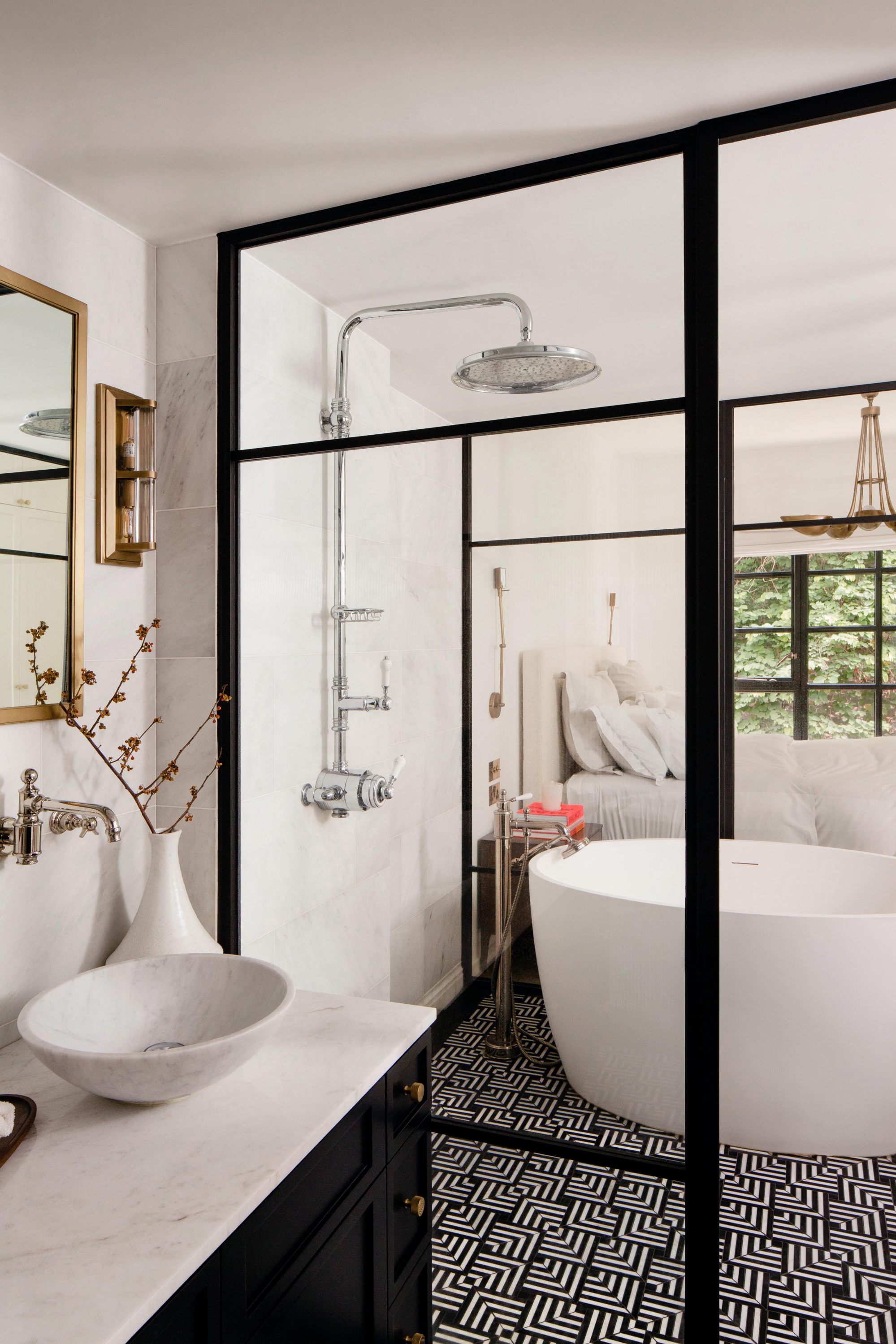 En suite and main bedroom
Transparent French glass panels visually link the en suite with the main bedroom, and through matching windows, to the greenery outside. The wet areas are tiled in black and white ceramics from Fired Earth, also the source for the vanity sinks. The tub came from Walrus (walrus.com.hk) and the shower from Burlington (burlingtonbathrooms.com).
The cabinetry painted dark navy with a Calacatta grey marble top was made by Hero Design Group. The sconce was from Restoration Hardware and the white vase from Ellermann.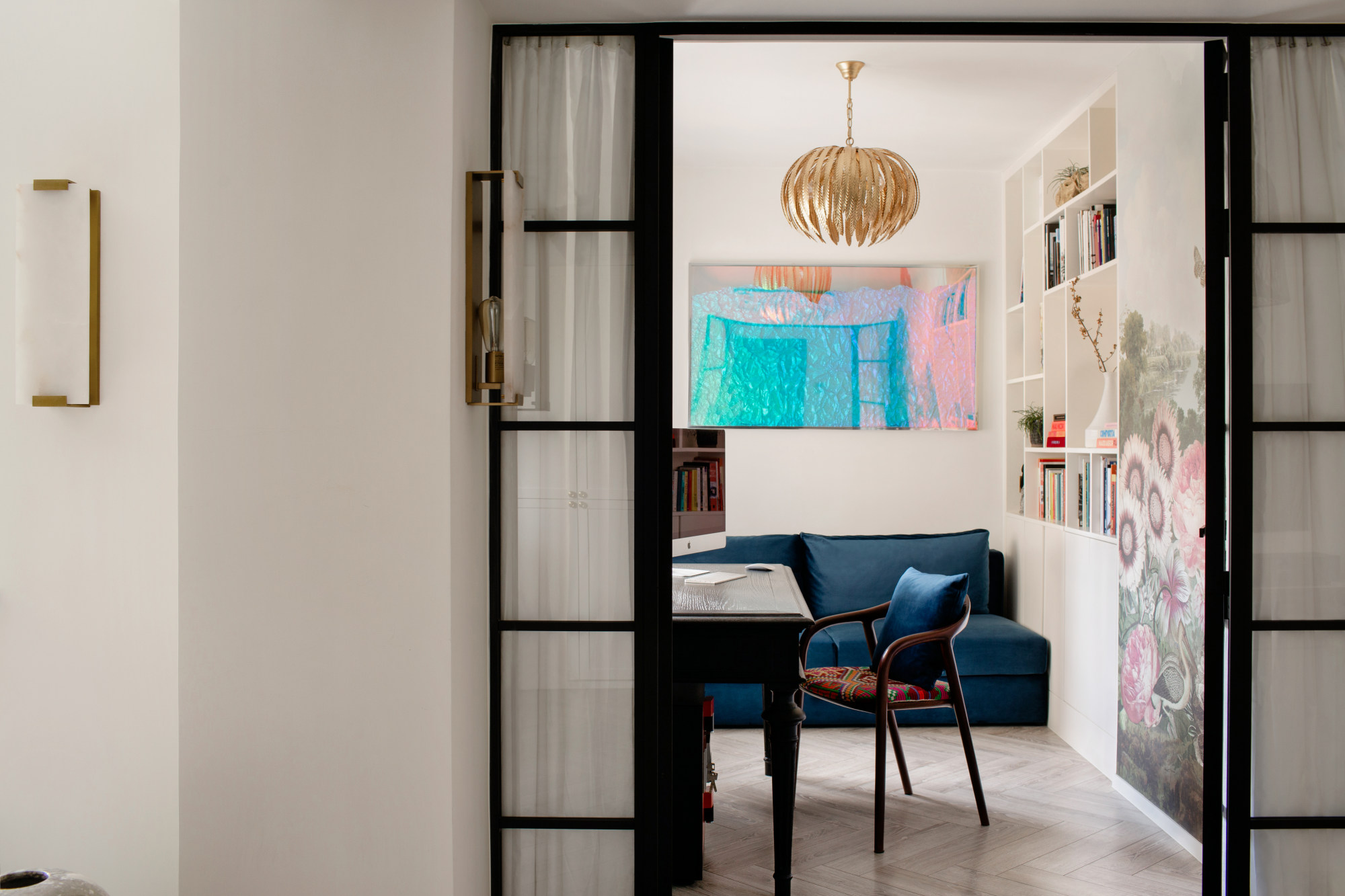 Tried + tested
Used as an accent, a single panel on the right of Kent Sissinghurst Claret wallpaper, from Belgian brand Masureel (masureel.com), depicting flowers and greenery by a lake, is an effective and inexpensive way to add character and create a calming vibe for the study.
It complements interesting furnishings: a desk from Restoration Hardware, a vintage chair from a London market (reupholstered by Hero Design Group in Pierre Frey fabric), and a vintage pendant light from another London market.
The sofa was from Ovo (ovo.com.hk) and the artwork behind it is by Joseph Tong (josephtong.de). The sconce came from Restoration Hardware.