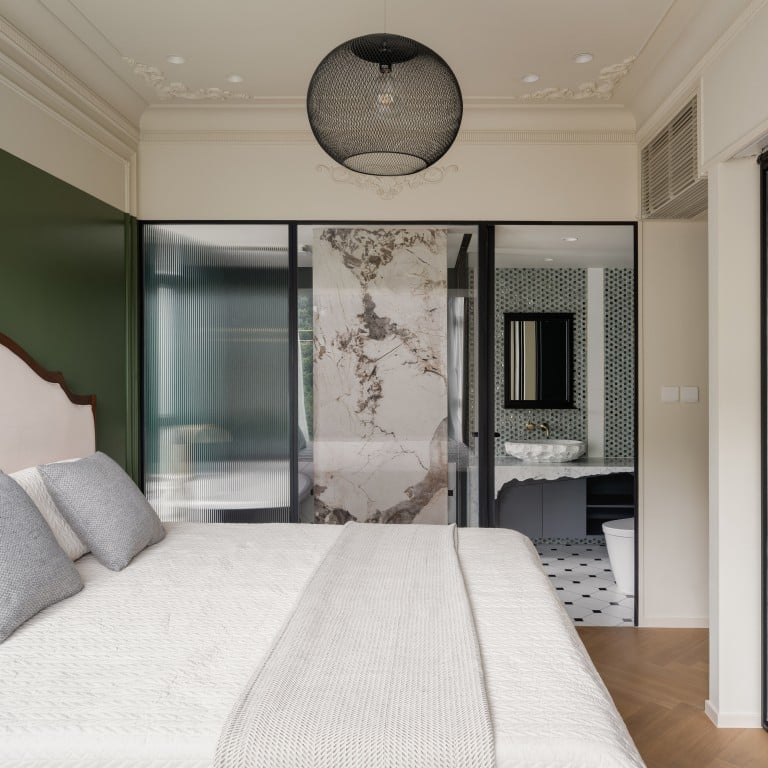 A classic-contemporary apartment in Hong Kong is a 'dream home' perfect for Instagram, dressed in natural colours and a touch of Hermès orange
A couple's three-bedroom, 1,542 sq ft home in Tai Wai, with its green views across Lion Rock Park, was devoid of design kudos.They turned to Instagram for help
They found Clarence Lam of INHK Interior Design, who mixed classic and contemporary design – and added a splash of Hermès orange to a guest bathroom
For the younger generation, Instagram is not just a place to boast post, it is a source of inspiration for everything from fashion and food to art and interior design.
It was through the photo-sharing app that a newly married couple who had just bought their first home found Clarence Lam Chun-ho, co-founder of INHK Interior Design.
In Tai Wai in the New Territories, with spacious green views across Lion Rock Park, the newlyweds' three-bedroom, 1,542 sq ft (143 square metre) apartment was only 12 years old but devoid of any design kudos, with plain white rooms, colourless bathrooms, exposed pipes and unsightly air-conditioning units.
Scrolling Instagram, the couple were drawn to Lam's penchant for mixing classic and contemporary design to glamorous effect, and sent the designer a DM.
"Aesthetically, they wanted a natural palette that reflected their surroundings – so lots of creamy beiges, latte browns, olive greens and real wood – while on a practical level they wanted a larger living room with a more sociable kitchen and lots of storage space," says Lam.
Started in June 2021, the renovation took eight months, longer than one might expect for a relatively new building but, as Lam explains, "An interior designer must solve the basic functional problems first before even thinking about the aesthetics."
In this case, that meant redrawing the floor plan to solve a few technical issues. These included moving water pipes and pumps to maximise the ceiling height, replacing the air-conditioning units with a more streamlined system, and reducing the size of the kitchen and helper's room to allow for a semi-open kitchen-diner.
While a wine fridge is behind an island that is part of the living area, cupboards, worktops, the cooker, oven and washing machine are in the closed kitchen, visible behind a glass door. Covid-19 restrictions inevitably led to delays.
Having reoriented the flat, the next step was to create a clean, uncluttered mise-en-scène. Concealed cupboards run from the front door all the way to the kitchen-diner, hidden behind creamy panelled walls.
In the living room – a study in neutrals – a built-in display cabinet harbours more covert cupboard space while a row of white arches behind the television wall is used to disguise a doorway that leads to the new floor plan encompassing two bedrooms, two bathrooms and a home office.
There is more stealth storage to be discovered throughout the rest of the flat. The guest bathroom features a flame-orange wall that conceals enough space for towels and toiletries, as well as the cistern. Why orange?
"The clients really like Hermès," says Lam. The flash of colour is contrasted with a green-tiled shower, a wavy marble sink unit and black-and-white floor tiles set in an abstract herringbone pattern.
Opposite the bathroom is the second bedroom, which remains untouched while the couple wait to start their family.
The main bedroom is perhaps the most striking display of Lam's wily ways with space. It is filled with a calming and harmonious mixture of the traditional – wood panelling, mouldings, cornices, oak herringbone floors, a Regency-style bed – and up-to-the-minute designs.
That includes a custom-made shower wall of dramatically patterned marble, which can be seen behind a glass partition in the bedroom.
"It's an ornamental feature in the master bedroom but a shower cubicle on the other side," explains Lam of the lavish en suite, which also has a claw-foot tub with views of the hills of Lion Rock Park.
Elsewhere, a hidden door provides access to the utilities; another leads to an ingenious walk-in wardrobe (see Tried + tested below), with another secret doorway opening onto a zen-calm study, which was previously the third bedroom.
"In the end, we solved every problem and met every one of the clients' needs. They told me they feel like they're living in their dream home," says Lam, who, as well as having happy clients, now also has a shiny new project to showcase on his Instagram account.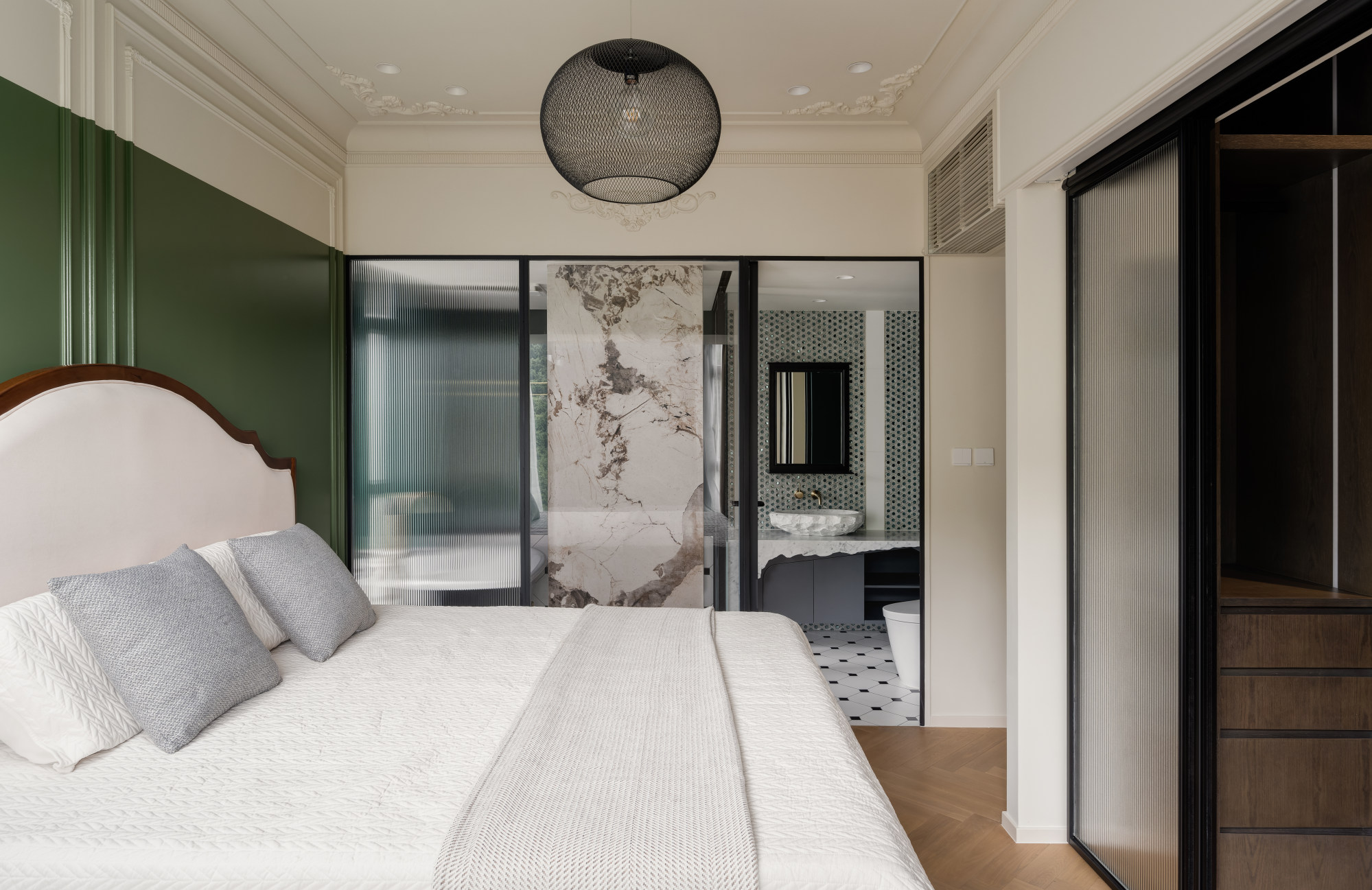 Bedroom and bathroom
Echoing the colours of the nearby country park, the bedroom is painted in white and Gorgeous Jungle green by Dulux, and the floors have been given a natural oak finish. The bed was designed and made by INHK Interior Design, and the pendant lamp was found on Alibaba.
The Pandora white marble slab, visible through the middle glass panel, was imported from Brazil. In the bathroom, Lam says: "We had the sink and unit carved out of a single block of rare Calacatta marble that can only be sourced from Carrara in Italy."
The dark oak wall mirror came through Taobao. The white and emerald weave hexagon glass mosaic wall tiles and VIVES Ceramica floor tiles were bought from Spaceplan in Mong Kok (spaceplan.com.hk).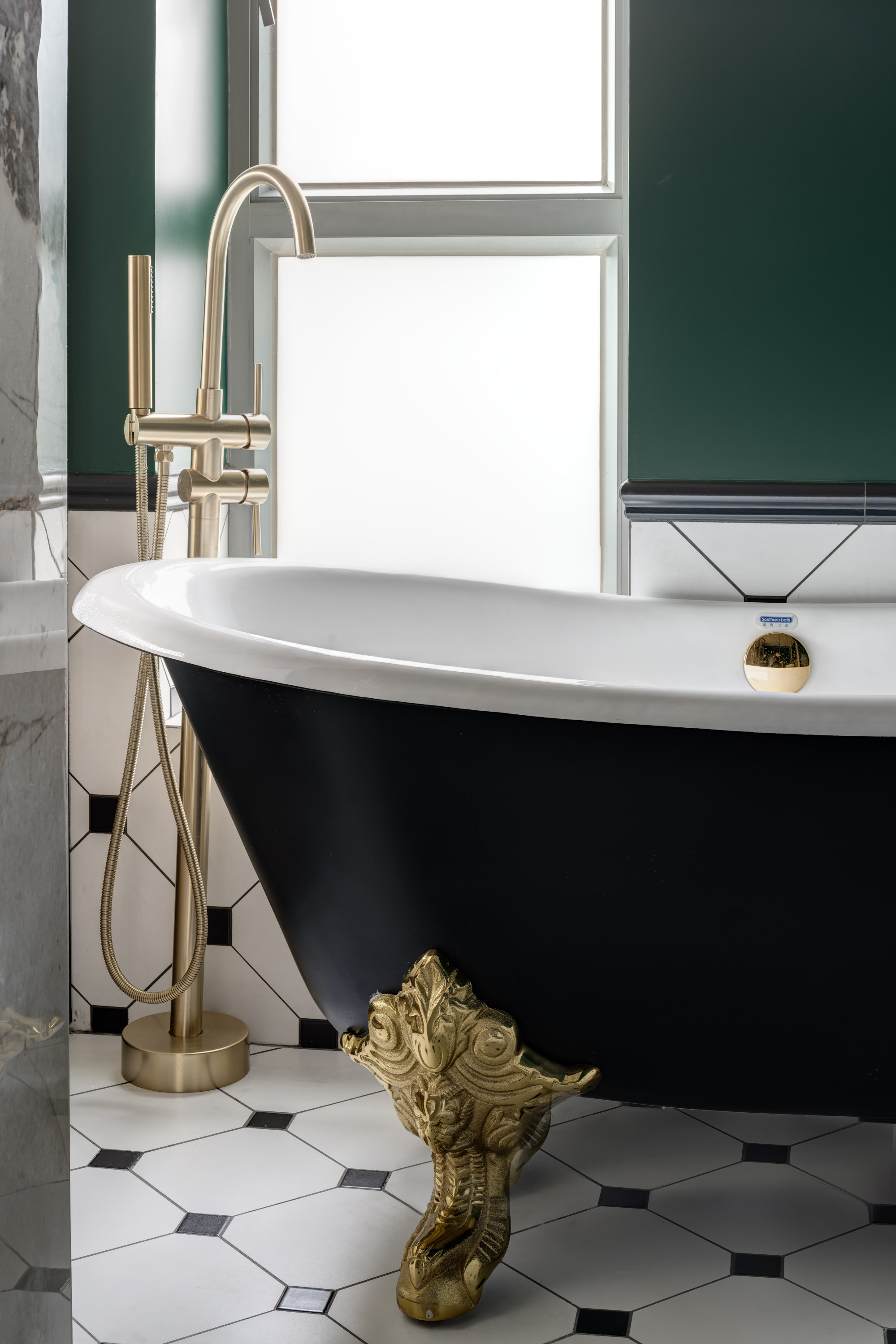 Bathroom detail
Adding a touch of drama is a claw-foot bathtub, which was sourced through Taobao.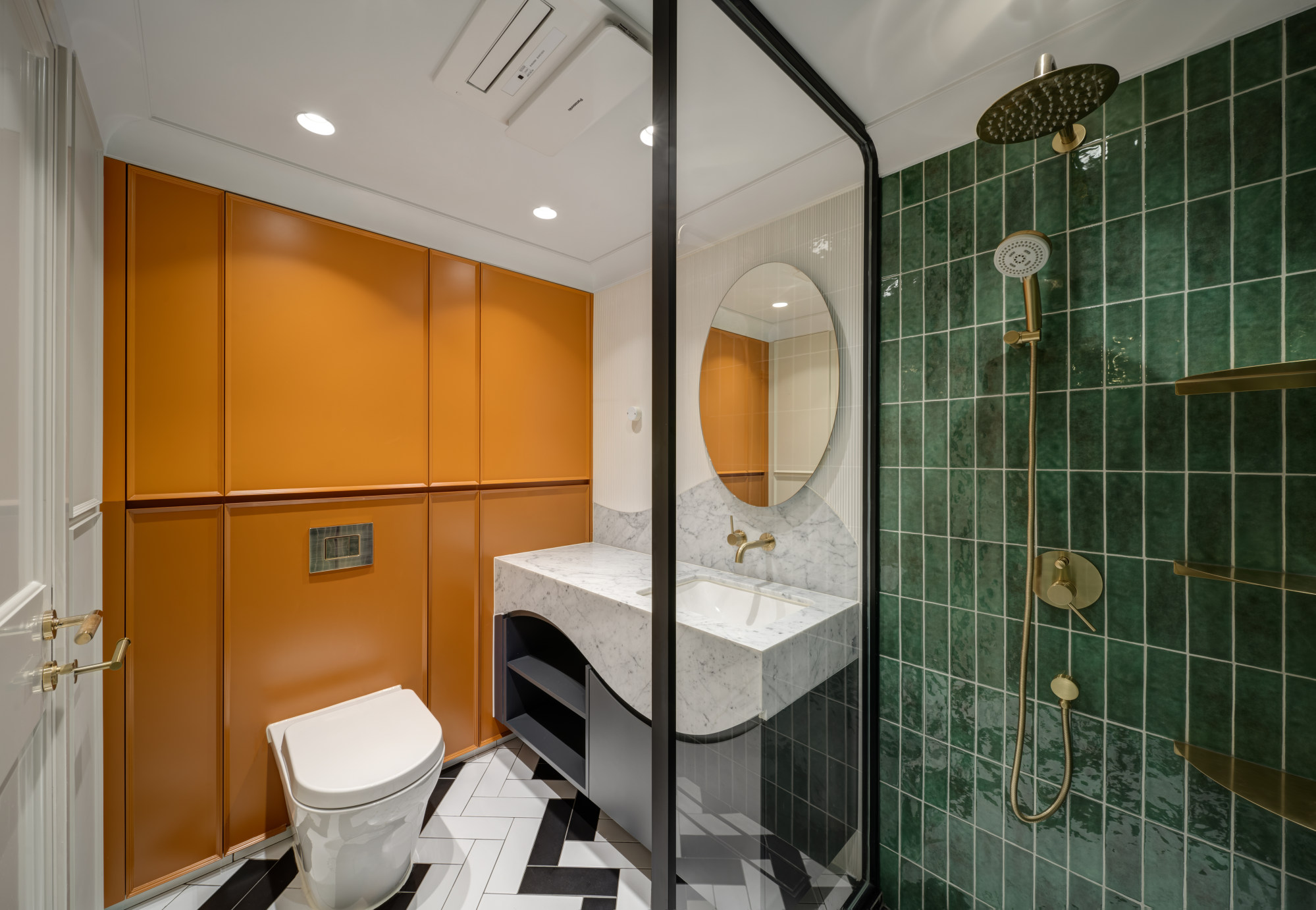 Guest bathroom
An Hermès-orange wall provides secret storage, as well as an eye-catching contrast to the green-tiled shower area. "I wanted to add some curves to the otherwise very linear bathroom with a free-form marble sink and oval mirror," says Lam.
The Moroccan green wall tiles and Keope custom floor tiles came from Spaceplan. The mirror and shower hardware were bought through Alibaba.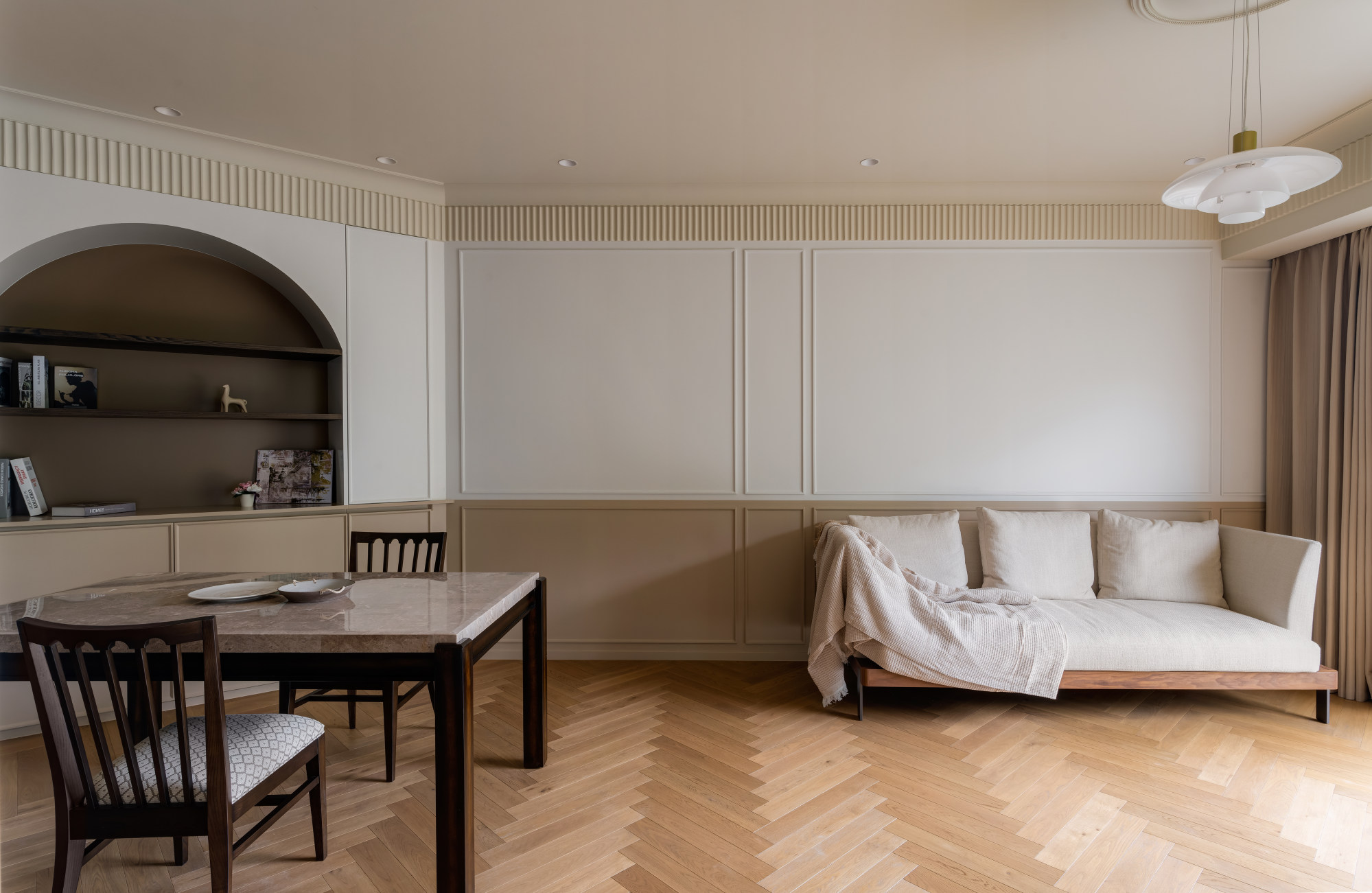 Living room
To add interest to a neutral palette, Lam's favourite trick is to incorporate contrast and separation, which he achieves here using two tones of paint: Dulux White and Dulux Highland Plains.
Lam employed his own contractors, carpenters and furniture makers to produce the bespoke wall panelling, storage, doors, oak herringbone floors and the sofa.
The dining table and chairs moved with the clients into the home. The pendant lamp was bought through Alibaba.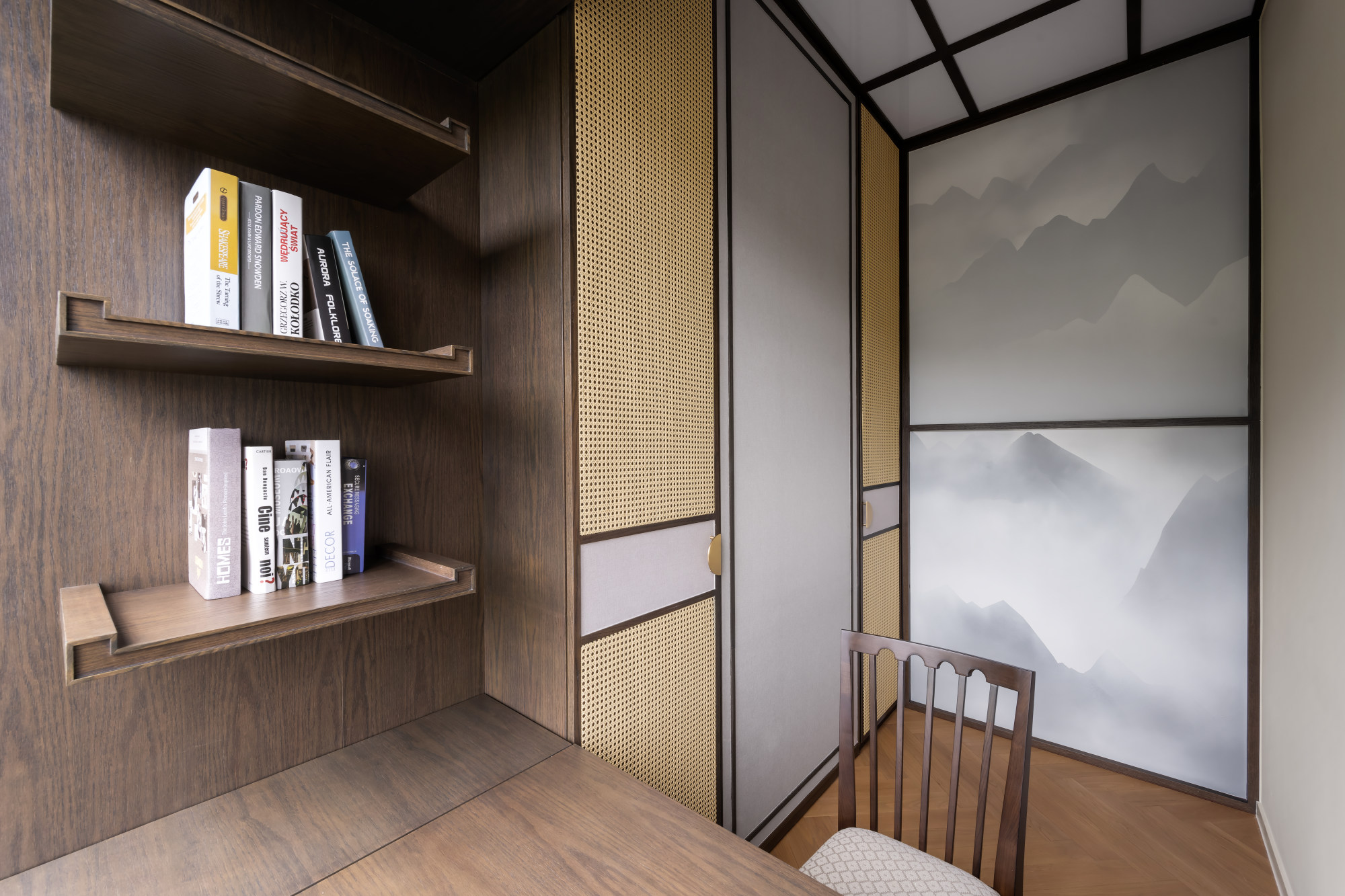 Study
The clients requested a different but complementary look for the study, which was designed and built by INHK Interior Design. Opting for a contemporary Asian aesthetic, the room features lighting panels installed on wooden grids, an ethereal wall mural that was painted by the interior designer himself (@imnobodyartist on Instagram), and more hidden storage, of course. The chair was bought years ago.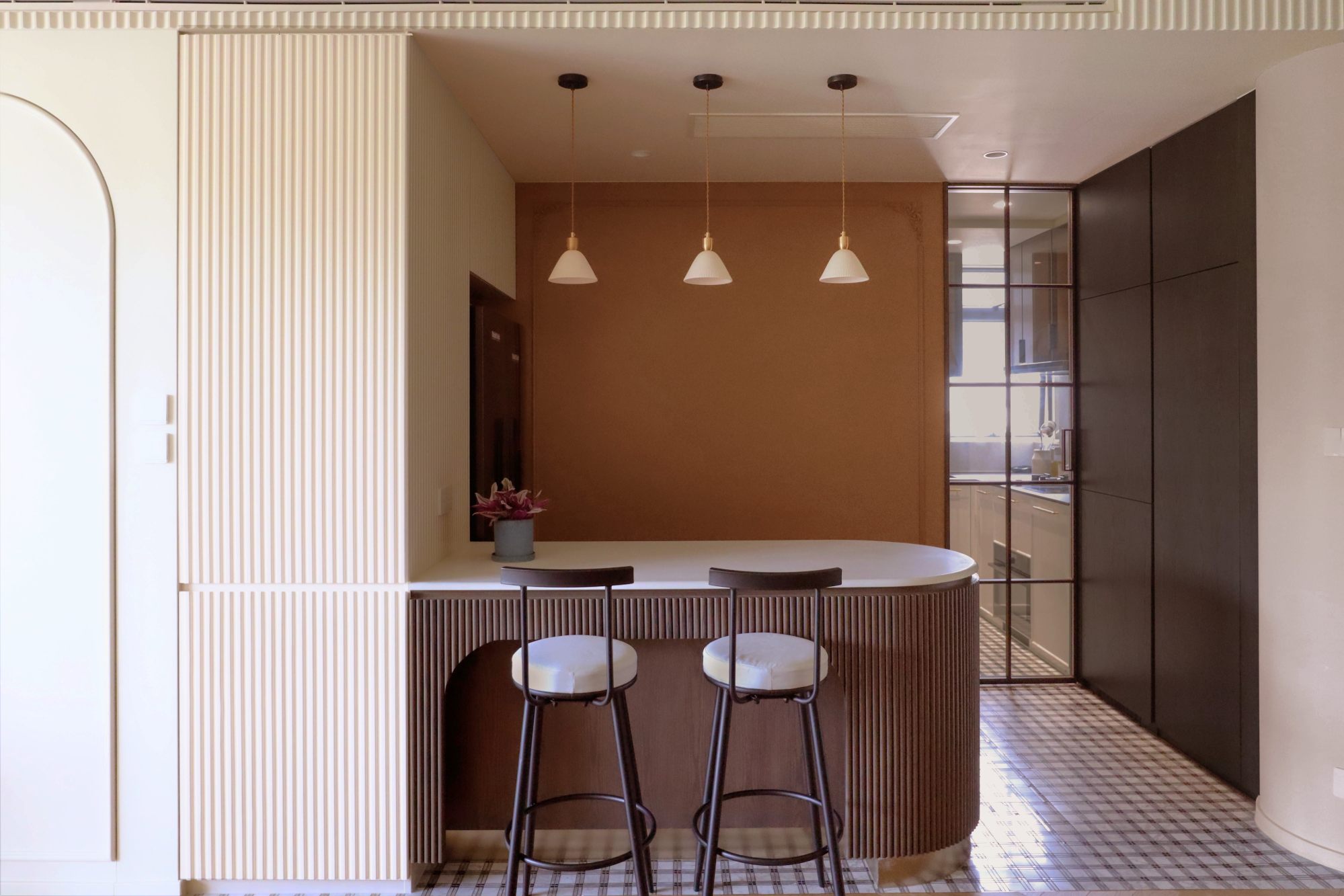 Kitchen-diner
Designed and built by INHK Interior Design, the kitchen-diner features an island made from oak with a brushed-copper base. A change of paint (Dulux's Spiced Honey) and black-and-white checked floor tiles, from Spaceplan, help to demarcate the living room and semi-open kitchen.
The bar stools are years old and the pendant lamps were bought through Alibaba.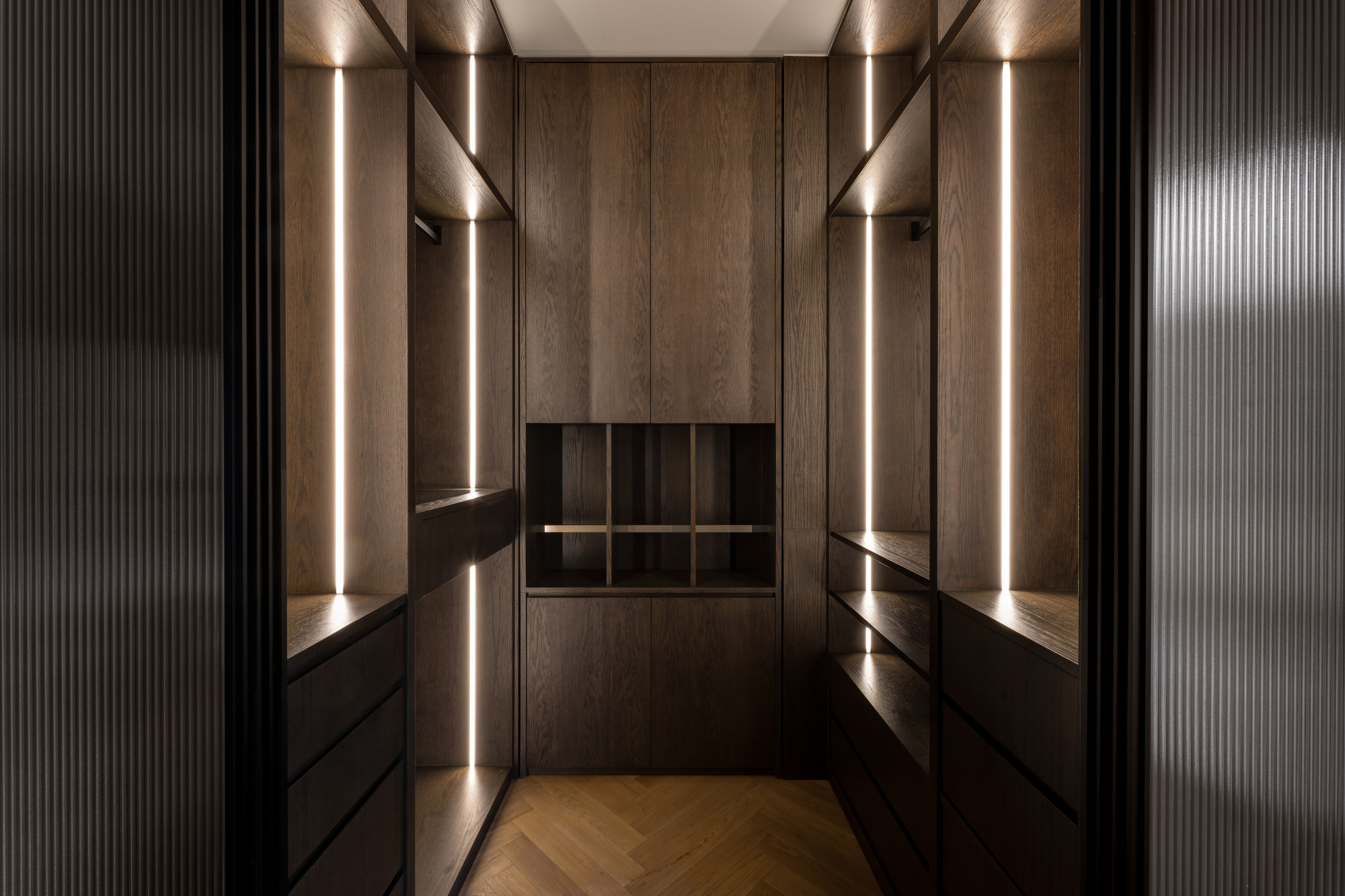 Tried + tested
Clarence Lam Chun-ho demolished a wall between the main bedroom and the third bedroom to create an oak-lined walk-in wardrobe with ample storage and a secret door that opens into a private study.
"You need a very strong hinge to make a heavy door like this," says Lam. "It has to be able to turn easily even when it's full of clothing and other items."