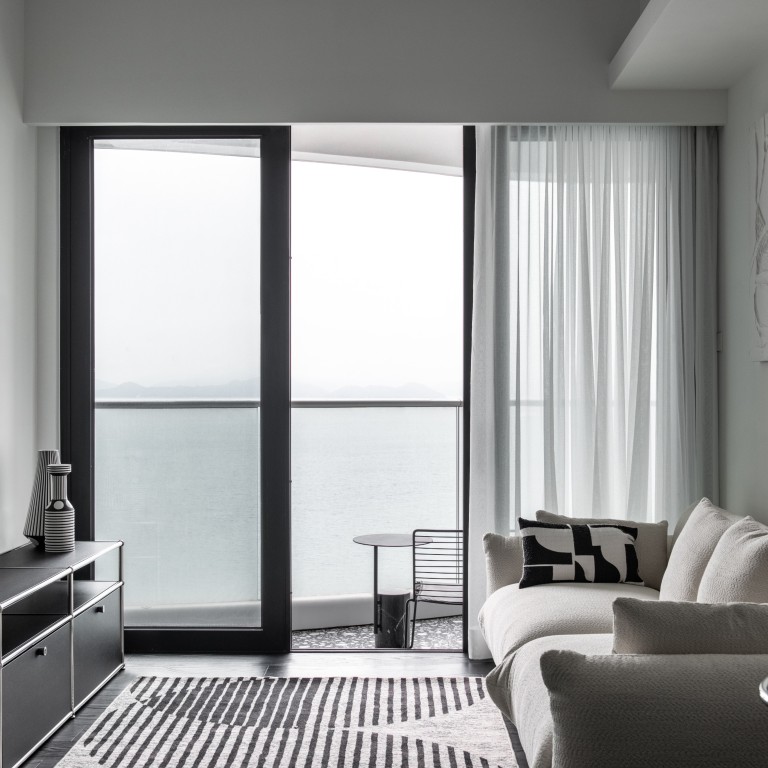 This black-and-white Hong Kong home design was a dream project inspired by Bauhaus style and a famous Dior designer
Interior designer YC Chen finally made his dream of a black-and-white home come true after he came across a client whose favourite colour is black
The flat in Pok Fu Lam on Hong Kong Island has a monochrome scheme that plays with textures and graphics to keep things from feeling too boring or uniform
He may be best known for his interior schemes with a distinct Scandinavian pastel vibe, but YC Chen has always wanted to do a project purely in black and white.
It is a classic palette, the designer explains, but challenging to pull off so that the home does not feel "like a gallery or museum".
For years this was too hard a sell for Chen – until along came the perfect candidate: a bachelor, whose favourite colour is black. Jay Cheung, who works in real estate in Hong Kong, jumped at Chen's monochrome scheme for the renovation of his newly acquired Bel-Air flat, in Pok Fu Lam on Hong Kong Island.
It helped that client and designer had known each other for years. "I trusted him," says Cheung.
The key to making it work, says Chen, founder of design studio hoo, was to play with textures and graphics. The designer set himself the task of avoiding repetition of the materials used – so that when you walk into any room of the 939 sq ft (87 square metre) flat, you know there will be surprises in store, even though the colour scheme is preordained.
Another challenge was not to get carried away with the spend. The two-bedroom, two-bathroom flat, whose renovation was completed in March, was Cheung's first property, meaning it might not be his forever home. Restraint was called for in the decorating choices.
Chen knew where he would find inspiration: from his "favourite designer", French photographer Hedi Slimane – whose lifelong love of black and white morphed from camera to catwalk when he designed menswear first for Dior Homme and then for Celine – along with the clean lines and geometric shapes of the Bauhaus design style.
The living and dining zones are straight from his muse's playbook. Below the all-black dining table is swirling black-and-white stone flooring that Chen calls "panda tiles", switching to black timber boards (topped by a black-and-white striped rug) in the sitting area.
When it came to the furnishing, the designer deliberately mixed the organic with the tubular – a plump upholstered sofa juxtaposed with chrome framed dining chairs – so "it doesn't feel too minimalistic". Too matchy-matchy "would have been boring and expected", he says.
A black-pebble-lined balcony over­looking the Lamma Channel is elegantly dressed with a single chair and drinks table, a large potted plant providing the sole touch of green.
The door into the kitchen, originally a bi-fold, was replaced with black framed fluted glass. Even though he doesn't cook much, Cheung cites the all-black kitchen as his favourite room because of its sleek sophistication.
A simple design trick involving a single "panda tile" in the main bedroom shows how much impact can be achieved at little cost, with some creative thinking (see Tried + tested below). In the same room, to break up the mass of white linen against white paint, Chen used thin strips of black-painted timber to form a grid pattern on the walls.
He also wanted to differentiate the main bedroom en suite from the guest bathroom, lining the latter with square white wall tiles that extend to cover the basin.
The overall result of the project, which Chen describes as his dream job, is "a bit of a retro look – my tribute to the '80s".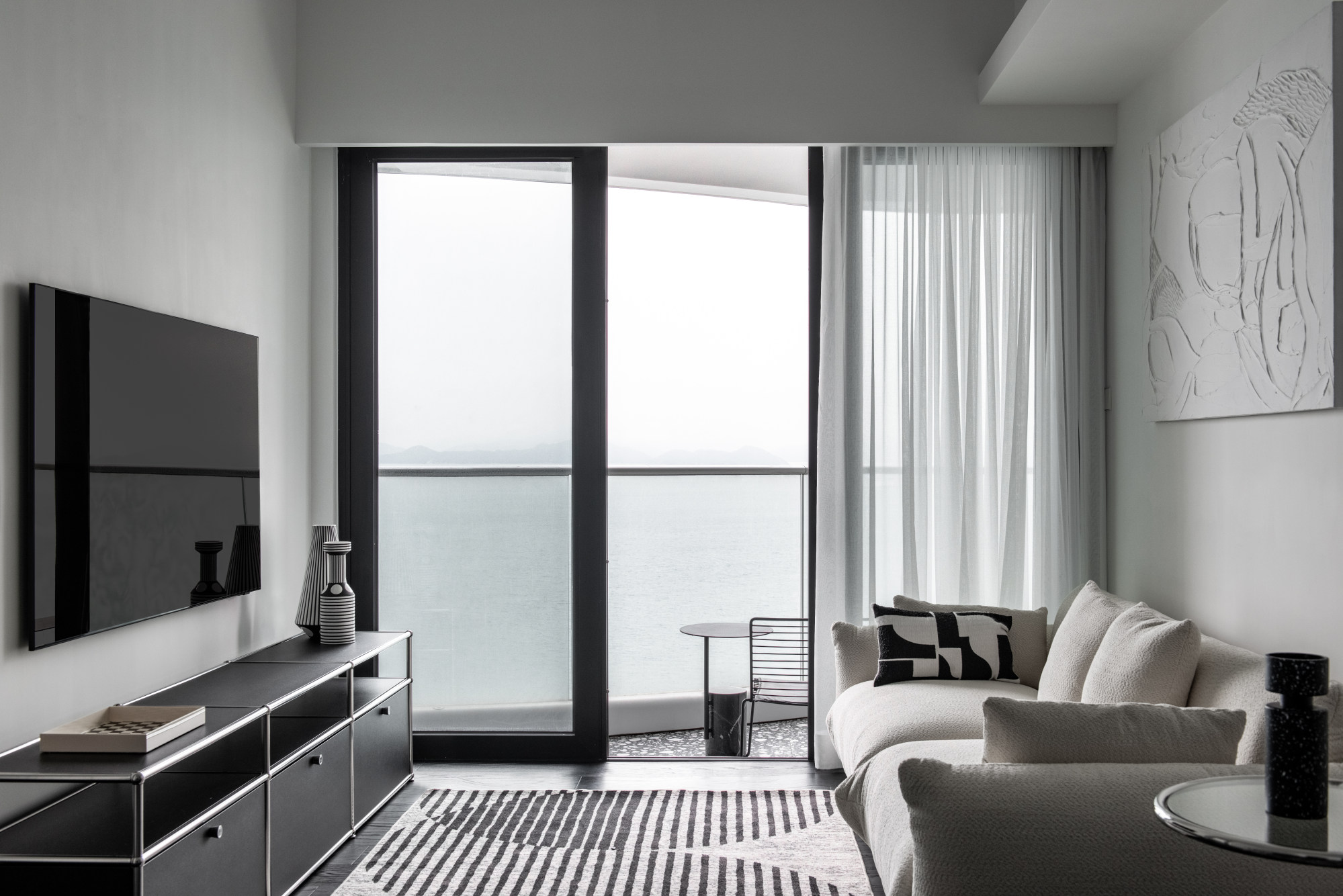 Living room
The sofa, upholstered in off-white, a variant of the strict colour palette, was custom made by hoo (hoo.com.hk), as was the black-and-white floor rug. The cushions came from hoo's own collection. Other furnishings – the wall-hung white plaster sculpture, round side table, balcony table and cabinet below the television – were all sourced online from Taobao (world.taobao.com).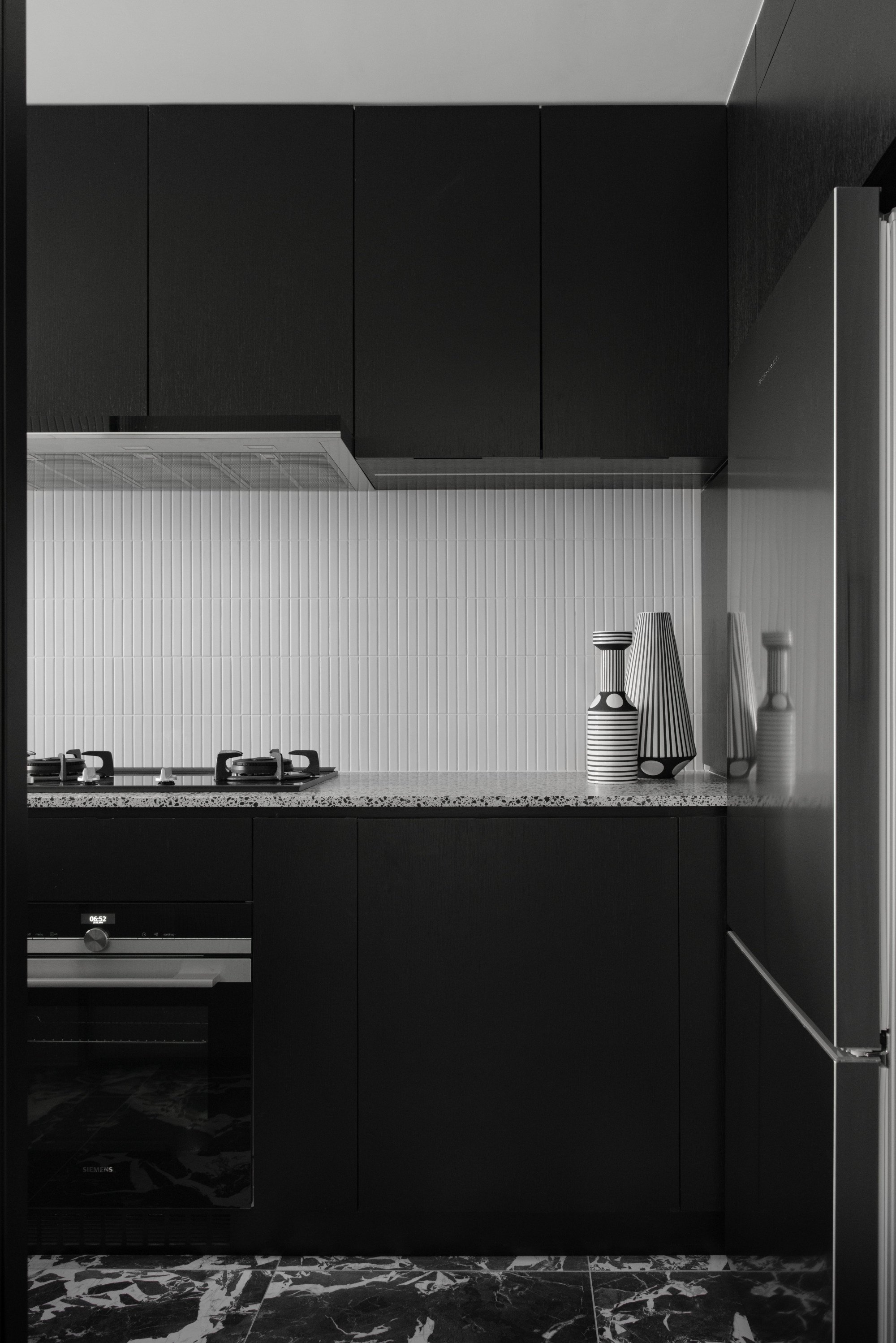 Kitchen
Owner Jay's favourite room in the house, the kitchen, custom made by hoo (hoo.com.hk), has been redone with black veneer cabinetry, terrazzo counter tops and small white linear wall tiles.
The Siemens oven and hood were bought from Ideal Home (idealhome.com) and the Fisher & Paykel fridge from Kelvin Electric (kelvinelectric.com). The ornaments on the bench came from hoo's own collection.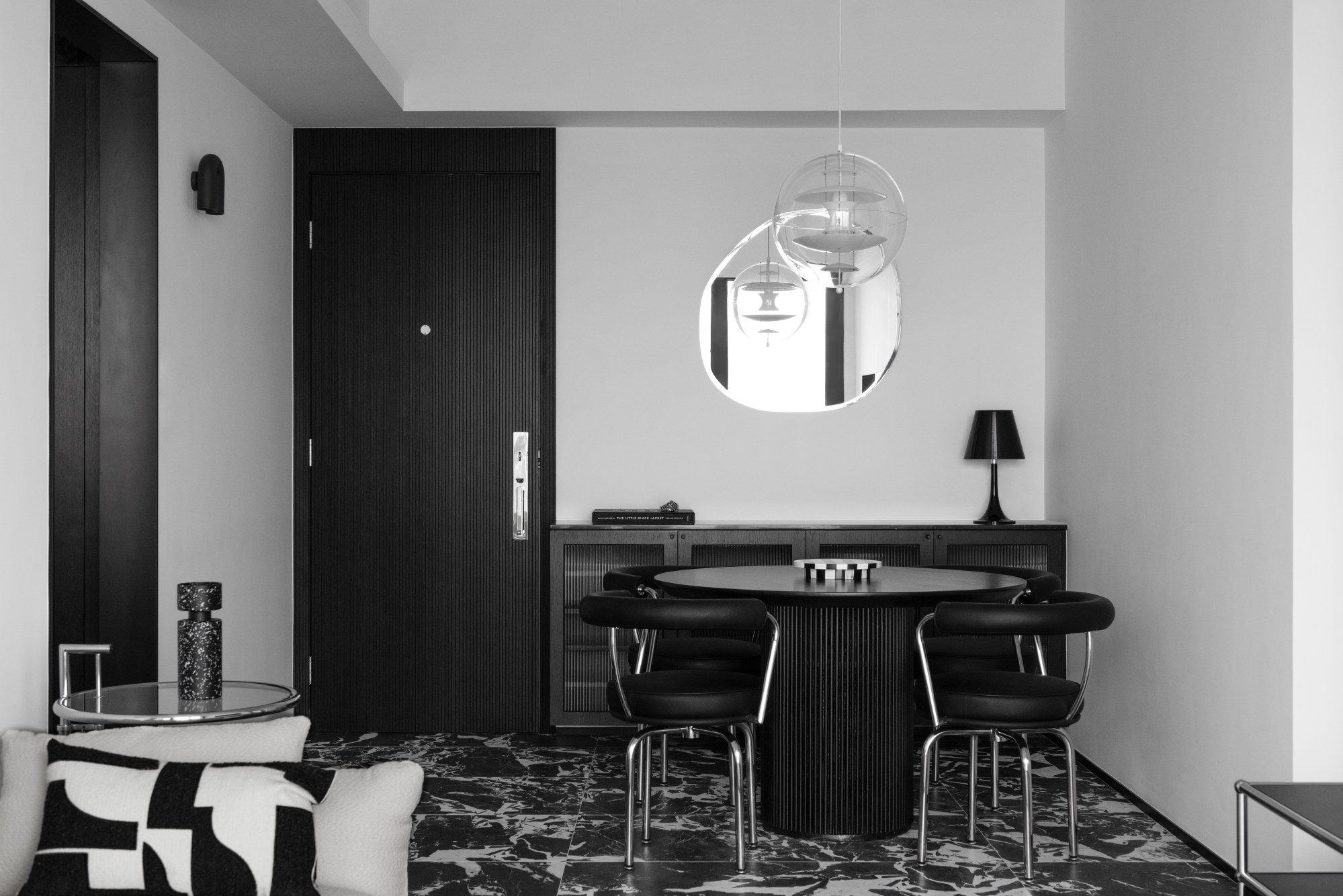 Dining area
The swirling black-and-white stone flooring Chen calls "panda tiles" came from LS3 (183 Lockhart Road, Wan Chai, tel: 2827 0388). The dining table with chrome and artificial leather dining chairs, along with the organic-shape mirror, were sourced from Taobao.
The black timber sideboard was custom made by hoo and the table lamp on it was from Flos (flos.com). The pendant light was from Verpan (verpan.com). On the Eileen Gray-inspired side table is a vase that is part of hoo's collection.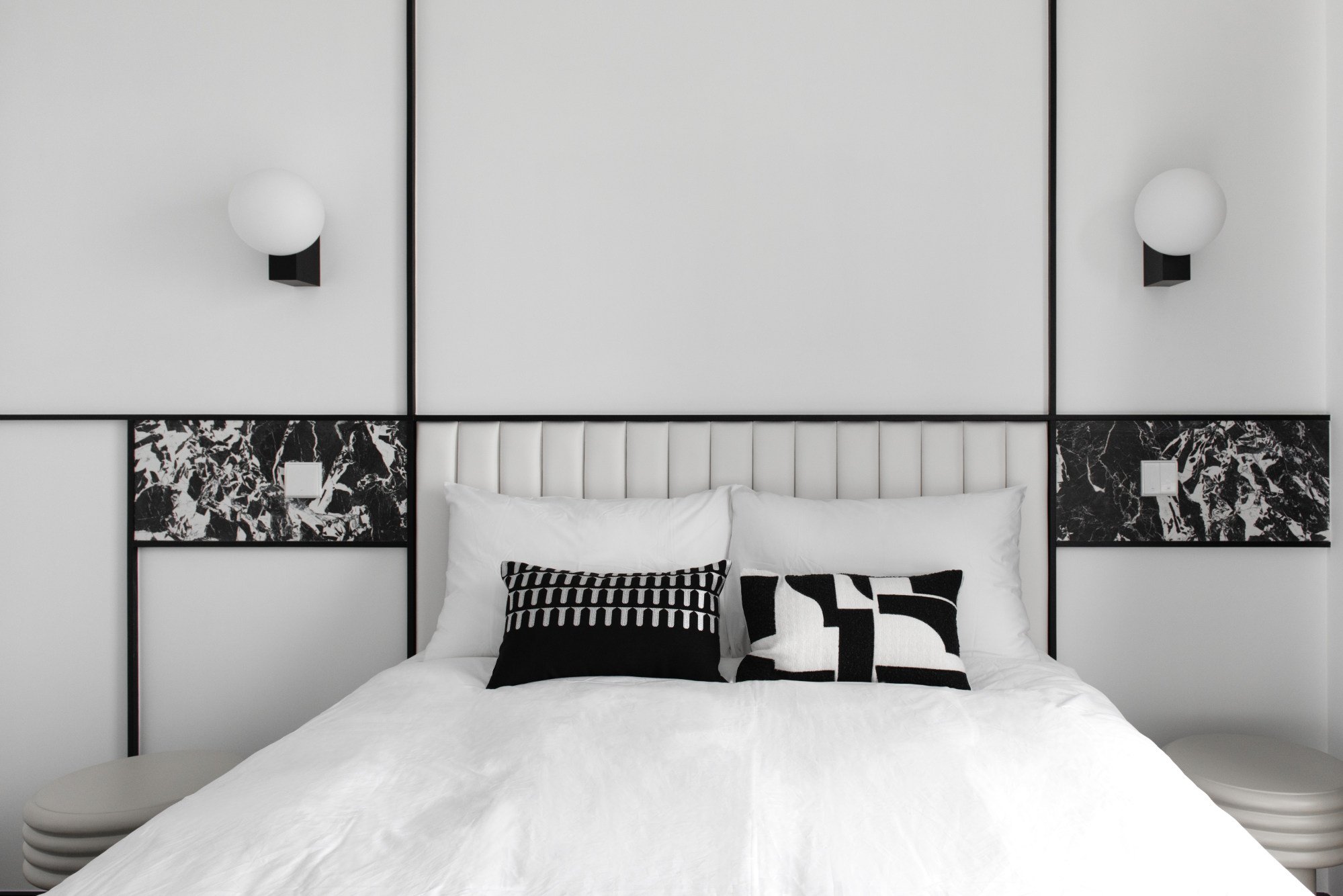 Main bedroom
Around the bedhead upholstered in faux leather, walls are trimmed with contrasting strips of black painted timber. The pair of round wall lamps came from &Tradition (andtradition.com) and the bedside tables from Taobao. Topping the Sheridan white bedlinen (sheridan.com.au) are cushions from hoo's own collection.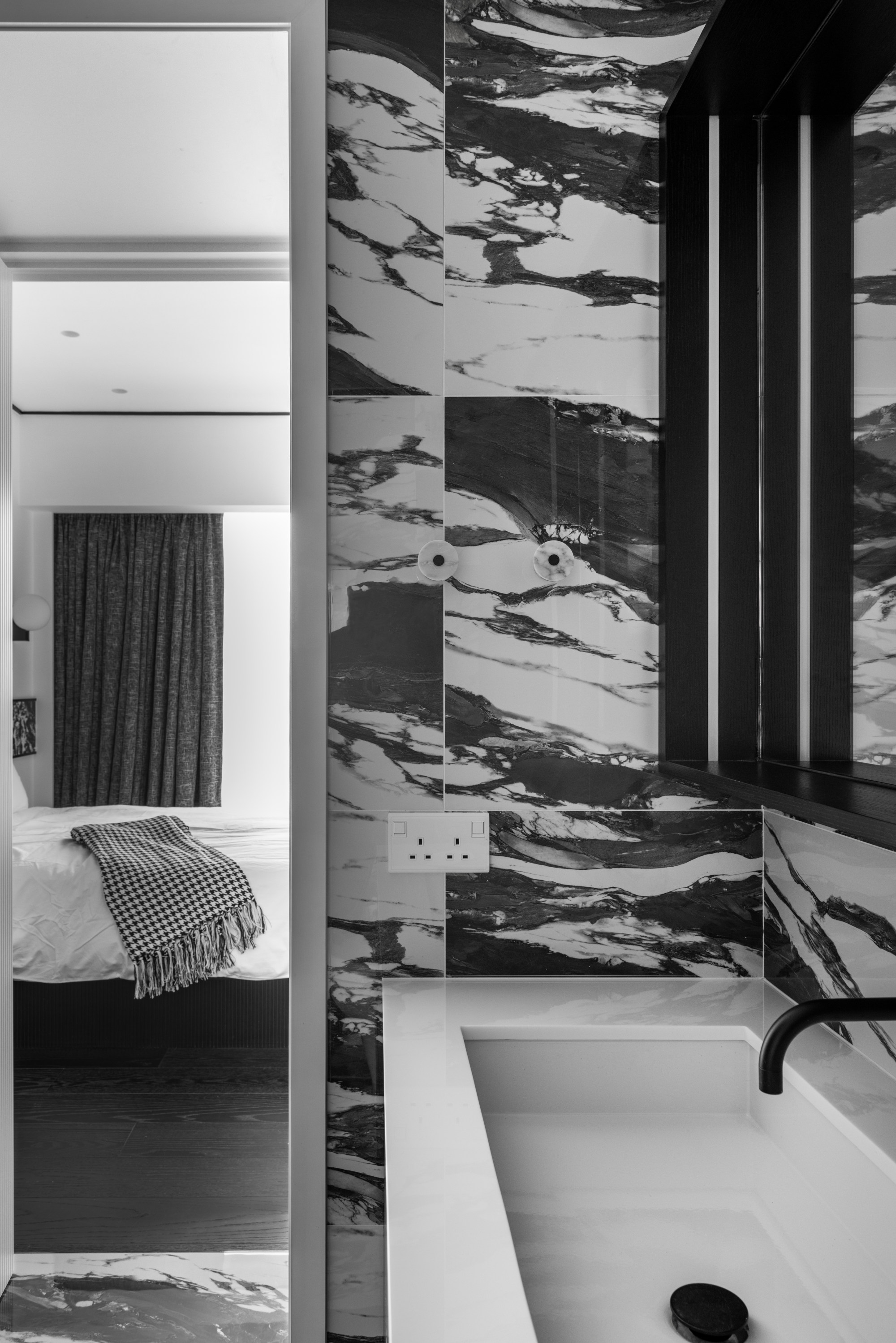 Main bathroom
In the main en suite, black-and-white marble tiles sourced by hoo's agent in mainland China surround a white porcelain vanity basin from Alape (alape.com) and a black-framed shaving cabinet custom made by hoo. The black tapware came from Vola (vola.com).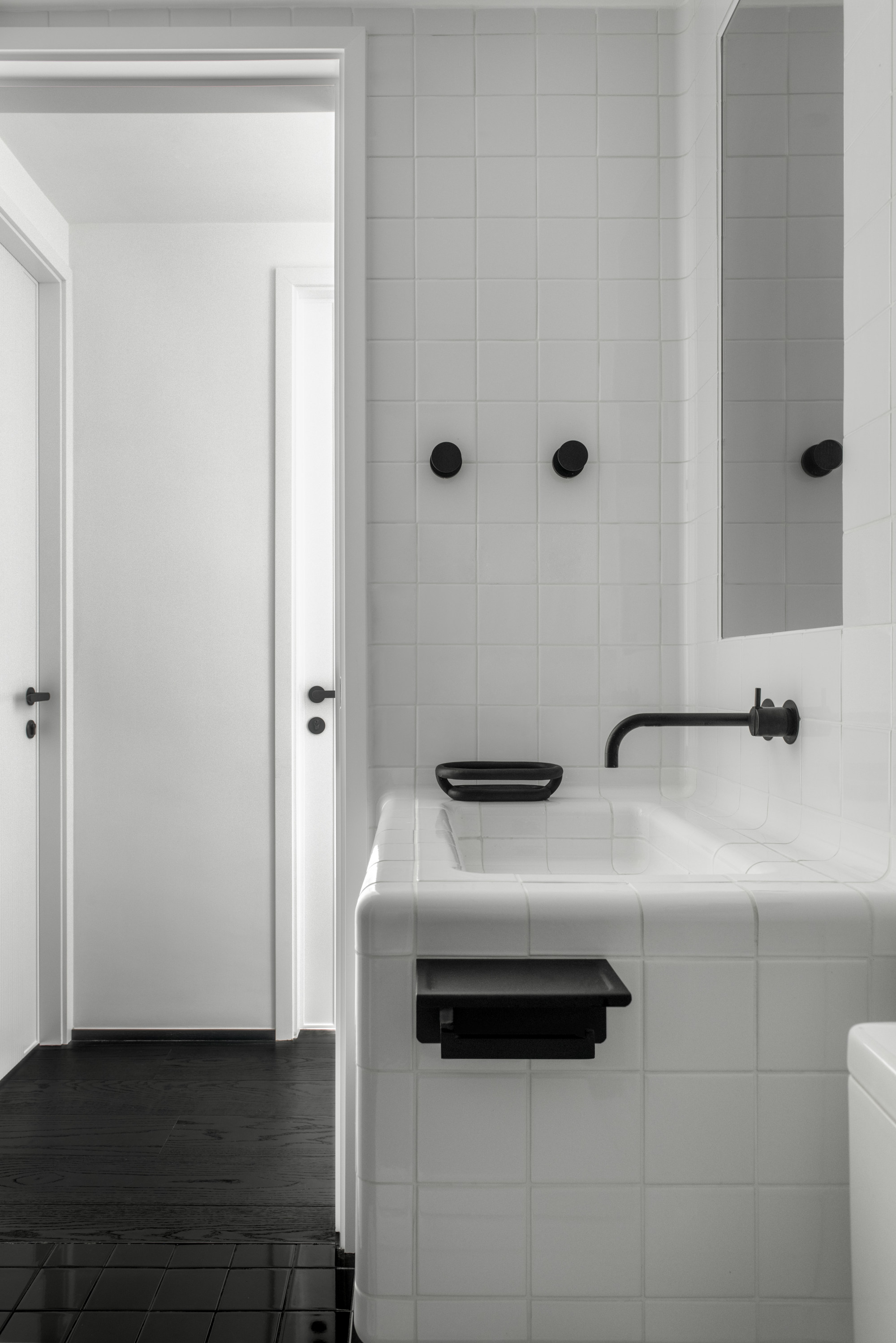 Guest bathroom
The walls and vanity basin are lined in small, square white porcelain wall tiles sourced from hoo's agent in mainland China. A simple frameless mirror was cut to size and adhered to the wall. The black tapware and accessories came from Vola.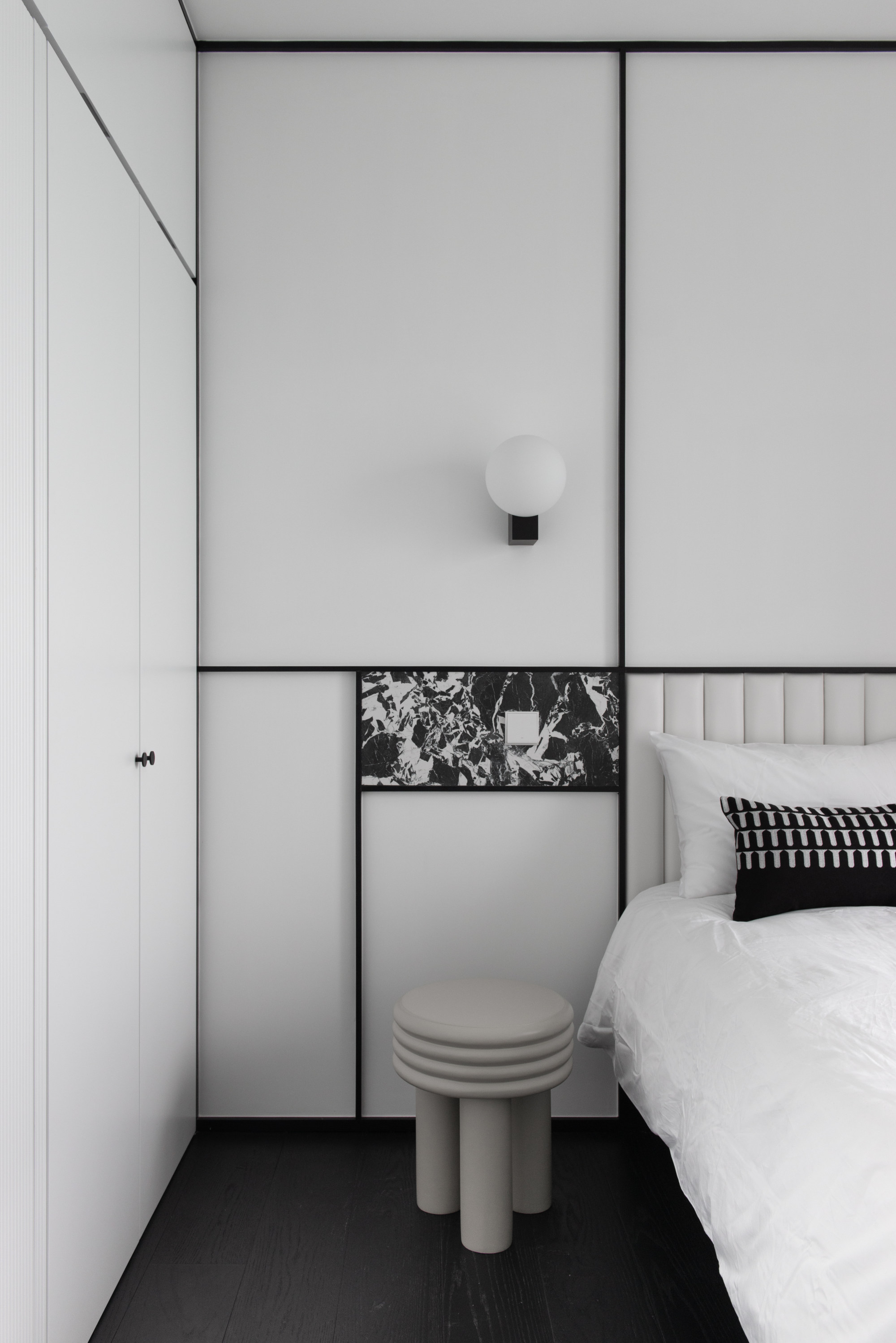 Tried + tested
YC Chen, founder of interior design studio hoo, designed the bespoke feature wall in the main bedroom. In a simple and cost-effective design hack, a single "panda tile" was framed within grid lines on the wall formed by strips of black painted timber.