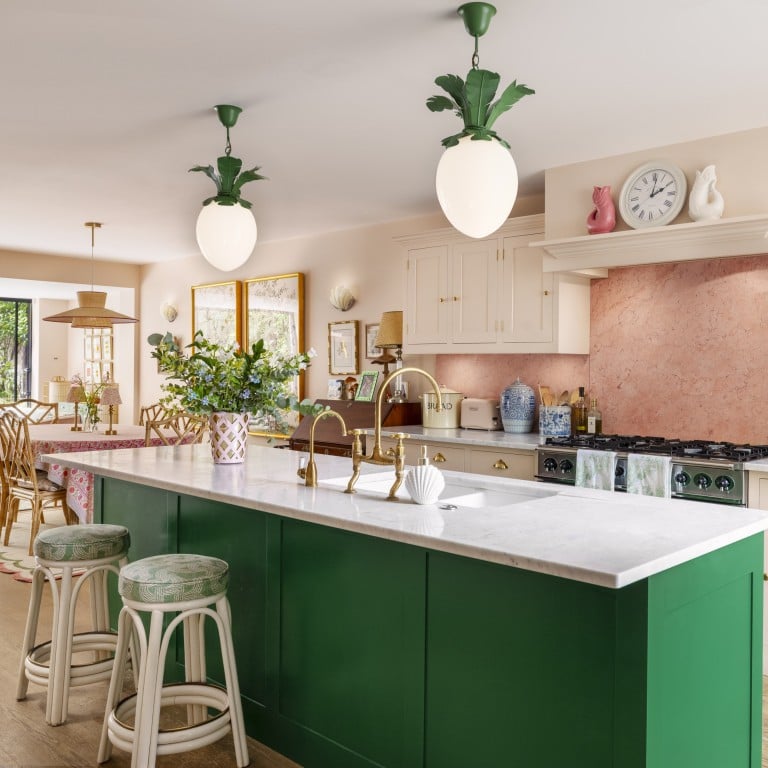 A maximalist London home marries vintage Hong Kong with traditional English style – think bamboo furniture and floral curtains
Interior designer Alice Keswick, who spent 14 years in Asia, layered dramatic patterns, chinoiserie and tones with treasured belongings in her Notting Hill home
Bamboo furniture, bird­cages and a kitchen island painted Star Ferry green evoke Indochina and vintage Hong Kong in the five-bedroom, four-bathroom town house
Alice Keswick first arrived in Hong Kong, in 2006, as a fresh graduate of London's Central Saint Martins design college with a fashion job lined up at the Evisu denim label. What she thought would be a couple of years turned into a glorious 14-year adventure.
The experience, which included a four-year stint in Ho Chi Minh City, Vietnam, running her own fashion label and moving into interior design, eventually foundered on the practicalities of a pandemic and the need to be closer to family. So in 2020, Keswick made the decision to relocate back to Britain.
"Family was the No 1 draw for me," she says. "After having been so far away for so many years, it is amazing to have my mum and sisters just up the road."
In August 2020, Keswick moved with her two daughters, now aged six and nine, into a five-bedroom, four-bathroom Georgian town house on five levels in a leafy street in London's Notting Hill neighbourhood.
Since starting her interior design studio, in 2017, Keswick has introduced her colourful take on the traditional English country home with glamorous Asian accents to a number of high-profile homes in Hong Kong, including Taikoo House, on Peak Road, backed by a solid technical understanding of textiles garnered from her days in fashion.
"It's quite a well-trodden path from fashion to interiors. When you're young, experimenting with fashion is the first way you have of expressing yourself with aesthetics and colour but you develop those ideas and eventually you get to a stage of life where your eye shifts to homes because you're thinking of raising a family and you're in that nesting mode."
Keswick has plumped for what she describes as "full eccentric maximalist" in her new home, layering dramatic patterns, chinoiserie and jewel tones with treasured belongings picked up during her family's time in Hong Kong and Vietnam.
Curating a hodgepodge of old treasures is not only satisfying but often the most sustainable choice, says Keswick, who regularly trawls antiques markets for her projects.
"My interiors are definitely bedded in a traditional English style, using historical furniture to design calm and cosy spaces, but then I like to add unexpected colour and texture."
Vibrant colours abound in the house, from the deep rose painted dado of the entrance hall that ushers visitors into a large room with a split personality – on one side is a sunny lounge in pale mustard with English floral curtains and striking gallery wall; on the other an intimate space richly decorated with Chinese accents in rose madder and jade green.
The latter is Keswick's office and can be closed off with a sliding door, but left open, the whole room offers a spectacular visual contrast packed with curios and wide-ranging original art.
Downstairs, the open-plan kitchen and dining area evokes a romanticised vision of Indochina and vintage Hong Kong: bamboo furniture, bird­cages and a kitchen island painted in what every Hongkonger would recognise as Star Ferry green. Aged brass fittings and a splashback made from pink marble add a subtle touch of glamour.
Even the guest toilet has been transformed into a tiny jewel, its bright vermilion walls adorned with coloured glass ornaments and playful fabrics.
The bedrooms on the remaining three floors are more serene but still sport sumptuous prints and adapted furniture. Green stripes and fringed florals reign in the main bedroom, with a hand-painted wallpaper mural in the en suite.
A pair of bookcases flanking the fireplace in the girls' bedroom, previously the living room, have been cleverly repurposed into rattan lined wardrobes to fit in with the room's dreamy yellow and blues.
A natural seam of clients for Keswick over the past year are those who have also found themselves relocating to Britain after long stays in Asia.
"Moving back with all your stuff in storage, finding the right place to live and make a new life – not a temporary posting but likely your 'forever home' – it's a whole different level of nesting mode, which can be quite overwhelming," Keswick says. "I always advise renting furniture and doing it gradually."
Kitchen
Traditional cream cabinetry from Plain English (plainenglishdesign.co.uk) is contrasted with a pink marble splashback and a bright green island featuring aged brass tapware from Devol Kitchens (devolkitchens.co.uk). The Dodo Egg pendant lights came from Beata Heuman (beataheuman.com), and the eBay-bought counter stools were re-covered using Fontana print fabric from Fermoie (fermoie.com).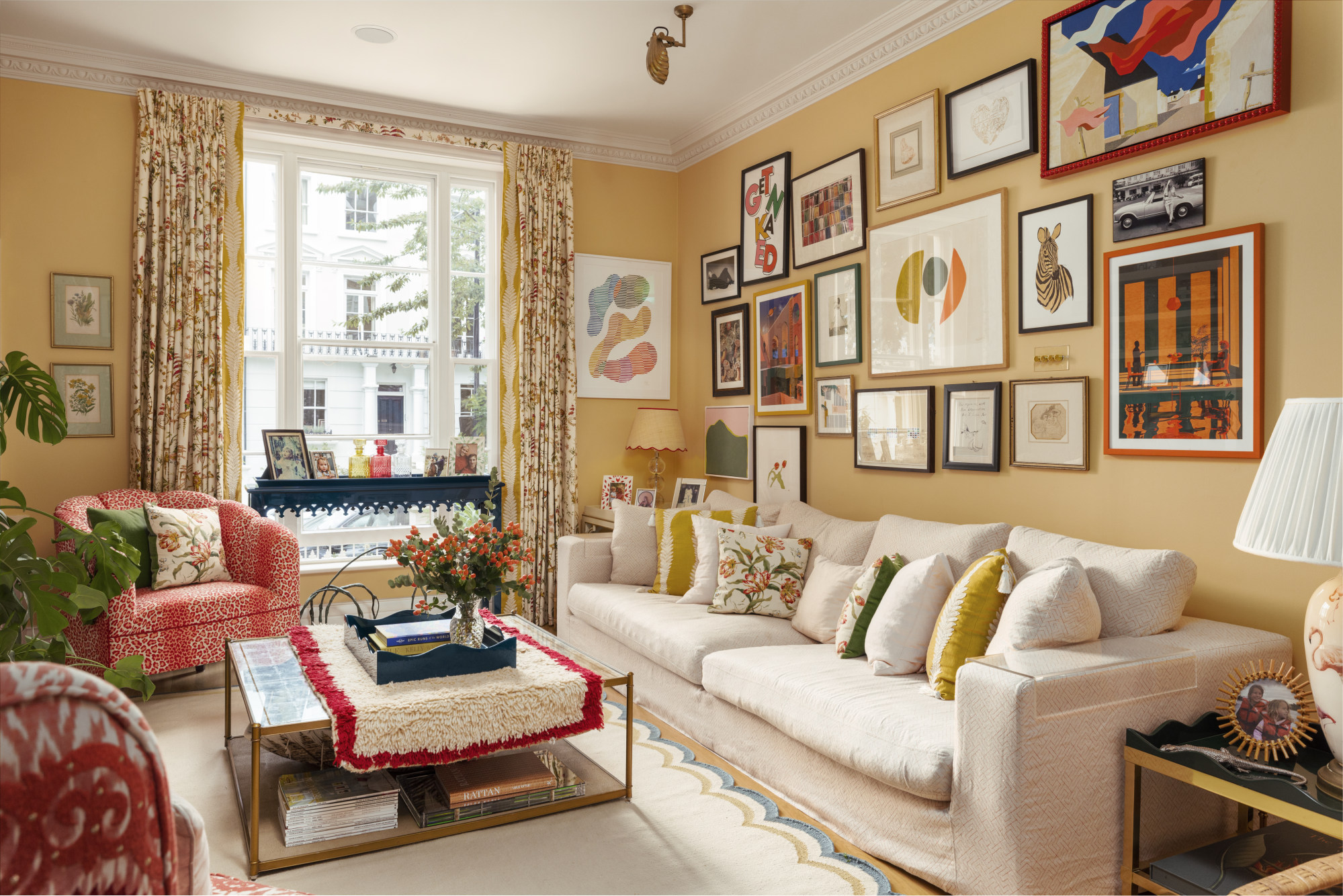 Living room
All the living room seating was custom made: the armchair through Altfield (altfield.com.hk), using fabric from Colefax and Fowler (colefax.com). The sofa was upholstered with fabric from Christopher Farr Cloth (christopherfarrcloth.com). The antique coffee table has been in the family for years and the rug underneath it came from Jennifer Manners (jennifermanners.co.uk).
The console table by the window was custom made by The Lacquer Company (thelacquercompany.com) and the curtains feature fabric from Pierre Frey (pierrefrey.com), trimmed with an embroidered border from Jim Thompson (jimthompson.com).
The clamshell wall light on the ceiling came from Rockett St George (rockettstgeorge.co.uk). Art on the gallery wall was collected over several years and includes the Honor Weatherall painting (available from Domenica Marland, domenicamarland.com) next to the window.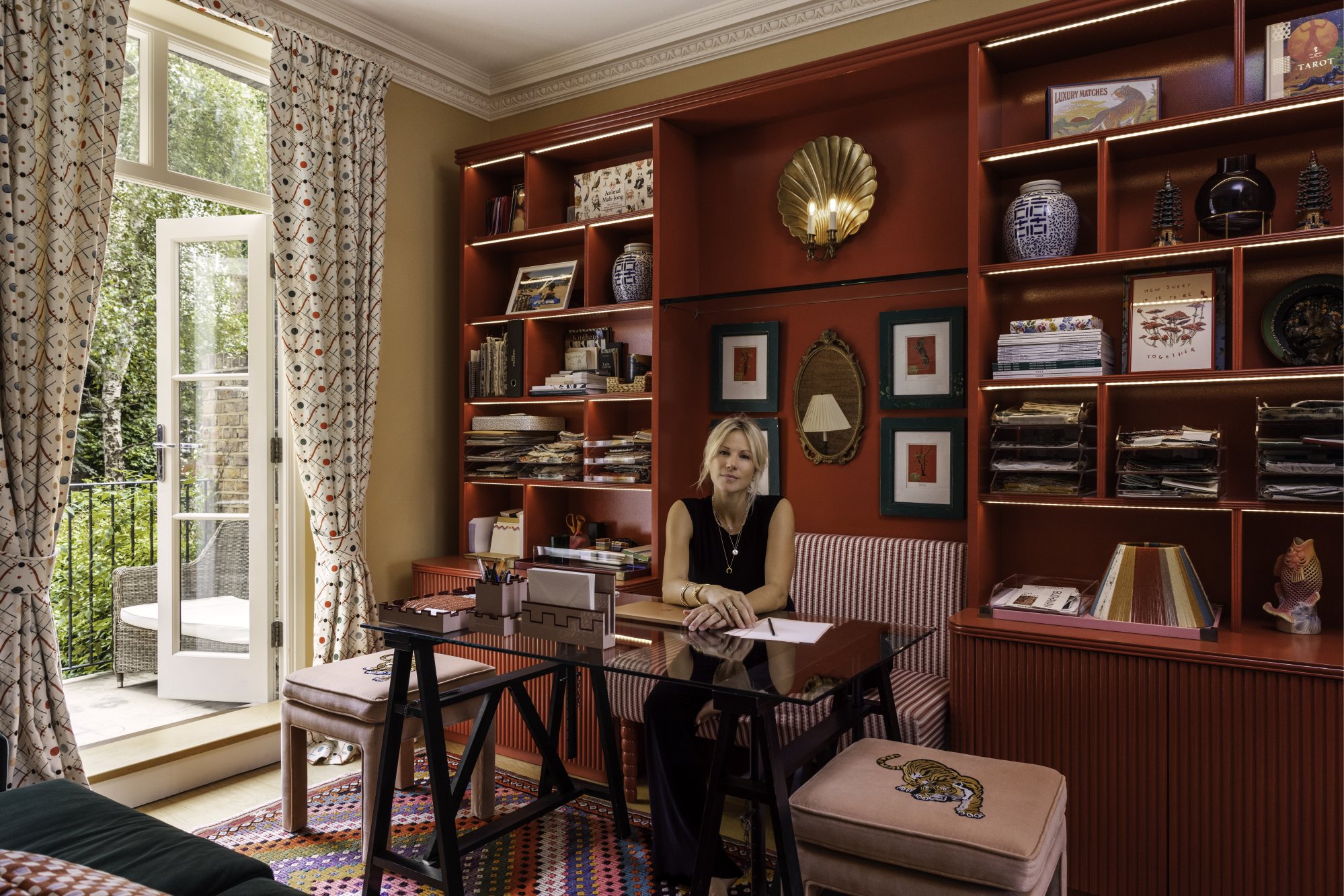 Office
The wall cabinet was designed by Alice Keswick (alicekeswick.com) and made by her friend, furniture restorer James Chandler (chandler-restorations.com). Clamshell wall lights within the cabinet were sourced from Soane Britain (soane.co.uk), as was the striped banquette where Keswick is sitting.
The mirror and set of four artworks were all bought at the Ardingly antiques fair in Brighton (iacf.co.uk/ardingly). Fabric for the curtains came from Ottoline (ottoline.co.uk). The glass desk was from The Conran Shop (conranshop.co.uk) and the tiger-motif stools were purchased from 1st Dibs (1stdibs.com).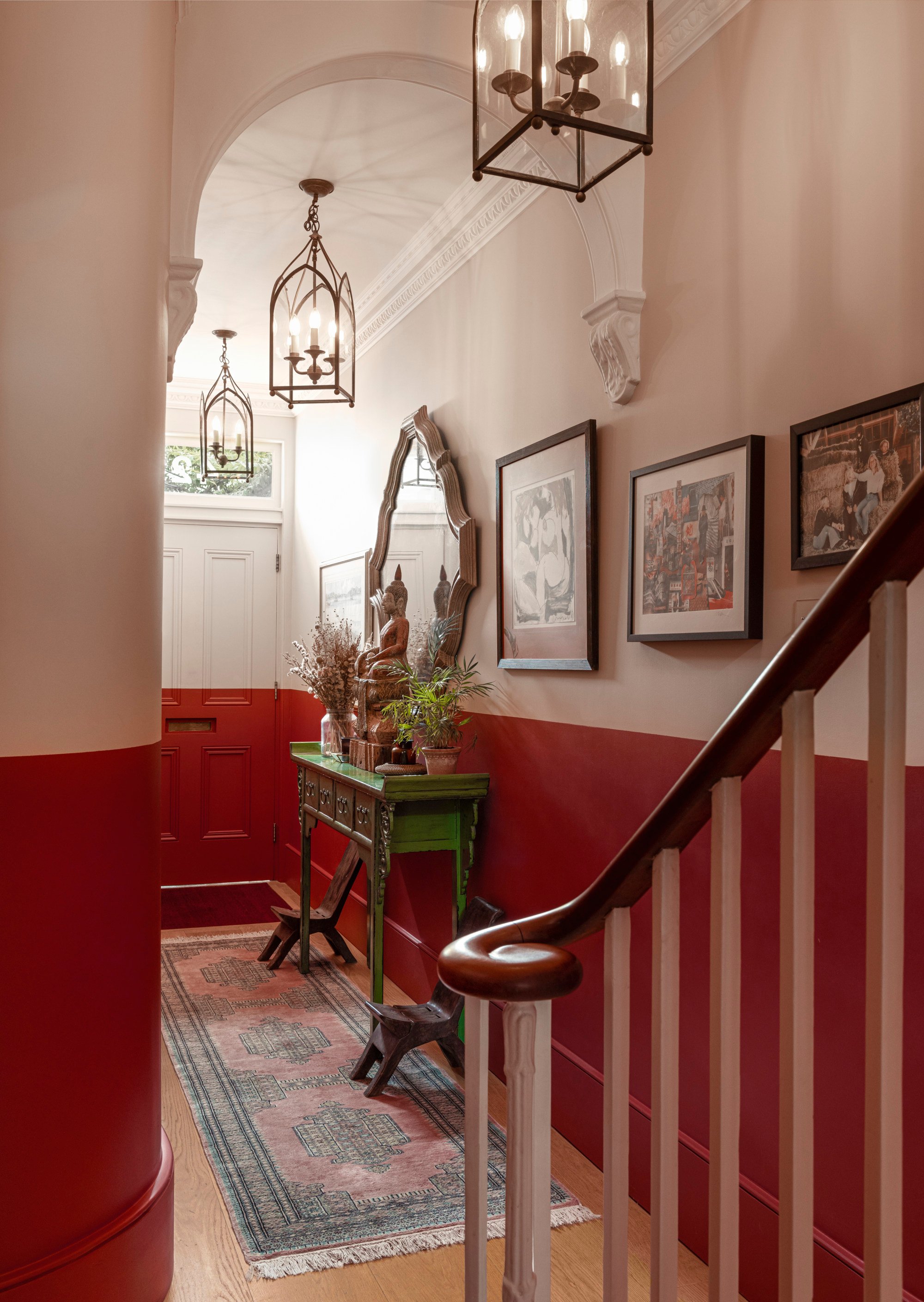 Hallway
The hallway was painted in Red Barn and Dried Plaster from Craig & Rose (craigandrose.com), complementing a rug in a similar hue, bought years ago from a shop on Wyndham Street, Hong Kong. The green console table was sourced from Zhuhai years ago and the mirror was bought by Keswick when she was living in Ho Chi Minh City, Vietnam.
Artworks include an old print of Hong Kong and a painting by an unknown artist from Tat London (tat-london.co.uk). The ceiling lamps are antiques once owned by Keswick's mother, and the small stools are antiques from Vietnam.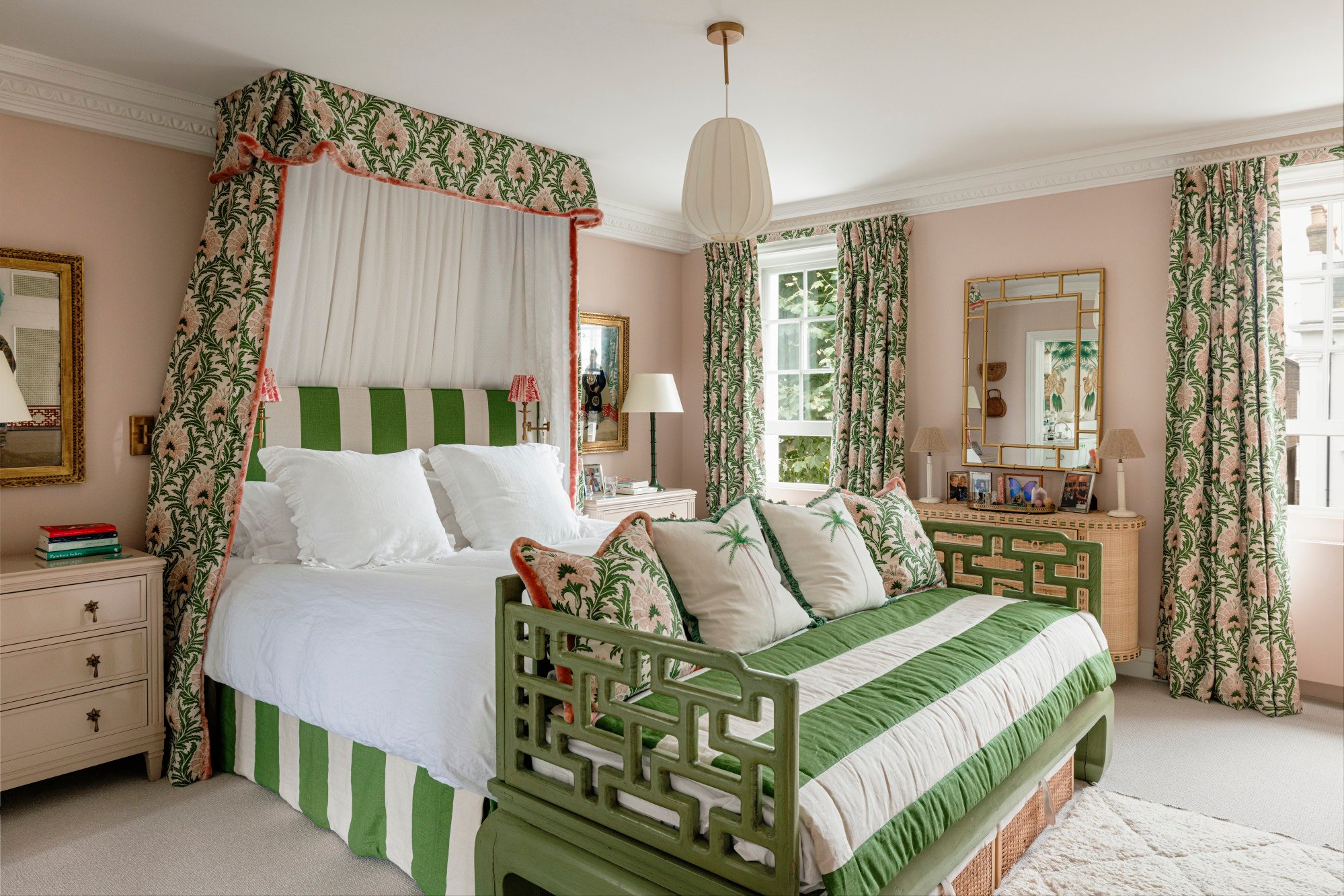 Main bedroom
The green daybed is an antique sourced from Zhuhai years ago. The bedding, canopy and curtain fabric were all from Cinny (cinny.co.uk). The gold bamboo motif mirror came from Oka (oka.com), the chest of drawers beneath it was made by Casa Lopez in Paris (casalopez.com) and the silk lantern ceiling shade came from a stall in the nearby Portobello Road flea market (portobelloroad.co.uk).
Flanking the bed, the artworks were a gift and the bedside chests of drawers came from Trove (thetrove.co.uk). The table lamp near the window was made by a friend of Keswick at The Lacquer Company.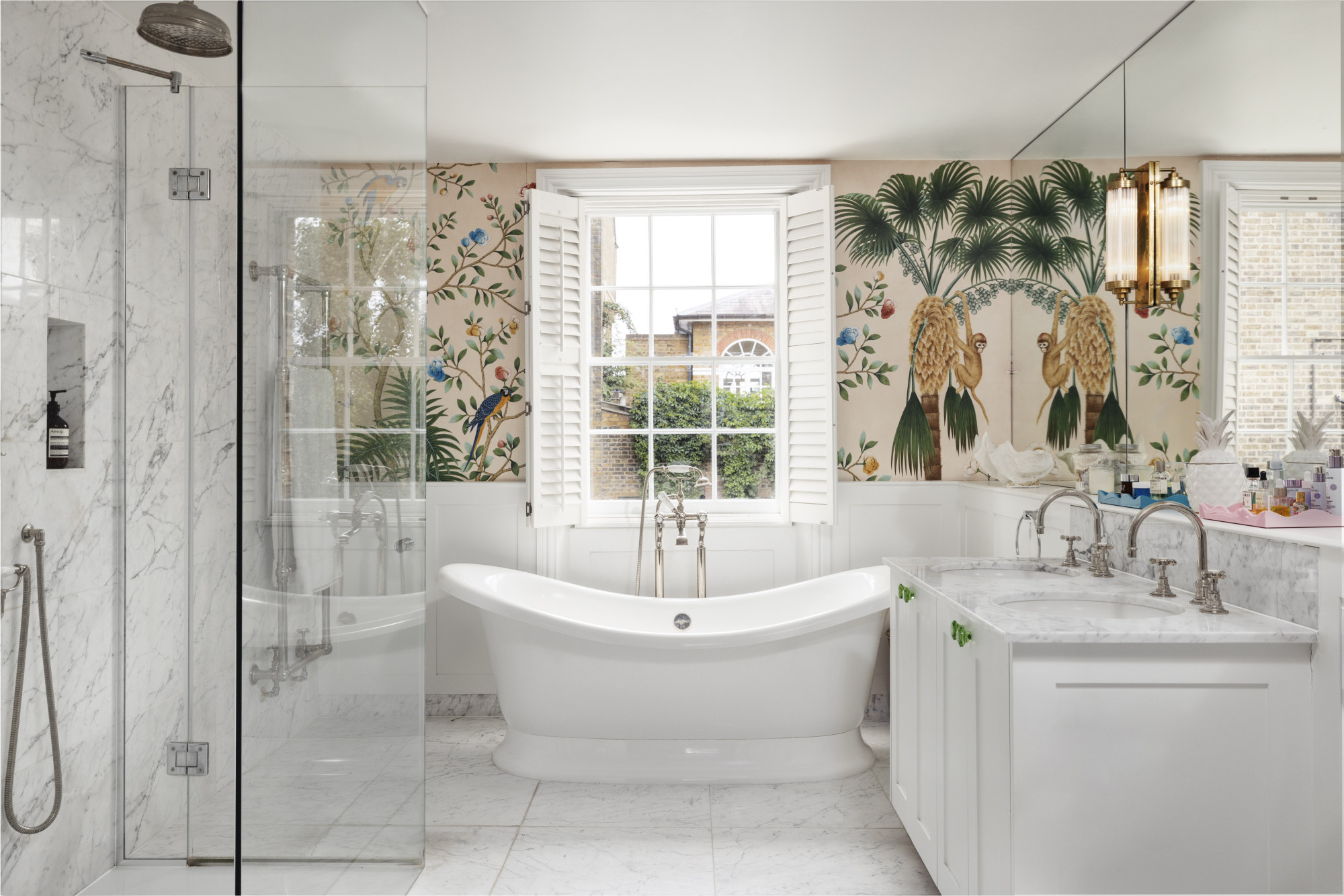 En suite
The main en suite features hand-painted wallpaper from De Gournay (degournay.com). All other fixtures and fittings, including the Victoria & Albert bath (vandabaths.com), were already in place when the family moved in.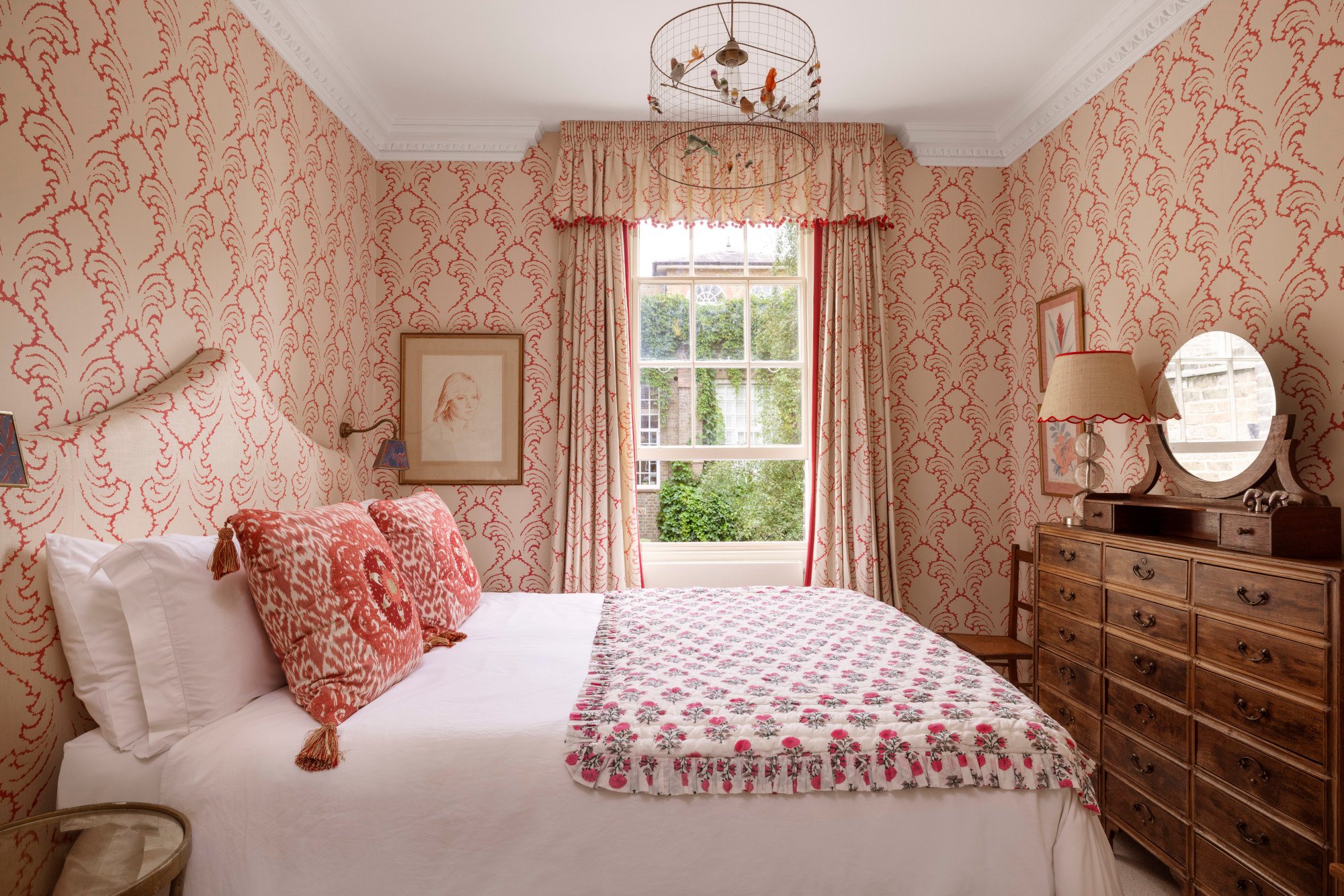 Tried + tested
Alice Keswick created a cosy cocooning effect in her guest bedroom by lining the walls with a damask pattern that appears on curtains, pelmet and head­board as well as the wallpaper. The simplified two-tone print makes the choice cheerful and modern rather than matchy-matchy chintz and the repeated pattern brings calming continuity, with the headboard appearing to disappear into the wall. The pure white of the bed in the middle of it all makes it especially inviting.
The wallpaper and fabric in matching "Pineapple Frond" print were sourced from Soane Britain. The mirror and dresser are antiques from Vietnam, and the wooden chair was found at the Ardingly antiques fair. The ceiling lamp was from The Conran Shop; the table lamp base from Zara Home (zarahome.com) and its shade from Matilda Goad & Co (matildagoad.com); and the bedside wall lamps from Pooky (pooky.com).