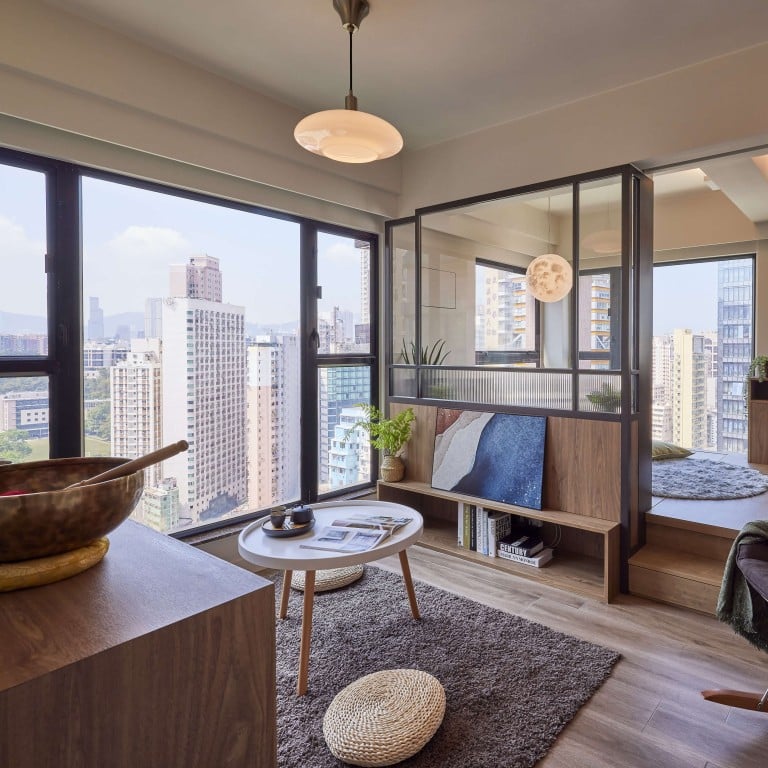 An open-plan Hong Kong apartment that's airy and full of light - how a 318 sq ft Mong Kok home became perfectly in tune with its owner's needs
When spiritual and energy healer Jen Iu saw the photos for a 318 sq ft Mong Kok flat, she did not even bother to inspect it – she knew she wanted it
A designer turned the tiny space into a wellness-infused home-cum-workplace, using two-tone wood throughout and keeping the outside views the focal point
The windows sealed the deal.
In a district as dense as Mong Kok, with a housing budget stretching to only 318 square feet (30 square metres), the expansive glazing of a 25th-floor flat in Peace Tower, offering views and light in equal measure, was a major bonus.
Owner Jen Iu had waited patiently for such a find, and as soon as she saw the photos, she knew this was "the one".
"I didn't even bother to inspect it," she says. Apart from Covid-19 restrictions making physical inspections difficult back in November 2020, Iu, as a spiritual and energy healer, knew the airy, bright interior was exactly what she wanted.
"Besides, I was going to renovate, so it didn't matter what the decor looked like," she adds.
A previous owner had already removed a wall between the original two small bedrooms, but Iu wanted the whole space to be open plan. Being equally keen to optimise the spatial flow, designer Eric Liu Chun-man, co-founder of LittleMORE Interior Design, was happy to oblige.
"For a small apartment, it's great to have such big windows, especially on an orientation that allows sunlight in, and has a nice view out without a lot of blockage by nearby buildings," he says. Together, designer and client crafted a wellness-infused home-cum-workplace filled with calming positive energy.
With precious little storage in the flat, Liu designed a 35cm-high (14 inch) platform for the sleeping area, with lift-up compartments underneath. A double mattress sits directly on the platform, which extends to Jen's meditation area. At the farthest end of this quiet zone, with its wraparound desk with bookshelves, Liu made a cut-out for leg room so Iu can sit comfortably on the platform while she works.
In the place of a dividing wall to the living room is a black-framed sliding glass screen. Liu describes this as a "space defining element".
"The spaces can be see-through most of the time, but when there's need for a bit more privacy or sound/temperature control, the movable screens can help divide the apartment into different zones," he says.
Every centimetre of space matters in a flat of this size, so, below the television, Liu carved out a pocket in the platform behind to conceal the audio/video cables and sockets. To keep the living area clutter-free, thus allowing the energy to flow, it helped that Iu has no need for either a sofa or a dining table.
"I prefer to sit and eat on the floor," she says. "Then whenever I want to meditate, I can just lie down."
But friends tend to gravitate to her home, and not everyone feels the same. So Liu designed a disappearing table (see Tried + tested below), and Iu compromised with a single, low armchair that has been known also to host the occasional snoozing overnight guest.
As a Tibetan Buddhist, Iu needed an altar table, which Liu custom made in the same walnut veneer used for the cabinetry. He also cribbed space from the bathroom to add a full height, double-door shoe cabinet at the entry.
The timber is two-tone: darker for the fixed furniture, lighter for the platform, selected by Liu for a look that's more "natural and homely".
These timber finishes team well with the woodgrain-look ceramic-tiled flooring laid throughout, a practical consideration for Iu, who thinks she might one day adopt a pet.
Liu describes the kitchen footprint as "efficient". "It's tiny," Iu clarifies. Nonetheless, it meets all her needs.
There are a fridge, a washer/dryer and cabinets above and below a seamless, L-shaped Corian counter. Iu opted not to have a built-in hob, making do with a single, plug-in electric hotplate that allows her more preparation space when it's not in use. For entertaining, she simply moves it into the living area to keep the hotpot brewing.
From her windows, with their various vantage points, Iu and her visitors look out to cityscapes and pockets of greenery that stretch all the way to The Peak – a stress-relieving scene she feels is particularly important to have in one's life. But it's the clouds and sunsets she appreciates most, as these "put you in a mood where you can really relax and then start to open yourself up".
"I absolutely love this space," she says. "It's a place where people feel free to chat."
Living room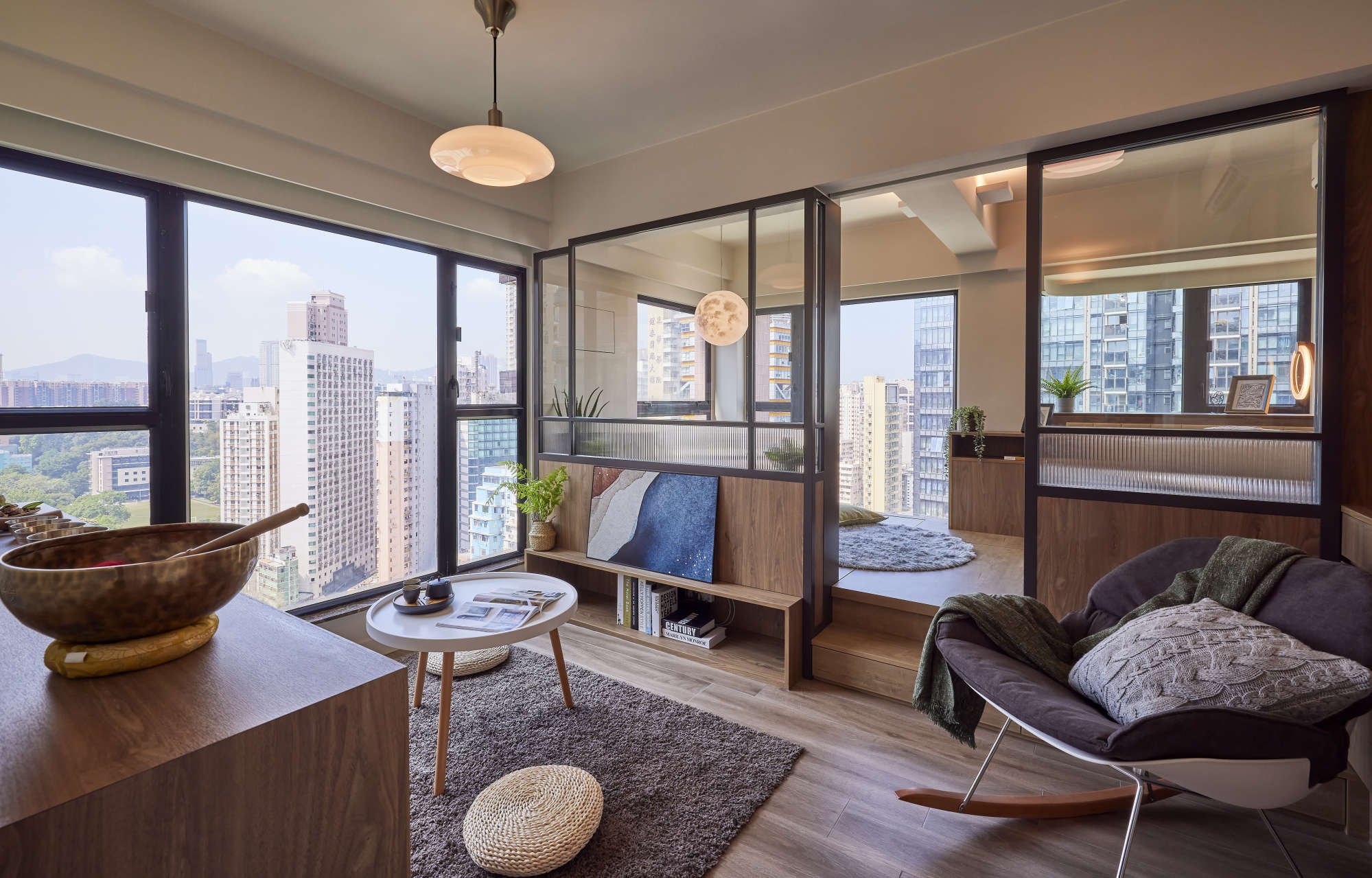 Eric Liu Chun-man, co-founder of LittleMORE Interior Design (littlemoredesign.net), replaced the wall between the sleeping and living areas with a black-framed panel that allows the views and energy to flow. The floor cushions and round occasional table were sourced from Taobao (taobao.com), and the rug and pendant light both came from Ikea (ikea.com.hk). Owner Jen Iu's prized Tibetan singing bowl is on the cabinet on the left.
Living room detail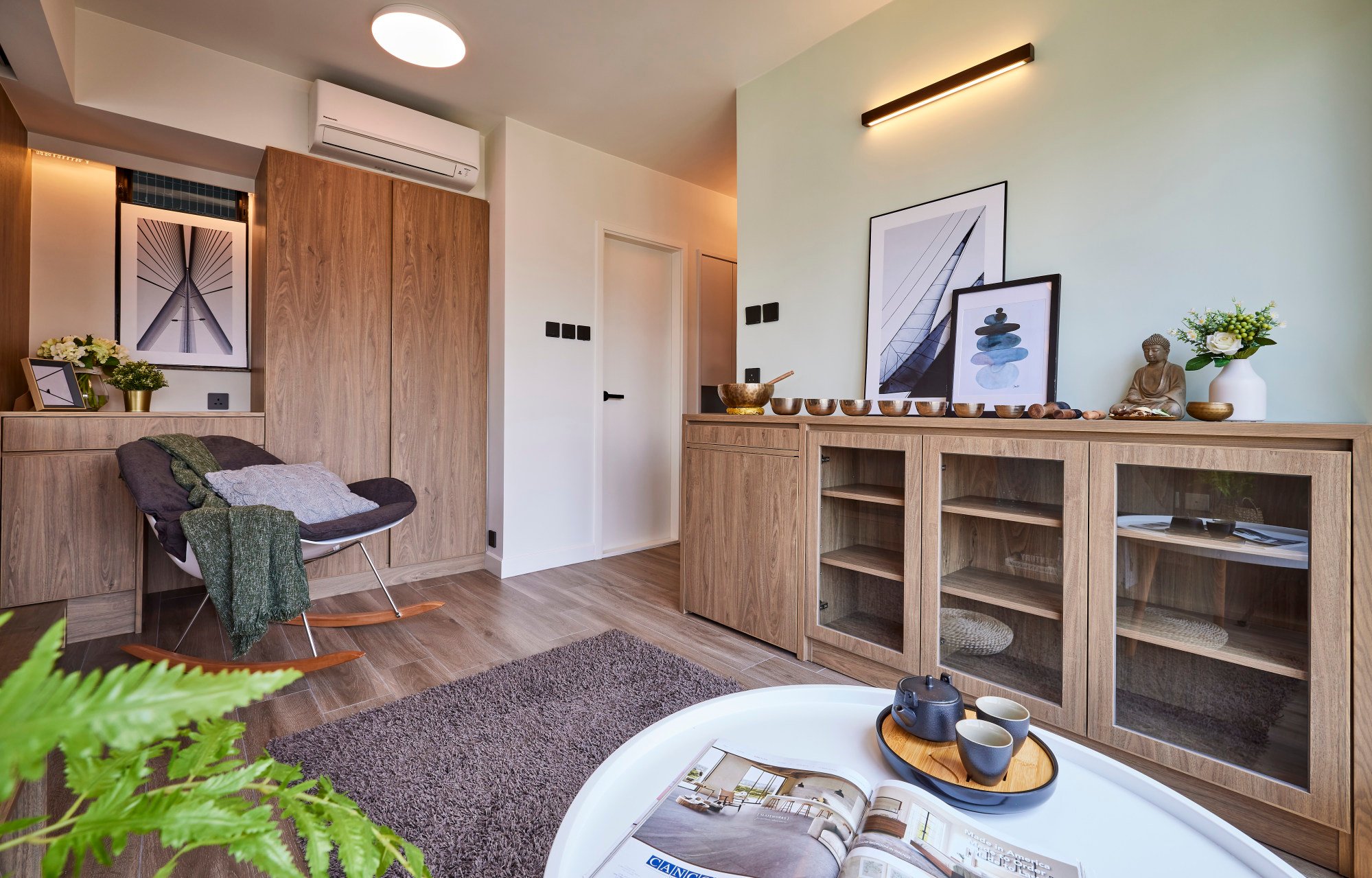 Cabinetry in walnut veneer provides storage the flat was lacking, including a large shoe cabinet (beside the entrance) created in a niche cribbed from the bathroom. With its low profile the other cabinetry doesn't interrupt the energy flow, and holds Iu's artworks and souvenirs collected on her travels, as well as her Buddhist items.
The rocking chair came from Stockroom (stockroom.com.hk). Iu, a spiritual and energy healer with ohsoulclub.com, acquired her Buddha from Thrangu Vajrayana Buddhist Centre (thranguhk.org) and other Buddhist items from The Han Li (thehanli.com). The wall light came from Taobao, and the ceiling light from Xiaomi (mi.com).
Bedroom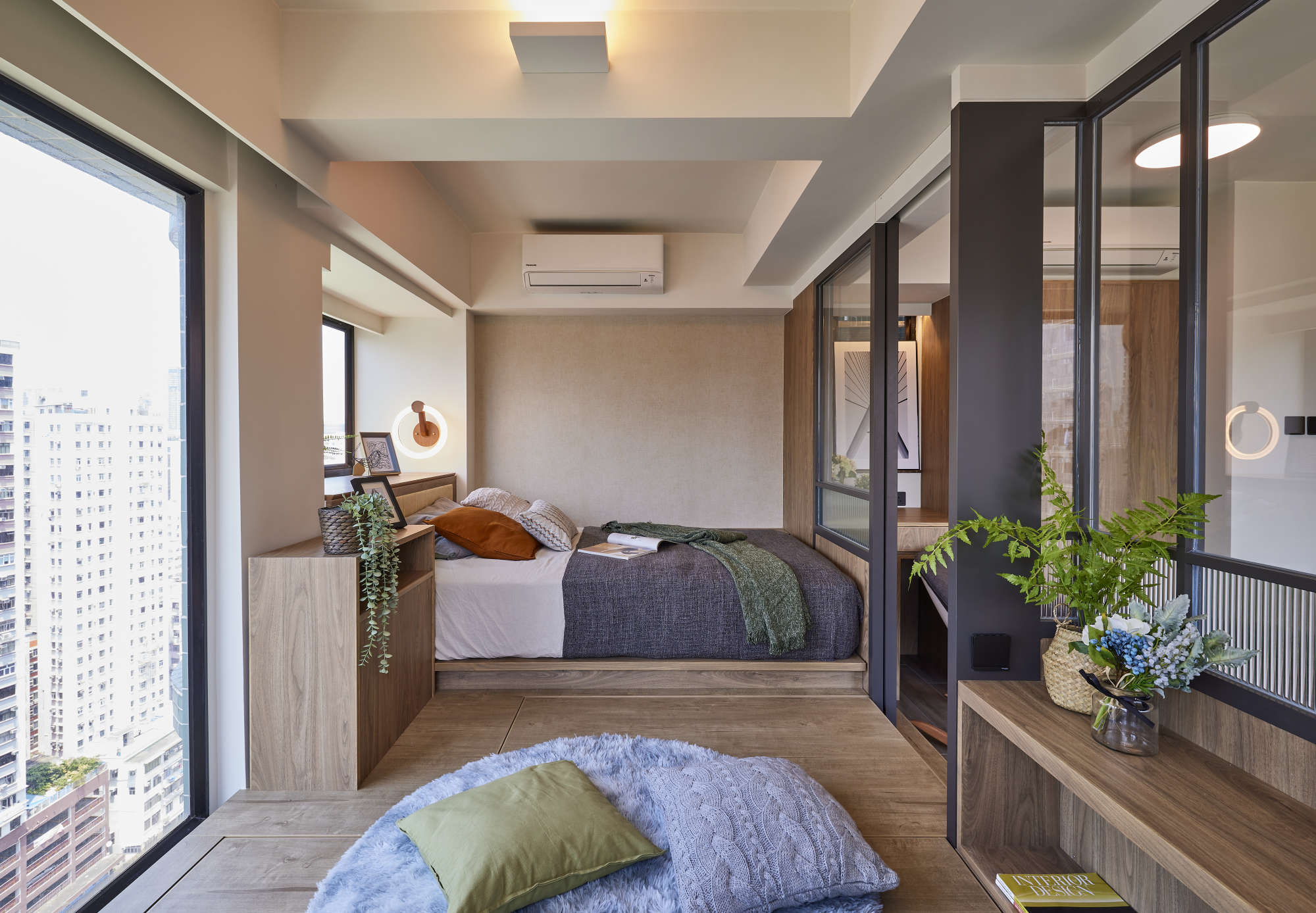 Placed east-west to optimise space in the sleeping area, the mattress fits on a slightly raised platform that extends to the owner's meditation area and beyond to her work station. The rug, large floor cushion, bedlinen and bed cushions all came from Ikea. The wall light by the bed was from Xiaomi.
Bedroom
The sliding panel to the living area, Iu's work station, the bedhead and other furniture were all designed and made by LittleMORE Interior Design. The mood-enhancing Luna Lamp hanging above the meditation area was made by Acorn Studio, in Taiwan, and sourced through unun Living (ununliving.com). The sconce on the beam was from e Lighting (elighting.asia) and the round floor cushions were from Taobao.
Kitchen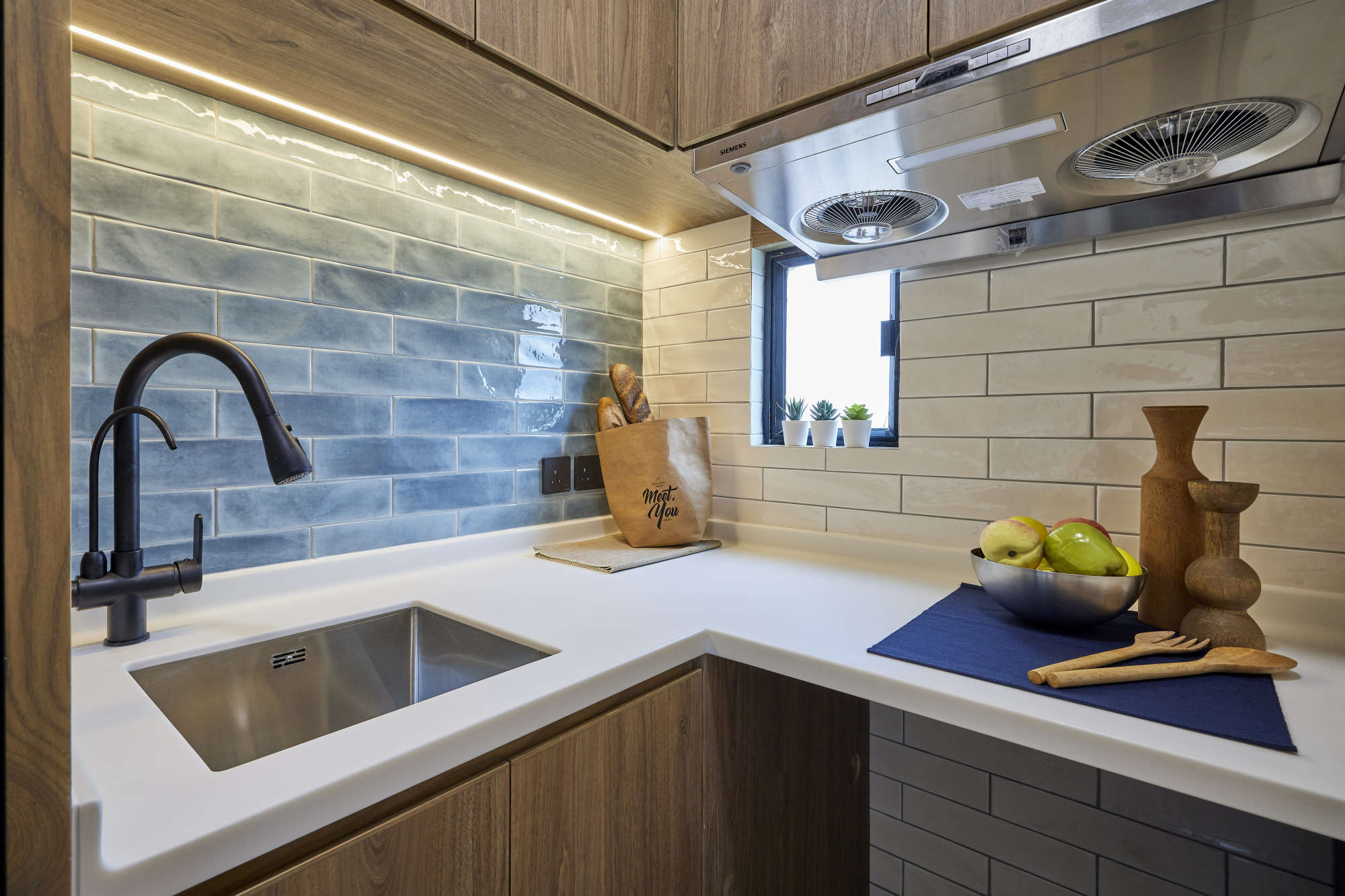 Though small, the kitchen, designed and built by LittleMORE Interior Design, has all the necessities, including a Corian counter and an exhaust fan from Fujioh (global.fujioh.com). The blue and white glazed tiles used for the splashback were from Hop Hing Lung Ceramics (39 Argyle Street, Mong Kok, tel: 2391 1628). The black tap was sourced through Taobao.
Bathroom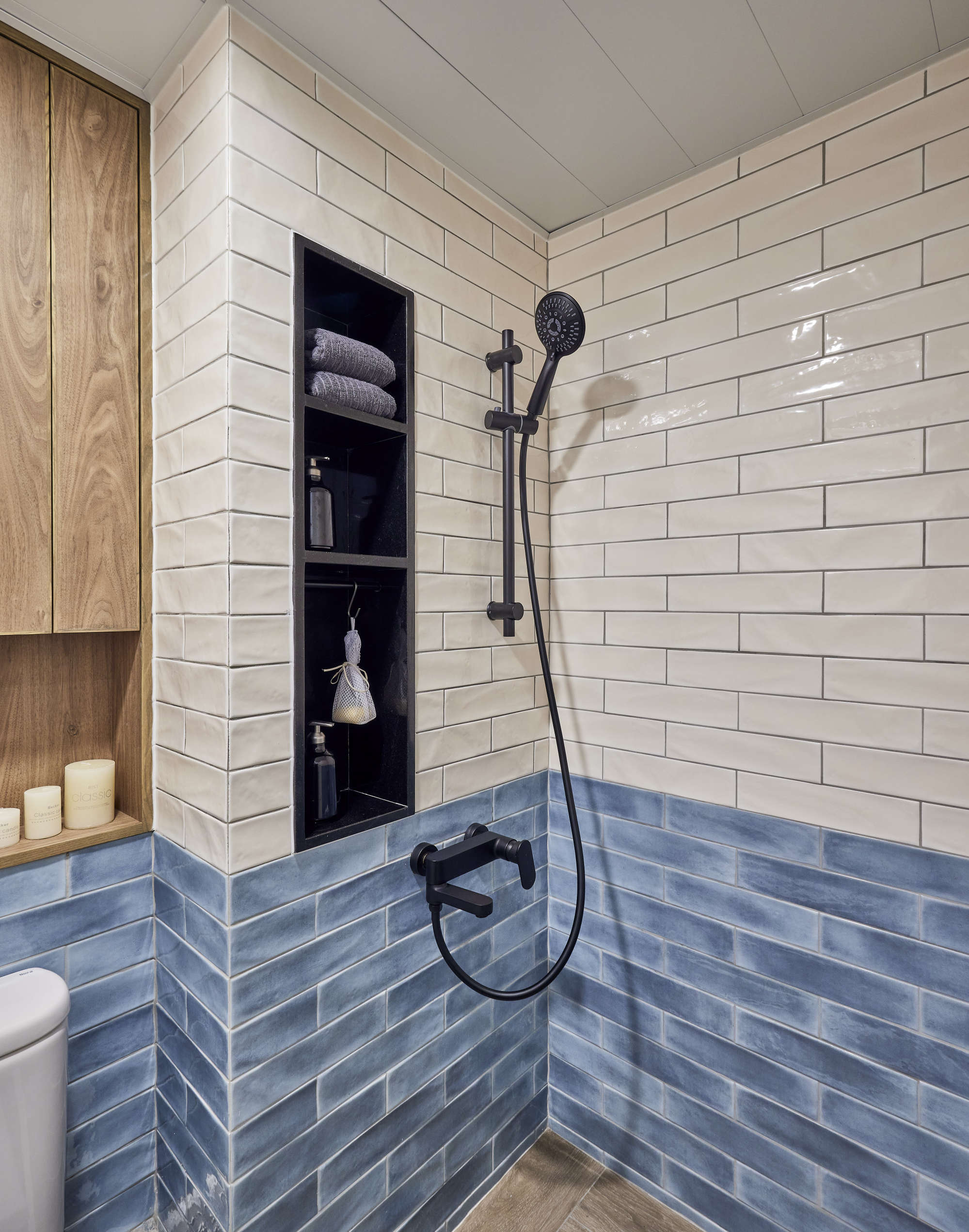 To contrast with all the wood tones, the bathroom is tiled in blue and white glazed tiles, the same as the ones used in the kitchen. The black tapware was sourced through Taobao.
Tried + tested
Because Jen Iu prefers to sit on the floor, most of the time her small dining table remains hidden within the walnut veneer cabinetry designed and made by LittleMORE Interior Design. If friends come around for a meal it simply folds out to hold the hotpot or dishes of the day.