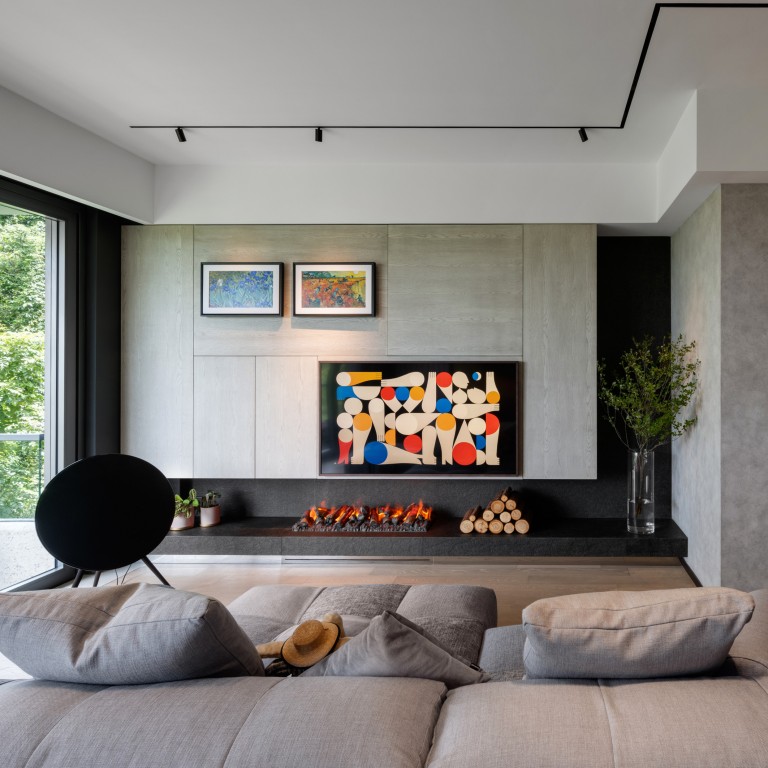 A minimalist, Japanese-inspired home in Hong Kong is all about hidden storage spaces, 'nature, wood and Zen' vibes
A 1,700 sq ft home with dark-wood cabinetry, Japanese-inspired touches and concealed storage also has no light switches, favouring remote controls and apps
A Japanese tatami room can be used as a guest room, study, massage room, entertainment area and for mahjong or hotpot sessions
A modern luxury development on a forest-clad hilltop between Sha Tin and Tai Po, in Hong Kong's New Territories, might seem an unlikely place for a Japanese washitsu, or tatami room. Yet once inside this 1,700 sq ft (158 square metres) flat, this versatile space makes perfect sense.
Open to the living area, but able to be screened off by sliding shoji doors, it is a key element of tech investor Robert Lau's elegant home.
Primarily a study, with a desk installed in front of the window and its glorious mountain view, the space can also be used as a guest room, massage room, entertainment area and, thanks to a table that pops up from the floor (see Tried + tested below), for mahjong sessions or shabu-shabu hotpot.
"I spent at least half of my time in here during the pandemic," Lau says of the washitsu. "From my desk, all I can see is the mountains, trees, monkeys and butterflies. It's very peaceful. And when I'm not in here, my favourite place is on the living-room sofa, looking in here."
The developer had conceived the space as a main bedroom – the largest of four in the original layout – but interior designer Rebecca Chan, of Simplex Interiors, had other ideas.
"I convinced Robert he only needed one bedroom," she says. "Then we could open up this space to create a big living room and study. You don't need a view like this in a bedroom."
The Japanese inspiration was Lau's, though.
"I spend a lot of time in Japan. When I moved here and I had a view of mountains and forest, I wanted a Japanese room. But I wanted a modern kick to it," he says.
That modern kick includes nine dark square tatami mats, made in Taiwan from Japanese washi paper and other materials. They are positioned on a raised floor that doubles as bench seating for the desk and the pop-up table, and allows for capacious underfloor storage.
The desk itself is a slab of live-edged ash, offcuts of which were suspended on wires to create hanging shelving. A Japanese-style suspended wall cabinet and zaisu floor chair are the only other items of furniture in the space, with a couple of carefully tended plants and a set of singing bowls for decoration. It is very Zen. Which is the point.
"I wanted my home to be all about nature, wood and Zen – Zen is what we create," Lau says.
Chan introduced acres of dark-wood cabinetry in the living and dining space, including some panels decorated with slats or a criss-cross design for texture and interest.
Brass-coloured stainless steel provides a subtly gleaming counterpoint in the circular handles on a shoe cupboard, in a useful nook in the entryway, and on the splashback to Lau's coffee and tea pantry in the dining area.
It is a minimalist space, with grey textured walls and only a few major pieces of furniture: a live-edged walnut dining table and chairs, and an enormous modular sofa in a patchwork of grey fabrics. At 3.2 metres long, it is a sofa with presence.
It has three seating areas, each facing a different direction: one side (Lau's favourite) looks into the washitsu, another faces the sliding balcony doors and the view, and the last fronts onto a "gallery wall" of oak-veneer cabinetry, digital art frames (one of which is also a television) and granite fireplace with artificial fire.
"The sofa was a very important piece," Chan says of the Pixel sofa, from Italian brand Saba Italia. "They didn't have any samples in Hong Kong, so Robert went home to California to try it out there. He sat on it, loved it, and then we ordered it."
The corridor between the living area and main bedroom was kept deliberately dark. One wall is lined with slatted wood panels that hide the door to a guest bathroom. A grey-backed mirror on the opposite wall gives an illusion of space, while dark wood-effect wallpaper on the ceiling increases the sense of drama.
The suite itself was constructed out of three former bedrooms. While the mood here is also dark, Chan left the ceiling white ("It would have been too much," she says). Chan retained all three original bathrooms – luxuriously decked out in grey-veined white marble – and the kitchen. But in the main en suite, one wall was removed to make the space larger, and a granite and dark wood vanity unit installed.
Just like the rest of the flat, the walls are unmarred by light switches, with remote controls and apps used to control everything from the curtains to the lighting.
"We got rid of as many switches, and even doors as possible," Chan says. "Robert doesn't like buttons."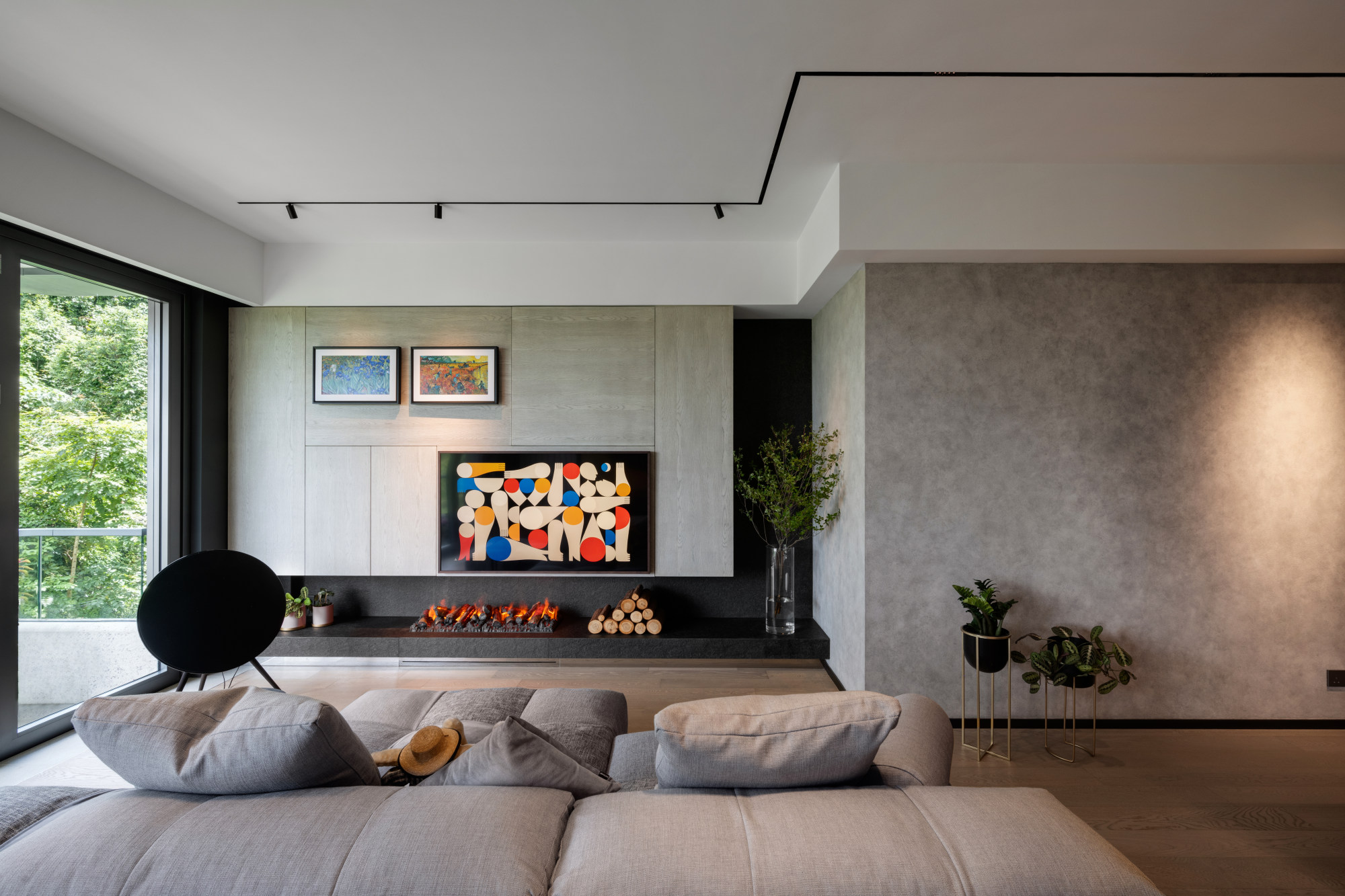 Gallery wall
Rebecca Chan, of Simplex Interiors (simplexinteriors.com), designed the suspended cabinet above the artificial fire, but was not happy with the repetition of the pattern on the oak veneer – so the contractor cut and fitted each piece to create a more random and realistic look.
The Meural digital canvases were from Netgear (netgear.com) and the Frame television was from Samsung (samsung.com). The Beoplay wireless speaker was from Bang & Olufsen (bang-olufsen.com) and the Optimyst electric fire was from Dimplex (dimplex.co.uk). The Galaxy magnetic track lighting was from Multi-Tech (multi-tech-hk.com).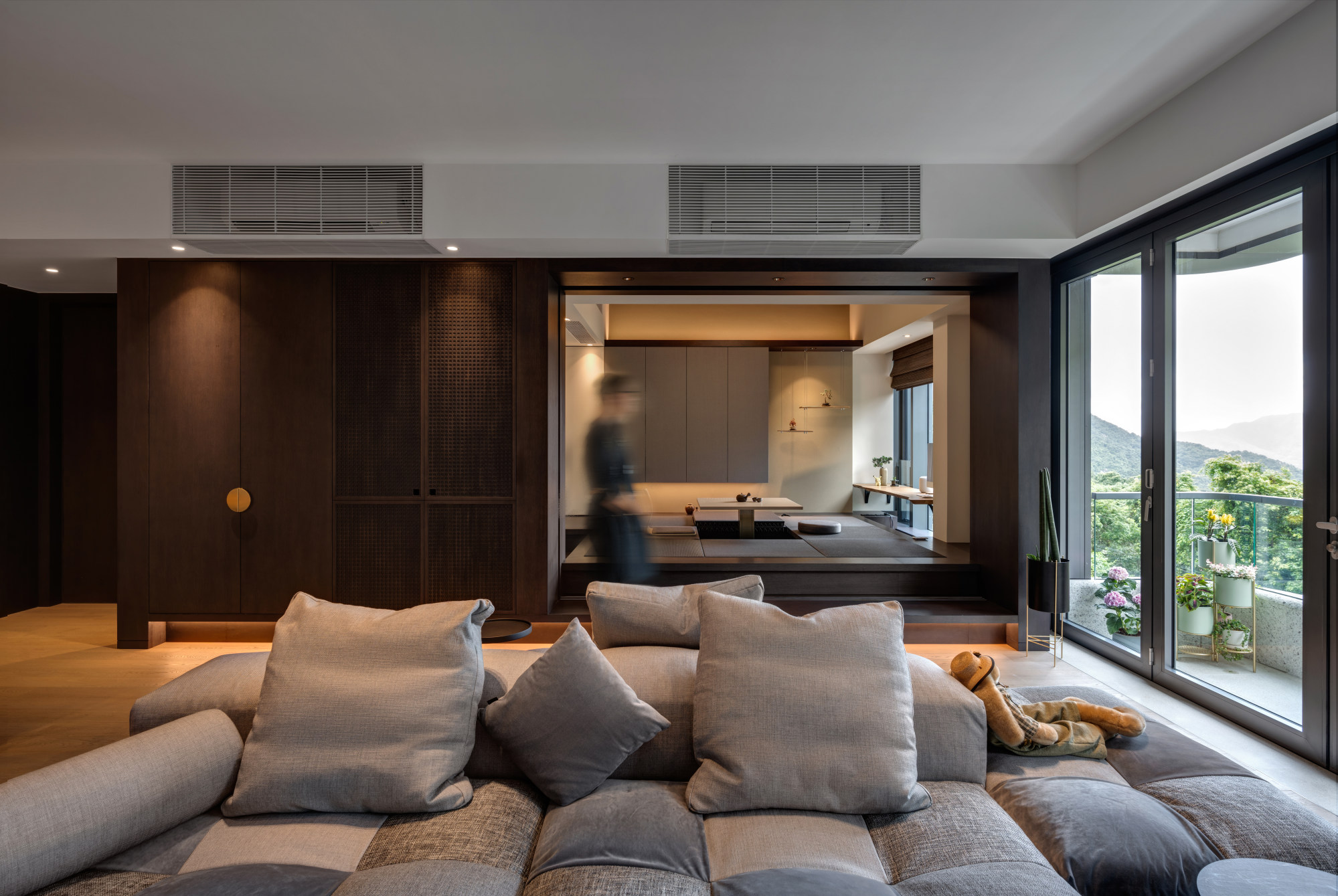 Open-plan living
The Pixel sofa came from Saba Italia (sabaitalia.it). Simplex Interiors designed and made the shoe and storage cabinets, with their distinctive dark wood doors, as well as the raised floor and storage in the washitsu, Japanese-style room.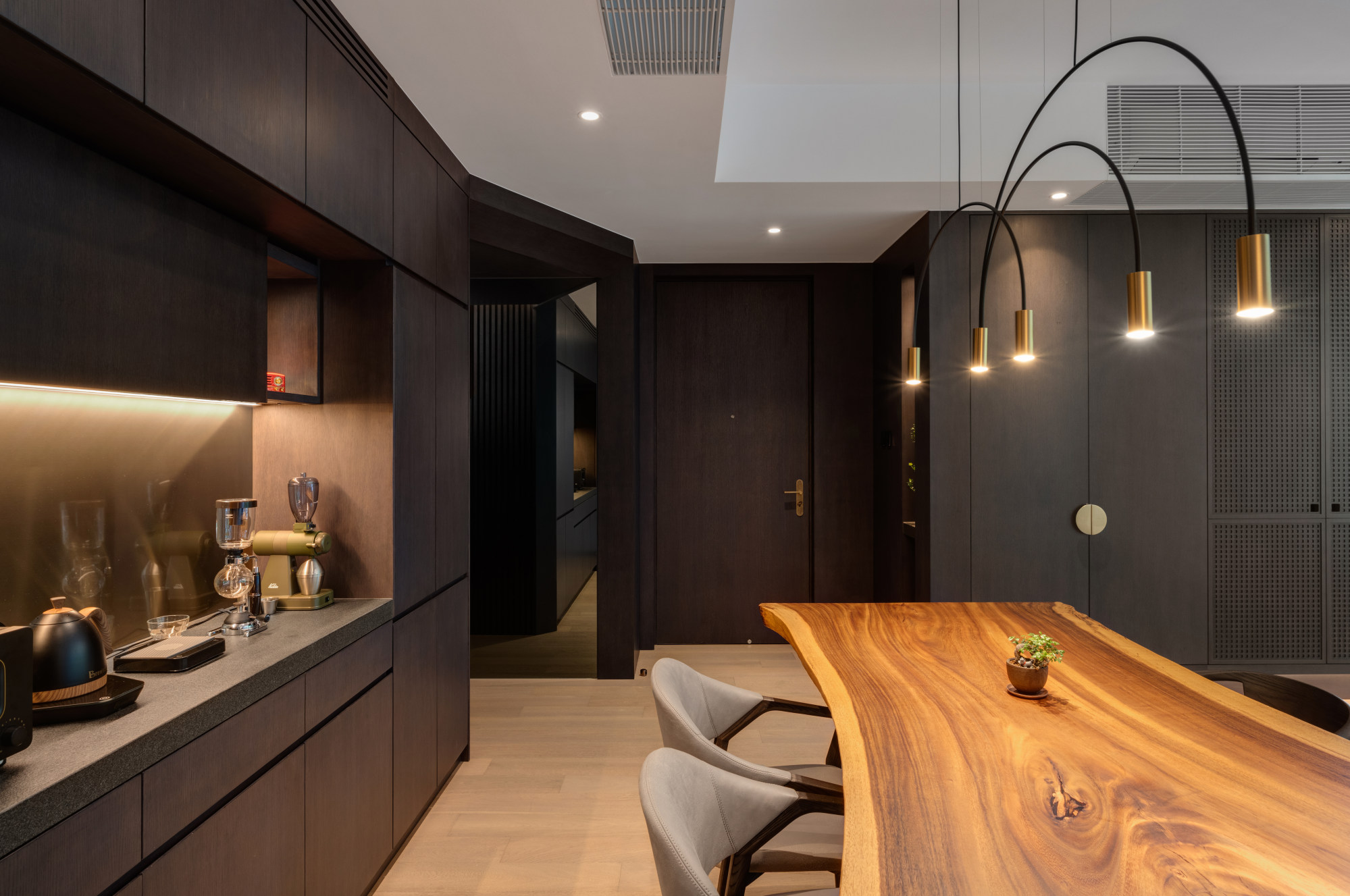 Dining
The live-edge walnut wood slab table came from Wood Ideas (wood-ideas.com). The cabinetry, brass-colour stainless-steel splashback and coffee pantry were designed and custom made by Simplex Interiors.
The worktop was made from fine-grain burnt black granite sourced from mainland China.
The dining chairs were from JG Casa (jgcasa.com) and the ceiling light was part of the Volta collection by Estiluz (estiluz.com).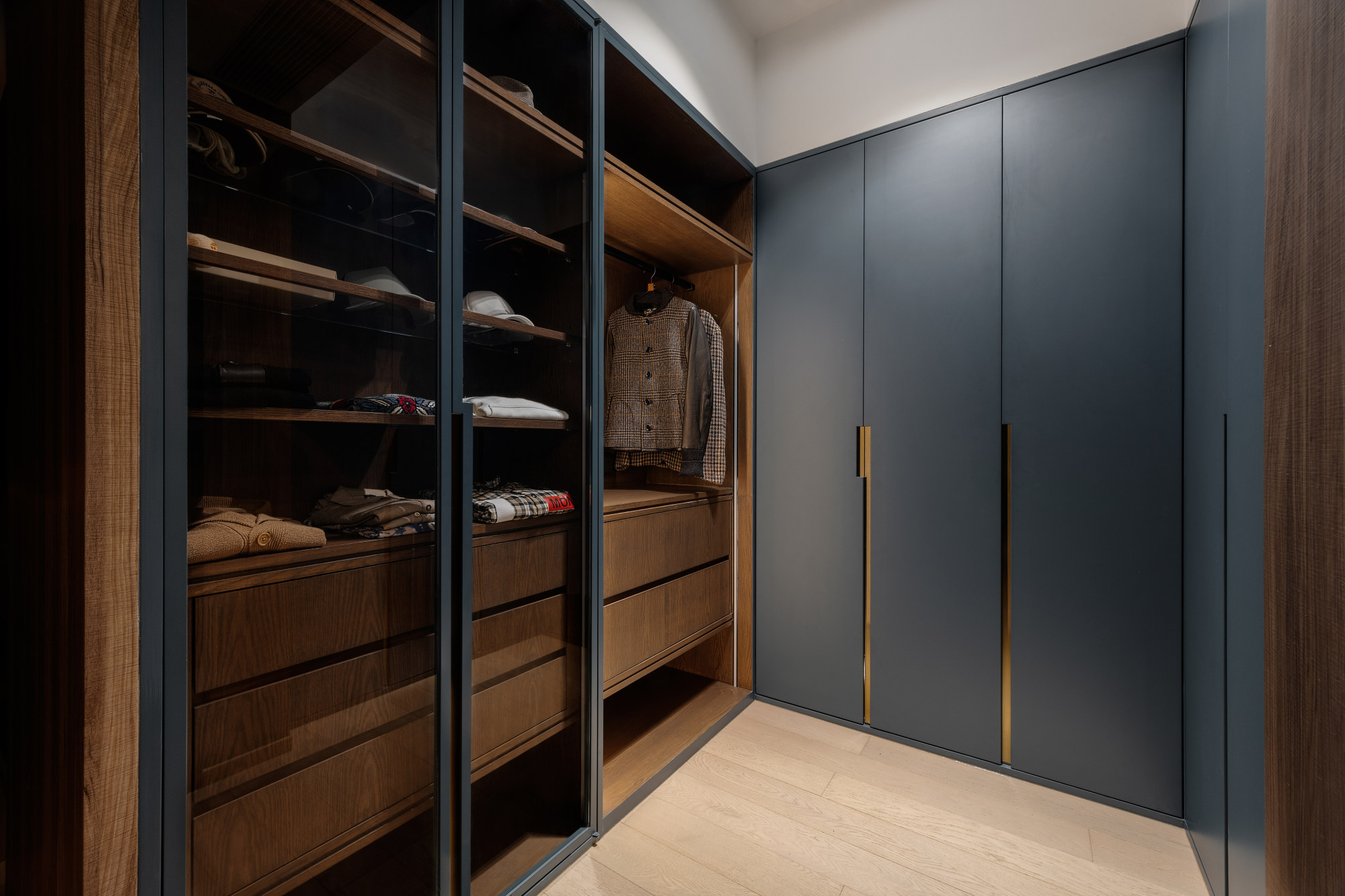 Dressing room
"You have to be tidy if you have a glass-fronted wardrobe," Robert Lau says. The teal dressing room cabinets were designed and custom made by Simplex Interiors.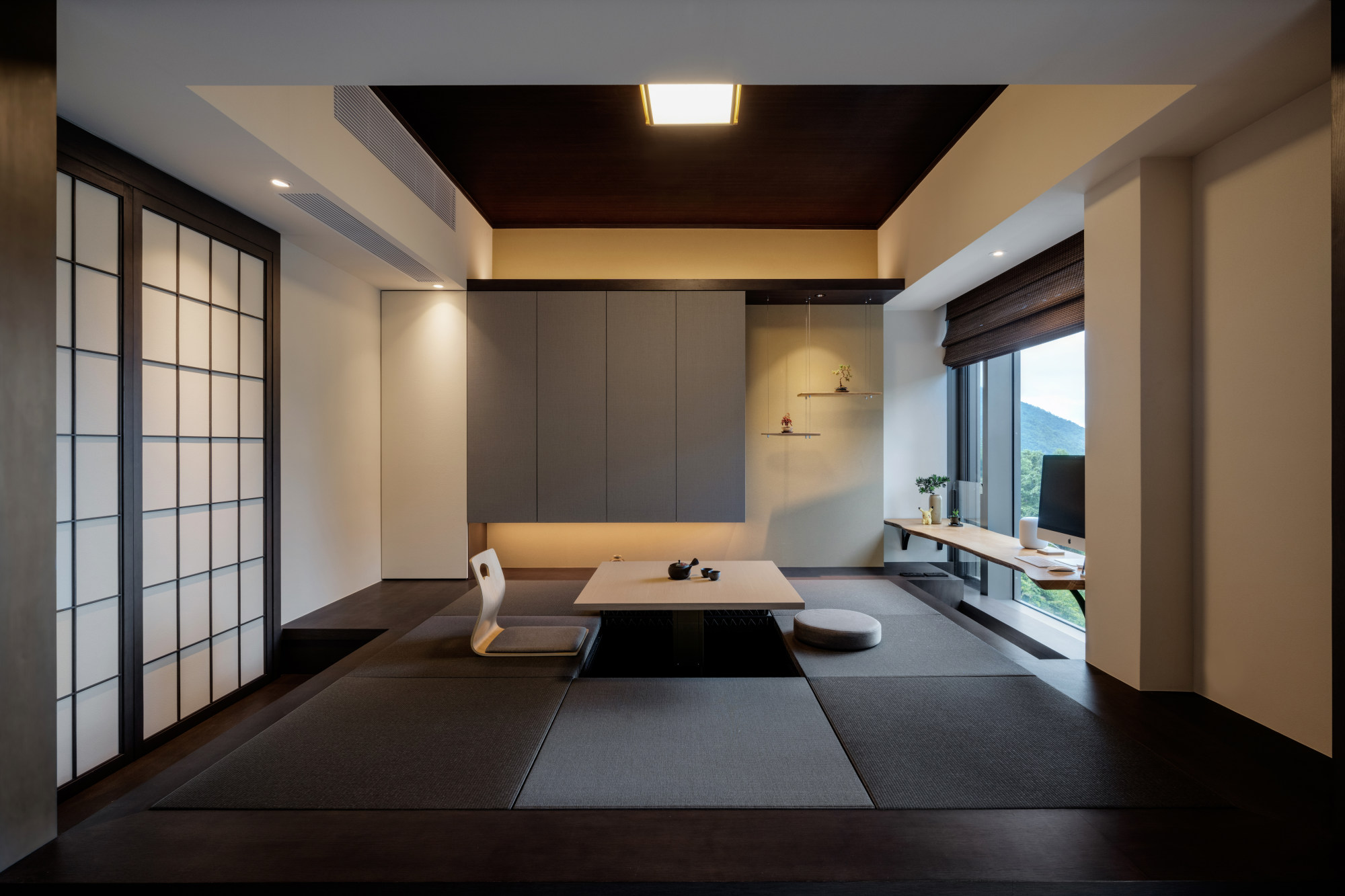 Washitsu
The tatami mats, covered in engineered washi (Japanese paper), were custom made in Taiwan by Tatami (tatami.com.hk). The live-edge ash slab used for the desk came from Wood Ideas and was installed by Simplex Interiors, which made the hanging shelves from the offcuts. The shoji screens, mounted onto sliders, came from Tat Ming (tatming.com).
The sliders themselves were custom made by Simplex Interiors, which also designed and made the suspended cabinet. The cabinet was covered in rattan-effect wallpaper from Kinland (kinlandwall.com).
The bamboo blind came from La Maison Curtain (901 Dominion Centre, 43 Queen's Road East, Wan Chai, tel: 2821 9768). The zaisu floor chair, floor cushion and ceiling light were all gifts.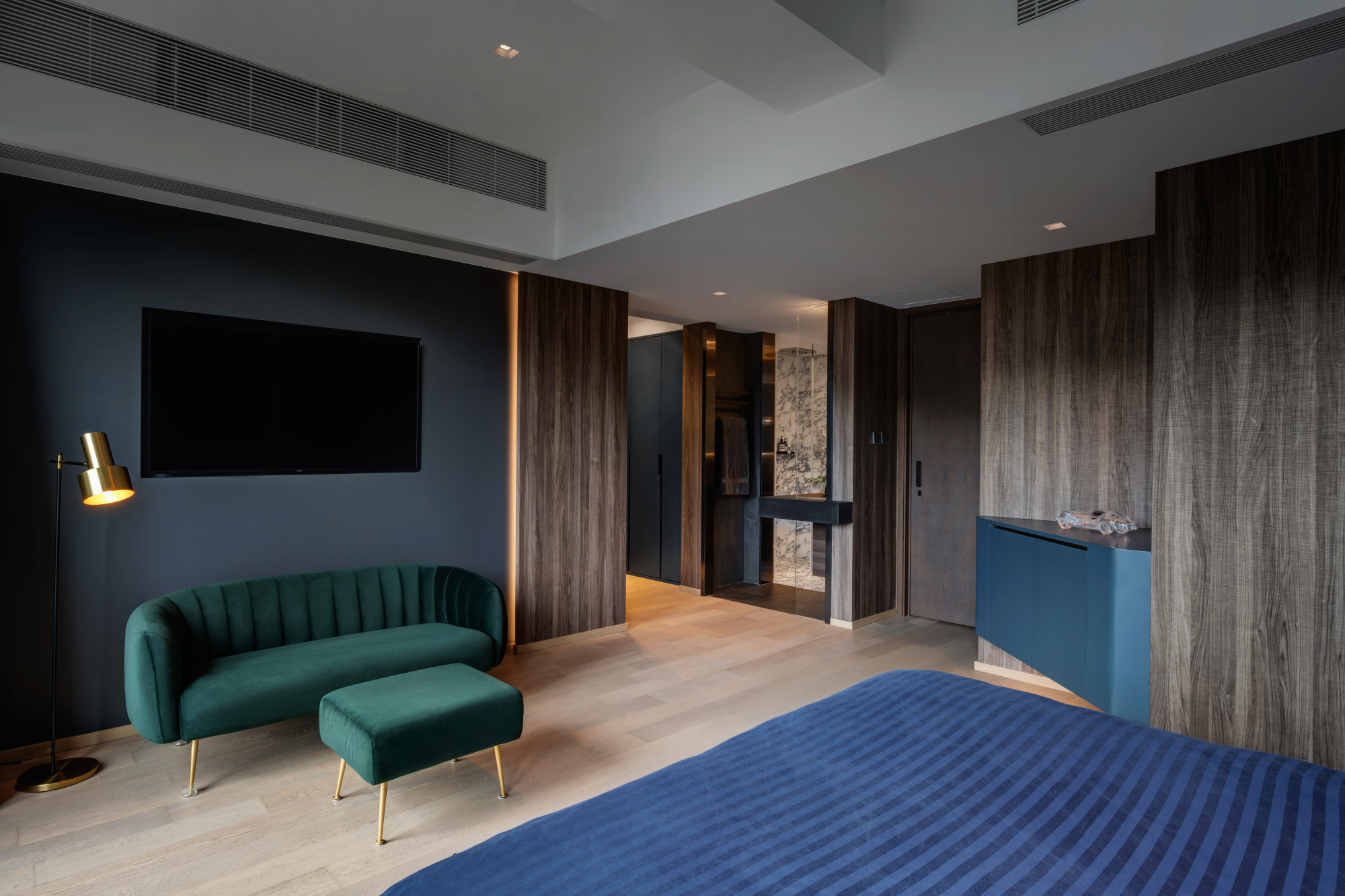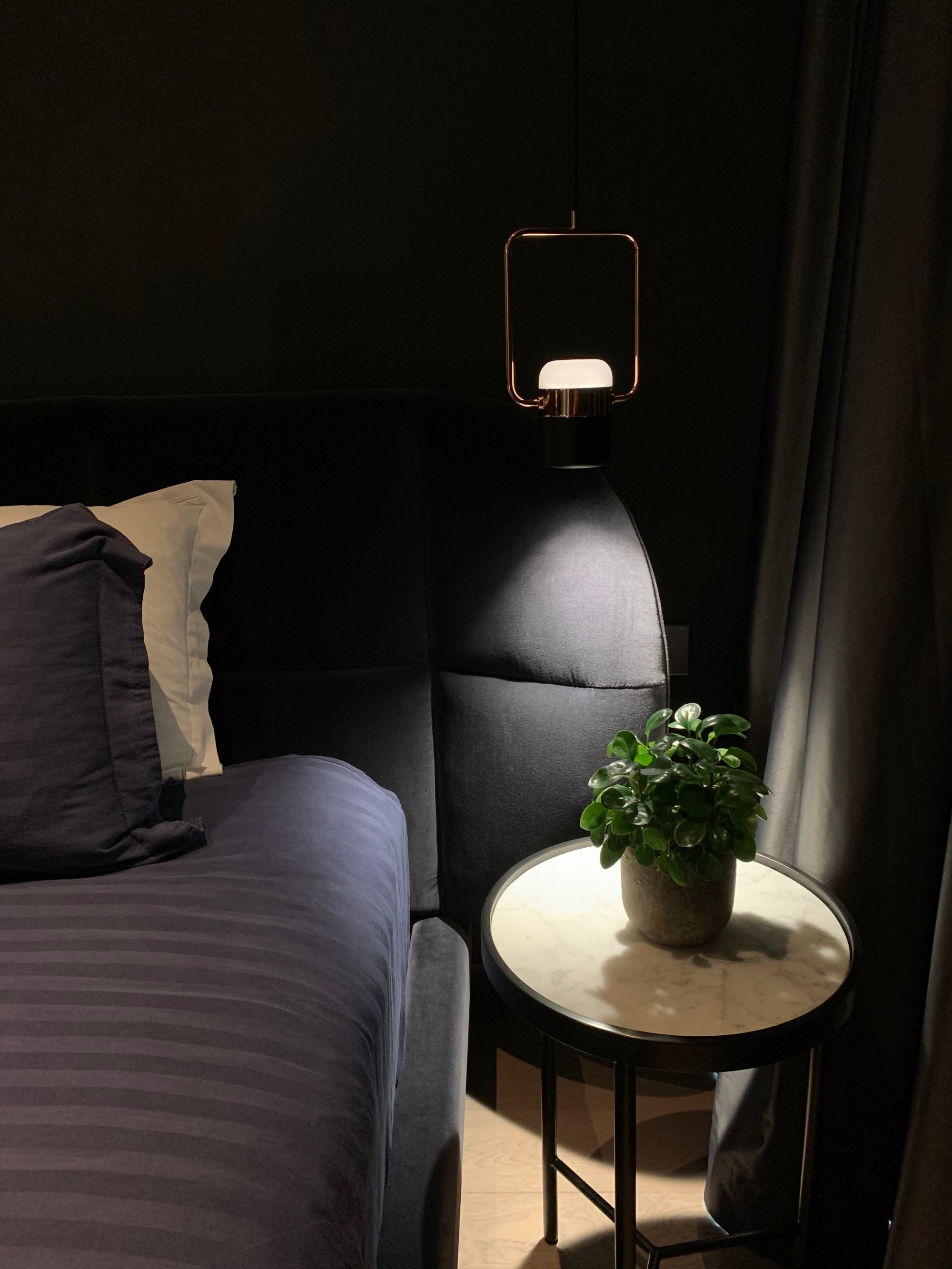 Bedroom
The bed was from BoConcept (boconcept.com) and the sofa, footstool, floor lamp and bedside table were all from Indigo Living (indigo-living.com). The teal cabinet was designed and custom made by Simplex Interiors. The bedside Ling pendant was from Seed Design (seeddesign.tw).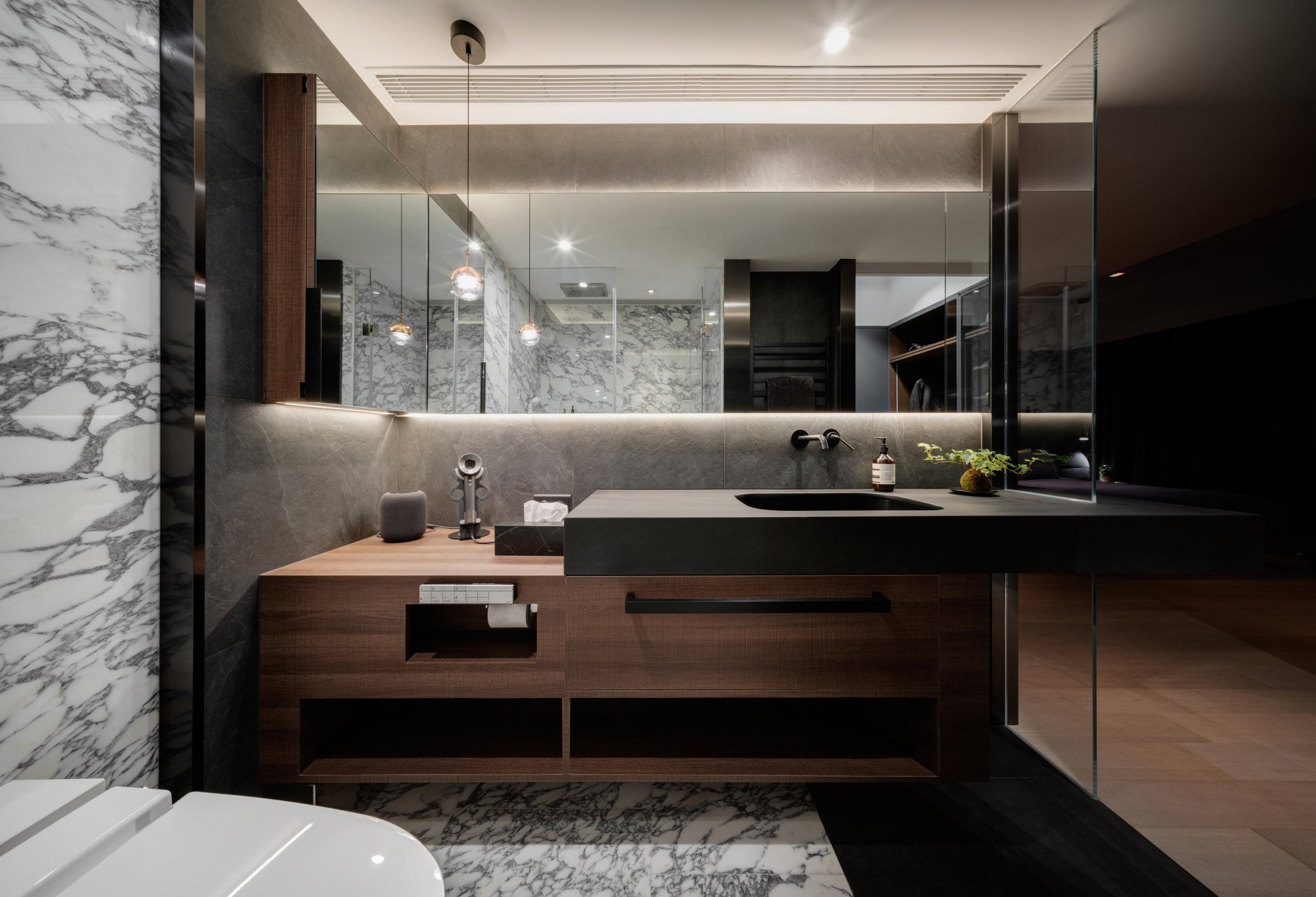 En suite bathroom
Simplex Interiors extended the existing white marble bathroom by removing one wall and adding a new sink and vanity unit. The mirror cabinet and vanity were designed and custom made by Simplex Interiors, with a black quartz stone worktop.
The black under-counter sink by Cielo and Newform taps were from Acqua (188 Lockhart Road, Wan Chai, tel: 2470 9007). The Dora pendant light was from Seed Design.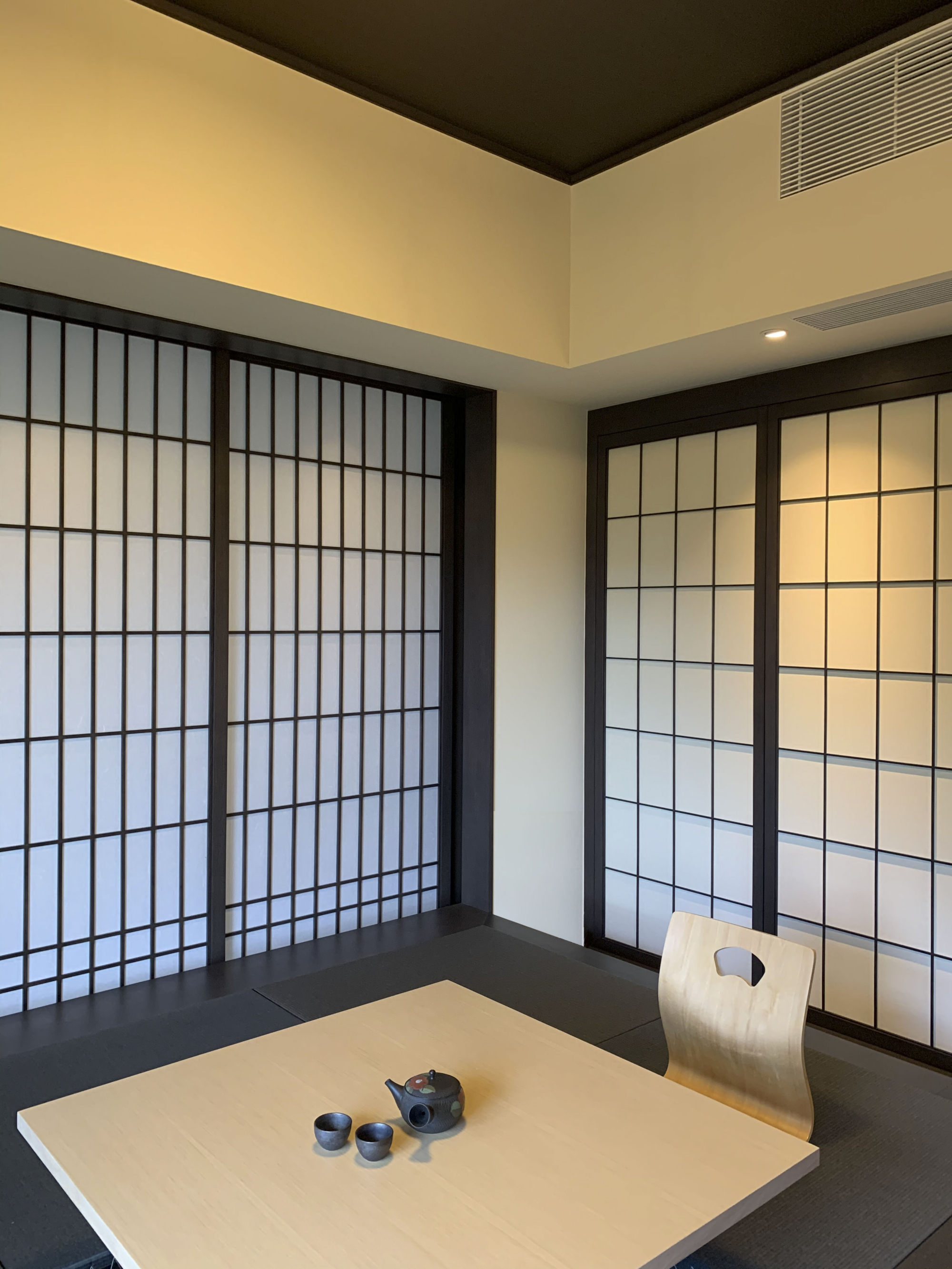 Tried + tested
The centre tatami mat in the washitsu hides a secret: a square table that "pops up" from the raised floor via an electric lifting device from Kinetic Hardware (315 Lockhart Road, Wan Chai, tel: 2575 7721). Like most things in the flat, it is remote controlled.
Rebecca Chan, of Simplex Interiors, who designed and custom built the table, also had a power socket installed beneath the table so that it can be used for shabu-shabu hotpot parties.
Once the table is up, the surrounding tatami mats double as seating. The shoji screens (left) came from Tat Ming while the bathroom doors (right) were custom designed and made by Simplex Interiors.