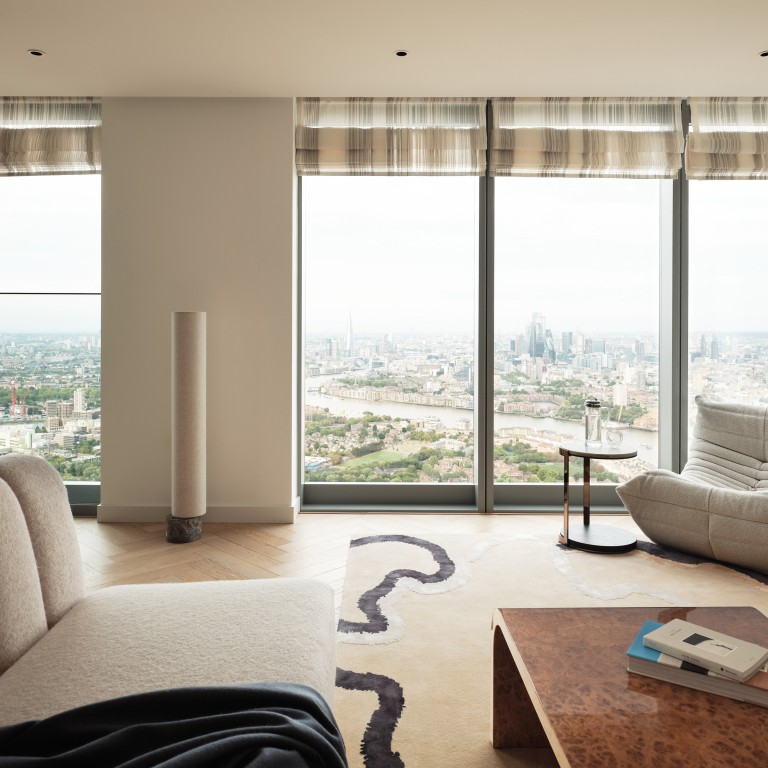 A home from home with a view of London landmarks is filled with custom furniture, soft colours and paintings of Hong Kong
A Hong Kong family wanted their 68th-floor flat in one of the tallest towers in Canary Wharf, London, to feel like home. They turned to Nora Chou for help
The interior designer took inspiration from the city for the colour palette, leaned heavily on custom furniture and featured paintings inspired by Hong Kong
When their children flew the nest to work and study abroad, Hong Kong parents May and Joseph Cheng wanted a central base that would keep the family unit grounded.
London seemed a logical place for their secondary residence, so they secured an off-plan 68th-floor flat in Landmark Pinnacle, one of the tallest towers in Canary Wharf.
The three-bedroom, two-bathroom, 1,169 sq ft (109 square metres) flat would be a lock-up-and-leave solution that allowed all four family members to come and go. It was also big enough for all to be together when their schedules aligned.
Despite the flat being newly built, the owners knew that the cookie-cutter developer aesthetic would not feel homely enough. Interior designer Nora Chou, who works in both Hong Kong and London, was assigned to work her magic.
Chou's brief was for a do-over of the bedrooms, living room and dining room, leaving the kitchen and bathrooms untouched. For this she took inspiration from the flat's spectacular views, particularly at sunset and sunrise.
The Chengs' building is "pretty much right on top of the River Thames", Chou says. "On a clear day, you can see some of London's most famous landmarks, like The Shard and Tower Bridge. It's quite rare to be able to overlook London from that perspective."
When she was engaged for the project, in 2019, the impact of Brexit and Covid-19 were yet to be felt. Chou, who was provided with physical access to the property only this year, had to work from the developer's plans.
"Throughout the design process there were many uncertainties," she says. "Apart from the lockdowns and travel restrictions, we had to contend with shortages of raw materials and workers, leading to price increases and delays. Managing suppliers became a balancing act from our end."
Mainly, Chou says, the clients wanted a European base that they could visit, but that felt like it was an extension of their home in Hong Kong. They also specified that the bedrooms, although quite small, should double as workspaces, and that the furniture orientation should optimise appreciation of the views.
Taking a cue from the hues of the surrounding cityscape, Chou chose a palette of soft blues and burnt ambers reminiscent, she says, of colourways you would see in the sunrises and sunsets enjoyed from the flat. To balance the architectural form of the building, she also played with organic curved shapes, proportions, size and materials.
Ninety per cent of the furnishings were custom made.
"Custom design provides a sense of uniqueness," Chou says. "It also means the scale of the furniture can suit not only the space it's designed for, but also the owners' specific comfort preferences."
A bespoke approach can also over­come inherent constraints. For instance, in the bedrooms, tall upholstered head­boards provide a luxurious focus, visually countering the petite dimensions of the rooms.
Texture is added with natural wood and textiles, including a hand-tufted wool and bamboo silk bespoke rug in the living room from Chou's recently launched Sky & Earth collection, designed exclusively for British luxury brand Silk Avenue.
"The reason for using two different mediums and pile heights in the rug relates to my design ethos of creating layered moments through design," Chou says. "The matte finish of wool paired with bamboo silk, which has a light sheen, is reminiscent of how light is often reflected through nature. It is a play on both texture and surface."
This juxtaposition of contrasting finishes – also seen in a high-gloss sideboard and lacquered coffee table against other matte textures – adds another dimension to the space. "It's not just what you see in front of you, but also how items are seen through other furnishings," Chou says.
Since her retirement, May Cheng, always a keen photographer, has taken up painting. To remind the family of home, her works in both mediums – landscapes of Hong Kong and her favourite floral arrangements – are incorporated into the decor.
The design project was completed in August, and "we just love it", May says.
For the Cheng family, their new London flat is more than a convenient pied-à-terre – it truly is a home away from home.
Living area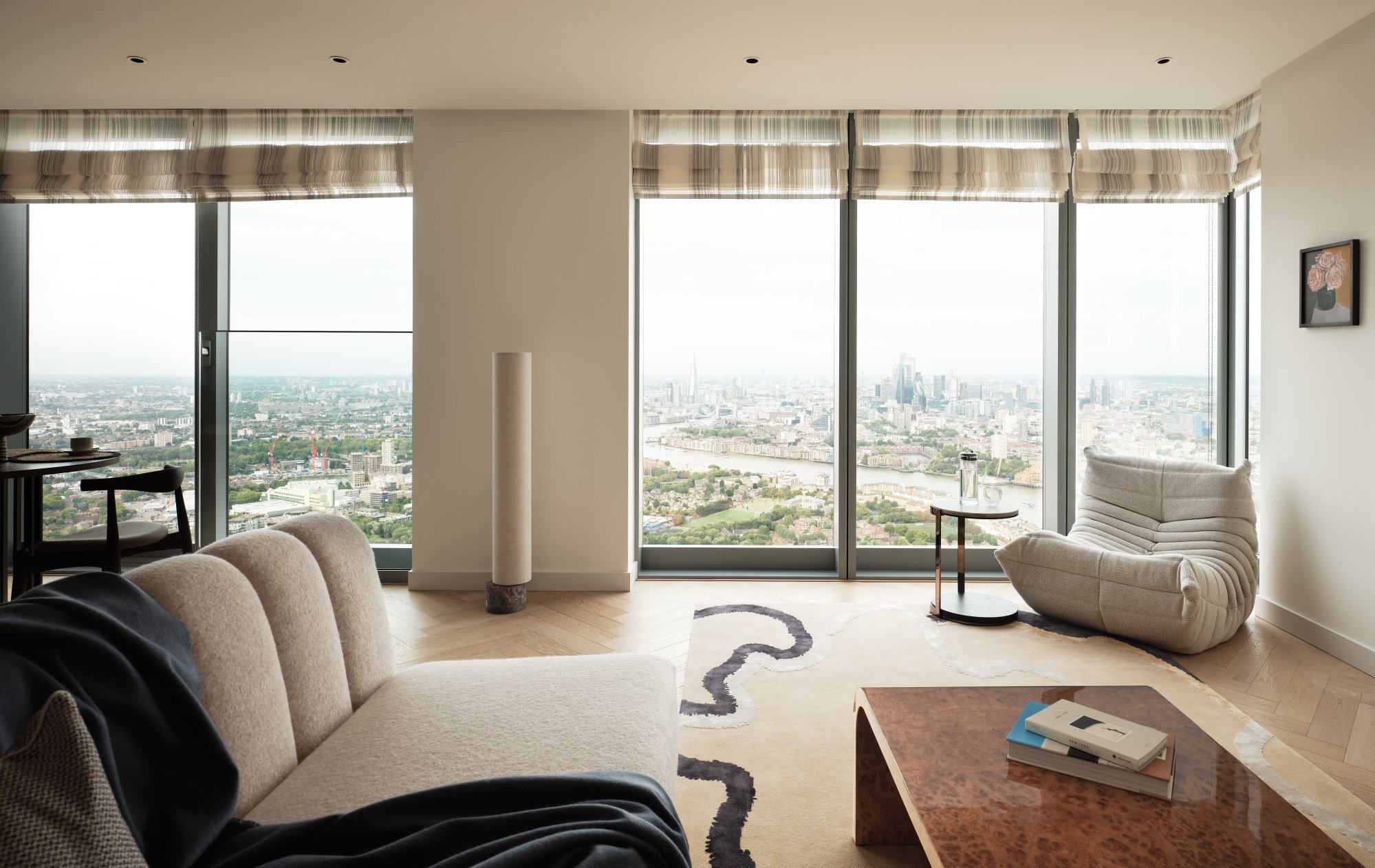 The living room, with London skyline views, is furnished with a custom sofa and coffee table, both designed by Nora Chou (norachou.com) and manufactured by Recoire (recoire.com). The Togo chair was from Ligne Roset (ligne-roset.com). Next to it is a Calacatta Gold marble-top occasional table from Molteni&C (molteni.it).
The artwork on the wall was painted by homeowner May Cheng. The contemporary floor lamp was from Haus (hauslondon.com). The bespoke rug, Flow Ombré in a Sunrise colourway, is from Chou's Sky & Earth rug collection, designed for Silk Avenue (silk-avenue.co.uk).
The Roman blinds, in Skyward fabric by Pollack Associates (pollackassociates.com), were made by Recoire.
Living room detail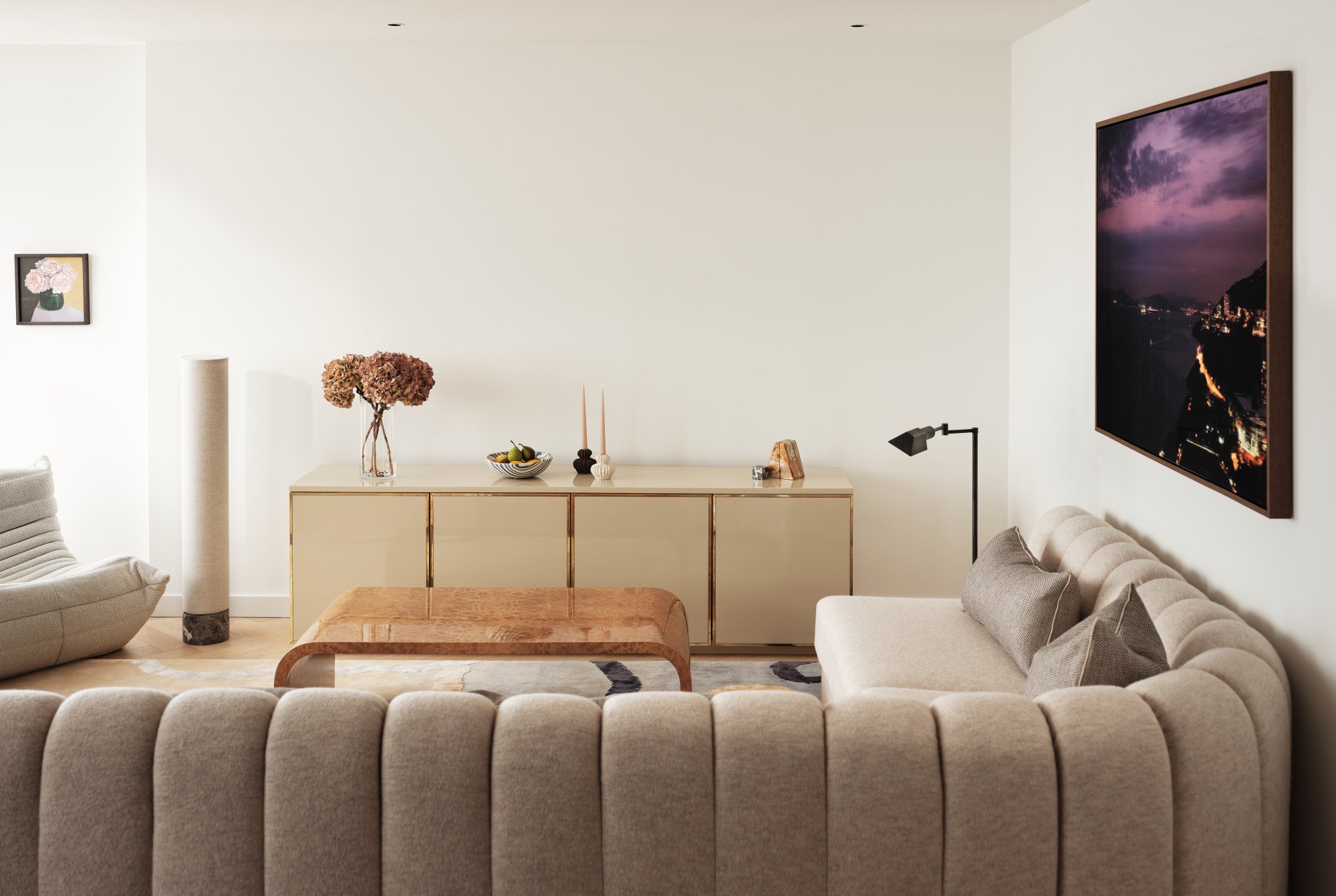 The sofa is a custom design by Chou, its seat depth reduced 5cm (two inches) to 65cm to suit the owners' requirements. It was manufactured by Recoire in a Holland & Sherry fabric (hollandandsherry.com).
Against the far wall is a custom-designed high-gloss lacquered sideboard spray-painted in Dulux's Ancient Sandstone Heritage Paint (dulux.com) with antique brass metal trim. The adjustable reading lamp came from Circa Lighting (circalighting.com).
On the wall is a framed photo of a Hong Kong nightscape, brought by Cheng from the balcony of the family's Pok Fu Lam home.
Living room detail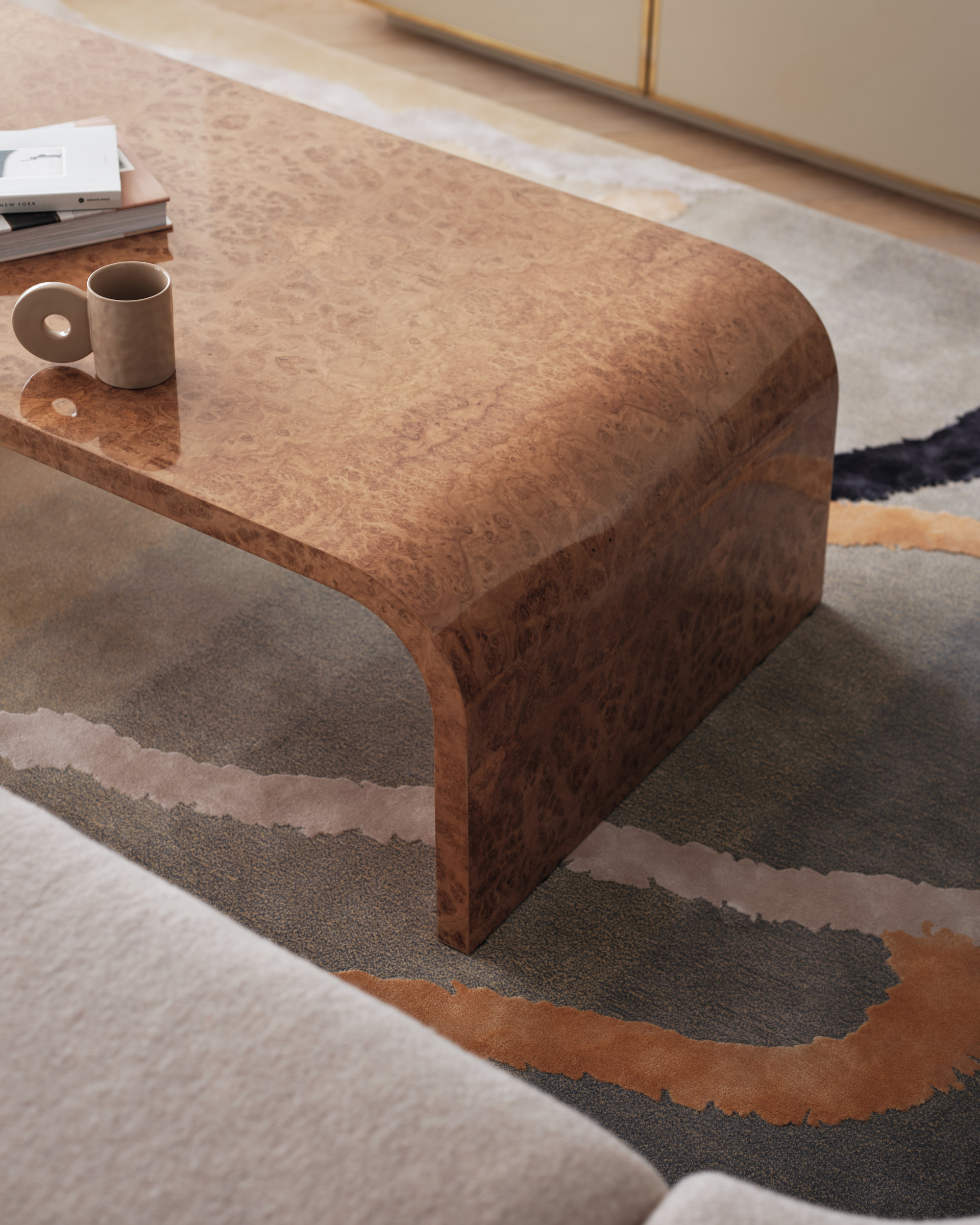 Warm tones from the custom lacquered burr oak veneer coffee table complement the neutral wool sofa and the Flow Ombré rug from designer Chou's Sky & Earth collection.
Dining room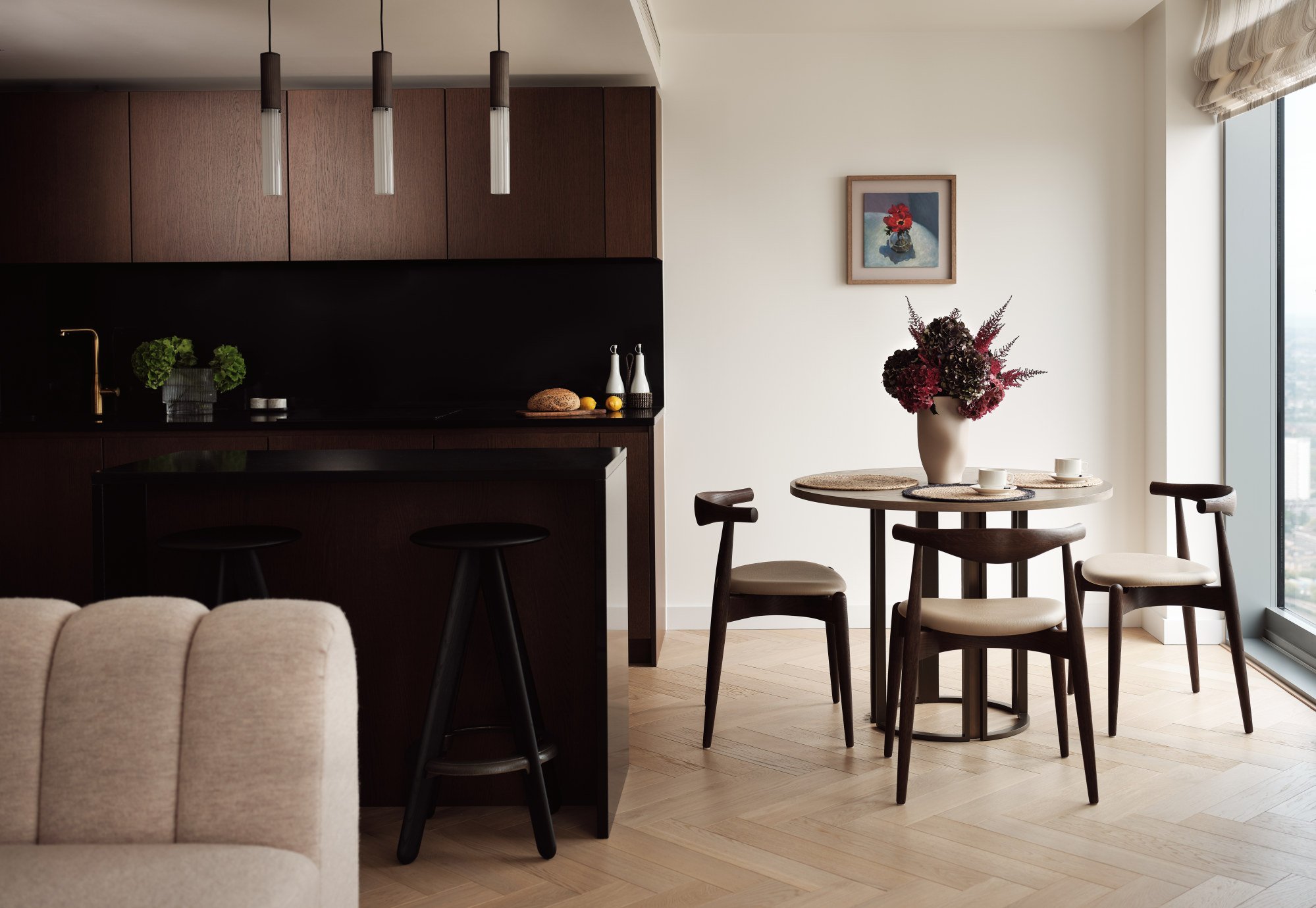 A customised dining table with inset brass details at the bronze metal base and a light-grey-stained timber top – manufactured by Loom Furniture (loomfurniture.co.uk) – is paired with Hans J Wegner CH20 chairs by Carl Hansen & Søn (carlhansen.com).
The Slab bar stools in black lacquered oak came from Tom Dixon (tomdixon.net) and the trio of pendant lights over the breakfast bar are Flume 50 in Bronze from J Adams & Co (jadamsandco.com).
The artwork on the wall is another of Cheng's oil paintings.
Main bedroom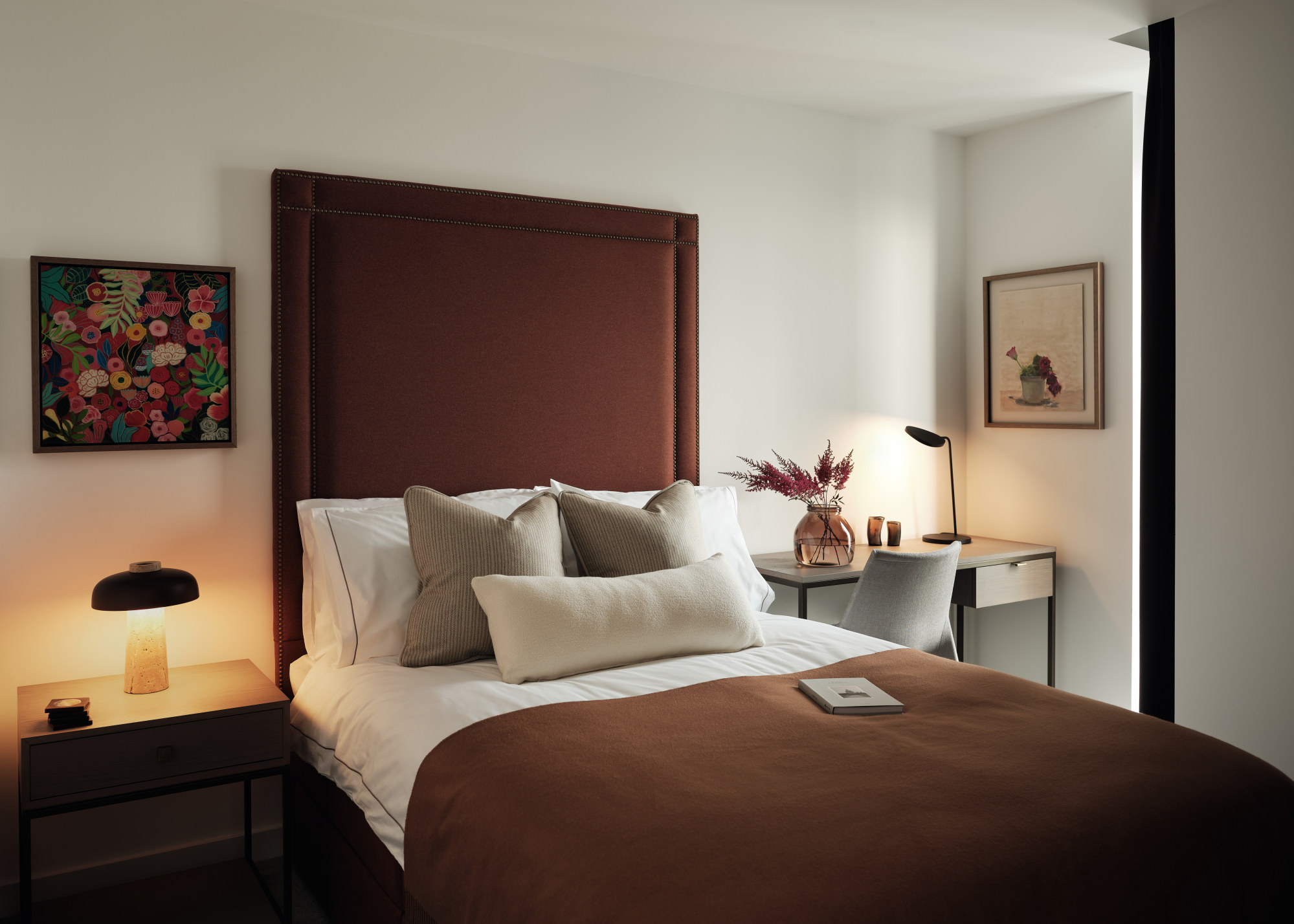 The headboard, upholstered in wool fabric from Altfield (altfield.com) and featuring antique bronze metal studs, was designed by Chou and manufactured by Recoire. The customised Hillier Bedside table was from Loom Furniture. On it is a Reverse table lamp by Menu from Haus.
The desk on the right is a custom design by Chou, manufactured by Loom Furniture, and the Muuto Leaf table lamp on it came from Haus. The upholstered desk chair was from Molteni&C. Cheng painted the artwork near the window.
The bedlinen came from The White Company (thewhitecompany.com) and the cushions were designed by Chou using custom fabric, manufactured by Recoire.
Main bedroom detail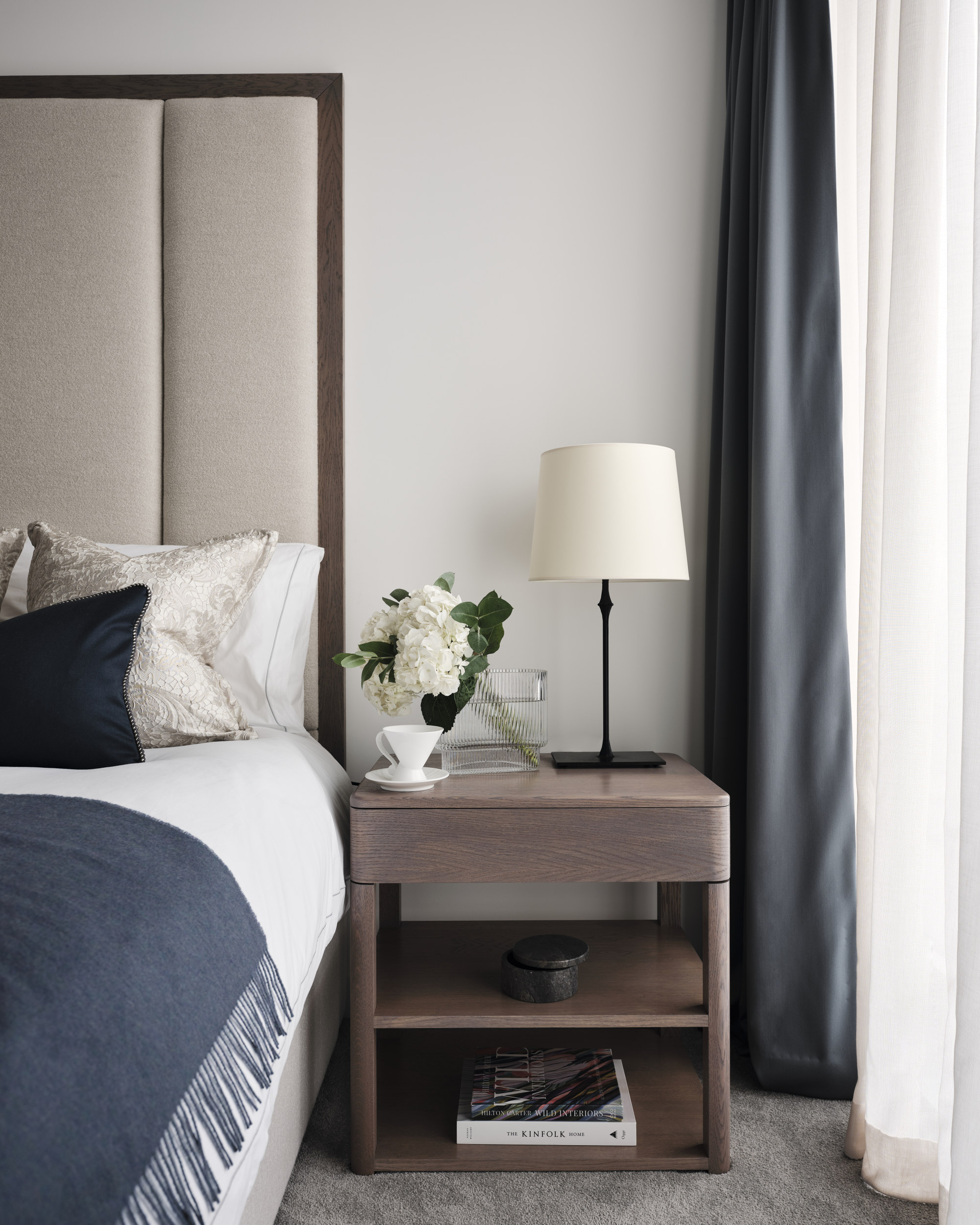 The headboard, bed base, bedside table, cushions and curtains are all Nora Chou designs manufactured by Recoire, with bedlinen from The White Company. The Dauphine table lamp in Aged Iron is from Circa Lighting
Tried + tested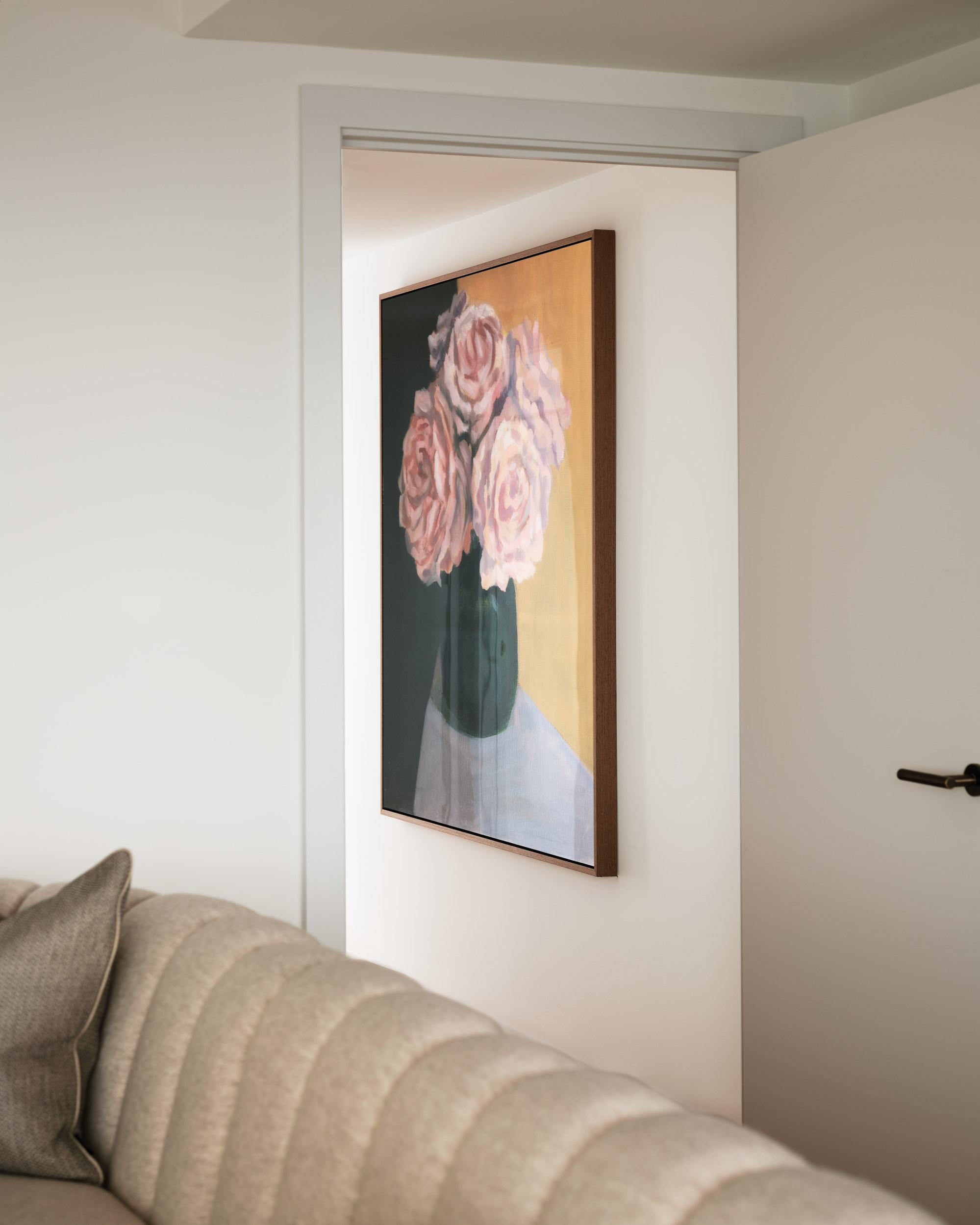 Paintings by owner May Cheng were integrated into the property to remind the family of their home in Hong Kong – in this case, their favourite cut flowers. The original was an artwork too small for the corridor.
Working with Beyond Print (beyondprint.co.uk), designer Nora Chou's solution was to scan, enlarge and frame the work, creating a print that transforms the corridor into a personalised gallery-like space.