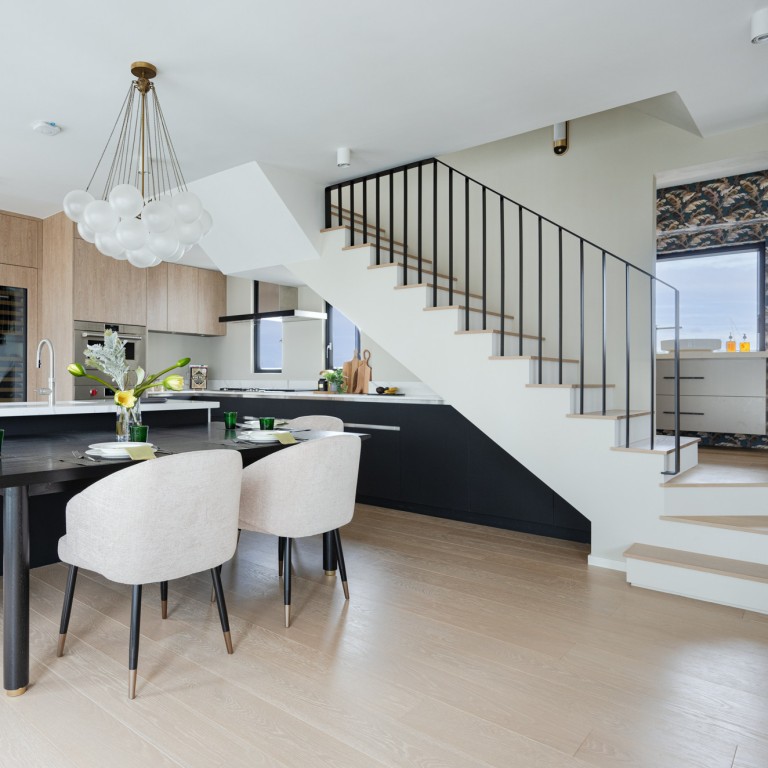 'We couldn't ignore that view': penthouse duplex radically reshaped to make the most of Hong Kong panorama and create party space
When a couple and their dogs moved into a duplex apartment with a rooftop in Hong Kong's Mid-Levels, their priority was opening it up to host friends for parties
Their architect, Damienne Joly, showed them how to create a 'priceless vista' downstairs, and added a barbecue, sitting area and drinks fridge on the roof
Soon after Covid-related lockdowns began, interior designers around the world and their clients began reappraising lifestyles. Isolation and the perceived need for rooms behind doors quickly led to predictions that open-plan layouts have had their day.
How things change.
"Counter to the pandemic, we wanted to have more friends around," says Jacob Berman, explaining some of the thinking behind the redesign of the 1,800 sq ft (167 square metre) home in Mid-Levels on Hong Kong Island he shares with Keisha Moore and their two rescue dogs. "So we actually wanted things as open as possible."
On the lower floor of their two-bedroom penthouse duplex, bought in 2021 and renovated this year, the couple enjoy an open lounge, dining area, work perch and kitchen.
But it's not just these living areas that segue into each other on this level. By the staircase, and immediately accessible, is the vanity section of a bathroom blessed with sea views.
The clever elimination of a pocket door to this eye-catching, now enlarged area (once an enclosed storeroom/helper's room), made cross breezes possible, afforded more northwestern light and, best of all, welcomed in a priceless vista.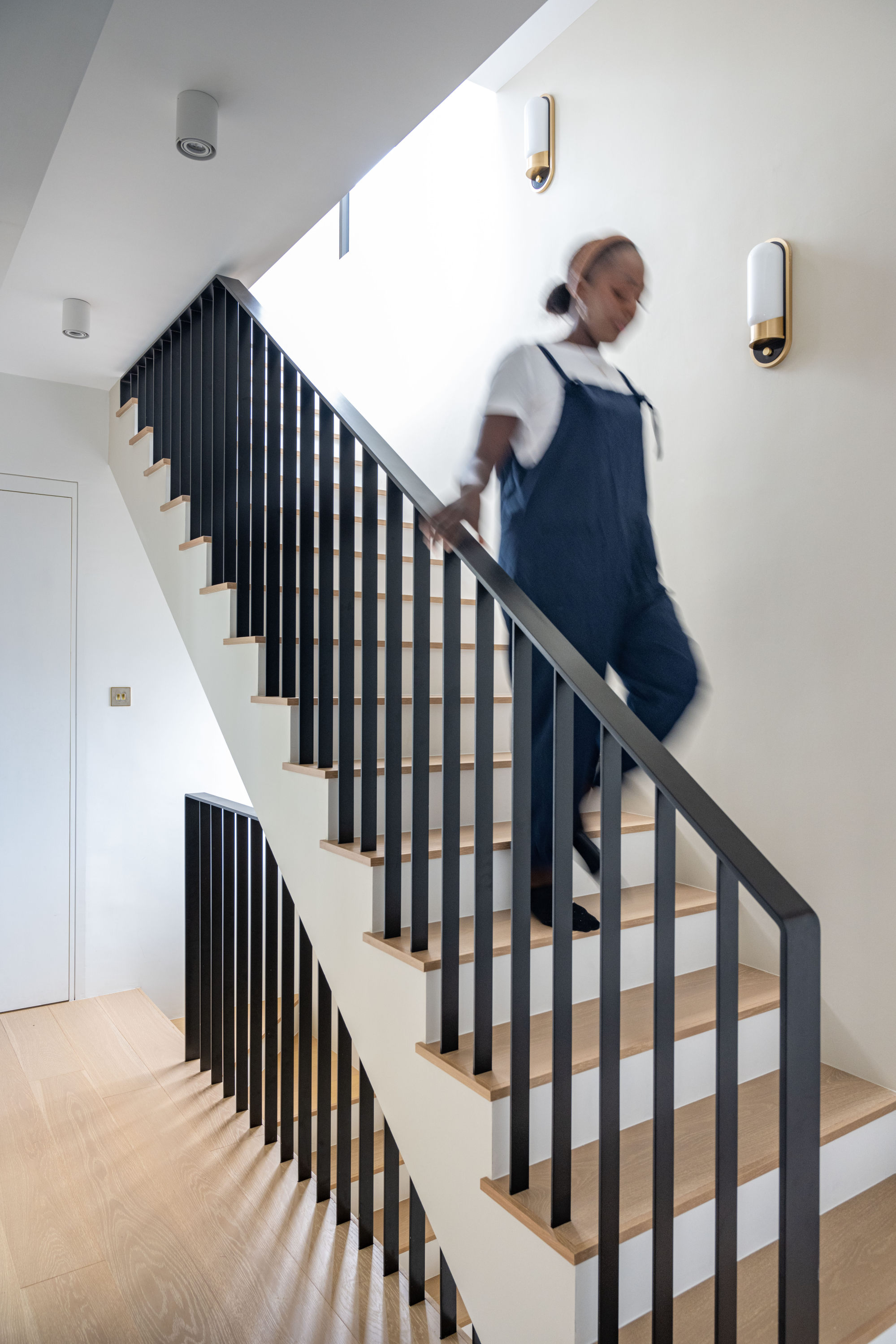 The aim was to "bring the harbour into this space", says French architect and interior designer Damienne Joly. "We couldn't be in a flat like this and ignore that view. It just didn't make any sense."
Indeed, to make the most of the residence – in a tower facing another tall building on the other side – Joly, of [studio]basalte, had to perform not one but several "flips". In the living area, she moved a previously semi-enclosed kitchen from one end of the linear floor plan to the other, where a bedroom once stood.
In the new configuration, the helper's area is behind a television wall in the lounge, and a kitchen island can have a sizeable dining table pushed up against it or shifted away to seat eight. Space for get-togethers is generous.
Although it is now hard to imagine the layout having been anything else, such is the ease of flow between the areas, Joly's clients had initially anticipated minimal changes to the 13-year-old duplex.
Perhaps, they thought, it needed just a lick of paint and other basic modifications to introduce more neutral tones and remove hints of what they believed to be its show-flat origins – think mirrors and other shiny surfaces to enhance the impression of size.
"But then [Damienne] came in and showed us what you could potentially do," says Berman, a Hong Kong-born Dutch-American who works in finance.
Trust came easily because Joly had refurbished the homes of other members of the Berman family. She had also designed the previous flat he had shared for a short time with Moore, a human resources professional who moved from New York to Hong Kong a year ago.
That 800 sq ft unit, also in Mid-Levels, started to feel tight when it became home not only to the couple, but also the dogs.
A property search in the area led swiftly to the penthouse, which appealed because it offered living on multiple levels. Importantly, it also had outdoor areas: in addition to two Juliet balconies is a private rooftop that feels like an eyrie. Except that this dramatic space, with panoramic views, has been equipped for entertaining.
A barbecue plus built-in stainless-steel cabinets and a drinks fridge serve a sitting area plus a separate, raised dining platform. Look below and the conurbation almost overwhelms; to the horizon and there's the sea; inland and greenery grips.
While an adrenaline buzz naturally accompanies the rooftop, just below, calmness washes through the bedroom floor, where a meditative artwork by Peter Yuill hangs from a wall at the bottom of the staircase.
On this floor, Joly knocked three bedrooms into two, removed a covering that had hidden a skylight, installed cabinetry that made the most of the high-ceilinged laundry and opened a small en suite bathroom to the corridor, to serve the rooftop.
"This project was super challenging," Joly says, referring to the time required to find solutions for even, or especially, the small areas. "We really flipped [things] and flipped as much as possible."
A recent housewarming party with 30 guests surely points to the success of the spatial inversions.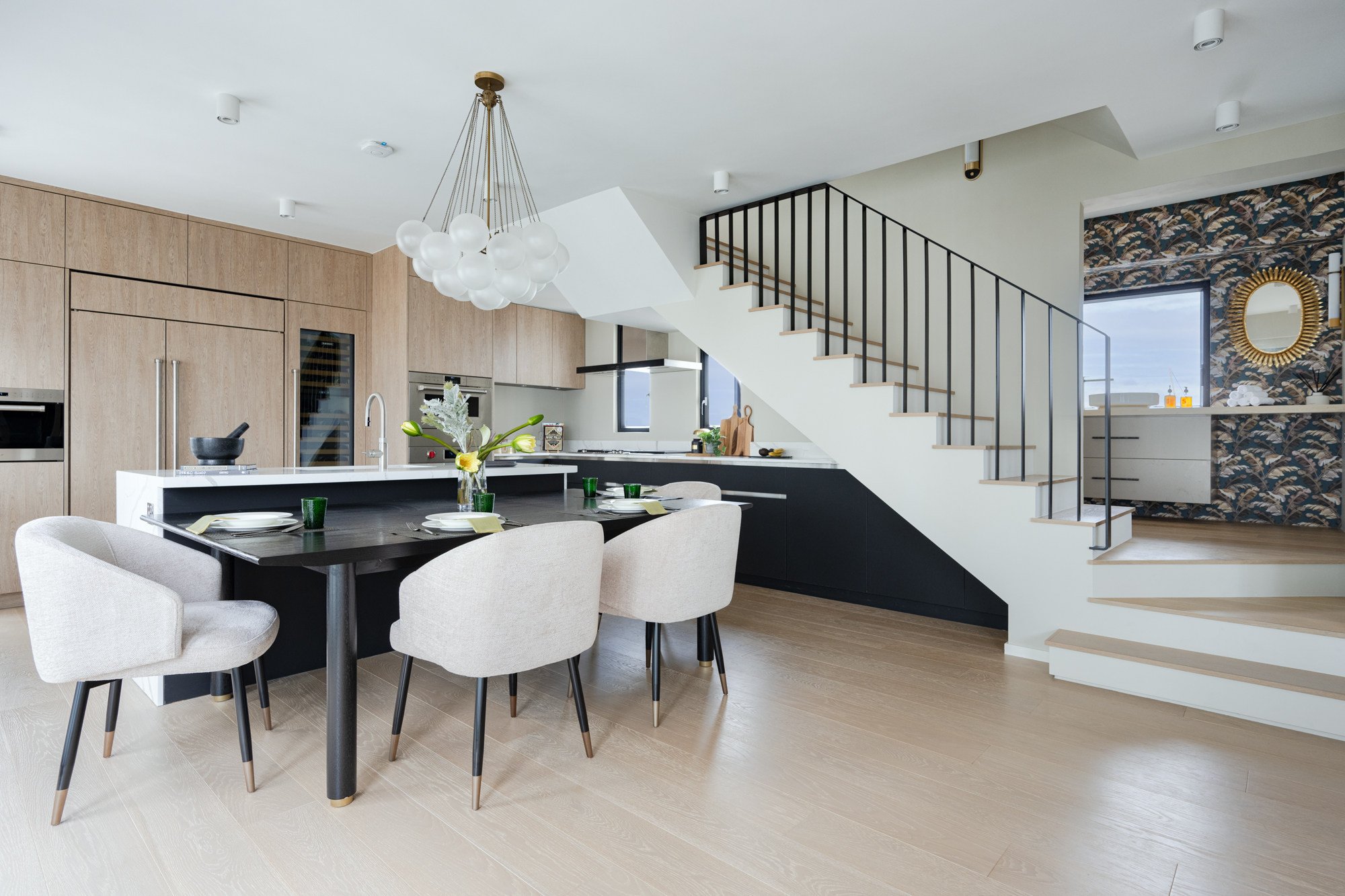 Lower floor
The kitchen, flipped to the other side of the lower duplex floor, was designed by [studio]basalte (studiobasalte.com), as was the dining table, around which are chairs from Indigo Living (indigo-living.com).
The Cloud 19 chandelier came from New York-based Apparatus (apparatusstudio.com). Yick Tai Design & Engineering (yick-tai.com) installed the engineered oak flooring.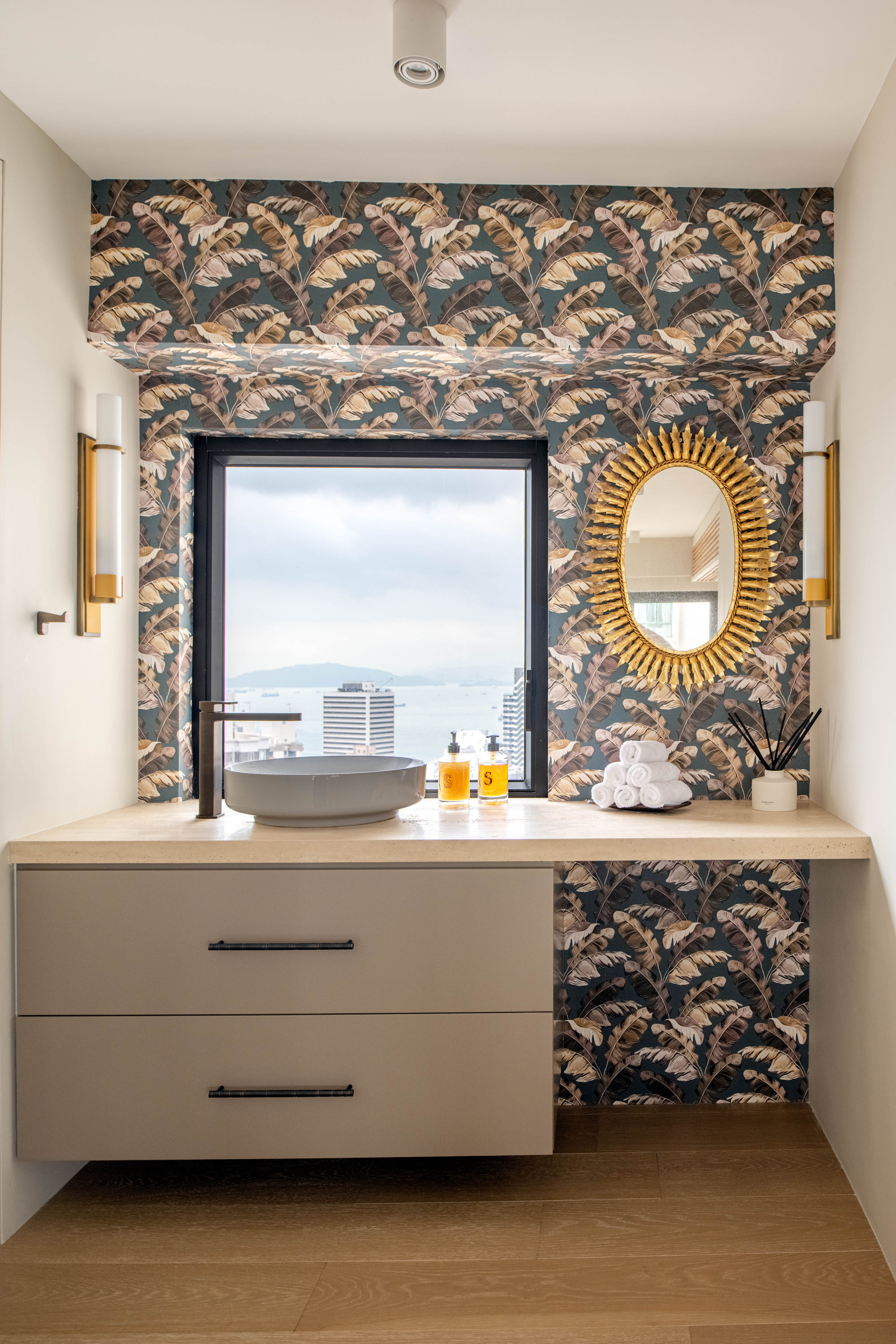 Powder room
A feature of the lower floor, the newly opened powder room is dressed with wallpaper from Maison Baluchon (maisonbaluchon.fr), an Illums Bolighus 1970s mirror picked up on 1stDibs (1stdibs.com) and sconces by Urban Electric (urbanelectric.com).
The vanity was designed by [studio]basalte, with travertine from Ka Shing Marble Contractors (1132 Canton Road, Mong Kok, tel: 2396 6368).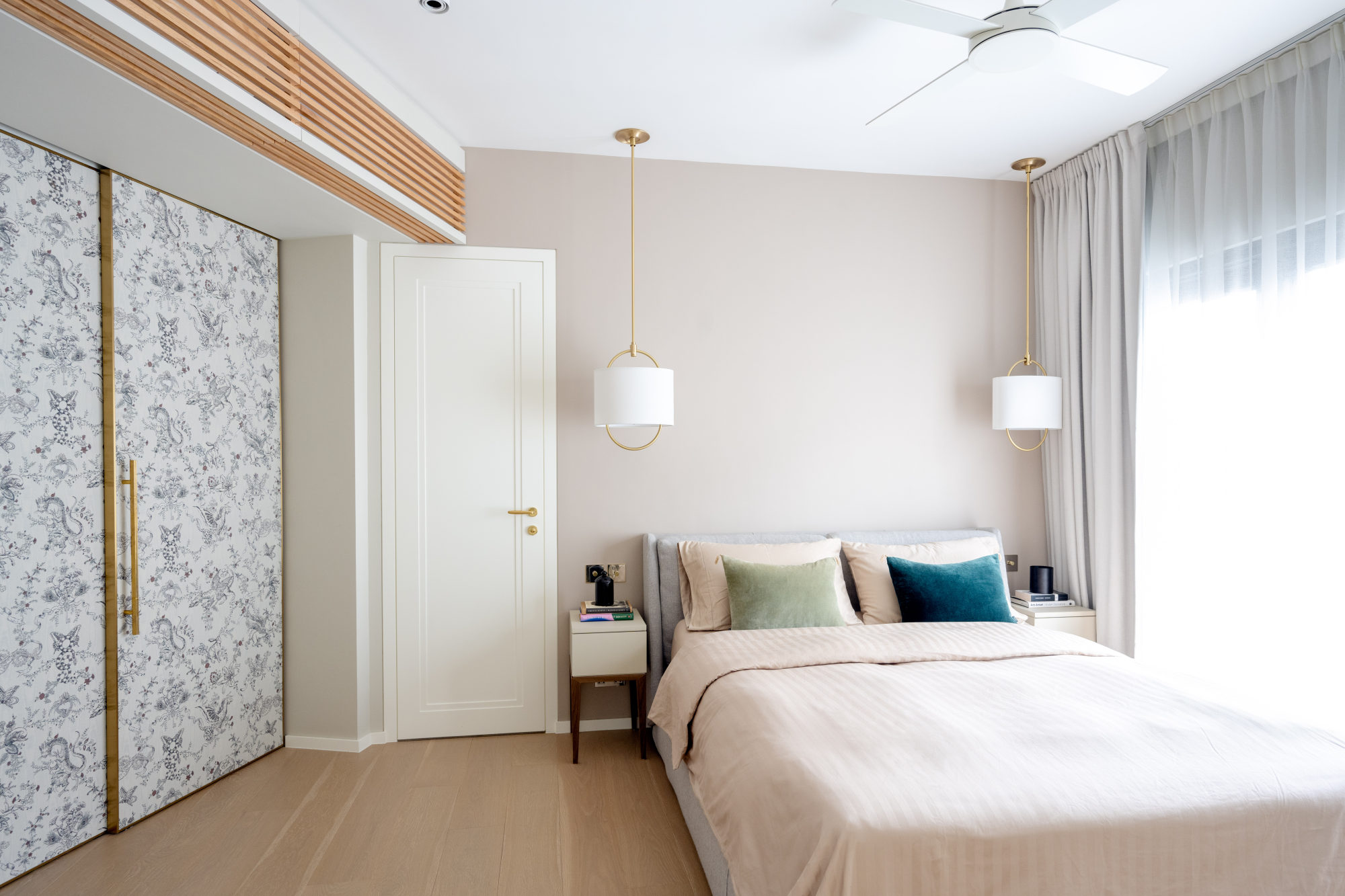 Main bedroom
On the top floor, the generous main bedroom includes two wall-to-wall banks of cupboards, and an en suite bathroom through the white door. To add interest to the cupboards beside the bed, the doors were upholstered in fabric featuring mythological creatures in Italian woods.
The Wonderland fabric, by Brochier, came from Altfield (altfield.com.hk). The Fenice storage bed, from Natuzzi (natuzzi.com), moved in with the clients while the bedside tables were designed for the space by [studio]basalte. The pendant lights were from Urban Electric and the fan from el:ar (elar.com.hk).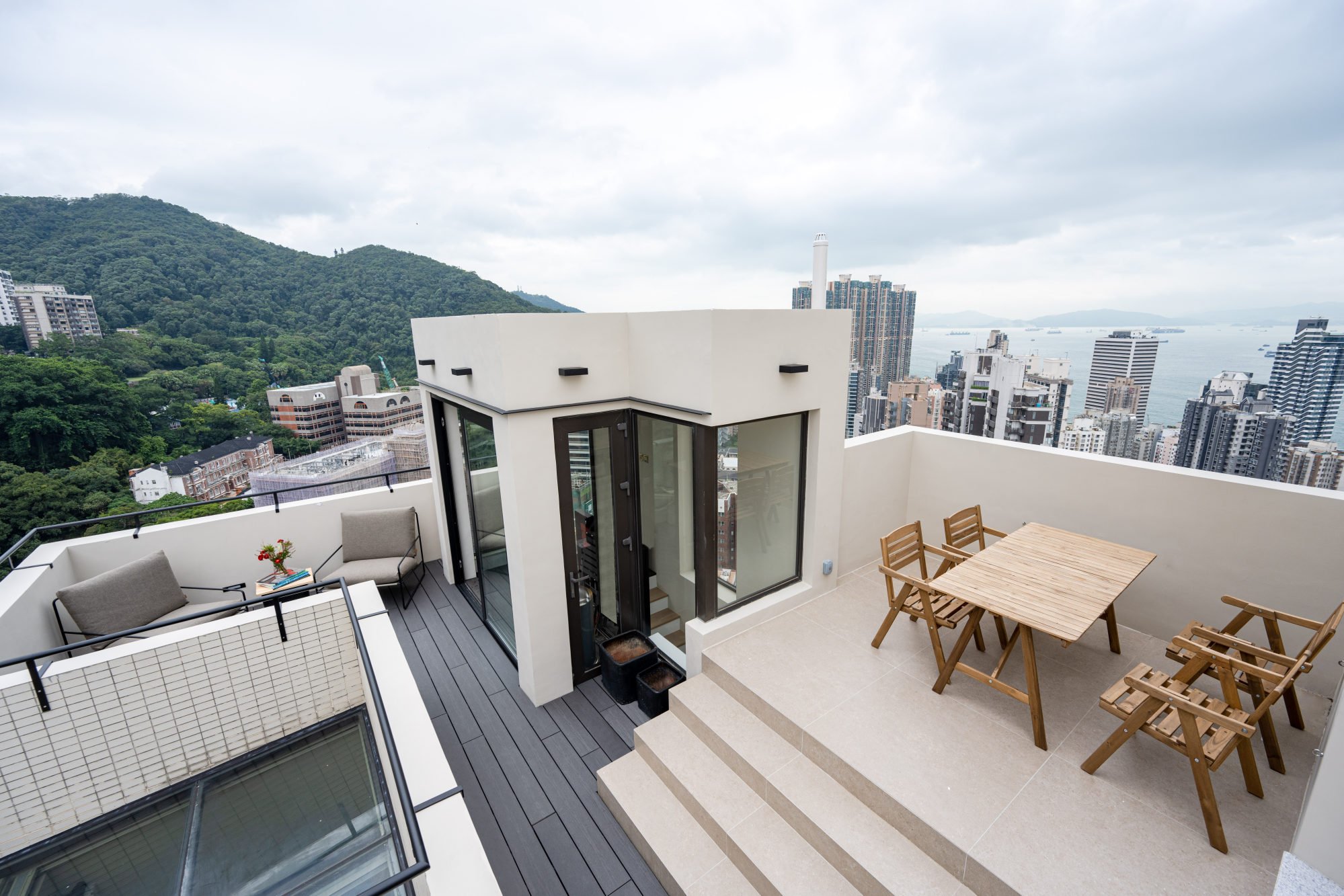 Rooftop
Enjoying a panoramic view, the 500 sq ft rooftop has separate sitting and dining areas. The placeholder set of wooden table and chairs stands on an enlarged platform and steps.
The Desert 1 Lounge Chairs came from Ferm Living (fermliving.com).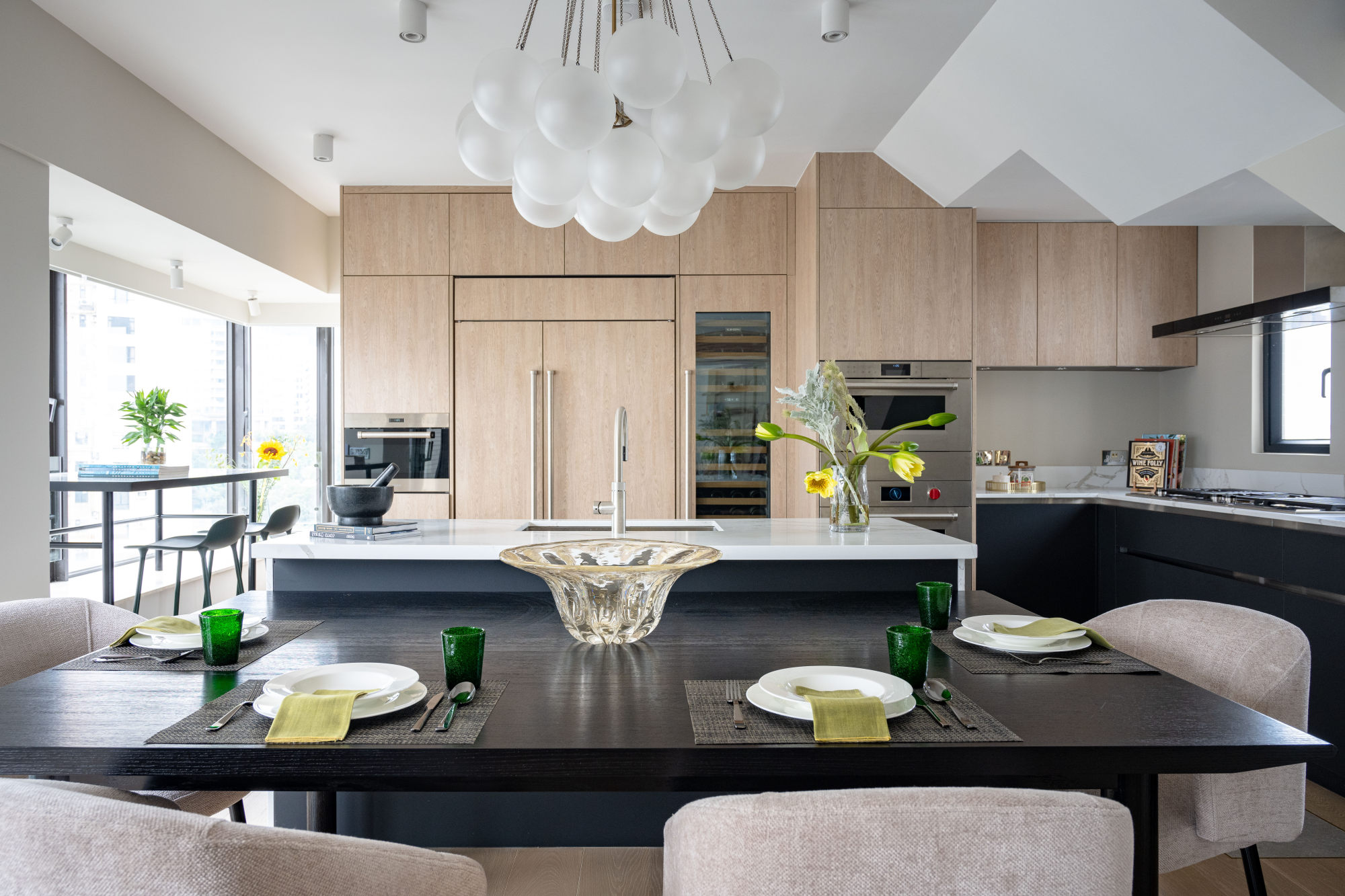 Kitchen
The kitchen, which features Technistone countertops, was built by Oui Kitchen (Wing Cheung Mansion, 78 Morrison Hill Road, Wan Chai, tel: 2833 0100).
Form bar stools, by Normann Copenhagen (norman-copenhagen.com), serve the high work table, designed by [studio]basalte.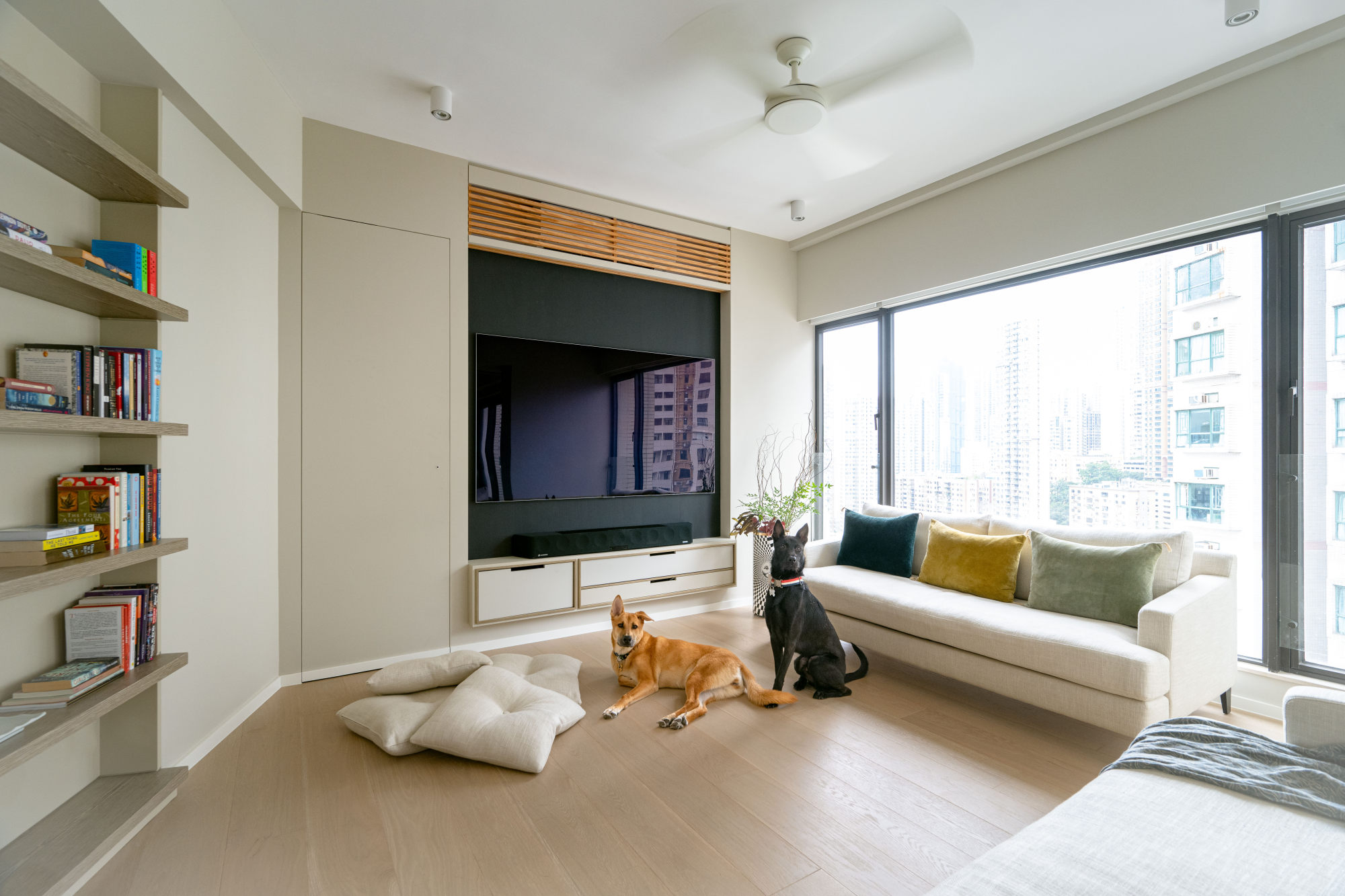 Lounge
The living area is bookended by a lounge, with shelving designed by [studio]basalte, which also designed the wall-hung television console and two sofas, the latter made by Tony Sofa (tel: 2895 3291).
The ceiling fan was from el:ar and the Solecentrismo umbrella stand-turned-flower pot from Fornasetti (fornasetti.com). The dogs came from LAP (lap.org.hk) and Paws United (pawsunited.org.hk).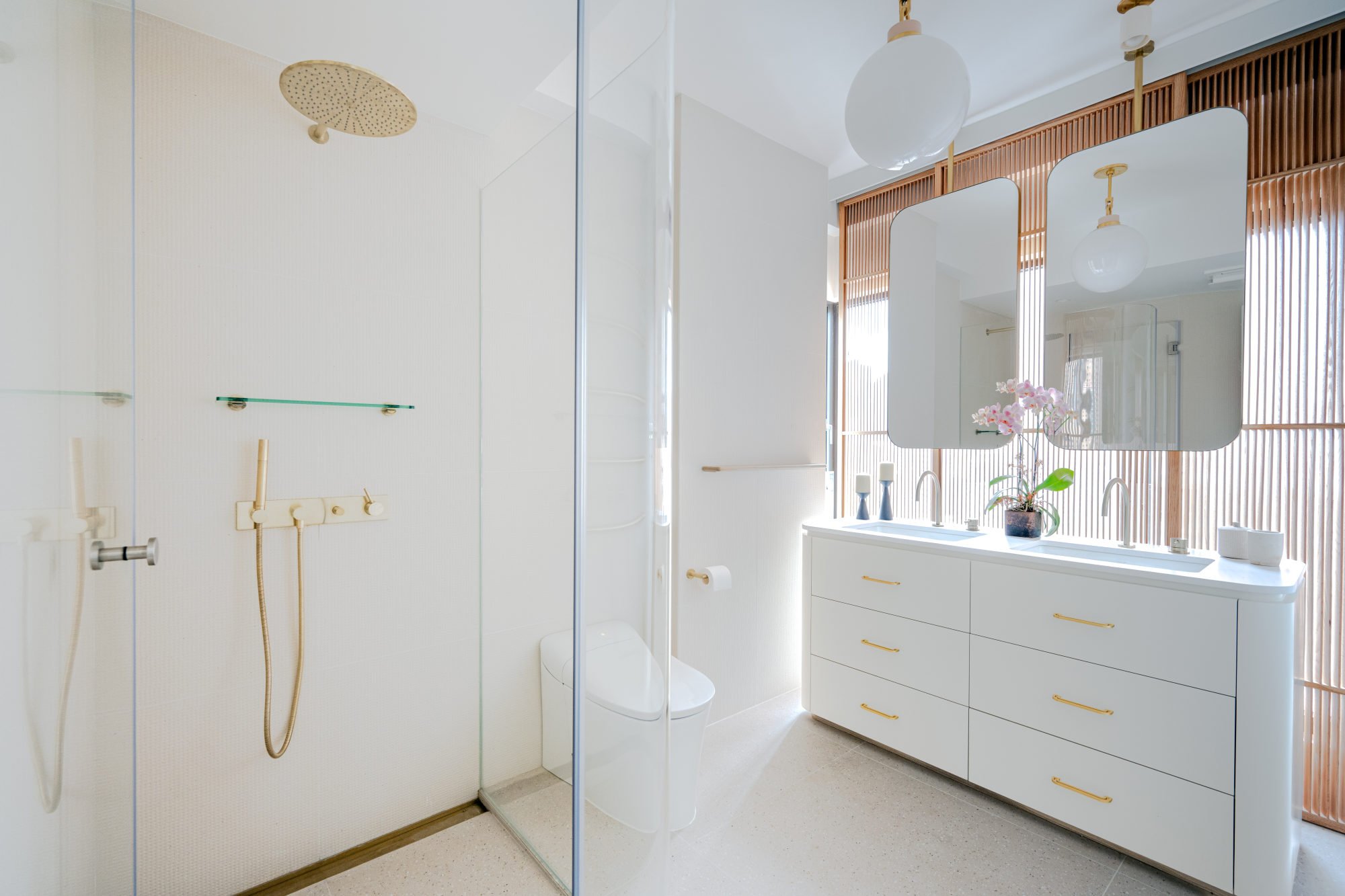 Tried + Tested
To provide privacy and light, while enabling ventilation and easy access to the glass for cleaning, [studio]basalte designed slatted sliding panels behind the his-and-hers mirror-and-basin unit.
The studio also designed the spherical pendant light, mirrors and vanity. The hard­ware, including hand shower and overhead shower, came from Astrawalker (astrawalker.com.au).
Styling: Flavia Markovits