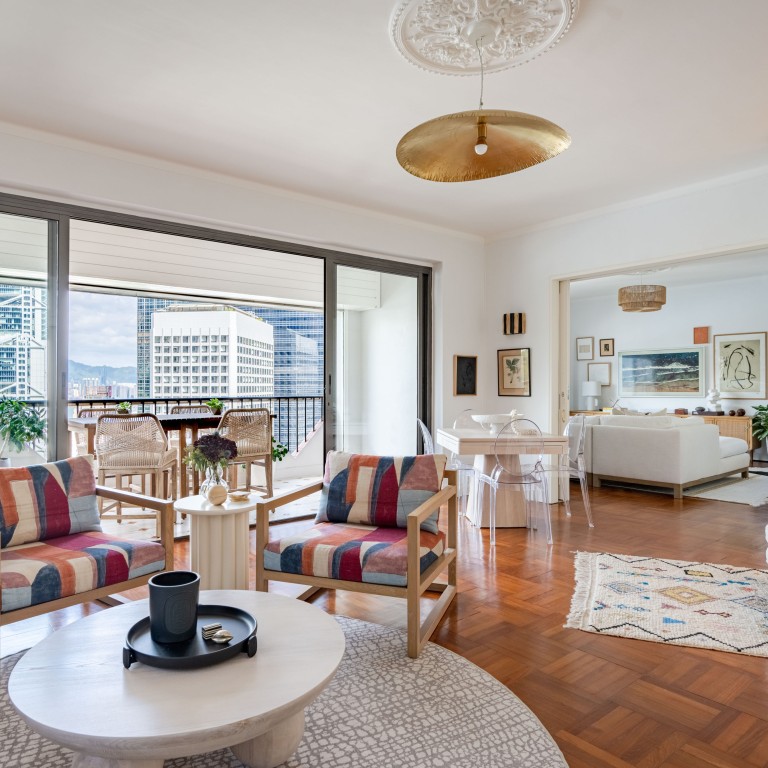 Running the Farfetch of homeware is her goal. Her family's Hong Kong apartment is a showcase for her eclectic tastes
Homeware entrepreneur Jennifer Margolin's 2,630 sq ft rental apartment in Mid-Levels shows her love for interior design and entertaining
A mix of repurposed and custom-made furniture, with a big variety of decorative features, the four-bedroom flat is warm, welcoming and calming
American-born Jennifer Margolin had just completed the finishing touches on her apartment in Old Peak Road, Hong Kong, when she was notified that complex-wide renovations were imminent.
Although she and her family initially thought they could stick it out, constant jackhammering for months on end eventually defeated them and Margolin, her husband, Andrew (a financial services executive), and their now 14-year-old daughter, Madison, decided their only option was to move.
The silver lining to this particular cloud was finding the 2,630 sq ft (244 square metre) Mid-Levels apartment they currently call home, a rental treasure in an almost wholly owner-occupied block.
"We really lucked out," says Margolin, founder and CEO of high-end floristry and gift delivery business Bydeau. "This apartment is open and bright, with wonderful high ceilings and crown mouldings – and our landlord has been amazing.
"He repainted all the rooms in the colours we chose before we moved in, in October 2021, and let us install our own lights. It is the first place that we've been able to hang our bedside lamps, properly wired in, since we arrived in Hong Kong nine years ago."
Rather than being restricted by the limitations of a rental property, Margolin got creative with it to achieve a warm, welcoming and calming home that worked for her family's lifestyle.
Although the flat has four bedrooms, they needed only two on a daily basis so she turned the main bedroom, off the living area, into a television room and adapted a fourth bedroom into a multipurpose space, complete with TRX exercise straps, anchored firmly to the ceiling, an office corner and a sofa bed.
"The bedrooms are all fairly spacious and it made sense to turn the largest one into a comfortable den," she says. "The other bedrooms [and two further bathrooms] are situated off a corridor beyond the dining area so we can close the door when we are entertaining and give our daughter peace and privacy."
Filled with beautiful, quirky keepsakes, Margolin's home reveals her love for design and entertaining. That interest spawned the multi-vendor homeware platform Belevivi, which she co-launched recently to bring luxury brands and independent designers to Asia.
"I often feel Hong Kong lacks access to the sort of unique designs that my friends in the States and Europe are constantly discovering and buying," she says. "Belevivi showcases beautiful things from all kinds of places – Morocco, Austria, Italy and Denmark – and Sasha [Dennig] and I are hoping the site will grow to become the Farfetch of homeware."
A fan of repurposing where she can, Margolin reused furniture from her previous homes, in Hong Kong and California. Interior designer Ana Foster-Adams had helped with her former home and most of the pieces she had sourced (such as the L-shaped sofa in the TV den) slotted straight into the new flat.
Others, such as the purple crescent sofa and armchairs, were given a new lease of life with reupholstering.
Along with all the window treatments, Margolin also had several pieces custom made, including the circular coffee table and the stylish mahjong table. Crafted out of pale wood with a navy-blue top, its minimal design looks stunning surrounded by four Philippe Starck Ghost chairs.
"I play mahjong every Tuesday but I don't like those typical fold-up tables," she says. "I wanted something easily accessible for my weekly games that would double up as a regular side table and not look ugly or out of place.
"I love nice things and yet I won't get upset if someone spills red wine on a rug, for example. I want guests to feel comfy here and come away having had the best time."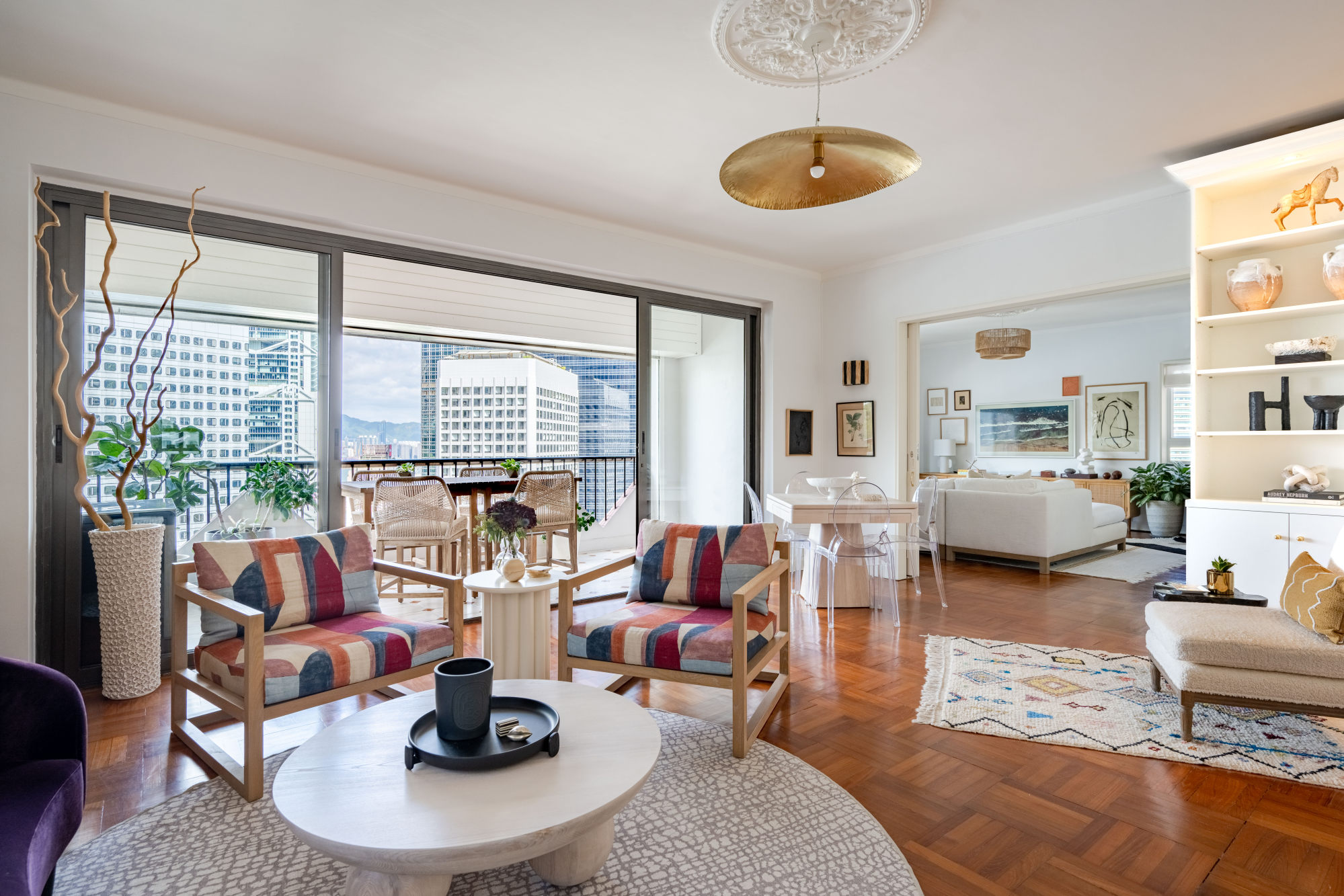 Living room
The armchairs, designed by Margolin and made by Artura Ficus, were upholstered with fabric by Kelly Wearstler (kellywearstler.com). The purple sofa came from Lucia Tait Tolani (luciataittolani.com) and was reupholstered by Permanent Resident (permanent-resident.com).
The tall vase came from a vintage shop in San Francisco years ago. The gold pendant light by Gervasoni (gervasoni1882.com) and white CB2 side table between the armchairs were sourced by Foster-Adams; the Calabash vase, by Lobmeyr, on the side table was from Belevivi (belevivi.com); and the round rug came from Ruggable (ruggable.com).
The coffee table was designed by Foster-Adams and made by Artura Ficus. The shelving came with the flat. On it are a vintage horse sculpture bought in San Francisco, urns from Tree (tree.com.hk), abstract sculptures from Taobao (taobao.com) and a knot sculpture from Lulu and Georgia (luluandgeorgia.com).
The white chair was from Bowerbird Home (no longer open) and the cushion from Lulu and Georgia.
Next to the chair is a side table from Tree and on it is a gold plant pot from Bydeau (bydeau.com). Under the chair is a Moroccan runner from Callixto (callixto.com). On the balcony are chairs from One Kings Lane (onekingslane.com) and a table from Patio Mart (patiomart.co).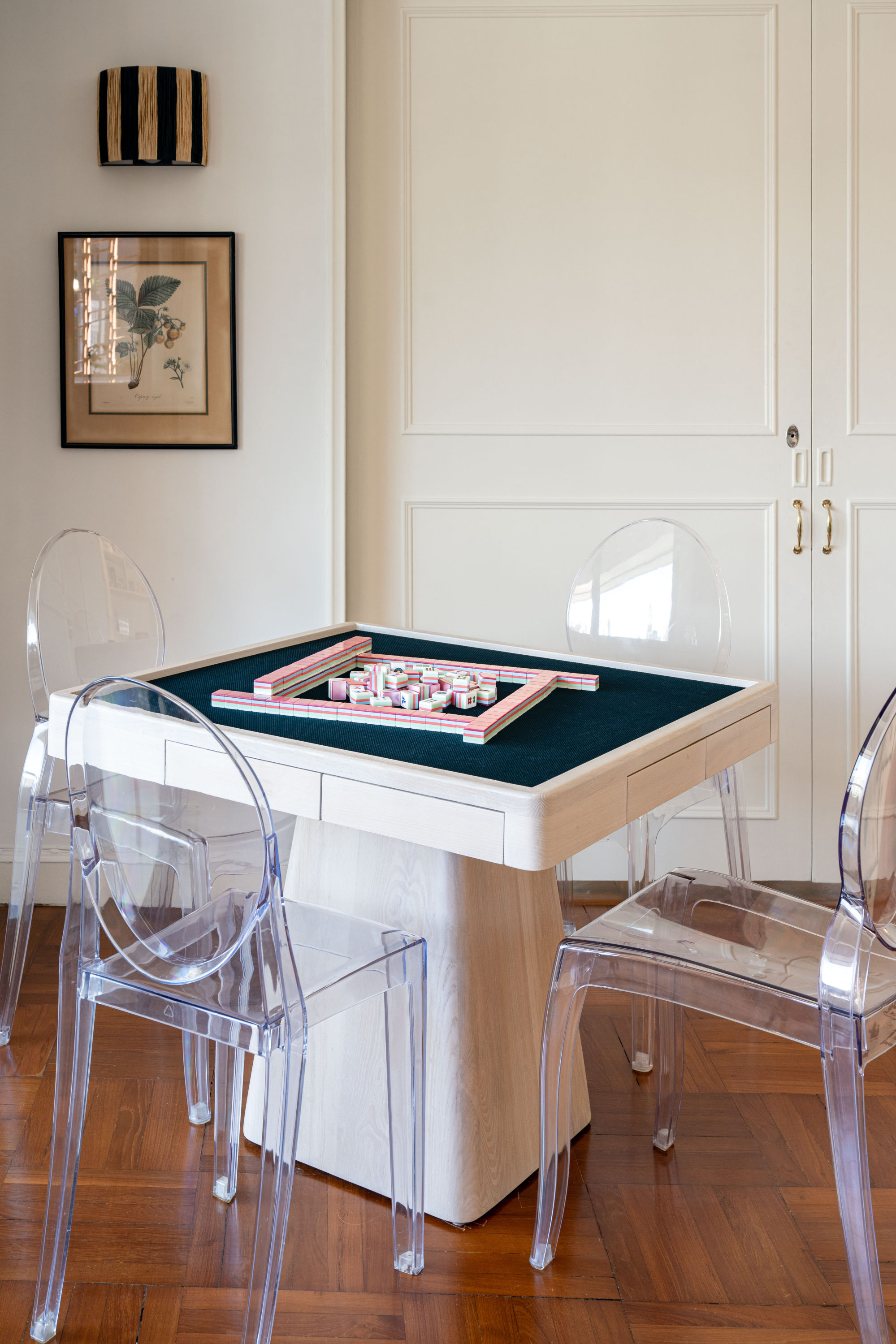 Living room detail
The mahjong table was designed by tenant Jennifer Margolin and made by Artura Ficus (arturaficus.com). The Ghost chairs are by Philippe Starck (starck.com) and the raffia wall lamp was sourced by Ana Foster-Adams Interior Design (anafosteradams.com). The flower artwork was a gift from Margolin's mother-in-law.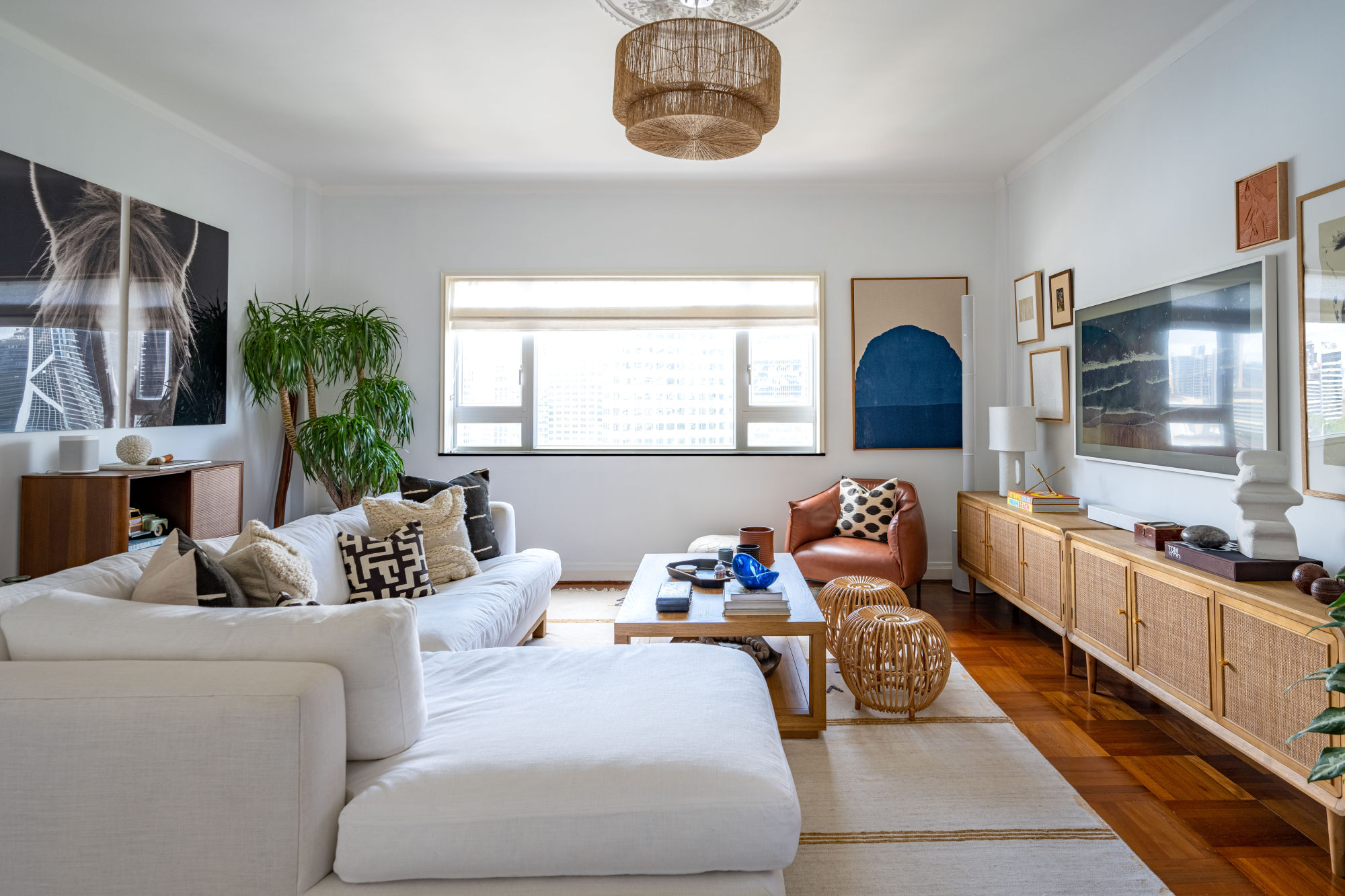 Television den
The horse photograph came from Hudson Grace (hudsongracesf.com) in San Francisco, and the small sideboard beneath it was from Indigo Living (indigo-living.com).
The L-shaped sofa was from HD Buttercup (hdbuttercup.com) and the cushions are a mix, with some made from fabric sourced by Foster-Adams and others from Lulu and Georgia, also the source for the pendant light and main rug.
Under a leather armchair from Stockroom (stockroom.com.hk) is a KHK-26 small rug by Kahoko from Belevivi. The white footstool under the window was from a shop in San Francisco and the blue painting is by Scottish artist Hayley McCrirrick (hayleymccrirrick.co.uk).
The coffee table was designed by Margolin and made by Artura Ficus. The blue glass dish came from Dinosaur Designs (dinosaurdesigns.com.au). The wicker stools and wicker sideboards were from Taobao and the lamp was from Serax (serax.com).
On the sideboards are a gold sculpture from Indigo Living; a white sculpture from McGee & Co (mcgeeandco.com); and amber balls from Sue Fisher King (suefisherking.com).
To the far left of The Frame television by Samsung (see Tried + Tested) is an artwork (top left) by Margolin's friend Niya Jaymee (instagram: @niyajaymee). Above the TV is a terracotta custom piece by Bethany Marie (bethanymarie.co/shop).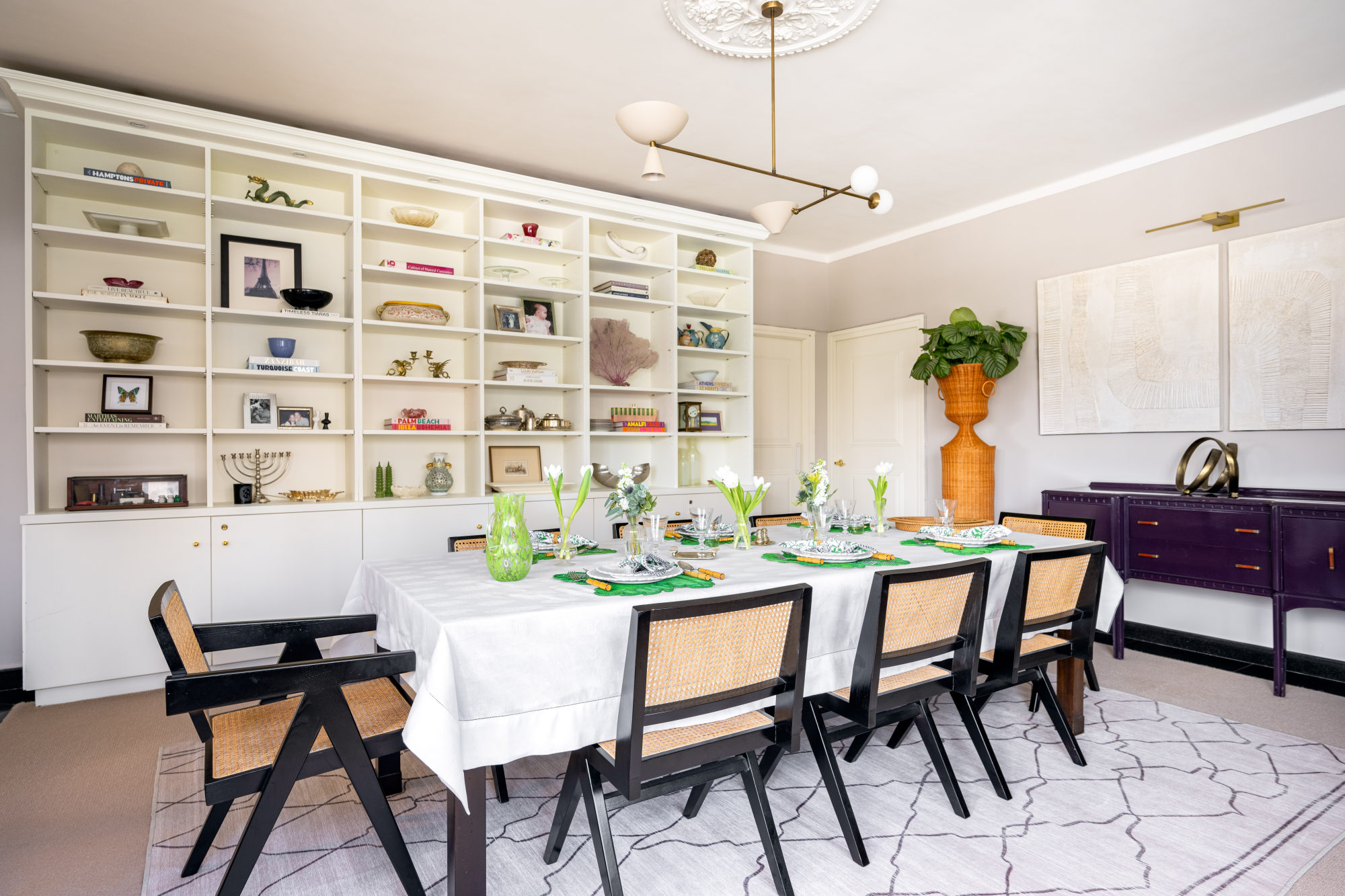 Dining room
The dining table, which came from Bloomingdale's (bloomingdales.com), was a wedding present. On it is a green Murano glass jug by Emporium Murano, stemmed wine glasses and Green Leaves table mats by Bydeau Home, Ichendorf Milano wine glasses, scalloped-edged plates by Chabi Chic, Byblos bamboo flatware by Capdeco, a Yara white tablecloth by Callixto and vases from Bydeau Flowers, all available from Belevivi.
The dining chairs were from Taobao, the artwork was from PB Studio (thestore-london.com), the wall light from RH (restorationhardware.com) and the pendant lamp from Light Cookie (lightcookie.com).
The tall wicker plant holder was found at the Yue Kee Rattan Factory (yuekee.com) and the sideboard came from a second-hand store in San Francisco and was relacquered. The sculpture was from West Elm (westelm.com) and the rug from Ruggable.
Margolin filled the shelving unit already in the flat with decorative objects, including a brass Chinese bowl that was given to Margolin when she got engaged, silver family heirlooms and a Tiffany & Co clock (tiffany.com), another family heirloom.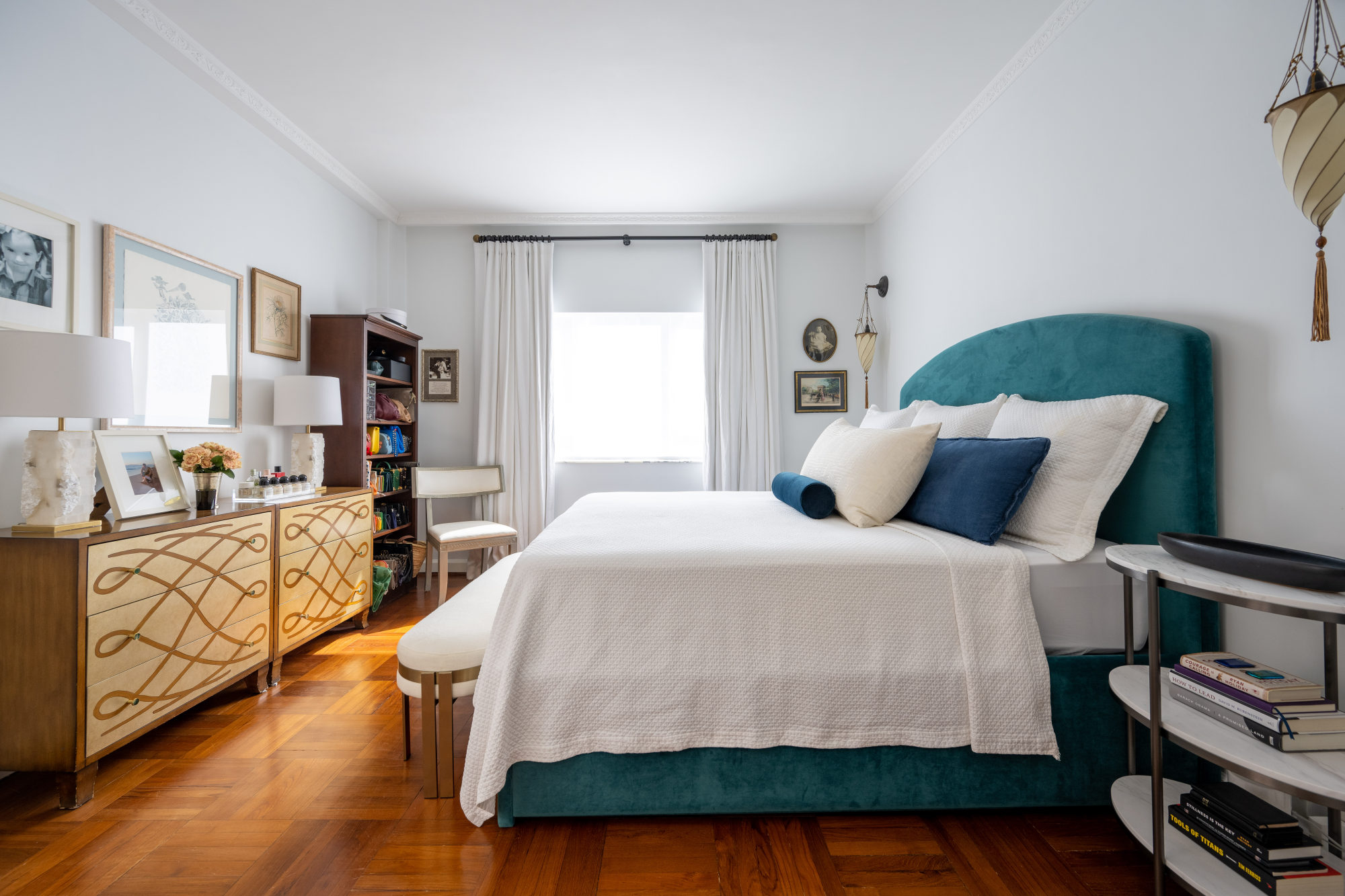 Main bedroom
The teal bed was custom made by a shop since closed. The bedside tables were designed by Foster-Adams and made by Artura Ficus. The Fortuny sconces and chair came from Sue Fisher King.
The chests of drawers were from Horchow (horchow.com) and the vintage illustrations above were from the childhood home of Margolin's mother-in-law. The lamps and the ottoman at the foot of the bed came from Shenzhen Design Center (szdesigncenter.com). The bookshelf was from Pottery Barn (potterybarn.com).
On the wall by the window is a vintage photograph of Margolin's grandmother as a child; the other artworks were found in a vintage shop in San Francisco.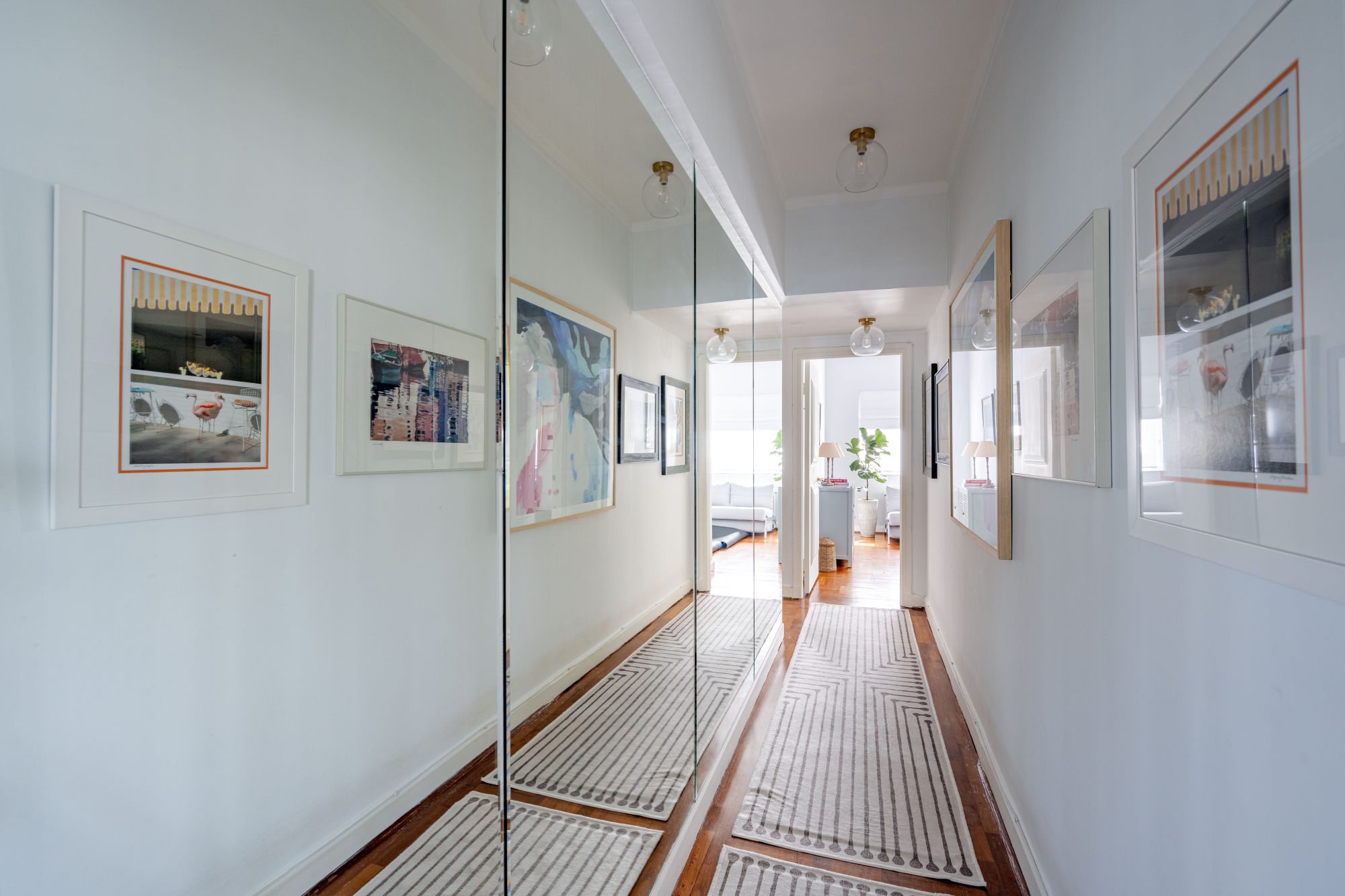 Corridor
Rugs from Ruggable and globe lights from One Kings Lane decorate the corridor leading from the dining room to the bedrooms. The art includes, from foreground to background, a work by Gray Malin (graymalin.com), a gift from Margolin's father-in-law, and one from iDecorate (idecorateshop.com).
In the multipurpose room at the end of the corridor is a grey chest of drawers, custom made by Red Cabinet, and a lamp from Tang Tang Tang Tang (both now closed). The wicker bin was from Tree. The plant pot was found at Wah King Garden Arts (wahking-garden.com) and the sofa bed was from Ovo (ovo.com.hk).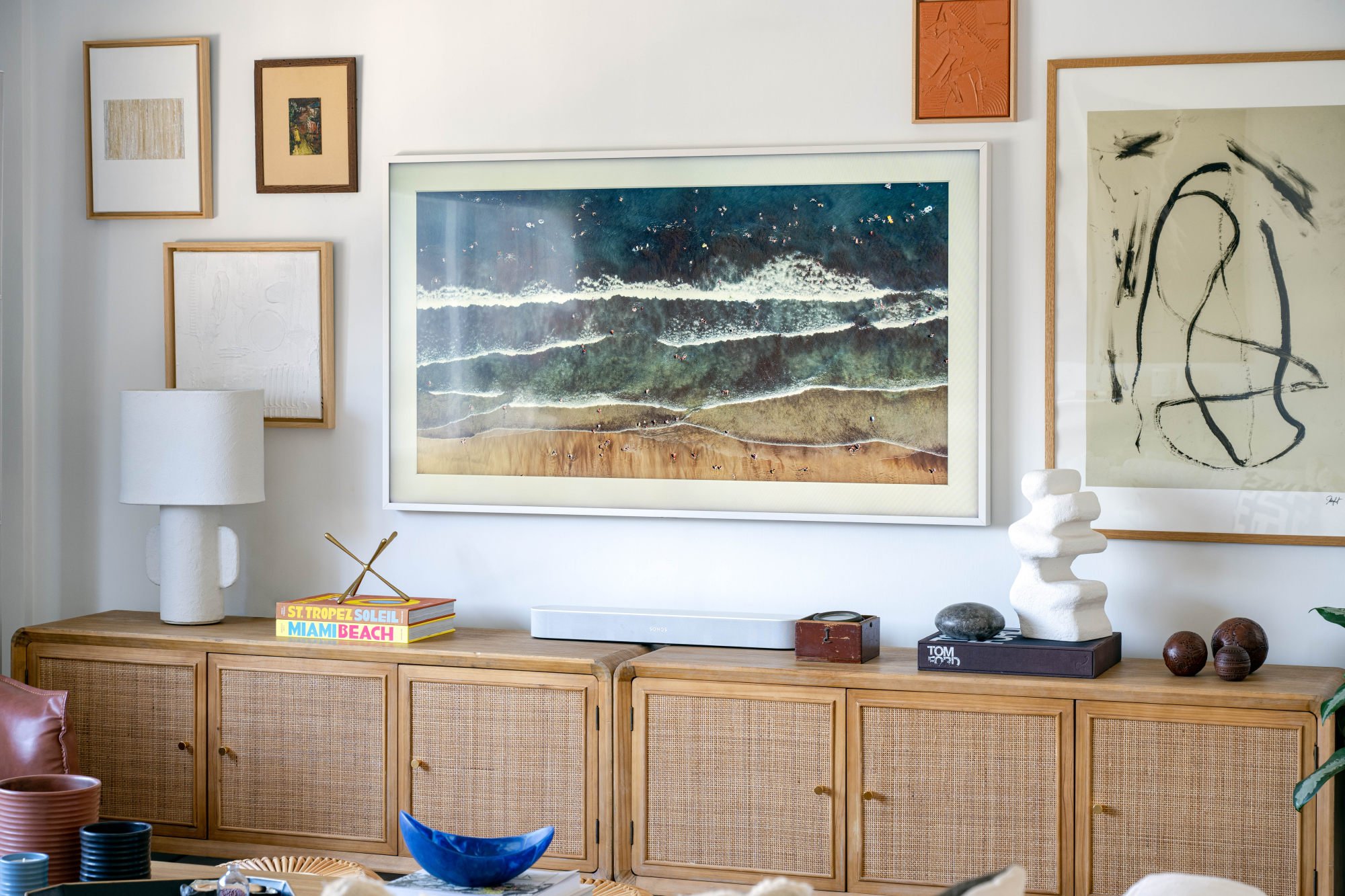 Tried + tested
Jennifer Margolin has always loathed the look of a blank television screen, so opted for The Frame by Samsung (samsung.com) in her family room. It displays the image of her choice and, when not in use, looks like a regular artwork in the centre of a gallery wall.
Styling: Flavia Markovits