People back home keep asking me about the Chinese jade face roller, as if it's something you see every day in Hong Kong! Now I'm curious. What is it and is it worth a try?
Jaded, Central
The Dictator rules: How gullible are you feeling today? I could spin tall tales about the miraculous properties of jade with all sorts of unverified historical references, claiming famous empresses relied on said tools. That's exactly what you'll find on the internet. I cannot confirm that jade rollers have been used since the 7th century, or claim that rubbing your face with one will erase wrinkles and restore you to your 18-year-old self. I can, however, tell you that in Chinese culture jade has long been associated with longevity and even immor­tality (think: jade burial suits from the Han dynasty). Believe what you like. Beyond the spiritual, I can see how a cool stone such as jade could help to de-puff (a.k.a lymphatic drainage), and a rolling action might increase absorption of a facial product.
The Mandarin Spa offers the perfect introduc­tion with its Imperial Jade Ritual (HK$2,450 to HK$2,860; Mandarin Oriental hotel, 5 Connaught Road Central), which begins with a series of body treatments and concludes with an anti-ageing ginseng face mask as cool jade rollers are used to promote lifting and toning. Alternatively, you can try the Spa at Four Seasons' Jade Stone Therapy (HK$1,840 to HK$2,040; Four Seasons, 8 Finance Street, Central). The full-body massage introduces heated jade stones as a means to boost the immune system, energise and eliminate negative ions.
Hong Kong-born, New York-based facialist to the stars, Ling Chan advocates the use of jade and sells the Ling Cool Jade Roller on her website, promising increased blood circulation and the reduction of fine lines (HK$699; lingskincare.com).
I've never dressed like a hippy, but I've been thinking about a pair of embroidered jeans. What can you recommend?
Jeans Replacement Therapy, Clear Water Bay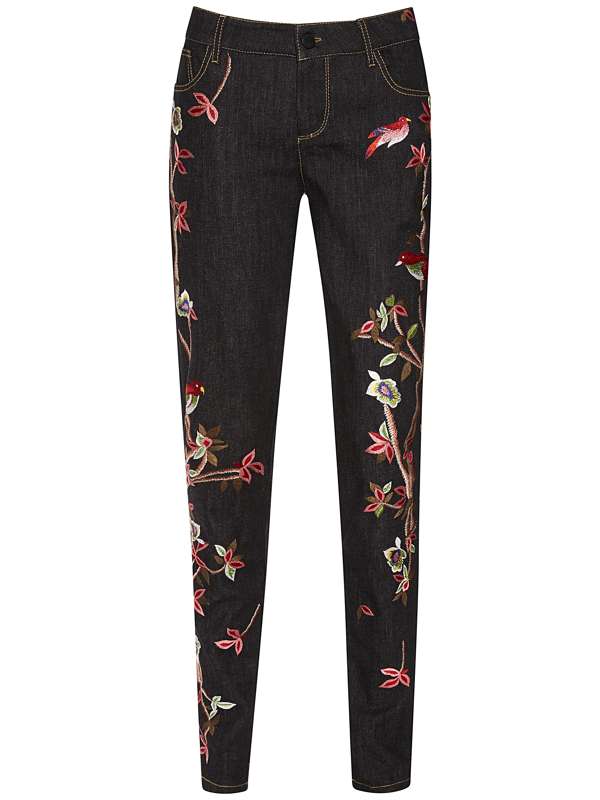 The Dictator: For starters, I'd recommend a calendar. Good news. It's 2017, so you won't look anything like a hippy unless you go head-to-toe vintage or buy from a costume shop.
Huishan Zhang manages to make flared, almost bell-bottomed jeans look utterly modern with all-over embroidery tracing the outline of white flowers (HK$15,242; farfetch.com). Stella McCartney's organic cotton denim collection goes from high-waisted skinny to culottes, decorated with embroidered birds, horses or flowers (HK$4,300 to HK$8,840). Victoria, Victoria Beckham offers light blue washed, straight-leg jeans with blue embroidery that traces a floral pattern up each leg (HK$3,000; Lane Crawford).
If you like black jeans, Alice + Olivia's skinny Jane jeans feature embroidered branches filled with flowers and birds running up each leg (HK$4,990). Denim brand Citizens of Humanity has floral embellishments on its Emerson slim-fit boyfriend and the Liya high-rise classic fit (HK$2,314 to HK$2,547). In the hands of London-based designer Ashish, a humble mid-rise, straight-leg jean becomes fantastical, entirely finished in iridescent sequins and then covered with red embroidered flowers, crystals and metallic beads, sparing only the bum of the extra attention (HK$12,110; netaporter.com). Valentino goes beyond jeans to butterfly-embroidered denim shorts and overalls (HK$13,700 to HK$35,000).
Back on the realistic side of the price scale, Topshop has a fabulous selection of embroidery, needlepoint or sequins decorating its popular Moto, Jamie and Mom jeans cuts for as little as HK$649 to HK$949.
Got a question for the Dictator? Email her with your name, or alias, and address at: [email protected]