After immense peer pressure, I started watching the sci-fi television series Westworld. And by God, is it frightening! The robots are coming, people. Wake up! Yes, I may sound like a luddite who still favours quill and vellum over the tippity-tappity of a cold keyboard, but my charm­ingly quaint paranoia about all things tech is, in this instance, reasonable, given that no lesser figure than Elon Musk is also scared to death of Skynet and its robot armies. OK, I'll admit automation will bring benefits to humanity (I may finally get a [robot] bride) but the bad outweighs the marital good and we need to remain vigilant.
Now, given my disposition towards robots, you might assume I'm anti-smart­watch and, for the most part, I will never love the devil's mecha-bracelets (my own name for them, which isn't really catching on). However, I'm also a contrarian and, I have to say, I don't mind the hybrid watches that are proliferating in the market. Hybrids look like standard watches but have a lot of smartwatch features, such as activity tracking and notifications, that are linked up to your phone so the watch battery doesn't run out after five hours.
Of the traditional Swiss watch­makers, Frédérique Constant has been the most aggressive in cornering the hybrid-watch market. Its approach is simple: take classic Swiss styling and then under the hood put in a clever central proces­sing unit that gives you all the connectivity you could ever want. For this year's Baselworld, the brand went one step further by introducing the E-Strap (top), which can turn an analogue watch into a smart­­watch. Yes, that's right; you can keep your mechanical piece. Any watch that has a lug width of 20mm or 22mm can be fitted with the strap and Bob's your mother's brother, you've got yourself a "smart­watch". The E-Strap links up with your phone and does what you expect it to do but, given the hidden nature of the tech, it's perhaps the most discreet wearable tech­nology in the marketplace. Prices for the E-Strap will be available soon.
Fossil is another company that has bet the farm on hybrid watches and early indications are that it was a smart (urgh) move. The company has released a bewildering num­ber of hybrids this year, so many that it's a bit hard to keep up, but one that caught my eye was the Fossil Q Grant watch. For a snip at HK$1,600, you get a nicely styled watch with a classy yellowed dial and large Roman numerals that give it an aged, antique flavour. Both Android and iOS compatible, the Q Grant can track activity, monitor sleep and ping you notifications, but it's all well hidden.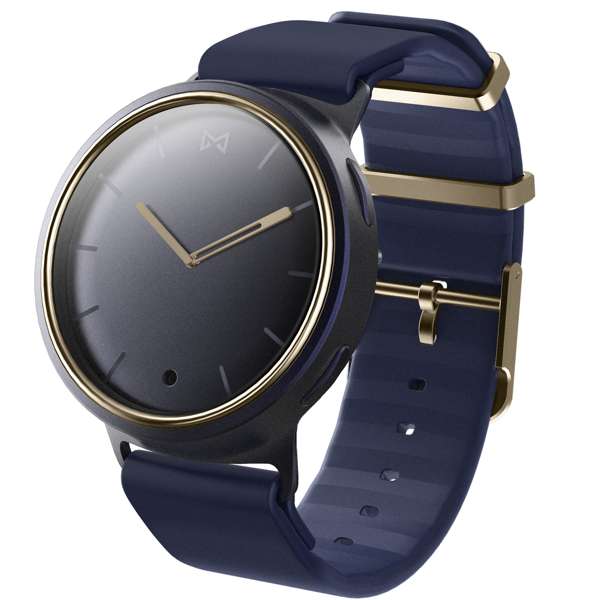 A new player on the hybrid-watch scene is Misfit, which is brazenly appealing to the turtleneck-wearing-hipster-facial-hair-athleisure-to-brunch crowd, which, let's be honest, is a rapidly metastasising demographic. The Phase from Misfit is ostensibly a minimalist design watch, the dial having been swept clean of numerals and indicators, except for a small logo. The bezel has also been kept clean and unassuming. The flashes of flair come from the colour options pictured above is the fetching navy-and-gold combo but there are plenty of other on-trend schemes to choose from. Despite its simple looks, the Phase has all the smartphone-linked jiggery-pokery you get with the Fossil Q Grant, including step tracking, sleep monitoring and so on. A nice touch is the 50-metre water resistance, so you can take this watch in the shower and not worry about it. The Misfit Phase is priced at a reasonable HK$1,549.