There's something inherently troubling about men over the age of 30 wearing white trainers. Call it the Jerry Seinfeld effect, but it just looks wrong, especially as men over 30 suddenly grow a fondness for high-waisted blue jeans and billowy shirts. Just no. I'm over 30, so I'm not just saying this as a bratty millennial. Indeed, I don't think I've worn expressly white trainers since the financial crash of 2008 – my own silent tribute to the time the world got credit-crunched.
Where am I going with this? Well, aside from exhorting men over 30 to stop wearing white trainers, I want us all to embrace colour, including in our watches. Colour is our friend, colour should not make us fearful and, thankfully, colour has invaded a great number of the watches released in the past two years, especially as men now care about colour coordination with their clothes and accessories. Of course, under the colour the watch itself matters, so here are three timepieces that have been taken to 11 courtesy of a great paint job.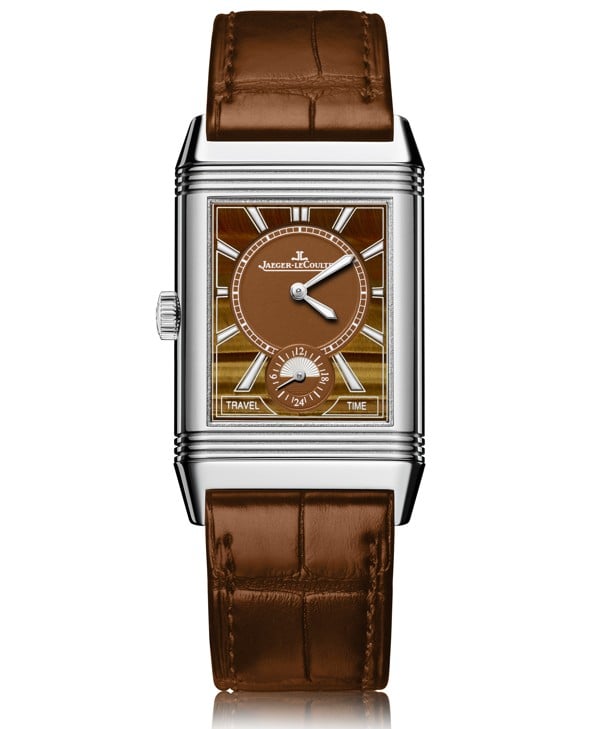 Jaeger-LeCoultre is one of the grande maisons in the industry so it is often late to pick up on trends (after all, they may be just flash-in-the-pan fads), but when it does take them on board it comes up with collections that really shine with colour variations. The Reverso is a stone-cold classic of watch design, and any man (with money) should have one in his collection, so tweaking it with a wealth of options is likely to make more guys consider this for a dress watch. The Atelier Reverso collection offers seven watches, 49 dials and colours and 800 straps, giving you a whopping 5,277 combinations. So you could go full whacky with jarring dial and strap colours – but you never go full whacky. Three new colour options – green, blue and reddish brown (above) – have just been released on a steel 47mm by 28.3mm case, inside which is a calibre 969 movement. The red-brown Atelier Reverso Duoface Large is priced at HK$87,900.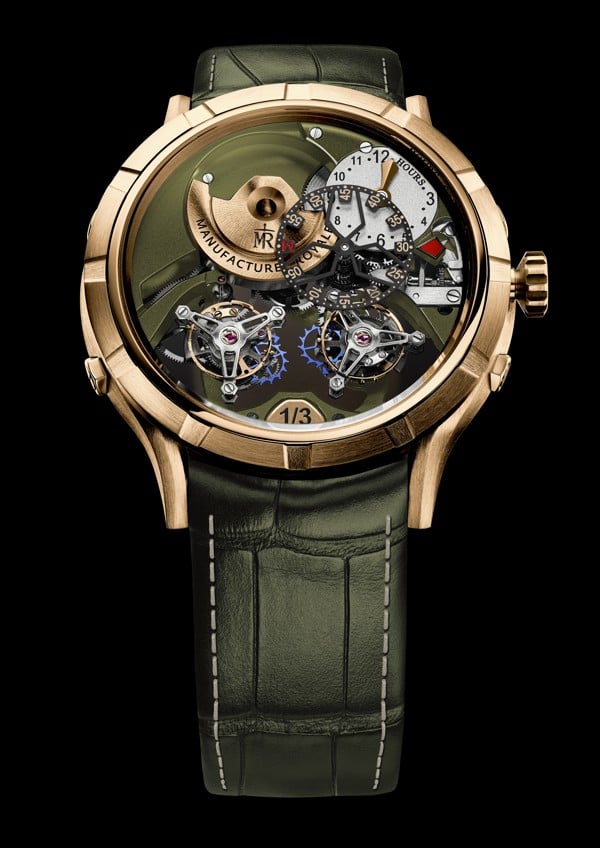 Manufacture Royale is one of those obscure collectors' brands that I don't think I've ever written about. That's not to say it makes bad watches, but it's so niche I often forget about it in the rush of other launches – look, life is hard, OK? The Micromegas Revolution is all about excess and the use of colour just adds to the OTT elements. The most striking thing is, of course, the dial, which is a riot of cogs, wheels, screws and such of the 253-component MR08 double tourbillon movement. There's a lot of fancy watchmaking going on here, trust me, and it's all very impressive but we are here to talk about colour, and Manufacture Royale hasn't been scared to dabble with the palette for this timepiece. Aside from the green (above), it comes in purple, black and ink-blue dial options with the 45mm case coming in either titanium or rose gold. The Micromegas Revolution is priced at 142,000 Swiss francs (HK$1.1 million).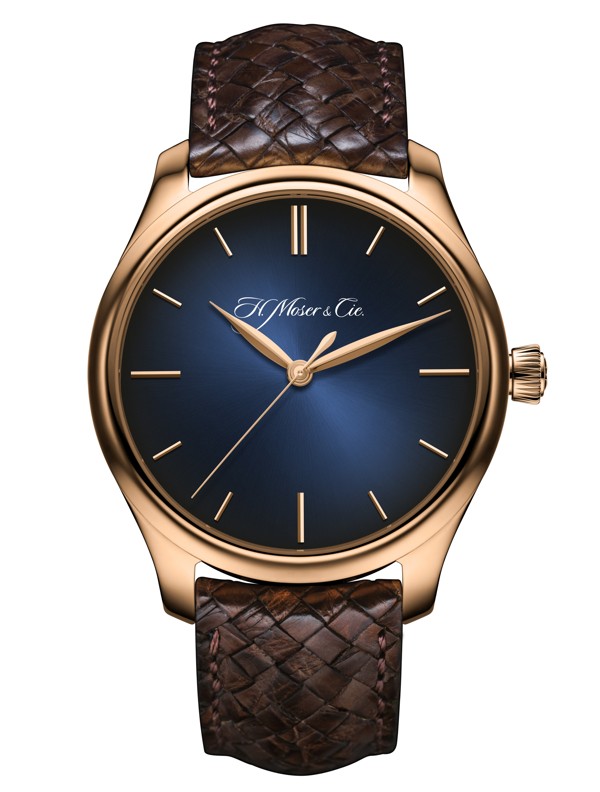 Despite H Moser & Cie's long history and movement-making capabilities, the independent brand still acts like an upstart start-up. Case in point, its Apple Watch aping/mocking (depend­ing on how you look at it) Swiss Alp Watch, a cheeky limited run of time­pieces that would never have made it past the design room in a major corporate watch­maker. So, with Moser's more hipster credentials, it jumped on the colour trends well ahead of the rest, and now that everyone else is doing it the brand is doubling down by offering even more colours. The Endeavour Centre Seconds Automatic is a beautiful encapsulation of everything Moser stands for, a kickass new automatic movement inside a wonderfully polished case with classical design and then the coup de grâce of the fumé, or smoke-effect, dial, which comes in blue, maroon, grey and black. On this particular iteration (above right), Moser has paired the blue dial with a classy woven alligator-leather brown strap. The Endeavour Centre Seconds Automatic is priced at HK$159,000.