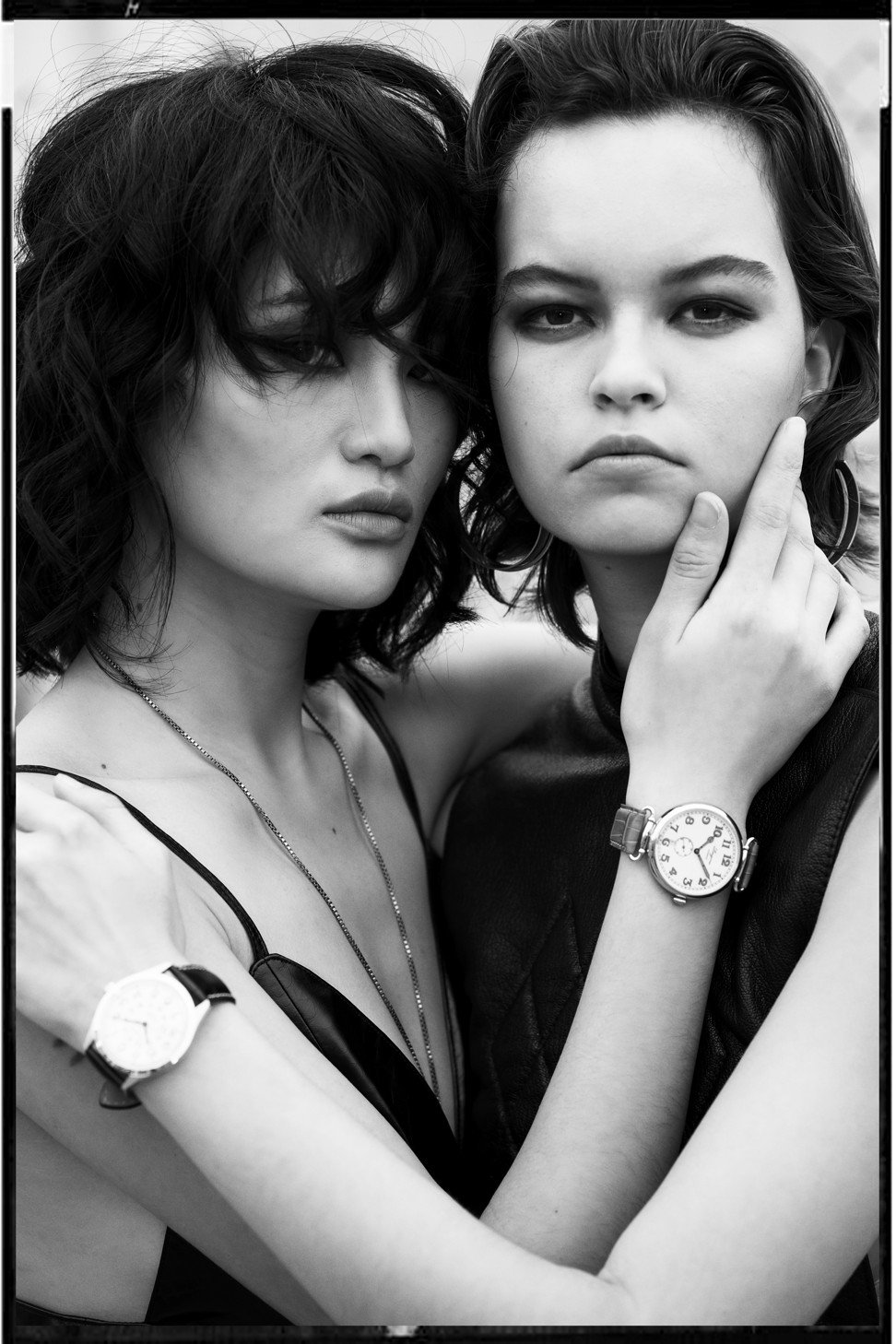 Chen (left) wears Bondi bralet (HK$650) by PI'A. Heritage 1918 watch (HK$14,700) by Longines. Necklace (HK$2,870) by Stella McCartney.
Val wears quilted leather top (HK$23,000) by Dior. Earrings by Anteprima (inquiries: 2907 3388). Railroad watch (HK$14,700) by Longines.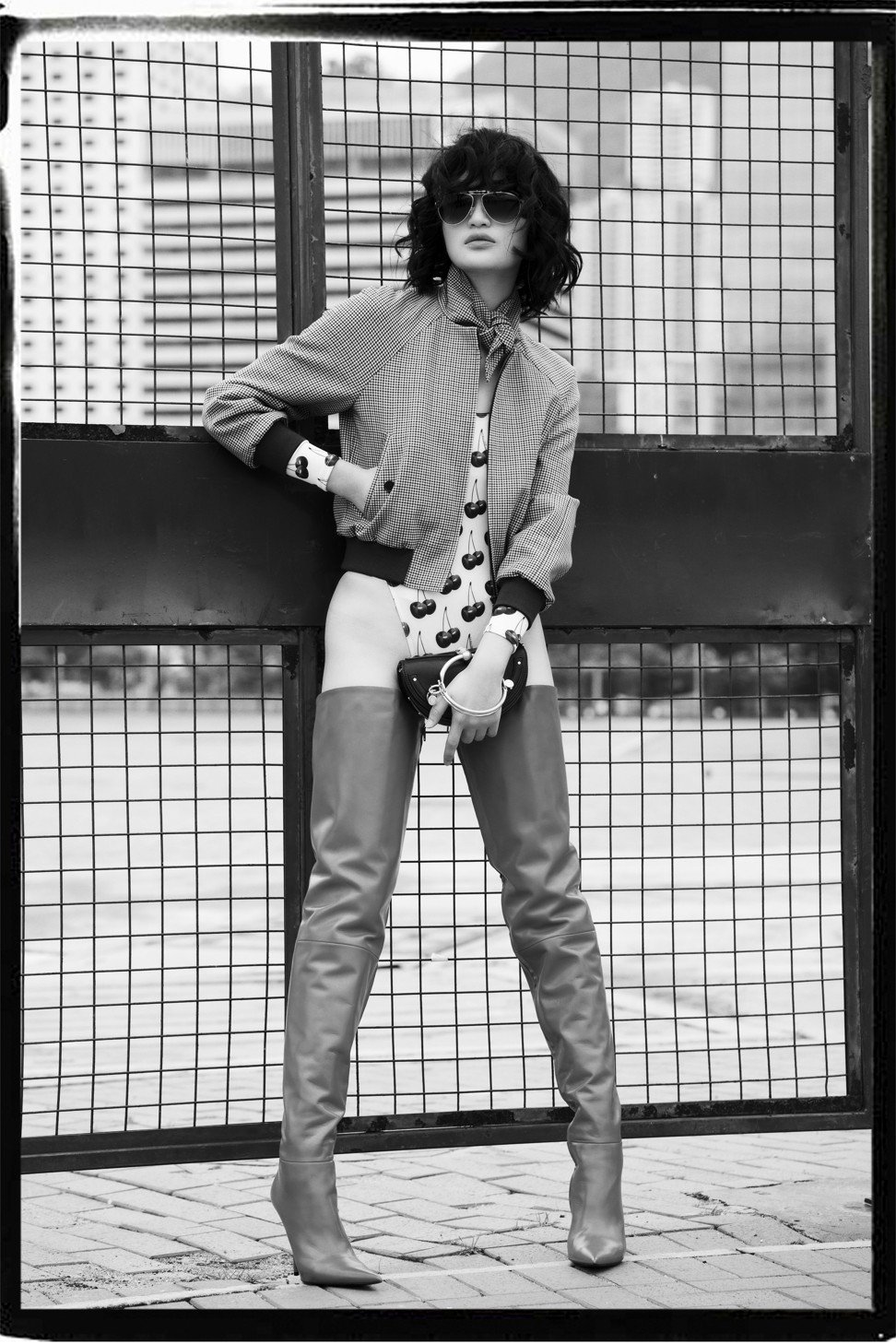 Cherry-print leotard by La Boutique. Harrington jacket (HK$13,800) and thigh-high boots (HK$16,800), both by Balenciaga. Nile minaudière (HK$10,600) by Chloé. Sunglasses (HK$2,300) by Philippe V.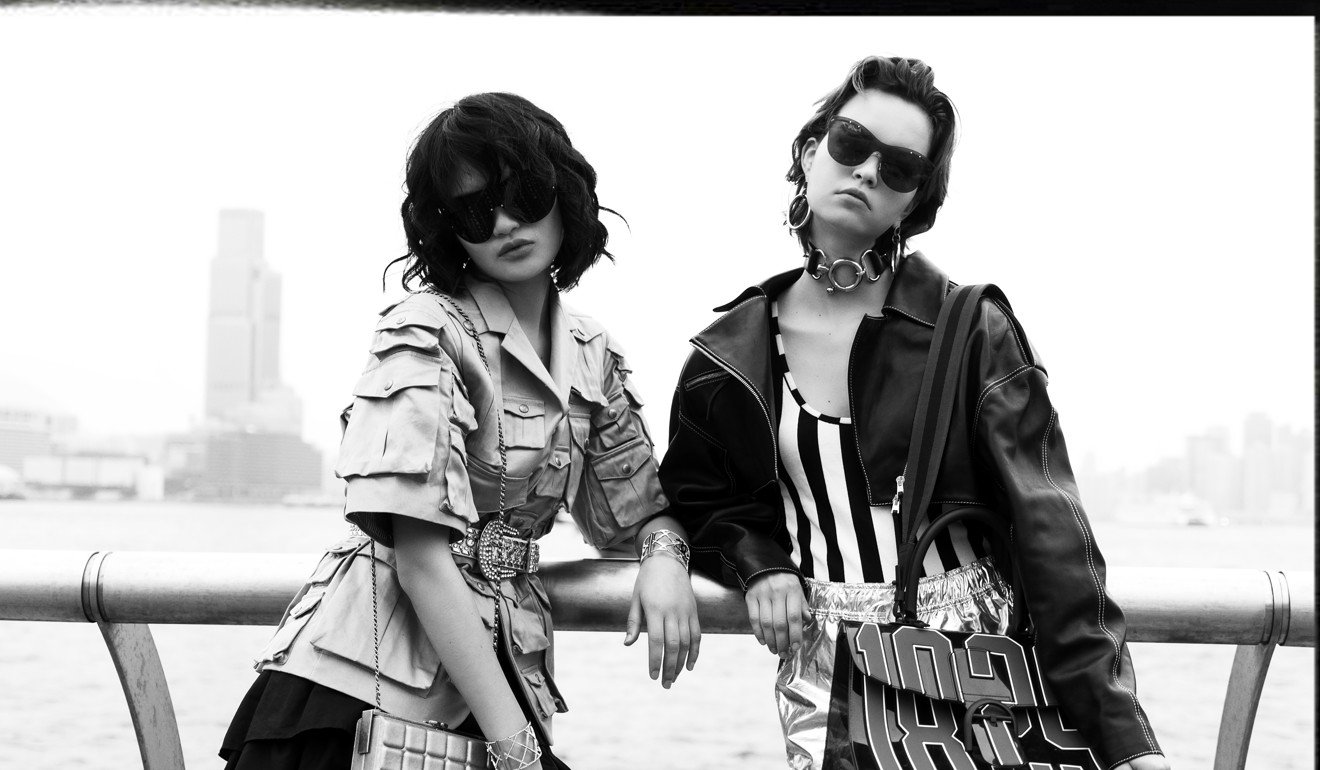 Chen wears Gamme Bleu shirt jacket (HK$23,850) by Moncler. Ruffle skirt (HK$2,590) by Sandro. Studded belt (HK$1,650) by Vivienne Tam. Minaudière (HK$35,500), cuffs (HK$19,300 each) and sunglasses (HK$3,600), all by Chanel.
Val wears cropped leather jacket (HK$28,100) by Marni. Striped bodysuit (HK$7,800) by Nina Ricci. Shorts (HK$6,750) by Moncler. Bag (HK$11,500) by Delvaux. Sunglasses (HK$1,767) by Percy Lau x Ffixxed Studios. Earrings (HK$1,695) by Anteprima. Choker (HK$520) by Raven + Rose.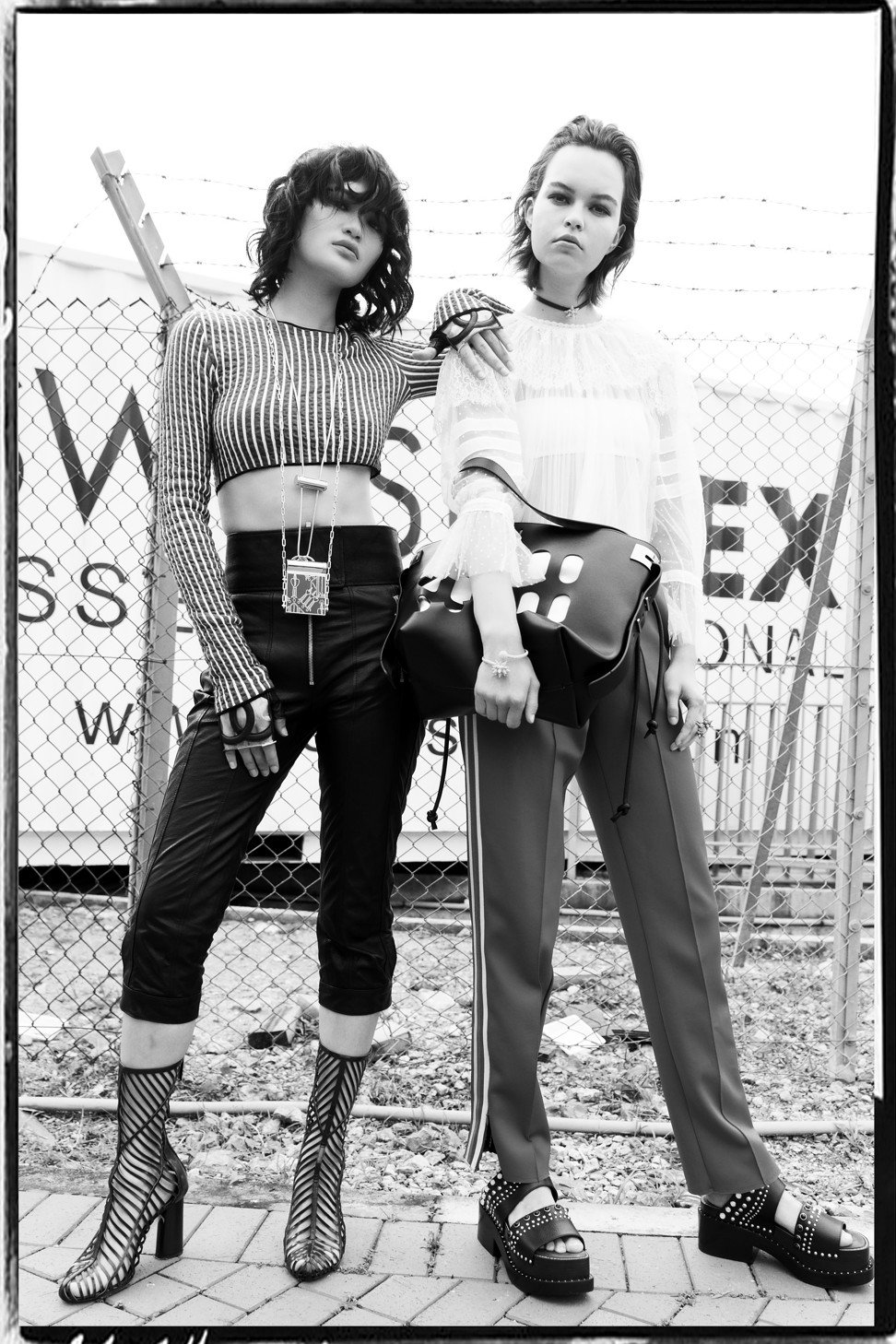 Chen wears top (HK$3,100) by Ports 1961. Leather trousers (HK$23,000) by Dior. Lipstick holder bag (HK$7,600) by Valentino. Toggle necklace (HK$2,160) by MM6 Maison Margiela. Fingerless gloves (HK$4,000) by Chanel. Calfskin ankle boots (HK$11,500) by Giorgio Armani.
Val wears tulle and lace top (HK$26,000) and knitted bra (HK$7,400), both by Dior. Trackpants (HK$2,990) by Sandro. Platform sandals (HK$7,090) by 3.1 Phillip Lim. Bag (HK$10,280) by Sportmax. Ring (HK$3,000), cuff (HK$3,500) and bracelet (worn as choker; HK$1,760), all by Atelier Swarovski.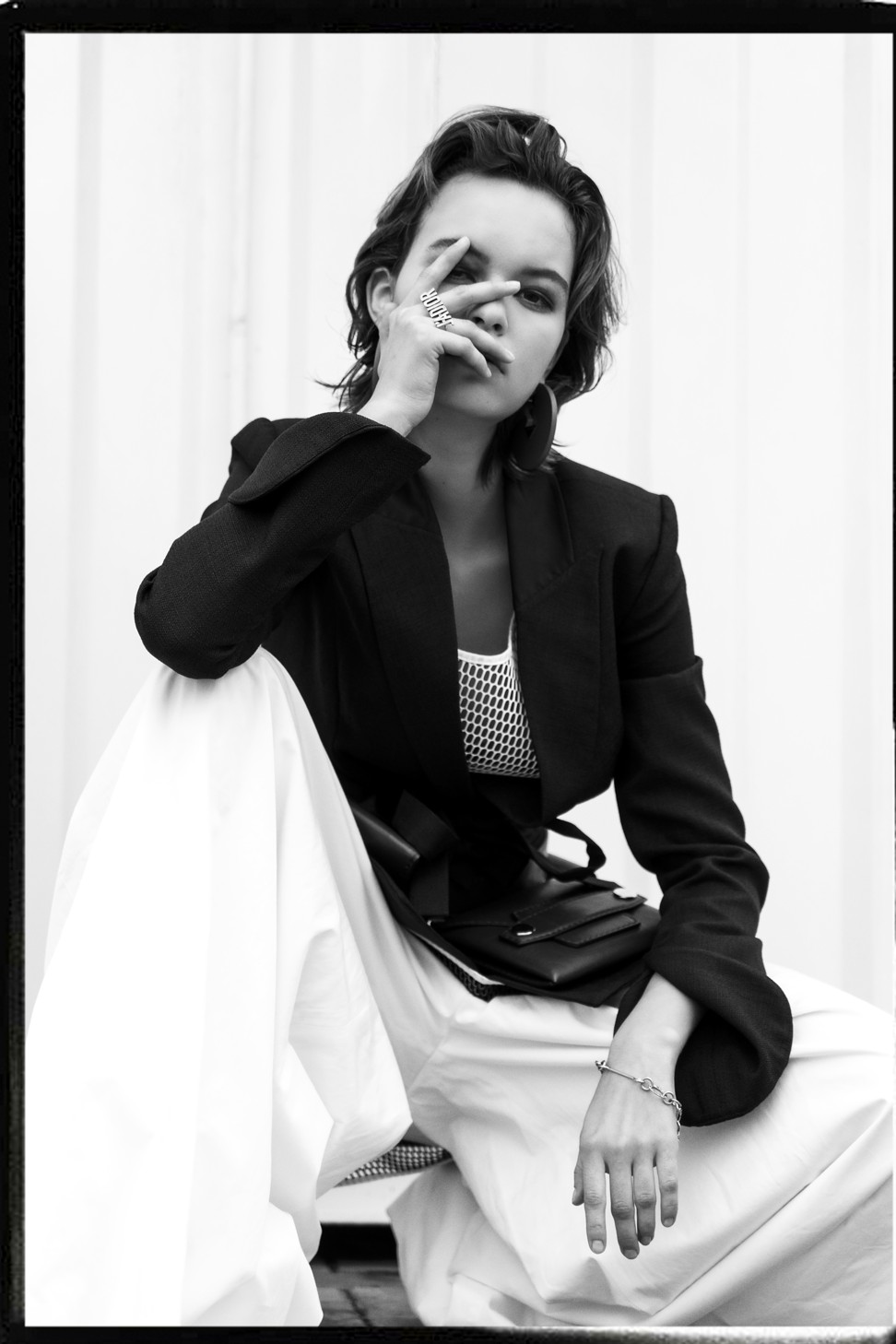 Ginza jacket (HK$1,900) by PI'A. Net tank top (HK$3,895) by Les Hommes from The Swank. Wide-legged trousers (HK$2,450) by J Crew. Belt bag (HK$8,640) and bracelet (HK$2,130), both by Stella McCartney. Hoop earrings (HK$3,400) by Emporio Armani. "J'Adior" ring (HK$2,500) by Dior.
TEAM
Photographer Tse Wei
Stylist Daniel Kong
Stylist's assistant Karen Chiang
Hair Dennis Tsui
Make-up Gabbie Lee
Models Chen at Quest and Val at Sun Esee Model Management