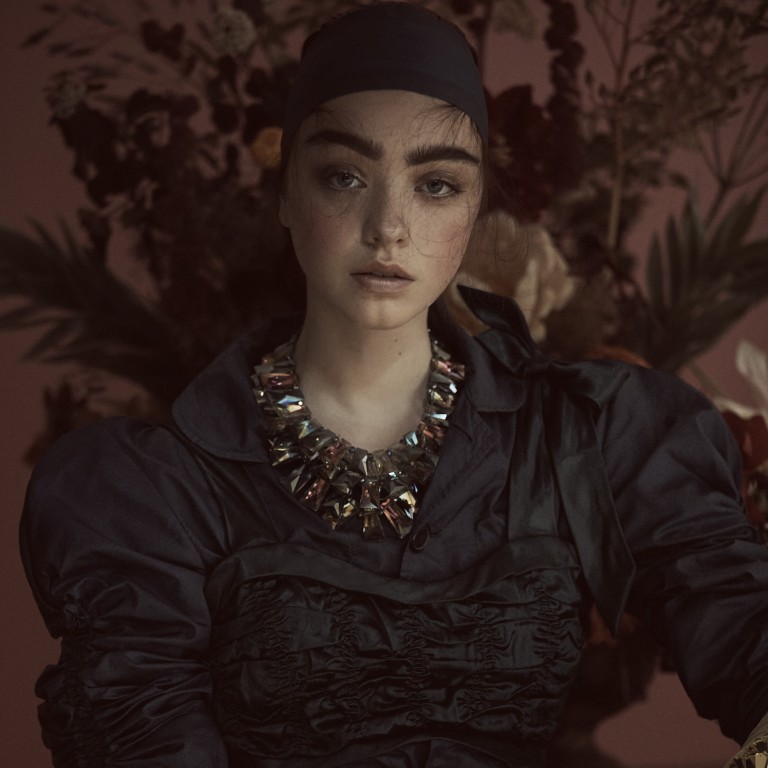 Fashion shoot: an urban woman's affair with old-world romance
Lace, sheers and glamorous accents will take you back to another era
Windcheater (HK$1,950), bra top (worn on top; HK$1,590), skirt (HK$5,870), gloves (HK$2,565), headband and metallic belt, all by Maison Martin Margiela (inquiries: 2869 7707). Necklace (£200/HK$1,980) by
Pebble London
.
Top (HK$10,130) and bra, both by Carven, tel: 2801 4051. Embellished cuffs (HK$18,800) by Antonio Berad at the Swank.
Embroidered jacket, sheer dress (HK$24,599) and boots, all by Simone Rocha from I.T (inquiries: 2890 7012). Earrings (HK$2,350) by Alessandra Rich from Harvey Nichols. Hair accessory, stylist's own.
Lace gown (HK$17,290) and headband with buckle (worn around neck; HK$1,950), both by Alessandra Rich from
net-a-porter.com
. Pink off-the-shoulder dress (HK$8,700) by Emilio de la Morena from
matchesfashion.com
. Shoes by Blumarine (inquiries: 2317 5787). Aigle ring by Boucheron (inquiries: 2623 9190).
Dress (HK$18,000) and boots (HK$9,500) by Céline. Gold and diamond choker (£7,900) by
Pippa Small
. Chain with enamel clover (£270) and pendant necklace with glass and pearls (£90), both by Pebble London.
Metallic corset (HK$3,297) and bodysuit (HK$3,532), both by Alyx from Joyce. Glass cross necklace (£300) by Pebble London. Necklace in leather, silver brass, pearl and green agate (HK$12,500) by Céline. Bikini top with pearl strap (worn around neck) by Prism from
net-a-porter.com
. Vintage lace gloves (HK$120) by
Vivien of Holloway
.
TEAM
Photography David Ralph
Fashion editor Steven Westgarth
Casting director Holly Dunmore
Set design Despina Curtis
Flowers Emma Weaver at Palais Flowers
Hair Anna Cofone at The Wall Group, using Bumble and Bumble
Make-Up Kamila Forini at Eighteen Management
Set builder Stuart Plant
Photographic assistant Christian Howarth
Fashion assistant Sarah Stanbury
Hair assistant Alessandro Jottini
Make-up assistant Laura Lo Presti
Digital Christian Howarth
Models Liz Ord at Storm Management, Tsiu–kim at Linden Staub, Alice Vink and Hamda at The Squad, Emma Laird at Models 1, Florence Rose at Milk Management and Laura Newman at Select Model Management
Location Street Studios, London