Ballerinas have always been a bit too sweet for me – ask anyone who knows me! I thought it would be nice to go to that stall off Hollywood Road and try some of those old-fashioned, Chinese leather kung fu shoes that curve up at the toes (not the ones with elastic at the sides or the mary janes). They've disappeared and I'm leaving in a few days!
Stalled and Shoeless, Po Hing Fong
The Dictator rules: Anyone who knows you is probably rolling their eyes right now.
Leather? The kung fu shoes you speak of are more commonly sold in black fabric with white cloth soles. Actually, the martial arts slipper is also marketed for tai chi.
The old bespoke cobbler Tam Kwok-kwong has always been elusive, and you don't have time for custom orders now anyway. Instead, pop around the corner for a classic cloth pair at Hip Wo Housewares (HK$85; 180A Hollywood Road, Sheung Wan). You can find them at old-school Chinese products stores, too, including Yue Hwa (301 Nathan Road, Jordan) and Chinese Goods Centre (395 King's Road, North Point).
Local slipper maker Sindart does gorgeous ones in Chinese brocade (about HK$300; 1/F, Bowring Centre, 150 Woosung Street, Jordan). Find them in leather via websites such as Chinese Clothing Online(HK$720) and Tai Chi Suits By Cathy. Or, if you can navigate Taobao.com, go there. Fashion labels taking inspiration from the timeless design this season include COS, which has been doing its lamb's leather slip-ons (HK$790) for several seasons now. Finally, we would be remiss if we left out Gucci's convertible platform pumps consisting of golden flats with 3.5-inch removable leather platforms (HK$9,600; Net-a-Porter).
---
I've always wanted a pair of those sailor trousers with the buttons but, of course, now that I'm looking for them I can't find them anywhere. Could you be my fashion compass (har har) and also tell me what body type they're meant for?
Setting Sail, Pok Fu Lam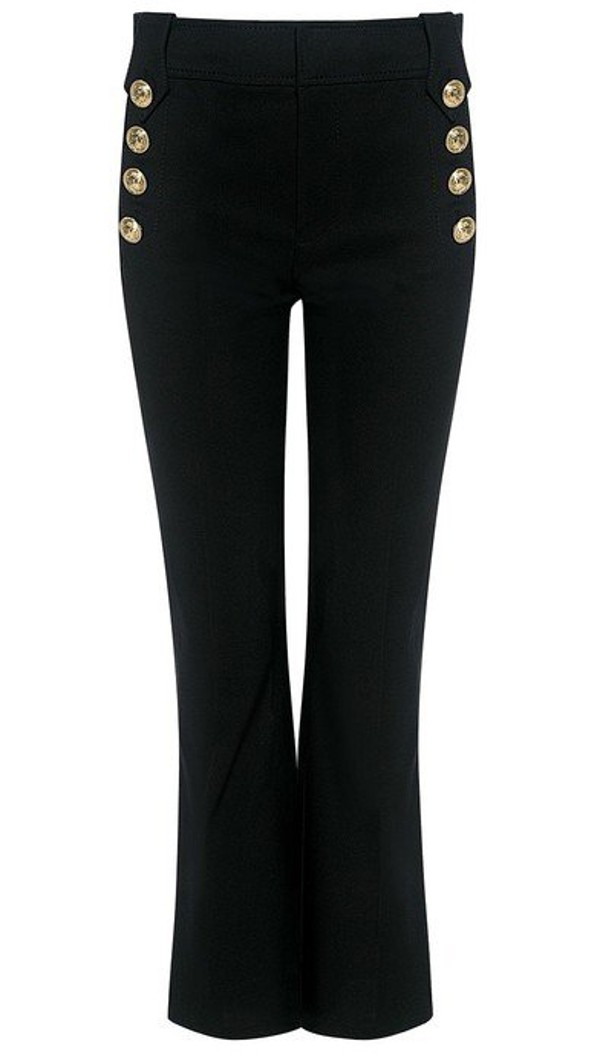 The Dictator: Let's be honest. I don't know you. I don't parti­cularly want to know you. I have no idea what you look like. And I am regularly con­founded by the generic advice put out there. Some recom­mend a higher rise pant such as this to make big thighs look leaner; others claim they are ideal for boyish frames, creating the illusion of a waist. Suffice it to say, sailor trousers will accentuate the waist and elongate the legs somewhat. You really won't know what that means for you until you put them on.
Derek Lam does this style particularly well, including a pair in black with white stitch details (HK$6,900; Harvey Nichols). Repetto, the French brand you probably know only as a ballet-shoe maker, has a lovely black pique cotton pair you might like (originally HK$3,300, now 40 per cent off at HK$1,980; IFC Mall, Central).
Since the summer sales are on, you'll also find Balmain's white denim moto jeans with a gold-buttoned front panel reduced from HK$10,270 (Joyce, Pacific Place, Admiralty). J Brand's Zion mid-rise cropped skinny jeans in light blue wash denim does the look subtly, with buttons all the way out on the hips (HK$1,900; Lane Crawford, IFC Mall). Alexander McQueen puts a naval twist on pleated black-wool-silk-blend culottes (HK$9,700; Lane Crawford).
For more, see Alexander Wang, Tahari, Banana Republic, Polo Ralph Lauren, Marc Jacobs and ModCloth.com.
Got a question for the Dictator? Email her with your name, or alias, and address at: [email protected]