Revvin' up your engine
Listen to her howlin' roar
Metal under tension
Beggin' you to touch and go
Highway to the danger zone
Ride into the danger zone.
I've been flying a lot recently and as a weird, it's-only-funny-in-my-head ritual I've taken to listening to American singer Kenny Loggins' powerful words every time I board a plane. Danger Zone doesn't get me quite as pumped as it does Maverick but it does make flying a lot easier. It takes my mind off the bad food, the deep-vein-thrombosis socks and the fact the only things I haven't seen on in-flight entertainment are four seasons of Modern Family and Adam Sandler's latest.
Moreover, Danger Zone makes me think of pilot watches, because, as always, and for the purposes of this column, everything comes back to watches.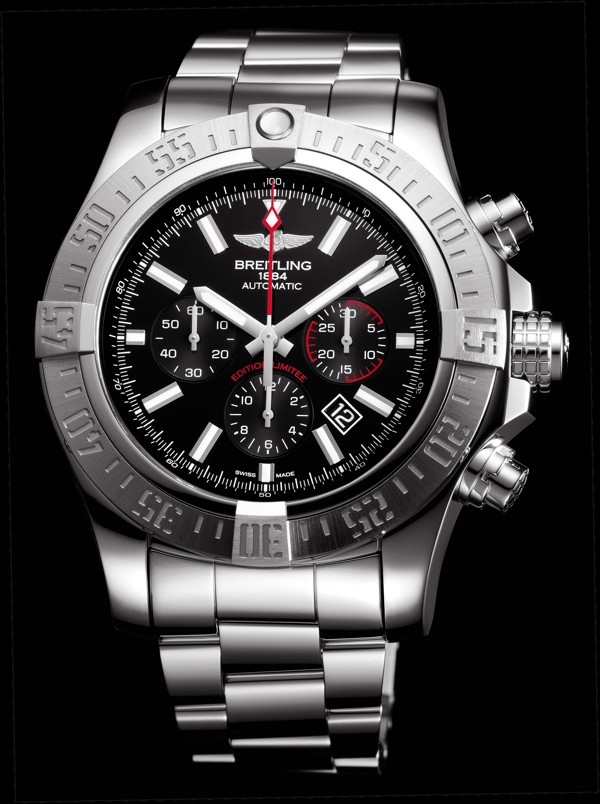 Well, if I'm honest, there haven't been that many new pilot watches that have blown my mind, but quite a few have elicited more than a "meh". However, the Breitling Super Avenger 01 Chronograph Boutique Edition (right), which has just hit the stores, is something to get excited about.
Breitling has had a tough few years but it has never lost its position as the king of aviation watches. Now under new management, the company's watches will, hopefully, lean towards pieces such as the Super Avenger, which looks great on the outside and is top notch inside. Yes, for those nerds who care, the Super Avenger is power­ed for the first time by the 01 Caliber move­ment, Breitling's first in-house movement, introduced way back in 2009. The beast of a movement has everything you would expect, including the COSC certification and more than 70 hours of power reserve. On the out­side, the Super Avenger is a manly collection of subdials, chunky bezel and push buttons, which, coupled with the massive 48mm steel case and bracelet, will dominate the wrist of pretty much anyone. Other features include the impressive 300 metres of water resis­tance and the date indicator. Limited to 100 pieces and available in only 60 Breitling boutiques worldwide, including in Hong Kong, the Super Avenger 01 Chronograph is priced at HK$61,500/US$7,876.
Zenith is another Swiss brand that's closely identified with avia­tion, via its Pilot collection, and this year it has tried to broad­en the appeal of the range with tweaks and a dash of colour. The Type 20 Extra Special 40mm is a watch with a terrible name. Beyond that, it is quite a youthful take on the retro pilot watch, coming with an aged-steel case and in a variety of colours including blue (right), mustard, bur­gundy and khaki. As the name suggests, the watch is 40mm, which is a lot smaller than the 45mm case on the original, so once again Zenith is trying to find a wider audience and, for the most part, the more reason­able size and colour options are a plus. The watch is simple, the design is legible and inside is an automatic Elite 679 move­ment with 50 hours of power reserve. Overall, this is not a pilot watch that will please the purists but it might find favour with the well-to-do hipster crowd. The Zenith Type 20 Extra Special 40mm is priced at HK$46,600,
Finally, we have the relaunched Tag Heuer Autavia (top). This is a hybrid rather than a straight aviation watch (Autavia is a port­manteau of automobile and aviation) and its history is more closely linked to Formula One racing, but it is such a beaut that I had to include it. The original Heuer Autavia came out in 1962, and the new one is a respectful homage to the classic. For the 2017 version, we still have the sporty aesthe­tic, the "reverse panda" colour scheme with black dial and white subdials, the rotating bezel and the push buttons but also a larger 42mm steel case (the original was 39mm) and a new Heuer 02 movement inside. The 2017 Tag Heuer Autavia is priced at €4,600 (HK$42,450).