My hair is a frizzy mess and I just don't have the extra daylight hours to spend sitting in a salon having treatments done. Is there any way to fix the problem at home?
Mane Event, Tai Hang
The Dictator rules: Boo hoo! Why don't you slick it down with any old product, stop complaining and get out there to help people truly in need this year? Like that would ever happen.
A good start would be to stop trying to fix the problem with your hair iron, which is akin to treating greasy skin with a harsh soap. That went over your head, didn't it? One of the best beauty innovations we've seen in a while is Ouai's Anti-Frizz Hair Sheets (HK$141 for 15 sheets). Made from hemp paper, coconut oil and shea butter, these portable hair fixers can be swiped on anywhere to add shine and tame flyaways. You could stop your search right there and stock up on Ouai's entire line of shampoos, conditioners and treatments.
Beware of brands that claim to repair broken and split hair. They can't, but they can help with appearance by coating each strand with, say, silicone, to prevent moisture and static from making your hair stand out for all the wrong reasons. Several products try to replicate the results of salon treatments at home with the anti-frizz buzzword keratin. Try Original & Mineral's Gold Smoothing Balm (HK$265; Net-a-Porter), which contains keratin, golden camellia oil and macadamia oil, and Tresemmé's 7 Day Keratin Smooth Heat Activated Treatment (HK$57; amazon.com).
We prefer to use these products as comple­­mentary aids to professional treatments. You're more likely to faff and flail to perfect your hair for just as long as it would take to pop into a salon and let an expert take care of it.
---
I saw a fabulous jumper/puffer creation walking down the road the other day. It had a puffer body with knitted parts on the collar, the sleeves and at the waist. Please tell me who makes them so I can get one immediately since I always seem to be cold! Puffed Up, Central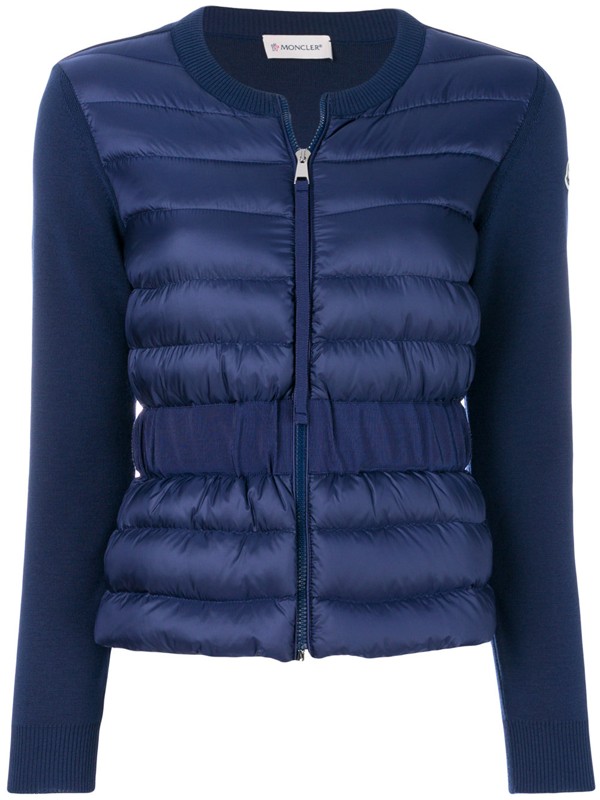 The Dictator: Sound the red alert! Items of clothing are walking themselves down the street! Were you too alarmed to notice the red, white and blue cockerel logo patch of Moncler? The Italian luxury brand makes a number of covetable down-filled-nylon and virgin-wool pieces, which it calls cardigans (HK$5,393 to HK$8,950). Start with the round-neck, zippered jumper/jacket with patch pockets available in solid colours or pale-pink knit with a floral pattern on the "puffer" sections. Those who prefer a less traditional silhouette will go crazy for the black long cardigan with a large, down-filled funnel neck and three-quarter-length sleeves that end in knit.
Need to define your waist rather than pad it out after the holidays have taken their toll? Try Moncler's belted cardigan in dark blue or deep purple. Canada Goose's HyBridge series includes a knitted jacket and knitted hoody in black, made with the brand's famous down and ultra-fine Merino wool (HK$4,650 to HK$5,080).
Barbour makes its lovely Sporting zip-front jacket in olive green or light grey with diamond quilting and ribbed lamb's wool (HK$1,673; nordstrom.com). On its Viktoria puffer coat in light grey, Soia & Kyo turns the design upside down with a pretty light grey wool knit on top, ending in horizontal stripes of down-filled poly from the waist down (HK$3,670; revolve.com). Failing that, you could layer a puffer vest over a jumper you already own. Duh.