I've been so focused on keeping my face from looking old that I think I've been neglecting my hands. I got a manicure for the first time in ages and the red nail polish somehow makes my hands look ancient and shrivelled. Is there anything I can do?
In Your Hands,
Clear Water Bay
The Dictator: Don't paint your nails red? Accept that you will age, and that taut skin only looks right on teenagers?
First, let's address the elephant in the room. Yes, people do inject dermal fillers, lasers and chemical peels on their hands to battle wrinkles and age spots. Before you take drastic measures, try an advanced hand cream.
Dermalogica's Age Smart range includes Multivitamin Hand and Nail Treatment (HK$298; Sogo). It contains anti-ageing vitamins A (Retinol) and E, pro-vitamin B5, algae extract, ginkgo biloba, grape seed, and brightening Vitamin C and licorice extract. Carita Progressif Lift Fermete Genesis of Youth for Hands has an important line of defence that many lack, SPF15 protection, as well as salicylic acid, albizia extract and active sacha inchi oil (HK$548; strawberrynet.com).
A hand model's tale: Hongkonger on her love of manual labour
Your best solution may not even be a hand cream. Serums formulated with hyaluronic acid are said to moisturise and aid tissue repair for younger-looking skin, such as Hydrating B5 by Skinceuticals (HK$350).
A spa treatment would be a nice way to kick-start your new hand-care regimen. The 60-minute Pure Therapy – For Your Hands at the Spa at the Four Seasons uses Margaret Dabbs London products to repair and rejuvenate (HK$720, Monday to Thursday; HK$810 Friday to Sunday; 8 Finance Street, Central).
Above all, be consistent and wear sunscreen.
---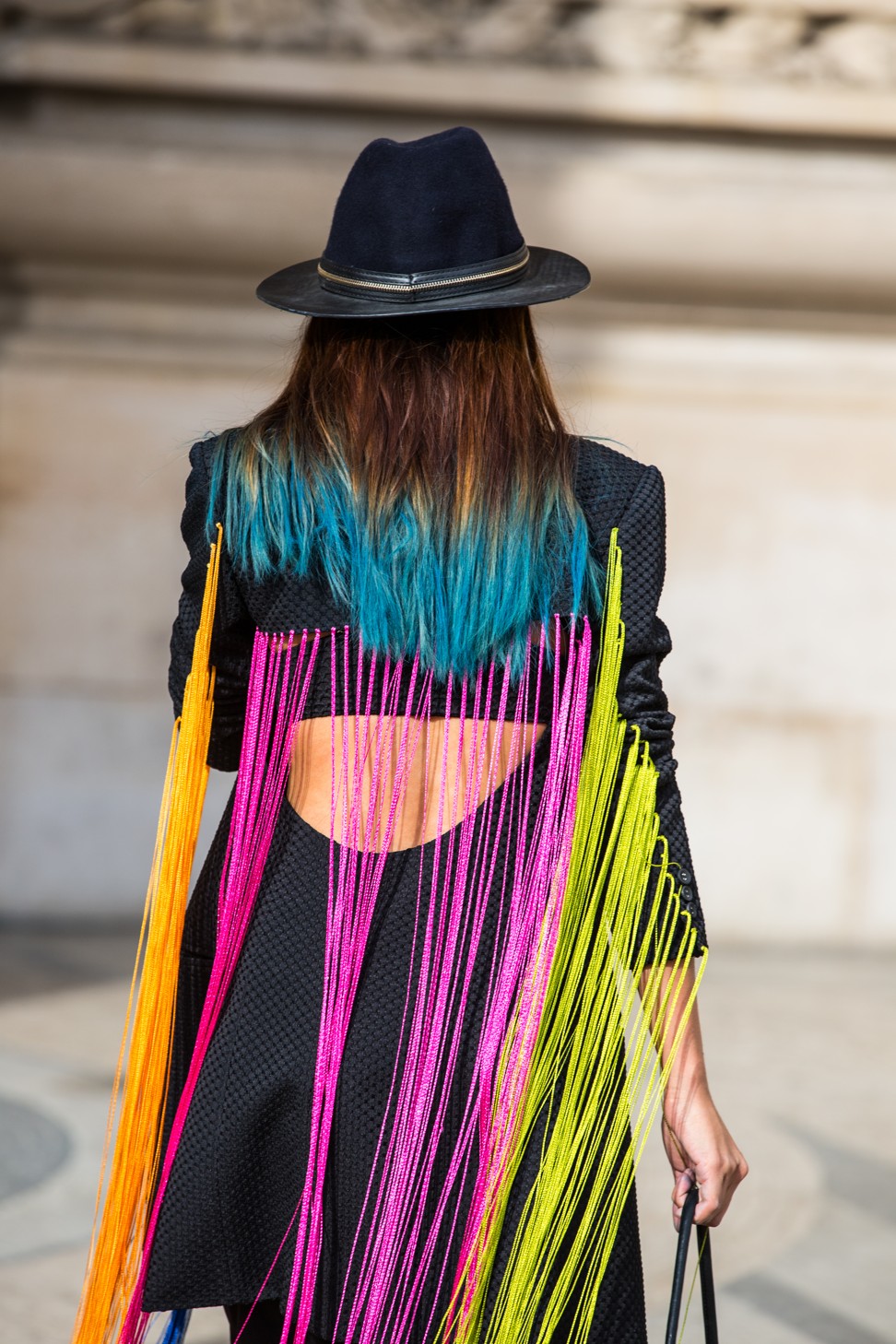 It drives me crazy when a website shows a photo of something then the link takes you to similar ones but never tells you where that original picture came from! This happened with a dress covered in fringe made of different colours. Can you and your superior search skills help?
End of the Rainbow, Central
The Dictator rules: It happens. Get over it or learn how to get around it. Still, flattery will get you, well, everywhere.
My first guess for your vague reference (details, people, details) is Sachin & Babi's strapless, midi-length Palace Dress (HK$12,950) made with rows of multicoloured fringe covering the front and plain black stretch jacquard on the back. We'd have preferred for the fringe to go all the way around the dress, even if it would do nothing to improve your silhouette.
Sonia Rykiel has a covetable sleeveless dress in alternating green, yellow, pink, red, black threads coming together in a knitted band across the hips then out again to the knee-length hem (HK$8,400; farfetch.com). Missoni's Mare collection has a one-shoulder dress in a green, yellow, turquoise and purple combination of its signature zigzag knit with fringe trims running along the neckline and bottom hem (HK$7,260; bergdorfgoodman.com).
The Frankenstein dress: how to wear this freakishly cool trend
Tabula Rasa offers fabulously fringed items including the Rafi mini dress sewn in tiers of navy, grey, pink and red fringe with thin shoulder straps (HK$4,380). For spring/summer 2018, Balmain did an ultra-mini dress in mixed black and red fringe (HK$36,700; farfetch.com) but some unique items can be seasonless, such as Valentino's fringe beaded tulle mini dress in a rainbow of pastel patterns with a multicoloured fringe hem, which is available from theoutnet.com for HK$32,023.