You mentioned skorts a few weeks ago. I used to love them – so cute! Why don't I see them any more?
Skort Comings, Repulse Bay
The Dictator rules: I don't know what's wrong with you or your eyesight. Maybe you haven't been hanging around the much younger folks at Coachella. That's one good thing I can say about you, at least.
The skort, a hybrid of a skirt and shorts, was devised as a modest outfit for women to play tennis in, or arguably earlier for riding a bicycle, though it was longer for more coverage. It was revived as a fashion item in the late 1980s, and it has been the subject of derision ever since. But, sure, go ahead and expose yourself to ridicule.
Clueless about tartan? How to wear plaid like cult fashion icons Cher and Dionne
I probably shouldn't assume you're looking for fashion rather than athletic wear, but I live in hope. Alexander McQueen has an elegant, tailored, reverse skort with the skirt-like panel at the back and the shorts at the front in black-and-white houndstooth silk/cotton/wool mix (HK$10,300; Lane Crawford).
We like to believe New York designer Sandy Liang shares our distaste for overly revealing cut-off jeans, having created an ingenious apron over shorts all in light wash denim (HK$2,783). Another interesting twist on the maligned skort is Liang's black-and-white gingham check short-shorts partially revealed on the left side under a longer, pleated skirt overlay (HK$4,890; Lane Crawford).
Where to find work-appropriate stretchy knit skirts; and magnetic eyelashes
Maje makes its skorts by layering a full mini skirt over shorts of the same fabric, so that only a bit of the hem is showing. The très chic selection includes solid coloured crepe, jacquard, or black with bee embellish­ments on the front (HK$1,766 to HK$2,080). Finally, the thrifty choice would be the buttoned skorts by Bershka (HK$199).
---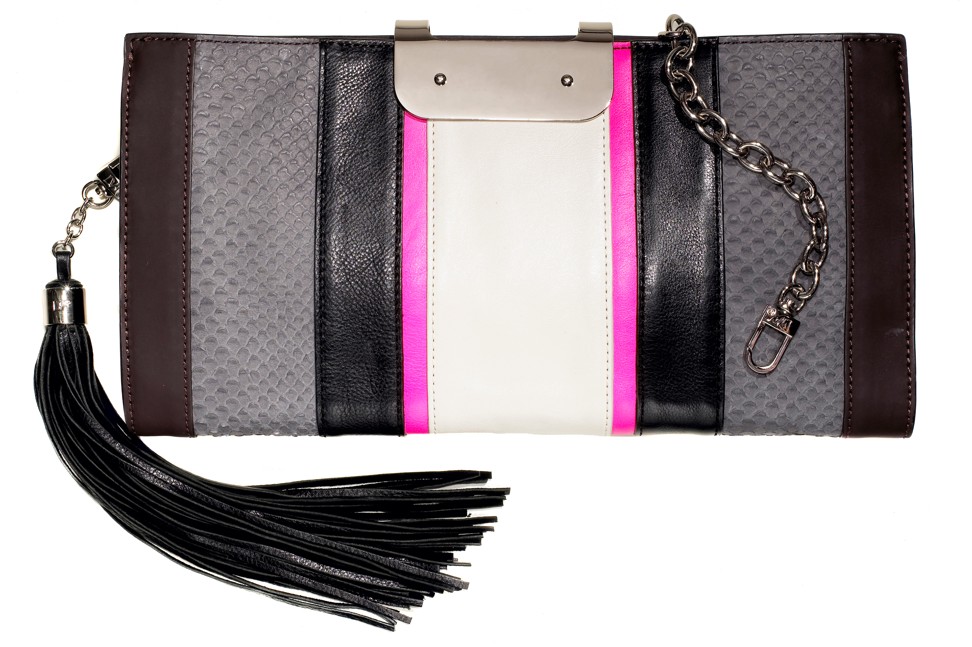 I'm trying to track down a bag I saw. It was small like a clutch but it had a short strap. Most important, it was like one big really, really long tassel! Not like those big boho bags. I know it's catty, but I want to be the first to get one and I'll die if I see my friends wearing it before me!
What a Tassel, Tai Tam
The Dictator: Blah, blah, blah. Don't care. Get a life. Get new friends. Get the bag here. Calvin Klein 205W39NYC by Raf Simons has an amazing bag in long, alternating tiers of fringed black and silver leather that are about 19cm long, but it's selling out quickly (HK$19,000; try nordstrom.comor barneys.com).
You'll either love or hate the one from the Helmut Lang Re-Edition collection of heritage pieces; it's made of black goat suede and 12cm-long horse hair (HK$4,400; Lane Crawford). We are partial to the fringe wristlets by Farrah and Sloane (HK$1,248 to HK$1,798). They come in ivory, black, burgundy, pink or nude, with a double bangle handle and fringe options ranging from short, straight and tiers of about 15cm long in white or pink, to a limited-edition, 65cm fringe in all black.
Anya Hindmarch, the designer who put the fun back into bags
Like feathers? Attico makes draw­string pouches in black or white poplin covered in ostrich feathers about 25cm long (HK$8,134; Net-a-Porter). Your tone suggests you might be desperate for an entirely different product tomorrow, so it might be wise to go for a budget buy. Zara has a cross-body bag that might capture your imagination until the next Instagram post drives you crazy again. Made in studded black leather and suede, the 21cm bag features a long suede fringe along the bottom and will set you back only HK$599.