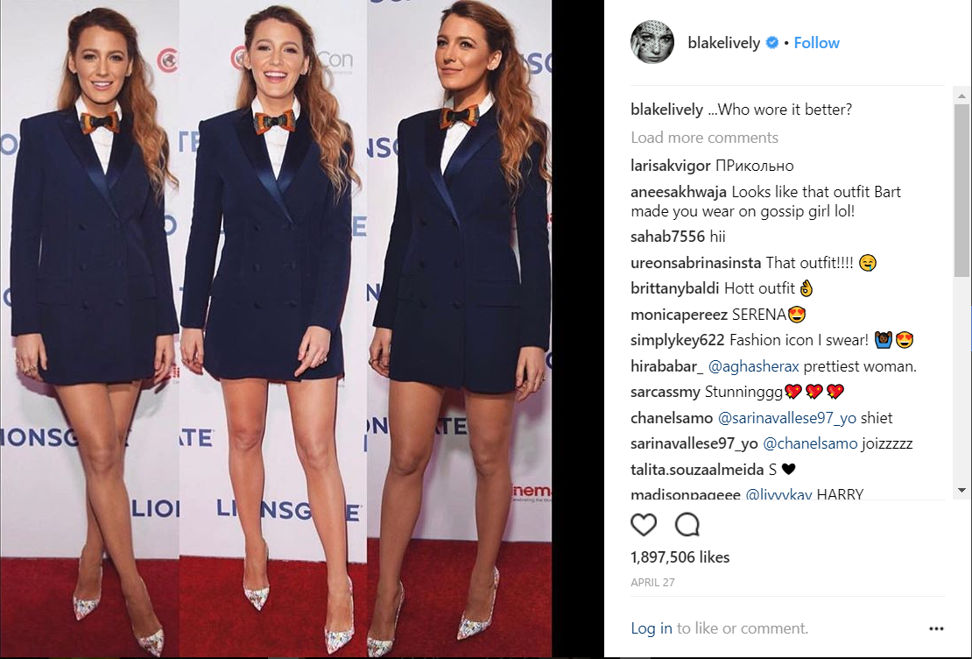 I was in Milan for work recently and bought two beautiful jackets. Now I'm not sure what to wear them with. I was wear­ing jeans when I tried them on but I was hoping to get more use out of them than that.
Trail Blazer, Wan Chai
The Dictator rules: Rookie mistake. Never buy anything until you have considered what you will be wearing it with. The good news is we live in a messed-up world. All the rules seem to have gone out the window. No, I'm still talking about jackets, people.
For years, women have been wearing them how­ever they please. Some, such as American actress Blake Lively, have repeatedly forgone the bottom half altogether. Her recent appearance at Cinema­Con, in Las Vegas, was in a Sonia Rykiel double-breasted, navy tuxedo jacket marketed as a mini dress. Jason Wu, Theory and Boohoo all do "blazer dresses". Make wise lingerie choices on the day, please.
Meghan Markle's stunning cape dress: where to find it
Many a fashion blogger pairs their favour­ite jacket with cut-off jeans. We like the neatness of Chloé's tailored, dark indigo denim shorts with contrast cream stitching (HK$6,000). The pre-frayed type is widely available, too, by brands such as Topshop (HK$349 and up), Frame Denim (HK$1,450; Lane Crawford) and M.I.H. Jeans (HK$1,358; Net-a-Porter).
Moving towards decency, you could pair your prized purchases with trousers; create contrast with print or a different colour. Although wide-legged trousers are de rigueur, a straight or slim leg line will look better on 99 per cent of you. Whatever your preferred type of trouser, you'll find them all at By Malene Birger (HK$1,705 and up; Net-a-Porter). Feminine dresses, such as Alessandra Rich's tea gowns (HK$16,830 and up; Farfetch), are another popular item to pair with the mascu­linity of a jacket.
---
It's a bit of an odd question but where can I get a yellow necklace? It's for a party with a yellow, black and white theme. I don't even like yellow and it looks terrible on me!
Yellow, Hello NO, Central
The Dictator: Good idea. Yellow doesn't suit you, so wear it as close to your face as possible. If you were wise, you would skip the necklace entirely. Wear a yellow belt. No, wait, I forgot most women don't show their waists any more. Banish the yellow then, to your feet, with a pair of shoes. Not listening, are you? Fine. Les Nereides does sophisticated, "Citrine Yellow" hand-faceted glass and gold-plated brass necklaces, from a 38cm choker (HK$1,250) to a longer, opera length of 80cm (HK$5,700).
Where to find affordable jewellery for Hong Kong teenagers
Really, the least you could have done would have been to tell me more about the party. For example, if you'd said it was a kid's construction site party, I'd have sent you to a local hard­ware store for some of that plastic chain they sell for a pittance. Or maybe an ele­vated version to suit other occasions, too, such as Alexis Bittar's lucite link necklace (HK$2,069; Nordstrom).
Isabel Marant has added flowers to her spring/summer 2018 chain-link plastic necklace (HK$8,594; matchesfashion. com). Marni's jewellery has a sort of luxe arts and crafts look about it – you might like this season's geometric formations of yellow, black and white plastic beads on a red leather cord (HK$3,900). You might also like Tina Lilienthal's tropical quartz bib necklace in white quartz with neon-yellow perspex (HK$3,124; anthropologie.com). Mixing colours is a cunning way to be on theme, but maintain your yellow-despising integrity.