I love that boat-neck dress Meghan Markle wore for an official event recently. I know I don't look like her, but I would love to buy one. Point me in the right direction?
Ahoy Meghan, Central
The Dictator rules: Pardon? That's the Duchess of Sussex to you, thank you. Fan websites such as MeghansMirror.com prove Ms Markle was wearing wide-shouldered boat or "bateau" neck tops and dresses long before she met Prince Harry. They have also featured on almost every outfit she has worn to official events since the day of her wedding, for which she also wore a boat-neck dress. Let's count the many other ways she's worn the look.
The duchess wore another bespoke boat-neck dress to Prince Louis' christening, this time an olive green Ralph Lauren. The American designer has several, from a Lauren check print stretch jersey dress with a bateau neckline (HK$1,060; ralphlauren. com) to a black off-the-shoulder dress from his Collection line (HK$7,770). It was a navy, swing-skirted Dior for the 100th anniversary of the RAF, bespoke, of course. You might achieve the look with vintage pieces through websites such as 1stDibs.com, which has boat-neck dresses from a wide range of eras for as little as HK$2,810. Vintage-inspired retailers such as Unique-Vintage.com and ModCloth.com charge as little as HK$235.
For a royal visit to Ireland in July, the duchess wore a bespoke, bateau-neck, taupe Roland Mouret dress. His off-the-rack designs begin at about HK$9,800. Wildly unrealistic? Try the Theory boat-neck jacket Markle wore on a visit to Cardiff Castle in January, still available in graphic black-and-white check or black (on sale for HK$1,554, originally HK$3,885; theory.com).
---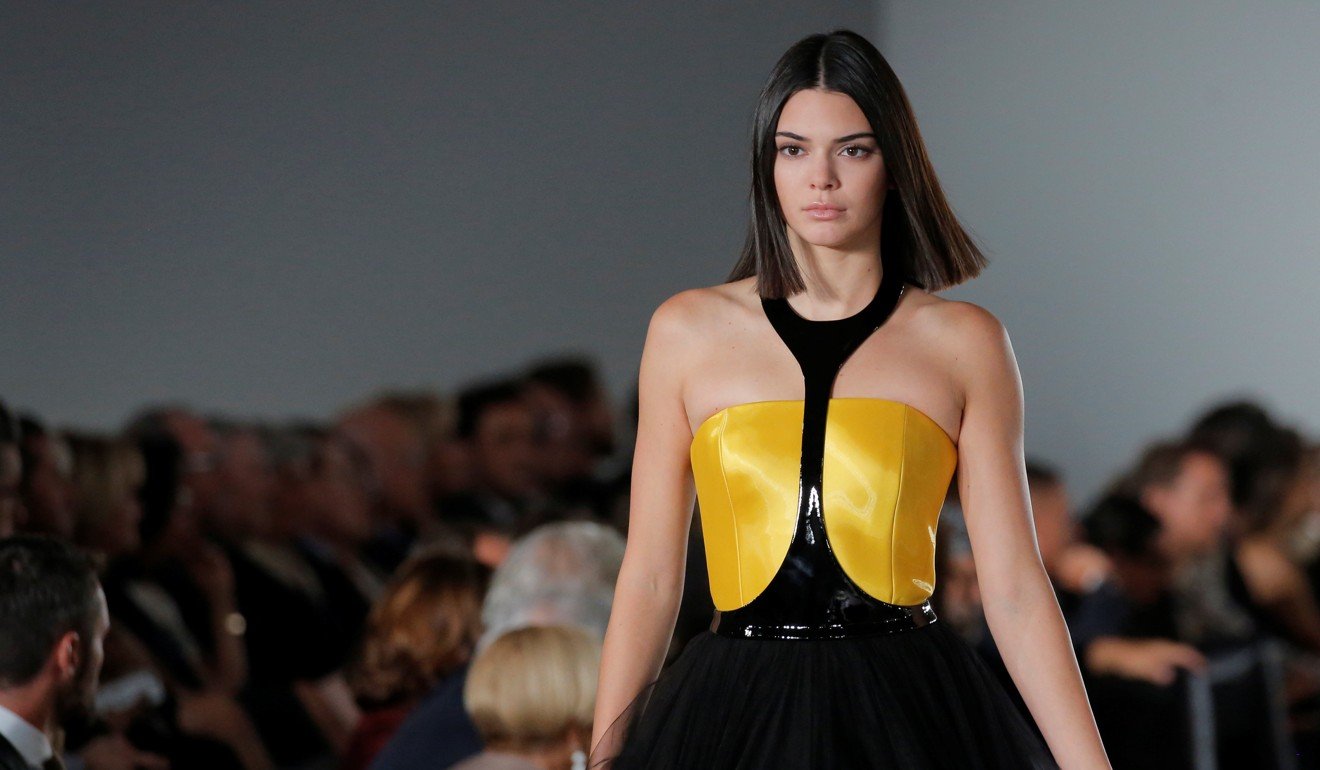 I just loved the little bag Kendall Jenner wore on her ankle! It was quilted but was it really Chanel? Don't you think it would be good for a night out instead of bag you need to hold all the time?
Ankle Biter, SoHo
The Dictator: No, I certainly do not. Ms Jenner herself said, "it only fits joy". So, how would it work? You'd put a credit card and a lipstick in it then hold your phone the whole night? Oh, wait. That probably is how you would do it, going out only to stare at your device the entire time. I fear for us all. Do you intend to dance? Then, don't expect to find anything left inside your absurdly placed pouch by the end of the night. It's time you all realised that sometimes fashion designers release designs out of whimsy or for impact on the runway. Even they know the idea is absurd. That's the point.
Karl Lagerfeld designed the aforementioned minuscule version of the iconic Chanel 2.55 bag for a 2008 collection. It has not been reproduced since, for obvious reasons. Although the internet has made it possible for us to source old stock and second-hand fashion items, it appears there are far too many savvier fashion followers out there. Most of the second-hand Chanel ankle bags we saw have already sold to smarter shoppers (prices ranging from HK$5,062 to HK$10,400). If you're lucky, you may still find a black one on eBay.com sold by "superfly-2007" with a starting bid of HK$8,730.
Copycat brands haven't been silly (or wise) enough to recreate the folly. Yet. Until then, you'll have to jerry rig a wallet and strap it to your ankle, or forget the whole thing. You know which I'd recommend.