Forgive me, but I wanted to start this week's column with a bit of "I told you so" gloating. Our story begins four years ago, when an intrepid young (and mostly thin) watch columnist was rushing around Baselworld 2014 interviewing chief executives of some of the biggest Swiss watchmakers. I remember asking them about Apple's new watch and whether they were worried about the competition, and if they would consider selling their wares via high-end online retailers such as Mr Porter. My questions were met with raised eyebrows, scoffing, guffaws and, in one case, a dismissive wave of the hand.
Fast forward those four years and things have changed. Luxury watchmakers, such as Montblanc and Tag Heuer, have released smartwatches, with more to follow, and Mr Porter now sells several of the top-tier brands via its website.
Anyway, I was reminded of all this by the deluge of watches that has hit Mr Porter recently, so this week we'll look at three of the finest, starting with the Tank Louis Cartier (above) . I could devote a whole column to the Tank, I love it so much, but, alas, I can't. Suffice it to say that it is an icon of design, instantly recognisable and timeless.
The watch is modelled after a 1916 Tank timepiece designed and worn by Louis Cartier himself, so it has that retro charm and, of course, the famous art deco-inspired dial. Sized at 34mm, which might seem small by today's standards, it wears comfortably and discreetly on the wrist. The case comes in gold and the leather strap is made of alligator.
This is a first-class dress watch, so features are not the point, but there is a date indicator. Inside is a quartz movement, which does little to keep the price down but HK$74,560 (US$9,498) for a design classic that you'll treasure for life seems like a bargain to me.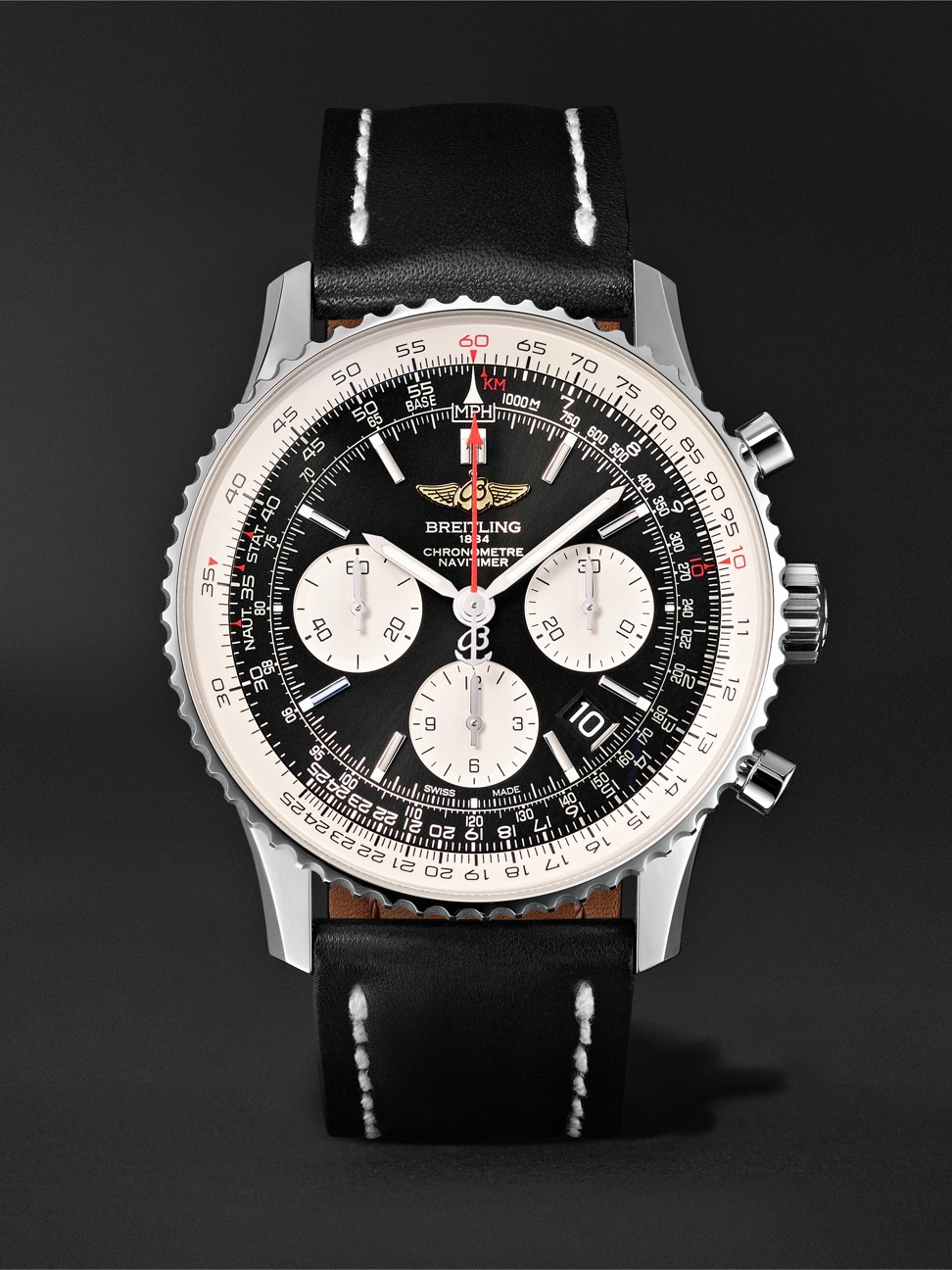 Next we have another iconic watch, the Breitling Navitimer 01 Chronograph. Measuring 43mm with a case made of steel, the watch is on the large side. I just don't have the wrists for it, which makes me sad, but for the chunky-wristed beefcakes out there the Navitimer is a must.
Like the Tank, the Navitimer's dial face is immediately recognis­able but, unlike the Cartier watch, it is incredibly busy, with lots of indicators, subdials and a large logo. Features include the chronograph of the name, 30 metres of water resistance, a date indicator and a bidirectional bezel with a slide rule, although, to be honest, I've never known anyone to use it.
The movement is a COSC-certified Breitling 01 with a healthy 70 hours of power reserve. The Breitling Navitimer 01 Chronograph is priced at HK$58, 244.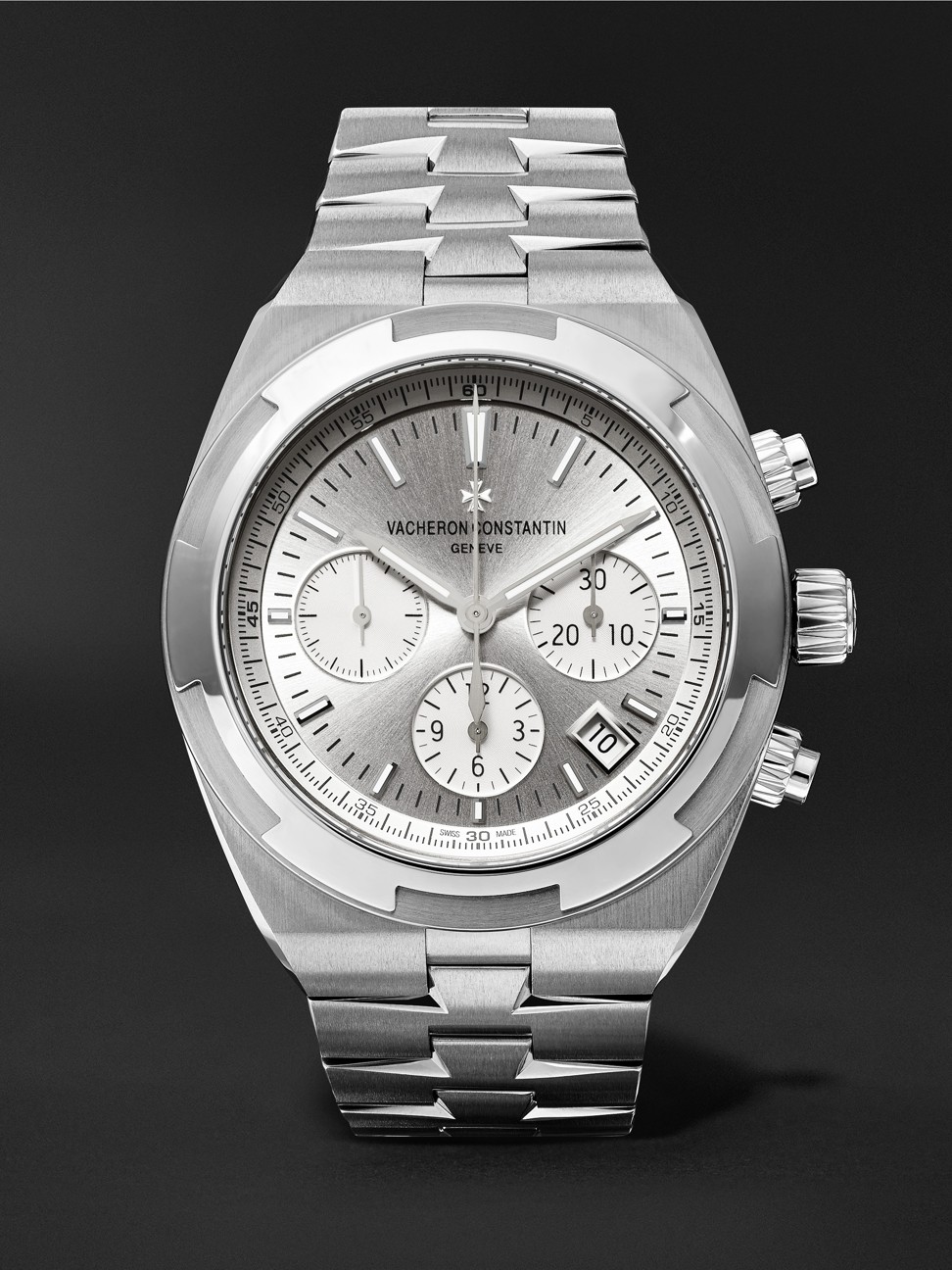 Finally, we have a watch from Vacheron Constantin, the Overseas Automatic Chronograph. It still blows my mind that you can buy a Vacheron Constantin on the same site as a pair of Nikes but here we are, so if you have money left over from trainer shopping, say HK$216,003, then you can't go wrong with this watch.
The Overseas collection has done wonders for the Swiss brand, helping it to connect with younger consumers with the use of steel and a more on-trend and masculine design. This particular chronograph is reminiscent of watch design from the 1970s, which the kids tell me is "in" right now. The case measures 42.5mm and houses a top-notch 5200 calibre movement with 52 hours of power reserve. Features include the chronograph and a date indicator and the watch is water resistant to 150 metres.